Matt Tracker
Scrapple



Since: 8.5.03
From: North Carolina

Since last post: 21 hours
Last activity: 21 hours

#1 Posted on | Instant Rating: 6.50
From the University of Kentucky's world-famous Something Arena, say "welcome back" to Michale Cole, sitting in with Josh Matthews. Out walks GM Teddy Long to explain Bragging Rights. RAW and SmackDown will pit seven people each against each other in a monster tag match, and the individual entrances will last ten minutes easy. Then there will be DX. The RAW team is DX, Kofi Kingston, Mark Henry, Cody Rhodes, Jack Swagger, and SmackDown's Big Show. Teddy introduces the SmackDown captain, Chris Jericho.

Jericho claims to be the lockerroom leader of the roster, the face of the brand, and the inspiration of honesty and integrity. Sounds like Kurt Angle, says The Lovely Mrs. Tracker, and that's not the only former WWE/current TNA reference we'll get tonight. Jericho takes issue with DX and unveils a copy of their book. He rips out pages to massive boos, and is it really that easy to get the crowd? Yes, when you're Jericho. It's old school, it's simple, and it works.

Jericho also takes time to berate John Cena on the off-chance he loses at the PPV and joins SmackDown. As Jericho continues his tirade, out walks Kane, who says he wants to be co-captain. He speaks very plainly and clearly, and it's a welcome change from the usual forced evil laughter. Jericho blinks for a second and immediately agrees with Kane and claims his strength and Jericho's genius will win the day at Bragging Rights. Kane lights the turnbuckles and Jericho joins in the confident chuckling with a hint of discomfort.

SmackDown Seven Qualifying Match - Finlay vs. Mike Knox vs. Dolph Ziggler
We're told Jericho is making the matches to determine who fills out the remaining five spots. Ziggler wants to work with Knox against Finlay, but Knox clobbers him in response. We don't get a Knox inset monologue tonight. Finlay controls initially until it goes outside. There, he and Knox have an awkward moment as Knox seems to slip off the apron and crotch himself on the ring skirt, but the landing looked bad.

Finlay tries to take advantage, but Ziggler dropkicks him squarely in the shoulder and rolls Knox in to pin. It only gets two, but it should be noted he grabs a knee and hooks the neck much like the ending of a Perfectplex. Nice. There's always some little moment that makes me like Dolph each week. Finlay and Ziggler take turns trying to pin Knox but cancel each other. When those two fight each other, Ziggler gets a weirdly timed splash off the top (Air Ziggles!), and it looks improvised. It gets two. The three men trade moves (including a lovely bicycle kick from Knox) until they repeat the ending of the Belfast Brawl, and Finlay swings the Shillelagh during the KNOX BLOCK. Finlay tries to pin, but Ziggler simply chucks him out to get the three-count himself. They didn't gel out there.

SmackDown Seven Qualifying Match - Cryme Tyme vs. Hart Dynasty w/Natalya
DH Smith goes right for Gaspar's leg, and suddenly we're five minutes into a standard 10-minute match. The heels control before JTG hot-tags in. The big guys go outside to fight, and JTG sends Kidd into Hart for a two-count try. He hits his floatover Helms Street for the pin. Quick and painless.

Let's go backstage. Jericho chats up women's champ Michelle McCool. While he doesn't think Morrison will beat Miz, he wants McCool's assurance she can win the women's match. McCool says she makes history and references her precedent as the first to win both women's belts. New SmackDown performer Mickie James says Jericho should put her in the PPV match as she's beaten all the RAW divas. As McCool leaves, Beth Phoenix, also new to SmackDown (yes!), warns McCool that she's gunning for the belt.

Vince McMahon is on the cell phone (with CRZ!) before CM Punk interrupts. Punk petitions Vince to override Teddy's fatal fourway match and give Punk his custom-made submission match for the belt. Vince says he can't change the PPV title match ("it's already been advertised"), but he makes the Montreal recreation for next week's show. Punk is happy with that, and Vince goes back to his phone.

SmackDown Seven Qualifying Match - Eric Escobar w/ Vickie Guerrero vs. Matt Hardy
It takes Vickie two words to get the crowd hating her anew, but we have to talk here about Escobar, the most generic wrestler with a significant push I've seen since Cody Rhodes showed up. You know the drill by now: Emergent heel wrestler has a quick match against a wily veteran and wins with a roll-up. And so it goes.

But, cripes, Escobar will glaze your eyes. He looks like a '90s jobber, complete with nondescript vest and trunks. Even the round glasses and thin beard make him look immediately dated. Vickie screams about an obvious fake ankle injury (she never even stumbled), and Escobar shoves Matt into the ringpost for the three. I feel bad for Matt; he's fallen way, way down the ladder despite a hot crowd response. Vickie's presence suggested initially that they had high hopes for Escobar, but we see nothing to suggest any glimmer of potential. A body slam, a clothesline, and some awful clubberin' forearms. That's it.

The WWE website says this was a qualifier, and I may have been so dumbstruck by his lackluster appearance to notice the stipulation. But if he's in the big match, he has to be the first to eat a pin.

SmackDown Seven Qualifying Match - R-Truth vs. Drew McIntyre
The winner then is the last SD teammate. Before the match we see a video recap of the feud. Now McIntyre looks like he has potential even with that long hair. The announcers remind us that he got the big Vince push; they do not say Escobar was his second recent personal signing. The match is oddly long, suggesting an epic encounter, but it's starkly formulaic. The two suffer weakened backs, and Truth gets only one offensive move in his eye-popping style. Again, he seems to have been reined in, and I note once more that the singles matches have suffered in the last few months. That hot match we could expect each week hasn't happened since, well, since Jericho teamed with Show. Cole and Josh try to push the quality of both guys, saying DX is worried about either one in the big match. No, really. At ringside, Drew sweeps Truth's leg to make him land flat on the second staircase platform, and he gets a countout win off that.

So, for now, it's Cryme Tyme, Kane, Ziggler, Jericho, McIntyre, and Escobar to represent SmackDown. This is what happens when you have your four main-eventers in one title match. The best ending would be for Ziggler to sneak in the final pin. He needs that to make up for choking in the IC belt chase.

Speaking of the IC belt, IC champ John Morrison and US champ The Miz sit down in a bifurcated ring for a live Dirt Sheet. You expect this to be good, and it is, but it highlights a distinction between the in-ring talent and the backstage writing as clear as day. When Miz suggests other partnerships that ended with a forgotten star, he cites Mork & Mindy and Regis & Kathie Lee (way to snag the kids), and you can see -- actually see -- him realize the material is bombing and resolve to rise above it. And he does. They both do.

The two latch onto the last team referenced: The Rockers and they duel over who will be the Jennetty. Morrison takes early control of the debate with out-and-out charm, and Miz doesn't quite have the chops to fire back.

Morrison compares RAW to Saturday Night Live with guest hosts ("who's next: Big Bird?") versus SmackDown's in-ring talent. He also laments Miz's decision to sell out his look, saying at least his hat and pants were distinctive. The Miz takes umbrage ("I look good in trunks!"), and Morrison latches on by calling him "husky," and there's a crowd chant. Mix gets angry, and Morrison gets intense and challenges him to fight right now. Miz bails, and both men hold their belts aloft.

Backstage, Rey Mysterio and Batista again chat about their friendship and the title match. Batista doesn't feel right about their one-on-one bout tonight, but Rey laughs it off. He wants it to stay light, and Batista remains gloomy. Rey ends it with "take it easy on me tonight" and cracks a damn winning smile. Oh, Rey. You're going to get killified.

In a taped segment, Undertaker welcomes Punk's custom match and promises to give him the last rites on Friday before taking his soul at the PPV. Like Kane, Taker is also using a normal tone of voice, and it helps sell the bit.

Batista vs. Rey Mysterio
After a couple of hand slaps of friendship, Batista brushes off Rey's offense, and they both laugh over its inefficiency. Rey tries again a few times and approaches the match with genial energy. Batista, we notice, is getting annoyed and finally has enough. He shoves Rey hard and gives him a gut kick, and Rey reverses before kicking the knee. Rey tries a 619, and Batista is offended. He responds with a sharp, short spear, and takes over. Rey won't accept a countout loss and crawls in. Batista grudgingly goes to work.

They made a huge mistake by establishing the fatal fourway so early. A wiser move would have been a series of qualifying matches to get two opponents against Taker. This match should have been the final title qualifier, with the loser filling the last spot in the big tag match. That way, the team would have another big name, that guy would have a reason to prove his dominance against RAW folks, AND it makes for an easy angle for the following PPV between these two guys.

Batista targets the torso (as all of Rey's opponents do) and surprises me by working low. He's squatting to Rey's height. A reverse bearhug doesn't last long, and Rey slides out of power moves. Rey eventually does hit the 619 and springs off the ropes, but Batista latches his hands to block to hurracarana. He shrugs Rey up for a bomb, but Rey rolls back for the hurracarana (Batista rolls clumsily over), and gets the three. Well, that was quick. Batista objects to the ref, and a replay indeed shows his opposite side shoulder was up on the pin count. He doesn't begrudge Rey, and they hug. Batista lets Rey have the ring along to celebrate, and he applauds from the stage.

His initial fears are proven right however as CM Punk sneaks in behind Rey and gives him a quick G2S. And as he runs out of the ring, he gives Rey the MICK FOLEY BANG BANG FINGERS. Batista chases him off and scoops up the woozy Rey.

I don't think I heard Cole say a "vintage." I might be wrong. I was up to my ears in buffalo wings.


---

"To be the man, you gotta beat demands." -- The Lovely Mrs. Tracker
Promote this thread!
Zeruel
Thirty Millionth Hit
Moderator



Since: 2.1.02
From: The Silver Spring in the Land of Mary.

Since last post: 336 days
Last activity: 278 days

#2 Posted on | Instant Rating: 4.05
I was really hoping Jericho would have given the book a Flair-esque elbow drop, or at the very least a codebreaker. I just think it would have been pretty funny.


---

From the University of Kentucky's world-famous Something Arena, say "welcome back" to Michale Cole, sitting in with Josh Matthews.

---


I FFed through most of it, but wasn't Cole with Todd Grisham?


---
-- 2006 Time magazine Person of the Year --


-- July 2009 Ordained Reverend --
Tenken347
Knackwurst



Since: 27.2.03
From: Parts Unknown

Since last post: 1 day
Last activity: 2 hours

#3 Posted on | Instant Rating: 5.03
It turns out that I really missed Cole on Fridays; he's just so much better on Smackdown than he is on RAW, and I don't know why that is. Also loved the Dirt Sheet. Miz and Morrison are just great together, and I still think it was a huge mistake to split them up the way they did.
Matt Tracker
Scrapple



Since: 8.5.03
From: North Carolina

Since last post: 21 hours
Last activity: 21 hours

#4 Posted on | Instant Rating: 6.50
Originally posted by Zeruel

---

I FFed through most of it, but wasn't Cole with Todd Grisham?

---


I should start taking notes. I really should. I do this from memory.


---

"To be the man, you gotta beat demands." -- The Lovely Mrs. Tracker
John Orquiola
Scrapple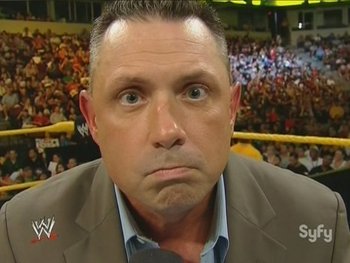 Since: 28.2.02
From: Boston

Since last post: 1390 days
Last activity: 1390 days

#5 Posted on | Instant Rating: 4.75
This was a terrible show! Probably the worst episode of Smackdown in a year and a half. No good matches. The Hart Dynasty vs. Cryme Tyme take 143347 was okay, but the main event was a letdown. No Eve at ringside means I'm suddenly uninterested in Cryme Tyme again.

Batista was awful against Rey. He was barely there to catch and support his aerial stuff.

Who didn't wrestle? Chris Jericho, CM Punk, the Undertaker, John Morrison, Mickie James, Beth Phoenix, Michelle McCool.

Who did wrestle? Eric Escobar. Fail. Fucking fail.

The Smackdown Bragging Rights team is abysmal. How can Eric Escobar and Drew McIntyre be on that team to defend the bragging rights of Smackdown while Matt Hardy, Finlay, Mike Knox, R-Truth, and the Harts cannot? If I were Chris Jericho I'd be ripshit at my team. I would hope that Jericho raises a stink and fixes his team next week because he might as well not show up if this is who has his back at the PPV. Right now, it's a joke.
Alessandro
Lap cheong




Since: 2.1.02
From: Worcester MA

Since last post: 12 days
Last activity: 6 days

#6 Posted on | Instant Rating: 5.55
Originally posted by Matt Tracker

---


Morrison compares RAW to Saturday Night Live with guest hosts ("who's next: Big Bird?") versus SmackDown's in-ring talent.

---


I'm surprised Morrison was allowed to rip into the guest-host concept like that ... Seriously, WWE is making a big deal week after week about the ratings being generated by these "big-name" celebrities, and one of their own wrestlers basically called them out on it; the writers must have fell asleep on the wheel with that one (or else wanted to get fired).

Either way, that's my new sig quote right there ;)


---

"All RAW is these days is a cheap version of Saturday Night Live, so if you wanna tune in to watch the amazing star power of Al Sharpton and Nancy O'Dell, go ahead! Who's gonna host next week, Big Bird? Wow, that's must-see TV!" - John Morrison (10/16/09 Smackdown!)




FALCONNNN PAWNCH!!!