BigDaddyLoco
Scrapple



Since: 2.1.02

Since last post: 6 hours
Last activity: 3 hours

#1 Posted on
I haven't caught this much of a Smackdown in awhile. This was a really good show. I actually saw the last hour instead of the last half of the main event. Hardy/Holly was a WAY better match than I ever thought it could or would be. The backstage skits were good as well. Eddie/Angle/Benoit probably had one of the best backstage skits I've seen in some time. Then you have Matt Hardy giving a good promo with Shannon Moore and Hardcore Holly, Matt Hardy of all people. The main event was grand as well. It was a *hot* fast paced affair with a great ending and a great feud coming out of it.

I'm going to have to sneek out of work early more often on Thursday from now on.

(edited by BigDaddyLoco on 5.9.02 2237)

---
Promote this thread!
The Great Thomas
Sujuk



Since: 17.6.02
From: Miami, Florida

Since last post: 4682 days
Last activity: 4682 days

#2 Posted on
Stephie isn't much of a moderator. It's time for the Great Thomas Smack Down! Report!

Billy et Chuck: I'm not touching this one with a 70-foot pole.

Lesnar vs. Orton: Lesnar won.

Moore vs. Noble: Mind you, Noble beats Boyband-Man CLEANLY! CLEANLY, mind you!

Face to Face: At least we know that because Taker's wife is pregnant, Taker's gonna job to Lesnar at Unforgiven so he can have some time off. WOO-HOO!

Hardcore vs. Hardy: Bob won. Yay. So much for Mattitude. I think Matt kept pulling on his pants as an excuse to show girls his nice arse.

Crash vs. Hurricane: See, Crash carries on the PROUD Holly legacy, upheld by his cousins, Bob and Molly.

Henry vs. Tajiri: SQUAAAAAASH MAAAAAAATCH!

D'von vs. Batista: So, is Batista a monster FACE, now? I'm con-foozed!

The Main Event: Mebbe I'm biased against Undertaker. Anyway, Taker gets the win, and Benoit gets a possible face turn. Hurrah.

That's all for this week. Until then, Good Night, take care of yourselves, and next week, you'll see the FIRST same-sex marriage outside of Jerry Springer!


---

Isn't it ironic seeing a guy with a "Saved 1" shirt lying in a pool of his own blood with a head-sized hole in the car next to him?
It's False
Scrapple



Since: 20.6.02
From: I am the Tag Team Champions!

Since last post: 61 days
Last activity: 28 days

#3 Posted on
There was nothing overly offensive on this week's Smackdown. But this week's show fell rather flat.

GOOD:
-The Main Event: I liked this week's main event. You've got to love Smackdown's heels. With Benoit, Angle, and Guerrero at the top of the mountain, you're guaranteed good matches.

-Brock Lesnar/Randy Orton: SQUASH! The good kind!



BAD:
-Mark Henry/Tajiri- SQUASH! And not the good kind either.

-Don't They Make the Cutest Couple?: Ugh...no comment.

-Shades of Gray, BABY!: So Batista is...what?

Nothing of note here. Let's see what happens next week.

(edited by It's False on 5.9.02 2004)

---

"That's right! You suckas better FIND somewhere to run! 'cause it's me - Booker T - not only am I the Scorpion King, but I'm the five-time WCW Champion - and I got a sword, too! Now can U dig THAT - SUCKAAAAAS"
Phantom
Frankfurter



Since: 17.3.02

Since last post: 3682 days
Last activity: 3658 days

#4 Posted on
Tazz was golden on the mike during the proposal, though.

"Cole! Did you hear that? Chuck wants Billy to be his tag team partner for life!"

"Um, I don't think that's what Chuck meant, Tazz."

"What are you talking about? What else could you mean?"

And Rico was pretty solid as well. I loved his reassuring the audience after he told Chuck to pull out the love. "It's okay! It's not what you think!"
Davros
Blutwurst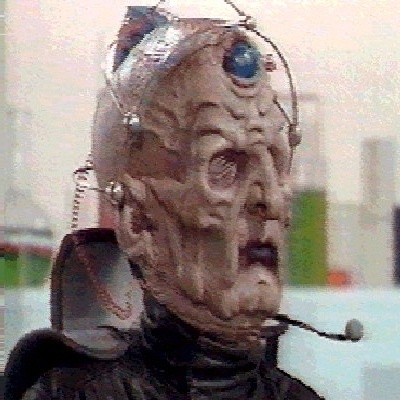 Since: 22.8.02
From: Between thought and Reality, TZ

Since last post: 3965 days
Last activity: 3959 days

#5 Posted on
What about Eddy's performance toward the finish of the match? That was king-sized!! Guerrero is one wrestler I could never get tired of, because even if some of his matches might be a bit to spotty, he always tries to add something extra. He deserves a run with the World title, IMO.

Taker was also top notch. And I really wished Benoit would stop getting punked in ALL of his matches.

Smackdown is establishing an almost retro-old school style. Reminds me of the 92-early 94 WCW. Yeah baby!


---

Now, the Daleks shall become-- the lords of TIME!
James F'n X
Bockwurst



Since: 2.1.02
From: Seattle, WA

Since last post: 4392 days
Last activity: 4359 days

#6 Posted on
Brock Lesnar vs. Randy Orton was the greatest squash ever. That was great stuff. Kudos to both guys, that was bell to bell fun.


---

"Your solitude is welcome, welcome...
Your attitude is welcome, welcome!"
Ticamo
Boerewors



Since: 19.7.02
From: Trenton, NJ, USA

Since last post: 4102 days
Last activity: 3400 days

#7 Posted on
I loved Smackdown tonight. Every match was on. Backstage promos were all great. I haven't any major complaints... Limited Stephanie is always a plus.

My favorite moment of the night went to Eddy towards the end of the 6 man tag. Angle and Benoit are off fighting and he's in the ring all alone. Predictable that it would happen, but him putting his arm up on Rikishi's shoulder was funny as all hell to me. Maybe it was the beer..

The whole wedding thing... hmmm... here's to hoping that Eric will interrupt and take up '3 minutes' time.



(edited by Ticamo on 5.9.02 2144)
Mr Heel II
Lap cheong



Since: 25.2.02

Since last post: 78 days
Last activity: 14 days

#8 Posted on
Smackdown reminds me of how much fun it used to be to watch WWF Superstars of Wrestling with McMahon and Ventura on play-by-play. Sure the workrate is better now and the matches aren't all squashes, but it's the fun part that brings that feeling back.

It was a most excellent show all around, although I may be tainted by the fun we had making signs (six total) for RAW Monday, which we did while watching the show.

Chuck and Billy...Have you ever seen two lovers treat a marriage proposal acceptance the way they did? They hugged, and were later seen HANGING OUT AND LAUGHING. I'm leaning towards thinking we're going to find out Rico was behind the whole idea to keep the tag team together, and that a horrible misunderstanding is forthcoming.

Steph aside, Taker and Lesnar shined in their promo...right up to Heyman bringing up the pregnancy. I wasn't exactly for that.

Matt Hardy's "Mattitude" is GOLD.

Eddy's expression when he realized his situation was priceless. Well played all the way.

Nice enhancements to the set. The silver ring is snazzy and that long video exclaimation point is pretty cool too. Just some natural enhancements to the existing product. I like it.


(edited by Mr Heel II on 5.9.02 2351)
Phantom
Frankfurter



Since: 17.3.02

Since last post: 3682 days
Last activity: 3658 days

#9 Posted on
SOMETHING will happen with the Chuck and Billy wedding. The question is what? A face turn for the group is out of the question -- Rico is WAY too over as a good heel. Rico somehow messing up, leading to a B&C face turn while Rico stays heel? Possible. A B&C breakup, or D'Von interference? Definitely possible. They seem on the verge of burying the preacher gimmick for him. 'Bout time!
NotAWrestler
Pinkelwurst



Since: 6.9.02

Since last post: 5670 days
Last activity: 5661 days

#10 Posted on
I'm not able to watch Smackdown! much these days, but the main events the past two weeks have been amazing. Say what you will about 'Taker, I still mark out for the guy (at least he's not Amish anymore), and the three-way-dance was great, even though I'm still a supporter of ECW elimination-style three-ways. It just seems stupid if it's possible to win the championship without pinning the champion. And the six-man tag was great ... Rikishi wasn't in much, but I don't see why everyone says he sucks so bad, other than the fact that his offence mostly revolves around his anus. And yes, Eddy is now God. I haven't laughed that hard since Angle's first comedic heel run.

I'm a new poster here, just wanted to throw in my $.02 and say howdy.


---

"Master! Sir! Did you see my MAD SKILLZ?!?"
-Hammer, Xenogears

"Hey, hey, hey, Rock!"
-"Mizark" Henry
WhoBettahThanDeion
Bockwurst



Since: 4.1.02

Since last post: 5690 days
Last activity: 5526 days

#11 Posted on
Hey Yo...

I'm not going to break the show down, but here's what I liked:

Henry: The guy is getting better. I actually see this guy as being pretty good over the last few weeks. Does this mean I want to see him on pay per view, though? No. But they're utilizing Henry's size and strength in matches better than Show's.

Billy and Chuck and Rico: Great stuff. Anyone else see D'Von jumping because of moral differences? Also, I don't think this storyline has been done offensively (you could argue Chuck pulling the ring out of his tights, but it's wrestling! Where else would he have it? Don't answer).

Orton/Holly: Both of these guys shined on Velocity and did admirable for themselves tonight.

There's one thing I have complaint about and it was that Benoit promo. Someone really needs to work with him on that stuff. That promo was 1998 Hardys bad. But, I'm all for his feud with Angle if it happens.


---

Zen and the Art of Motorcycle Maintenance
Filipino Elvis
Weisswurst



Since: 27.6.02
From: Little Falls, NY...Now in its 7th year with a stop light!

Since last post: 4814 days
Last activity: 4624 days

#12 Posted on
I had SD! on while I was working on the computer, so I didn't catch the whole experience. But I think I'll note a few things I dug:

- Count me in to loving Eddy trying to suck up to Rikishi before getting whooped on. Great acting job on his part.

- The legal men were involved in the main event pin (UT over Eddy) which is sure to satisfy a certain California hippie who obsesses over that.

- The finish to the Brock/Orton match was really sweet. They did the traditional roll-through on a top-turnbuckle cross-body, but Brock HELD ON, rolled through, and hit the F-5. Very fluid.

- A couple of great lines:

1) Tazz on the AssPackage nuptials, "This will be the first same-sex marriage ever in pro wrestling...at least that we know of." I'm sure I badly butchered the line. A good sly reference to the 'fanciness' of this whole sports entertainment enterprise.

2) D-Von on Billy & Chuck, "The Bible clearly says 'Adam and Eve.' It doesn't say 'Adam and Steve.'" I think Adam & Steve are the names used in the Bible's Queen James version...THANK YOU, MIAMI!!!


As for my guess on what will happen during the wedding, I'll go for the typical soap opera plot device and say some long lost love reappears to spoil the ceremony. Any guesses? Bart Gunn? Oh wait, they're 'brothers.' Road Dogg? Sean O'Haire? Mark Jindrak? Hey, we haven't seen him reappear yet. They can dub him 'The Homowrecker' and have endless possibilities of rivalries with Billy, Chuckie, and Rico. It would be like Tommy Dreamer/Beulah/Raven if there was a fourth and all four were Raven.
bigwavedave
Blutwurst



Since: 3.1.02
From: morro bay ca

Since last post: 5630 days
Last activity: 5630 days

#13 Posted on
Who did Tajiri piss off to have to eat that squash from Mizark? and who did Henry blow to get SD time? at least TJ put his all into that match.
Shannon/Jamie was all that.
as long as DawnMarie is around, let's have Molly challenge her to a match (it would be VERRY heelish.)
Benoit/Guerrero are the bomb. I say that they find a way to challenge for the tag titles at Unforgiven.
The matches seemed nice and long, and that's a good thing.
D-von needs to go back to Dudleyville(RAW), he's doing NOTHING on SD. I'm thinking that UT would take advantage of the presence of Albert/Batista/Henry to wrestle them as warmups toward the PPV. Maybe he could pull them out of the deadweight dungeon for a day.


---

"My parents said I could be anything, so I became an ASSHOLE!"
cranlsn
Toulouse



Since: 18.3.02
From: Hartland, WI

Since last post: 67 days
Last activity: 5 hours

#14 Posted on
I have to agree with everyone here about Eddy's fantastic work towards the end of the main event. Eddy just rocks!!

Yeah, it was kind of a cliched reaction spot, but Eddy just did it so well. It could easily have been overdone. And the buddying up to Rikishi was awesome.

This man deserves as much main event TV time as they can give him. Preferably in some kind of three way mix with Benoit and Angle.

Speaking of that...is Angle's full blown face turn far off?


---
The Thrill
Banger



Since: 16.4.02
From: Green Bay, WI

Since last post: 1496 days
Last activity: 130 days

#15 Posted on
Don't forget the best moment of the night...that photog outside getting the shot of the all-new Lambeau Field (Tazz: "Frozen tundra!" God, imagine him kicking ass on that field) and brand-new Resch Center with a 4-point star filter... *sheds tear*

First time WWF/E's run TV here in Titletown since 1997...hope y'all dug it!


---

Star wipe, and...we're out.
Thrillin' ain't easy.
.
.
THE THRILL
ACW-TV/Home Video Technical Director Emeritus...and A2NWO 4 Life!
vsp
Andouille



Since: 3.1.02
From: Philly

Since last post: 4340 days
Last activity: 595 days

#16 Posted on
All I'll say about Billy and Chuck is that they could _still_ go a couple of different directions with this. Neither Billy nor Chuck used the word "marriage" directly, nor did anyone say it directly to either of them. Interesting omission. Rico and Funaki used the word, Cole and Tazz talked it over, Nidia and Noble talked about it, Stephanie and D-Von hinted around it... but the tag-team themselves never said or heard the m-word or its equivalent. "We've been partners in the ring for a long time now... but I was wondering if you'd be my partner for life" still has some ambiguity to it.

I mean, if they say "I do" on Thursday and immediately engage in a Matt-and-Trey-in-BASEketball-level tongue kiss for two minutes, no problem by me, and the reaction shots could be priceless. I just smell a "What did you THINK I meant?" moment in the works.

Lesnar's roll-through was a nifty spot, BTW, and Eddy was golden in the main event.


---

"No society has managed to invest more time and energy in the perpetuation of the fiction that it is _moral, sane and wholesome_ than our current crop of _Modern Americans_."
-- Frank Zappa
Scorpio
Boudin rouge



Since: 18.2.02
From: Laurel, MD, USA

Since last post: 5171 days
Last activity: 5122 days

#17 Posted on
Originally posted by Davros

---

What about Eddy's performance toward the finish of the match? That was king-sized!!

---


I was *so* pleased with the main event, despite the inclusion of Rikishi. It wasn't the clusterfuck I was expecting, and the Benoit/Angle thing played *perfectly,* and then, with Eddie all along in the ring, I was crying laughing. That was AWESOME.



---
PMMJ
"Nothing remains interesting where anything may happen." -H.G. Wells
Quezzy
Scrapple



Since: 6.1.02
From: Pittsburgh, PA

Since last post: 4 days
Last activity: 1 day

#18 Posted on
I think Billy is going to be the one that turns face by saying he didn't know Chuck meant to get married, and then he's going to say something like "you're gay!?? I had no idea!" Maybe D-Von will play a part in stopping it. Maybe D-Von and Billy will turn up to be a team, they are both tag team wrestlers for life anyway.

Eddy's main event stuff WAS priceless but nobody is mentioning their promo. I thought he was great there too, when he realized Benoit was behind Angle listening he tried to instigate it further and Angle into trouble. And someone said Benoit was horrible, but I thought he was perfect, sure his fake laugh didn't sound like a real laugh, but it was SUPPOSED to be that way (now when he was laughing at Angle in the ring and was supposed to be genuinely laughing, that was bad) and then when he got serious and said "PROVE IT" was perfect for his character.


---

Lance's Response:

THAT IS AWESOME!
chazerizer
Italian



Since: 11.7.02
From: Pittsburgh, PA

Since last post: 5697 days
Last activity: 2153 days

#19 Posted on
I would just like to say that, for once, I really don't have anything to complain about. And recently, that's kind of an amazing fact. The only thing I kinda disaproved of was the pregnant Sara crap. But I suppose they had to end that some-how, and just getting up and leaving probably wouldn't do it. Eh.

And was it just me, or is Tazz a god on the mic? I swear, I was dying when he finally realized what was going on in that first bit.


---

It's still the pre-seasons

Steelers 0-0
Penguins 0-0
tomvejada
Andouille



Since: 2.1.02

Since last post: 5380 days
Last activity: 5380 days

#20 Posted on
Random Smackdown Thoughts:

Tazz was great as commentator this week.


I liked the Lesnar-Undertaker segment. I could've done without Steph as moderator. So does that mean Kane's going to be an uncle?

I also liked the segment with Angle, Eddy, and Benoit. I wonder if they're going to turn Angle as a face.

The Lesnar-Orton match was alright.

The main event was also alright. I did laugh like the others here at Eddy in the main event.

Overall, another Smackdown that was better than Raw.


---

"I just got pinned by a friggin twelve-year-old."

Kurt Angle

Pages: 1 2 Next