Jaguar
Knackwurst



Since: 23.1.02
From: In a Blue State finally

Since last post: 582 days
Last activity: 582 days

#1 Posted on
I watched it. And I cracked up every time I saw an add for the first show to air saturday, and every time one of the commentators said something like "That's the first time that's ever been done in the season!" Anyway, my friends and I found it to be pretty amusing and fun to watch, and there were a few cool things (like an unintentional Fame-Asser in mid air). My biggest complaint? The Games are too short. There's no drama in a game that only goes for 30 minutes with commercial breaks. Each game needs to be an hour long next season.

-Jag

Oh yeah, and the team names suck. "The Mob" and "The Steal" are not good team names.


---
"You gotta hate somebody before this is over. Them, me, it doesn't matter."

"Hate, who do I hate? You tell me."

"Who do you love?"

-Wintermute to Case in William Gibson's Neuromancer
Promote this thread!
witeoutaddict
Cotechino



Since: 25.7.02
From: a more brightly colored message board

Since last post: 5787 days
Last activity: 5782 days

#2 Posted on
Originally posted by Jaguar

---

Oh yeah, and the team names suck. "The Mob" and "The Steal" are not good team names.

---


No, they aren't. They must have used all the remaining good names on XFL teams.


---

I've been to hell. I spell it...I spell it DMV. Anyone that's been there knows exactly what I mean.
Stood there and I've waited, and choked back the urge to scream.
And if I had my druthers, I'd rather screw a chimpanzee.
Scott Summets
Sujuk



Since: 27.6.02

Since last post: 6028 days
Last activity: 5996 days

#3 Posted on
I'm waiting for someone to get seriously hurt on this show. It still seems like I'm watching real life NBA JAM.


---

I'm gonna get me an oversized guitar, gain 40 pounds, and become the next D!
mskj
Summer sausage



Since: 10.1.02
From: Tennessee

Since last post: 3090 days
Last activity: 2849 days

#4 Posted on
It wasn't too bad. I don't think it is something people are going to go out of their way to watch, especially since it airs on Saturday nights.

I laughed at the coaches. They had such great pointers as, "Get some water" "I love this" and "Play solid Defense." Why does this sport need coaches? Nearly every time a team tried to set up a play they turned the ball over.

Oh, and do players have to dribble or not?
Teppan-Yaki
Pepperoni



Since: 28.6.02

Since last post: 3060 days
Last activity: 3030 days

#5 Posted on
I think we're being overly critical about this. I didn't have high standards coming into this, and enjoyed it. These guys are street players and aren't being paid NBA salaries.

That said, Inches' reverse McTwist through-the-leg was the bomb. I enjoyed it, and I'll tape the show to watch. It's got promise, and that's all that matters to me.
dunkndollaz
Banger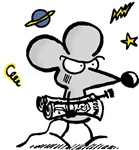 Since: 3.1.02
From: Northern NJ

Since last post: 327 days
Last activity: 314 days

#6 Posted on
I'll tape and watch just to see some mid-air collisions....here's an article about Slamball from today's NY Times

Bouncing to Extremes: Introducing SlamBall
By LIZ ROBBINS


Instant hops. Instant air. Instant gratification.

Take the flying freedom of a trampoline, the fantasy of stepping into a video game and add the fear of an extreme sport, and Sean Jackson, known as Inches, is infused with enough adrenaline to throw down the McNasty.

With his 360, through-the-legs windmill jam, Jackson, 32, has been able to convert his dreams into a reality that is more sport than television show.

"It's just like I dreamed about, that I could do a certain dunk in midair and the man I just dunked on was Michael Jordan," the 5-foot-11 Jackson said this week. "The dream came true in SlamBall."

Almost true. Michael Jordan is not included.

Inches, who has been featured in sneaker commercials, is one of the hyperbolic new stars of a hybrid extreme basketball league, SlamBall.

The six-team league makes its debut Saturday on TNN for a six-week season, although the entire season — including the championship game — was taped in six days in April.

There was a preview of two games on TNN on Monday night, featuring Jackson's soaring dunk among others, plenty of hits and lots of bouncing on trampolines.

Created by 27-year-old Mason Gordon and produced by the Hollywood team of Tollin-Robbins Productions, SlamBall is played on a specially designed spring-loaded court that is 94 feet long and 55 feet wide, with baskets 10 feet high and four rectangular trampolines imbedded in the court in front of the hoops.

"Conceptually, it sounds like a wild and crazy and wacky idea, but when you put a bunch of sports into a blender, it works," Gordon said.

Four players are on a side. Hitting above the waist, akin to in hockey and football, is allowed. Players wear soft helmets and knee, arm and shoulder pads. Plexiglass, 12 feet high, surrounds the court so the ball is in play during the 16-minute games, with 8-minute halves and a 15-second shot clock.

The action is supposed to be like one extended highlight clip, designed for the attention-deficit generation.

"I looked at the sports landscape, and I thought about the phenomenon of the X Games and the whole video-game culture and how that all runs on excitement, it runs on nonstop action and it runs on level of fantasy fulfillment," Gordon said.

When he was 6 years old, Gordon said, he was sending Atari new concepts for video games — written in crayon.

Three years ago, Gordon was working as a gofer for Mike Tollin, when he approached him with an 11-page prospectus.

"We had about a year of conversations," Tollin said. "At that point, the W.W.F. was growing, it was before the XFL, and we were trying to figure out if we had a TV thing here."

Gordon revised and developed his game and got Tollin, Brian Robbins and Joe Davola to produce it, sponsors to back it and TNN to broadcast it. Monday night it was sandwiched between "WWE Raw" and "Robot Wars: Extreme Warriors."

But unlike those shows, SlamBall, the sport's creators and athletes emphatically point out, is not scripted. "This is no skit, this is physical, you will get bruised from this," Jackson said.

There are three positions — handler (like a point guard), gunner (scorer) and stopper, the goalie type who is allowed to bounce on the trampoline beneath the basket to block a shot or a player in midair as long as he is going for the ball.

Jackson enjoys the thrilling risk. "Taking off a trampoline — man, it's unbelievable," he said after ducking out of the media junket for the sport this week in Hollywood, where the producers have set up a three-quarters SlamBall court on Sunset Boulevard.

"It's an adrenaline rush; you're in the air with someone trying to block you, you're just hanging," he said, then finished describing the sensation. "It's more than feeling like Superman — you feel like God."

Robbins, a former quarterback and wide receiver at Clemson, thrives on the contact. His favorite aspect is the face-off.

Instead of going to the free-throw line for fouls, players get a chance to take off from halfcourt and go one on one with the offender, trying for an in-your-face dunk worth 3 points.

Before trying out for SlamBall, Robbins worked as a stuntman in the football movies "Remember the Titans" and "The Replacements." He has recently filmed regional commercials for Jack in the Box restaurants. During the tryouts and training from January to March, Robbins made $150 a day, and during filming of the series/season, he earned $1,500 a day.

But while the universal appeal of a trampoline converting a vertical leap from 37 inches to 8 feet is exciting, it is also deceiving. More than 600 players tried out, with only 48 making the league. (Some women had tryouts, but none are on the final rosters.) In addition to requiring basketball skills, the sport demands the agility of gymnastics, as well as timing and endurance.

The league is full of people who played basketball overseas, in the minor leagues in the United States, or on the playgrounds, or played football in college.

"I was a jack-of-all-trades, master of none, and SlamBall is something that brings together a lot of tools you use in different sports," Robbins said.

Two hundred coaches tried out. Brian Taylor, one of the coaches, was a 12-year N.B.A. player and a former star with the Nets of the American Basketball Association.

Pat Croce, the former Philadelphia 76ers president, has become a partner in SlamBall.

"I think it will work because people will want something that's different; it's truly radical," he said recently.

There is a small degree of conventional basketball, even if there is no whistle for palming the ball during a crossover. Long-range shots, those coming from beyond the trampoline, are still worth 3 points. Any other shot that is not a dunk is 2 points.

When the Rumble team started taking outside shots during the preview Monday night, the color analyst and former N.B.A. guard Reggie Theus kept blasting the tactic — especially since the Rumble built a brick house.

The sport is not basketball. The dunks — and the hits — are what power the game.

While not scripted, SlamBall was edited. In April, in a warehouse in downtown Los Angeles, the teams played 30 games. Since then, the producers edited the season/series into 11 games, choosing the most compelling games, culminating in a championship.

During the preview, there were colorful jams as well as missed ones, but at times it had the cadence of a tennis match with Andy Roddick serving at 140 miles an hour. Bounce, bounce, dunk.

Jackson, cut by the Los Angeles Clippers from training camp during the lockout year of 1998-99 and the father of four children, has found, at least for now, his calling.

"SlamBall is a craving," he said. "I was born for this sport."





---

"Me, I need tending. Someone to take care of me. Someone to rub my tired muscles, smooth out my sheets."
"Get married."

"I just need it for tonight."