Michaelangelo
Cotto



Since: 3.1.02

Since last post: 3908 days
Last activity: 2388 days


AIM:
ICQ:
#41 Posted on 6.2.02 0730.13
Jarett -- No brainer. Sign the man, now.

Sting -- Well, he'd have to work more than 2 weeks a year so I doubt that he'd want to sign.

Goldberg -- Have him sign and put him in nWo. The heel turn might actually work under those circumstances. Presonally I'd rather see him in the WWF than Hogan.


---

Michaelangelo
The Good, Bad, and Ugly
http://slashwrestling.com/
J.T. Dutch
Pickled pork



Since: 3.1.02
From: SoCal 4 Life

Since last post: 2357 days
Last activity: 617 days


Y!:
#42 Posted on 6.2.02 0734.48
Jeff Jarrett would make a great candidate for the WWF ... if we were in the 1980's. Unfortunately, it's 2002 and I see little use for him. Why sign Jarrett when you have Chris Jericho? It would be redundant, imo.

Sting is an iffy choice. The WWF could do a lot worse; in fact, with people in the Federation like BossMan, The Dudleys (all three of them), Regal, and The Godfather getting TV time, one could say they ARE doing worse. With Flair already under contract, bringing in Sting and utilizing the obvious Flair-Sting connection wouldn't be a bad idea at all.

Bill Goldberg would have to earn his way back ... and that means he would have to really work on and learn his craft. If he were a pro baseball player, he would need some time in AAA ball. Unless and until Goldberg is willing to go this route, it would not be a good idea to bring him in.


---

"WHAT? You were gonna say somethin'. WHAT?" "WHAT? Son of a what?" "WHAT? It smells like crap out here! You're fulla what? He's fulla what? WHAT? WHAT? WHAT? WHAT? You're a jackass!"

Austin is the KING.

J.T. Dutch
shotgun_russ
Linguica



Since: 28.1.02
From: Indianapolis, IN

Since last post: 4068 days
Last activity: 4028 days

#43 Posted on 6.2.02 0927.03
Originally posted by Ubermonkeys

---

Thing with Goldberg is, he has zero desire to wrestle anymore and has all of the professional maturity of a Mike Bell vs. Brian Gamble match.

---


This is also a guy that called the WWF a circus, and then immediately turned around and threw his caddy in the lake during a celebrity golf tournament as a publicity stunt. He has no motivation except a paycheck, which he's collecting quite handsomely from AOL/TW at the moment. Why should he give up his welfare checks to go to work?

Jeff Jarrett is a great heel, but he seems like just a short-term solution to me. I would like to see him if they were able to use him effectively.

Sting would be okay, if he hadn't said repeatedly in the past year that he doesn't want to wrestle anymore. I still like the Stinger, even though his time is past.


---

=================================
Russ Ray
Managing Editor
www.shotgunreviews.com
---------------------------------
"Where the women are hot,
the men fight zombies,
and the monkeys live like kings."
=================================

ripblazer
Pickled pork



Since: 16.1.02
From: Calgary Alberta Canada

Since last post: 3151 days
Last activity: 2983 days

#44 Posted on 6.2.02 0948.54
Jarrett - yes. I was always impressed by Jarrett's wrestling ability.

Sting - nahhh. Too many faces here already and I don't think Sting was ever a heel was he? plus, I just never cared for his wrestling style.

Goldberg - NO. He's not a good wrestler. He's dangerously sloppy. Plus, compared to guys like Kane, he's not that big and powerful, which was his entire schtick. Keep in mind he was in a smaller ring. I remember he was about the same size as Meng when they wrestled. When Meng came back I was shocked to see how he was not exactly a monster compared to guys like Kane and Rikishi, who were both bigger. I'd bet HHH is bigger now than Goldberg was. Another example - Booker T was one of the larger guys in WCW (taller than Goldie but not quite as heavy) but in WWF he's pretty average sized (bigger than the Rock - smaller than HHH).

PS: don't quote WCW height and weight stats to rebut this argument.

Lexus
Lap cheong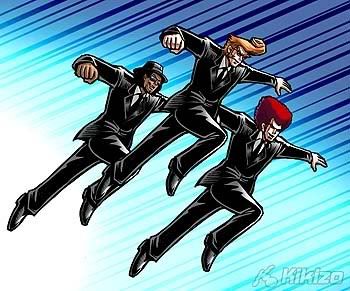 Since: 2.1.02
From: Stafford, VA

Since last post: 1 day
Last activity: 1 day


AIM:
#45 Posted on 6.2.02 1008.39
Jarrett: I think it'd be awesome if Jeff Jarrett came back. Too bad that'll never happen. He'll never be back, since he falls into the same ranks as Hogan in bad splits, and we'll never see Hogan on WWF tv. Wait a minute...

Sting: Bring him back, but don't make the man wrestle. Am I the only one who sees Sting back as a commentator, or as Flair's assistant?

Goldberg: I'm out to lunch. The smark in me says he's a terrible worker with a nasty attitude who's never paid his dues, double back handspring be damned. The mark in me says bring him immediately, because he is a commodoty. In the middle, I guess I'm saying bring him in, but job the hell out of him for a couple of weeks.


---

CAN SOMEONE TELL ME..if the ASPCA knows about these Government Mules that JR refers to. Apparently, these poor animals are subjected to awful beatings that are akin to being thrown into steel steps or having their heads smashed against wooden announce tables.br>
Michaelangelo
vsp
Andouille



Since: 3.1.02
From: Philly

Since last post: 2718 days
Last activity: 440 days

#46 Posted on 6.2.02 1109.16
Gut reactions:

Jarrett: Yes, with an asterisk. He certainly wouldn't be playing at a main-event level in the WWF (nor should he be, really); would he be motivated in a mid-card role?

Sting and Goldberg: No. The first rule of business is that you don't bring employees into your company who don't _want_ to be there. From the interviews I've read and the attitudes they've displayed, neither Sting nor Goldberg seem like they really give a wet slap about the WWF.




---

HELLO KITTY gang terrorizes city, family STICKERED to death!
Rudoublesedoublel
Potato korv



Since: 2.1.02
From: Kentucky - Home of the 8 time NCAA Champ Wildcats

Since last post: 18 days
Last activity: 22 hours

#47 Posted on 7.2.02 1516.12
I like Jarrett, but he never rose past the mid-card in his WWF past. Given the crowded mid-card/upper card in the WWF now, Jarrett wouldn't bring much to the table that the WWF doesn't already have.

Sting would be great. He could squeeze in the upper mid-card picture and be an impact player. I wouldn't be afraid (if I were the WWF) to bring back the classic (surfer) Sting. He always got great pops and was fun to watch.

Like a vast majority, I never want to see Bill Goldberg in wrestling again. I read an interview with him a few years ago on the Internet (may have been linked from WrestleManiacs) where he was bragging about injuring people in the ring. Specifically he was bragging about hurting LaParka. (He had been asked a question about how physical wrestling was and was playing up the kayfabe bad-ass role.)Not long after that he was on Dennis Miller's HBO show. A fan called in and asked him a question along the lines of "Which is tougher, wrestling or football?" Instead of giving a thoughtful answer and talking about how physical wrestling is and how hard it is to get over and stay over, Bill simply laughed and failed to answer the question. He has no respect for wrestling. He considers wrestling beneath him. He holds wrestling fans in contempt. He is a mark for himself. He never paid any dues in wrestling. Say all you want about Hogan, Hall and Nash, but at least they all traveled from town to town to town for no money and did JOB after JOB in their careers. Hell, the fact that Nash was saddled as Vinnie Vegas and Oz at points in his career but stuck with wrestling tells me that at least he wanted to be a wrestler. I'm sure Hall fondly remembers his AWA days as "Big" Scott Hall (the Magnum PI look-alike)or as the terror of WCW "The Diamond Stud". Hogan had the same crap (Terry Boulder?; traveling to Memphis for the honor of doing the JOB to Jerry Lawler). These guys are panned by fans, but at least they paid their dues and if memory serves Goldberg's best match wasn't as good as any of Hall, Nash or Hogan's best match.
The kicker? Bill Goldberg doesn't care. He was a washed up football never was. He thought wrestling was beneath him and still does. I don't begrudge him collecting the guaranteed money, that's just smart. BUT if Rollerball would've been more lucrative than wrestling when Bill Goldberg broke in, he never would have been a wrestler. Not that he ever was a wrestler.
Pages: Prev 1 2 3