Doc_whiskey
Frankfurter



Since: 6.8.02
From: St. Louis

Since last post: 19 days
Last activity: 7 hours

#1 Posted on | Instant Rating: 2.83
Ahh now thats more like it. Scary Movie 3 is easily the best movie in the trilogy. The whole theater was laughing pretty much the whole way through, as the movie was one of the best spoofs I have seen in awhile. While the 1st 2 movies relied more on gross out humor, this one had plenty of jokes and a lot of slapstick. Simon Rex and Anna Faris were great in this movie, and CHarlie Sheen did a pretty good job as well. Overall I highly recommmend this movie.

As an aside, I give props to anyone who picked up on the Airplane! reference.


---

Mr. Burns: You are of course familiar with our state usury laws?
Homer:U-sur-y?
Mr. Burns: Oh silly me, I must have just used a word that doesn't exist.
Promote this thread!
DJ FrostyFreeze
Scrapple



Since: 2.1.02
From: Hawthorne, CA

Since last post: 127 days
Last activity: 2 days

#2 Posted on | Instant Rating: 4.95

I just noticed earlier this week that none of the Wayans have anything to do with this movie at all. I wonder what happened there.


---
HrdCoreJoe
Potato korv




Since: 29.4.02
From: Jax, FL

Since last post: 2364 days
Last activity: 2363 days

#3 Posted on | Instant Rating: 4.78
I think it is safe to assume that Scary Movie 2 happened. While it did have a few laughs, it was also terrible. I like 3 of the 80 Wayans, but they just weren't needed for this so I can't wait to get out this weekend and catch this flick.


---

Andy Richter does indeed control the universe.
Big Bad
Scrapple



Since: 4.1.02
From: Dorchester, Ontario

Since last post: 3 days
Last activity: 1 day

#4 Posted on | Instant Rating: 5.54
Charlie Sheen, in thirty years time, will be the new Leslie Nielsen. He has the dry befuddlement that was just made to be in these spoofy kinds of movies.

I heart Anna Faris.


---

Of all the gizmos forced upon us by the modern world, is any more melancholy than the leaf blower? The device is manifestly useless. It blows leaves from one place to another, and then the wind blows them back again. -- Roger Ebert

Watching that movie was like watching a young child be repeatedly punched in the face.-- my friend Dave after watching Bad Boys II

Your children will laugh when you're dead!-- Jason Robards in "A Thousand Acres"

I can tell you with no ego that this is my finest blade. If you should encounter God, God will be cut.-- Sonny Chiba in "Kill Bill: Volume 1"

I would gladly pay $10.00 to see a kangaroo kick the shit out of Jeff Jarrett.-- Bubblesthechimp
Jaguar
Knackwurst



Since: 23.1.02
From: In a Blue State finally

Since last post: 473 days
Last activity: 276 days

#5 Posted on | Instant Rating: 5.51
Please allow me to do my, "I know Anna Faris, and you don't!" dance. She's quite an attractive woman.


And dammit, I still haven't seen 'May', even though they had it hear for our Retrofantasma Horror Festival last year. I should go rent that.

-Jag


---

To Make Jeb Feel Better: ;)

Note to self:

The less I post, the fewer chances I have to look like an ass.
Oliver
Scrapple



Since: 20.6.02

Since last post: 1176 days
Last activity: 1170 days

#6 Posted on | Instant Rating: 3.33
Funny, mentioning the Airplane reference...as the guy who directed this one was the man behind "Airplane!".

I always like spoofs that aren't generation specific, such as Hot Shots and Not Another Teen Movie, because the laughs are the same for everyone. I mean, the 80s Brat Pack spoof and cameos in Teen Movie were great!

Next week, I'll head out to see Scary Movie 3...if anything, it's gotta be better than the second movie. What a horrible movie!





---
E
Cotechino



Since: 7.1.02
From: WPB

Since last post: 4909 days
Last activity: 4791 days

#7 Posted on | Instant Rating: 7.30
Horrible, horrible, horrible, not funny, and stupid.

The first one's still the best.

Save your money for November 5.

* out of ****.

(edited by E on 25.10.03 1748)
Torchslasher
Knackwurst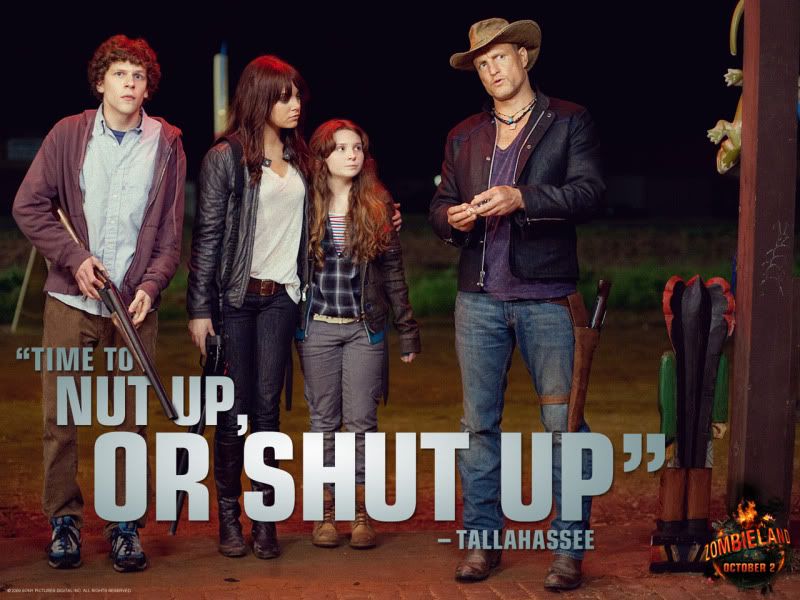 Since: 17.1.02
From: New F'n Jersey

Since last post: 70 days
Last activity: 69 days

#8 Posted on | Instant Rating: 6.44
I saw the movie this afternoon, and it was a very hit or miss affair (much like Scary Movie 2). I respect Zucker for taking two or three different movies and almost seemingly blending them all together to a plot that is almost coherent.

Anna Faris is very good in this movie and I have never enjoyed Simon Rex more. That being said, the 8 Mile Rap Battle scene was not very well done. They should have had Simon do a full-on white boy imitation ala Jamie Kennedy. Instead, Simon almost does as well a job as Eminem.

It's sad to say, but the worst part of the movie belongs to Leslie Neilson as the President. His scenes with Ja Rule are very unfunny, and he only had one line that I laughed at (not spoiling the line).

You know that the movie is reaching when so much of it relies on physical comedy. Then again, I love pratfalls, so I generally enjoyed all the abuse the characters take. So, in the end the movie rates about a 2 1/2 out of 4. I would recommend it, but don't expect an Airplane like movie.


---

Molly, Stacy and Daffney all in WWE? I suddenly lost all my will to complain about anything regarding the WWE. Hope I don't lose my street cred for this.

TS, the greatest Wiener rated 6.1554 ever to live!! Oops, I mean 5.5...4.5?? Oh, dammit! I guess Notorious FAB was right.
It's False
Scrapple



Since: 20.6.02
From: I am the Tag Team Champions!

Since last post: 61 days
Last activity: 28 days

#9 Posted on | Instant Rating: 4.91
I don't know. I actually found the scene with Leslie Nielsen, Ja Rule, and the handicapped people the ONLY redeeming quality of this horrid movie. The joke in itself wasn't funny, but Nielsen and Rule's inherent cluelessness made this work.

Simon Rex was AWFUL as the wannabe white rapper, as he made me long for Jamie Kennedy (that's NOT a good thing). The humor was completely non-existant and there were so many celebrity cameos that went completely wasted (Eddie Griffin, George Carlin, Denise Richards).

Ok, maybe there was one other redeeming quality of this movie. Anthony Anderson stole the show this time around.

(edited by It's False on 26.10.03 1548)

---
Place your bets! How long before this man is on the shelf again?
Doc_whiskey
Frankfurter



Since: 6.8.02
From: St. Louis

Since last post: 19 days
Last activity: 7 hours

#10 Posted on | Instant Rating: 2.83
Man I cant believe some people didnt think it was funny! I thought this was great, but maybe I long for the days of great comedies as Airplane! and the Naked Gun. I also have read some pretty harsh reviews online, but I think Weird Al said it best, if you are reviewing a comedy you should turn around and watch the audience. If they laugh a lot, then its a good comedy. At least at the theater I was at, the laughter was pretty much nonstop.


---

Mr. Burns: You are of course familiar with our state usury laws?
Homer:U-sur-y?
Mr. Burns: Oh silly me, I must have just used a word that doesn't exist.
uberlou
Merguez



Since: 26.3.03
From: Glendale, Cali

Since last post: 2923 days
Last activity: 2694 days

#11 Posted on | Instant Rating: 7.00
I saw this yesterday with one of my friends. We came in a few minutes late and the theater was packed so we ended up sitting in the front row.

After being really disappointed by the 2nd movie (even David Cross couldn't save it), this one saved the series and hopefully the 4th one will as well. I will never tire of Anna Faris' Cindy character. She's been consistent throughout the series. Charlie Sheen was a good addition, he has some great delivery in his scenes. "You mean my wife broke her wiener?"

Everybody was pretty much laughing their asses off in the theater I was in which made the experience even better. My favorite scene had to be the wake scene. Oh god.

I'll agree that Anthony Anderson really shined in this one. But my favorite character overall in the movie had to be Cody. Poor kid.

Now according to IMDB, the 4th movie is going to focus on superhero movies. That should be pretty interesting.


---

"Revenge is a dish best served cold."