It's False
Scrapple



Since: 20.6.02
From: I am the Tag Team Champions!

Since last post: 2 days
Last activity: 38 min.

#1 Posted on | Instant Rating: 6.32
Q'n'D
-Daniel Bryan d. The Big Show & Mark Henry to retain the World Heavyweight Championship (Bryan climbs out)
-"The Glamazon" Beth Phoenix, Natalya, and The Bella Twins d. Kelly Kelly, Eve Torres, Alicia Fox, and Tamina (Beth pins Kelly with The Glam Slam)
-John Cena v. Kane goes to a Double Count-Out

Post-match, Kane finds Zack Ryder in a wheelchair and destroys him AGAIN!

-"The Funkasaurus" Brodus Clay d. Drew McIntyre (Clay pins McIntyre with the Avalanche/crossbody)
-CM Punk d. Dolph Ziggler (Punk pins Ziggler with the GTS)
-Sheamus wins the 30-Man Royal Rumble (Eliminates Chris Jericho)

------------------

LIVE from The Bowling Alley my house! The card doesn't look great on paper, but the Rumble match is always a crowd pleaser, so I'll dive in on this one.

WWE - The Champ is Here!

A very nice Royal Rumble video package opens up. Black-and-white portions highlight Michaels, Hogan, Andre, Flair, Rock, and Austin before it goes to full color to segue into the modern day. Well-done!

Your hosts are Michael Cole, Jerry Lawler, and Booker T. This would seemingly rule out Lawler and Booker as surprise entrants in the Rumble match.

DANIEL BRYAN v. "THE WORLD'S STRONGEST MAN" MARK HENRY v. THE BIG SHOW: TRIPLE THREAT WORLD HEAVYWEIGHT CHAMPIONSHIP STEEL CAGE MATCH
Well, SOMEONE had to jerk the curtain tonight and it certainly wasn't going to be Punk or Cena. Cole IMMEDIATELY starts burying Bryan during his entrance, even though Bryan's the heel. I don't know if anyone's passed Cole that memo yet. I seriously can't believe Mark Henry's working this match after that knee injury on Tuesday to add to his groin injury. Either he's a really tough son of a bitch or there are some really callous people behind the scenes that are absolutely refusing to give him any time off. Whatever the case is, he's sporting a large knee brace. We take a look at what happened last Friday between Show and Bryan. Lilian Garcia gives us the championship intros.

Sizable "Daniel Bryan" chant can be heard in the crowd. Match starts with Bryan immediately trying to scale the cage before he gets taken down. Show avalanches Henry into the cage several times and then stops Bryan from climbing out. Show tries for the Mayweather Sucker Punch, but hits the cage. Show tries for the buttsplash/shoulderblock combo, but Bryan actually takes him down with a dropkick to the knee. Bryan goes on offense, working over both Henry and Show. Bryan tries to escape through the door before Henry catches him. "CLOSE THAT DOOR!" Henry's just awesome. Henry takes down Bryan before walking into a Show standing side kick. Show tosses Bryan around, as we get the first Twitter plug of the night. Show beats Bryan down with clubbing blows and goes to town on him. Crowd does not seem particularly engaged here. Annoucers are so enthralled with this match that they argue about AJ. Show makes the babyface comeback on both guys. He tries for the chokeslam, but Bryan blocks it. Bryan hits a Tornado DDT on Show for 2! Bryan clamps the LeBell Lock on Show before Henry breaks it up. Henry wants the World's Strongest Slam on Bryan, but Show breaks it up with the Mayweather Sucker Punch! That's a GREAT spot and OF COURSE it wasn't called by the clowns at the announce table! Bryan breaks up the pin and tries to escape! Show catches him, but Bryan keeps trying to get out! Show grabs Bryan as he climbs over, but Bryan loosens Show's grip. Show drops him and Bryan falls to the outside to retain the title!
WINNER: Daniel Bryan

Post-match, Bryan celebrates the only way that he can. That was fairly anti-climactic and the crowd did not seem impressed.

Elimination Chamber promo - Sunday February 19th!

Only two announced matches left before the Rumble match, so we need some FILLER! So here's a video package on John Cena. And it's a LONG one! This video package is longer than any of the matches on last Friday's SmackDown. I realize the roster's really thin right about now, but would it kill them to put on a MATCH?

THE BELLA TWINS, NATALYA, "THE GLAMAZON" BETH PHOENIX v. TAMINA, ALICIA FOX, EVE TORRES & KELLY KELLY
Not only did someone remember that Beth Phoenix still exists, but they also remembered her partnership with Natalya! Or they just slapped four random female heels together. Take your pick.

Natty and Tamina start out, as Cole recounts their feud. Eve comes in and hits the stripper moonsault. Eve tries to go to town on Beth, but Beth counters a somersault and goes to work. If the opener wasn't enthralling the crowd, this one's REALLY not impressing anyone. Hot tag is made to Alicia Fox to zero reaction. Twin Magic switch is completely missed by the announcers. Hot tag is made to Kelly. Kelly makes the babyface comeback and is actually BOOED for it! Damn! That's a tough crowd! So once a Pier 7 breaks out on the outside, Kelly decides to get the crowd back on her side by DIVING FROM THE TOP ROPE ONTO EVERYONE! That is, no joke, the single-most impressive thing I've ever seen from Kelly! Beth has had enough of this shit, so she forcefully makes the blind tag and finishes Kelly with the Glam Slam.
WINNERS: Beth Phoenix, Natalya, and The Bellas

Let's take another look at Kane destroying Zack Ryder, because that never gets old, right?

That takes us backstage to Zack Ryder getting wheeled around in a wheelchair. He's in a full back brace and says he came to see Cena tonight. Super Dave Laurinaitis tries to greet him, but Eve Torres enters the picture and gets in his face with some REALLY bad acting. Laurinaitis doesn't appreciate this and berates their ungratefulness. Eve calls him an ass and Ryder gives us a catchphrase. Ok...they wouldn't be dumb enough to have Kane beat him up EVEN MORE, would they?

JOHN CENA v. KANE
Cena's greeted with a healthy amount of boos during his entrance. Cena tries to go to town on Kane to start, but Kane overpowers him. The dueling chants start and the Cena haters are out in force. After a brief fight on the outside, Kane takes control with his methodical offense. Cena tries to make comebacks, but it's all Kane. Kane grabs the IRON CLAW~!, but it's reversed into the Crossface, which REALLY gets on the crowd's bad side. Kane breaks it and hits the sidewalk slam. Kane's top-rope clothesline hits. Chokeslam attempt misses and Cena comes back with The Usual. Cena thinks Kane can't see him, but Kane CAN see him and grabs THE GOOZLE! Cena dodges the chokeslam, but can't dodge the big boot. Kane tries for the superplex (!), but Cena headbutts him off and hits a Super Five-Knuckle Shuffle off the top. Attitude Adjustment is countered, so Cena dropkicks Kane low. Cena tries for the shitty STF and is kicked to the outside. The fight continues on the outside and...that's all folks!
WINNER: Double Countout

Post-match, Cena bops Kane with a speaker! The fight moves up the ramp to the entrance area. Both guys are in the production area and moving backstage. Cena tosses Kane into some plastic trash cans! Kane grabs a conveniently-placed chair and bashes Cena with it repeatedly. With Cena laid out, OF COURSE Kane decides to look for Zack Ryder! Ryder tries to fight him off, but Kane chokes him out. Ryder's out and Kane decides to wheel him out to the arena. Kane takes Ryder to ringside and throws him off the wheelchair and into the ring. Eve Torres runs out and begs for Ryder's life. Kane isn't swayed by her bad acting and lays Ryder out with a Tombstone, which actually gets a mild pop, because why should anybody give a shit about Ryder anymore? Cena runs back out and gets booed. Kane lays him out with a chokeslam to another pop. Hit Kane's music! Medics runs in and stretcher Ryder out yet again. They might as well start putting his name on that thing by now.

Tune in next week, when Zack Ryder gets into his rental car and Kane blows it up! I mean, seriously, what more can they do to poor Ryder at this point? He's been reduced to nothing more than a cheap prop. And this is all without mentioning that the show has now come to a screeching halt! There's nothing for the crowd to do now, except to chant "Cena Sucks".

And now, here's a poorly-timed B.A. Star promo!

We need MORE time to waste, so let's do another lengthy video package! This one's on The Rock!

DREW McINTYRE v. "THE FUNKASAURUS" BRODUS CLAY
Time to bury Drew McIntyre again! At least he's getting a PPV paycheck this time, if nothing else. Announcers note that McIntyre's NOT in the Rumble match. We'll keep this in mind for later. If this match has one positive, it's that they got the crowd back into this show after the last three matches just KILLED them! But yeah, this is a squash.
WINNER: Brodus Clay

Rey Mysterio, Big Show, and Eve Torres shill Slim Jims!

Raw promo

Video package recounts the CM Punk/John Laurinaitis feud! I can't wait for tonight's Punk/Laurinaitis match! Oh wait...Punk's fighting someone else?

Justin Roberts brings out John Laurinaitis, who's sporting a sleeveless referee shirt. And because they just got the crowd back in with the Brodus match, Laurinaitis grabs the mic to put them out again. Laurinaitis brings out a second referee to ref the match instead, as Laurinaitis is going to stand on the outside and referee from there. You can just see the angle ready to completely take over.

DOLPH ZIGGLER (w/VICKIE GUERRERO) v. CM PUNK: WWE CHAMPIONSHIP MATCH (SPECIAL REFEREE: JOHN LAURINAITIS)
This show has been awful to this point and, assuming the angle doesn't completely take over, this one should save it. Justin Roberts give us our championship intros. He notes that Dolph is accompanied by Vickie, but Vickie is removed since she's been banned from ringside.

Dolph tries to show off a bit, but we move into a wrestling sequence. Both guys go back and forth and, at this point, I'm just going to enjoy it for a while. Both men exchange blows and a Punk clothesline is turned into the Sleeper Hold! Punk turns THAT into the Anaconda Vise! Dolph counters THAT and grabs the chinlock! Punk breaks it, but eats a dropkick! Dolph tries for the Rocker Dropper and Punk counters that with a tilt-a-whirl powerbomb for 2! Dolph's clothesline is turned into a swinging neckbreaker. High knee/bulldog hits and Punk signals for the GTS! GTS is countered to a catapult, but catches himself and hits a second-rope crossbody. Dolph rolls through and grabs the tights, but only gets 2! Zig Zag misses and Punk kicks Dolph in the face for 2! Punk wants the Savage Elbow, but thinks better of it when he sees Laurinaitis. He goes for it, anyway, and hits it for 2! Punk tries for the GTS, but Dolph shoves Punk into the ref. Punk clamps on the Anaconda Vise, but there's no ref, as Laurinaitis is checking on the other referee. Punk calls for Laurinaitis, but Dolph rolls him up from behind. Punk reverses it, but there's still no ref! Laurinaitis rolls the downed ref into the ring. Dolph tries to attack, but Punk picks him up into the GTS...and knocks Laurinaitis out of the ring! Punk covers and there's STILL no ref! Jeeze, Nunzio, I thought you were made of sterner stuff! Punk tries for the GTS again, but Dolph counters it with the Rocker Dropper for 2! That was an AWESOME counter! Dolph pounds away on Punk. Zig Zag is turned into a catapult and Punk finishes with the GTS, with Laurinaitis providing a simultaneous count. GREAT match!
WINNER: CM Punk

Post-match, Laurinaitis hands Punk the title and exits. I could have done without the referee nonsense, but this was a great match! I'd kill to see Punk and Dolph go one more time!

WWE/YouTube promo

30-MAN ROYAL RUMBLE
This one's going to be tough to recap, so I'm going to keep each segment brief. We have 90 second intervals this year. Miz is #1, of course. Miz has giant inflatable letters spelling out "AWESOME" at the ramp that he walks through for his entrance. That is unspeakably cool! Miz delivers a brief promo and says he'll be winning tonight, despite drawing #1, and he'll defy the odds yet again. Alex Riley is #2, but his stock has dropped BIG TIME since his feud with Miz, so I don't expect him to be competitive here. Riley starts off with a flurry of offense, but the elimination attempt is thwarted and Miz stomps away. Miz tries to dump Riley, but Riley reverses it! Miz hangs on and lowbridges a charging Riley to eliminate him! (ELIMINATED: Alex Riley)

#3: R-TRUTH
Truth rushes Miz and goes to town on him. Truth tries to eliminate Miz, but Miz lands on the apron again. Skull-Crushing Finale is countered! Truth hits a delayed powerslam. Truth tries to dump Miz, but Miz lands on the apron again.

#4: CODY RHODES
Truth takes his eye off the ball and Cody nails him with the Beautiful Disaster and front suplex. Cody holds Truth for Miz and the heels double team Truth. Miz tries to jump Cody, but stops as soon as Cody notices him! HA! Cody gets dumped onto the apron, while Miz nails Truth with his neckbreaker/backbreaker combo.

#5: JUSTIN GABRIEL
Gabriel comes off the top onto the heels with a crossbody. Blue Thunder Bomb puts Cody down, roundhouse takes down Miz, and STO puts down Truth. Cody catches Gabriel and tries to dump him, but Gabriel rolls back in. The feuding guys pair off.

#6: PRIMO
Primo cleans house on everyone, getting a surprising amount of offense. Gabriel tries to backdrop Primo and Primo does a headstand. Cody misses the Beautiful Disaster on Truth and Truth nails him with the Lie Detector, before Miz dumps Truth! (ELIMINATED: R-TRUTH) Truth doesn't take this well and pulls Miz out from under the bottom rope and gives him the What's Up on the outside.

#7: MICK FOLEY
Mick comes out to a big pop! Mick goes to town on Primo and eliminates him! (ELIMINATED: PRIMO) Cody tries to work over Foley, but Foley pounds on him in the corner. Bang bang! Running knee hits. Double-arm DDT hits! Mick calls for Gabriel to help him eliminate Cody and they all fight on the ropes.

#8: RICARDO RODRIGUEZ
Alberto Del Rio's music hits and everyone reacts like it's ADR, but when a beat-up rental car rolls up, everyone realizes it's not ADR, but it's Ricardo pulling off ADR's entrance, complete with scarf! HA! That starts a huge "Ricardo" chant! That's just awesome! Ricardo stomps away on Cody, as Mick and Gabriel don't know what to make of this. Ricardo tries for some token offense and even helps Mick eliminate Gabriel! (ELIMINATED: JUSTIN GABRIEL) Ricardo celebrates insanely! This is just too awesome!

#9: SANTINO MARELLA
We have a standoff between Mick, Ricardo, and Santino. Ricardo backs down from Santino's power walk. Santino hits Ricardo with his comedy offense. Comedy roll-up sequence ensues and Santino wedgies Ricardo to throw him out! (ELIMINATED: RICARDO RODRIGUEZ) Mick and Santino whip out DUELING SOCKS!!! YES!!! They circle around, as the countdown timer appears.

#10: EPICO
Epico runs down, but you know what happens here. COBRA~! Mr. Socko quickly ends Epico's night. (ELIMINATED: EPICO) SOCK FIGHT! SOCK FIGHT! SOCK FIGHT! Miz and Cody Rhodes break this up and Cody dumps Santino. (ELIMINATED: SANTINO MARELLA) Mick hits Miz with Socko, but Cody sneaks in and tosses him out. (ELIMINATED: MICK FOLEY)

#11: KOFI KINGSTON
Kofi cleans house on the heels. Springboard double clothesline hits! Double Buzzsaw Legdrop! Miz survives an elimination attempt and Cody hits Kofi from behind and hits a big dropkick. The heels try and get rid of Kofi, who hangs on the ropes.

#12: JERRY LAWLER
Oops! I guess Lawler isn't ruled out for this match, after all. Heel miscommunication occurs and Lawler hits dropkicks on the heels. Second-rope fist drop on Miz, but Cody dumps Lawler. (ELIMINATED: JERRY LAWLER)

#13: EZEKIEL JACKSON
Zeke muscles the heels around and hits Kofi and Miz with corner lariats. Jackson hits Kofi with a tilt-a-whirl backbreaker and pounds on Cody in the corner.

#14: JINDER MAHAL
Mahal takes his time in walking to the ring. Zeke waits for him to come in. Jinder hits Kofi with a high knee and hits Jackson with a neckbreaker.

#15: THE GREAT KHALI
Here's Khali making his return. JUDO CHOP~! for Cody! JUDO CHOP~! for Miz! JUDO CHOP~! for Kofi! JUDO CHOP~! for Mahal! Khali dumps Mahal quickly. (ELIMINATED: JINDER MAHAL) Zeke tries to take Khali, but Khali tosses him out in short order. (ELIMINATED: EZEKIEL JACKSON) Kofi tries to backdrop Cody, but Cody hangs on.

#16: HUNICO
Hunico hits a second-rope springboard crossbody on Kofi. Angle Slam for Cody! The crowd is not impressed with Hunico. Khali hits Hunico with a JUDO CHOP~!

#17: BOOKER T
Ok, Booker's in the match, too. Booker gets a big pop and cleans house, but is stopped in his tracks by Khali. Big "Booker T" chant from the crowd! Miz tries to dump Kofi, who skins the cat! Miz tries desperately to push him out! And Kofi does a HANDSTAND and handstands his way to the steel steps to survive! WOW! And I thought we weren't going to get any of those cool spots this year!

#18: DOLPH ZIGGLER
Didn't expect to see Dolph in this match! A lot of bodies in the ring right now. Booker tosses Hunico, but Hunico only has one foot hit the floor, so he survives.

#19: HACKSAW JIM DUGGAN
Our next nostalgia act has arrived! Duggan cleans house on everyone and a big USA chant starts up! Double noggin knocker for Cody and Miz! Duggan misses a corner charge and Cody eliminates him! (ELIMINATED: HACKSAW JIM DUGGAN) Khali, Dolph, and Cody gang up to eliminate Booker. (ELIMINATED: BOOKER T) Khali gets taken out right after! (ELIMINATED: THE GREAT KHALI)

#20: MICHAEL COLE
Of course Cole's in this match. Remember, Zack Ryder was written out and Drew McIntyre wasn't allowed to be in this match, but Cole's perfectly ok. I feel like pulling a Jericho and reading off a list of guys I'd rather see in this match than Michael Cole. Everyone LITERALLY stays to one half of the ring, just so Cole can prance around like a jackass.

#21: KHARMA
OH SHIT! Has it been 9 months already? Cole shits his pants. Everyone pairs off in the corner and Kharma waffles Cole to a huge pop! Cole climbs over the top rope and pleads for his life and Booker pulls him off! (ELIMINATED: MICHAEL COLE) Dolph takes umbrage to Kharma's presence, so Kharma wipes him out with the Kharma Bomb! Hunico charges in and Kharma chucks him! (ELIMINATED: HUNICO) Dolph finally stops the rampage when he sneaks up behind Kharma and tosses her! (ELIMINATED: KHARMA)

#22: SHEAMUS
Sheamus cleans house with Irish Hammers. Kofi tries to charge at Sheamus, who catches him and dumps him. (ELIMINATED: KOFI KINGSTON) Ten-count chest strikes for Cody! Ten-count chest strikes for Miz! Zig Zag attempt on Sheamus is blocked.

#23: THE ROAD DOGG
I don't think anyone had Road Dogg pegged for this match! Cody gets nailed with the Shake Rattle 'n Roll punches! Pumphandle slam for Miz! "You Still Got It" chant from the crowd.

#24: JEY USO
Jey hits Road Dogg with a corkscrew forearm. Superkick for Miz. Umaga buttsplash for Road Dogg. Everyone's off in separate corners, as the match slows down.

#25:"THE ALL-AMERICAN AMERICAN" JACK SWAGGER
Swagger gets a nice initial flurry to start. Bodies are filling the ring again and they're just warming things up for Orton, at this point.

#26: WADE BARRETT
Barrett comes out to some new music and that's going to take me some time to get used to. Goodbye, Road Dogg! (ELIMINATED: THE ROAD DOGG)

#27: DAVID OTUNGA
Nothing of note happening here. Again, the ring's just filling up with deadwood for Orton.

#28: RANDY ORTON
Ok, time to clean house! Orton goes after everyone! VIPER COIL~! Double hanging DDT for Cody and Dolph! So long, Jey Uso! (ELIMINATED: JEY USO) RKO for Barrett! Goodbye, Wade! (ELIMINATED: WADE BARRETT)

#29: CHRIS JERICHO
The lights go out for Jericho's entrance! And Jericho STARTS THROWING RIGHTS, making his first contact since returning! Goodbye, Otunga! (ELIMINATED: DAVID OTUNGA) Everyone fights off in opposing corners again, as we wait for the last guy!

#30: THE BIG SHOW
I also didn't expect Show to be in this match! Show helps Sheamus and pulls out Swagger. (ELIMINATED: JACK SWAGGER) Swagger takes umbrage to this, so Show lays him out with the Mayweather Sucker Punch. Show shoves out both Miz and Rhodes! Damn! (ELIMINATED: THE MIZ, CODY RHODES) Show dumps Dolph! (ELIMINATED: DOLPH ZIGGLER!) And we are down to...

FINAL FOUR: SHEAMUS, CHRIS JERICHO, RANDY ORTON, THE BIG SHOW
An all babyface Final Four! Everyone gangs up on Show, but Show fights them all off! AAAAAAATHECHOKESLAM for Jericho! RKO for Show! Show shakes off Sheamus, but Orton tosses Show! (ELIMINATED: THE BIG SHOW) And seconds later, JERICHO TOSSES ORTON! (ELIMINATED: RANDY ORTON) That shocks the hometown crowd and we're down to Jericho and Sheamus. They do the token point to the Wrestlemania sign. Sheamus goes to town on Jericho, but Jericho reverses a corner whip. Jericho tries for the bulldog, but Sheamus uses his momentum against him and nearly tosses Jericho! Jericho hits a second-rope dropkick. Y2J chant starts up! Sheamus catches Jericho with the Irish Curse! He calls for the High Cross to toss him, but Jericho slips out and clotheslines Sheamus...to the apron! Jericho hits the springboard dropkick and Sheamus lands on the apron again! Sheamus comes back in with the slingshot shoulderblock. Sheamus tries to get rid of Jericho again, who slips out. Brogue Kick is ducked and Jericho gets the Walls! After warming him up, Jericho charges in and gets backdropped out...but Jericho hangs on the ropes and pulls a Shawn Michaels! Now the fight has gone to the top rope! Sheamus wants to headbutt Jericho out, but Jericho crotches him and both guys are on the apron! Back in the ring, Jericho hits the Codebreaker! Jericho tries to cover, which does no good! Jericho hammers on Sheamus some more and tries to push him out! Sheamus survives it and Jericho slaps Sheamus in the face. Sheamus tries for a Brogue Kick and misses! Codebreaker is blocked and Sheamus dumps him! Jericho survives again, but the Brogue Kick puts Jericho down to win this for Sheamus!
WINNER: SHEAMUS

Sheamus poses in the corner and "A WINNER IS YOU" PYRO goes off to end our show.

I don't think shows get much worse than that first 90 minutes, but man, did Punk/Ziggler and the Rumble match save this one in a huge way! I'm more amazed by the Rumble match, given the considerable lack of star power this year. They did a damn good job with what they were given and delivered an entertaining match. If you can survive the first hour and a half of disappointments, crap, and video packages, this is a lot of fun!

It's a Thumbs in the Middle, leaning up for The Royal Rumble!

(edited by It's False on 29.1.12 2048)
---
Promote this thread!
dwaters
Lap cheong



Since: 16.10.02
From: Connecticut

Since last post: 5 days
Last activity: 13 hours

#2 Posted on | Instant Rating: 6.43
Morrison's Spider Man spot now has a rival with Kofi's handstand-walk-to-the-steps spot.
Hogan's My Dad
Andouille



Since: 8.6.02
From: Canada

Since last post: 10 hours
Last activity: 10 hours

#3 Posted on | Instant Rating: 7.73
I really enjoyed the two title matches, the Cena and Rock video packages, as well as the Rumble itself. The rest was somewhat weak but more or less what you expect from modern WWE. God Bless Kofi for his spot. I wanted Jericho to win, but he's such a douchebag now that he just falls all over himself to not give the people what they want because that's daring or whateverthefuck and probably refused to win. Seamus works hard but realistically his Mania main event won't be the true main event, and everyone knows that. He'll be in the show-opening title match or mid-show title match. That's been happening for years, and it only serves to water down the prestige of winning the Rumble. I also felt there was more comedy in this particular Rumble match than I generally care for. Foley/Santino, Ricardo, all the announcers coming in...It was just too much for one year. Miz lasting all that time but somehow not really impressing like the others who have done the same is also worrying. I really want to stress that it was entertaining, I don't mean to say it wasn't. But I just don't think a lot of it was needed or wise, from a booking perspective.
---

Quiet, Or Papa Spank!
BigDaddyLoco
Scrapple



Since: 2.1.02

Since last post: 9 hours
Last activity: 6 hours

#4 Posted on | Instant Rating: 7.47
As far as Rumble matches go this one wasn't one of the better ones. I thought they got too cute and stayed that was for too long.

Nobody really took charge in that middle part of the Rumble, no real stories were told, advanced or dug up from the past. If Randy Orton isn't going to get the win then why not have him come in during that dead middle period and clean out some of the dead weight.

Speaking of dead weight there was a ton of it this year, which is probably a reflection on how terrible a job the WWE has done with the lower card guys.

Jericho and Sheamus did a fine finishing sequence. I wasn't sure which way they were going to go. I don't care for Sheamus, but whatever there are worse options I suppose I just hope he gets a new theme song before WrestleMania.

It will be interesting to see what Jericho does now. I didn't really expect him to go out there and act normal, and that is exactly what he did.

I remember Ricardo dishing up a real nice standing drop kick to somebody once. I would have liked to have seen that.


When we look back on Rumbles this one will probably just fade into the background and never really get mentioned. I'd have to really look, but it doesn't strike me as a bottom five Rumble but it has got to be in the bottom ten somewhere.

Edit: Oh yeah, very good recap by It's False




(edited by BigDaddyLoco on 29.1.12 2315)
geemoney
Scrapple



Since: 26.1.03
From: Naples, FL

Since last post: 16 days
Last activity: 5 hours


AIM:
#5 Posted on | Instant Rating: 7.63
There was no drama in the first 3/4 of that Rumble match, which had a dearth of big names. They packed a lot in the end, but even then, this was one of the least star-studded Rumbles ever (despite what WWE may say tomorrow). That killed my enjoyment of the match. Naturally I liked the cameos, but too many Jey Uso-level guys.

I thought Ziggler vs. Punk was only a taste of what they could do, with the predictable over-complicated finish (Ziggler beat Punk four times leading up to tonight, and Punk beat him four times in the match. Coincidence?). Kane vs. Cena had a cheap finish and it needed a big angle post-match to make up for it, which we got. The cage match was fine, but the finish was anti-climactic. Not a good show in my book.

I guess Jericho's promise of the "End of the World" didn't quite pan out.

(edited by geemoney on 29.1.12 2318)

---

@gregmparks - live Tweeting of Raw and Impact, wrestling thoughts and other slices of life.
odessasteps
Scrapple



Since: 2.1.02
From: MD, USA

Since last post: 346 days
Last activity: 313 days

#6 Posted on | Instant Rating: 5.04
Losing for jericho could be the end of the world.

The rumble showed the lack of depth in the wwe right now.


---

Mark Coale
Odessa Steps Magazine presents


RUSSIAN FLAG BURIAL - an examination of 1984 mid-south



The Goon
Boudin blanc
Moderator



Since: 2.1.02
From: Calgary, Alberta, Canada

Since last post: 2 days
Last activity: 1 day

#7 Posted on | Instant Rating: 8.95
Part of me feels like Daniel Bryan wasn't supposed to win that way and that quickly. I thought the spot was going to be Big Show pulling Bryan back in the ring just hanging from his arm. I wonder if he just slipped.

I enjoyed the Ricardo Rodriguez bit immensely. Not so much Jim Duggan or any of the announcing team. If the Spanish-language announcers started suiting up I would have walked out.


JustinShapiro
Scrapple
Moderator




Since: 12.12.01
From: Pittsburgh, PA

Since last post: 2 days
Last activity: 8 hours

#8 Posted on | Instant Rating: 8.77
I thought that show completely sucked. Worst Rumble PPV since 2006, which had no good undercard matches, the exploitation Rumble, and ended with Undertaker shooting a lightning bolt at the ring after Mark Henry vs. Kurt Angle. I also thought it was the worst Rumble match since 1999, turning the easiest match of the year into a comedy battle royal with 1/3rd joke entrants. Also, two long Wrestlemania commercials.

Cena/Kane had an awful finish and the continued use of Ryder as crash test dummy. Cena and Ziggler had a good match ruined by the focus on Laurinaitis.

Only good part, besides some funny Rumble shenanigans, was the end with Jericho and Sheamus. Sheamus winning serves the purpose of being unpredictable (even when predictable is better), and in one sense it's better to invest a huge win like that in him vs. 40-year-old Jericho. Awful use of Orton in his hometown. I guess it sets up Sheamus vs. Orton after he wins the Chamber, or maybe a fourway with Bryan and Henry? I don't think we'll see Orton vs. Bryan in a dark world title match.

I'm a pretty positive wrestling guy, especially January-April, but I hated this. Onward and upward!
odessasteps
Scrapple



Since: 2.1.02
From: MD, USA

Since last post: 346 days
Last activity: 313 days

#9 Posted on | Instant Rating: 5.04
I like the idea of db/sheamus having a title match a year after being bumped to the dark match a year ago.


---

Mark Coale
Odessa Steps Magazine presents


RUSSIAN FLAG BURIAL - an examination of 1984 mid-south



SchippeWreck
Banger



Since: 26.3.03
From: Glendale, CA

Since last post: 15 hours
Last activity: 11 hours

#10 Posted on | Instant Rating: 7.84
Scottyflamingo, ladies and gentlemen! Only one to correctly pick Sheamus.


---

"It's magic! We don't need to explain it!"
Spiraling_Shape
Lap cheong



Since: 2.1.02
From: PA

Since last post: 11 hours
Last activity: 10 hours

#11 Posted on | Instant Rating: 6.18
I was sure Jericho was winning that...the whole ending sequence with him & Sheamus was really entertaining for two guys who I don't think ever faced off ever in the ring.

Last year Sheamus/Bryan got bumped off the Mania card... could they have a main event this year, fella?

Poor Drew...and poor Jimmy Uso.

The comedy spots in the Rumble were outstanding. Ricardo! Cobra vs. Socko!

Why is Kofi now The Riddler?

Nowhere near tired of Punk/Ziggler matches.

Thank goodness Beth Phoenix is back on TV (and pinning Kelly Kelly). Is Kharma ready for a full schedule?

I was sure they'd send Kane back out for the Rumble to add to his record of eliminations (and I think I read he's been in it for 13 straight years?). Also, Wheelchair Paul Bearer > Wheelchair Zack Ryder. WWWYKI

P.S. - Nice Transformers: The Movie reference, It's False.


---

"Ice cream bars! Ice cream bars!" - RAW crowd, Boston, 7/11/11
shawnpatrick
Kishke



Since: 31.7.07
From: Leesville SC

Since last post: 1108 days
Last activity: 990 days

#12 Posted on | Instant Rating: 1.84
Kharma's pregnancy was announced about May 25th..... So it's been eight months, however, no announcement of the birth of her child was made, and 8 months would mean she is back not long after giving birth. Kind of odd unless she was into her second trimester when the pregnancy was discovered.
John Orquiola
Scrapple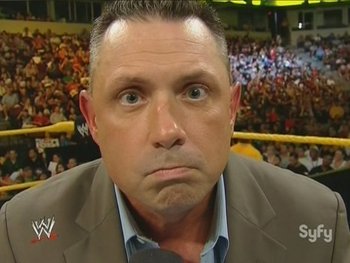 Since: 28.2.02
From: Boston

Since last post: 335 days
Last activity: 335 days

#13 Posted on | Instant Rating: 6.26
Tremendously great work by It's False on the Rumble recap.

Kharma vs. Beth is probably a lock for WrestleMania, the first Divas one on one Title match since Melina vs. Ashley in 2007, if you can believe that. (Technically the first one on one Divas Championship match at WrestleMania ever since the Women's Title was retired.) Unless Kharma gets pregnant again. Did she have the kid already? Has it been 9 months?

If Beth vs. Kharma is a go, ooh, I can't wait to hear the classy and subtle ways Creative works Kharma's pregnancy leave into the angle. Will Beth boot a black Cabbage Patch doll into the audience a la Snitsky?

Booker T revealed to be calling the Rumble match in a sport coat, dress shirt, and no pants was my favorite joke of the Night of 1000 Royal Rumble jokes. Just below it was Ricardo Rodriguez and his car. Third was Road Dogg's "HEY HEY!" with his arms up yelling at Sheamus not to hit him. The D-O-Double G didn't sign on to take any bumps!

The Rumble Match Itself was basically the WrestleMania pre-show battle royal passed off as the Royal Rumble until the last few entrants had Actual Main Eventers Who Could Actually Headline WrestleMania.

For the Promising Midcard Guys Who Are Still Stuck In The Midcard like Cody Rhodes, they were basically showing off to try to get Vince McMahon to look at them. Cody's whole Rumble performance screamed "Notice me!" to Vince. Then Kofi does his handstand as if to one up him, "NO, Notice me, Vince!" It was The Impress Vince McMahon Royal Rumble Midcarder Talent Show Out there.

After the shock of Sheamus winning wore off, I realized Sheamus is a pretty fine choice. Not what I wanted, necessarily, but for guys who they could (re-)elevate, Sheamus is well-liked by everyone. The WWE Universe likes him. Internet smarks like him. I like him. I hope they do go for Sheamus vs. Bryan, improbable as that may seem for WrestleMania. Sheamus v. Orton has been done, and Bryan, for all his smark love, is being booked as a weasel champion who needs his comeuppance. Sheamus can beat the hell out of that little fella as well as anyone to the crowd's approval.

There was way, way too much Eve in the first 90 minutes of the show. I like looking at Eve more than the next guy (the next guys being people who post here), but still, too much Eve.

(edited by John Orquiola on 29.1.12 2259)
---

@BackoftheHead


www.backofthehead.com

(V) (;,,;) (V) ZOIDBERG
CRZ
Big Brother
Administrator



Since: 9.12.01
From: ミネアポリス

Since last post: 3 hours
Last activity: 3 hours

#14 Posted on | Instant Rating: 9.39
Originally posted by Spiraling_Shape

---

Why is Kofi now The Riddler?

---
He doesn't know where Evan Bourne is!

BUT at least know he knows why his Twitter handle is @findevan!

(edited by CRZ on 29.1.12 2311)

---

Big Bad
Scrapple



Since: 4.1.02
From: Dorchester, Ontario

Since last post: 2 hours
Last activity: 2 hours

#15 Posted on | Instant Rating: 6.12
So after the video packages, the no talking, the no contact in matches and the 'end of the world' promise, Jericho comes into the Rumble and....is just regular Jericho again? Seems like a waste. I figured if he'd just wrestle normally he'd be sure to win, to at least pay everything off, but nope.

Ricardo's entrance, the Socko/Cobra faceoff, the announcers entering, Kharma's surprise return, Duggan and Road Dogg as the returning legends....all entertaining. I, for one, really enjoyed this year's comedy Rumble spots. Unfortunately, the rest of the match (save Kofi's awesome handstand and the end sequence with Jericho and Sheamus) wasn't nearly up to the standard of past Rumbles.

It's not out of the realm of possibility that Sheamus chooses to use his Rumble victory to challenge for the Streak.


---

"It breaks your heart. It is designed to break your heart. The game begins in the spring, when everything else begins again, and it blossoms in the summer, filling the afternoons and evenings, and then as soon as the chill rains come, it stops and leaves you to face the fall alone." --- Bart Giamatti, on baseball
John Orquiola
Scrapple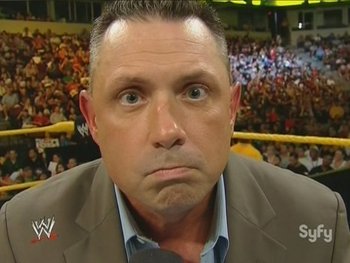 Since: 28.2.02
From: Boston

Since last post: 335 days
Last activity: 335 days

#16 Posted on | Instant Rating: 6.26
Originally posted by JustinShapiro

---

I also thought it was the worst Rumble match since 1999

---


The 1999 Royal Rumble was won by Vince McMahon, who was the last Irish guy to win the Royal Rumble Match Itself until... Sheamus in 2012. (According to @WWE_Creative, and those guys have never lied to me.)


---

@BackoftheHead


www.backofthehead.com

(V) (;,,;) (V) ZOIDBERG
SKLOKAZOID
Lap cheong



Since: 20.3.02
From: California

Since last post: 16 hours
Last activity: 2 sec.


AIM:
#17 Posted on | Instant Rating: 10.00
I hope Jericho being runner up means Punk/Jericho for WM. I can live with Punk/Jericho and Bryan/Sheamus as the title matches, and actually Sheamus is a great face foil for Bryan's current character.

I don't know where that leaves Orton, though, unless they do Punk/Orton. (Please no triple threats!)

Of course, there's still Elimination Chamber which could completely change everything.

Didn't see this, but sounds like the title matches were decent and then everything else was kind of eh.
shawnpatrick
Kishke



Since: 31.7.07
From: Leesville SC

Since last post: 1108 days
Last activity: 990 days

#18 Posted on | Instant Rating: 1.84
I just watched a youtube video of Kharma at the Royal Rumble and her faceplant of Dolph Ziggler was just sick.

http://www.youtube.com/watch?v=aioFdCCSA3E
Tyler Durden
Landjager



Since: 22.2.04
From: Frankfurt, Germany

Since last post: 41 days
Last activity: 2 days

#19 Posted on | Instant Rating: 4.09
Originally posted by Spiraling_Shape

---

Last year Sheamus/Bryan got bumped off the Mania card... could they have a main event this year, fella?

---


That's what I thought as well. How ironic would that be? But their match, sure as hell, would be the opener then, like Edge/Del Rio last year.

As far as the Rumble PPV is concerned:

Didn't like it.

Really bad Rumble match. Way too much comedy. Sheamus won. Finishing sequence was far too long and unrealistic (yeah, I know).

I ffwed the Divas match. Did Natty fart again?

One of these days Dolph will kill Punk in the ring, and the killing will involve a ring rope. Last time he threw Punk into the ropes face first, this time it was the neck. He is exactly safe to work with, is he?

Funkasaurus ... Kane .... Ryder => even more comedy and Wrestlecrap! What is this, 1995 all over again?

At least Daniel Bryan delivered, like always. Liked the opening match a lot.
Cerebus
Scrapple



Since: 17.11.02

Since last post: 2 days
Last activity: 5 hours

#20 Posted on | Instant Rating: 0.93
Why does everyone shit on the 1999 Rumble? I liked that one.

This year, however, I'm not sure how I am supposed to feel about it. As I was watching it, I liked the way it was going, but as soon as the show was over, I started to feel cheated.

Where were all the main event guys? Where are all the 'money' drawers? Undertaker should have been there. He should have showed up in some way just to remind people he still exists. we're 8 weeks away from Wrestlemania and they needed to have SOMETHING to get the Undertaker's program started.

What about Kane? They make a big fuss about how he's been in 13 straight Rumbles and almost beat Shawn Michaels record for the most eliminations. They also used Zack Ryder and John Cena to elevate Kane into a total badass monster position... only to not use him.

John Cena was also very noticeably absent from the Rumble. I'd understand him not winning it, but he should have been used a enhancement talent by getting eliminated by someone. Hell, they could have had The Rock come out and toss him over just to remind people about their match instead of those wasted video packages.

Then you had the over abundance of lower card guys in there. One of the Usos, Alex Riley, and as much as I love Michael Cole... he should not be in the Royal Rumble. Ever. I did scream like a little girl when it came his turn to get in there, though.

I'm just gonna assume that Raw tomorrow/tonight will be an extremely loaded show.

I really was impressed with the color coordination by the Bellas, Beth Phoenix, and Natalya. They all looked fantastic in the matching outfits.


---

Forget it Josh... it's Cerebustown.
Pages: 1 2 3 Next