Kawshen
Liverwurst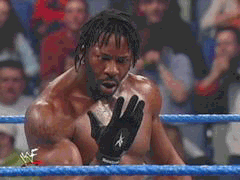 Since: 2.1.02
From: Bronx, NY

Since last post: 3237 days
Last activity: 1497 days

#1 Posted on
SNL's on in a few minutes and from the commercials I can tell Rock is going to be in a Brian Fellow's skit and in another one - he's the bartendar at a gay bar or something....


Rock's funny and all but I REALLY hope he brought someone with him. :)


---

Promote this thread!
Tragic1
Chourico



Since: 2.1.02
From: Rolling Meadows, Illinois

Since last post: 5649 days
Last activity: 5640 days

#2 Posted on
I'm glad someone is wrestling finally made an "it's all fake" joke about other forms of entertainment.

And nice recovery on that tome/tomb slip.


---

"Hahaha.. Yeah, trust the fuckhead." Spider Jerusalem
A Fan
Liverwurst



Since: 3.1.02

Since last post: 4836 days
Last activity: 4836 days

#3 Posted on
Man, does SNL suck. I liked the Rock, but only Will Farrelln is the only funny guy on the show. I think the writers and cast have sandbagged this season and its a shame too since Rock is usually great with improv.

I hope they get a kick in the butt soon, the news format is stupid, the jokes are stale and the actors are going through the motions. The first Rock episode was better, but thats because he had better material to work with and the trio of Mick, HHH and Big Show ruled as well.

A Fan- 38 hours awake and going strong...zzzzzzzzzzzzz.
PalpatineW
Lap cheong



Since: 2.1.02
From: Getting Rowdy

Since last post: 4109 days
Last activity: 3951 days

#4 Posted on
PARTY HARD PARTY HARD PARTY HARD PARTY HARD



That's all I got to say. Andrew WK is the man.


---

Do I lie to myself to be happy? In your case, Teddy, I think I can.
Jackson
Sujuk



Since: 4.1.02

Since last post: 3269 days
Last activity: 2794 days

#5 Posted on | Instant Rating: 5.37
Originally posted by PalpatineW

---

PARTY HARD PARTY HARD PARTY HARD PARTY HARD



That's all I got to say. Andrew WK is the man.

---


ONLY good part of the show. Everything else sucked a fat one and I like SNL.


---

Bubbles? Oh come on Sharon! Iím Ozzy Osbourne the Prince of Fucking Darkness. Evil, evil, more fucking evil not a boatload of fucking bubbles man.
Big Bad
Scrapple



Since: 4.1.02
From: Dorchester, Ontario

Since last post: 4 days
Last activity: 1 day

#6 Posted on
That skit with the Rock as Bigfoot and Ferrell as Neil Diamond was hilarious.


---

I was born in a manger, like that other guy. You know, he wore a hat?
Alpha Male
Chaurice



Since: 12.4.02
From: Dover, NH

Since last post: 5854 days
Last activity: 5645 days

#7 Posted on
I didn't catch SNL, but every time I do, I'm awestruck at how un-funny Will Ferrell is. Good god, he tried as hard as he could to bring down Jay and Silent Bob. A modern day Chevy Chase. Sheesh.
What was this thread about again?


---

"Only an numbskull thinks he knows things about things he knows nothing about"-- Amy Archer
MoeGates
Boudin blanc



Since: 6.1.02
From: Brooklyn, NY

Since last post: 27 days
Last activity: 7 hours

#8 Posted on
I thought everyone but Will Farell was funny. Honestly, does the man have another gag other than being "sexy?"

Moe


---

Expressing myself EVERY day!
zhixel
Cotto



Since: 26.3.02
From: Culpeper, VA

Since last post: 5153 days
Last activity: 4859 days

#9 Posted on
Hello, QVC? My name is Brian Fellows! I'd like to order a solid gold bird cage!

That must have been the only good skit on tonight. I didn't find any of the skits rocky was in to be especially funny. And good god, why are they making him sing?
Big John DUD!
Linguica



Since: 25.3.02

Since last post: 5731 days
Last activity: 5731 days

#10 Posted on
oi thank god for Undergrads or else Saturday Night TV viewing would have been a total bust. (HEH there's only 13 episodes of that show and yet it blows almost anything on television out of the water.)I guess SNL's heading for aother dark age with shows like the one last night. (Hey don't mean to sound so negitive but this is a Internet wrestling forum is it not?
)
Spiraling_Shape
Lap cheong



Since: 2.1.02
From: PA

Since last post: 4 days
Last activity: 16 hours

#11 Posted on
It wasn`t as good as the first time, but I still liked Rock`s SNL hosting. I`ve never been an "everything sucks on SNL" person (nor do I ever say that about WWF TV). The Neil Diamond thing was hillariously bizarre. The only Rock skit that sorta fell flat was the Scorpion Prince one, and even that had his flubbed line, which was pretty funny.


---

"Why don't you say 'what' if you like to sleep with your own sister." - The Undertaker
shea
Bockwurst



Since: 1.2.02
From: Brooklyn NY

Since last post: 5278 days
Last activity: 5164 days

#12 Posted on

hey, lay off Brian Fellows. Birds ARE plotting against us.

As far as the musical entertainment goes:

A bunch of posers singing surfer-dude "hey, let's party!" lyrics against a faux-metal background is as lame as it gets.

Euclid
Weisswurst



Since: 12.4.02
From: NYC Metro

Since last post: 5719 days
Last activity: 5718 days

#13 Posted on
And good god, why are they making him sing?


Anyone else figure that Rocky asked THEM if he could sing? He fancies himself something of a crooner (how lame was the Jimmy Buffet thing with Stone Cold a while back?)


As a crooner, he's a good wrestler....


Wondering if we'll see Gay Ass Billy Gunn and Chuck swoon over that bartendnder performance in a backstage skit sometime soon?
evilwaldo
Lap cheong



Since: 7.2.02
From: New York, NY

Since last post: 4686 days
Last activity: 4467 days

#14 Posted on
The opening skit, Brian Fellows, Scorpion King, and Gene Shalit were good. Not anything I would want to tape and save but good.

As for Andrew WK, why did he do the same song twice? Is that the only song they know? They sucked big time.




---

You're in a desert, walking along in the sand when all of a sudden you look down and see a tortoise. It's crawling towards you. You reach down and flip the tortoise over on its back. The tortoise lays on its back, its belly baking in the hot sun, beating its legs trying to turn itself over. But it can't. Not without your help. But you're not helping.
Spiraling_Shape
Lap cheong



Since: 2.1.02
From: PA

Since last post: 4 days
Last activity: 16 hours

#15 Posted on
As for Andrew WK, why did he do the same song twice?

He didn`t. All his songs are the same. So party hard.


---

"Why don't you say 'what' if you like to sleep with your own sister." - The Undertaker
The Sham
Kolbasz



Since: 20.1.02
From: Hamden, CT

Since last post: 3004 days
Last activity: 2356 days

#16 Posted on
The reason Rock didn't bring along any other wrestlers is because he was there to hype The Scorpion King. Last time he was there to hype Wrestlemania. He brought his opponents for the upcoming 4-way match.

And, WHAT? You don't like the current news format? I think this news crew is the best yet (and I HAVE seen all of the incarnations- Norm MacDonald is number 2). The format is the same as the original cast (and season 2 gets number 3 honors for Jane Curtain/Dan Akroyd). Of course, Tina Fey helps a lot (right, Big Bad?)

Also, Tracy Morgan has been stealing shows like Eddie Guerrero the past two weeks- Brian Fellows and Spaceman Jones are the best recurring characters since Wayne and Garth.


---

"Cram it with walnuts, ugly!"- Mr. Homer Simpson

The European Title MUST go to Smackdown and Carthage MUST be destroyed.
Y2Disco
Mettwurst



Since: 2.1.02
From: Pennsburg, PA

Since last post: 5090 days
Last activity: 4843 days

#17 Posted on
Some skits were better than others. I was cracking up at the Hardline one. I treated that subway skit like a APA match and made some nachos. Overall, I think the show was subpar, but not because of The Rock. The humor just wasn't there in most of it.

Andrew WK sucked. Did he even sing more than five lyrics in any of those songs? And they shouldn't have used those lights in the background if it gives him seziures.


---

"If you like to fight girls so much, why don't you meet me in the ring?"
-Jeff Hardy
Ryan1420
Linguica



Since: 6.3.02
From: IL

Since last post: 5170 days
Last activity: 5092 days

#18 Posted on
I didn't see the whole show, just the monologue and "tome/tomb" screwup.The Rock did an alright job, I guess. I haven't watched an entire episode of SNL in a while. The only reason I stop and watch is for Darrell Hammond and the weekend update.


---

"My advice to you is to start drinking heavily"-John Belushi
Notorious F.A.B.
Pepperoni



Since: 4.2.02
From: Dudleyville's Gay Ghetto

Since last post: 5305 days
Last activity: 5291 days

#19 Posted on
andrew w.k. whooped the donkey's ass in a wesley willis way.

i think snl is hitting another golden age. the news segment is definitely one of the best yet and it's great to see one of the anchors in a bunch of other skits as well.


---

It's just you against the group mind.
I like weiners.
Tha Puerto Rican
Bauerwurst



Since: 23.1.02
From: New York City, USA

Since last post: 5653 days
Last activity: 5249 days

#20 Posted on
I think last night's show was missing something. I think maybe because there were no other wrestlers on the show. IMO, I liked the show. It may not have been as great as the last time, but we live in different times since then. For one thing, wrestling isn't as big as it was in March 2000. ALso, they concetrated on Rock-Hollywood Star, then Rock-WWF Superstar (notice there were no wrestling related sketches like the last one? But there were scoprion king one which I thought was funny :)Speaking of which, there was only 1 mention of wrestling all night!) I think the Rock is a great actor and can make it big in Hollywood, but in comedy, he needs someone just as funny or funnier to help him through it. (that's why his first comedy movie is a buddy-buddy flick) But not to say I hated the show. Brian Fellows was a'ight. The Scorpion King and the Gay Bar one were funny especially when Rock messed up his lines. I didn't like the emergency one, but the sketch of the night has GOT to be the Bigfoot one. That was just so damn bizarre that I laughed the entire time. Will Ferrel's lines were unforgettable. ("I don't know if this is real, I'm STONED out of my mind. My so-called friend gave me what I thought was just a regular dose of LSD, ...and Donkey crap. I'm gonna kill Steve (I forgot his last name!)" And Rock with the red butt. LOL. Also, did anyone see John Leguamao's sexaholick last night? I thought it was good but his last one was better.


---

THa Puerto Rican

LWO 4-Life

God bless the internet.
Pages: 1 2 Next