Alessandro
Lap cheong




Since: 2.1.02
From: Worcester MA

Since last post: 4 days
Last activity: 23 min.

#1 Posted on | Instant Rating: 3.04
Interesting ...

http://www.chron.com/ cs/CDA/ssistory.mpl/sports/ bk/bkn/2345644

---

Jan. 10, 2004, 12:23AM
Out to separate fact from fiction
NBA hopes to dispel officiating myths
By JONATHAN FEIGEN
Copyright 2004 Houston Chronicle

NEW YORK -- Jeff Van Gundy is wrong.

But he is in good company. The NBA director of officiating and the league's vice president for basketball operations believe Phil Jackson is wrong, too. So is Rick Adelman. And especially Mark Cuban.

There are myths about officiating that Ronnie Nunn and Stu Jackson want to end. Getting rid of myths was a motivating factor for Friday's NBA media seminar on the extensive daily review process of referees.

Van Gundy's myth -- and he might prefer that Yao Ming still believe it -- is that "men of size" must accept that they will receive more contact than other players.

"That's a myth, and I want to remove that myth," said Nunn, who was an NBA official 19 years before becoming director of officials this season to help lead the increasingly intense and involved training process. "They deserve at 7-6 what people deserve at 5-6. Sometimes, there's a natural tendency to put certain contact into an incidental area where maybe it wasn't.

"You have to work with people with size and give them the same due process you do with people that are smaller."

There are myths that come up much more often. The reviews of every whistle -- first by "standard observers" in the arena, then on tape that night and again on tape the next day by the officials and the league staff -- offer chances to separate fact from fiction.

"Conspiracy theories," Jackson said of the myths he would like to end.

"Big market, small market.

"That the referees have an agenda going into a game against a team or a player. Those are the strongest myths we wish would go away."

Nunn argued that a late whistle is usually the sign of a good official.

"You don't want a quicker whistle on any contact in the NBA," Nunn said. "You want to absorb the play. Late whistles are good. A great official always has a later whistle.

"Sometimes people look like they're grabbed for a moment, and they're not. And we think, `was the grab that strong?' We call it the `RSBQ.' If it doesn't change a player's rhythm, speed, balance, quickness, we will let it go."

But most of all, the two-hour session was to dispute the notion there is no accountability for NBA officials.

A year ago, Nunn said observers attended 40 percent of NBA games. This season, he said they will file reports from 99 percent of games, missing only for scheduling problems or illnesses. Their work is treated like the scouts: they gather data. The information is then reviewed and processed in the league office, with every call analyzed for accuracy -- labeled a good call, incorrect call, not sure, non-call incorrect or non-call correct -- and technique.

Nunn and Jackson said the emphasis is on training, but there is no way to have that much data without judging performance.

"I hear every day, `if a referee misses two calls, did you fine him or do something to him,' " Jackson said. "I say, `if a player is 0-for-6 in the first quarter, did you suspend him or did you fine him.' This is not to be punitive. It is for education and development, to help him be the best official he can be."

Of course, if coaches suspended players for 0-for-6 quarters, games would have to be canceled because teams wouldn't have enough players. But Nunn said officials are more aware than ever about how closely they are being watched. It turns out to be much easier to ignore a screaming fan in the arena than a boss in the office with his thumb on the rewind button.

"We're all accountable," Nunn said. "I talk to my officials about being accountable. I'm here to coach them and to train them. I'm supposed to be the expert in the office. When Stu (a former Knicks coach) and I talk to coaches, he can bring a coach's perspective, which I think is great. I can bring an official's perspective. That's the kind of blend I think we have. I think there's a lot of accountability. Are you kidding me?

"We're a better staff. The young people we get today are better than we were when we came along, the (Steve) Javies and the (Joey) Crawfords and (Bennett) Salvatores and the (Bernie) Fryers. They are better trained. But we have also kept up with the issues and training and improved. Right now, we are rising to another level. Even the staff is recognizing they are being watched closely. Believe me it's tough. I'm sweating to get them to recognize we want to be better than we were."

But with that said, he also revealed the truth that makes his officials' jobs so thankless. No matter how much evaluation and training officials get, the best will be wrong 10 percent of the time.

"We want to make sure the staff is somewhere near the 90 percentile, 88 and up," Nunn said. "And of course, the more pivotal game, more high focus. We have better officials of course. We want to make sure they're at least in the low 90s, between 91 and 94.

"But also, I think besides wanting to get to the 90 to 94 percentile, we hope the mistakes are not the pivotal mistakes of the game, i.e. a sixth foul on a critical player, judgment late in the game on a block-charge, a steal when it was really foul, and a team wins the game because of that."

---


---

Alessandro "Hercules" Boondy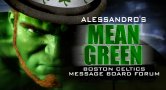 Promote this thread!