jwrestle
Lap cheong



Since: 4.4.03
From: Nitro WV

Since last post: 48 days
Last activity: 12 days


ICQ:
#1 Posted on | Instant Rating: 1.38
I just caught the "debut" episode on PAX TV. It's not shoot fighting like the UFC or MMA. It is actually amateur or Olympic style wrestling. It looks almost like a life like video game with life bars under the wrestlers.

Does anybody here know more about it than I do?
How long has it been around?

I see they have teams. They have some of there own rules. They have instant replays. Olympic medalist Rulon Gardner is one of the commentators.

What other differences do they have?

I checked there website out...http://www.realprowrestling.com



---

Apparently, CRZ and Guru, are already on top up it as they have the RPW logo for usage on the posting.

**EDIT**
Crap, I ment to use the logo but apparently previewing it retracts that opition so that you have to reselect it.

Also the replay is listed for FSN This Wednesday March 31, at 3pm

(edited by jwrestle on 27.3.05 1708)
---

Fear Prophet.

J.J. Dillon: "I'd rather flip burgers at McDonald's than work for Vince McMahon again." July 3, 2004
New Era Of Wrestling

Promote this thread!
XPacArmy
Frankfurter



Since: 13.5.03
From: Woodbridge, VA

Since last post: 1660 days
Last activity: 1657 days

#2 Posted on | Instant Rating: 3.63
Originally posted by jwrestle

---

How long has it been around?

---


I think I read, the stuff airing now was taped like a year ago. It was supposed to air sooner but the guy who owns the company had a house fire that lost some footage.

(edited by XPacArmy on 27.3.05 1759)
AWArulz
Scrapple



Since: 28.1.02
From: Louisville, KY

Since last post: 38 days
Last activity: 13 hours

#3 Posted on | Instant Rating: 6.13
AWA Jr and I watched part of it. He's wrestling (Folk, Freestyle and Greco) and said the guys looked pretty good. My daughter thought the commentators were boring, but she's a HUGE JR mark. I thought some good promos would have livened it up a bit, but the form was OK.




---

Now, just wait a minute!
Deputy Marshall
Liverwurst




Since: 28.6.04
From: Troy, NY

Since last post: 1315 days
Last activity: 836 days

#4 Posted on | Instant Rating: 3.13
Life bars?

Seriously.

...seriously? Life bars? Christ.

I can't see this lasting for too long. Unfortunately I missed it, but that's what happens when you don't do enough to get the word out about the promotion. And your only TV deal is with PAX. And your premiere episode is 4pm on Easter Sunday.


---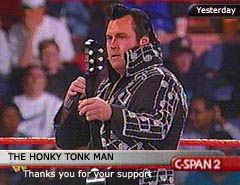 jwrestle
Lap cheong



Since: 4.4.03
From: Nitro WV

Since last post: 48 days
Last activity: 12 days


ICQ:
#5 Posted on | Instant Rating: 1.38
I hate to double post yet I have some more information on which is a reliable source because he helps at the radio station in Flordia where, cheap plug, Between The Ropes is produced each week.

Chris Murray responce from the post at there message board.

"By catching today's first episode, you probably know about it than most. I didn't see it. They just started up last year (actually may have been in business existence longer, but didn't produce shows until last year). This season of shows was taped last October. It airs weekly on PAX in the Sunday afternoon slot and replays during the week on Fox Sports Net. Basically, it's pure amateur wrestling combined with the television production values of pro wrestling and some minor rule changes to ensure more action."

Anyways, it was more in depth info on at least how old it is/was, that helps a bit.

Yes, Deputy Marshall, some sort of life system to where it looks as if you wear your opponet down enought to get them down into throw position. It is really wierd and I suggest, very much so, catching the replay. It was VERY interesting.

(edited by jwrestle on 28.3.05 0013)
---

Fear Prophet.

J.J. Dillon: "I'd rather flip burgers at McDonald's than work for Vince McMahon again." July 3, 2004
New Era Of Wrestling
The Thrill
Banger



Since: 16.4.02
From: Green Bay, WI

Since last post: 1497 days
Last activity: 131 days

#6 Posted on | Instant Rating: 4.25
Thanks for a great season, Pick of the Week fans...see you next year at Planet Magic in Denmark, WI!

They've been buying radio ad time in Green Bay...I think they had Freedom, WI's very own Garrett Lowney (Advantage Wrestling, LLC), a 2-time Olympian and 2000 bronze medalist.

Naturally, RPW's put him on...uh, the California Claw team. Hoo boy.

I might have to check this out...to see if there's any production techniques I might be able to steal...er, creatively borrow from for ACW-NWA WI. (Yeah, right. With our SVHS gear?)


---
Star wipe, and...we're out.
Thrillin' ain't easy.
THE THRILL

ACW-NWA Wisconsin Home Video Technical Director...&
A2NWO 4 Life!

(Click the big G to hear the Packers Fight Song in RealAudio...or try .MP3, .AU, or .WAV!)
Joseph Ryder
Head cheese



Since: 19.3.02
From: Seattle, WA

Since last post: 2507 days
Last activity: 2040 days

#7 Posted on | Instant Rating: 0.95
I'm a big fan of the amateur style, and I don't care for this presentation. The commentators emit a negative amount of charisma, the match set-up is terrible (yesterday was all the action from the 55kg weight class, next week will be 60kg, etc until the heavies 6 weeks from now). then they show the finals on their "finale" i suppose in mid-May. Which means we won't see the 55kg guys again for nearly two months...how is the run-of-the-mill viewer going to care about either guy?

And why do I have to wait 4 weeks to see Mo Lawal wrestle??

There are rumors that next season (if there is a next season) would be in a more dual-match style between teams, which I think makes a lot more sense.

On top of that, the commentators don't help any uninformed viewers out in regards to rules and whatnot. Amateur wrestling is difficult enough to follow if you're being introduced to the sport, the least they could have done was perhaps EXPLAIN what constitutes a takedown, reversal, turn, etc while it would occur on the screen so that maybe down the line viewers will be able to spot them themselves.

And I don't think they're "life bars." I think they're more indicating who's pushing the action more...but again I'm not positive because it wasn't explained to me.

And then they go ahead of have one of the coaches get "tossed" in a really contrived looking moment where neither Slay nor the ref seemed to care about making the moment look legit.

I'll continue watching it, because it truly is "real" wrestling, and because I'm a mark for amateur wrestling, but I think I'm going to have to find a way to enjoy it while I can.