Man O Steel Man
Cotto



Since: 15.4.02
From: Brandon, Fl

Since last post: 6119 days
Last activity: 6118 days

#1 Posted on
Since the brand extension started, Raw has been the better show(IMHO). Raw doesn't have the big names or anything that would give it a distinct advantage over smackdown. So I'm calling you all out. Which show do you think is better and why?


---

We've got a brand new dance that's called we've got to overcome.
Promote this thread!
mountinman44
Sujuk



Since: 8.5.02
From: San Diego, CA

Since last post: 2863 days
Last activity: 1178 days

#2 Posted on
Personally, I think Smackdown has been more consistent. RAW has been just plain awful since the extension. I can't watch it anymore. Except for the Eddie/RVD ladder match, the matches have been bad. The "skits" have been awful (example: Austin and Eddie in the Karaoke bar). Benoit's return was a nice surprise, and so was HBK last week. But other than a couple of bright spots, RAW has been HORRIBLE! TERRIBLE! AWFUL!


---

"Young lady, in this house, we obey the laws of thermodynamics!" - Homer Simpson
ges7184
Lap cheong



Since: 7.1.02
From: Birmingham, AL

Since last post: 346 days
Last activity: 334 days

#3 Posted on
I think RAW won the first couple of weeks of the split, but since then its been all Smackdown. RAW has suffered some set backs due to injuries and firings, but mainly the writing hasn't been that good for the show. Also, Smackdown probably has more wrestlers with the ability to take lower quality material and make it better, or at least seem better. From what I can tell, RAW would be better off with a "shut-up and just wrestle" mentality, because outside Booker T/Goldust stuff, the skits have been just horrible.
spf
Scrapple



Since: 2.1.02
From: The Las Vegas of Canada

Since last post: 1237 days
Last activity: 112 days

#4 Posted on
I've really been into Raw, even though admittedly there are some truly cringeworthy bits on Raw. I think the difference for me is that SD has all the people I actively hate to see on my tv screen (HHH, Hogan, Vince), which counteracts the people I really enjoy to watch. Whereas there's no one on Raw I can't stand, and a ton of people I am really enjoying (Bubba, Eddy, Benoit, RVD, Lesnar Flair, Booker, Goldust, Trish, Regal). The only thing for me that SD has over Raw right now is the fact that the cruisers are there, and 4 minutes of Tajiri/Kidman/Helms/Maven doesn't make up for 10 min of HHH/Hogan and 20 min of HHH/Hogan/Vince nonsense. At this point, esp. if Edge is going to be out a while, and Maven is down for a few months there's not a lot on SD I really want to see outside of Jericho and Angle.


---

How's your new love?/I hope he's doin' fine/Heard you told him that you'd love him 'till the end of time/Now, that's the same thing/the same thing you told me seems like just the other day/Gee ain't it funny, funny how time slips away? - Willie Nelson tells the truth.

"I thought it was cool how HHH just tossed Jericho out of the ring and made him vanish, possibly into another dimension, at the end of the match." - Dr. Unlikely says the funniest thing I've ever read on Wienerville
BigDaddyLoco
Scrapple



Since: 2.1.02

Since last post: 126 days
Last activity: 125 days

#5 Posted on
It has been RAW, RAW, RAW. Why? No McMahons, It's Live and there isn't any of the 5 H's.

Now that Gerwitz(sp?) is writing the Raw show we have the puke/piss thing going again, so who knows? Things could go downhill FAST!


---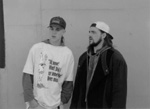 drjayphd
Scrapple
Moderator



Since: 22.4.02
From: Outside of Boston

Since last post: 68 days
Last activity: 19 days


ICQ:
#6 Posted on
Yeah, I don't get why they had Gewertz on Raw and Heyman on SD. It looks to me like they would both be better served on the other's show. Gewertz would have more enthusiastic players for his shitty storylines, and Heyman would have great wrestlers. Besides, I watch Raw more than SD anyway.
Fazzle
Kishke



Since: 2.1.02
From: Wilmington, NC

Since last post: 5190 days
Last activity: 4791 days

#7 Posted on
I'll have to go with Raw via default. Don't get Smackdown here.

Well, we do, but it's on Saturday in the middle of the night.


---
BobHollySTILLRules
Bockwurst



Since: 3.1.02
From: C-Bus, Ohio

Since last post: 5996 days
Last activity: 5996 days

#8 Posted on
I would go Raw. They're about equal as far as enjoyment for me right now, but I've got to give the nod to Raw because they clearly have the weaker roster. Smackdown should be killing them every week. I do agree with Vince's assessment on Byte This though, Raw seems to have higher peaks and lower valleys, while Smackdown is more consistent. Smackdown also has Triple H, which seriously hurts them in my book. Anything he's involved in turns into boring crap. Raw does more with their talent, they win...so far.


---

HOLLY: How do you like me now?
COLE: You're a jerk Holly!
ME: (sigh) Cole ruins everything!
HitTheSnoozeButton
Boudin rouge



Since: 2.1.02
From: Pittsburgh PA

Since last post: 3701 days
Last activity: 907 days

#9 Posted on
I would say Raw because no one can spoil it, so therefore the fans enjoy it more, because they don't know what happens.


---

What a Manuever!
Fuzzy Logic
Summer sausage



Since: 31.3.02
From: Happy Valley - Goose Bay, Newfoundland and Labrador, Canada

Since last post: 4829 days
Last activity: 4553 days


ICQ:
#10 Posted on
But you kinda gotta go out of your way to find out what's going to happen on Smackdown... Unless you got one of those idiot friends who reads the spoilers and then proceeds to tell you everything that's gonna happen... or you read certain message boards and people don't label what they're posting as a spoiler when it is.

but I say Raw... because I haven't really had a chance to watch smackdown lately.

(edited by Fuzzy Logic on 9.6.02 1634)
Yun
Salami



Since: 2.1.02
From: Just outside Dudleyville

Since last post: 4858 days
Last activity: 4805 days

#11 Posted on
I have never intentionally missed one of the two major WWF shows, until the last two weeks Smackdown. From my perspective all SD has is Edge, Angle, and the Cruisers. Even Jericho is losing some of his luster.

Raw, on the other hand, has RVD (If Foley is God then Van Dam is a lesser deity) The Hardyz (I still like 'em) Lesnar, Bubba, Taker, Booker, Goldust, Nash (He's growing on me) and it's looking like Benoit is going to jump ship and of course Kane is coming back eventually. Pretty much the only thing I don't like about Raw is the Flair/Austin storyline, and that's because it just screams 1998 in both the story and Austin's (lack of) character development.

Edit: I agree that the bad on Raw is much worse than the bad on Smackdown (I'm looking at you, Dreamer) but the good on Raw is so much better than the good on SD that it cancels the bad out.

(edited by Yun on 10.6.02 0548)

---

Everything's cool when you're Yun [point] Cheol [point] Su [point]
OlFuzzyBastard
Knackwurst



Since: 28.4.02
From: Pittsburgh, PA

Since last post: 147 days
Last activity: 49 days

#12 Posted on
RAW's better.

Smackdown does lack the element of suprise. Even if you don't read the spoilers, which I don't, if something *MAJOR* happens, you still kinda find out about it. (When McMahon booked himself to win the title three years ago, for example, I can't honestly believe anyone didn't know about that ahead of time.) If Shawn Michaels had returned on Smackdown this week, everyone would've found out by Thursday.

(It is weird because most of my favorites are on Smackdown - Angle, Jericho, Maven, Tajiri, Hurricane, etc., and I'm not even one of the "I Hate Hulk Hogan" people either...)

Besides, when Smackdown's "off", it's boring. When RAW is "off", you get things like the unintentionally excellent Hogan/Undertaker motorcycle segments... >
---

"It's a sad day when mocking one's opponent via midget becomes an acceptable form of entertainment."
--Lance Storm
Net Hack Slasher
Banger



Since: 6.1.02
From: Outer reaches of your mind

Since last post: 5201 days
Last activity: 3621 days

#13 Posted on
Wow Vince actually agree with something I said a while back, Smackdown is pretty consistent, while Raw is really hit and miss.

I think Raw might have a slight edge, but just a little on storyline/in-ring. I see more surprises and people stepping up, from RVD/Eddie which was expected, but surprises like Bubba/Brock which I'm liking even I know who's coming out on top. When they take the women seriously Trish/Molly/Jazz (when she was healthy), and keep Terri away. Backstage fun BookDust and after a month of pushing Bradshaw they quickly start depushing him... Negatives, I can't get behind nWo, even HBK can't get me into the group,

While on Smackdown the only new person getting a huge push is Edge, and thank goodness he's feuding with Angle (more on this later). Angle is gold all the time, and I like Jericho, so when they are interchanging the main event with these guys, I've digged them, but they really haven't pushed in low mid-card to mid-card, that's where Smackdown failed. But I do see major upside on Smackdown soon, with Tajiri getting rid of that heat vacuum Torrie, Hurricane / Nidia/Knoble is interesting start. I even like the Hogan magical tour... Nagatives, TRIPLE H, I'm sorry I truly try to be as unsmarky as possible (I like Hogan, lol), but I don't need a dirtsheet to tell me every storyline or wrestler this guy touches turns to crap, The line RunEdgeRun was funny when they teased these 2 but it's also true, I think it's obvious Edge wouldn't be this strong looking if his feud was with HGH and not Angle. (oh ya btw Test "beat" H, the next week Test is thrown out by H in the BR and wrestled the first match of Velocity, while H beats Hogan clean and going for the title). more bad stuff the tag titles have just been painful Billy/chuck/rico/rikishi/ maven/ snow. And like I said before no real push for anyone else but Edge so far.

intangible (away from ring) factor - I think Raw has this easily won out, I like the Raw set better, I like the Raw inring announcer (Lilian), The Live factor of Raw is good, while on Smackdown has that pipped in crowd noise that make it seem really second rate... Speaking of second rate, I'm shocked no one has mentioned the play by play aspect. J.R and King really are an A1 team. But listening to Cole and Tazz, it's really strange the have A players to work with but their sound is so B-rated, it's strange having these two the only 2 to put over that SD roster or pushing storyline/PPV. Oh a Styles/ Cryus team will give JR/King a run for there money.

Well in closing I see Raw as better, but looking at the roster I don't know how much better they can get (unless Michaels return to 70% of his former self or Benoit is traded to Raw for someone like Terri or Bradshaw ..LOL). Smackdown seems to be able to have a bit more upside if they get there stuff together and continue with some new directions to some guys, and keep them away from the self-proclaimed new icon Triple H.


---

I don't get it, everyone loves rats, but they don't want to drink the rats milk?