ManiacalClown
Landjager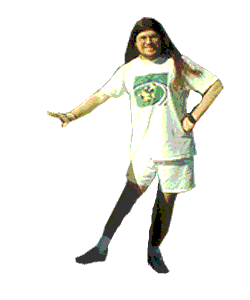 Since: 2.1.02
From: Houston, TX

Since last post: 1852 days
Last activity: 1852 days

#21 Posted on | Instant Rating: 0.00
I [heart] Molly.

There is nothing more I have to say.


---
FREESERVERS = TRASH
El Nastio
Banger



Since: 14.1.02
From: Ottawa Ontario, by way of Walkerton

Since last post: 5 days
Last activity: 5 hours


ICQ:
#22 Posted on
Originally posted by ManiacalClown

---

I [heart] Molly.

There is nothing more I have to say.

---






Indeed.


---

"The ability to think does not make one intelligent".

Bullitt
Shot in the dark



Since: 11.1.02
From: Houston

Since last post: 630 days
Last activity: 630 days

#23 Posted on
I can't believe no one's brought up that WICKED chairshot Lesnar took to the face...that had me cringing.


---

Q: If you could have interviewed Marvin Gaye, where would you have proposed to meet and what would you have asked him?

A: I would have met anywhere as long as it was before his father shot him. I would have asked him, "Hey, don't you think there's some chance that your father might shoot you? To death, I mean?"

www.Gordie.ca
rockdotcom_2.0
Frankfurter



Since: 9.1.02
From: Virginia Beach Va

Since last post: 1889 days
Last activity: 89 days

#24 Posted on
Im loving the new Molly Holly. She played the heel role perfectly. I thought the begging off thing was cool. And plus she looks HOT. Why did they wait so long to glam her up?


Kane is awesome. Im loving his new character. Where can I get a FREAKS KICK ASS shirt? They need to leave the mask on for now. if they want to use the plastic surgery angle, then they have to take him off TV for at least a month and now is not the time to do that. But I dont think a fued with X-Pac is the way to go. But I guess they want to keep him away from Undertaker, but damn Booker T isnt doing anything. Get Kane away from X-Pac NOW.

With Nash gone the NWO is dead. They need to kill this now. Its obvious that Hall is no threat to Austin at this point.
Theyre matches together have sucked to boot. So what is the point of the NWO now? Two men do not make make an intimidating stable.

Brock Lesnar scares me. In a good way, LOL. But they need to put him in a match against someone. I want to see f he can really do a shooting star press like they say.


All in all solid RAW, the split is working.



---
deadbeater
Morcilla



Since: 12.2.02
From: Parts unknown

Since last post: 5678 days
Last activity: 5678 days

#25 Posted on
It was indeed a well-booked Raw.

Some random thoughts:

Who didn't recognize a bit of Flair-as-heel antics in Molly? Also, what was that pinning move, a reverse figure 4? She is definitely no jobber. Great promo about women being used as eyecandy while real talent have to sit in the locker room and watch. This could be the start of a surge of women's wrestling actually being taken seriously in NA. Oh yeah Molly is hot, and pure and wholesome. Hey, I'm not into heel worship like some people here, but Benoit, Molly and Jazz are good examples of heels I like.

Also--they went real old school--stringing two different promos in one shot, with Trish and Regal.
Jazz sporting a shiner was in no mood for talking. Hah.

Kane again with the best promo of the night. Like with the Rock and Edge, who knew?

Spike with the quickest pin in wrestling history (the only one that might have been as quick was the Piper-Iron Sheik crutch match on Saturday Night's Main Event a few years back). Spike is too dangerous.

Bubba and Tommy Dreamer congratulating Spike, with Bubba sporting that psycho look. That was well done.

Brock rolling with the chairshots demonstrates that he is no roid rager. He has actual skils. No, no handicap match with the Hardyz, just straight up. Again, what happened to Lita?
LordOfTheSmarks
Chipolata



Since: 18.3.02
From: THE ohio state university

Since last post: 5787 days
Last activity: 5680 days

#26 Posted on

Random Thoughts:

If Kane could cut this good a promo, why'd they keep him mute for, like, ever?

That was one WICKED shot Jazz gave Trish. Stratusfaction countered, held up and WHAM. Made me drop a "Holy Shit!"

Likewise, the handling of Lesnar thusfar has been phenomenal. No selling chairshots to the face! That's the beast I want to cheer like hell.

"Cueball" made the Taker have a free pass for the rest of the night, but he didn't need it. That RVD-Taker match was simply phenomenal, complete with Eddy run-in.

Other than that, nothing I have to say is anything original in this thread: Molly's hot, the Austin-Hall match seemed off-kilter, Slow v. Perfect was blah, Jazz' silence on the color commentary was hilarious, and the unmasking of Kane was, if nothing else, an interesting development.

All in all, a tremendous show. They keep this up, and, well, Vince will have much to do on Smackdown to keep it competitive.

PS: No HHH. Just worth noting.


---

"somewhere down in suburbia it ain't right"
Evil Antler God
Potato korv



Since: 10.1.02

Since last post: 4246 days
Last activity: 2372 days

#27 Posted on
Wow who the hell did Perfect piss off? He's become......well, he's become TAZZZZZZZZZZZZZZZZZZZZ
Jaguar
Knackwurst



Since: 23.1.02
From: In a Blue State finally

Since last post: 474 days
Last activity: 277 days

#28 Posted on
Okay one complaint about the women's match... err two. One, I didn't like Molly begging off so quickly (mainly cause I want to cheer her, so being cowardly rubbed me the wrong way... ah heels will be heels), and two several times they showed me a shot of Jazz not saying anything and staring at the ring while things were going on. I heard the damn crowd pop for a move and I was stuck watching Jazz instead of the match. That was stupid timing people.


-Jag
Blackston
Chaurice



Since: 20.1.02
From: Toledo, Ohio

Since last post: 5796 days
Last activity: 5714 days

#29 Posted on
Lets go with my thoughts from the top, eh? I know my writing style is non-existant, so please bear with me.

1. Interview with UT, Ric Flair, and Austin:
I didn't like this at all for a variety of reasons. I think that it would have been cool if Undertaker came out and cut a heated promo against Vince (first you let Flair draft me on Raw, now you take away my damned title shot, I thought I was your boy, Vince, something along those lines). When Flair and Austin came out, I had some more problems... What? has completely hamstrung the art of the opening promo, leaving it feeling disjointed. When Flair set up the two #1 contender matches, he should have said what would happen when Austin and UT won their match at the top of the show. Finally, a future title shot... What does that mean? Judgment Day? A future edition of Raw? This should have been cleared up, I think...

2. Bubba Ray Dudley vs. Booker T
Decent match, even though Booker T is not naturally inclined to wrestle in the Hardcore style. I honestly think that a sustained Bubba Ray Dudley Hardcore title reign could reinvigorate the division. He is a solid worker, and he works well in the hardcore environment. The match was sort of there, which speaks more about Booker's inexperience in the Hardcore division then Bubba's future as a single's wrestler. I do not like the finish with Goldust being pinned by Bubba. I understand the logic behind keeping Booker's heat, but I still think that this is a pretty ridiculous way to end the match. I've got an absolutely killer idea for the future of the Hardcore title at the end of the European title match.

3. X-Pac vs. Kane
One of the fun things about the brand extension is that people who have been relegated to a pseudo-midcard spot have real opportunities to improve their lot, and take spots next to Austin and UT at the top of the card. Kane is a classic example of this. Before the brand extension, he was sort of wallowing in dead-end feuds while occasionally teaming up with UT for a tag-team run. Now he's got a very real opportunity to move up the card, with a feud against the NWO. X-Pac and Kane have got a lot of history together, which left me sort of flat about the quality of this match. I've definately seen better matches from these two, but as a stand-alone match, it was very well done. The unmasking was interesting. I think that this is the second time that Kane has ever been unmasked (Corporation did it one time) and I look for something major to come from this. I would completely pull Kane from tv until Backlash, and when he returns, have him come back with a whole new getup. Could Kane and Bradshaw be the next APA?

4. Spike vs. Regal

Wow. I wasn't expecting this at all. Regal jobs in record time, which could signal a change of pace in Regal's character. I looked at Spike as cannon fodder, even in the split brand, so his title win came as a completle shock to me. What was really interesting was Bubba and Spike's reunion of sorts. This leads to a whole host of interesting places they can go.

My Hardcore title idea:
The next couple weeks of Raw should have Bubba and Spike generally watching each other's backs. For example, if Regal is about to beat Bubba for the Hardcore title, have Spike come down to break up the pin, and vice versa. Have it work both ways, until Spike finally loses the European title. While this is going on on the Raw brand, on the Smackdown brand, D-Von is really struggling without Bubba around. After Spike loses his European title, he becomes expendable to Flair, so Flair trades Spike to Vince. D-Von comes up to Spike at Smackdown! and wants to reform the Dudley Boyz. They do, and promptly lose their tag title match. D-Von goes nuts, and beats the hell out of Spike. After that, D-Von goes into Vince's office and says that he has decided to change his outlook, and demands a Hardcore title at the next PPV (probably KOtR by this point). I think that this would be a pretty cool idea, and would create the first true cross-promotional feud.

RVD vs. Undertaker
This was one of those matches that was really fun to watch, but were probably not technically sound. RVD is another guy that stands to move way up the card with the brand extension, and if he keeps putting matches on like this, he'll be up there quick. Oh, the Undertaker still has the capabilities to put on perfectly good matches, too. The match started off pretty slow, but as soon as the false finishes started to kick in, it turned out really well. Undertaker did some pretty decent selling for RVD's offense, and it really seemed like RVD might have a chance to win the match. Taker's facial reactions as he just couldn't keep RVD down for three seconds were absolutely priceless. This match did nothing but good things for both competitors. Undertaker came away from the match with a win, RVD came out of the match looking like he could hang with the main eventers, and lots more heat was added to the Eddy-RVD feud.

5. Molly Holly vs. Trish Stratus
Molly Holly is really, really hot now with her new look. I just thought that I should say that, since everybody else did. Anyways, Raw is shaping up to be the place to watch all of the good womens wrestling, and I am fairly happy about that. Trish is doing alright as the only face in the WWF-Raw brand, but she could really use the help of Lita to sort of weather the storm. Anyways, Trish and Molly put on a fairly decent, unoffensive, wrestling match. Jazz ran the interference on Trish (which was completely expected), allowing Molly to score the victory with an... interesting pinning combination. It looks like Molly and Jazz are about to team up for a bit, which I am actually looking forward to, sorta. Molly-Jazz vs. Trish-Lita matches should be quality matchups.

6. BROCK!!!
Brock is seriously going to be the next big thing, just like Goldberg was. This interview was pretty much extraneous, but it did give some reason for Heyman's involvement in the angle. After that, it was all ego-boosting for Lesnerberg. The Hardyz are the perfect people to throw at Lesner, I'm not too sure that he can throw just anybody around like this. I'm looking forward to seeing what the writing staff will do with this monster.

7. Perfect vs. Show
Bleh. The WWF is trying to see if they can't push the Big Show up to the upper echelon with RVD and Kane. I just don't see it happening here, though. When the Big Show plays a serious character, he is just plain boring, and it is impossible to really push comic relief. Anyways, this match sucked, plain and simple. I don't know why the WWF decided to bring Perfect back at all, as he really hasn't looked good in any match yet. I see no real forward movement out of either of these two.

8. Hall vs. Austin
I don't know what it is, but it seems like these two just cannot put together a good match. It seemed weird that the WWF would put these two together, with all of the past history between them. Hall was definately trying here, it just turned out to be an entirely forgettable matchup.
BigDaddyLoco
Scrapple



Since: 2.1.02

Since last post: 1 day
Last activity: 2 hours

#30 Posted on
Molly has always been hot you fools...

RAW was very enjoyable, I have no complaints other than Stone Cold isn't doing anything for me right now.

RAW will end up being the show to watch.
Jackson
Sujuk



Since: 4.1.02

Since last post: 3297 days
Last activity: 2822 days

#31 Posted on | Instant Rating: 5.37
Can we please kill the damn Lesner-Goldberg comparisons. Lesner happens to be a wrestler. And before you say that we haven't seen him really wrestle yet I will tell you that I have and he everything Paul says he is.


---

Bubbles? Oh come on Sharon! Iím Ozzy Osbourne the Prince of Fucking Darkness. Evil, evil, more fucking evil not a boatload of fucking bubbles man.
Excalibur05
Knackwurst



Since: 19.1.02
From: Minnesota

Since last post: 779 days
Last activity: 647 days

#32 Posted on
I think that this is the second time that Kane has ever been unmasked (Corporation did it one time) and I look for something major to come from this

And Undertaker did it two years at SummerSlam.


---

These mini Reeses cup things are addictive...
bigwavedave
Blutwurst



Since: 3.1.02
From: morro bay ca

Since last post: 5630 days
Last activity: 5630 days

#33 Posted on
Molly has always been hott! She hit the nail on the head with her pre match promo. and wasn't her pinning combo a variation of the indian deathlock she used to do in WCW???

I want to hear Lesnar speak. I've read interviews and he seems like he should be a good promo cutter. anyone who has seen HWA give us a comment???

Raven on Heat commentary is cool.


---

"My parents said I could be anything, so I became an ASSHOLE!"
Jobberman
Kishke



Since: 2.1.02
From: West Palm Beach, FL

Since last post: 1389 days
Last activity: 41 days

#34 Posted on
I remember Vince having Kane's mask get ripped off about 2 years ago and the Stooges were supposed to take a picture of his face, but of course they messed up the camera and didn't get the picture.

Also, I thought for sure Taker was gonna pull out the Tombstone to put RVD away.
AWArulz
Scrapple



Since: 28.1.02
From: Louisville, KY

Since last post: 38 days
Last activity: 23 days

#35 Posted on
I have to admid, even though I knew it wasn't happening, I was just WAITING for Goldberg's music to start during the Lesner thing. It would be a perfect feud and they could play it well.

Two undefeatable monsters...


---

He's got the Iron Claw sunk in!!
NEO
Salami



Since: 15.1.02
From: Texas

Since last post: 5147 days
Last activity: 5147 days

#36 Posted on
Last nights RAW was pretty good. This split thing may not be so bad after all.

Molly Holly is sooo damn fine. I think the hair is a nice touch to her attitude change. And for the 1st time in a long time, the women's division is showcasing wrestling. Not that I mind the bikini matches...

Am I the only one that was impressed with Mr. Perfect getting that 500 lb sumbitch in a the perfect plex? Leverage and technique aside, that was superhuman!

And Brock Lesnar, I think the shock value of him finally showing up is starting to wear off. In the words of the the noble wiseman Mike Tyson 'Anybody can kick ass, but what do you do when you're getting your ass kicked?' I for one am no longer impressed with him squashing the cruiserweights.

The chairshot was sickening, no-sell my ass, you could see it on his face...THAT HURT! I like how he got out of the ring before falling. It would of been better had he still destroyed them in spite of 3 inches being taken off his height.

Eddie Guerrero is crazy, I love that guy! and he's just getting started. It breaks my heart that Booker T isn't at a higher level right now, I know, give it time. On a side note, I was disappointed that I didn't hear 'No Chance' or the 'You Suck' song. It just ain't the same w/o those guys.



---

"NOW YOU GET YOUR WHININ ASS OUTTA HERE!!" Sid Vicious after slapping Bret Hart
Spaceman Spiff
Knackwurst



Since: 2.1.02
From: Philly Suburbs

Since last post: 62 days
Last activity: 4 hours

#37 Posted on
---

Wow who the hell did Perfect piss off?

---

Vince McMahon. The only reason they signed Curt was because he would have been involved in WWA. And by jobbing him out all the time, he's basically worthless to WWA (or any other potential start-up fed)


---

I didn't like Molly begging off so quickly

---

I think that was there to set up the 2nd time she did it in the match. The 2nd time she begged off, then caught Trish off-guard w/ a punch to her gut (I believe).


---

I want to hear Lesnar speak. I've read interviews and he seems like he should be a good promo cutter. anyone who has seen HWA give us a comment???

---

Wasn't he in OVW?


---

Matthew: You would've loved it, David. A week in a foreign country, strange people, strange customs...
Dave: Oh, I know what you mean. I've been to Canada.
Divakind
Mettwurst



Since: 19.2.02
From: Charleston, WV

Since last post: 3802 days
Last activity: 3741 days

#38 Posted on
Originally posted by Spaceman Spiff Wasn't he in OVW?

---


Yeah, Lesnar's one of the guys they brought up from OVW.

I am soooooo hoping they decide to feed 'Team Extreme" to Lesnar, just because you KNOW it'll eventually culminate in him slamming Lita's ass straight to hell.

And the ensuing maniacial laughter you hear will be coming out of my mouth. So loud, it'll drown out Heyman, in fact.




---

"I'm overflowing with the juices of life!"

--Evan Dorkin/Welcome to Eltingville
Mr Heel II
Lap cheong



Since: 25.2.02

Since last post: 78 days
Last activity: 14 days

#39 Posted on
How good was RAW? The worse RAW is, the earlier my wife falls asleep in her chair.

For the first time in I can't remember how long, she didn't fall asleep in her chair at all.

Good show.
Eradicator
Kolbasz



Since: 4.1.02
From: Chicago

Since last post: 1149 days
Last activity: 399 days

#40 Posted on
Definitely an easy thumbs up Raw last night for me. Funny how eveyone thought this is the show that everyone thought would blow chunks. So far it just seems fresher of the two, while Smackdown just feels like the WWF before the split. It is still early though, since we've only had one Smackdown! We'll see where we stand after this week.

Despite the good, there was some things that I didn't like. Now, don't get me wrong, I've been enjoying Undertaker as of late, but why oh why, do we need ANOTHER PPV match between the two? Couldn't Austin/Taker been the #1 contender's match last night? And if Flair has control over HHH why didn't he just schedule a title match on Raw between Taker and HHH (or Austin for that matter). I don't mind the Hogan/HHH match at Backlash even if it sucks since it's new, but Austin/Taker is soooo overdone.

I agree with whoever said that the NWO needs to be dropped. It's pointless now. If they really want to keep it they need to add a new member. And NOT Brok Lessnar (who is awesome), like I read was rumored on some sites yesterday. I think that would be a big detriment to his blossoming career. I was pretty excited about HAll coming back, but now I'm just disapointed.

Dancin' Bubba was great. Weren't those the same moves he busted out with Too Cool a while back?

Great to see Eddy back again. I was hoping we would get to hear a promo from him, but his interference in the RVD/Taker match was pletny good for me. If that match is at Backlash it might be worth getting the show just for that. I haven't been this up for an IC title fued since Jericho/Benoit two years ago.

Were was HHH? Is this how it's going to be when the champ is fueding with a guy on the other show? THat's what I was afraid of before the split. Even doing commentary would have been better than no champ at all. Hopefully we will get some good random title defenses occasionally on the show where the champ doesn't have a fued.

I'm really interested in seeing the Kane unmasked angle, but deep down I know it's better to keep it on. I agree with whoever said that Bradshaw will probably get it back for him. But then again, with that "Freaks kick ass" interview, it's hard to tell where they are going. And if they do keep the mask off, it's going to HAVE to be a plastic surgery angle, 'cause there is no way they can do makeup for him all the time, and make it believable (or marketable). But if he gets plastic surgery, the question will have to be asked- why didn't he just get it done sooner?

Too bad that the women's champ is heel already, 'cause I'd love to see Molly with the belt.

I'm not a big Spike fan, but I popped for the quick win. Nobody every really thought he'd do too well in the WWF being so little, but look at the titles he's held in a year's time. It's still fun sometimes to see the little guy get his do over the big bad guy.

Why oh why don't they let the tag team champs float shows?!!? Raw needs tag team wrestling. But I guess the WWF has decided to only have tag temas on one show. But why then, did they put the Hardys on Raw (and have virtually no teams left even on SD)?

I'm done.
Pages: Prev 1 2 3 4 Next