geemoney
Scrapple



Since: 26.1.03
From: Naples, FL

Since last post: 4 days
Last activity: 4 min.

#1 Posted on | Instant Rating: 7.72
TONIGHT: It's a three-hour Raw. A three-hour Raw. Sorry, that was meant to sound like "three-hour tour." And it'll be just as painful, no doubt! The Brock Lesnar-John Cena contract signing is slated to open the show. At this point, everything else is a mystery.


- WWE Open.

- RAW Open.

- Fireworks and the usual opening started the in-arena portion of the show. Michael Cole intro'd the show, along with Jerry "The King" Lawler.

- Justin Roberts introduced Teddy Long, who was standing mid-ring. He welcomed fans to the Extreme Rules contract signing. Up first: John Cena. Brock Lesnar was introduced and his credentials given, like Cena's. Instead, John Laurinaitis came out and dressed-down Long for introducing Lesnar after Ace already told him Lesnar wasn't here. Long defended himself, saying Ace told him to come out. Ace said they're doing the signing on Lesnar's terms. And besides, it gives Cena some time to think because this could be his last night on Raw. He told Long to tell Cena to leave the ring. Long told Cena to leave, so then Ace, from atop the ramp, introduced himself to the live crowd. All of a sudden, Edge's music hit and he came out. He played to the crowd and walked right past Ace and to the ring.

Edge got in the ring and said he's not supposed to be here and in fact, in a few days, he won't even be under contract to WWE. But he wanted to talk to John Cena. Not this Cena…he doesn't even know who the hell he is. He reminisced about Cena being his biggest feud in his WWE career and some of the major Cena vs. Edge moments where Cena got the best of him. But he doesn't know where that Cena went. He said maybe it's the losses…Andre was never the same after losing to Hogan, Bret was never the same after the screwjob. Edge said he can't lose and he has to find the real John Cena. Edge said they may be opposites, but they're similar in how much they love the business. Edge asked if Cena thinks if Lesnar gives a damn about wrestling or the fans. Did we get enough of this "who loves the industry more" stuff with Rock vs. Cena?

Edge said if Lesnar wins, it's a slap in the face to HBK, Undertaker and him. "Wake up!" he shouted at Cena. Edge finished by saying he's not asking Cena to beat Lesnar…he's telling him to. Very good promo from Edge, but the pep talk would have more effect if more time had passed for Cena to stew on his loss(es).

[Commercial Break]

(1) Chris Jericho vs. Kofi Kingston
Apparently, there's a story on WWE.com asking if Jericho is the new Cerebral Assassin. Wait 'til Triple H finds out that story is up. Jericho missed with a right and Kofi monkey-flipped him down. Kingston clotheslined Jericho over the top rope and to the floor. Jericho took a walk to get himself together. Kingston grabbed an arm-bar back in the ring. Jericho worked over Kofi, then worked over the crowd. Corner splash by Jericho missed, leading to him landing on the floor. Kofi did a flip over the top, landing on Jericho in the process. They went to break at 3:47. The nice thing about three hour Raws is longer matches, since this would normally probably get three-to-four minutes on a two-hour show.

[Commercial Break]

Back at 7:20 of the match. Jericho, unsurprisingly, had Kofi in a chin-lock. Kofi rolled up Jericho for two, but Jericho gave him an enziguiri. Lionsault missed and Kofi rolled Jericho up for two. Kingston hit the ropes and Jericho clotheslined him for two. Flip kick in the corner, then Kofi went to the top. Cross-body, but Jericho rolled through and got a two-count. SOS from Kofi for two at 10:34. Top rope, Kofi hit a cross-body to Jericho's back. Boom Drop, then he set up for Trouble in Paradise. Jericho blocked and grabbed the leg, but couldn't turn Kofi over. Kofi to the top, but he springboarded right into a Code-Breaker. Walls of Jericho was next, the legit Walls, for the win. Cole called it a Lionsault for some reason.

Winner: Jericho, at 11:56. Good match, good, decisive win for Jericho that made Kingston look good for lasting this long with a WWE Title contender.

After replays, Jericho grabbed a mic and said what he did is proof that he'll become the new WWE Champion at Extreme Rules. And Punk knows all about being Extreme: He's got an extremely alcoholic father, extremely drug-addicted sister, and extreme morally-challenged mommy. Jericho promised an extreme beating on Sunday, but said he bought Punk a gift that he'll present to him tonight. He said it'll help Punk cope with defeat at Extreme Rules.

- They showed clips of Brock Lesnar vs. Jeff Hardy, his first WWE Match, from 2002. Did they not include his actual debut since Paul Heyman was in there?

- Contract signing between Cena and Lesnar will be later tonight.

[Commercial Break]

- Johnny Ace was backstage on the phone when Eve Torres walked in. Ace told Eve that there's a position open on his staff that he'd like Eve to fill: Executive administrator. Eve said she'd be honored. He went in for a hug but Eve shook his hand instead. It was a somewhat awkward shake, as I'd imagine every interaction with Ace is like.

- The exterior of Fox Theatre in Detroit was shown.

- Last week's Lesnar video package was shown.

- CM Punk was backstage…I don't know…staring into space when Josh Mathews walked up. Punk acknowledged that the gift was a gift basket of liquor, "a pretty exciting day" in Punk's career since he's never been the recipient of one. Punk said he's going to re-gift the package and gave it to Mathews. He did keep one bottle though, but WWE didn't draw attention to it.

[Commercial Break]

(2) R-Truth vs. Lord Tensai
During Tensai's entrance, they showed an inset interview with Tensai. He spoke mostly Japanese, looking down at the ground for a large portion of the promo. Truth got out of the way of a corner charge, but upon hitting the ropes, Tensai just bulldozed him. Fans amused themselves with "yes" chants. Butterfly suplex by Tensai, then he connected on his running back splash. He grabbed Truth, yelled at him, and hit the Baldo Bomb. Truth rolled to the corner and hoisted himself up by the ropes. Truth sprayed his mist, then took Truth down with a claw and back-heel trip.

Winner: Tensai, at 2:00. I want to meet the person who thinks a claw hold will get over in 2012.

- Kane was shown walking backstage. We'll hear from him next.

[Commercial Break]

- Lawler thanked Shinedown for "Adrenaline," the official Extreme Rules theme

- Kane came out. In the ring, Kane said Sunday is his favorite time of year, a time when WWE gets extreme. Kane said Orton can't beat him with rules much less without them. Kane discussed his attack on Bob Orton and the effect it had on Randy. Kane said he's a monster that just won't go away for Orton. Orton showed up on the TitanTron to counter. He said when you mess with his family, there's no turning back. He said he had to return the favor, and showed Paul Bearer all tied up. Not again! Orton told Kane to come back and get in on the fun. Orton wheeled Bearer into some freezer backstage. Kane looked distraught. However, he began to laugh and said he considered his father the devil himself and said there's no way he's saving Bearer. That's contradictory to his awful Edge vs. Kane feud from Smackdown. Orton attacked Kane in the aisle. Orton used a pipe several times on Kane, who retreated into the stands. Orton posed in the ring as his music played and replays were shown.

- Cole and Lawler talked about the aborted opening segment, that being the contract signing. But Edge did show up, and we saw highlights of his promo.

- The Cena-Lesnar contract signing is still to come, whenever Brock feels like it apparently.

[Commercial Break]

- The exterior of the Joe Louis Arena was shown.

- Chris Jericho was walking backstage. Alex Riley walked up and said Punk kicked him out of the locker room for spotting him drinking some alcohol from his gift basket. Jericho was skeptical and told him to go knock on his door. They both went down the hallway but the door was ajar. Jericho peeked in and saw Punk drinking from a red cup and talking on the phone. The bottle was on the table right in front of him, next to where he'd put the cup down. Small "CM Drunk" chants from the fans. Jericho seemed surprised, but pleased.

- Ricardo Rodriguez announced Alberto Del Rio for the following tag team match.

(3) Alberto Del Rio & Cody Rhodes vs. The Big Show & The Great Khali
At Extreme Rules, it'll be Show vs. Rhodes for the IC title with the Extreme stip still to be announced. Khali was selling his leg injury from last week. I only knew it because he had his hand on the leg as he walked to the ring. Khali wanted him some of Rhodes for what Cody did to him on Friday night. Rhodes tried to kick the leg by Khali caught it and did some damage of his own. Couple big shots to the knee of Rhodes to no reaction from the crowd. Del Rio tagged in and kicked Khali's leg, but it didn't seem to have much effect. I think Khali partially blocked it, at least, according to Lawler. Hard slap to the chest of Del Rio, and he too went to ringside. Rodriguez fanned him with his hand as they went to break at 2:05.

[Commercial Break]

Back to the match at 5:08, and they returned with a camera angle from what seemed to be the top row of the arena. Khali and Del Rio were both down and Khali was able to tag Show. He had his way with Del Rio for a short time, until Rhodes low-bridged Show out of the ring. Rhodes and Rodriguez kicked away at Show as the ref was distracted by Del Rio. Show finally got back into the ring at the count of nine. Del Rio was there to greet him with body kicks. Cole said the Extreme Rules stipulation for the Rhodes vs. Show match will be determined on Sunday. Frequent tags by the heels, as they worked over the injured leg of Show. Rhodes ran right into a chokeslam attempt, even though it was telegraphed by Show. Rhodes got out and locked in the figure-four. Show broke out by, what else? Slapping Rhodes. Del Rio tried to interfere, but Show slapped him too. Del Rio begged off of a tag attempt from Cody. Del Rio and Rodriguez walked to the back while Show and Khali took the fight to Rhodes. Chokeslam on Rhodes by Show. That was it.

Winner: Show and Khali, at 10:28. Curious finish. Match was not as bad as I expected it to be.

- Cole plugged a YouTube exclusive pre-show before Extreme Rules. In it, Santino Marella will defend his US Title against The Miz.

- Tonight, an Extreme Rules contract signing between Lesnar and Cena.

[Commercial Break]

- Jericho, Ace, Eve and Long were all backstage. Jericho demanded Punk be stripped of his title for drinking. Ace said he couldn't, but Eve said she's been reading up on WWE's Wellness Policy. WWE wrestlers are prohibited from drinking alcohol within 12 hours of a WWE event. That, of course, is all kinds of ridiculous. Jericho said there are officers who can conduct field sobriety tests on Punk. Ace agreed. Long stood stoic and Ace asked what was wrong. Eve said Long looked the other way on rules violations during his tenure as Smackdown GM. Long asked if he was really going to embarrass Punk tonight. Ace said in fact, Long is going to do it. He said he learned from JR that if you have bad news to give, get someone else to do it. Long was not happy.

- Brock Lesnar was shown walking into the arena. He was approached by Josh Mathews. Mathews asked him a question, but Lesnar ignored it. Mathews then brought up Lesnar losing, and Lesnar grabbed him and held him up against a production truck. Lesnar gave him a playful slap and let him down. Mathews grumbled about just trying to do his job, so Lesnar tackled him and tossed him into a piece of the set.

[Commercial Break]

- Lesnar's attack on Mathews was replayed.

- Mathews was being tended to by medics backstage.

- Nikki Bella (along with Brie) was already in the ring for her Divas Title match with Beth Phoenix. They showed Nikki beating Beth on Smackdown three weeks ago. Before the match, Eve came out. She talked about her new position and how lazy the Divas are in general. They all walked out for a Lumberjill match. I like how they walked out smiling, pretty much ignoring the not-so-nice things Eve just said about them.

(4) Nikki Bella vs. Beth Phoenix – Divas Championship Match
Nikki went for the leg, but Beth grabbed her by the hair and tossed her. One-legged dropkick by Nikki, then a monkey-flip. Beth slammed Nikki into the corner and then laid the shoulders in. Nikki went to the top but Beth press-slammed her. Cover by Beth got two at 1:20. Bella elbowed out of a rest-hold, but Beth followed with a sidewalk slam for two. Beth tried to wear Nikki down again and again Nikki fought out. Glam Slam was dodged and Nikki took Beth down for two. Nikki charged by Beth sent her to the floor. Beth hopped off the apron, but came up lame on her ankle. She was really avoiding putting any weight on it. Brie was shoved off Beth and Brie attacked. The Lumberjills got involved and when they broke free Beth was again holding her ankle. Nikki rolled Beth up after the ref asked Beth if she could continue. She got the three-count.

Winner: Nikki, at 4:06. That was either a great sell-job by Beth or she's legit hurt.

- Punk was talking to Long backstage. Punk said this is insulting as he's Straight Edge. Long said the public sobriety test is next. Punk said what's next is he's going to flip out. He started tossing stuff around his locker room and fell back into a locker, dejected.

[Commercial Break]

- Teddy Long was in the ring with two officers. He called out CM Punk, but Chris Jericho walked out and bad-mouthed Long. He wanted to make sure this was done right. Long said if Punk fails the test, Jericho will be stripped of the WWE Championship. Punk tripped over something in the aisle, but the camera immediately cut away so you couldn't tell what it was. He climbed onto the middle rope and seemed to struggle in doing so. He handed his mic to the officer. A red line was in the ring going from one side to the other. Punk said everyone knows this is ridiculous. They bleeped something as he was saying WWE Universe, so did he say WWF? The first officer asked Punk to recite the alphabet backward. Punk asked if anyone in history has recited it backward. "Z, X, Y…there's a V in there somewhere I know." Punk called it stupid, saying no one can recite the alphabet backward.

The next test was to walk the straight line. At this point, Punk was leaning on the ropes. "What line?" Punk asked. "Quit stalling and do it!" said Jericho. Punk did the Karate Kid pose and false started. He said he couldn't concentrate with Jericho yelling at him. Somehow, Punk is getting drunker as this goes along. Punk could not walk the line successfully. Jericho asked if Long needs more evidence. Jericho demanded Long strip Punk of the title. The second officer said Punk is obviously intoxicated. Jericho told the fans to thank Detroit's finest, but they booed them. Long asked Punk to hand over the title. Punk looked forlornly at the title, then slowly handed it over. Jericho told Long to give him the title. Before he could, Punk asked for one more chance. Jericho said "no."

Punk looked at the line as the fans chanted, "one more chance." Punk asked to do the alphabet backward. He did so all the while walking the straight line and having fans chant "yes" in between each one. He moonwalked the line and strutted as well. He went all the way from Z to A. And once he got to A he attacked Jericho. I didn't hear it but apparently Punk still messed up the alphabet. The fight went to the aisle and Jericho high-tailed it to the back as Punk stood tall. You know, I didn't hate that segment. I have a feeling you either really like or really dislike the direction of this storyline as far as adding the Straight Edge angle. I don't mind it, so this segment was more tolerable. Long handed the title back to Punk as Ace and Eve were shown backstage, unhappy over these proceedings.

- Up next, Sheamus is in action against Mark Henry.

- Another clip of Brock's first WWE go-round: Brock vs. Hogan from Smackdown, August 8, 2002.

[Commercial Break]

(5) Sheamus vs. Mark Henry
Once both men got into the ring, there was no referee. Instead, Daniel Bryan was assigned to be the guest referee. He came out in full ref regalia too. Cole reminded fans that Sheamus will be fired if he ever strikes a referee. Cute add-on to that stipulation by having Bryan come out as a ref. Shoulder tackle by Henry knocked Sheamus down. Sheamus struck Henry with rights in the corner. Bryan backed Sheamus away and Sheamus got heated. Bryan told Sheamus to hit him. Bryan even turned Sheamus around by grabbing his arm. Bryan yelled for Sheamus to do it. They went face-to-face for quite a while, leading to Henry clotheslining Sheamus down and Bryan applying the quick-count.

Winner: Henry, at 1:34. Fine angle advancement leading to Sunday.

Bryan tossed his ref shirt at Sheamus after the match. Since he's no longer a ref, SHeamus attacked him. He tossed Bryan back into the ring, Brogue Kicking Henry in the process. That allowed Bryan to take over and apply the Yes Lock. He screamed "yes!" as he did so. Bryan shouted his catchphrase as he backed up the ramp and Sheamus had to look on in frustration.

- Doritos Locos Tacos is presenting Brodus Clay and Hornswoggle vs. Jack Swagger & Dolph Ziggler tonight.

- Also tonight, the Lesnar vs. Cena contract signing.

[Commercial Break]

- They showed the exterior of Comerica Park in Detroit.

- Sheamus was walking backstage. Backup to Josh Mathews, Matt Striker, interviewed Sheamus. Sheamus called Bryan "a sniveling little coward." He said he's no saint, but if he were Daniel Bryan, he'd start praying.

(6) Primo & Epico vs. Zack Ryder & Santino Marella
Ryder worked over Epico, who ended up getting face-planted. Ryder with a running forearm, then he set up for the Broski Boot. It connected. Rosa got on the apron and Primo pulled Epico out of harm's way. A distraction led to Ryder being sent head-first into the ringpost. Back in the ring, Primo was in control of Ryder. Sunset flip for Ryder got two. Dive by Primo missed the mark and both men were down. Santino made the hot tag and hip-tossed Primo. Diving headbutt connected. Cobra was applied and Epico tried to attack. Epico was back-dropped out of the ring. Dropkick by Primo but the Cobra struck for the pinfall.

Winners: Marella and Ryder, at 3:16. I was going to say that, with Primo and Epico opposing Ryder, at least the champs would win a match here. Good thing I didn't say that!

- The announcers talked of Lesnar's attack on Mathews, then it was shown again.

- The Lesnar-Cena contract signing takes place tonight.

[Commercial Break]

- Kane was walking backstage, still holding his side. He looked around as he came upon the freezer that Orton put his dad in. It wasn't even locked! HE just opened it and walked in. He wheeled out a shivering Paul Bearer. "Kane, you've come to save me?" Bearer asked. He said he had come to save Bearer…from him. And he wheeled him back into the freezer. That was weird.

- Primo and Epico were arguing backstage when AW walked up. He asked why their entrance was during the commercial if they're champs. And why didn't they have a match at Wrestlemania? He asked why they were allowing themselves to be treated like jokes. AW gave them his car and walked away. They seemed intrigued.

- Brodus Clay and Hornswoggle came out for their match. We got their full entrance, complete with in-ring dancing, before the break.

[Commercial Break]

(7) "Funkasaurus" Brodus Clay & Hornswoggle vs. Dolph Ziggler & Jack Swagger, presented by Doritos Locos Tacos
Vickie's outfit must've been WWE's way to tease Lawler for not being able to make fun of her size. Before the match began, the announcers talked up Taco Bell and Lawler took a swig of a drink from a Taco Bell cup. Ziggler wanted Hornswoggle, who was wearing a singlet. Ziggler stood with one foot on Horny's head and did some taunting. Headscissors take-down by Horny, then a tag to Brodus. Swagger came in too and Clay gave him the business. Ziggler hopped in and Clay headbutted him in the chest. Overhead suplex by Clay, but Vickie ran in and clapped Clay. After the DQ, she was surrounded by Horny and the dancers, as well as Clay. She wanted a time out and grabbed Clay's hat. She put it on his head and Vickie tried to dance, so Horny bit her on the behind. "I can't believe we just sat through that," said Cole. For once, I agree.

Winners: Clay and Hornswoggle, via DQ, at 1:54.

- March 30, 2003: Brock Lesnar vs. Kurt Angle at Wrestlemania.

- The contract signing is next.

[Commercial Break]

- On Smackdown, we'll be getting a Henry vs. Sheamus rematch, and a Cole interview with Randy Orton.

- The Lesnar sit-down interview aired again.

- Johnny Ace's triumphant music hit and he walked out. Ace said he's looking forward to Sunday because it's the first with him in charge of Raw and Smackdown and the first of the era of People Power. Ace introduced Lesnar first. Cena was then introduced, but he didn't come out. "Let's Go Cena/Cena Sucks" chants. "Come on out, Little Johnny," Lesnar implored. Lesnar then turned his attention to Ace, saying he flew him to Detroit and now Cena is too scared to show up? Lesnar said he was a little tardy to the show, he and Ace have some business to take care of. And since Cena doesn't have the balls to show up he told Ace to have a seat. Lesnar said he thought about some changes he wants and needs in WWE. He said he's not happy with how things have gone upon his return to WWE.

Lesnar handed Ace a copy of changes he wants to have done before Sunday. In fact, right now, before he signs on for Extreme Rules. He said he's not the same naïve farm boy who was here eight years ago. Lesnar said he's an enterprise and that WWE needs Brock Lesnar. First change: Any thought that goes through Ace's mind for how things are run in WWE gets run by Lesnar. He said that since all major decisions go through him, he wants Vince McMahon's private jet to and from Raw. Ace looked uncomfortable getting strong-armed by Brock. Brock said beating people up makes him happy. He said he likes beating people up and he already did that. "There's one thing that I don't like, and that's people. Especially stupid people." Lesnar said he'll show up to Raw how and when he wants. He said he's not going to be Ace's puppet like everyone else. Another thing: Ace goes around fining people like Sheaus for pushing a ref around. But Ace won't be fining him; in fact, he'll be paying him more money. Until these demands are made (I assume he meant "met"), the match on Sunday…pause for "you suck" chant…Lesnar said he doesn't get annoyed by the fans' chants. He was addressing Ace with that comment instead of the fans, which was funny. Lesnar put his feet up on the table and pointed out the last line of the contract. If he's the face of Monday nights, the name needs to be changed: "Monday Night Raw, starring Brock Lesnar." It's like Lesnar is playing Bizarro Rock: He doesn't need WWE, is only in it for the money, and acts like a big superstar instead of trying to blend in as a wrestler.

Ace agreed to the terms and shook Lesnar's hand. I can't help but think of how much better this promo would've gone with Paul Heyman as Lesnar's agent/mouthpiece. Lesnar signed the contract and as he did, Cena's music played. Lesnar smirked and Cena walked out. Lesnar was seated in a casual position. "Let's go Cena/Cena sucks" chant as his music ended. Lesnar made two fists and kissed them as he sat across from Cena in the ring. Cena had a chain wrapped around his fist. He looked at the Extreme Rules contract and Lesnar stood up. Cena took the pen and put it back down. "Cena" chants from the fans. Lesnar told Cena, "sign…the…contract." Cena was on edge the entire time. Lesnar said he feels a vibration from Cena, and he likes what he's feeling. Lesnar said he's sensing this is a real feeling that he's feeling, because he can feel it. He said Cena is scared. He's the reason Cena lost last week and he's the reason Cena is feeling how he's feeling now. Cena signed the contract as Lesnar called him the boogeyman racing around in Cena's mind. Cena tossed the contract at Lesnar as they both cocked their fists waiting for the other to strike first. Lesnar feigned throwing a punch and Cena tipped over the table. Lesnar smiled and circled Cena. Lesnar instead left the ring. They showed Lesnar looking on from the aisle with Cena on the Titan Tron staring at Lesnar. Fin.



---

@gregmparks - live Tweeting of Raw and Impact, wrestling thoughts and other slices of life.
Promote this thread!
It's False
Scrapple



Since: 20.6.02
From: I am the Tag Team Champions!

Since last post: 61 days
Last activity: 28 days

#2 Posted on | Instant Rating: 6.56
My God, that last segment completely turned me around on Big Johnny's reign of terror. His chickens all came home to roost in a way that I didn't see coming and in a way that made sense. They even incorporated the derivative Johnny/Sheamus feud into the logic of Brock's contract in a way that made sense! Basically, they just told a story that Big Johnny made what he thought was a power play, but now is suddenly in way over his head and unleashed a Pandora's Box on The E. That's actually brilliant storytelling! Not to mention the possibilities this creates for next week's post-Extreme Rules Raw. Personally, I'm banking on COO Triple H making his return next week to dispute Brock's new contract.

Man, Paul Bearer just won't stay dead, will he? Seriously, how much has this man survived? He's been buried in concrete, he survived a perilous fall from a wheelchair, and there's no reason to believe he won't survive a night in a freezer. He has to have superpowers or something to live through all of that.

And that's all I got. Considering he was the only watchable part of the show (aside from Edge's surprise appearance), this show absolutely deserves to be called "Monday Night Raw starring Brock Lesnar!" Bonus points for punking out that little shit, Josh Matthews. That's not the first time he muttered under his breath or said something stupid and it finally caught up to that little turd.

Ok, one last thing. How desperate are The E's financials if they're selling matches to Taco Bell?

(edited by It's False on 23.4.12 2034)
---

"This is DIET Double Dew, Kyle! It only has half the caffeine and sugar of Double Dew!"
BigDaddyLoco
Scrapple



Since: 2.1.02

Since last post: 4 hours
Last activity: 1 hour

#3 Posted on | Instant Rating: 5.13
That was a LONG three hours, but I want to say something positive so I'll say this ... It's the best use of Kane and Paul Bearer that I've seen in years.


John Orquiola
Scrapple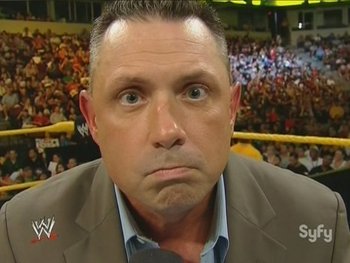 Since: 28.2.02
From: Boston

Since last post: 1423 days
Last activity: 1423 days

#4 Posted on | Instant Rating: 6.16
When will Brock's demands be made?! WHEN?!

I'm enjoying Rocky III 30 years later, with John Cena as Rocky Balboa, Brock Lesnar as Clubber Lang, and Edge as Adrian, who came back to give Cena the motivational "Win! Win!" pep talk. But unlike when Adrian does it to Rocky, it didn't seem to work for Cena. Clubber Lesnar is still in Cena's head. Will Extreme Rules be the first fight, where Clubber annihilated Rocky, or the rematch? Icing to the cake would be if Lesnar somehow caused John Cena Sr. to have a heart attack before the match on Sunday.

Every Diva was out there for the Lumberjill match except for AJ and Eve herself, who booked the stip. Eve filled in capably for the missing David Otunga. Boobs > Coffee mug this week.

Obviously, I'm really here to gloat about Nikki Bella, finally Divas Champion. AND by virtue of ending Beth Phoenix's horrible reign (and it was horrible because she was booked horribly throughout, if she was booked on the shows at all), Nikki preserved Maryse's record of 216 days as longest reigning Divas Champion. So double win. If the Bellas are still on their way out, that was a great attagirl(s) for their service to the company.


---

@CMPunk
"@ZackRyder: @CMPunk She played me bro" I got your back.
thecubsfan
Scrapple
Moderator



Since: 10.12.01
From: Aurora, IL

Since last post: 5 hours
Last activity: 5 hours

#5 Posted on | Instant Rating: 9.26
Edge as a (more?) coherent Roddy Piper is a delightful turn of events and I hope we see more of it.

Nikki as champ -> imminent return of Karma?


---

thecubsfan.com - luchablog
Spiraling_Shape
Bierwurst



Since: 2.1.02
From: PA

Since last post: 7 days
Last activity: 13 hours

#6 Posted on | Instant Rating: 6.40
Has Paul Bearer been tied up in that chair since 2010??

"Monday Night RAW starring Brock Lesnar" :: "TGS with Tracy Jordan"

I really am enjoying the vibe that Brock has been bringing, he just has a different unique anti-Superstar charisma to his dickishness.

A three hour and 15 minute show and no Miz?? Really?!?

(Otunga was apparently with JHud, who was testifying at the trial of her relatives' killer.)

I really don't know what happened with Beth there but I was concerned.

Because Punk was obviously Wacky Overacting there, I enjoyed the segment.

Isn't Rosa Mendes *already* the Colons' manager? What would Abe Washington be? (their agent?)

Hornswoggle's tattoos are actually worse than Cole's.


---

"Ice cream bars! Ice cream bars!" - RAW crowd, Boston, 7/11/11
Torchslasher
Knackwurst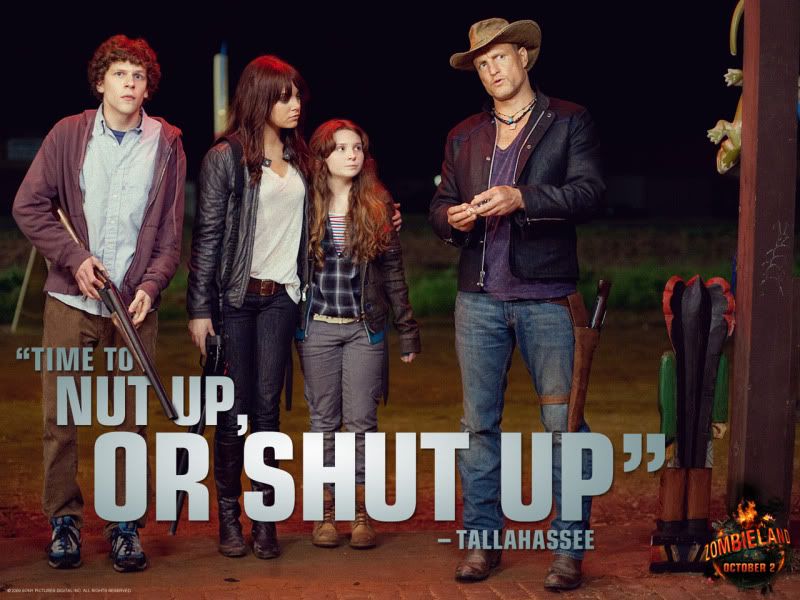 Since: 17.1.02
From: New F'n Jersey

Since last post: 71 days
Last activity: 70 days

#7 Posted on | Instant Rating: 5.27
This straddling the line between PG and Attitude is really starting to get annoying. I feel like a doof still watching shit like the Brodus/Hornswaggle match, the dumb Paul Bearer stuff and the CM Punk segment that would never end (and I love Punk, but come on). And then we have Brock and Cena which is great and feels real (which is what they are going for).

I can only hope that the Big Show/Cody stips at Extreme Rules involve the same basic stips as almost every other match at Extreme Rules. Maybe they can swerve us and just have a regular match.


---

"Put on your helmets, we'll be reaching speeds of 3!"
"It was nice of you to give that dead woman another chance."
"All right, look alive everybody...oh sorry Susan."- MST3K: Space Mutiny
Click Here (facebook.com)
CruelAngel777
Sujuk



Since: 7.4.02

Since last post: 653 days
Last activity: 636 days

#8 Posted on | Instant Rating: 3.95
I think Paul Bearer deaths are a running joke like the deaths of Fluffy and Uranus by Duckman.

Speaking of obscure references, in an alternative Reality with events happening at a similar time but with reverse circumstances from this reality. There is a CM NegaPunk or CM Drunk that played an excellent sober character despite always having a beer in his hand. He entertains the mutants in nuclear wasteland Detroit from constantly killing and eating each other to survive every Monday night, much like our reality version of Punk does.

WWE needs tag teams. Mainly to take the belts off of charisma-lacking Epico, Primo, and useless diva Rosa.

More on the useless divas. It probably wasn't a good idea to call them on being wastes of space then bring the entire diva roster match out to an apathetic crowd. More importantly than that I thought The Bellas were out? Nothing would make me a bigger fan of The Bellas than if they gave them a lite "Raven's Rules" gimmick in which either twin could defend the belt on a given night. Then Nikki could pretend to be injured, let Brie defend her belt, then when Brie is in trouble TWIN MAGIC SWITCH, belts defended.

Beat up Josh Matthews again Brock.

Brock should never be allowed mic time longer than 3 to 5 minutes. That was torture seeing him try to remember points to bring up about his contract and repeating "John" over and over as he stalled for time, I'll forgive him for apparently breaking Josh neck on a.....fence? Tough Enough is getting shamed this week.

To sum the night up....... "what's this from?" *Crane Kick pose*
Lexus
Andouille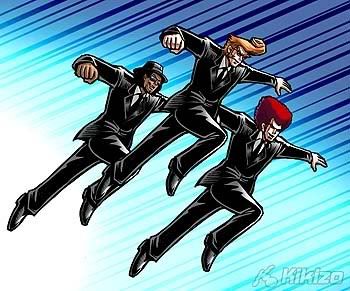 Since: 2.1.02
From: Stafford, VA

Since last post: 8 days
Last activity: 8 days

#9 Posted on | Instant Rating: 5.03
So Paul Bearer gets put into a freezer, as shown on the TitanTron, then get's pulled back out later by Kane, only to be shoved back in, and the cops who were there for Punk's sobriety test could care less. Seriously, you'd think someone, ANYONE, would consider the liability of a corpse in the freezer after a show you promoted was in the building. Oh, cue the Funkasaurus and Hornswaggle, who danced through an entire commercial break.

Cena/Brock is new, and fascinating.

Misty Claw won't get over, the leg-trip looks HUGE though, with a big bang as it hit's the mat. At least his name is no longer "Dick Piercing".

Was I the only one who saw ADR tell Big Show to counter his knee lock? Awesome work by Show and Alberto.


---

"Laugh and the world laughs with you. Frown and the world laughs at you."
-Me.
TheOldMan
Landjager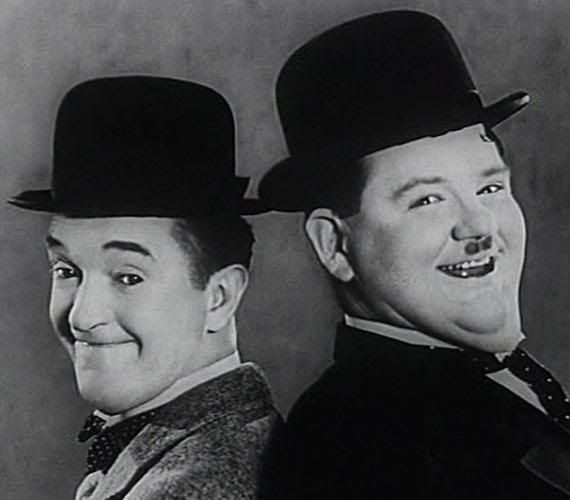 Since: 13.2.03
From: Chicago

Since last post: 1148 days
Last activity: 134 days

#10 Posted on | Instant Rating: 5.60
Punk just about had me when the police walked off, though I might have been rooting for the most ridiculous major title change since DiBiase paid for Dave Hebner's plastic surgery. I can see them stretching logic to potentially strip the championship here, but to then just hand Jericho the belt would have been wacky, this never happens. Except when GM Bischoff handed HHH the resurrected Big Gold Bel.. heyyyyyy, maybe Jericho IS the new cerebral assassin!

Tensai isn't working for me, and he's going to give someone a concussion with that faceclaw slam. Might have been cool if Del Rio tried his crossarm-breaker on Show's leg. Khali on the other hand? I really don't want to have to see him get Theismanned in the ring.

Speaking of injuries, there's a WWE report that Phoenix did a pretty good job on the ankle, MRI will be done, so there's a fair chance they called an audible there. Maybe Nikki can cut a SmackDown promo threatening to defend the title Sunday, and leave the company with it.

Lesnar's bad promo style worked enough for me, it was painful in spots but is getting him over as a heel if nothing else. Does Cena coming out with his old Thuganomics chain hint at anything? I didn't hear a stip mentioned in all the 'negotiations', so I guess it's just an "Extreme Rules/No DQ" match.

Finally, the Taco Bell Doritos Loco Tacos match should have been sponsored by Rold Gold instead, because THAT MATCH WAS THE PRETZELS!


---

Big Bad
Scrapple



Since: 4.1.02
From: Dorchester, Ontario

Since last post: 4 days
Last activity: 2 days

#11 Posted on | Instant Rating: 5.54
Man, Vince should've just invoked that "can't drink within 12 hours of an event" rule on Austin and saved himself YEARS of abuse.


---

"It breaks your heart. It is designed to break your heart. The game begins in the spring, when everything else begins again, and it blossoms in the summer, filling the afternoons and evenings, and then as soon as the chill rains come, it stops and leaves you to face the fall alone." --- Bart Giamatti, on baseball
Amos Cochran
Lap cheong



Since: 28.8.09

Since last post: 1238 days
Last activity: 1238 days

#12 Posted on | Instant Rating: 5.64
A line about how Vince inserted that clause after Austin's reigns of terror would've made me squeal with delight.
steven87gill
Pickled pork



Since: 14.1.11

Since last post: 23 days
Last activity: 23 days

#13 Posted on | Instant Rating: 8.71
When you think about it, a clean Rock win at WM wasn't just desirable, it was inevitable. I don't think these segments with Foley, Piper, and now Edge are about audience manipulation, because after all, Roddy Piper warned Cena that if he continued to ignore the hate, he'd lose at WM to The Rock, and actually, that's .exactly. what happened. By definition, if it was simply about reverse psycology, (tricking fans into cheering for Cena) then Piper's 'I slapped your punk ass in the face' promo back in November should have motivated Cena to win at Wrestlemania. But it didn't. And if Cena loses (clean or not) at ER, then Edge's promo will have been for naught, and will also add to Cena's woes.
dwaters
Bierwurst



Since: 16.10.02
From: Connecticut

Since last post: 22 days
Last activity: 8 days

#14 Posted on | Instant Rating: 6.89
So just to be clear- piss gets censored and ass doesn't.

That 12 hour rule is just so dumb when you think of Austin and APA and all the drinking that's gone on in the past.

The CM Punk segment was just stupid and uncomfortable.

Is it possible to be sick of Brock already?
Tenken347
Knackwurst



Since: 27.2.03
From: Parts Unknown

Since last post: 2 days
Last activity: 10 hours

#15 Posted on | Instant Rating: 5.13
I may be in the minority, but that last segment was just death. Brock just kept going in circles, and I stuck with it because I thought it was going somewhere, and then Cena came out and nothing. I was really excited when I saw Cena had his old chain on, and then nothing. All the pieces were there, with Laurenitis being out-bullied and Cena standing up against a guy he's afraid of, but it did not come together. In particular, I'm still waiting (forever, I guess) for someone to mention that the John Cena who's facing Brock on Sunday is a far cry from the John Cena who fought Brock 8 years ago.
lotjx
Scrapple



Since: 5.9.08

Since last post: 4 days
Last activity: 1 day

#16 Posted on | Instant Rating: 1.17
I thought the opening segment was fairly strong and so, was the Jericho/Kofi match. I thought the Punk's sobriety test was in a bit of bad taste til Punk turned the tables on everyone. The beatdown of Jericho was nice especially some of the bumps Chris took. Brock throwing Matthews around was a nice touch for Brock Lesnar, Honey Badger. Feel bad for Beth to lose in a rather weird way, but if the Bellas get a week run with the title before they leave, it will be nice. Unless, they pulled a Punk and resigned with a title reign as part of their new contract.

Speaking of contracts, Edge outing he doesn't have one was weird and pretty stupid on WWE's part. Give him a Legends contract, have him at signings, doing DVDs or just give the Cutting Edge to do once a month or have him on Smackdown. Give him something since he can still bring it on the mic. Its amazing what this company throws money at and what talent they refuse to spend it on. I hope the IWC isn't sick of Brock, because he has been here for 3 weeks which is about when the IWC gets sick of anyone returning. Brock is awesome and bringing the goods. Also, a Duckman reference. Awesome.

(edited by lotjx on 24.4.12 0727)

---

The Wee Baby Sheamus.Twitter: @realjoecarfley its a bit more toned down there. A bit.
John Orquiola
Scrapple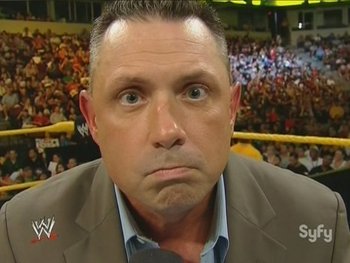 Since: 28.2.02
From: Boston

Since last post: 1423 days
Last activity: 1423 days

#17 Posted on | Instant Rating: 6.16
Brock's promo was awesome. It was just what it needed to be: an Uh Oh moment. The whole point of the segment was to take the audience from "YES! BROCK IS BACK! KICK CENA'S ASS!" to "Uh, guys, maybe having Brock Lesnar here isn't such a good idea...." He's not just a monster physically, he's a self-serving complete asshole jockeying for more power and influence than just winning matches or titles. He's not back for what a WWE Superstar presumably wants, and he warned us (repeatedly via endless airings of his interview) that he's not a WWE Superstar. Brock played his hand: He's here to rape and pillage the company for everything he can get and beat up all their "Superstars" while doing so, because WWE "needs" him. Lauranaitis and everyone else came to realize exactly what kind of an uncontrollable monster WWE now has on their hands. The kind that will leave Vince McMahon stranded somewhere because he took his corporate jet to go to work.

More Brock Lesnar contract demands:

* Exclusive use of Vince McMahon's Miami penthouse
* Able to take out Vince McMahon's yacht "Sexy Bitch" whenever he wants
* Access to Stone Cold Steve Austin's beer truck
* Unlimited rides on Stone Cold Steve Austin's zamboni

Last night was John Cena's birthday, by the way:





(edited by John Orquiola on 24.4.12 0614)
---

@CMPunk
"@ZackRyder: @CMPunk She played me bro" I got your back.
Spiraling_Shape
Bierwurst



Since: 2.1.02
From: PA

Since last post: 7 days
Last activity: 13 hours

#18 Posted on | Instant Rating: 6.40
Another thought: it has to be ridiculously tough to come back to the States and put on a three-hour RAW immediately following a European tour.


Originally posted by John Orquiola

---

The kind that will leave Vince McMahon stranded somewhere because he took his corporate jet to go to work. (edited by John Orquiola on 24.4.12 0601)

---


That image just made me picture Vince stranded outside a Howard Johnsons while Brock drives/flies away. I wonder what Vince thinks of orange sherbert...


---

"Ice cream bars! Ice cream bars!" - RAW crowd, Boston, 7/11/11
jerichofan717
Pickled pork



Since: 21.12.10
From: Albany, NY

Since last post: 299 days
Last activity: 41 days

#19 Posted on
This version of heel Brock is amazing. I hope the person who gets to knock him off (since Cena sure ain't on Sunday) is someone who really needs the rub, not a Cena, Rock, Triple H, Undertaker etc.

And I have a feeling Kharma is coming for the Bellas next week. If it happens, I'll be surprised creative closed a Divas storyline up that they started a year ago.

Who the hell did the Miz piss off? They're not over the Survivor Series buyrate by now?
JustinShapiro
Scrapple
Moderator




Since: 12.12.01
From: Pittsburgh, PA

Since last post: 23 days
Last activity: 2 days

#20 Posted on | Instant Rating: 8.73
Brock really shouldn't be put in a position to do long sports entertainment soliloquies but his body language and asskicker verbiage is crazy good.

Brock's three historical victims were, conveniently, Jeff Hardy, Hulk Hogan, Kurt Angle. They all have one thing in common (broken backs). Conveniently skipped? Rock and Undertaker, who he'll probably be wrestling this year. Edge remembers, though.


Originally posted by geemoney

---

Ace agreed to the terms and shook Lesnar's hand. I can't help but think of how much better this promo would've gone with Paul Heyman as Lesnar's agent/mouthpiece.

---


Yup. I'm hoping they change their mind on Heyman over the course of the year when they have to be more creative with Lesnar's long-term booking and limited dates. Giving Lesnar a pro wrestling manager sort of hurts the dynamic of him as a UFC outsider, but I think the positives would outweigh the negatives longterm. But there's fun stuff to be done with Heyman and Sable too even if it's just as a one-off.


Originally posted by jerichofan

---

And I have a feeling Kharma is coming for the Bellas next week. If it happens, I'll be surprised creative closed a Divas storyline up that they started a year ago.

---


Some NXT-level attention to detail there, unlikely continuity from the company where

Ryder didn't get the pin but at least he didn't lose for once. Looking forward to Miz winning the U.S. title and Ryder chasing him and Eve and the Laurinaitis administration haha not really.
Pages: 1 2 Next