geemoney
Scrapple



Since: 26.1.03
From: Naples, FL

Since last post: 2 days
Last activity: 7 hours

#1 Posted on | Instant Rating: 8.21
TONIGHT: Fallout from Hell in a Cell, including a new WWE Champion in Alberto Del Rio. Plus, what will happen with Triple H after more chaos reigned at the PPV thanks to Miz and R-Truth? What's in store for new Diva's champion Beth Phoenix? In the main event, it's a 12-man Supershow tag match!


- WWE Open.

- Into the arena we went, as the Raw theme played and the camera panned the crowd. Michael Cole said anxiety is at an all-time high in the locker room tonight. He was joined by JR and Booker T., with Jerry Lawler still out nursing his injury. Interestingly, Cole said they were in the CajunDome and the graphic said so as well, instead of actually telling us what city they're in.

- JR plugged the big 12-man tag main event.

- Interestingly enough, Randy Orton was the first one to come out. Oh, it's a match!

1 – RANDY ORTON vs. DREW MCINTYRE

Poor McIntyre didn't get an entrance. I'm guessing he'll last a tad longer than he did in the battle royal last week. During Orton's entrance, they showed stills from his match last night against Mark Henry. McIntyre got the early advantage, but Orton shot out of the corner with a clothesline. Cole promised exclusive footage showing what happened after the PPV went off the air last night. European uppercut, then a dropkick by Orton that sent McIntyre to ringside. Orton went after him and tossed him into the barricade. He then led McIntyre into the barricade on the opposite side of the ring as well. Back in the ring, the referee admonished Orton, leading to McIntyre booting Orton in the face. He continued the onslaught as Orton attempted to protect himself. Snap suplex by McIntyre for a near-fall at 2:40. Orton fought back and pounded away at McIntyre in the corner. McIntyre got a boot up on a corner charge and got two. The announcers spent a lot of time discussing the atmosphere in the building as far as the wrestlers are concerned, after what happened last night. Swinging neckbreaker by McIntyre for two. To the second rope went the Scot, but it was a mistake, as Orton got his boots up as Mac came down. Orton began to connect on his signature moves and did the rope-assisted DDT. By the way, Miz just posted a link on Twitter to an apology video that he and Truth recorded; it's up on Youtube. Orton hit the RKO for the win.

WINNER: Orton, at 5:27. I guess it was smart to let this match go a little longer, considering Orton should be beat up from his match with Henry last night. Another part of me is still surprised WWE had him take that long to beat McIntyre, as I figured they'd want to give him momentum with a quick, decisive win.

Orton RKO'd McIntyre again after the match. As he celebrated, Mark Henry's music played and the World Champion came out. Henry went to ringside and held the title above his head. An irate Orton stormed out of the ring and attacked Henry. The two had a pull-apart brawl with security and John Laurinaitis involved. They couldn't seem to keep the two men apart. Orton pretended like he was done, but charged at Henry once more, throwing him over the barricade and onto the concrete. Cole hyped that we're seeing chaos and bedlam already.

[Commercial Break]

- Mark Henry was still in the ring out of break, and he appeared to be fuming. His music was playing as they went to ringside for reaction from the announcers.

- A Mark Henry video package played as Henry continued to pace around the ring.

- Cole plugged The Big Show's return to Smackdown this Friday night. Good cross-promotion there, finally.

2 – MARK HENRY vs. JOHN MORRISON

So that's why Henry stayed in the ring. JR said tonight is Morrison's birthday. Henry was on offense to start. Beal out of the corner by Henry, but Morrison landed on his feet. However, he could not capitalize. Henry gave Morrison a shot to the back, then tried to finish him. Morrison jumped out of a slam attempt and got Henry down to one knee. Running knee to the face, followed by Starship Pain. Booker proclaimed we'd have a new champ, despite the fact that the title is not on the line. Henry kicked out, kicked Morrison in the face, then gave him the World's Strongest Slam for the win.

WINNER: Henry, at 1:58. It's a race to stay out of the basement between McIntyre and Morrison. McIntyre won that battle tonight.

Henry gave Morrison another World's Strongest Slam. Henry got the mic and said now Morrison knows what it's like to be in the ring with a beast. He said Randy Orton knows. He said if Orton is listening, he's done with him. Stupid "what" chants from the crowd. Henry said he just saw that somebody is looking for him. He said he's not that hard to find: He'll be the World's Strongest Man and the World Champion holding the title. He told Big Show that when he shows up, it's going to be the shortest return in WWE history. He promised that Show will go back on the shelf and once again enter the Hall of Pain. He screamed as he delivered that last line. They replayed the finish of the previous match.

- Booker hyped the 12-man tag main event.

- Backstage, several heels were trying to air their grievances with Johnny Ace, all at the same time. Ace asked David Otunga if Miz and Truth filing a lawsuit against WWE this morning had anything to do with him. Otunga skirted the question, but Vickie said they'd take their issues in front of the fans. I guess they're out next.

[Commercial Break]

- Christian, Cody Rhodes, David Otunga, Vickie Guerrero, Dolph Ziggler and Jack Swagger were all in the ring, with Christian's music playing. Then Alberto Del Rio came out, sans announcement from Ricardo Rodriguez, who was taken out during the HIAC match last night. Del Rio said he became the new WWE Champion last night, getting rid of John Cena and beating CM Punk. Del Rio said he couldn't celebrate though, because two people who should be fired attacked him. He said it happened because of Triple H and because he doesn't know how to run the company. He said the Cell was "magically" raised after he won, allowing Cena and "those hooligans" to enter, then it was magically lowered. He said only one made had the power to make that decision, that person being Triple H. "You suck" chants from the fans.

Christian got the mic and said that ever since Triple H has taken over day-to-day controls of Raw, the environment has been unsafe. He said he's not going to take it anymore. He handed the mic to Cody who said this was not a conspiracy, but a fact. He said everyone in the ring has been a victim of Triple H's negligent actions. Ziggler spoke up and said Triple H's actions have gone on unsupervised long enough. What about the WWE Board of Directors? Ziggler said they'd take action into their own hands. Swagger said his friends and family are now concerned for him every time he steps into the ring on Raw. Vickie tried to speak, but the crowd turned on her and she got heat the rest of the guys in the ring wish they got. She said as a woman, she feels especially vulnerable. Otunga said at Harvard, he studied similar cases to this. He said when there are unsafe working conditions, you can band together and contemplate legal action. He got the "what" treatment. Triple H's music hit and he walked out.

Hunter stayed on the stage and said "what happened to WWE?" He said there used to be a time when men stood in that ring and fought, no matter what the circumstances. He said they didn't whine and cry or threaten lawsuits; they fought like men. Hunter said he didn't give a damn about anyone's lawsuits. He said when all of them come out later to stand in the ring against Evan Bourne, Kofi Kingston, Sheamus, Mason Ryan, CM Punk, and John Cena, all he wants them to do is shut up and fight. Cole asked what was accomplished there, saying Hunter didn't address the legitimate concerns of the men in the ring.

- They showed clips of Miz and Truth's attacks last night and the announcers promised exclusive footage. Plus, they showed Miz's Tweet that I mentioned earlier and said we'd see the apology video as well.

[Commercial Break]

3 – EVE TORRES & KELLY KELLY vs. BETH PHOENIX & NATALYA

Kelly was still all smiles despite losing the title last night. The announcers had to cover for that, as JR said she's smiling but hurting inside. Beth took Kelly by the hair and flung her under the bottom rope and to the outside. Kelly slammed Beth's head intot he announce table while screaming, presumably in anger. Nattie and Eve started brawling as well, and the ref called for the bell. Kelly sat on the back of Beth at ringside and continued the onslaught.

WINNERS: No Contest, at :34. If she was this irate, why was she smiling so big on the way to the ring? Would it kill someone to tell her to show some consistency with her character?

- Triple H was on the phone backstage when Johnny Ace came in. He apologized for what happened last night, but said he'd like one from Hunter too, since Hunter knocked him down when he attacked Miz and Truth last night. He said he's a man, now he'd like to see Hunter be a man. He implored Hunter to ask the talent for a vote of confidence. Hunter didn't seem to want to, but Ace tried to talk him into it. Hunter said he wasn't afraid, then took Ace by the lapels and said he's afraid of the guy he's working for undermining him, or he's just incompetent. He told Ace to gather the talent in the ring and make sure he's there too. It feels like Hunter is just living out his movie-star fantasy by being the tough guy, whenever he's not being the funny guy who just blows everything off.

[Commercial Break]

- They showed the outside of the Cajundome as Cole threw it to a deleted scene from Fast Five, which comes out on DVD and Blu-Ray tomorrow. The scene featured The Rock.

- Jinder Mahal was in the ring. He spoke in his native tongue until Santino Marella's music hit. He made his return and walked out for a match. After throwing his Cobra arm-sleeve to the crowd, he spoke in a fake foreign language to Mahal and said, "halitosis." Mahal argued back and apparently they OK'd a match.

4 – JINDER MAHAL vs. SANTINO MARELLA

Mahal missed a corner charge and Marella set up for the Cobra. It found the mark.

WINNER: Marella, at :33. This makes Mahal's win over Yoshi Tatsu on NXT last week even stranger.

Marella and Mahal argued from a distance after the match.

- Triple H's vote of confidence is coming up.

- Also, in the main event, it's a 12-man tag match. Hey, it's next!

[Commercial Break]

- A hype video aired on Brodus Clay.

- The announcers discussed what happened last night when Miz and R-Truth interfered in the main event. Booker said he's never seen WWE in the state it's in right now. JR threw it to footage of Hell in a Cell last night. It picked up right after the pinfall in the main event, even though the caption said "After Hell in a Cell." I didn't get to hear the announcers last night, so I just want to point out how money JR was here. I bet the people who paid for this PPV thinking they at least saw something awesome and unique after the title match are kicking themselves now.

- Back to the announcers, who wondered who put the Cell up, then down again, as well as how Miz and Truth got past the WWE security staff.

- Truth and Miz's YouTube video aired. They wanted to talk to us as "Mike" and "Ronnie." He said they're sorry lawyers had to get involved, but Triple H never wanted to listen to their pleas. They both said they didn't do anything Hunter himself wouldn't have done, and they didn't even resist arrest. They said they got attacked and assaulted by the COO after they had been handcuffed. Miz said they filed a wrongful termination suit against WWE and Triple, and have also pressed assault charges against Triple H. They both apologized to the WWE Universe for their actions, and for the fact that the COO is a sorry excuse for a leader.

- Cole ranted on commentary, calling Hunter "pig-headed."

- CM Punk and John Cena came out for the 12-man tag. It's next.

[Commercial Break]

5 – CM PUNK & JOHN CENA & KOFI KINGSTON & EVAN BOURNE & MASON RYAN & SHEAMUS vs. CODY RHODES & DAVID OTUNGA & JACK SWAGGER & DOLPH ZIGGLER & CHRISTIAN & ALBERTO DEL RIO

Cena got the best of Otunga at the outset, then Ziggler and Ryan matched up. Ziggler yelled at Ryan and slapped him. Ryan responded with, you guessed it, a clothesline. Ryan pressed Ziggler over his head and tossed him to ringside on top of Swagger. The heels regrouped in front of the announcers. Ziggler came back in and dove right into Ryan's arms. Standing powerslam for two at 2:06. Sheamus tagged in and Ziggler got out of another slam attempt. He tagged Swagger in. Sheamus clobbered Swagger over the back and neck with forearms. Crowd was loving it. Swagger took out Sheamus's knee. Back-breaker by Sheamus for two. Punk came in and slammed Swagger. Neither he nor Cena are showing much ill effect from the Cell match. Rhodes tagged in before Punk could come off the top onto Swagger. Rhodes found some early offense against Punk. Punk came back with a jumping leg kick, then a running knee in the corner. Bulldog out of it, then he went for the GTS. The apron emptied and there was a stand-off in the middle of the ring. Perfect time for a commercial break, 5:47 into the match.

[Commercial Break]

Back at 8:50, with Kingston missing a cross-body and Cody connecting on a springboard kick. Christian tagged in and landed a neck-breaker for a two-count. The heels did some cheating behind the referee's back. The heels kept the legal man fresh with frequent tags. Rhodes tossed Kingston out of the ring and Swagger stomped him. Kofi recovered to throw Rhodes into the barricade. Cole noted that a second official should've been assigned to this match. Kofi tried to leap over Ziggler to make a tag, but it was unsuccessful. Otunga slammed Kofi and went for a cover, only getting two. Both Ziggler and Kofi went for a cross-body. Crowd really got behind Kofi, who made the tag to Bourne. He kicked away at Swagger and went to the top. He kicked down an interfering Christian and hit Air Bourne. Swagger rolled over and Vickie was able to put Swagger's leg on the rope during the pin. The referee then sent her to the back. The babyfaces taunted her as she left ringside. They went to break again at 16:29.

[Commercial Break]

The show returned at 19:42. Ziggler was doing his best to prevent Bourne from making the tag. Tilt-a-whirl back-breaker by Del Rio for two in one of his few appearances during this match. Tornado DDT by Bourne and both men were down at 21:35. Cena tagged in and Del Rio was the victim of his patented offense. Del Rio put an end to that by bringing Cena's arm down across his knees. Cena was stuck in the heel corner as Swagger and Rhodes got a few shots in on Cena. Everybody seemed to want to get a piece of Cena, and everyone got a piece. Hard whip into the buckle by Swagger. Vader Bomb by Swagger for two at 24:18. Swagger tried another one less than a minute later, but Cena rolled out of the way. Cena tagged Sheamus, and Swagger tagged Ziggler. High knee lift and a beauty. He tried to go to the top, but Del Rio pushed him off (after Christian couldn't do so). Zig Zag by Ziggler on Sheamus, then Bourne came off the top with the double knees. Cody came in and gave Bourne Cross Rhodes. Mason Ryan put Rhodes over his head, but Swagger and Rhodes ended up clotheslining him over the top. Kingston gave a cross-body to both men, then a suplex from Del Rio on Kofi. Del Rio was given the GTS by Punk, and Otunga gave Punk a neck-breaker (interesting that Otunga was the one who took Punk out). AA on Otunga by Cena, then a Zig Zag to Cena. In the end, Sheamus gave Ziggler the Brogue Kick for the win.

WINNERS: Babyfaces, at 26:53. Really good match and hot most of the way through. Can't remember when there was a match that long on Raw.

- The Vote of Confidence on Triple H is next.

[Commercial Break]

- The announcers were shown on camera again, with Booker talking about Big Show's return to Smackdown.

- The Raw theme played as several roster members walked to the ring. Then the Smackdown theme played and that roster came out. There were only four though: Daniel Bryan, Sin Cara, Zeke Jackson, and Titus O'Neil (despite him not actually being on Smackdown) and then Beth's music played and all the Divas came out. Referees followed that and the Smackdown theme played again. Others from the Smackdown roster came out, for some reason. Then more Raw. Looks like they were separated by heels and faces. Jerry Lawler got his own entrance. We'll see the vote of confidence next.

[Commercial Break]

- Both rosters were shown surrounding the ring. There was a pause in the music, but the fans weren't chanting for Triple H, if that's what they were supposed to do. "Time to Play the Game" then started up, and Hunter walked out. I didn't see Johnny Ace out there. Hunter got into the ring and walked around the squared circle, looking at the guys. It's very confusing when Hunter talks about just "running Raw" while other times they talk about how he's running everything. Hunter said this wasn't a job he wanted, but was a job he was given. He addressed what Miz and R-Truth said, and said they should apologize to the WWE Universe for being a bunch of babies. He said if they were willing to do the crime, they should've been willing to do the time. He said he's old school and likes watching people beat the hell out of each other. He said he enjoys the battles and the chaos that is Monday Night Raw and WWE. Hunter said that, at the end of the day, don't they really work for the fans? Poor Sin Cara probably has no idea what he's saying right now.

Wade Barrett tried to interrupt but Hunter said it's his responsibility that Raw is the best show it can possibly be. He said he works his ass off not for the wrestlers, but for the fans. Trips said he was curious to hear the opinions of the wrestlers. Barrett said he's been selected by his colleagues to speak on some grievances they've had. Hey, there's William Regal! Barrett said there truly is an unsafe working environment in WWE. "You suck" chants from the fans. Barrett said they came to WWE because they're competitors who like to adhere to rules and regulations. But that doesn't include being subjected to attacks by people in the parking lot, or being put in an unsafe working environment because Hunter can't do his job. He said the reason for the chaos is because Hunter is out of control. Hunter introduced the fans to Barrett, who just more than a year ago led Nexus in their attack on WWE in an attempt to shut Raw down. He said Barrett only has a problem because he's not the one causing it.

Mike Chioda spoke up next and said he's known Triple H for 16 years. He said he's never seen this much abuse referees have taken at the hands of WWE Superstars. He asked how they were supposed to get respect from Superstars and do their job. Triple H called him "Mike" and said he fired the guys that attacked them. Chioda reminded Hunter that Miz and Truth still got in the building, and nothing was done about the attacks on Chad Patton and Scott Armstrong. Chioda said 23 years he's been in WWE, and now he's afraid to come to work. Hunter seemed at a loss for words. Beth Phoenix spoke up and said as women they're more vulnerable. Hunter asked for a specific instance of something that happened. Beth said it's just that something "could" happen.

Jerry Lawler spoke up next and actually entered the ring. Lawler said he's agreed with what some people have said, but disagreed on other points. He said he agreed that Raw is spiraling out of control and that it's becoming a hostile work environment…but he doesn't think it's Hunter's fault. He said it's exactly as Punk said it was, that there's someone behind the scenes sabotaging Hunter, and everyone around the ring is paying the price for it. Lawler said somebody doesn't want Hunter to be in charge. Christian interrupted and asked for a vote of confidence right now. He said on behalf of him and his colleagues, they vote no confidence. Chioda spoke for the refs and echoed that sentiment. Phoenix did the same, presumably for the Divas. Lawler even said no confidence, despite admitting he thought someone was sabotaging Hunter. He even said actions speak louder than words and reluctantly walked out. The rest of the roster slowly made their way up the ramp as well.

One group of wrestlers stayed behind though, and had a discussion amongst themselves. As they did so, Michael Cole walked off. The group that stayed behind consisted of Kofi, Zack Ryder, Percy Watson, Marella, Alex Riley, Morrison and Bourne. They finally made their way out, as did Booker T, Justin Roberts and another ringside worker. Even the cameramen put their cameras down and walked off in a nice touch. Hunter stared at JR, who was still at the announce table. The crowd roared their approval. JR pushed his chair back and took off his headset as they began to boo. JR then walked to the back, though he didn't seem to want to. Hunter looked to the crowd, who cheered him. Johnny Ace then walked out onto the stage. He shook his head as the crowd chanted "you suck." Ace then turned his back and walked out. Hunter stayed in the ring and looked around as the show went off. Unique and interesting final segment. I liked it.



---

@gregmparks - live Tweeting of Raw and Impact, wrestling thoughts and other slices of life.
Promote this thread!
TheOldMan
Landjager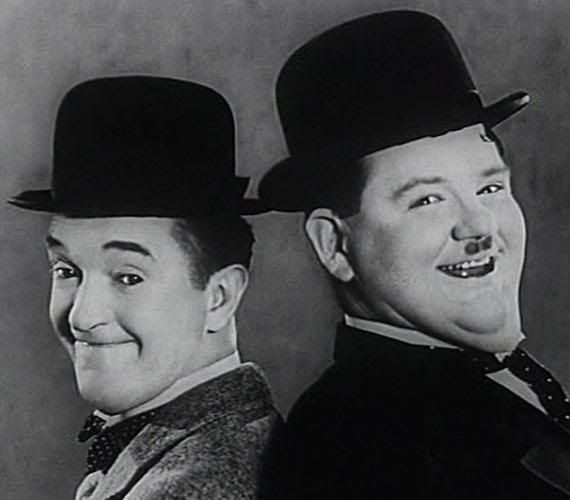 Since: 13.2.03
From: Chicago

Since last post: 1354 days
Last activity: 49 days

#2 Posted on | Instant Rating: 5.50
From the totally undeserved second RKO on McIntyre to anything he did attacking Mark Henry for pointing out he was still the champion, was there *anything Orton did in that first segment that didn't say "heel turn"?

(Not that anyone thought he was turning. BTW, way to no-sell an entire Hell in the Cell match, Randy.)

Ha! Cole points out the hypocrisy when Henry hits Morrison with a second W.S. Slam. When the heel announcer can rightly call your actions out, you're doing "being a face" wrong. And don't think that doesn't undercut guys like Mark Henry trying to get heat - you can't make 10-year olds your target audience and simultaneously book tweeners like it's 1998.

Can't someone hook Swagger up with a speech therapist?

When HHH's COO character went out on stage, wasn't he thinking to himself: "I'm sure letting six heels out on stage to whine about my company wasn't on the show rundown." Meanwhile, HHH's booking persona was thinking: "And gee, why didn't I wait until they were doing this to make the 12-man tag match - that would have made soooo much more sense."

Let me be the first to wish Jinder Mahal the best in his future endeavours.

This isn't Miz and Truth, it's Mike & Ronnie? We're back to shooting then? Shooting with a worked lawsuit. Okay.

Cole: "John Cena and CM Punk both went through hell last night..." Me: "Only one of them is selling it. And apparently he's the sucker."

The "vote of confidence" thing is stupid even by WWE standards. Then during the 12-man they are trying to put over that if HHH fails in the vote, he HAS to step aside? How about he just says "everyone shut up and take the matches we give you, or you're fired". The 'vote of confidence' is something upper management gives the coach, not something the players give to management.

Also, too: CM Who? (At least we'll always have Money in the Bank.)


---

Packman V2
Bratwurst



Since: 16.3.04
From: Albuquerque, NM

Since last post: 52 days
Last activity: 1 day

#3 Posted on
Loved the "Kayfabe lives!" comment posted during Miz and R-Truth's Youtube video.


---
El Nastio
Banger



Since: 14.1.02
From: Ottawa Ontario, by way of Walkerton

Since last post: 26 days
Last activity: 20 hours


ICQ:
#4 Posted on | Instant Rating: 5.35
The last segment was pretty awesome.

CM Punk got the first intro in the 12 man, with Cena going second. Yup, so totally buried.

Overall good show, and I'm interested where they're going to go after this walkout.


---

After a (very) long hiatus, I have begun to write again. And this time, I'm not alone!

Click Here (basisgames.blogspot.com) to check out Basis Games - Video Game/Console Reviews, Commentaries, and Analysis. Check it out!
John Orquiola
Scrapple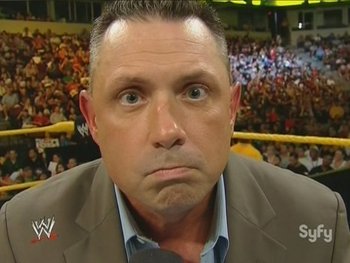 Since: 28.2.02
From: Boston

Since last post: 1629 days
Last activity: 1629 days

#5 Posted on | Instant Rating: 6.33
It seems the WWE roster at large won't need the help of Padme Amidala to push through a vote of No Confidence on Chancellor Valorum Helmsley.

(edited by John Orquiola on 4.10.11 0847)

---

@BackoftheHead

www.backofthehead.com
ekedolphin
Scrapple



Since: 12.1.02
From: Indianapolis, IN; now residing in Suffolk, VA

Since last post: 12 hours
Last activity: 12 hours

#6 Posted on | Instant Rating: 3.31
I also enjoyed how Michael Cole immediately called Booker T out on his hypocrisy for hating how John Morrison got attacked, but not Drew McIntyre. And Booker's comeback was weak: "That's different." OK, how?

Would've been nice to see McIntyre's entrance, but I guess he won't get that on RAW unless he starts beating people on Superstars. At least he had a decent match against Orton instead of getting annihilated.

Good to see a promo video for Brodus Clay.




---
"Hold on, hold on, hold on... this doesn't happen a lot, I need to savor this... I am the most normal person in the room."
--Ethan, Ctrl+Alt+Del
Fan of the Indianapolis Colts (Super Bowl XLI Champions), Indiana Pacers and Washington Nationals
Certified RFMC Member-- Ask To See My Credentials!
Co-Winner of Time's Person of the Year Award, 2006
Mayhem
Scrapple



Since: 25.4.03
From: Nashville, TN

Since last post: 507 days
Last activity: 392 days

#7 Posted on
Did Triple H fail to mention Mason Ryan when naming off the faces in the 12 man tag?
The Embedder
Cotechino



Since: 5.3.02

Since last post: 2116 days
Last activity: 2116 days

#8 Posted on | Instant Rating: 8.00
CRZ
Big Brother
Administrator



Since: 9.12.01
From: ミネアポリス

Since last post: 13 hours
Last activity: 6 hours


ICQ:
#9 Posted on | Instant Rating: 9.39
Originally posted by Mayhem

---

Did Triple H fail to mention Mason Ryan when naming off the faces in the 12 man tag?

---
That's how I heard it too.

Interesting that they did a straight full page screen grab for the YouTube thing - at first, I thought it was some kind of weak attempt to get "Kayfabe lives!" trending, but since that was a real comment, and given the real, non-WWE affiliated videos in the righthand column (including a copyright-infringing clip from GH30wnerV2 and as well as an offering from JonathanMcDonaldTV), I'm more inclined to think that nobody even bothered to look outside the box (so to speak) when it came to displaying the webpage.

All those matches really get in the way of all the promos and drama, don't they?

I...uh....really admired Vickie's breasts tonight.

(edited by CRZ on 3.10.11 2243)

---

CRZ
Big Brother
Administrator



Since: 9.12.01
From: ミネアポリス

Since last post: 13 hours
Last activity: 6 hours


ICQ:
#10 Posted on | Instant Rating: 9.39
Interestingly, through the vagaries of Google we've now gotten about a hundred referrals to a thread Stephanie started about two months after the board opened because she gave it the thread title Vote Of NO Confidence (The W). I'm sure all those people are happy they're reading about a RAW from 2002!


---

Spiraling_Shape
Bierwurst



Since: 2.1.02
From: PA

Since last post: 26 days
Last activity: 22 hours

#11 Posted on | Instant Rating: 6.02
Beth Phoenix, one of the strongest and toughest women in WWE history, has to whine, "Hunter, we're just girls." Really??


There was a sign at some point reading "Kevin Dunn loves Kayfabe commentarie" (sp?).

The 12-man match was a lot of fun, nice to see Sheamus get the big win. (Why can't he still be the "Celtic Warrior"?)


---

"Ice cream bars! Ice cream bars!" - RAW crowd, Boston, 7/11/11
Spaceman Spiff
Knackwurst



Since: 2.1.02
From: Philly Suburbs

Since last post: 87 days
Last activity: 6 hours

#12 Posted on | Instant Rating: 7.29
Originally posted by Spiraling_Shape

---

Beth Phoenix, one of the strongest and toughest women in WWE history, has to whine, "Hunter, we're just girls." Really??


---

Uh, she's a heel looking to get rid of the face authority figure. I think she was being a wee bit disingenuous with the "we're poor little girls" tone.


---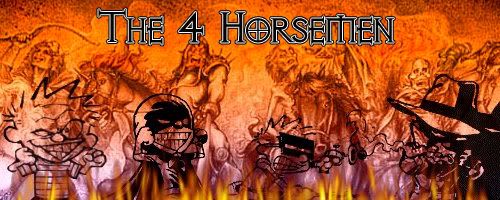 Scottyflamingo
Bratwurst



Since: 23.6.10
From: Auburn, AL

Since last post: 1974 days
Last activity: 1703 days

#13 Posted on | Instant Rating: 2.77
So after tonight's show...

Entire WWE Roster = HEEL

HHH = UBER MEGA FACE


Also that vote was so important that Cena and Punk didn't bother showing up.


DirtyMikeSeaver
Bockwurst



Since: 19.5.02
From: Toronto

Since last post: 149 days
Last activity: 149 days

#14 Posted on | Instant Rating: 6.28
Originally posted by Scottyflamingo

---

So after tonight's show...

Entire WWE Roster = HEEL

HHH = UBER MEGA FACE


Also that vote was so important that Cena and Punk didn't bother showing up.



---


Nor Sheamus or Mason Ryan or Randy Orton. Having Del Rio and Henry (your champs) and even Air Bourne (your tag champs) out there just looking like "one of the guys" and not those other guys make them look (kinda) weak.

But it was nice to see Kelly Kelly and Beth set aside their feelings and be out there together.

(edited by DirtyMikeSeaver on 3.10.11 2121)

---

Kevin Kelly: "Mr. Austin, would you like to comment on Wade Keller's Take that endorsing the XFL hurts your anti-authority character?"

Steve Austin: "Oh shit, he actually said that? I thought the boys in the back were ribbing me!"

Kelly: "No, he really said that. Did they tell you the part about you sitting in the stands, looking all skeptical?"

Austin: "AHAHAHAHAHAHA. Yeah... oh man that was too much."
John Orquiola
Scrapple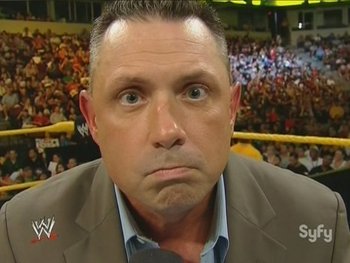 Since: 28.2.02
From: Boston

Since last post: 1629 days
Last activity: 1629 days

#15 Posted on | Instant Rating: 6.33
I loved Sheamus hugging Cena when they celebrated their victory in the 12 man tag match. I knew those two would be friends ever since the moment Sheamus ran screaming for Cena's locker room when the Nexus scared him backstage.


Originally posted by DirtyMikeSeaver

---


But it was nice to see Kelly Kelly and Beth set aside their feelings and be out there together.

---


Kelly Kelly and Eve weren't out there either. The Divas who came to ringside were Beth, Natalya, The Bellas, Alicia Fox, Maxine, Aksana, Rosa Mendes, Tamina, AJ and Kaitlyn. And Vickie of course.

The best single performance in the No Confidence segment was William Regal. He was an ocean of turmoil at ringside. His facial expressions told the story - it was killing him to be out there passing judgment on one of his best friends and ultimately siding against him with the rest of the roster. Go back and watch Regal's reactions while Barrett was speaking and then how he locked eyes with Hunter as he walked up the ramp with the others. Regal deserves a Slammy for that performance.

(edited by John Orquiola on 3.10.11 2203)
---

@BackoftheHead

www.backofthehead.com
supersalvadoran
Sujuk



Since: 10.1.08
From: westbury, new york

Since last post: 819 days
Last activity: 369 days

#16 Posted on | Instant Rating: 3.99
You know what really bothered me about that 'no confidence' vote? That HHH couldn't even sell *THAT*. Seriously, he's all "I couldn't care less" and just shrugs his shoulders at the end there. No actual look of disappointment, no worried look on his face about the future of his position. It's as if noting actually happened to him when the entire WWE voted against him.

At least Vince broke down in tears and showed some emotion when he was removed from his position. For those wondering why HHH gets so much flack all these years for being out for himself and not helping elevate others into stronger roles in the WWE, this is a perfect example. HE NO SOLD A WALKOUT BY THE ENTIRE WWE ROSTER. Can you at least make it look that matters a little bit?

But the more important question I have to ask is: why is Jinder Mahal still employed? And why whenever I see him do I beg for the good old days of Tiger freakin Ali Singh?


---
HMD
Andouille



Since: 8.6.02
From: Canada

Since last post: 610 days
Last activity: 610 days

#17 Posted on | Instant Rating: 7.73
A twelve-man tag is a little ridiculous. It's hard enough to keep track of a ten man, much less throwing two more bodies in there. They did give them enough time, though. As for the non-confidence vote, I really don't know what to say about it. I know it was supposed to be awesome and different but it was like something out of Mad Men. I don't see what any of it has to do with wrestling or selling tickets or PPVs or even video games and t-shirts. I just don't get it. Am I supposed to feel bad for Triple H, who beat up wrestlers, belittled everyone, lost control, and most recently attacked people who were handcuffed? He's acted like a complete heel all the way through. It is almost Russo-esque, in that it comes across like it was put together by people who know nothing about wrestling.
---

Quiet, Or Papa Spank!
Cerebus
Scrapple



Since: 17.11.02

Since last post: 529 days
Last activity: 251 days

#18 Posted on | Instant Rating: 1.60
Originally posted by El Nastio

---

CM Punk got the first intro in the 12 man, with Cena going second. Yup, so totally buried.

---


Actually, even though you are trying to be ironic and smarky, the fact that he did come out first proves the point.

Traditionally in wrestling, the jobber comes out first for any match. Drew McIntyre came out first against Orton, Jinder Mahal came out first against Santino Maralla, and with the exception of John Cena (Because he is John Cena)... if you are in a 12 man tag match and one of the other 12 happens to be David Otunga and Otunga ISN'T the first person in the ring... upper management doesn't have much faith in you.


Originally posted by geemoney

---

Stupid "what" chants from the crowd.

---


Anyone who complains about this has no right to complain about the PG era WWE because the 'What' chants were started by Austin in the attitude era. You can't have one without the other. If you hate the chants, then you should hate Austin and not the legacy he left us with.

(edited by Cerebus on 4.10.11 0255)

---

Forget it Josh... it's Cerebustown.
JustinShapiro
Scrapple
Moderator




Since: 12.12.01
From: Pittsburgh, PA

Since last post: 229 days
Last activity: 62 days

#19 Posted on | Instant Rating: 9.25
Originally posted by Cerebus

---

Originally posted by El Nastio

---

CM Punk got the first intro in the 12 man, with Cena going second. Yup, so totally buried.

---



Actually, even though you are trying to be ironic and smarky, the fact that he did come out first proves the point.

Traditionally in wrestling, the jobber comes out first for any match. Drew McIntyre came out first against Orton, Jinder Mahal came out first against Santino Maralla, and with the exception of John Cena (Because he is John Cena)... if you are in a 12 man tag match and one of the other 12 happens to be David Otunga and Otunga ISN'T the first person in the ring... upper management doesn't have much faith in you.

---


Just stop.
CRZ
Big Brother
Administrator



Since: 9.12.01
From: ミネアポリス

Since last post: 13 hours
Last activity: 6 hours


ICQ:
#20 Posted on | Instant Rating: 9.39
Originally posted by Cerebus

---

Originally posted by El Nastio

---

CM Punk got the first intro in the 12 man, with Cena going second. Yup, so totally buried.

---



Actually, even though you are trying to be ironic and smarky, the fact that he did come out first proves the point.

Traditionally in wrestling, the jobber comes out first for any match. Drew McIntyre came out first against Orton, Jinder Mahal came out first against Santino Maralla, and with the exception of John Cena (Because he is John Cena)... if you are in a 12 man tag match and one of the other 12 happens to be David Otunga and Otunga ISN'T the first person in the ring... upper management doesn't have much faith in you.

---
Oh, come on.

Oh, snap - Justin and I are in sync


---

Pages: 1 2 3 4 5 6 Next