Juggalo101
Italian



Since: 27.4.04
From: Atlanta

Since last post: 1942 days
Last activity: 1941 days

#21 Posted on | Instant Rating: 2.34
Not really tying in to the storyline, but you would of thought with Batista backstage, maybe he would stop the Flair abuse after the first five minutes or so...? I mean nothing tonight really made sense storyline-wise anyway, so why not? Right?


Originally posted by Alpha Dog

---

The Return of Shane O'Mac's goofy Ali Shuffle entrance was the highlight of the night.

---

Was actually getting ready to type a sentence nearly similar to this...
Loved the segment, but wow...talk about oversell. I mean, christ, laying there for about nine hours, motionless, after one stunner?

And thank God, they finally realized there was no point to those useless lightning bolt things on the sides of the titantron. Only took a good three years. I liked the new modification to the set. Made me wonder who will attempt the first stunt off one of them. In addition, Triple H's lighting looked very nice during his entrance.
...See Trips, Raw makes changes when they're needed, so why don't we just get rid of the facial hair already?


---

Rise, my lord. Rise.
geemoney
Scrapple



Since: 26.1.03
From: Naples, FL

Since last post: 7 days
Last activity: 3 hours

#22 Posted on | Instant Rating: 4.92
Texas Kelly: As for point one, I just never saw them giving Matt the "money in the bank" title shot. They seem him as a mid-carder and nothing more, so to them, giving him a title shot would be a waste.

For point three: WWE has been advertising matches and not delivering for years. I'm not really even peeved any more when they do it, and am shocked some people act so surprised and get up in arms about it.


---

College, Sports and More!: Experience It




JustinShapiro
Scrapple
Moderator




Since: 12.12.01
From: Pittsburgh, PA

Since last post: 26 days
Last activity: 1 day

#23 Posted on | Instant Rating: 8.46
Originally posted by the returning Tom Dean

---

Why start hyping Austin-Hogan now? Wrestlemania's six months away.

---


Well, it's the last untapped dream match and they want to do a long, slow tease for a match of that magnitude. I think making people want it far in advance really adds to the allure. They started the build for Austin/Rock in 2001 and Batista/HHH last year in the fall and that only helped both matches.


Originally posted by Texas Kelly

---

You do not build up/tease a high-profile match of that magnitude and then do not deliver.

---


Really? A random six man tag with Smackdown guys, a match of such high profile and magnitude that it wasn't even actually announced until the show started? Not that they couldn't have worked a match before Eric's angle, but I don't think that the perfunctory running through those guys' signature spots that that match would've been was going to be all that amazing.

And it's not like they took away their match just to do it. It was the launching point of the Long vs. Bischoff feud that's going to headline Survivor Series.

(edited by JustinShapiro on 4.10.05 0137)
Mr. Boffo
Scrapple



Since: 24.3.02
From: Oshkosh, WI

Since last post: 1761 days
Last activity: 1722 days

#24 Posted on | Instant Rating: 5.12
Yeah, I'm annoyed with the ladder match ending too.

Let's take a look back:

Originally posted by The Ross Report 9/15/05

---


I have a gut feeling that Matt Hardy is going to Slobberknock Edge inside the cage Sunday, which means in layman's terms I feel Matt will win this much-anticipated match at Unforgiven. Go ahead and make your appropriate wise-ass remarks about my prediction history, but even a blind squirrel finds an acorn occasionally. And just think, IF Matt wins, perhaps some pundits will cease using the term "poor Matt" when referring to the talented Hardy.

---


So Matt won the battle at Unforgiven. Obviously we see tonight that he lost the war. And what "master plan" goes "look like an impotent bastard who mostly gets beaten up by his rival, who eventually makes him lose his job"? I know that he's going to come back on Smackdown!, but I believe him losing this feud is really going to kill his heat.

And geemoney, just because they do it all the time doesn't make it right. It's still a crappy thing to do to your fanbase.


---

In the real world, WWE believes that no matter what our race, religious creed or ethnic background in America, we all share the common bond of being Americans. American-Arabs are a part of the fabric of America, and they should be embraced by all of us.
geemoney
Scrapple



Since: 26.1.03
From: Naples, FL

Since last post: 7 days
Last activity: 3 hours

#25 Posted on | Instant Rating: 4.92
Originally posted by Mr. Boffo

---

And geemoney, just because they do it all the time doesn't make it right. It's still a crappy thing to do to your fanbase.

---

I'm not saying its right, though I personally don't mind it as long as there is some sense behind it (IE building up the tag match at Survivor Series). I'm just saying it makes me laugh when people are constantly shocked when WWE uses this tactic.


---

College, Sports and More!: Experience It




jwrestle
Lap cheong



Since: 4.4.03
From: Nitro WV

Since last post: 49 days
Last activity: 14 days


ICQ:
#26 Posted on | Instant Rating: 1.62
I give the show a 50/50. One thumb up and one thumb down just like the Ebert and Roeper at the movies.

I agree with most of the reviews of the show plus the high and low points.

My one addition is this thread is that I could feel them starting to rush the show after they said they "HAD" extra time. If they really had extra time the Smackdown match wouldn't of been canceled on the spot with a Eric Bishoff screw over.

Hell...they could have said just cancel that best moments Raw after RAW to do the show properly. Seriously, you've already got the time and the special was already on the night before.

Any ways...it was enjoyable for the most part. Welcome back to USA RAW!


---

Fear Prophet.

J.J. Dillon: "I'd rather flip burgers at McDonald's than work for Vince McMahon again." July 3, 2004
New Era Of Wrestling
Monte
Mettwurst



Since: 27.3.03
From: Montauk, New York

Since last post: 2991 days
Last activity: 390 days

#27 Posted on | Instant Rating: 0.00
HHHgH sure looked alot more "small and puffy" after reading that Warrior rant...

I really hope that they get the Edge "money in the bank" thing over with now, have him lose to Cena at the Series while Hunter beats on the Nature Boy - of course setting up the inevitable HHH vs. Cena that has to happen eventually.

The show had so much potential and really let me down, nothing has me walking away saying I can't wait to watch next week. The new big star of Cena was on TV all of ten minutes, doing what he does worst (wrestling) rather then talking (which he does best).

Maybe Kane will have enough momentum from his return to save the Main Event scene?

This show left me nothing but another reason to sigh, and I was really hoping to walk away excited.


---

"Keep On Keepin' On." - Joe Dirt
StampedeFan23
Morcilla




Since: 12.1.02
From: BC, Canada

Since last post: 3362 days
Last activity: 2898 days

#28 Posted on | Instant Rating: 3.70
Does anyone have a list of everyone in the ring during the Conway bit? I could only identify about 75% of them.


---

Whatcha gonna do when Mahkan-mania runs wild all over you?
Pizza Delivery Jones
Chourico



Since: 27.6.04

Since last post: 806 days
Last activity: 617 days

#29 Posted on | Instant Rating: 1.36
I think I've got 'em all: Arn Anderson, Ricky Steamboat, Dean Malenko, Harley Race, Ted DiBiase, Dusty Rhodes, Sgt. Slaughter, Hillbilly Jim, Steve Keirn, Pat Patterson, Tony Garea, Jim Duggan, Steve Williams, Koko B Ware, Greg Valentine, Superstar Billy Graham, Jimmy Hart, Jimmy Snuka, Jay Strongbow, Nikolai Volkoff, Kevin Von Erich, Moolah and Mae Young.
OMEGA
Lap cheong



Since: 18.6.02
From: North Cacalacky

Since last post: 3251 days
Last activity: 856 days

#30 Posted on | Instant Rating: 5.66
I didn't mind tonight's RAW. My problems were that the Austin/McMahons segment went WAAAAAAAAAAAAAAAAAAAAAY too long, and I think Hunter beating up Flair dragged a little too. Because of this, the last half hour was totally rushed. Hogan got about 2 minutes of interview time, and the main-event was 3 minutes and anti-climactic as all hell.

The Austin/McMahons segment was fine at first, but dragged on and on and on and on and... y'know. I may be in the minority, but I thought Linda's stunner saved the segment, because I was laughing my ass off at it.

The show started strong with a great Foley/Piper/Orton segment and an awesome Michaels/Angle match. But the Austin segment went about 15 minutes longer than it should have, and thus the last part of the show seemed totally rushed. Especially Hogan, who just went out there and had enough time to say "I want to fight Austin" before the music cut him off, like he was at the Oscars.

Thumbs in the middle, leaning slightly up for the biggest RAW in years.


---
The answer to WWE's financial problems...

Never 'Wiener of the Day', and is actually quite bitter about it.
flairforthegold13
Kishke



Since: 1.5.03
From: Gainesville, FL.

Since last post: 3824 days
Last activity: 3811 days

#31 Posted on | Instant Rating: 0.79
Pretty awesome free TV show.
Was I the only one thinking 'Nitro ending' at the end of the match? It's funny, on the biggest Monday since the war ended, Raw ends the way so many of the great (and not so great) Nitro's did.

Think the opening segment might be teasing a tag match with Orton Jr and Ace vs. Piper and Foley.

The Iron Man match was what it was. Angle should have won, him walking out wasn't in character at all, but we'll see where they go with it. It was a good match.

The Austin segment went on a little long, but I guess they were giving time to what is prolly the best drawing storyline in the company's history. Austin stunning all the McMahons was damn funny, at the least.

Good safe ladder match. Matt losing was, let's be honest, expected. They thought little enough of him to fire him, I doubt they've reversed course so much to give him a huge win over a guy they've been building for years. Matt will be fine. In hindsight, them even doing this angle with Edge was a mistake. They should have brought him back to SD and then teased interaction at the Rumble and then built to something. I kinda want to dump this girl I'm seeing while Edge's theme is playing. I dunno, Edge and Lita mocking Matt after the match just amused me.


The H turn was, of course, expected. But so what. Flair stays babyface, Hunter stays a heel. I'm sure the feud with him and H should be entertaining. H does a beatown better than anything and hey, it keeps Hunter without the strap for a few months at the least. Nothing wrong with this at all.

Awesome to see Von Erich on the show. I mean, what an amazing pop. The stuff with the legends was just great to see.

Divas were the divas.

I wasn't bummed that the SD match was cancelled. One, it wasn't that compelling. Two, it really makes no sense that Bischoff would allow SD on his show. Three, it reminds fans that if they want to watch the SD guys, they can just tune in Friday. Four, it builds the SD v. Raw stuff for the future. Five, it gets Bischoff more heat for his match.

The Hogan thing was fine. To everyone complaing of him being rushed, did you WANT a 20 minute Hogan promo. More importantly, it built to one of the last dream matches left in the sport, Hogan v. Austin at WM XXII. It'll be a horrible match, but it'll draw.

And hey, Cena got the main event slot. Cena was marketed as the main guy. I don't like Cena but that was the smart move.

So, here's the deal. Nothing major was given away, programs were built for the future, everything moved rather quick and they didn't have to throw 8,000,000 thing out there like Nitro used to. Smartly booked show, highlighted some major ratings draws of past and present. Wouldn't want a 3-hour show every week, but mazel-tov.
meaty_buys
Haggis



Since: 29.6.05

Since last post: 4489 days
Last activity: 4466 days

#32 Posted on | Instant Rating: 0.61
Originally posted by Mr Heel II

---

Honestly. What kind of USA Network homecoming is it if they don't have any commercials for Thompson's Water Seal?



Yeah, they could have at least shown a few episodes of "Murder, She Wrote" as a lead in instead of that "Fast and Furious" movie.



(edited by meaty_buys on 4.10.05 0141)
ekedolphin
Scrapple



Since: 12.1.02
From: Indianapolis, IN; now residing in Suffolk, VA

Since last post: 4 days
Last activity: 1 day

#33 Posted on | Instant Rating: 2.29
My candidate for line of the night, by the way--
Linda: "I mean my husband, why [did you stun] my husband?"
Austin: "He's a piece of trash."
Linda: "Yeah."
Hee.
---
"I am here to use my frabjulitulity to mictifarcate your giltooney! Lo! My junurtiquity is most biollorky! Bask in the power of my meckalecka-hi, meckahiney-ho!"
--Elan, The Order of the Stick
Four-Time Wiener of the Day (5/27/02; 7/3/02; 7/30/04; 8/28/04)
The Only Five-Time (and Last) N.E.W. World Heavyweight Champion
Certified RFMC Member-- Ask To See My Credentials!
Peter The Hegemon
Lap cheong



Since: 11.2.03
From: Hackettstown, NJ

Since last post: 80 days
Last activity: 1 day

#34 Posted on | Instant Rating: 6.09
It bugs me that Bischoff blatantly reverses two of Vince's decisions, and you KNOW that Vince will do nothing about it.

Hyping an SD match and not delivering is just dumb. So if Teddy Long attacking an entire locker room of people with seven guys. D'oh! They at least could have brought a few extra SD guys. (Weird that 'Taker wasn't on the show, since he's the one SD guy really associated with Raw on USA.)

They really seem to be burying SD. Sending Edge over there would have given them a desperately needed main eventer. Who do they really have? Batista, Benoit, Eddie, and Taker, and that's really it. JBL never really deserved the spot and he's not going to do anything now, Christian isn't going to get the big push, and I love Booker T, but the way he's been booked he doesn't qualify. They need something over there, that's for sure. They should be starting to tease their Mania title matchup, and I can't think of one matchup that would work well.

The domino-effect ladder spot ruled, though.
dMp
Knackwurst



Since: 4.1.02
From: The Hague, Netherlands (Europe)

Since last post: 1 day
Last activity: 9 hours

#35 Posted on | Instant Rating: 5.65
The cancelled SD match and everything makes perfect sense and so does the whole McMahon and Main event thing.

Vince is pissed, claims someone will get fired.
Bischoff goes against Vince's orders from last week by cancelling the SD match (pissing off Teddy and the SD guys) and making his title match no-DQ.
SD decides to spoil the party in the end, to get some revenge. (So ofcourse they work together. The brand is at stake! Just like the honor of their brand was at stake in the Raw vs SD battle royales we have seen in the past.

As said already, this will all lead to something. Vince wanting vindication somehow and Long vs Bischoff.

It makes sense to start it up at this show. At no other time would it make sense that SD is on Raw. (They never acknowledge the same night tapings do they?)
Survivor series is less than 2 months away I think?
Royal Rumble is 4 months away, and WM is just over 6 months away. That seems like a long time but it's the right time to begin to tease feuds and to start up the slow build ones.

WIth (hopefully for WWE) a large audience tonight, it was the perfect moment to start all this shit up. The question ofcourse is did the presentation do its job and will the viewers stick around? It seems many here (online) had hoped for more..we'll see what the "casual" audience thought of it..



---

*sigh* Why bother?
Kevintripod
Banger



Since: 11.5.03
From: Mount Pleasant, Pa.

Since last post: 3 days
Last activity: 2 hours

#36 Posted on | Instant Rating: 2.66
Originally posted by Peter The Hegemon

---

(Weird that 'Taker wasn't on the show, since he's the one SD guy really associated with Raw on USA.)

---



What seemed even more odd to me was that I don't believe I saw Taker do a single interview segment for that hour long "Best Of Raw" show. I would have figured that a big name wrestler like Taker would have been all over that show with his comments and opinions.


---

"Oh it's on like Donkey Kong !!!" - Stifler, American Wedding
StaggerLee
Scrapple



Since: 3.10.02
From: Right side of the tracks

Since last post: 3 days
Last activity: 3 days

#37 Posted on | Instant Rating: 2.39
HHH seemed WAY fat in his entrance. Maybe the lighting him from beneath as he stands under the Tron isnt the best idea.


Maria's homecoming queen gown RULED! Best she's ever looked.

Steph, btw, looked pretty decent tonight as well. Like the lighter colored hair she was sporting. Too bad she had to screeech on the mic and ruin it.

Kevin Von Eric looked TINY in that ring. Just like he used to at the Sportatorium. (cant believe SCSA mentions getting his start in Dallas, and did not mention the Sportatorium.)

Duggan looked to be in better shape than he did in his last run as WCW TV Champ, maybe its because he wasnt wearing coveralls.


Teppan-Yaki
Pepperoni



Since: 28.6.02

Since last post: 2247 days
Last activity: 2217 days

#38 Posted on | Instant Rating: 5.50
No, the line of the night was Roddy Piper's blathering about Foley: "You're being thrown off 25 steel cages!" Huh?

Re: Austin segment: It was like a de-evolution of how to take a stunner. To me, a beer shower would have been more "shocking" than the it-wasn't-a-no-sell-because-it-was-bad stunner on Linda. However, it was nice to see a Shane and Steph cameo.

Re: Trips: For a guy that was that stacked physically, how times have changed. My question here is when the USA promo was shot -- he looked in shape there. It wasn't the lighting (which, btw, overall was great) -- it was the (Wendy's) Triple H.

And for all of you -- how can you forget Koko's parrot on a stick? The nerve!
---
CTX
Chourico



Since: 11.5.02

Since last post: 521 days
Last activity: 1 day

#39 Posted on | Instant Rating: 2.84
Highlights of the night were me laughing my pants off at Bischoff turning the lights off on Smackdown, Orton looking and sounding like a star for the first time since his last feud with Foley, and Hacksaw looking 20 years younger than I've ever seen him. For a guy who had cancer twice and lost a kidney, he looks in unbelievable shape.

The show as a whole was a huge letdown really. All the hype and build-up and all it really came across as was a mix of same-old, same-old or really bad play acting in segments harking back 7 years.

Triple H's monthly beatdown made it seem like he was never gone, and by the end of it he was back to being as played out as ever. Cena wins yet another "stacked deck" main event in unbelievably uneventful fashion. And I don't care about a Raw vs. Smackdown feud because Smackdown sucks and I couldn't care less about anyone on the show bar Batista and JBL.

As for the Austin segment, it just lasted way too long. I didn't really like it from the start because it just reeked of tongue-in-cheek "remember when things were good?" messing about, which is fine in small doses but depressing when you realise 8 years on and they're spending half an hour re-enacting the whole thing because they haven't produced anything close to that level since. They should have ended it with Stephanie getting the Stunner and then Linda swerving everyone and celebrating with Austin. The whole Linda segment really dragged because deep down people don't really want to see Linda getting attacked. She's always been the "good" McMahon, so it wasn't all that entertaining seeing her getting the Stunner just for the sake of a novelty segment.


---

WCW Archive
WCW Magazine Archive: Last Updated 18th August - Ongoing WCW Magazine archive. Includes cover scans, contents, release dates and more.
WCW Promotional Ads Archive: Last Updated 18th August - Now featuring over 100 promotional ads, including everything from PPV's to the WCW Hotline.
WCW VHS Archive: Last Updated 22nd July - Currently serving mainly as an image gallery for almost all WCW VHS releases, but work has begun on adding full listing and details for all the releases.


Click Here (wcw.95mb.com)
PsychoticMidget
Polska kielbasa




Since: 2.12.04
From: Detroit, MI

Since last post: 4431 days
Last activity: 4431 days

#40 Posted on | Instant Rating: 2.73
One of the best RAWs ever, pure and simple. The two bad things happening were Hardy losing, and I can see that turning into some massive storyline whereby Hardy works his ass off on Smackdown to come back to RAW, gets a match against Edge at Wrestlemania, and wins it. The second was Cena just making Angle look like a putz and completely own yet another match. What the hell? That's it? Oy, at least it lead into the Raw/Smackdown thing.

Otherwise, it was all entertaining and had a connecting storyline throughout. I'll be interested to see how much continuity is paid off these coming months, and I love the effort everyone put into the show to make it feel like a PPV. It was awesome, and my hat's off to the WWE.

Though, I swear to God, if Austin loses to Hogan in a match I'm done. Under no circumstances should this happen.

(edited by PsychoticMidget on 4.10.05 0736)
---

We're the middle children of history...no purpose or place. We have no Great War, no Great Depression. Our great war, our defining crucible, is a spiritual war.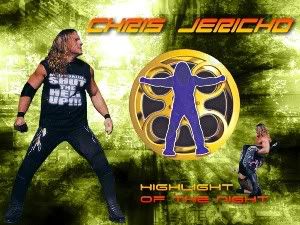 Pages: Prev 1 2 3 4 5 Next