Kevintripod
Banger



Since: 11.5.03
From: Mount Pleasant, Pa.

Since last post: 5 days
Last activity: 6 hours

#21 Posted on
Originally posted by odessasteps

---

Was expecting Cole to wrestle Eve, not Zach Attack.

---



I was expecting Alex Riley, but Eve was my second choice.

Rey got kinda screwed having to defend his belt the same night instead of being allowed to have at least a weeks rest.

Hoping "Cult of Personality" was a one night thing and they go back to Punk's "This Fire Burns" theme.




---


"You have enemies? Good. That means you've stood up for something, sometime in your life." - Winston Churchill
CRZ
Big Brother
Administrator



Since: 9.12.01
From: ミネアポリス

Since last post: 10 days
Last activity: 20 hours


ICQ:
#22 Posted on | Instant Rating: 9.39
Originally posted by Oliver

---

Wow, the WWE just doesn't get it. People are TIRED of seeing Cena with the title.

---
Was your TV muted for that pop when Cena won the title tonight? (Were you aware Jim Ross came back halfway through the show?)
Originally posted by CajunMan

---

Wow, my opinion ticked someone off.

---
You being an idiot CONSTANTLY "ticks me off." Keep pushing me.

And now more stuff about the show!

It's really something how not having TWO segments of 20 minutes of yakking make it feel like there's so much more wrestling on these shows. Also, is it just me, or did they find some way to do a two hour show with one less commercial break than they've normally been doing? I really thought the last match was going to be broken up by the final break of the evening, but somehow they'd aired all their commercials. Again, it was weird in that they totally front-loaded the show with the promised title match from last week, but then they worked very hard to pop a final QH + overrun rating with everything they built up over...well, one hour, so it wasn't PERFECT, but once again I'm interested in finding out the ratings whenever they're reported.

Man, isn't he cool and funny? Triple H is so cool. And funny! He's like the Keith Stone of wrestling.

I wasn't a fan of Punk coming out at the end of the show (complete with music and video treatment) but it was a great moment for the crowd and, let's face it, better than another Del Rio run-in. Cena making sure to hold his belt just low enough for Punk to hold HIS belt noticably higher was an excellent touch. So who does Del Rio go after? (No more fakeouts for Del Rio, by the way - two feels already like they're engaging in brinksmanship with the briefcase)


---

ekedolphin
Scrapple



Since: 12.1.02
From: Indianapolis, IN; now residing in Suffolk, VA

Since last post: 15 hours
Last activity: 8 hours

#23 Posted on | Instant Rating: 2.23
Rey totally got screwed having to wrestle two matches in one night (to say nothing of having to fend off Alberto Del Rio!) while Cena only had to wrestle one, and win the "other" WWE Championship from him.

I had a feeling the writing was on the wall, however, when Rey came out with the belt and it didn't yet have his name on it.

I dunno, I just think if they had to screw someone by making him wrestle two WWE Title matches in one night, it should've been The Miz, as he was the heel in that scenario. (And hey, I like The Miz. I'm just saying it was a little bizarre).

CM Punk's still the real champion, though, and I liked his return tonight. I hope they keep "Cult of Personality"; it fits in better with his outlaw image, and you don't honestly think they'd license that song simply for one appearance on RAW, do you? (Licensing "Enter Sandman" for the first One Night Stand is different-- that was a pay-per-view. Though I wish they'd come to an agreement that had allowed them to have that song on the DVD release, too).

I hope Punk beats Cena at SummerSlam. There's no way they'll be able to replicate the insanely electric atmosphere of Money in the Bank, but those two put on a stellar match then, and quite honestly I think they're congenitally incapable of not having a fantastic match against one another. (Unless stupid booking gets in the way).


---
"Some people never go crazy. What truly horrible lives they must lead."
--Jonas, The Hit List
Fan of the Indianapolis Colts (Super Bowl XLI Champions), Indiana Pacers and Washington Nationals
Certified RFMC Member-- Ask To See My Credentials!
Co-Winner of Time's Person of the Year Award, 2006
CRZ
Big Brother
Administrator



Since: 9.12.01
From: ミネアポリス

Since last post: 10 days
Last activity: 20 hours


ICQ:
#24 Posted on | Instant Rating: 9.39
Originally posted by CRZ

---

Also, is it just me, or did they find some way to do a two hour show with one less commercial break than they've normally been doing?

---
I went back and checked the last few weeks' geemoney recaps - assuming he didn't miss any, it's been ten commercial breaks/eleven segments for quite a while now. They must have just snuck one in earlier when I wasn't paying attention and/or looking for a reason to fix a snack, or take a piss, or who knows.

Rey COULD have said no, but he didn't. (Rey's not very bright.)


---

Shadowhendrix
Linguica



Since: 27.6.08

Since last post: 1446 days
Last activity: 1364 days

#25 Posted on
A lot of people bashing Punk's return as too soon, but I'm thinking we might FINALLY see the end of Top Babyface John Cena.

If they pull this angle off, that stand off at the end of Raw will be one of the most important moments in WWE history.

Edit: "Best in the World" behind Punk on the stage was epic. WWE has me convinced they are on board with this.

We cried last week that no Punk = boring. Now he is back too soon, and embarassing john cena seconds after a title win.

We ask too much as fans, I reckon.

(edited by Shadowhendrix on 26.7.11 0049)
HMD
Andouille



Since: 8.6.02
From: Canada

Since last post: 409 days
Last activity: 409 days

#26 Posted on | Instant Rating: 7.73
Originally posted by ekedolphin

---

Rey totally got screwed having to wrestle two matches in one night (to say nothing of having to fend off Alberto Del Rio!) while Cena only had to wrestle one, and win the "other" WWE Championship from him.

---
Not only that, but he fell into the Booker T abyss surrounding the ring as soon as Punk came out, and in the end will be wiped from history as ever having won this title. Really shitty treatment of Rey considering his matches have been the highlights of the show two weeks running now. But whatever, I'm sure his checks are still big.

Del Rio...I'm not sure what you do with him. It seems like he has to win when he uses the MITB briefcase, and yet, I can't imagine too many more title switches between now and 'Mania. You could probably get away with Punk, who is presumably the real Champion, winning at Summerslam and doing an absentee Champion gimmick for most of the Fall, and perhaps do the final Punk/Cena match at Survivor Series with the added threat of Rock confirming he'll be at that event. And if they blow this off in a couple weeks at Summerslam they're completely fucking braindead. So I see no opportunity for ADR to win the belt in the next six months, unless it's a short pointless reign. He's simply not over enough to fit anywhere into this Punk/Cena/Rock paradigm.

Other random thoughts: Nice to see Kofi knocked back down a notch. He's this generation's Tito Santana. Only, he was Chicano given a Spanish bullfighter gimmick instead of an Ghanian given a Jamaican gimmick. I don't see this Miz face turn everyone's talking about. He's not likeable. I do think though his ring work has picked way up from where it was even six months ago. JR coming back does nothing for me if it doesn't include Cole's ouster. Weekly three-man announce teams? Yuck. Trips is in full cool smartass mode. It's too early to tell, but it doesn't look like he'll be showing ass. He may prove me wrong, but I can't see him doing it. JMo is back. I missed his unconvincing meanface. Dolph should have saved "follow that" for a night when he was actually in the best match, instead of the third best.
---

Quiet, Or Papa Spank!
Lexus
Andouille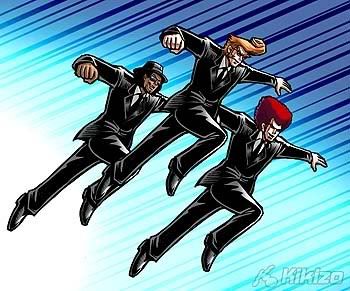 Since: 2.1.02
From: Stafford, VA

Since last post: 13 days
Last activity: 13 days

#27 Posted on
I don't mind Cena the champ, I just kinda wish they'd get a story in place that a face could hold the title for a long time and they'd still be a draw. Thanks to the past few weeks of Raw I have hope.

Alberto Del Rio becomes more and more comedic heel week by week.





---

"Laugh and the world laughs with you. Frown and the world laughs at you."
-Me.
SKLOKAZOID
Bierwurst



Since: 20.3.02
From: California

Since last post: 19 days
Last activity: 18 hours

#28 Posted on
I do feel like they hot-shotted what could have been a great SummerSlam main event in Rey vs Cena tonight. I think this would have played better had Rey won last week in a one-night tournament.

It's hard to keep CM Punk off TV, but I already feel this angle lost its "shooty" edge with Vince being fired and HHH being the "good cop" and making WWE management all sunshine and rainbows. Punk's shoot a few weeks back worked because there was a hint of truth to it, and he was rebelling against the WWE system that fans had started to resent.

Now, if The CHHHairman is turning things around, bringing Punk back, putting on fan-pleasing matches like Rey-Cena, etc. everything Punk was ranting against doesn't seem quite as evil, and his words seem a little empty because he sold out and came back for whatever they were offering.

RAW is still fun (for the moment). I hope "Cult of Personality" sticks and is just one of CM Punk's many crazy demands that brought him back.

But for me, the thing is that Punk's shoot worked so well because he wasn't getting what he wanted. Now that he has what he wanted, and got it within just 3 short weeks, I'm worried things will be getting less fun and will have played out too soon.


Originally posted by Shadowhendrix

---

A lot of people bashing Punk's return as too soon, but I'm thinking we might FINALLY see the end of Top Babyface John Cena.

---
Yeah, totally. I like where that's going. All they have to do is keep Punk as Austin to Cena's Bret and this thing is magic.
It's False
Scrapple



Since: 20.6.02
From: I am the Tag Team Champions!

Since last post: 67 days
Last activity: 5 days

#29 Posted on | Instant Rating: 6.84
I don't have a problem with Rey having a two-hour title reign in itself. If it had just been Rey winning and losing the title in the span of two hours, it wouldn't have been so bad. But going the extra mile to give Rey the backstage celebration, the Cena handshake, and the chance to dedicate the win to his family makes him losing the title two hours later taste that much more sour. The gesture feels utterly disingenuous. On the other hand...

Originally posted by CRZ

---

Rey COULD have said no, but he didn't. (Rey's not very bright.)

---

...there's also that.

More than anything, I'm curious as to whether anyone's going to remember that Rey gets a rematch clause. My guess is no.

You know, I could buy that Cole is going to do his job kicking and screaming if he wasn't on BOTH SHOWS! There's no reason he can't quit doing commentary on Raw and just stick to SmackDown. Why does he HAVE to be on both shows?

The show felt like a bit of a load up until the end. But I have to agree with some of the posters here. My Spidey-Sense is tingling in regards to Punk/Cena. Cena's winless against Punk for all of 2011 and I can't imagine that trend continuing at SummerSlam.

I like Triple H in his current role. I don't expect him to have a 20-minute talking segment every week and this beats the asinine Anonymous GM gimmick that's been beaten into the ground. And hey, he put Zach Ryder on my TV, so he's ok in my book.

(edited by It's False on 26.7.11 0115)
---
BigDaddyLoco
Scrapple



Since: 2.1.02

Since last post: 5 days
Last activity: 4 days

#30 Posted on | Instant Rating: 4.00
I feel they are really walking a fine line here. If you are living in the moment than this show was pretty good, but I get why the people on other side of the coin are sitting there. The WWE hasn't proven capable of capatalizing on hot angles with a slow burn approach and once again it feels like they just want to shoot their load and move on. I hope they prove me wrong, but I think they are going go waste this chance and fall right back into safe mode.
Amos Cochran
Lap cheong



Since: 28.8.09

Since last post: 1243 days
Last activity: 1243 days

#31 Posted on | Instant Rating: 5.68
They're also probably terrified of going into their second biggest show of the year without their hottest property even being on the card. Booking aside, WWE is still a business - they'd be stupid to deliberately leave a signed talent off of SummerSlam when he's as absurdly hot as Punk is right now.

I also kind of have faith that this isn't going to end with Cena victorious - or if it does, it's going to be the start of something different as opposed to "top babyface Cena wins once again".
Kevintripod
Banger



Since: 11.5.03
From: Mount Pleasant, Pa.

Since last post: 5 days
Last activity: 6 hours

#32 Posted on
Originally posted by It's False

---

And hey, he put Zach Ryder on my TV, so he's ok in my book.

---



I'm hoping they at least follow that up with Punk walking up to HHH fuming and saying something like "I ask for Ryder to be put on tv and I get that???"


---


"You have enemies? Good. That means you've stood up for something, sometime in your life." - Winston Churchill
J. Kyle
Banger



Since: 21.2.02
From: The Land of Aloha

Since last post: 2 days
Last activity: 3 hours

#33 Posted on | Instant Rating: 3.52
Nous ne nous pouvons pas sortir.
I don't care much if they rush things as long as we get wrestling this good all over the show.

My PWI Top 10 Prediction:
1. Rey Mysterio
2. Rey Mysterio
3. Rey Mysterio
4. Rey Mysterio
5. CM Punk
5. John Cena
6. A Japanese Dude I haven't heard of
7. CP Munk
8. Kurt Angle
9. A Lucha Guy Cubsfan can tell us about if he replies to this
10. Hardkore Hak

Personally I thought Daniel Bryan was going to tap Cole out. Maybe they're saving for that after he wins at Wrestlemania?


---
wannaberockstar
Frankfurter



Since: 7.3.02

Since last post: 603 days
Last activity: 589 days

#34 Posted on | Instant Rating: 6.19
Could we let Punk speak next week and see how it plays out before saying out all the momentum is over? A brief minute long appearance before the show closes doesn't really mean anything.

Honestly, this felt like as close to 2005 as can be. The crowd was hot and we got some pretty good wrestling, as well. It's what they do besides the Punk stuff that is going to bring in viewers - you can't really have an angle around him and keep him off of television other wise people are going to lose interest.
dMr
Andouille



Since: 2.11.02
From: Edinburgh, Scotland

Since last post: 720 days
Last activity: 107 days

#35 Posted on | Instant Rating: 4.46
We don't like spiders, we don't like heights.

He's been understandably overshadowed by Punk the last few weeks, but R-Truth remains his own brand of awesome.
Amos Cochran
Lap cheong



Since: 28.8.09

Since last post: 1243 days
Last activity: 1243 days

#36 Posted on | Instant Rating: 5.68
Also cool: Punk telling the crowd after the show that he was back for good. Hopefully he's not just riffing on The Rock.
texasranger9
Merguez



Since: 9.1.11

Since last post: 3 days
Last activity: 7 hours

#37 Posted on | Instant Rating: 2.01
Sad to see Punk back so fast. I wish they used him like Sting in 1996/1997. Sting was a huge face and perfectly healthy. He just chose not to fight. They could of paralled that perfectly with Punk. Have him show up at random shows. Not end his "I left the WWe" in 2 weeks.
Matt Tracker
Scrapple



Since: 8.5.03
From: North Carolina

Since last post: 4 days
Last activity: 1 day

#38 Posted on | Instant Rating: 6.28
That crowd was insane. I haven't seen that many signs in a RAW crowd in years.

I'm not thrilled with another Cena title reign, but they gotta move this Punk angle as one of the Big Four PPV looms. Punk's still getting monster chants, he still has a big belt, and he closed the show with a staredown.

Loved the announcement and return of Morrison. Nice way to give him a nudge away from small plans.

I also liked Miz's locker room rant. They're keeping him prominent.


---

"To be the man, you gotta beat demands." -- The Lovely Mrs. Tracker
Hobbes
Cotechino



Since: 10.12.01
From: Kelowna

Since last post: 498 days
Last activity: 495 days

#39 Posted on | Instant Rating: 9.77
Raw the last two weeks has been full of stuff that aggravated me, yet also has managed to throw so many crazy things at the wall that by the time it's over, I'm looking forward to the next show. It's like a restaurant that serves me a moldy turkey sandwich and just when I'm about to complain, they give me a free dessert and I'll be back next week.

I've learned to lower my expectations for logic in 2011 wrestling shows, but there are a ton of things that happened here that don't make any fucking sense:

1. Why is heel Miz working an injury angle? Okay, this week you could say because WWE didn't want him to lose to Rey clean. But how does that explain MITB or last week, where he beat two baby faces on one leg?

2. HHH says Cena and Rey both wanted the title match. I can see Rey as a face never backing down from a fight, but why would Cena, the guy who cares so much about winning on the up and up that it cost him the title against Punk, be so eager to wrestle on a huge advantage against a tired guy?

3. Hell, for that matter, why did there have to be an elaborate two week world title tournament if WWE just wanted the title to end up with Cena?

4. Why have Kofi Kingston upset Albert Del Rio if you're going to have him lose clean in a rematch the very next week?

As for the Punk stuff, I have enough faith in his abilities to think that he'll be able to justify why in the span of two weeks, he went from saying goodbye to the WWE, to re-signing under the guy he described as a doofus son-in-law who would be no better than Vince McMahon. That said, it still makes his truth talking, integrity filled character look bad to return this soon after he mocked John Cena for never actually getting fired.

The way they've handled the Punk angle has been really stupid though. If Punk was going to be gone for only one Raw, there was no point for last week's Raw to barely mention him and act like he didn't exist. All that does is cool the angle for all the casual fans that still aren't fully into it and aren't following Punk's adventures on twitter and baseball games and comic cons and AAW shows. Punk returning so soon doesn't kill the angle, it just makes it seem far less special. Part of what made it great was it made Punk, and the world title, seem so important. Vince sold the idea of Punk leaving with the title as if it was the worst thing that could ever happen. And yet the night after it happens, he just brushes it under the rug, and moves on. They could have spent weeks with HHH trying to find ways to get Punk to come back, his return could've been at a set show that was promoted and looked forward to. Instead it's hot shotted as a surprise because WWE wants all hands on deck for Summerslam.

Other thoughts, because this isn't long enough:

- When I watch wrestling, I want to pretend that it's the most important thing in the world, but when Jerry Lawler is constantly bringing up the state of the union and telling me Raw is more important, it has the opposite effect. And if it's so important to tell us that Raw is more important than that, why stop there? "King, the Norway mass shooting was a horrible tragedy, but the REAL tragedy will be if Miz doesn't leave with the title tonight."

- I was never a fan of Cena changing the FU to the Attitude Adjustment, but with Cee Lo performing at Summerslam, it becomes a travesty. HALF THE CROWD IS ALWAYS BOOIN' ME AND I'M LIKE F YOOOOOU, F YOOOOOOOOU.

- Okay, Kelly Kelly slaps Melina on the ass, I'm fine with that. But why lick your hand first? Is she trying to ruin her leather? If so I am favor of this moisture based offense.

- Dave Meltzer said that the plan is for Del Rio to be the champion sooner rather than later (With the caveat that WWE is always changing plans), which makes how they're booking him really weird. They brought up twice this show how MITB pretty much guarantees you a world title, which would make you think he's not winning that, except he supposedly is. Add to that the fact that in the last 15 days, he's tried to cash in the briefcase against two different tired world champions and been foiled each time, which is funny, but it's going to make whoever does lose to him look like a stupid weakling by comparison.

- At one point they plugged Hot Pockets Snackers, Sonic and Five Hour Energy back to back to back. I think that's the real world Pop Rocks and Coke, where if you consume those things together, you die.

- Someone above mentioned Punk looking odd in white, I think he looks awesome in it. It's a nice change from the constant black, at the right time. It's also the first wrestling shirt I have wanted to wear in years, so of course it was only sold at MITB. As for his new theme music though, eh. Cult of Personality is a better song and I like it, but I think as WWE wrestling entrance music, This Fire Burns has the better crowd triggers, you get that big quick riff and then Punk always comes out right at the scream yeeeeeeeeeeeeeeeeeah
kentish
Andouille



Since: 19.8.05
From: My Old Kentucky Home

Since last post: 1282 days
Last activity: 535 days

#40 Posted on | Instant Rating: 8.62
So why exactly did HHH give Cena a shot last night? I know they were in a rush to set up SSlam, and I agree the hottest guy in the company (Punk) should be on that show. Plus, when you consider the low buy rates for SSlam the last few years, it seems like they want to reestablish that PPV. But in kayfabe terms, it seems like HHH was giving preferential treatment to Cena because he is the dynasty. Maybe a little foreshadowing there? No, I am not about to predict the big Cena heel turn just yet, but they may finally have a guy who can carry the torch as the big babyface of the company, after Randy Orton has hit a plateau just short of that mark in the last year.


---


"I like your Christ, I do not like your Christians. Your Christians are so unlike your Christ."

-- Mahatma Gandhi

Pages: Prev 1 2 3 4 5 6 7 Next