geemoney
Scrapple



Since: 26.1.03
From: Naples, FL

Since last post: 13 days
Last activity: 1 hour

#1 Posted on | Instant Rating: 9.17
TONIGHT: Snooki from Jersey Shore is your Raw guest host as we continue to build toward Wrestlemania. Sheamus' career is on the line in a US Title match against Daniel Bryan, and Vickie Guerrero tries to stick around…if she beats Trish Stratus, she'll have a place on the Raw roster. The war of words between The Rock and John Cena and The Miz continues, with Rock responding this week.

- WWE Open.

- The focus was on a picture of The Rock, mic in hand, full "if ya smell what the Rock is cookin'" mode. Rock was heard in the background, talking to the President apparently, about Cena's promo from last week. He said it was supposed to be Cena's knock-out blow, but no one laughed. He said he goes to Cena like a man, but Cena acts like a child. Then Cena's music hit. "Sorry Mr. President…I have to go," said The Rock, hamming it up as much as possible (I hope!). Apparently Cena was in Rock's house…but when he walked in, it was a kid dressed as Cena. Rock told "Cena" to talk to him like an adult, but the kid just rapped at him and told him if he wants some, come get some. Rock sat down in his chair and said it was time for Cena to have a talk with the People's Champion. He said Cena ran with the ball (not far though) after he left seven years ago. Rock said Cena tried and succeeded, making a cultural impact on the world. Kermit, Barney the Dinosaur, and now John. Heck, Cena owns the 2-5 year old demographic! But he'll never be as good as The Rock because he's not that talented. Funny, even the kid knew it. Rock asked "Cena" how it made him feel…"it doesn't matter how it makes you feel!" said Rock. The kid started crying and Rock got a shot in at Cena's movies. Rock said he didn't have any toilet paper, but he picked up a Cena shirt and said it's the next best thing and that no one cares about it anyway, so the kid blew his nose on it. Rock told the kid to turn that frown upside down and he had a gift for him. It was a box of Fruity Pebbles. "Hustle, Loyalty, Respect…AND Fruity Pebbles?" Rock talked down to the kid and said he'd never have muscles like The Rock. "You can have them right now you untalented little fruit loop!"

The kid ran off and Rock turned to the camera. He addressed Miz this time. Ugh, do I hear WWE's stupid background music for this? Rock formally introduced himself to Miz and said last week, Miz made a few statements. One was knocking out Miz. Another statement was Miz wanting Rock to deliver to him the single biggest ass whopping of a lifetime. Rock said the time for talk is over, and it's time for Wrestlemania. Rock said he gave his word and before WM, he'll bring it live on Monday Night Raw. He told Cena not to worry about when or where, live or via satellite, but he will lay the Smackdown on both of their candy asses. I don't really know what to think about that segment. It had its humorous moments for sure, but some fell a little flat too.

- Jerry "The King" Lawler welcomed fans to the show as they went to a wide shot. Then they showed Snooki and Trish Stratus hob-knobbing backstage as Josh Mathews talked up Snooki's accomplishments.

- Michael Cole was at ringside, inside a clear box with his own announce desk and everything, so he could announce and not be threatened by Jerry Lawler.

- The Miz came out. They showed clips of Cena beating Alex Riley in the cage match from two weeks ago, then Miz attacking Cena last week. Miz started off with his "really?" stuff. He said Rock's t-shirt says he brings it, and he truly brings out-of-date catchphrases, ugly tattoos, bad movies, pointless diatribes, etc. Miz is playing the crowd nicely here. Miz said Rock's father and grandfather were good, but he's better than the both of them because they were never WWE Champion. Miz said Rock likes to make six year-olds cry, but if Rock steps in the ring, he'll make Rock cry. He said unlike Rock, he doesn't just talk about beating up Cena, he does it. Rock doesn't own Cena, he does. More "you suck" chants. "That doesn't faze me," he said in response. Miz said he prays that Rock does bring it, and he may even bring it live tonight in St. Louis! But whenever he does bring it, he'll be overshadowed by the most must-see WWE Champion in history. He finished up with his usual ending. Very nice promo.

As his music began to play, Cole-in-a-box received an e-mail from the GM. He exited the box to go read the e-mail, but Lawler got up too and cut him off. Despite Cole's protests, Lawler got up to the podium and read the e-mail. The GM is arranging two first-time-ever matches for Miz and John Cena. Cena will face a man he's never been in the ring with before…the #1 Contender for the World Title, Alberto Del Rio. That's pretty big. Miz said there's no one he's never faced, but the GM said he's never faced this man…then Great Khali's music hit. Wow, that was a let-down. I expected another surprise after the last few weeks. Khali came to the ring for his match, which is next.

[Commercial Break]

(1) The Miz vs. The Great Khali

Cole was incensed that Miz had to fight Khali tonight. Chops to the head by Khali, then a hard chop to the chest. Another brain chop took Miz down. Khali vice grip applied as Lawler made a joke about this being another version of the Skull Crushing Finale. Miz got to the ropes and Khali wasn't breaking, so Alex Riley ran in for the DQ.

Winner: Khali, via DQ, at 1:11. Glad to see Riley back. I thought added something valuable to Miz's act.

Khali gave Riley the Khali Bomb, but Miz came back with a chair and pelted Khali in the back about a dozen times. The chair even broke for visual effect. Miz DDT'd Khali on the chair for good measure. Khali's lower back was bleeding and they even focused on it.

- Cole-in-a-box said he was going to have a World Exclusive that would expose Jerry Lawler, someone who would tell the "truth" about Lawler and shock the world.'

- Mathews no-sold that announcement and went right into a plug for Randy Orton vs. Mason Ryan.

[Commercial Break]

- Hey, John Cena has 5,00,000 Facebook followers! Or something.

- Mathews and Lawler talked about Taker vs. Triple H at 'Mania. Then they showed a video package hyping The Game.

- John Morrison was talking to Snooki backstage, saying she could take a punch better than half the roster. Snooki told Morrison that they could always use another cast member of Jersey Shore. Vickie Guerrero and Dolph Ziggler (in a suit!) walked up and Vickie did some trashing talking. She mentioned Snooki being on the cover of Rolling Stone, and Vickie said she was offered the cover of Playboy. Morrison and Snooki laughed, with Snooki saying it must be a centerfold because she wouldn't be able to fit on one page. Vickie tried to slap Snooki, but Snooki blocked it and slapped her. Vickie had a fit in Ziggler's arms.

[Commercial Break]

(2) Sheamus vs. Daniel Bryan – United States Championship Match; If Sheamus loses, he has to quit WWE

Sheamus still has the King Sheamus chyron, but wasn't announced as such and didn't wear the gear. When Justin Roberts announced that Sheamus would quit if he lost, Sheamus seemed to have second thoughts and tried to get him to stop. Bryan was accompanied by Gail Kim. Couple quick covers by Sheamus for two-counts. The announcers discussed the curse of the King of the Ring, since that's when Sheamus' downfall began. Bryan took Sheamus down and tried to apply the LeBell Lock but Bryan got to the ropes. Sheamus to ringside, where Bryan dove through the ropes and onto him. Missile dropkick off the top for two. Sheamus took a break and so did the show, at the 1:27 mark.

[Commercial Break]

Back to action at 4:40 of the match. Sheamus had Bryan in a rear chinlock. Bryan fought out but ran into a forearm shot by the King. Shots to the chest of the US Champion, and he went back for seconds. With Bryan draped over the middle rope, Sheamus ran on the apron and gave him a knee-lift. In the ring, cover got two. Tilt-a-whirl by Sheamus, but Bryan rolled through for a small package and a two-count. Bryan dumped Sheamus to ringside, and Sheamus was again grabbing at his ankle, much like last week. He made it back before the count of ten and tried to surprise Bryan with the Pump Kick but Bryan dodged it. Bryan applied the LeBell Lock but Sheamus grabbed the bottom rope. Hard whip into the buckle and Bryan went chest first. Sheamus got Bryan up for the High Cross but Bryan went down the back and rolled Sheamus up for two. Crowd was really into that one. On his knees, Sheamus was on the receiving end of kicks to the chest and a kick to the head. Only a two-count though. Bryan went to the top again and was met in mid-air with the Pump Kick. Pin, and we've got a new US Champion.

Winner: Sheamus, at 8:59. Great last few minutes that really got the crowd into. Nice finish too. Good to see Sheamus back on track.

Sheamus celebrated by knocking on Cole's box and holding up the title. They replayed a few key moments in the match. Back live, Sheamus stood over Bryan in triumph, then Michael Cole got the crowd's attention. He said he was going to commit the verbal equivalent of regicide (the killing of a King), as a man from Lawler's past will come out and denounce the King for what he truly is. Is it Bret Hart? Or maybe Andy Kaufman? He's not dead, you know…

[Commercial Break]

- In the ring, Cole said the fans probably liked Steve Austin sticking his nose into his main event at 'Mania. He even went so far as to say Austin will have minimal effect in the match. He said Lawler gets defensive when people talk about his family, living or dead. But he's not going to talk about Lawler's family, because Lawler's family is going to talk about him. Cole then brought out Lawler's son, Brian Christopher. He came out to the Too Cool theme and danced on the stage. Lawler sat stone-faced on commentary. Cole was getting' jiggy in the ring, too. Crowd booed this a bit. Wow, this went on for longer than I would've expected. Christopher couldn't find the mic, but Cole had it. Cole said Christopher has gone by many names in WWE, but none of them was Brian Lawler. Cole asked why. Christopher said that growing up, he never felt like he had a father. He said that while Jerry Lawler was traveling the world, he neglected one thing: him. Christopher was blown up after all the dancing and said King never wanted a child. He went to ringside and stood in front of the announce desk, saying Lawler never wanted anyone to share the spotlight with. He said when Christopher made it to WWE, Lawler refused to actually acknowledge he was Jerry's son. Good piece of continuity there.

Lawler spoke up and said Brian isn't the only one who is happy he didn't use the Lawler name. He said his son is a bigger screw-up than Charlie Sheen. The fact that he'd even associate himself with a guy like Michael Cole speaks volumes about the kind of person he is. Christopher asked Lawler how he felt knowing his son competed at Wrestlemania before he did. Christopher said he was one of the biggest stars in WWE at one time, as part of Too Cool. He went over to King and said, "how'd that make you feel, daddy?" Lawler didn't answer so Christopher slapped him in the back of the head. Lawler didn't respond, despite Christopher getting increasingly more physical. Christopher said the reason he never used the Lawler name was because he was ashamed of his dad. He walked away. Cole then ranted about putting Lawler in his place…until JR's music hit and he walked out, looking to be in fantastic shape, by the way.

Cole said he was wondering when JR would show up to steal the spotlight. He said it must be a slow day on Twitter. JR said "hasn't this gone far enough?" He tried to get Cole to come to his senses and told Cole it had gone far enough. Cole told JR to go away, he's over, done, he's the voice of WWE, not Jim Ross. JR said he's been meaning to talk to Cole about that. Ross said for many years, he's had the privilege of sitting next to Lawler on Raw. He said he's even been inducted into the H.O.F. He said neither him nor Cole are the voice of WWE…it's the fans who are truly the voice of WWE. Ross said Lawler has been carrying Cole, kind of like a mother kangaroo carries a baby in her pouch. But Cole isn't loveable like a kangaroo…he's a different kind of animal. JR called Cole a rat bastard. JR then began to leave the ring when Cole said this was how he always envisioned it, standing tall in his ring while JR walked out with his tail between his legs. Ross walked back into the ring, took off his hat and his jacket as Cole looked worried. Ross took off his tie and Cole then took off his jacket. He de-tied as well as the crowd chanted for JR. Before they could lock horns, Jack Swagger came out of the crowd and attacked Jerry Lawler. Cole then pointed at JR and Swagger entered the ring. JR begged off, but Swagger kicked JR in the gut and applied the ankle-lock. Cole yelled for JR to tap out and got in JR's face as Swagger had the move on. Lawler recovered and fought got Swagger off. Cole jumped on King's back and Swagger put the ankle-lock on. Cole then applied the ankle-lock on JR as Swagger advised him. JR squealed in pain. Swagger and Cole both had their arms raised to end the segment. I know some will say this was just another example of WWE embarrassing JR, but Cole got his last week, so if JR one-upped Cole here, it would really put him in a hole for 'Mania.

- John Cena takes on Alberto Del Rio for the first time ever.

- Next, Randy Orton vs. Mason Ryan.

[Commercial Break]

(3) Randy Orton vs. Mason Ryan – If Ryan loses, he won't be allowed at ringside at Wrestlemania
Hilariously, despite Lawler being taken out, Cole resumed his announce duties inside his box. They showed Orton's wife and young daughter in the crowd. I'm a little surprise WWE even showed them, considering how cold-blooded (sorry Matt Hardy) Orton's character is. Ryan backed Orton into the corner, but Orton fought out. Big European uppercuts from Orton. Ryan fired back with rights and Orton responded in kind. Orton came out of the corner with a clothesline, but it didn't manage to knock Ryan off his feet. Orton ran the ropes and ran into a big boot. Back-breaker by Ryan for two. And another. And a third. Cover got him two. Bearhug by Ryan. "Let's go Randy" chant. A bit different from the usual "Let's go Orton" chant. Maybe since they're in his hometown, they can be a little more personal. Uranage by Ryan for two. CM Punk, from the stage, wasn't happy he didn't get the there. Ryan looks like he's got a Justin Gabriel haircut on that close-up. He looked up at the Wrestlemania sign, but that pause was enough for Orton to sneak in an RKO to eliminate Ryan and the rest of Nexus.

Winner: Orton, at 2:59. They kept it simple, but Ryan didn't look lost out there or anything.

Orton went to leave the ring, but paused. No punt? He left the ring and stared at Punk from ringside. He looked back to the ring and Ryan. Punk tried to get Orton to come to him, but Orton ran into the ring instead. Punk ran after him, but Orton got into the ring and connected with the punt before Punk could do anything about it. As he crawled into the ring, Orton met him in the RKO pose (where he gets on the mat and slams his fist). Nice timing there leading to a nice visual. Punk slowly skulked out of the ring.

- They showed Vickie and Snooki's verbal sparring from earlier in the night. She'll be on the show again later on.

[Commercial Break]

- Josh Mathews previewed the next Hall-of-Fame inductee and ran down celebrities in the celebrity wing. Except he mentioned Bob Barker, Refrigerator Perry and Pete Rose. One of those does not belong. Or was he just mentioning participating celebs in WWE? Anyway, this year's celebrity inductee was Drew Carey, who participated in the 2001 Royal Rumble match. They also managed to fit in a plug for his Improv-A-Ganza show on the Game Show Network.

- Cole again took the mic (and had a bodyguard near his box) and talked about the crowd witnessing the debut of the Michael Cole ankle-lock, a move he has mastered. He said he'd use it to beat Jerry Lawler at Wrestlemania. He addressed JR, saying that ankle-lock was a slobberknocker.

- Cole was still talking as they put up a graphic of Del Rio vs. Cena.

- Snooki and Trish were walking backstage when Zack Ryder walked up and asked how she liked "this" situation, then pointed to his abs. Snooki seemed impressed and said it was pretty solid. She and Trish then kept walking. That's it? This was Ryder's chance to be relevant! Stratus vs. Guerrero, next.

[Commercial Break]

- Justin Roberts introduced Snooki as a NY Times Best-Seller and cast member on Jersey Shore. In the ring, she played to the crowd as Cole reminisced about great Snooki moments on Jersey Shore. She said she was excited to be the guest star on Raw, but the crowd booed. She said what she's really been waiting for is to see Trish Stratus shut Vickie Guerrero's fat mouth up. Vickie walked out for her match as Snooki went to ringside.

Once she got in the ring, Vickie grabbed the mic and promised to not only beat Trish Stratus, but get hired on Monday Night Raw. But first, more words for Snooki. She told Snooki to never lay her hands on her again. Secondly, she asked how dare Snooki come to Raw and steal her spotlight. Then she showed Snooki's cover of Rolling Stone magazine and said that was her cover shoot. She called Snooki a thief and she showed the original cover. It was pretty funny, with Vickie doing an exaggerated laugh with her arms folded in place of Snooki. She said she'd be the new media darling after tonight. She said she'd overcome her obstacles tonight because deep down, she's a good person.

(4) Vickie Guerrero vs. Trish Stratus – No Disqualification Match
Vickie did some stalling, then Trish rolled Vickie up out of nowhere while Guerrero was stretching. Trish caught kick and pushed Vickie to the mat. She tried to crawl out of the ring and Trish grabbed her foot. Vickie lost a shoe but managed to get out of the ring. A nod to Eddie, perhaps? Vickie took the shoe and pretended to use it as a sword. Then she took off another shoe and acted like she was a batter in baseball. Trish kicked Vickie again, sending her to her knes. Trish stood on Vickie's head and spanked her bum with her shoe. Dolph Ziggler ran in and said that was enough. But John Morrison ran down as well, sent Ziggler to the outside, and Morrison dove over the top and onto him. LayCool ran out and Trish tried to fend them off. She did until Layla held Trish and Michelle McCool gave her a nice boot the face. Vickie made the pin, with LayCool adding leverage, and got the win.

Winner: Guerrero, at 2:26.

McCool and Layla played to Snooki after the match, and Snooki just sat at ringside, taking it all in. Oh my, a "Snooki" chant. Raw has jumped the shark, folks. McCool went to ringside and Snooki stood up to her barely, coming up to her chest. McCool pushed Snooki down and went to the apron, but Snooki pulled McCool's leg, sending her head off the apron and to ringside. She then got into the ring and gave a nice Thesz Press to Layla and bounced Layla's head off the mat several times. Trish came back in to cut off McCool. LayCool got out of the ring, regrouping with Vickie and Zigler, while Morrison, Trish and Snooki stood in the ring. Vickie said Snooki was in over her head, as this is now Vickie's show. Guerrero issued a challenge: Morrison, Trish and Snooki against Ziggler and LayCool. The babyfaces discussed it and Snooki accepted. That actually…wasn't bad. Snooki takes the place of Kelly Kelly, who was in this spot when the initial card was leaked. I can't wait for Snooki's eventual induction into the WWE Hall-of-Fame.

- Next, Alberto Del Rio vs. John Cena, first time ever!

[Commercial Break]

- A Sin Cara vignette aired.

- More talk of Triple H vs. Undertaker. Last week, Shawn Michaels talked about Triple H. This week, we got a video of him talking about Taker.

(5) Alberto Del Rio vs. John Cena
Brodus Clay was brought out to second Del Rio. Match began at 11:04 EST. Side headlock take-over by Cena after the two jockeyed for position. Cole said he had it on good authority that The Rock is in St. Louis tonight. A couple knock-downs by Cena and Del Rio took a powder. They went to break about 1:20 into the match.

[Commercial Break]

Back 4:35 into things with Del Rio dropkicking Cena. Cover got him a two-count. I wonder where I can buy that Brodus Clay cut-off tee. "Let's go Cena/Cena sucks" chant from the fans. Back suplex by Cena. Both men were down at the 5:35 mark. Cena got to his feet first and both men charged each other, both hitting clotheslines. Cena and Del Rio traded fisticuffs, but the crowd didn't seem incredibly into it. But they did when Cena went into his trademark finishing sequence. He got Del Rio up for the Attitude Adjustment, but Clay came in and whacked Cena in the gut with a right hand, drawing the DQ.

Winner: Cena, via DQ, at 7:15.

As the beat-down continued, The Rock's music hit. Someone walked out, but it wasn't The Rock. It was Miz, dressed like the Rock (complete with skullcap), and doing his mannerisms. They showed people in the crowd, and it was funny seeing their reactions, not knowing it wasn't the Rock. Miz got in the ring and gave the Rock Bottom to Cena. Jumping enziguiri by Del Rio on Cena in the corner. Clay picked Cena up and gave him a fallaway slam. Miz posed on the turnbuckle a la The Rock. "This is one of the greatest things I've ever seen," said Cole. Miz removed his Rock get-up, revealing his hair, then slammed Cena back-first into the ring post. He asked Cena how his road to Wrestlemania is going, then bopped him on the head with the mic. He said he has owned Cena for the last three weeks, and will do so for the next three. Another mic shot. They were on the ramp at this point and Miz suplexed Cena onto the steel section. Cena fought back and got Miz up for an AA on the stage, but Miz countered into a DDT. Miz wasn't done yet, as he picked Cena up and threw him head-first into the WWE logo on the stage, sending the logo spinning around on the base. Skull-Crushing Finale on the base of the logo. They replayed the DDT, Cena going head-first, and the SKF. Miz stood over Cena. They were out at 11:20 EST.

Promote this thread!
ekedolphin
Scrapple



Since: 12.1.02
From: Indianapolis, IN; now residing in Suffolk, VA

Since last post: 18 days
Last activity: 11 hours

#2 Posted on | Instant Rating: 3.64
Nice to see that John Morrison, Dolph Ziggler and even Trish Stratus get a WrestleMania match. But Snooki?! Really?!
Apparently all you have to do to get a title shot in WWE is go on a losing streak. Someone needs to mention this to Shelton Benjamin and Evan Bourne. Obviously they need better agents.
Everyone in the building knew that Mason Ryan was going to get punted, so why did CM Punk spend that entire match watching from just outside the entrance?
Rock's promo was good; Miz's promo was good; Miz's beatdown of Cena was awesome.
---
"You are boring me to death, and I'm already dead. You're boring me back to death."
--Zombie in a Starburst commercial
Fan of the Indianapolis Colts (Super Bowl XLI Champions), Indiana Pacers and Washington Nationals
Certified RFMC Member-- Ask To See My Credentials!
Co-Winner of Time's Person of the Year Award, 2006
JustinShapiro
Scrapple
Moderator




Since: 12.12.01
From: Pittsburgh, PA

Since last post: 14 days
Last activity: 15 hours

#3 Posted on | Instant Rating: 8.54
Cole segment = amazing pro wrestling

I dream of a Cole/Swagger/Eagle/Sexay stable, all soaring and dancing together.

Brodus Clay: you can't SHEEEEEEA me.

Poor Kelly. At least we'll get to hear that Get Crazy Get Wild song some more.
JustinShapiro
Scrapple
Moderator




Since: 12.12.01
From: Pittsburgh, PA

Since last post: 14 days
Last activity: 15 hours

#4 Posted on | Instant Rating: 8.70
Originally posted by ekedolphin

---

Everyone in the building knew that Mason Ryan was going to get punted, so why did CM Punk spend that entire match watching from just outside the entrance?

---


IIRC the members of the New Nexus were banned from ringside according to the orders of the anonymous Raw General Manager.
Torchslasher
Knackwurst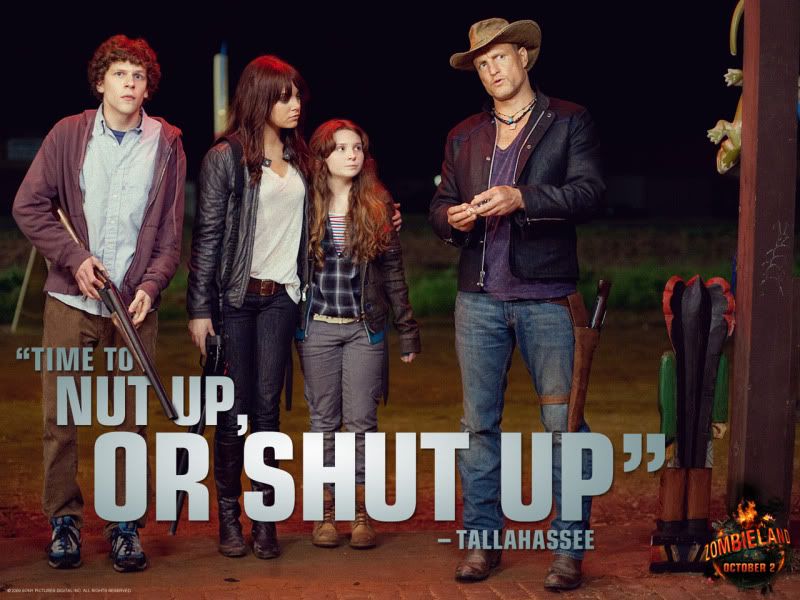 Since: 17.1.02
From: New F'n Jersey

Since last post: 43 days
Last activity: 43 days

#5 Posted on | Instant Rating: 6.55
Fantastic Raw done in front of a weird crowd. They were quite polite to Snooki, who most of America dislikes. Instead, this crowd chants her name. Amazing.

The only bad thing about this Raw is that I actually kinda wished this was the go-home show. This felt like the culmination of the Cole-Lawler feud and it definitely was the apex of the Orton/Punk angle.


---

"Put on your helmets, we'll be reaching speeds of 3!"
"It was nice of you to give that dead woman another chance."
"All right, look alive everybody...oh sorry Susan."- MST3K: Space Mutiny
Click Here (myspace.com)
JustinShapiro
Scrapple
Moderator




Since: 12.12.01
From: Pittsburgh, PA

Since last post: 14 days
Last activity: 15 hours

#6 Posted on | Instant Rating: 8.70
Originally posted by Torchslasher

---

it definitely was the apex of the Orton/Punk angle.

---


Did they put Orton's wife and daughter on camera to set up Punk's second annual Wrestlemania family picnic?
odessasteps
Scrapple



Since: 2.1.02
From: MD, USA

Since last post: 1406 days
Last activity: 1373 days

#7 Posted on | Instant Rating: 8.69

I thought Brian looked like Scott Taylor or Mitch Ryder.

It would have been so great if Cole had brought out Bret Hart. I also figured on Stacy Carter's appearance.

the JR surprise was great. Knew it was coming, but didn't expect it this week.

If only Cole's Cube was a Cone of Silence.

I don't know how Timmy will be able to avoid lusting after Laycool's ample bosoms.

I was hoping for the Jersey Shore chick to meet Tamia. Snooki vs Snuka.

To steal a friend's line, Miz looked like a giant Kaval.

Has Husky Harris been erased from Nexus continuity? snd what do Orton and Punk do for the next 2 weeks?

Was that Orton's real wife or his wife from the HHH home invasion skit?

Cena being rammed into the spinning logo is payback for giving us the Spinny Belt.


---

Mark Coale
Odessa Steps Magazine
ISSUE FOUR - OCTOBER 2009
shawnpatrick
Kishke



Since: 31.7.07
From: Leesville SC

Since last post: 2168 days
Last activity: 2050 days

#8 Posted on | Instant Rating: 9.00
Not much hype for the HHH-Undertaker match. A repeat of Wrestlemania 17 (which they seem to forgot about) except both wrestlers are worse.

Why do they keep booking Vicki has a wimp in the ring when it looks like she can easily out bench press most of the divas on the roster?

Cole was great again tonight, although the crowd was dead for his segment until JR came out.

Where is Evan Bourne BTW? Is he buried until Wrestlemania is over?

Moss
Summer sausage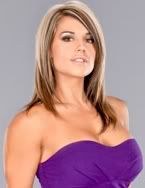 Since: 23.9.10
From: Calgary, AB

Since last post: 1288 days
Last activity: 1271 days

#9 Posted on | Instant Rating: 7.57
Snooki sucks. Poor Trish having to hang out and pretend to like her...and now having to try and have a good match with her and against LaySuck. Thought for sure Zack would get dissed by Snooki, glad she appreciated the Zackness.

Rock's promo was awesome, was obvious Cole plugging Rock appearance was Miz dressed as him...although the makeup job was fairly convincing.

The Cole Mine was great although the holes big enough for a muscular person to put their arms thru on the side, lack of a roof (you'd think Cole would wanna protect himself from rainfall) and lockless door seem like pretty big security flaws. Sure Cole Mine 2.0 will fix this. Cole was pretty great although this seems like 2 weeks of angle packed in one.

Repeating the same video of HBK talking about HHH/Taker won't make me more interested. Neither will the annual "the streak has never been at greater risk" talk.


---

Shut up, Josh!
Mr Shh
Lap cheong



Since: 9.1.02
From: Monmouth County, NJ

Since last post: 55 days
Last activity: 55 days

#10 Posted on | Instant Rating: 7.90
Originally posted by JustinShapiro

---

Poor Kelly. At least we'll get to hear that Get Crazy Get Wild song some more.

---

But Snooki will give up her spot to Kelly and become Morishelly's corner person...right?


---

You askew my mirror. I askew yours.
Behold, my plunger.
Anagrams posted to http://twitter.com/paragonSMASH
jwrestle
Lap cheong



Since: 4.4.03
From: Nitro WV

Since last post: 19 days
Last activity: 12 days


ICQ:
#11 Posted on | Instant Rating: 2.63
Two small things I liked.

Miz saying the name of the place & getting the cheap pop yet mockingly laughing during the cheering. Really nicely done.

Watching Brian Christopher get nearly any reaction. The wide shot as he entered the ring to greet Cole made me giggle a bit.




---


Goto http://www.indywrestlers.net
Also: http://youtube.com/indywrestlersdotnet
***New Items added daily and weekly***



09.30.08 1st time W of the day.
24.05.09 2nd time W of the day.
Stefonics
Frankfurter



Since: 17.3.02
From: New Jerusalem

Since last post: 230 days
Last activity: 16 days

#12 Posted on | Instant Rating: 6.52
I'm enjoying how they're writing Miz. The ruthlessness and intelligence of his work is refreshing and entertaining. It still feels like an afterthought to Cena v. Rock, but that's not the fault of The Miz. That beatdown of Khali had an old school Savage vibe.

Cole/Lawler, Sheamus/Bryan, Orton/Punk all progressed well and in entertaining ways tonight. We also got a nice potential shot of the future with Cena/AdR.

Even the stuff with Snooki wasn't terrible for what it was. Though I'm sure that Trish really had to struggle to pretend to get along with her. And she must be irate that she has to share a match with her at WM. Because stiff celebrity appearances have never happened at the granddaddy of them all.

I never realized how old HHH and UT are. I'm dreading what happens in less than three weeks. They're just old and slow and not good enough anymore.

Jesus Christ, let it go for a second. We have a card that makes sense (for the most part), proper building with emotion and story. Hopefully the work will be good because I'm all in. And I haven't felt that way in a very long time about wwe.
It's False
Scrapple



Since: 20.6.02
From: I am the Tag Team Champions!

Since last post: 34 days
Last activity: 1 day

#13 Posted on | Instant Rating: 8.96
Well, after tonight, I'm convinced we get double Rock Bottoms at Wrestlemania. It's obvious that Miz has to take one, but this whole thing's way too hot to not end with Cena eating a Rock Bottom to end the show.

Miz is trying his hardest, but no one's going to draw more heat at Wrestlemania than Michael Cole. The An-Cole-lock on JR is a Hall of Fame heel moment. The comeuppance is going to be truly sweet.

RIP Nexus. They'll make a truly fine stable down in FCW. At least they didn't get taken out Spirit Squad-style.

I would honestly rather tear out my eyeballs with a rusty salad fork than have yet another installment in the neverending battle between Kelly Kelly and LayCool. So what does the E give me instead? Snooki. That's...peachy.

(edited by It's False on 14.3.11 2248)

---

"Also, yes."
CxMorgado
Boudin rouge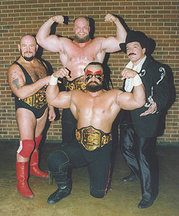 Since: 21.1.02
From: Boston MA is the rippen'ist town...

Since last post: 819 days
Last activity: 722 days

#14 Posted on | Instant Rating: 8.00
You know what, I'm just gonna say it. As long as they keep Snooki limited to the Thesz Press and cat fighting, I'm totally fine with her being in that match. Cuz that was one fine looking Thesz Press from the lil poof haired oompa loompa.

Poor Grand Master Sexay. Zero pop at all, not even an "Hey it's that guy!" pop. He was giving it his all too, dude blew himself up just dancing to the ring and chewing his gum.

I do hope Dolph Ziggler was backstage watching him and taking a mental note to not do drugs, because with his bleach job, GMS sure looked like a bloated, out of shape Ziggler to me.

Nice to see Miz finally getting to look like a bad ass, especially after the return of A-Ri had me groaning. Not that I don't like the pairing, but the A-Ri interference has grown detrimental to Miz coming off like a main eventer, imo. Plus the whole "yet another firing that doesn't even last two weeks" thing, which was even more annoying on a show with not one, but TWO job security related stipulations.

I loved the Cole Mine, and the An-Cole Lock. I was really hoping we'd get stereo Locks on Lawler and JR, but hey, there's still time!

Really good RAW.

(edited by CxMorgado on 15.3.11 0214)

---
http://wrestling.insidepulse.com/​author/​christophermorgado/​
www.comicnoize.com
emma
Cherries > Peaches



Since: 1.8.02
From: Phoenix-ish

Since last post: 5 days
Last activity: 1 day

#15 Posted on | Instant Rating: 9.56
When Lawler Jr came out, all I could think was how much he looks like he should be a Dusty Jr. Which led me also to think that the current Rhodes Jr looks way more like a potential Lawler Jr than a Rhodes. Pleeease don't make me think about car keys in a fishbowl in the mid 80's! Esssh.
Amos Cochran
Lap cheong



Since: 28.8.09

Since last post: 1210 days
Last activity: 1210 days

#16 Posted on | Instant Rating: 6.75
Originally posted by It's False

---

Well, after tonight, I'm convinced we get double Rock Bottoms at Wrestlemania. It's obvious that Miz has to take one, but this whole thing's way too hot to not end with Cena eating a Rock Bottom to end the show

---


I think Miz retains/Cena heel turn is starting to look like a possibility.

A pretty great Raw. Not sure why everyone is befuddled as to what Punk and Orton do the next two weeks. Punk gets revenge on Orton somehow, and they do a strare-off the final week.
Tyler Durden
Landjager



Since: 22.2.04
From: Frankfurt, Germany

Since last post: 524 days
Last activity: 524 days

#17 Posted on | Instant Rating: 7.00
First of all, very good show last night including a pretty great match between Daniel Bryan and Sheamus.

Then, who still thinks The Miz doesn't have "it"? Who still complains about John Cena being Superman? Well, he actually seems to be Batman in this feud. And The Miz is his own personal Joker!

Lastly, this weeks Rock promo (finally) did it for me. It was partly stupid as well, but in a good way. And The Rock this time did more than just giving us all of his catchphrases. I liked that.
lotjx
Scrapple



Since: 5.9.08

Since last post: 12 days
Last activity: 20 hours

#18 Posted on | Instant Rating: 1.23
I turned it off before the Main Event. It seemed like they were shoving stuff in this week when we do have two Raws and three Smackdowns to go til Mania. JR could have been saved, as well as Orton taking out Mason for the coming weeks. I just hope the last week of Raw isn't stare down after stare down. HHH/Taker has exceeded my limit at two already.

All the Wrestlemania build has been on Raw which begs the question do we really need the brand split or have they just lost faith that Smackdown is worth building towards Mania? Snooki did get some nice height on the Lou Thez press. I just find it funny people trashing TNA for using Jersey Shore people are now suddenly ok with Snooki being on the biggest PPV of the year. I thought the Rock's skit was the highlight of the show. That little kid was great as Cena. Rock's facebook page status is "Had good talk with Cena, a really good talk." I love the use of social media in this storyline. Drew Carey in the HOF, I think Miz's Demon child is a better choice at least she was on two episodes of Raw.
John Orquiola
Scrapple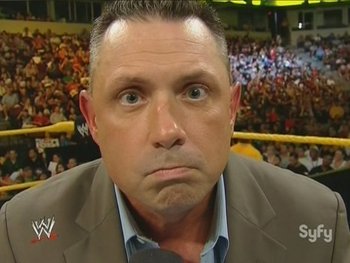 Since: 28.2.02
From: Boston

Since last post: 1395 days
Last activity: 1395 days

#19 Posted on | Instant Rating: 6.55
Originally posted by lotjx

---

I just find it funny people trashing TNA for using Jersey Shore people are now suddenly ok with Snooki being on the biggest PPV of the year.

---


I am not okay with it. I think Snooki at WrestleMania could be a deal breaker for me.


---

@BackoftheHead






www.backofthehead.com
dMp
Knackwurst



Since: 4.1.02
From: The Hague, Netherlands (Europe)

Since last post: 2 days
Last activity: 1 hour

#20 Posted on | Instant Rating: 9.00
Originally posted by lotjx

---


All the Wrestlemania build has been on Raw which begs the question do we really need the brand split or have they just lost faith that Smackdown is worth building towards Mania?


---


They seem to be doing it on both shows.
HHH even made a rare appearance on Smackdown last week.
But I think the brunt of it is on Raw because of the live aspect.


---


Snooki did get some nice height on the Lou Thez press. I just find it funny people trashing TNA for using Jersey Shore people are now suddenly ok with Snooki being on the biggest PPV of the year.


---


Ya know, I agree with you. A guest appearance is one thing, but throwing her in a match? That's lame.
Especially because it will put less focus on the two excellent male wrestlers in the match.
Dolph and Morrison could wrestle a 5star match but you know the match is build around the moment Snooki destroys Vickie.

Now if Zack Ryder got his dream match against the Situation I'm all for it
---


Drew Carey in the HOF, I think Miz's Demon child is a better choice at least she was on two episodes of Raw.


---


I would have prefered Bob Barker. He's done more.



---
Pages: 1 2 3 Next