geemoney
Scrapple



Since: 26.1.03
From: Naples, FL

Since last post: 8 days
Last activity: 13 min.

#1 Posted on | Instant Rating: 9.00
TONIGHT: Royal Rumble winner Alberto Del Rio will choose which title he will go after at Wrestlemania. In the main event, Edge will take on The Miz…and there must be a winner! Also, fall-out from The Miz retaining the WWE Championship and him eliminating John Cena from the Rumble match. Plus, will there be follow-up to Booker T and Diesel's Rumble appearances?

-WWE Open.

-RAW Open.

-Michael Cole and Jerry Lawler opened the show from Providence, Rhode Island by plugging Champion vs. Champion, Edge vs. The Miz slated for tonight, and there MUST be a winner.

-Justin Roberts introduced Ricardo Rodriguez, who was on the ramp and in turn, introduced a Mariachi Band, then Alberto Del Rio. Lawler insisted the band could use more cowbell. Del Rio got into the ring, which had the red carpet and all the makings of a party atmosphere. Del Rio said the people never listen, since he had been saying it was his destiny to win the Royal Rumble. Rodriguez began parroting everything Del Rio was saying. Del Rio said tonight they are celebrating him, and that he will be headlining Wrestlemania. Del Rio called Providence a "blue-collar town"….and they booed. Del Rio said the band was only for Mexican President Calderon and himself. He said it wasn't Justin Bieber stuff (you could hear girls screaming at that name-drop), but REAL music. Down to business, he said he has made his decision on who to face at Wrestlemania. He teased the announcement for a few seconds, and before announcing it, The Miz's music interrupted and he came out with his second, Alex Riley.

Miz congratulated Del Rio, saying his Rumble win was almost as impressive as his run as WWE Champion. Miz said he hoped Del Rio would choose him at 'Mania, because he will be WWE Champion when that PPV rolls around (strangely, he didn't say he'd "still" be champion). Miz said Edge was celebrating last night, saying he'd destroy Del Rio at 'Mania, made fun of his accent, his scarves, and his cars. Riley confirmed the anecdote. He even added that Edge had no respect for a second-rate JBL-meets-Tito Santana knock-off. Del Rio thought this was a ploy by Miz to make him choose Edge instead of him. Miz reminded Del Rio that he took out Edge's buddy Christian. Before Del Rio could respond, Edge's music came on and he walked to the ring.

Edge confirmed that he doesn't like Del Rio, but he wouldn't go behind Del Rio's back to say those things…he'd say it to his face. Edge said he'd be champ at 'Mania because he's the Rated R Superstar (rolling his r's during it). Del Rio said the only thing he knows is that it's his destiny to be the greatest of the great. And at Wrestlemania, he will be the new…..World Heavyweight Champion. Crowd didn't really react to that. Edge told him, "take this with ya," and socked him in the face with the mic. Miz and Riley got out of dodge as Del Rio then went on the attack. He took a small guitar and nailed Edge in the arm with it. Thought he missed his target, but then he locked on his cross arm-breaker. They played his music as referees checked on Del Rio.

-Next, Santino Marella & Vladimir Kozlov take on Husky Harris & Mike McGillicutty in a Tag Title match.

[Commercial Break]

-After a shot of the exterior of the arena, they replayed Del Rio's pick and Edge's attack.

-As the announcers talked on camera, the GM chimed in. For the first time ever, there will be a Raw Rumble match with seven competitors. The winner will face the champion at Elimination Chamber, while the other six compete in the Chamber match itself. The competitors: Randy Orton, CM Punk, John Morrison, R-Truth (really?), Sheamus, Jerry "The King" Lawler (is the Raw GM Brian Christopher?) and John Cena. Dang, I was hoping for Diesel in there!

(1) Santino Marella & Vladimir Kozlov vs. Husky Harris & Michael McGillicutty- WWE Tag Team Championship Match
McGillicutty pounded away on Marella in the corner. Big Mike missed a splash and Kozlov tagged in. He powered McGillicutty in the corner, but the son of Mr. Perfect got a boot up. Husky Harris tagged in and Kozlov wrestled him down. Marella tagged in but Harris kicked him in the gut. Harris used his girth to keep Marella at bay. Neck-breaker by McGillicutty for a two-count. Santino was thrown out through the middle rope as Tamina checked on him and they went to break.

[Commercial Break]

McGillicutty was still in control of Santino. Marella worked his way over to his corner and made the tag. Kozlov took the beating to Harris. Marella low-bridged McGillicutty after a tag and Cobra'd Harris.

Winners: Marella and Kozlov, at 8:09. Just OK. Matches with Marella and Kozlov have a certain ceiling to them.

After the match, Randy Orton ran to the ring and RKO'd McGillicutty and Harris. Orton stood over Harris and the fans seemed to understand what he was thinking. Orton set up for the punt, but CM Punk implored him not to do it. He came out from backstage with the rest of Nexus. Punk said HE wouldn't do something like that and asked if he had to say "please." Punk told Orton to take some advice for once in his life, as if Orton kicks Harris in the head, there will be consequences and repercussions. Orton appeared to have second thoughts, but then looked to the crowd. Orton smiled at Punk then ran and kicked Harris in the head. Nexus ran to the ring, chasing Orton off through the crowd.

[Commercial Break]

-They replayed Orton's attack and kick.

-Ted DiBiase walked out with Maryse and a microphone. He directed his vitriol toward Jerry Lawler, saying Lawler's career is over while his is just getting started. He said Lawler doesn't need any more opportunities. He needs to step aside for the future, and in doing so, needs to give DiBiase his spot in the Raw Rumble. Lawler took of the headset, but Michael Cole grabbed a mic first. He asked DiBiase if he had ever met Lawler. He said Lawler is a Hall-of-Famer and a scene-stealer. Cole said there's no way Lawler will let his self-centered ego step aside for DiBiase. Lawler then set he's not giving his spot up for anyone, because his Road to Wrestlemania has always been under construction. He said he's been in WWE for 18 years and has never wrestled on the grandest stage of them all, so his Road to Wrestlemania starts tonight. Lawler said if it weren't for Cole, he'd be the WWE Champion right now. Lawler said he knows he can beat The Miz, and he's going to win the Rumble. DiBiase shoved Lawler, then ran away. Lawler came after him and was going to punch him, but DiBiase put Maryse in the way. She didn't like that and slapped him, then walked away. Lawler piled on by punching DiBiase. "Jerry" chant. Lawler may not be able to punch Cole, but he can hire someone to take him out. I'm thinking Nathan Jones. I would PAY to watch that. They replayed the punch from a few different angles (it hit solidly) as Cole ranted.

-Champion vs. Champion is still to come tonight.

-Also, it's the first-ever Raw Rumble.

[Commercial Break]

-A horror show-like vignette aired with someone walking through the rain and into a rickety shack. The numbers 2 21 11 (2/21/11, a Monday night) flashed on the screen.

(2) Daniel Bryan vs. Tyson Kidd
The Bellas were on commentary. Some nice wrestling early on as Bryan kicked Kidd all over the place. Kidd took Bryan down with a leg-sweep and tried to lock in the Sharpshooter, but Bryan reversed into a LeBell Lock for the win.

Winner: Bryan, at 1:46. So much for Kidd's backstage proclamation a month or so back about winning the US Title.

After the match, Gail Kim celebrated with Bryan, but the Bellas ran in and attacked. Referees had to come separate them.

-Miz and Edge were walking in a split screen. Their match is next.

[Commercial Break]

(3) The Miz vs. Edge- Champion vs. Champion Match
Both men were already in the ring, as Justin Roberts handled formal ring intros. Swinging neck-breaker from Edge was the first high-impact maneuver of the match. Miz was sent off the ropes, where Riley pulled him out of the ring to avoid any danger. Miz then brought Edge arm-first over the top rope then brought him outside and threw him into the ring steps. Cole said Husky Harris is undergoing tests backstage. Back in the ring, Miz worked the arm of Edge. Riley got a cheap shot in on Edge as he was draped over the middle rope. Edge got back to his feet and hit a spinning heel kick on a charging Miz. Miz came back with more work on the arm/shoulder that Alberto Del Rio softened up. Roll-up by Edge for only two. Single-arm DDT by Miz for a two-count. They connected with a double big-boot. That move rarely looks good, but they pulled it off satisfactorily here. Edge sent Miz face-first into the mat and rolled up Miz out of the corner for two. Miz got right back up and booted Edge in the face. Off the top went Miz, but Edge caught him with a boot to the gut. Edge set up for the Spear as Miz crawled to the corner. Miz side-stepped him and as Miz lined up Edge, John Cena's voice came through the loudspeakers. He was up in one of the press boxes with a mic. He said everyone was cheering for Miz, but then started a "Miz is awful" chant. That distracted Miz long enough for Edge to Spear Miz for the win.

Winner: Edge, at 8:54. They sure didn't give away much in this match. Wasn't bad, but was pretty uneventful.

Michael Cole left the broadcast booth to check on Miz and to tell Riley he should go do something about this.

-The first-ever Raw Rumble Match is still to come.

[Commercial Break]

-The announcers discussed Steve Austin hosting Tough Enough this Spring on USA Network.

-Vickie Guerrero came into the arena. She said that Edge may have won his match tonight, but his odds of winning Friday are nearly impossible. She said she had a surprise for Edge, as Edge will defend the World Heavyweight Title on Smackdown in a way it has never been defended before. She asked viewers to tune in to Smackdown to see the match.

(4) Natalya & Eve Torres vs. LayCool
They showed Layla and Michelle McCool ironing out their differences backstage earlier, blaming last night on the referee. Natalya kipped up out of a headscissors, then back-dropped McCool. Layla tagged in and didn't quite know what to do so she fell to her knees and put her head down in a modified fetal position. Natalya scooped her up but Layla shoved her, then jumped into the arms of McCool. She turned around into a butterfly suplex for a two-count. Eve tagged in and dropkicked Layla, then kicked her down. Nice clothesline followed by a standing moonsault for two. Back kick by Layla, but it had little effect. Eve put Layla on the top rope, but while the ref was distracted, McCool kicked Eve. Layla then gave Eve the Face-Lift (flip stunner in the corner) for the win.

Winners: LayCool, at 2:42. Nice little match with Layla playing the cowardly heel well.

[Commercial Break]

-Cole thanked Finger Eleven for providing the theme song to Royal Rumble.

-He then plugged WWE.com.

-Mark Henry and Great Khali came to the ring for a match against the Usos, who were already in the ring. Josh Mathews replaced Lawler on commentary. The Raw GM chimed in before the match started. The GM said the Usos don't have a chance, so he altered the contest by making this a dance-off. The WWE Universe will be the judge. I don't know if I'd rather see a match or a dance-off. The Usos danced well, and even Cole got into it at the table. Henry and Khali followed it up by "dancing." Crowd liked it. The Usos then attacked before there could be an official ruling. They both got slammed down by the babyfaces, and for some reason, Khali hilariously went for a pin. Cole pointed that out.

-Earlier tonight, Randy Orton took out two members of Nexus with RKOs, and then punted Husky Harris in the skull.

-The seven-man Raw Rumble is next.

[Commercial Break]

-The same eerie vignette from earlier tonight aired.

-Cole and Mathews sent it to the World Premiere trailer of "The Chaperone," starring Triple H. Looks a load better than the rough cut trailer I saw a month or so ago, but that's still not saying much.

-John Morrison entered at #1 for the Rumble match, and they showed the Morrison spot from last night. I'm surprised they showed the video of that, and stills for everything else. Second was King Sheamus. The match was slated to begin after the break.

[Commercial Break]

-This Friday, Edge and Kelly Kelly face Dolph Ziggler and LayCool in a 3-on-2 handicap match with Edge's title on the line.

(5) Seven-Man Raw Royal Rumble
Ninety second intervals here. Shoulder knock-down from Sheamus, but Morrison came back with a few deep arm-drags. Sheamus tried to get Morrison over the top, but Morrison held on. The clock was almost exactly 90 seconds for the third participant, John Cena. Sheamus waited for Cena, but Cena took the attack to him while Morrison convalesced in the corner. Morrison got to his feet and Cena got him up for the AA, but Morrison landed on his feet and gave Cena an enziguiri. Morrison kicked at both men. Cena went back to work on Sheamus as CM Punk came out as entrant number four. Running knee in the corner, then a bulldog for Cena. He kicked Morrison but it didn't look like it connected with much. Punk kicked Cena down then tried to eliminate Morrison. Sheamus tried to do the same with Cena. Both Punk and Morrison teetered over the top, but came down in the ring. Belly-to-belly by Cena on Sheamus. Entry number five was R-Truth. Truth clotheslined Cena down a few times and hip-tossed him. Jumping heel kick from Truth. Morrison was thrown over but held on. He tried to bring Truth out and they both skinned the cat, though Truth had immense difficulty doing so. Punk kicked at Morrison in the corner. Sheamus tried to toss Truth. DDT by Punk on Cena. Sixth was Jerry Lawler. Cole called it "a wasted entrant." Lawler hammered away at everyone in sight. His punches are still a thing of beauty. He almost got Punk out, but Sheamus got Lawler with a kidney shot. Cole nicely recalled that Sheamus and Lawler have a past. No eliminations. The last man, of course, was Orton. Just before Orton came out, Punk slid under the bottom rope and hid under the ring. Orton looked outside the ring trying to find him. Orton grabbed him and pulled him out. He attacked Punk with rights as Punk tried to cover up. Orton clotheslined Punk over, but then Truth eliminated Orton(!). Cole said Orton's emotions got the best of him. They should make a rule where the order you're eliminated is the order you come out of the Chamber, but that would take away the unpredictability.

[Commercial Break]

Lawler and Morrison were trying to eliminate R-Truth while Sheamus and Cena duked it out. Cena with an incredibly light kick to Morrison. Cena put Truth and Morrison on his back…Truth was dumped over and eliminated but Morrison held on. Morrison tried to bring Cena over the top rope and got him to the apron. The two fought there and Sheamus tried to knock them both off, but instead fell over the top and onto the apron. The crowd was openly cheering for Lawler. Cena fell back in the ring as Sheamus also went in and after Lawler. Morrison tried to suplex Sheamus out, but couldn't. Morrison almost slid off the apron, but his toes caught on the bottom rope. Morrison came in and tried to toss Sheamus, but Sheamus held on. He catapulted himself over the top and nailed Morrison with a shoulderblock. Cena hooked in the STF on Sheamus, who tapped over and over. They were in the corner and Morrison attempted Starship Pain but overshot. I guess he got an elbow in on Cena, but that looked awful. Morrison was thrown over by Lawler, but he held himself up with his hands as his body stayed against the apron. Flash Kick on Cena, but Sheamus caught him. Morrison held on again, but the Brogue kick knocked him out. Morrison should've stayed in longer last night and used these moves then. AA to Sheamus, but Lawler broke out a dropkick on Cena. He tried to get Cena out and got him to the apron. Sheamus nailed Lawler from behind. Sheamus went after Cena, who was on the apron. Sheamus whipped Lawler into Cena, knocking him down and out. Lawler looked stunned, as did Cena. Sheamus went for the Brogue Kick but Lawler avoided it, and Cena helped Sheamus out.

Winner: Lawler, at 18:17. Gutsy booking by WWE lately, with Del Rio winning the Rumble and Lawler challenging for the title at the Chamber PPV.

Lawler celebrated with Cena after the match as they replayed the ending. Cole went off on a rant, as one would expect. Lawler continued to celebrate as they went off the air.

Promote this thread!
CajunMan
Boudin blanc
No longer registered



Since: 2.1.02
From: Give me a Title shot!

Since last post: 2436 days
Last activity: 1573 days

#2 Posted on | Instant Rating: 0.00
WTF???? I quit watching this show for a couple of weeks and come back to see Jerry Lawler is getting the push now? What happened?? Who is booking this now? Russo? Cole had a right to be pissed.
It's False
Scrapple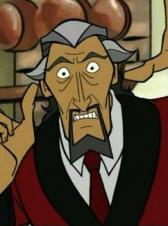 Since: 20.6.02
From: I am the Tag Team Champions!

Since last post: 92 days
Last activity: 29 days

#3 Posted on | Instant Rating: 7.37
No mention of Booker, no mention of Nash. Better luck Friday, maybe?

They weren't quite on the level of the Spider-Man spot, but all of Morrison's near-elimination spots looked brilliant! Morrison's been looking really good these last few days and, in a perfect world, he'd get the shot against Miz on PPV. It's too bad that Morrison's acrobatic abilities mean he's going to be a permanent fixture of gimmick matches like the Chamber and Wrestlemania's MitB match.

I don't mind Miz/Lawler, because their matches have been great, so far. And they do a great job of teasing that Lawler might actually win. The problem is, it feels like it's going to end exactly the same way as their original Raw match. Does this match end any other way than a Cole run-in? However it ends, it would have to mean the merciful end of Cole and Lawler's run on commentary.

I like the looks of the Raw Chamber match. So I'd assume the SD match will have the title on the line, with Edge, Ziggler, Barrett, Show, Kane, and McIntyre (who, I'm assuming, gets brought into the picture with Friday's main event). And speaking of Friday's main event...WHY?! WHY do I have to sit through ANOTHER LayCool/Kelly Kelly match on Friday?! And as the main event, no less! ARGH!!!

Del Rio aiming for the arm with the guitar was awesome. It's a nice new spin on that old spot that Jeff Jarrett killed to death, reanimated the corpse, and killed to death again.

2-21-11 is indeed a Monday. The coat looks a lot like Undertaker, which makes me think it's him to start up the build-up to The Streak. But does that mean they're completely skipping the Undertaker Revenge Tour against Kane? (Not that I'm complaining if they are)

(edited by It's False on 31.1.11 2022)
---

"You wear a disguise to look like human guys, but you're not a man, you're a chicken, Boo!"
CxMorgado
Boudin rouge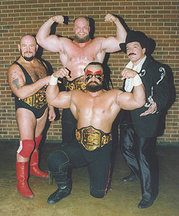 Since: 21.1.02
From: Boston MA is the rippen'ist town...

Since last post: 877 days
Last activity: 779 days

#4 Posted on | Instant Rating: 8.00
2-21-11 is clearly the debut of the smoke monster from Lost.


---

http://wrestling.insidepulse.com/author/christophermorgado/
www.comicnoize.com
PaulKTF
Summer sausage



Since: 26.5.06

Since last post: 2516 days
Last activity: 10 days

#5 Posted on | Instant Rating: 1.00
When I saw the vignette; I assumed it was for Sting, who would be announced on the 2/21/11 RAW as being inducted into the Hall Of Fame (or perhaps debuting as a wrestler).

But I guess The Undertaker is more likely.
BigDaddyLoco
Scrapple



Since: 2.1.02

Since last post: 3 days
Last activity: 15 hours

#6 Posted on | Instant Rating: 5.00
That punch that Lawler landed to DiBiase's jaw was way more badass looking than Randy Orton's 'punt to the head' only minutes earlier.

Lawler/Miz should be fine with some sort of gimmick attached. Is this where Cole is revealed as the GM?


odessasteps
Scrapple



Since: 2.1.02
From: MD, USA

Since last post: 1464 days
Last activity: 1431 days

#7 Posted on | Instant Rating: 5.00
Orton will surely be audited this year for that punt on Husky Harris.

also, I love that the WWE movie is PG-13, not PG.


---

Mark Coale
Odessa Steps Magazine
ISSUE FOUR - OCTOBER 2009
SchippeWreck
Banger



Since: 26.3.03
From: Glendale, CA

Since last post: 393 days
Last activity: 78 days

#8 Posted on | Instant Rating: 9.00
My money's on Sting. What's the point of being mysterious about an Undertaker return?

Would they dare put the belt on Lawler? Probably not, but he made a big deal about never having a match at Wrestlemania. Lawler vs. Cole is the most likely scenario, as terrible a match as that may be.


---

"It's magic! We don't need to explain it!"
graves9
Sujuk



Since: 19.2.10
From: Brooklyn NY

Since last post: 10 hours
Last activity: 4 hours

#9 Posted on
I was hoping that Bryan and Kidd would get some time tonight. When I saw the vignette for 2-21-11 I figured it was for Sting.(Edit: Me and Paul were thinking the same thing) I was surprised that McGillity and Harris lost clean to Kozlov and Santino. I figured Orton was gonna cost them the match. Nothing against Lawler but wouldn't it be better if they gave Morrison(who is around 30 years younger) a ppv title shot instead? I get the story with Lawler but again having a 60+ year old at the top of the card? He is over like crazy to be fair and the roster is bereft of depth but still.

(edited by graves9 on 31.1.11 2233)

(edited by graves9 on 31.1.11 2236)
---
http://defendingthecore.blogspot.com/
http:/​​/​​morehardball.blogspot.com/​​
odessasteps
Scrapple



Since: 2.1.02
From: MD, USA

Since last post: 1464 days
Last activity: 1431 days

#10 Posted on | Instant Rating: 5.00

Lawler vs Riley and Cole in handicap match makes sense.

I wonder what Jimmy Hart's relationship with the company is right now.



---

Mark Coale
Odessa Steps Magazine
ISSUE FOUR - OCTOBER 2009
spf
Scrapple



Since: 2.1.02
From: The Las Vegas of Canada

Since last post: 962 days
Last activity: 382 days

#11 Posted on | Instant Rating: 5.16
Originally posted by graves9

---

I get the story with Lawler but again having a 60+ year old at the top of the card?

---

I would think the reason he would be getting this match at this PPV is becuase it is anywhere but the top of the card. The Chamber matches will be the headline and the draw for the show.


---

2007 and 2008 W-League Fantasy Football champion!
Spiraling_Shape
Bierwurst



Since: 2.1.02
From: PA

Since last post: 4 days
Last activity: 15 hours

#12 Posted on
I totally called JoMo landing on his hands, but not feet. Amazing.

A dance-off? Really? Really?


Originally posted by CxMorgado

---

2-21-11 is clearly the debut of the smoke monster from Lost.

---


You beat me to it.

I can't believe anyone thought that video was for anyone but the Taker...he'll make a spooky cameo at the PPV and start the build to WM vs. Wade or Kane...


---

"You've got the crazy eyes." - RAW GM Laptop, 9/27/10
Hokienautic
Lap cheong



Since: 2.1.02
From: Blacksburg VA

Since last post: 47 days
Last activity: 6 hours

#13 Posted on
I can't remember, is this the first time an Elimination Chamber match has *not* been for the title, or have that done that in the past?
ecwfan4life2004
Mettwurst



Since: 12.4.04
From: PA, USA

Since last post: 2275 days
Last activity: 2275 days

#14 Posted on
I agree its definitely Taker. If it was a teaser for Sting a black baseball bat wouldve been shown
CxMorgado
Boudin rouge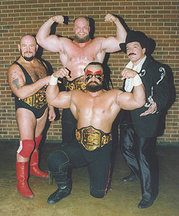 Since: 21.1.02
From: Boston MA is the rippen'ist town...

Since last post: 877 days
Last activity: 779 days

#15 Posted on | Instant Rating: 8.00
Originally posted by Spiraling_Shape

---

I can't believe anyone thought that video was for anyone but the Taker...he'll make a spooky cameo at the PPV and start the build to WM vs. Wade or Kane...

---


Thing is, 2/21 isn't the ppv; it's the Monday after. The brand extension may be pretty much meaningless, but I don't think they'd kick off a Smackdown feud with Taker returning on a Raw...

Some people are saying the 2/21 vids were strikingly similar to the Crow Sting promos WCW did, though I watched one on youtube and it seems like a stretch. But for the record, likely or not, my bet is actually on Sting. I know it's unlikely, but I feel like going for the longshot.


---

http://wrestling.insidepulse.com/author/christophermorgado/
www.comicnoize.com
DirtyMikeSeaver
Bockwurst



Since: 19.5.02
From: Toronto

Since last post: 15 hours
Last activity: 15 hours

#16 Posted on
I'm so tired of Michael Cole.


---

Kevin Kelly: "Mr. Austin, would you like to comment on Wade Keller's Take that endorsing the XFL hurts your anti-authority character?"

Steve Austin: "Oh shit, he actually said that? I thought the boys in the back were ribbing me!"

Kelly: "No, he really said that. Did they tell you the part about you sitting in the stands, looking all skeptical?"

Austin: "AHAHAHAHAHAHA. Yeah... oh man that was too much."
ekedolphin
Scrapple



Since: 12.1.02
From: Indianapolis, IN; now residing in Suffolk, VA

Since last post: 10 days
Last activity: 56 sec.

#17 Posted on | Instant Rating: 3.69
It's either Sting, The Undertaker, or someone new with a ridiculous WrestleCrap-worthy gimmick that WWE is going to foist upon us.
---
"I'm pleased that the imminent destruction of all organic life has improved your career opportunities."
--Tali'Zorah nar Rayya, Mass Effect
Fan of the Indianapolis Colts (Super Bowl XLI Champions), Indiana Pacers and Washington Nationals
Certified RFMC Member-- Ask To See My Credentials!
Co-Winner of Time's Person of the Year Award, 2006
thecubsfan
Scrapple
Moderator



Since: 10.12.01
From: Aurora, IL

Since last post: 6 days
Last activity: 40 min.

#18 Posted on | Instant Rating: 10.00
They've been doing the Dance Off bit on house shows for the last few months. Someone must've been short on ideas this week.

The first Raw in the build to WrestleMania is not when they usually debut new guys. If it was Sting, they'd be giving him the HOF treatment with clips of his career, to build him up. If Sting is in, he's in for a very short time so they'd need to get the word out.


---

thecubsfan.com - luchablog
Big Bad
Scrapple



Since: 4.1.02
From: Dorchester, Ontario

Since last post: 2 days
Last activity: 2 hours

#19 Posted on | Instant Rating: 6.54
If WWE's next gimmick PPV is John Morrison Spends Two Hours Thinking Of Ways To Avoid Touching The Floor, I think I'd pay to watch it.


Originally posted by ekedolphin

---

It's either Sting, The Undertaker, or someone new with a ridiculous WrestleCrap-worthy gimmick that WWE is going to foist upon us.

---


After umpteen new guys debuting with short black tights, tribal tats, Arrogant Young Man (tm) attitudes and names like 'Morris Lawson' or 'Thatcher Olson,' I'd gladly take a good old-fashioned goofy-ass gimmick.




---

"It breaks your heart. It is designed to break your heart. The game begins in the spring, when everything else begins again, and it blossoms in the summer, filling the afternoons and evenings, and then as soon as the chill rains come, it stops and leaves you to face the fall alone." --- Bart Giamatti, on baseball
vonLampertheim
Tocino



Since: 29.10.04
From: Sydney, AU

Since last post: 1860 days
Last activity: 1794 days

#20 Posted on
Originally posted by SchippeWreck

---

My money's on Sting.

---


If it's going to be Sting, can be please be Blade Runner Sting? You know, the one with energy and charisma?
Pages: 1 2 3 Next