geemoney
Scrapple



Since: 26.1.03
From: Naples, FL

Since last post: 7 days
Last activity: 33 min.

#1 Posted on | Instant Rating: 7.71
TONIGHT: This could be really entertaining or really painful to sit through tonight, as Raw emanates from the Staples Center and will feature the "Lakers" (Batista, Jerry Lawler, John Cena, MVP and a mystery partner) against the "Nuggets" (Big Show, Randy Orton, Cody Rhodes, Ted DiBiase and The Miz), as well as Mr. McMahon confronting "Stan Kroenke." It's been a busy week for WWE leading up to tonight. Also on the card: Ric Flair will call out Randy Orton and the Divas Championship is on the line as Maryse defends against Kelly Kelly.

-WWE Open.

-The annual Memorial Day opening aired.

-RAW Open.

-Michael Cole and good ol' JR opened the show, and they plugged Ric Flair confronting Randy Orton later tonight.

-And right off the bat, Lilian Garcia introduced E. Stan Kroenke, an imitator at least, who came out to "Hail to the Chief," basketball in hand. He waved to the fans who booed him nearly out of the building. They showed highlights of the mainstream sports media's coverage of this story this week. He shook hands with guys imitating David Stern, Jerry Buss (Lakers owner) and Jack Nicholson sitting at ringside. "Kroenke" kind of looked like MadTV's Ike Barinholtz. "Kroenke" introduced himself as the owner of the soon-to-be NBA Champion Denver Nuggets. He said he can't stand WWE or its fans. "Kroenke" said he's a billionaire who has bigger things to worry about than WWE. Kroenke took issue with WWE painting him as a devil and Vince as an angel. Vince then strutted out to confront "Kroenke."

Vince said tonight he was announcing the formation of a new basketball league: The XBA!! McMahon said this league will be a miserable, total failure, because he's going to have Kroenke and his staff run it. McMahon said Kroenke could've avoided this whole thing by coming to Vince first. McMahon said he had a little fun with Kroenke, and the fun will continue tonight. Vince made fun of his name and said he never trusted someone who has an initial as a first name. McMahon said the "E" stands for "Enos." Vince made fun of the name and the crowd even chanted it. Vince even said "Enos" rhymes with.....then the crowd cheered. Vince said it rhymes with Venus. McMahon accused Kroenke of having a terminal case of "Enos Envy." McMahon said his name doesn't matter- what matters is he disrespected WWE fans and he pushed around the WWE Universe. He said when people push around the WWE Universe, they push back. He shoved Kroenke to the mat, and Kroenke rolled out of the ring. As Vince was leaving the ring, The Miz came out.

Miz said he wouldn't dream of interrupting Mr. McMahon, but he has something important to say to the WWE fans. I think Miz has a Cavs jersey on underneath his shirt. He said he is from the city where the future NBA Champions are from- Cleveland. Miz talked up the Cavs and LeBron James. Miz said James is like him and that John Cena is an overrated phony poser- like Kobe Bryant. Miz said he'd run Cena out of this time, just like what Kobe did to Shaq. He said he'd be 6-0 against Cena, because the WWE is where The Miz happens. I don't get it. Anyway, Cena came out and walked to the ring with a purpose. Once he got there, he was attacked by DiBiase and Rhodes. 3-on-1 in the ring, but Batista lumbered to the ring and attacked the heels. Big Show came out to even the score and he headbutted Batista and Cena to the mat. Lawler, clad in gold and purple, tried to come to the faces' aide, but was taken down by Show. Then Cena and Batista double-clotheslined Show out of the ring. Well, at least the segment turned into something wrestling-related.

-The five-on-five match was plugged.

-Kelly Kelly was backstage getting ready as she challenges Maryse for the Divas Title next.

[Commercial Break]

(1) Kelly Kelly vs. Maryse- Divas Championship Match
Maryse tackled Kelly to start and then hit a back-breaker. She slammed Kelly face-first to the mat and then taunted her by paint-brushing the back of her head. Kelly reversed an Irish Whip and clotheslined Maryse in the corner. Kick to the chest by Kelly for two after a cartwheel (JR: "springboard") elbow in the corner. Maryse fled to ringside where she slammed Kelly on the table then pounded away on her. She pushed Kelly over into the announcer's lap. Apparently, Maryse was DQ'd for pushing Kelly or something. That's kind of odd.

Winner: Kelly, by DQ, at 2:45. All of the offense looked really soft and light here.

Kelly attacked Maryse after the match.

-The ten-man main-event was previewed again.

[Commercial Break]

-The Bella Twins were walking arm-in-arm with the Nicholson imitator backstage when Goldust came upon the scene. Hornswoggle soon joined him to swoon over Nicholson. Goldust is still playing up the electrocution angle. Apparently, he and Horny wanted to show Nicholson a scene from "A Few Good Men." Goldust played Nicholson in the famous scene and Hornswoggle just kinda yelled. Nicholson's reaction......"it was alright." That was a really flat segment.

-Last Monday, Ric Flair interrupted a Randy Orton promo and laid down the law to the young man.

-Backstage, Batista came up to Flair in the locker room. Flair didn't want to hear Batista's opinions on what he's going to do tonight. He said he wanted to call Orton out and beat his butt (not kidding, that's what he said). Batista suggested he call Orton out the night after Extreme Rules, when he'll already be prone thanks to his beating at the PPV. Flair didn't take kindly to that and thought that Batista didn't have faith in him.

[Commercial Break]

(2) Matt Hardy vs. William Regal vs. Kofi Kingston-Triple Threat Match With Winner Receiving a US Title Match Next Week
Matt went to the outside almost immediately, nursing his injured hand. Regal took the fight right to Kofi with a few European uppercuts and Kofi got a monkey-flip. Hardy finally got involved, holding the leg of Kofi when he tried to hit the ropes. Double-clothesline and Hardy snuck in to try to get a pinfall on both guys. Hard whip into the buckle on Regal by Matt. MVP walked to the ring to boos as the show went to break (but they chanted his name as they faded out).

[Commercial Break]

Regal had Kofi and nailed him with an overhead suplex as Hardy laid in pain on the apron. MVP was on commentary for the second half of the match. They showed Kofi hitting a high cross-body on Matt during the commercial break. Kofi tried to work out of a hold from Regal as the fans got behind him. Hardy gained control, but not for long, as Regal worked the injured arm/hand area of Matt. Kingston made his comeback and got a near-fall on Hardy. Another Exploder suplex by Regal on Kofi, but a Side Effect on the former Raw GM got two. Side Effect on Kofi for two. Hardy broke up a pin by Kofi and Kingston connected with the Trouble in Paradise for the win.

Winner: Kingston, at 9:51. Interesting, but the match was only OK.

Kingston and MVP faced off after the match, with MVP saying he wanted Kofi to get the shot and Kofi doing his "boom, boom, boom" hand gesture.

-Ric Flair was walking backstage, heading to the ring for his confrontation with Orton.

[Commercial Break]

-Ric Flair came out. He told of how Orton sucker-punched him and had his way with him last week (EWW!). Flair said he hasn't forgotten about it and all he could think about is what Chris Jericho did to him. Flair said don't feel sorry for him, but feel sorry for Orton when he can't beat up Flair. Ric took off his jacket and told Orton to get down to the ring. Orton slowly walked out and had a mic in his hand. He asked Flair what he thought would happen if they got in the ring and fought. Orton said he can't fight Flair; not because he doesn't have respect for Ric, but because last week, he lowered himself to punching a 60 year-old man. Flair got fired up and the two argued back and forth as Randy got to the ring. Orton said he and the fans are starting to feel sorry for Flair. Orton got in Flair's face and said "it is over." Flair slapped him and Orton assaulted Naitch. Orton fled the ring when Batista came out and The Animal had to hold Flair back as Ric did his crazy-old-man routine. Ah, how I've missed that. Orton said Batista will be just like Ric after Extreme Rules, because it'll be all over for him too. All of a sudden, Mr. Kennedy walked out.

He looked up for his microphone but it didn't drop, so he did his pose and it came down. Kennedy said it's just beginning for Orton as tonight marks the return of the man who will soon become WWE Champion. Kennedy also said he's going to be the final guy in the five-on-five match in the main event. Wow, I didn't think they had that much confidence in him. Orton just walked past Kennedy and back to the locker room.

-The ten-man tag was discussed again, with Kennedy plugged into the mystery spot.

[Commercial Break]

-They showed Vince McMahon's star on the Hollywood Walk-of-Fame, then showed Michael Clarke Duncan in the crowd wearing a John Cena hat.

(3) Santino Marella & Mickie James vs. Chavo Guerrero & Beth Phoenix- Mixed-Tag Match With Winner Deciding Stipulation for Santina vs. Vickie Guerrero at Extreme Rules
Chavo attacked Santino right at the bell. European Uppercuts by Chavo, then a side suplex. Chavo backed Santino into the heel corner and Beth did some choking of Santino behind the ref's back. Chavo missed a corner splash- Beth tagged in and Santino rolled ALL the way across the ring and out. Mickie came in and went after Beth's knee. Chavo broke up a pin by Mickie. Chavo charged at Santino, but Santino pulled down the middle rope and Chavo went out. Mickie with a crucifix roll-up for the win.

Winners: Santino & Mickie, at 1:35.

Before Santino could announce the stip, Vickie Guerrero came out in Miss Wrestlemania garb. She said that Vickie isn't worried about the stipulation, since she will have Chavo officially in her corner. Santino made a few Italian match jokes, then chose a Hog-Pen Match. No crowd reaction to that. Santino then made more pig noises. Apparently, the Miss Wrestlemania crown is on the line again.

-Big Show and The Miz were face-to-face in the hallway. Show told Miz no one likes him, but Show said he's OK with Miz mixing it up with Cena tonight, but he better not pin him. Show said no one better pin him as tonight, he's going to make Cena tap out. Show walked away and Miz said quietly, "just like you did at Judgment Day?" Show came back and asked if Miz said something, but Miz said no.

-The ten-man tag was plugged again by Cole.

[Commercial Break]

-Earlier tonight, Mr. McMahon announced the formation of the XBA, then insulted Mr. Kroenke.
(4) Goldust & Hornswoggle vs. The Brian Kendrick & Festus
The Colons were on commentary for this match. Kendrick led Festus to the ring by the arm. He DOES kinda look like Jesse. Festus wore a Baron Davis Clippers jersey to the ring. Festus started with Hornswoggle and Festus didn't seem to know what to do. Kendrick was pissed Festus wasn't hitting him and Hornswoggle kicked him. Kendrick made the tag and shoved Horny down. He rolled Hornswoggle up with a small package (called by Kendrick), then kicked him. Tornado-like DDT on Kendrick and Goldust made the tag. He cleaned house on Kendrick and appeared to be in much better shape than a few months ago. Flying kick by Kendrick and The Brian tried to tag, but Festus didn't want it. Kendrick slapped him and Festus went crazy. Apparently, that didn't count as a tag, as Kendrick got tadpole splashed by Hornswoggle, then Goldust gave Kendrick The Final Cut for the win.

Winners: Goldust & Hornswoggle, at 2:10.

Kendrick yelled at Festus after the match, then grabbed a chair from ringside. Kendrick took his time and as he wound up with the chair, Primo rang the bell, awakening Festus. Kendrick ran out of the ring and to the back, still in search of the perfect tag partner.

-"WWE's version of the NBA Playoffs" is next.

[Commercial Break]

-JR thanked Sick Puppies (that was funny in and of itself) for supplying the theme song to Extreme Rules.

-The Extreme Rules card was previewed.

-The Lakers' PA announcer intro'd the main event from an undisclosed locatoin. He started by introducing he point guard, from Cleveland, Ohio: The Miz. They had Nuggets jerseys on, personalized with their names. The shooting guard: Cody Rhodes. The small forward: Ted DiBiase. Of course, the center: The Big Show. That uniform is quite tight on him. He yelled at his tag partners in the ring, rather than shaking hands with them. The power forward: Randy Orton. The Lakers will be introduced next!

[Commercial Break]

-The Lakers were introduced, starting with MVP, the point guard. Shooting guard: WWE Hall-of-Famer Jerry Lawler. Small Forward: Mr. Kennedy. The announcer even did two Kennedys! The power forward: John Cena. Center: Batista. He came out with Lakers shorts and a basketball which he threw to the crowd.

(5) The Nuggets vs. The Lakers
Well that saves time typing anyway. Rhodes and The King started the match and Lawler got a big bodyslam on Cody. Hard corner clothesline by Batista. Boot to the face, then a tag to MVP. Loud "MVP" chants from the crowd. Blind tag made to Orton, who hit his unique back-breaker. Then Big Show got in a clothesline on the outside of the ring. Orton got two on a cover then hit the chin-lock as Raw went to break.

[Commercial Break]

DiBiase was in there with MVP and surprise, Montel Vontavious Porter was isolated by the heels during the break. MVP tried to make a hot tag, but Miz cut him off. He came back with a belly-to-belly throw and Mr. Kennedy returned to action by tagging in. Business picked up with Kennedy all offense against The Miz. Roundhouse kick and a beauty for two. The heel corner was able to take advantage of the numbers game with the ref distracted and they pulled Mr. Kennedy out of the ring and bashed him against the barrier. Orton came in and did some damage. Big Show entered legally for the first time, slamming Kennedy to the mat. Constant tags by the bad guys. At about 12:00, Miz applied a chin-lock to Kennedy. "Let's go Lakers" chant to pump Kennedy up. The match has grinded to a halt at this point, with Orton applying another hold to Kennedy on the mat. Back suplex on Orton as Kennedy tried to come back. He stared at the heels waiting for them to make the tag, THEN he made the tag as he was on the mat. He tagged Cena, with a Lakers headband. Cena and MVP both did their routines on Rhodes. Playmaker on Rhodes for the pinfall.

Winners: The Lakers, at 16:05.

MVP didn't have time to celebrate, as DiBiase gave him Dream Street. Kennedy took him out with a Mic Check, then Orton took out Kennedy. Big Show was suplexed by Batista and Cena at once. The Lakers celebrated in the ring to end things.
Promote this thread!
CxMorgado
Boudin rouge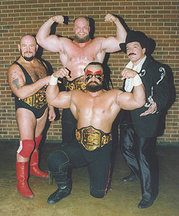 Since: 21.1.02
From: Boston MA is the rippen'ist town...

Since last post: 1121 days
Last activity: 1023 days

#2 Posted on | Instant Rating: 3.86
I found that whole show to be painfully, embarrassingly bad.

Batista coming out with a basketball tho... you know the Wrestlecrap forums exploded.


---

Biddip-bo!
Hokienautic
Lap cheong



Since: 2.1.02
From: Blacksburg VA

Since last post: 1 day
Last activity: 13 min.

#3 Posted on | Instant Rating: 1.42
Thanks to Lilian for informing all of us that Montreal has moved from Quebec to Ontario!
John Orquiola
Scrapple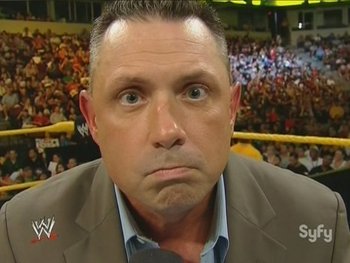 Since: 28.2.02
From: Boston

Since last post: 1696 days
Last activity: 1696 days

#4 Posted on | Instant Rating: 4.56
Originally posted by CxMorgado

---

I found that whole show to be painfully, embarrassingly bad.

Batista coming out with a basketball tho... you know the Wrestlecrap forums exploded.

---


My first thought was: Did Batista think they were actually playing basketball?

As for the show, it was the drizzling shits. Crowd-killing "comedy" and crap matches.

The ten man tag was okay but not a show-saver by any means. MVP came off pretty well, so that was a positive, but the heels in the corner didn't even care to save Cody from being pinned and losing the match for the Nuggets. Wrestling and basketball are like women and seamen, they don't mix.

Ric Flair and Orton TRIED to have some emotion in their confrontation but right when it started to get interesting, Batista runs in, and then Kennedy came out and sent Flair and Batista both to bolivion.

I hate Kennedy. If they threw him in a dumpster and left him in the side of a highway, I'd never bat an eye. Kennedy claiming he was going to be WWE Champion was laughable. I mean, no one bought that considering his track record of underachievement and sitting on the DL. Orton walking away nonplussed was actually the right reaction for him. No way is Kennedy a threat. And they didn't make him look good in the tag match by making him Ricky Morton, although they share the same hair color.

Whoever booked the Divas Title match should be drummed out of the business. Talk about not making either girl look good. Maryse was DQ'd for shoving Kelly over a table? So, Maryse has not beaten anyone since debuting on RAW? Kelly is so fragile that a hard shove is cause for the match to be ended? Does Creative have a fucking clue how to get any of these girls over anymore? No, because they suck.

Meanwhile, Mickie's run at Maryse was completely shoved aside while Beth is now so pinnable, she loses every week and can be pinned by a crucifix when it once took a Herculean effort to overcome her.

The Hogpen match announcement was met with silence because NO ONE not watching WWF in 1995, which is now 75% of their audience, has ever seen a hogpen match. And of all the Divas matches they could have booked for Extreme Rules, they booked THAT?! Last year, Beth and Melina had a great I Quit match at ONS. Melina and Michelle have the same potential. Instead, we have to watch Vickie Guerrero roll around in mud while Santina makes pig noises. And they are fighting for a worthless sash.

Are we to believe that the Bellas, Goldust and Hornswaggle didn't know that wasn't the real Jack Nicholson? By that logic, did they also think Vince was talking to the real E. Stan Kroenke?

Expected an epic disaster of a RAW, and there it was.

(edited by John Orquiola on 25.5.09 2044)
CajunMan
Boudin blanc
No longer registered



Since: 2.1.02
From: Give me a Title shot!

Since last post: 2679 days
Last activity: 1816 days

#5 Posted on | Instant Rating: 0.88
Originally posted by CxMorgado

---

I found that whole show to be painfully, embarrassingly bad.

Batista coming out with a basketball tho... you know the Wrestlecrap forums exploded.

---


Yeah, Somebody needs to post a photo of him coming out. He had that this is so stupid look.
hansen9j
Andouille




Since: 7.11.02
From: Riderville, SK

Since last post: 24 days
Last activity: 12 hours

#6 Posted on | Instant Rating: 7.62
A rewind on the PVR shows that Maryse was actually DQed for not giving a clean break after a 5 count. Yes, it makes no more sense that way, but that was the call.


---

It is the policy of the documentary crew to remain true observers and not interfere with its subjects.

If you wanna reach the Co-op, boy, you gotta get by me.
Hokienautic
Lap cheong



Since: 2.1.02
From: Blacksburg VA

Since last post: 1 day
Last activity: 13 min.

#7 Posted on | Instant Rating: 1.42
Originally posted by hansen9j

---

A rewind on the PVR shows that Maryse was actually DQed for not giving a clean break after a 5 count. Yes, it makes no more sense that way, but that was the call.

---


Really? Then why did the ref make the double-handed-shove motion as he was talking to her?
shawnpatrick
Kishke



Since: 31.7.07
From: Leesville SC

Since last post: 2469 days
Last activity: 2351 days

#8 Posted on | Instant Rating: 1.41
Kennedy haters be glad to hear this, looks like he may have injured himself again, was holding his wrist and there wasn't a need to sell an injury. I'm a Kennedy hater by the way. We wish all the best endeavors.......

They need to pull the trigger with MVP and give him a main event push. He's so over right now with live crowds. The question is though, can he sell PPV tickets?

Beth Phoenix is buried. They should offer TNA a whole lot of money to release Awesome Kong from her contract and bring her to feud with Phoenix. Or hire one of the 250 pound woman monsters from one of the Indy circuits.

Batista palming the basketball, priceless.

Raw is full of faces and lack good heels. Batista will turn soon with the return of HHH and/or HBK.

I give tonight about 3 out of 10 possible.


TheOldMan
Landjager




Since: 13.2.03
From: Chicago

Since last post: 1421 days
Last activity: 8 days

#9 Posted on | Instant Rating: 4.94
With all the hoopla, I sat down and watched my first WWE in just over a year. Between that show tonight, and the real Nuggets handling Kobe & Co. fairly handily - I'll call it Kroneke over McMahon by TKO.

That opening segment just dragged on and on, pretty much killed the crowd - after the "Kroneke" guy's crowd heeling, it felt to me like they were setting it up to send out Austin for the big pop - instead we get Vince (which admittedly makes sense).. to do his overbearing boor act and.. shove the guy to the mat? Okay then.

And *that's the best Nicholson impersonator you can find in L.A.??

Finally, great job fitting in two, count 'em two, ad breaks as before the main event they gave us a nostalgic look back at the World Entrance Federation©. I didn't see anything to make me regret missing the last 13 months.


---

yamcha
Mettwurst



Since: 21.6.07
From: ....here?

Since last post: 3175 days
Last activity: 3133 days

#10 Posted on | Instant Rating: 1.01
am I the only one that enjoyed RAW?

mabe its the fact that I hate the NBA but I loved raw.
I couldn't stop laughing at the opening segment good show except for the mix tag and Diva match, and that diva tittle is the uglyest belt I have ever seen.

was it just me or did Kingston compleatly miss his finsher on Hardy?

(edited by yamcha on 26.5.09 0027)
ekedolphin
Scrapple



Since: 12.1.02
From: Indianapolis, IN; now residing in Suffolk, VA

Since last post: 16 hours
Last activity: 16 hours

#11 Posted on | Instant Rating: 1.93
For the sake of completeness, I'll state the jersey numbers (as well as, once again, the positions) of the "teams" in the main event:
L.A. Lakers (yellow home jerseys):
PG #24 MVP
SG #48 Jerry Lawler
SF #4 Mr. Kennedy
PF #54 John Cena
C #7 Batista
Denver Nuggets (powder-blue away jerseys):
PG #1 The Miz (as if Miz would wear any other number)
SG #6 Cody Rhodes
SF #4 Ted DiBiase
PF #15 Randy Orton
C #99 The Big Show
Now you know, and knowing is half the battle.
---
"I don't want to see this foolishness!"
"What kind of foolishness do you want to see?"
--Sam the Eagle and Gonzo, Muppet Vision 3-D
Fan of the Indianapolis Colts (Super Bowl XLI Champions), Indiana Pacers and Washington Nationals
Certified RFMC Member-- Ask To See My Credentials!
Co-Winner of Time's Person of the Year Award, 2006
thecubsfan
Scrapple
Moderator



Since: 10.12.01
From: Aurora, IL

Since last post: 14 days
Last activity: 4 days

#12 Posted on | Instant Rating: 10.00
And all this time, I would've figured a WWE basketball team would have four power forwards and one center on it.


---

thecubsfan.com - luchablog
supersalvadoran
Sujuk



Since: 10.1.08
From: westbury, new york

Since last post: 886 days
Last activity: 436 days

#13 Posted on | Instant Rating: 3.52
Originally posted by Hokienautic

---

Thanks to Lilian for informing all of us that Montreal has moved from Quebec to Ontario!

---


Well, at least she's improved over the years. Mistakes like this used to take place almost every time she did a announcement. My favorite was her saying that Kurt Angle was from "Pittsburgh, Philadelphia".

I like Lilian, but she should really invest in Rand McNally or at least watch some old episodes of "Where in the world is Carmen Sandiego?".


---
AlbySure
Boerewors



Since: 10.12.01
From: LA

Since last post: 642 days
Last activity: 192 days

#14 Posted on | Instant Rating: 6.96
I was there.

The Miz really is awesome.
BigDaddyLoco
Scrapple



Since: 2.1.02

Since last post: 94 days
Last activity: 93 days

#15 Posted on | Instant Rating: 3.13
Watching Vince stroke off his ego for that long just had to drive a large part of the audience to ... oh I don't know ... THE NBA GAME
The Game
Boudin rouge



Since: 5.5.09

Since last post: 1961 days
Last activity: 1961 days

#16 Posted on | Instant Rating: 2.00
Last night's Raw lacked something (let me think here...oh yeah, it lacked a lot of everything!)

I did not like how the divas championship match ended. Maryse being DQ'd for pushing Kelly Kelly over the announce table? That was complete stupidity right there. Maybe the WWE wanted Kelly Kelly to win via DQ but that was the worst way to get a DQ; that type of thing happens all the time and no one to my memory has gotten a DQ for something similiar to what Maryse did to Kelly Kelly.

Another thing was how Festus wasn't tagged in after being slapped by The Brian Kenderick. It has happened plenty of times where a partner would "tag" their partner by slapping him in the face and that guy would have no other choice but to come in since it was a tag in some way shape or form. But not in last night's scenario; I guess it had to fit in for the "storyline" the WWE is working around Kendrick.

I am a fan of Mr. Kennedy but not so much of face Kennedy. He just seems more stale as a face than a heel. Kennedy just seems to fit the role of being a heel naturally. I like MVP as a heel better also, but Kennedy just seems more natural for the role of being someone getting boos from the crowd than getting cheers.
JimBob Skeeter
Bierwurst



Since: 2.1.02
From: MN

Since last post: 6 days
Last activity: 6 days

#17 Posted on | Instant Rating: 4.65
I absolutely loved Batista holding Flair by the back of his pants/belt while Flair ran around like a three year old on a leash. THAT was some funny shit.
Oliver
Scrapple




Since: 20.6.02

Since last post: 1450 days
Last activity: 1444 days

#18 Posted on | Instant Rating: 3.57
Originally posted by John Orquiola

---

The Hogpen match announcement was met with silence because NO ONE not watching WWF in 1995, which is now 75% of their audience, has ever seen a hogpen match.

---
The only redeeming factor to a match of this sucktitude would be a cameo from Phineas or Henry Godwinn. Could be the comedy match of the night, but that really depends on how low you set the bar.

MVP vs. Kofi could be a lot of fun. MVP has grown on me, and I look forward to their match. Should be on the PPV, but they gotta make space for the epic Santina/Guererro match, right? Oy.

I would have killed to see ENOS eat up a McStunner.

Otherwise, it was just another trainwreck of an episode. Wonder how ROH is going to deal with Flair showing up on WWE programming? Lordsofpain.net is saying that Flair is working without a contract, and can work both shows if he desires, but you know Vince doesn't want that.


---

I love this town!
AWArulz
Scrapple



Since: 28.1.02
From: Louisville, KY

Since last post: 4 days
Last activity: 4 days

#19 Posted on | Instant Rating: 4.83
After now FFing through on my DVR, I am glad I watched the Bachelorette with Mrs AWA - twas rather unentertaining. I especially hated the Santino match - when did Beth become such a wimp and when did Santino become so unfunny.


---
We'll be back right after order has been restored here in the Omni Center.
That the universe was formed by a fortuitous concourse of atoms, I will no more believe than that the accidental jumbling of the alphabet would fall into a most ingenious treatise of philosophy - Swift
Shadowhendrix
Linguica



Since: 27.6.08

Since last post: 1715 days
Last activity: 1632 days

#20 Posted on | Instant Rating: 3.90
So after a week of mainstream publicity where the WWE seems to actually be in the right, and might have at least SOME degree of momentum heading into their flagship TV show, with the possibility of attracting SOME new viewers, they open the show with Vince McMahon showing how professional he is by paying someone to impersonate a businessman man and shoving him to the ground, and proceed to build the show around an NBA theme WHILE THE PLAYOFFS ARE GOING ON ON ANOTHER CHANNEL.

Am I the only person who would have opened the show with a quick 30 second message from Vince McMahon apologizing for the actions of the Nuggets owner and dedicate the night to THE WRESTLING FANS HE CARES SO MUCH ABOUT, and then proceed to put on a very fun "One night only" type of show with rare matches and great wrestling/promos, while advancing angles towards One Night Stand? Then, prior to the main event, air another message thanking everyone who tuned in tonight, and if they liked what they saw, to tune in in the future, announcing next week's entire card in advance?

Instead of a show pimping how great the WWE can be, we got a show telling us how much the Nuggets suck, and a parody of the NBA in the main event.

"WWE, the best value in entertainment."
Pages: 1 2 Next