geemoney
Scrapple



Since: 26.1.03
From: Naples, FL

Since last post: 4 days
Last activity: 2 hours

#1 Posted on | Instant Rating: 7.51
TONIGHT: Randy Orton chooses just which title he will challenge for at Wrestlemania. Plus, for a shot to take on Undertaker at Wrestlemania, Shawn Michaels faces Vladimir Kozlov. In a Money-in-the-Bank qualifying match, it's triple-threat rules: Rey Mysterio vs. Mike Knox vs. Kane. And likely another Hall-of-Famer will be announced. And if he's healthy, I'm sure Jamie Noble's Wrestlemania quest will continue.

-WWE Open.

-A video package showed the Triple H and Randy Orton feud up to this point.

-Raw Open.

-Michael Cole opened the show from Boston as the camera panned the crowd and said that Randy Orton's Wrestlemania decision would be made tonight. Cole sent it to the ring and Jerry Lawler. Lawler said Vickie Guerrero asked him to make this announcement concerning the championship, and said this is the biggest announcement he's ever made for perhaps the biggest match on Raw. He said Edge will face John Cena tonight for the title. Hyperbole much?

-All of a sudden, Rowdy Roddy Piper's music hit and they showed Piper's Pit set up on the top of the ramp. Then, Piper's music cut out and Chris Jericho's music came on. The pause by Lilian Garcia between "The host of the Piper's Pit" and "Chris Jericho" let you know it wasn't Piper. Jericho did not dress as Hot Rod though. Jericho said he wasn't planning on doing this but he's tired of being disrespected for his take on the legends. He did get the original Piper's Pit set and showed the video of Piper striking Jimmy Snuka with a coconut in the most famous Pit segment. Jericho then introduced Jimmy Snuka. Jeez, how many times has this been done? Jericho sat down in a folding chair with an empty one next to him. Snuka sat in that one. I think we can count on the run of good promos up against Jericho to end tonight. Jericho showed footage of some of Piper and Snuka's classic brawls. Jericho said Snuka looked good back in those days. Jericho called him a grim reminder of what can happen as he's the poster boy for what "The Wrestler" is all about. He chastised Snuka for not retiring and embarrassing himself by wrestling in indy shows across New Jersey every weekend. Jericho said more deserving stars weren't allowed to compete in the Rumble last year when Piper and Snuka took their spot. Y2J told Snuka to pack it in and said he brought him on the show to show the superstars in the back what can happen to them if they're not careful. He called Snuka a pathetic disgrace and both men stood up. We've got a brown paper bag sighting; please don't tell me they're doing the coconut gag again.

Jericho said no one cares about Snuka anymore and no one wants to see him anymore. Snuka mockingly said he didn't understand and Jericho said it was obvious he wasn't getting through to Snuka, the fans or any of the legends. Jericho said he brought some stuff to remind Snuka of his glory days, because Piper said old school is cool. He brought a pineapple and bananas out of the bag. Jericho said we should return Snuka to his glory days, then took out a coconut and asked if he wanted to re-live his past. Jericho was tossing the coconut and Snuka stole it. Snuka backed Jericho away and tipped over the table. Jericho begged for mercy, then ran around the back of the set and out of harm's way. Snuka posed and his music came on. Jericho ran through the back of the set which tipped over harmlessly onto Snuka, but he sold it like he was shot. Jericho took a wooden piece of the set and nailed Superfly in the back with it. Jericho taunted him and took off his belt, whipping Snuka in the back with it. Y2J took a banana and stuffed it down Snuka's gullet. I thought for sure, since he interrupted Lawler, Jerry would interrupt and make the save or something, setting up a match for Jericho and Lawler at Wrestlemania.

[Commercial Break]

-They showed what happened moments ago. Lawler said it was absolutely sick. He said Jericho's actions are inexcusable.

-In a World Heavyweight Championship match tonight, John Cena takes on Edge.

(1)- Rey Mysterio vs. Mike Knox vs. Kane- Triple-Threat Money-In-The-Bank Qualifying Match
This Saturday night, set your DVR's as Kane's "See No Evil" premieres on the Sci-Fi Network at 9pm EST. Mysterio baseball slid Knox and tried to fight off Kane inside the ring. He took Kane down, but Knox was right there to toss him out under the bottom rope and onto the floor. Knox and Kane did a double big-boot that didn't look as terrible as it could. One minute in, they went to break.

[Commercial Break]

Mike Knox was working over Rey's back upon return. I presume Kane was taken out sometime during the break. Rey was tripped up running the ropes by Kane, who pulled Rey outside the ring. Knox pounced on Kane as he got back into the ring. Big splash in the corner by Knox. Side suplex by Kane after breaking out of a headlock. Bicycle kick by Knox caught Kane coming off the ropes. Rey worked his way back into the match with a springboard hurricanrana on Knox. Couple of near-falls followed by a DDT by Rey and then a pin which was again broken up by The Big Red Monster. Knox launched Rey over his head and right into Kane. Knox was in position for a 619 but Kane caught him in a choke. He kicked Knox away but Rey fought out and did the seated senton and got two, broken up by Knox. Knox Out by Knox, then a chokeslam by Kane, who made the cover and got the pin.

WINNER: Kane, at 8:48. Of the three in this match, Kane was third on my list of guys I'd want to see in the MITB match.

After the match, Kane chokeslammed Rey for good measure.

-Randy Orton makes his choice for who he will face at Wrestlemania tonight.

-Vlad Kozlov was warming up for his match with HBK. We'll hear from Shawn Michaels next.

[Commercial Break]

-A video package aired on WrestleMania XII. They mentioned the WM debuts of Steve Austin and HHH, but focused on the Ironman Match between Bret Hart and Michaels.

-Todd Grisham was backstage with Shawn Michaels. He asked how HBK can beat Kozlov. Shawn said this past year has been the most traumatic year of his life. He said years ago, he headlined WM in this very building and warned Kozlov that he's going to end his undefeated streak, then end Taker's at WM.

-Mickie James and Kelly Kelly made separate entrances for the divas tag match against Beth Phoenix and Jillian Hall. That match is next.

[Commercial Break]

(2) Mickie James & Kelly Kelly vs. Beth Phoenix & Jillian Hall
The opponents made their entrances during the break and Melina and Smackdown's Diva Champion Maryse were at the announce table doing guest commentary. Head-scissor take-down by Kelly, but Beth picked Kelly up and powerbombed her into the buckle. Maryse said it would take her five minutes to beat Beth, unlike the two years it took Melina. Hair pull and slam by Jillian on Kelly. Kelly tagged in Mickie, who snap-mared Jillian as Maryse complained about having her picture taken all the time. Jillian tried her handspring elbow, but Mickie was ready for it. Thesz Press by James, but Beth broke up a pin. Kelly tagged in and did jumped off the top rope to sunset flip Jillian for the win.

Winners: Mickie & Kelly, at 2:40

All hell broke loose after the match, with Rosa Mendes attacking Kelly, then Mickie attacking her, and Beth attacking Mickie. Melina went to go into the ring to join the fray, but Maryse pulled her off the apron and DDT'd her in a brutal-looking spot on the ringside mat.

-Michael Cole and Jerry Lawler, on camera, talked about Triple H and Randy Orton's bubbling feud. They then aired the same video package they showed at the top of the show.

-Randy Orton walked out with Ted Dibiase, Cody Rhodes and a cadre of lawyers and security. Lawler noted that security was armed. I guess Orton's decision about who he will face at Wrestlemania will take place next.

[Commercial Break]

Orton said he is challenging the winner of tonight's Edge vs. John Cena title match. Nothing from the crowd on that one. He said most would assume that he'd challenge Triple H for the WWE Title, but HHH isn't going to Wrestlemania; He's going to jail. He said he was pressing charges against Trips tonight after HHH committed assault with a deadly weapon. Orton said if HHH got to him last week, he could've ended his career, not to mention his life. He told Trips it was time to face the music and invited him, if he had anything to say, to come out and say it. Because soon, he'll be going away for a long time.

"Time To Play The Game" hit and Trips came out, sledgehammer over shoulder. Triple H said Orton's doctors and lawyers say Orton has a disease called IED. HHH said while Orton may not be in control of his actions, he said he was in complete control of his. He walked to the ring as security scurried to get in front of Orton inside the ring. HHH dropped his sledgehammer at ringside and proceeded to enter the ring. Trips said Orton needs the story to end by beating him at WM for the WWE Championship. He said Orton needs to avenge the moment that defines his life- getting dropped from Evolution. He said he's never been a good person and wasn't happy for Orton's success. The Game said he made a conscious decision and he took what was his. Trips said Orton needs to beat him, but Orton made the decision to run from him because he's afraid. Trips was right in his face and told Orton to look at him. Trips said Orton knows deep down that he doesn't have what it takes. HHH said Orton is the same kid that was carrying his bags around in Evolution. He said Orton had all the talent in the world but was gutless. The lawyer stepped in and said his client has nothing more to say to him. The lawyer said security will remove him from the ring.

They gathered around Triple H and were about to take him out of the ring when Orton ordered them to let him go. Orton said he thinks he's changed his mind and won't be facing Edge or John Cena but will face HHH.....under one condition: They settle this at Wrestlemania and neither of them will have physical contact with each other, unless provoked, between now and then. If Trips touches Orton, Orton said the match will be off and HHH will spend WM in jail. As Triple H was walking to the back, Orton got on the mic and said since they're getting personal, he just wanted to say that it felt great to beat up Vince and Shane.....but when he hit that RKO on Stephanie.....he replays that over and over in his head. He said he can still smell her scent and that her skin is so soft. He wondered what the last thing Steph remembers is after he slammed her face to the ground. HHH had enough and charged back into the ring where he and Orton went forehead-to-forehead. Trips reminded Orton that the last time they fought in the ring, Triple H broke Orton's collarbone. He said that was just business, but this is personal. He yelled that he'd break Orton's neck. Well, that was long. I'm sure they banked on that being the money segment to set up the match and it was pretty effective with some nice call-backs to past history.

-They plugged Cena vs. Edge for the World Heavyweight Title tonight.

-Next, Kozlov and HBK fight for the right to challenge Undertaker at WM. Taker's response: "I'm gonna pass.....I'm taking on Kizarny!"

[Commercial Break]

(3) Shawn Michaels vs. Vladimir Kozlov- Winner Challenges Undertaker for a Match at Wrestlemania
They aired clips of Kozlov's win over Taker on Friday night. Kozlov tried to go low on HBK with some success. Sunset flip by Michaels, but Kozlov simply pulled him off the mat and into a bear-hug. He then went after Kozlov's knee. HBK locked in the figure-four, but quickly reversed it. Kozlov tried to lift Michaels into the air but Michaels got out of it and went to the outside for a breather. Two minutes in and time for break.

[Commercial Break]

Kozlov laid in the shoulders to HBK's gut out of break. Flip sell of the whip into the buckle by Shawn, then Vlad dropped him chest first onto the top rope. Headbutts to the kidneys ensued. Powerslam found the mark, but Michaels kicked out at two. Back-breaker from the Russian. Torture Rack by Kozlov. Even HE'S yelling "ask him!" now! Michaels punched out of it but ran into a back elbow from Kozlov. Another bear-hug but again HBK fought out of it. Shawn hit the ropes but Kozlov belted him with a headbutt into the chest. Cover got two. Kozlov set HBK on the top rope and it looked like he'd try a throw, but Shawn predictably fought out and pushed Kozlov backward and to the mat. Flying elbow off the top landed and HBK started to get pumped up. He set up for Sweet Chin Music, hit it and got the pinfall.

Winner: Michaels, at 10:38. Well, HBK did it, carrying Kozlov to a good match.

As Michaels celebrated, the lights went out and Taker's music played. Taker came out onto the stage and stared at Shawn. He made the throat-slash gesture. Is that his way of accepting?

-Cole talked about the names for this year's Hall-of-Fame that have already announced, and we'll get one more next.

[Commercial Break]

-They showed the outside of TD Banknorth Garden, where a winter storm has taken its toll in the city.

-Cole and Lawler talked about John Cena's movie "12 Rounds," and they aired a trailer, different than the one they have been showing at least.

-They then sent it to a video package on the next inductee into the class of 2009 WWE H.O.F: Cowboy Bill Watts. What was that press conference they showed him speaking at that had the WWF logo on the microphone I wonder? A WM one from back in the day maybe? Jim Ross will be inducting him.

-Todd Grisham was backstage with Edge. Grisham insinuated Edge was putting the title on the line against Cena now because Cena suffered a concussion against Big Show on Friday. Edge didn't like Grisham's tone and said he'd always been planning to fight Cena tonight. He also said it has been Cena that has begging for shots at the title. Edge seemed confident he'd retain.

[Commercial Break]

(4) Edge vs. John Cena- World Heavyweight Championship Match
On a loaded show like this, they couldn't save this match for Smackdown? The announcers pondered the condition of Cena going into this match. Edge wrenched a side headlock on Cena, then took him down. Cena flipped Edge over the top rope and to the outside. Final ad break of the night.

[Commercial Break]

Edge was in control as the match returned from break. He worked on the head and neck area of Cena. The pace was slowed as Edge was content to just slowly decimate the challenger. Cena dodged a clothesline and came back with two shoulderblocks and a slam. He did the "you can't see me" as they showed some young kids in the crowd following along. He missed the fist-drop and Edge took over. Cena tried a sunset flip to no avail. Edgecution was countered into a roll-up for two. Edgecution was then hit and Edge got two off of that. Edge to the top where Cena caught him and put him on his shoulders. Edge got out and pushed Cena over the top rope and to the floor at ringside where Cena's head bounced off the ringside mats. Cena hopped back into the ring at nine. Eh, I would've preferred the count-out there I think. Face-buster by Cena, then to the top where he hit that God-awful legdrop on the bent over Edge. Five-Knuckle Shuffle landed and he put Edge up for the Attitude Adjustment. Edge broke free and put Cena in the Sharpshooter. Cena got to the ropes to break the hold. But the damage had been done and Edge lined up for the Spear. He got a running start but Cena got a drop toe-hold and locked in the STF. Edge hung on longer than Jericho to make the ropes. Both men struggled to get to a vertical base, but Edge speared Cena for two. Edge went to ringside and grabbed the belt from timekeeper Mark Yeaton. Cena lifted Edge up, and the ref grabbed the belt away. But Edge wiggled his way to the ropes, grabbed the title from the ref and hit Cena with it, drawing a DQ.

Winner: Cena, by DQ, at 12:23. Don't know why they gave that one away for free, though they did have the storyline of Cena being hurt, so I'm sure they'd wrestle a different match at Mania.

In a nice bit of camera work, as Edge sat on the top of the ramp with his title, Big Show walked up next to him, but you could only see his boots. Edge tried to get Show to help him up but Show kept staring at Cena. Then Vickie Guerrero came out. She introduced the #1 Contender for the World Title at Wrestlemania, The Big Show. Edge looked shocked, Cena looked dismayed, Show looked happy.
Promote this thread!
yamcha
Mettwurst



Since: 21.6.07
From: ....here?

Since last post: 3172 days
Last activity: 3130 days

#2 Posted on | Instant Rating: 0.82
You got to hand it to superfly not many people can sell getting hit with cardboard like that.

(edited by yamcha on 2.3.09 2213)
BigDaddyLoco
Scrapple



Since: 2.1.02

Since last post: 92 days
Last activity: 91 days

#3 Posted on | Instant Rating: 3.21
I liked the Jericho segment and the MitB qualifier was a lot of fun to watch.

The Randy Orton/Triple H interview was longwinded and took itself too seriously. This thing could have ended about 50 different times before it finally came to a anticlimatic close.

HBK couldn't shine a turd, but he tried.

Edge/Cena was a good match, but it was lacking some of the bigtime feel that I think they wanted to portray.


djp
Morcilla



Since: 16.2.07
From: 3rd Floor, NW window

Since last post: 767 days
Last activity: 670 days

#4 Posted on | Instant Rating: 4.51
I noticed this thread wasn't titled, 'HBK pins Koslov clean on Raw!'

I don't think Vlad was getting the hint from Shawn's forearm shots. HBK finally pie-faced him as if to say, 'YOU GO DOWN NOW!'

Anyone know the story behind Jericho's booboo?


odessasteps
Scrapple



Since: 2.1.02
From: MD, USA

Since last post: 1705 days
Last activity: 1672 days

#5 Posted on | Instant Rating: 7.29

Watts was briefly a WWF vice president, so that could be what the press conference is from (having not actually seen the clip yet).


---

Mark Coale
Odessa Steps Magazine
The Affirmation, Baby Blog
JustinShapiro
Scrapple
Moderator




Since: 12.12.01
From: Pittsburgh, PA

Since last post: 294 days
Last activity: 127 days

#6 Posted on | Instant Rating: 8.32
Originally posted by geemoney

---

I thought for sure, since he interrupted Lawler, Jerry would interrupt and make the save or something, setting up a match for Jericho and Lawler at Wrestlemania.

---


It's coming. But Jericho still has to call Sgt. Slaughter a turncoat and Dusty Rhodes polkda dotted.



Originally posted by JustinShapiro

---

I think the next step is they'll announce Show and Edge as the fake title match for Mania. Basically going the route of Wrestlemania 2000 with Show as Show, Cena as Rock, Edge as Triple H, and Stephanie as Vickie. But the difference is that this year will end up as the rightful singles match instead of a fourway with Show, Cena, Edge, and Ric Flair.

---


spoilers: I am Freddie Prinze Jr. But now I think we are going to get a threeway. :-/ Which would kind of stink. We just had one last year.
shawnpatrick
Kishke



Since: 31.7.07
From: Leesville SC

Since last post: 2467 days
Last activity: 2349 days

#7 Posted on | Instant Rating: 0.00
(deleted by CRZ on 2.3.09 2258)
CruelAngel777
Sujuk



Since: 7.4.02

Since last post: 924 days
Last activity: 907 days

#8 Posted on | Instant Rating: 2.18
Originally posted by djp

---

I noticed this thread wasn't titled, 'HBK pins Koslov clean on Raw!'




---


BUT IT WAS WITH A BLOODY POWASLAM.....wait.

I didn't watch RAW tonight as I got carried away with Mass Effect. I'm glad the Kozlov v. HBK match didn'thave the same disappointing fate.
John Orquiola
Scrapple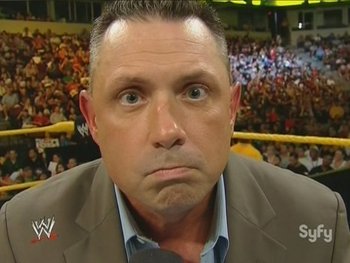 Since: 28.2.02
From: Boston

Since last post: 1694 days
Last activity: 1694 days

#9 Posted on | Instant Rating: 4.37
Just got back from the Garden. Some thoughts:

Dark match was Kofi Kingston beating William Regal in about 6 minutes with Trouble in Paradise.

The cardboard sell from Snuka was hilarious. He acted like a truck ran over him. The segment didn't have the heat of Piper or Steamboat but that was because both of those guys cut money promos on Jericho, which Snuka is just incapable of doing.

I was so happy to see Maryse (first time live for me and completely unexpected) I can't even tell you. If Maryse vs. Melina Champion vs. Champion is this year's Smackdown vs. RAW Umaga vs. Batista match at WrestleMania, that's 100% fine with me.

HBK was not happy with the pop he got. It was pretty subdued. He pantomimed to the crowd that "we were asleep".

The best part of Undertaker's cameo was after the cameras went off the air. Suddenly Taker spun around and ran to the back with his coat billowing behind him like Batman running to the Batpole.

When Orton and his entourage came out there was a commercial break during which "Voices" played for about five minutes in a continuous loop.

The Edge vs. Cena match ruled live. A first class main event in Boston. I popped hard for Edge busting out the Figure Four Edgelock.

Dark match was Show coming out to make fun of Cena for coming up short in Boston. But I didn't stay to see the match. Just saw it three days ago and there was traffic to beat.

Super fun show to attend live. They moved the major WrestleMania angles forward. That and the World Title match made the show feel like a big deal.
Shem the Penman
Toulouse



Since: 16.1.02
From: The Off-Center of the Universe (aka Philadelphia)

Since last post: 1841 days
Last activity: 1639 days

#10 Posted on | Instant Rating: 4.25
I wonder what Sim Snuka thought of this week's installment of Chris Jericho, Legend Killer.



---

"The object of persecution is persecution. The object of torture is torture. The object of power is power. Now do you begin to understand me?"
used2bcool
Merguez



Since: 5.11.08
From: Ashland, MA

Since last post: 233 days
Last activity: 205 days

#11 Posted on | Instant Rating: 4.87
Chris Jericho v Sim Snuka and Jerry Lawler, Handicap Match, Wrestlemania. Book it!


---

Forfeit the game, before somebody else takes you outta the game, and puts your name to shame
Cover up your face, you can't run the race
The pace is too fast, you just won't last
- "Points Of Authority" - Linkin Park
Big Bad
Scrapple



Since: 4.1.02
From: Dorchester, Ontario

Since last post: 60 days
Last activity: 60 days

#12 Posted on | Instant Rating: 4.75
Underrated highlight of the night...Lawler referring to a 'vintage Shawn Michaels' move during the Iron Man match. Somewhere, Cole weeps.


---

Kirk, crackers are a family food. Happy families. Maybe single people eat crackers, we don't know. Frankly, we don't want to know. It's a market we can do without.
ekedolphin
Scrapple



Since: 12.1.02
From: Indianapolis, IN; now residing in Suffolk, VA

Since last post: 2 days
Last activity: 21 hours

#13 Posted on | Instant Rating: 1.98
...Wait. Orton said he's challenging Triple H for the WWE Title at WrestleMania and they can't have any physical contact until then, otherwise
Orton
is canceling the match? Therefore, um, he
won't
get his WrestleMania title shot? Is that supposed to be some kind of threat?
(edited by ekedolphin on 3.3.09 0304)
---
"I don't want to see this foolishness!"
"What kind of foolishness do you want to see?"
--Sam the Eagle and Gonzo, Muppet Vision 3-D
Fan of the Indianapolis Colts (Super Bowl XLI Champions), Indiana Pacers and Washington Nationals
Certified RFMC Member-- Ask To See My Credentials!
Co-Winner of Time's Person of the Year Award, 2006
Super Shane Spear
Bierwurst



Since: 2.1.02
From: Sector 7 Slums

Since last post: 3169 days
Last activity: 3169 days

#14 Posted on | Instant Rating: 5.24
Randy said that if he has to cancel his title shot he would press charges and make sure Hunter is in jail for Wrestlemania. I'm sure in his mind, as the #1 contender, should HHH "happen" to be in jail he could just go to Vickie and say "Belt Plz Kthx."


---

When Orton and his entourage came out there was a commercial break during which "Voices" played for about thirty-five minutes in a continuous loop.

---


For parties of six or more, the theme music should always be "Battle Without Honor or Humanity." Go hard or go home.

(edited by Super Shane Spear on 3.3.09 0026)
oldschoolhero
Knackwurst



Since: 2.1.02
From: nWo Country

Since last post: 3564 days
Last activity: 3498 days

#15 Posted on | Instant Rating: 9.00
I can't beleive all these awesome promos are building to a fucking Lawler match. At least talk Steamboat into a comeback. Throw in the IC title, it'd be a nice little tribute. Five weeks out, and there's only one WM match that actually interests me. And even that was done to near-perfection eleven years ago.


---
"And here...we...go."
JimBob Skeeter
Bierwurst



Since: 2.1.02
From: MN

Since last post: 4 days
Last activity: 4 days

#16 Posted on | Instant Rating: 4.61
Orton needed to take some advice from Seamus McFly and just let it go.
Lawler's "vintage Shawn Michael's!" during the flashback made me laught, too.
Now that I think about it, we all owe Orton thanks for taking the McMahon's off our tv. Thank you, Randy! Orton better have the belt at the end of WM25.
Maryse really does suck, doesn't she. This is the first time I saw her. Nice to look at, but GOOD GAWD, does she suck on the mic. Looked like she botched up that ddt-thingy on Melina, too.
Snuka deserves an Oscar more than Rourke for his sell job.
*golf clap*
It also was funny watching Jimmy kneeling there, just waiting for something to happen to him, and the crowd having NO reaction for him. Maybe Jericho has a point.
;-)


-edit- I forgot the biggest part of the show! Appleton, Minnesota's own Brad Rheingans made it onto Raw! YEAH!!!!!!!! (Watts was wrestling him during one of the flashbacks). Brad Friggin' Rheingans. I love it.


(edited by JimBob Skeeter on 3.3.09 0725)
Spiraling_Shape
Bierwurst



Since: 2.1.02
From: PA

Since last post: 1 day
Last activity: 1 day

#17 Posted on | Instant Rating: 0.74
You do realize that Jericho literally Broke The Walls Down, right?

When was the last time we had a C.M. Punk-less RAW? Just because he got into MITB last week means he isn't necessary this week?

Not much reaction to the Show being officially added to the WM Main Event mix...maybe because he's been yanked around so much in the past year. I can't remember one solid ongoing feud he had, aside from the Taker...


---

"I don't fight people with the fallopian tubes."
ges7184
Lap cheong



Since: 7.1.02
From: Birmingham, AL

Since last post: 312 days
Last activity: 300 days

#18 Posted on | Instant Rating: 5.78
Originally posted by ekedolphin

---

...Wait. Orton said he's challenging Triple H for the WWE Title at WrestleMania and they can't have any physical contact until then, otherwise Orton is canceling the match? Therefore, um, he won't get his WrestleMania title shot? Is that supposed to be some kind of threat?

(edited by ekedolphin on 3.3.09 0304)

---


Speaking in storyline terms, I would assume that Orton would instead opt to go after the World Title. I think that logic works fine, at least until there is a contract signing.


---

The Bored are already here. Idle hands are the devil's workshop. And no... we won't kill dolphins. But koalas are fair game.
Tenken347
Knackwurst



Since: 27.2.03
From: Parts Unknown

Since last post: 13 days
Last activity: 11 hours

#19 Posted on | Instant Rating: 5.03
Look, I see how they were using Koslov to advance the Michaels/Undertaker match, but it really seems like a waste of an undefeated streak. Breaking that streak could have been a real boost for a new guy (personally, I would have fed it to Jeff Hardy after he won the title. Even transitional champs need the air of legitimacy), but Michaels/Undertaker didn't need it. The match mostly sells itself. That first loss should have come from a guy who needed it more.

(edited by Tenken347 on 3.3.09 0602)
redsoxnation
Scrapple



Since: 24.7.02

Since last post: 2056 days
Last activity: 2056 days

#20 Posted on | Instant Rating: 4.86
Considering the flow of the match, Michaels should have found a way to win with a small package in a reversal of a power move. Instead, 98% Koslov, then flying elbow/superkick.
Nice to see Watts get in, but it should be a DiBiase or a Duggan or even a Koslov that introduces him, not Ross. At the lowest moment of The Cowboy's life, Jim Ross did not attempt to rescue him. Instead, he tried to use it as a moment of self-aggrandizement. Hell, even Erik Watts tried to help the Cowboy, but not Good Ol' JR. http://www.youtube.com/watch?v=6GCvqU_XDC8. Do I miss Eddie Gilbert.
Since they made skull contact, shouldn't Orton now be pressing charges?

(edited by redsoxnation on 3.3.09 0957)
Pages: 1 2 Next