geemoney
Scrapple



Since: 26.1.03
From: Naples, FL

Since last post: 1 day
Last activity: 7 hours

#1 Posted on | Instant Rating: 7.51
TONIGHT: And now for something completely different: Edge is your new World Heavyweight Champion. What will happen on his first Raw as title-holder? Speaking of titles, the Womenís Title will be defended by Melina against challenger Beth Phoenix. Other than that, WWE.com doesnít have much else to say on the show. Some sites say WWE is advertising a six-man match with CM Punk & Cryme Tyme taking on Team Priceless and William Regal, plus Rey Mysterio vs. Mike Knox (donít know where they got those matches from though). We can expect some follow-up to JBLís loss to HBK as well as perhaps Randy Orton choosing who heíll face at Wrestlemania?

-WWE Open.

-Live in the arena, Lilian Garcia introduced the General Manager of Smackdown, Vickie Guerrero. She walked out onto the stage amid many a jeer. She introduced the new World Heavyweight Champion, Edge. The Rated R Superstar came out and walked hand-in-hand with Vickie to the ring. Edge told the fans that the ďRĒ in Rated R Superstar stands for ďremarkable.Ē Or perhaps ďresplendent.Ē Or ďreally really smart.Ē ďYou suckĒ chants from the crowd. Edge said that after he lost in the first Chamber Match last night, he couldíve packed it in for the night; but thatís something all the fans wouldíve done. He called them failure turtles who wouldíve curled up in their shells of disappointment. Interesting metaphor. He said all the fans were calling him a loser but all the fans were wrong. He even went to ringside and pointed at fans yelling ďwrong!Ē in their face. What a heel. He said Jesus turned water into wine and he turned the WWE Title into the World Heavyweight Championship. Vickie started talking and was drown out by boos. She said Stephanie accompanied her brother to the hospital last night, making Vickie the highest ranking official in charge of the night. Vickie said that when Kofi was unable to perform in the Chamber, she needed to find a suitable replacement. After speaking with the WWE Board of Directors, Edge is the new World Champion. Some Board of Directors they are. Vickie and Edge then started making out in the ring like their plane was going down. But John Cenaís music put a halt to that.

Cena came to the ring to stand face-to-face with the new champ. Cena told Edge congratulations and that nobody thought he couldíve pulled it off, but he did. Cena mocked Orton, saying some people would come out and want the Chamber match thrown out, file a lawsuit or try to stop Wrestlemania. Cena said Edge won fair and square. Cena gave Edge a few more ďRís,Ē including ďreally really lucky,Ē ďright place, right time,Ē and ďrematch.Ē The last one got the biggest pop. Edge said he participated in two Chamber matches in one night, something no one else has ever done, so heís not competing tonight and maybe not for a month. Edge said if Cena wants to see them again, theyíll be on Smackdown. Cena said Edge is right, he doesnít want Edge to have any excuses. He told Edge to say hi to Festus and Funaki when he goes back to Smackdown, then made a joke about Edge and Vickie ďtogether.Ē Cena said officially, he does have a rematch. Edge made fun of Cenaís wit and then he gave Cena a history lesson of what has gone on between the two in the past. He told Cena, ďthe champ is here.Ē He tried to walk away but Cena grabbed him by the shirt and spun him around. Cena said if Edge tries to hide, heíll find him and if he tries to run, heíll catch him. He reads his lines like heís in a movie or something; sounds very rehearsed, especially the last ones. Michael Cole discussed what happened at No Way Out, then sent it backstage.

-Shane McMahon addressed the camera and said that heís going to the ring tonight and he and Randy Orton are going to settle things tonight until one of them isnít moving. Unsanctioned brawl, one-on-one. This ends tonight. I thought it ended when Shane wasnít moving LAST night. This nightmare continues!

[Commercial Break]

(2) Cryme Tyme & CM Punk vs. Cody Rhodes & Ted Dibiase & William Regal
Punk started the match with the son of the son of a plumber. He slapped Punk, so Punk slaped Rhodes with his foot. He hit the GTS on Rhodes and Regal interfered to break things up while Dibiase pulled Rhodes out of the ring. The match was re-set as they went to break.

[Commercial Break]

Back to the show where Punk fended off Regal on the apron while Dibiase took advantage of the distraction. Regal tagged in and struck Punk in the face with several knees and covered Punk for a two-count. Rhodes tagged in and worked over Punk. Punk turned the tide and tagged in JTG, who took out everyone in his path. Shad took out Regal as William tried to interfere. As JTG was distracted by Rhodes, Dibiase hit his new finisher, Dream Street, a variation on his previous one, for the win.

Winners: Dibiase & Rhodes & Regal, 8:05. Entertaining tag match that got a good amount of time.

-Stephanie McMahon was chastising her older brother for challenging Orton. She told Shane to wait a week as he was just in the hospital last night. He said this ends tonight, whether Orton wants it to or not. SuperShane is at it again.

[Commercial Break]

-Cole and Lawler plugged the Womenís Title Match later in the show.

-Chris Jericho was in the ring for a promo. He noted that the Academy Awards are this Sunday and told voters not to vote for Mickey Rourke. He said that if Rourke wins, a message would be sent to all the legends, the washed-up has-been losers, looking for one last chance for success. Jericho said heís the only one with enough courage to tell them that it wonít happen. Jericho said the fans cheer the legends, because theyíre just like them. Jericho called himself an honest man and said heíd continue to tell the truth, but then ďRowdyĒ Roddy Piperís music hit, and the Hall-of-Famer came out.

Piper said he was going to ďshootĒ with Jericho on this one. Oh jeez. He said heís watched Jericho his entire career, and he liked him. Piper said Jericho said whatís on his mind, then came in the ring to back it up; reminded him of someone he knows. Piper said now, heís on TV, running his mouth, calling out legends. He said Jericho used to be entertaining, then asked what happened. Piper used one of Jerichoís quotes against him: ďPlease, shut the hell up.Ē Jericho told Piper to dance like a puppet on a string and make the fans dance for him and Piper told him he wasnít finished yet. Piper said Mickey Rourke is his friend and he saw the movie and he cried. Piper said the movie is about the honor and respect they have for everyone; about the pain, physically and emotionally; and the thrill of performing. Piper was getting choked up throughout this. He said people come up to him and reminisce about his career. He said Jericho wants to bury these moments. Roddy talked about being in the Rumble last year and for one second, he felt like he was in the first Wrestlemania. He said for him, that was the thrill of a lifetime. Piper said he hurts all the time, but as long as the fans say so, heíll crawl to the ring on his hands and knees to give them one more memorable moment, because old school is cool. Jericho kicked him in the knee, then pushed him down. He kicked Piper in the gut. Jericho yelled at Piper and told him to crawl like he said heíd do. The refs tried to help Piper up, but he wasnít having it. A very un-Piper promo (no yelling and screaming), but it was perfect. I got goosebumps.

-And it gets followed up with Todd Grisham, backstage with Randy Orton. Orton said he has no problem fighting Shane and doesnít like the implication that he needs the rest of Legacy to beat up Shane. Shane said they wonít be around later and said if Shane wants to go until someone isnít moving, he can make it happen.

[Commercial Break]

-A Wrestlemania IX video package aired.

-Jamie Noble was in the ring, and with a mic. Didnít he go to ECW? He said the day after No Way Out is the start-up for Wrestlemania. He said heís never been in a MITB match and never danced in a chorus line with Liberace. But he wants his Wrestlemania moment- heck, he couldíve lasted longer than Chavo Guerreroís nine seconds. Then Kane, came out.

(2) Jamie Noble vs. Kane
Noble fought at Kane, but was brushed aside and chokeslammed. The pin....academic.

Winner: Kane, at :16. Well, he beat Chavoís time. Not sure if this will lead to anything.

-Cole and Lawler talked about what happened last night with JBL and Michaels. JBL was then walking backstage with a shiner, anc Cole said he has a historic announcement next.

[Commercial Break]

-In an unsanctioned fight later tonight, Randy Orton faces Shane McMahon.

-JBL came out. He said after last night, HBK is no longer working for him. He said Shawn Michaels is now financially stable, and he could care less. He bragged about having more money than Shawn will ever have and more money than the fans combined will ever have. Thatís a lot. JBL said he thought it was his destiny to be champion at Wrestlemania. But after last night, he had an epiphany. His goals were too small. He said his goal is immortality. He said at Wrestlemania, he has a chance to do something no one else has ever done: Beat Undertakerís streak at WM. He said his date with destiny is to defeat Undertaker and when he does, people will recognize him as the greatest wrestler of all ti....but before he could get the last syllable out, HBK came out.

Lawler said Michaelsí smile was back and Shawn showed a ton of energy for the first time in months. HBK said last night, he had an epiphany too. He canít spell it, but he had one. He said he is no longer Shawn Michaels, employee of the month or Shawn Michaels, struggling conflicted family man. He said heís now Shawn Michaels the Showstopper, the Headliner, the Main Event and Mr. Wrestlemania. He said seeing Wrestlemania on the horizon made him realize heís living heaven on earth. He said thereís no better person to face Undertaker than the main who revolutionized the Ladder Match at Wrestlemania, the man who wrestled for an hour to win the title at Wrestlemania, etc. He said if thereís anyone that ought to face Taker at WM, JBLís looking at him. JBL said HBK being able to pay his bills seems to have given him a resurgence of manhood. JBL said beating Taker is his destiny, not Shawnís. Shawn told JBL he canít tell him what to do anymore. So he challenged JBL to a match where the winner earns the right to challenge Undertaker at Wrestlemania. Bradshaw accepted and HBK said they were doing business one more time. Michaels said itíll be a little different, and poked his finger into JBLís chest like JBL did a few weeks ago. HBK said JBL would be lucky to even make it to Wrestlemania. Good promos, but will they have JBL lose twice in a row to HBK? I was hoping JBL would address Rebecca hitting him too.

-They aired a video package on Randy Ortonís actions since punting Vince McMahon.

-Shane McMahon was backstage ďgetting readyĒ for the match, which was just pacing back and forth.

[Commercial Break]

(3) Rey Mysterio vs. Mike Knox
Knox bullied Rey down to the mat at the outset. He picked Rey up, but Rey wiggled out and avoided a big boot. He did get caught with a hard clothesline though. Mysterio tried to come back again, but Knox pancaked him and threw Rey outside the ring, sliding him under the bottom rope and landing with a thud.

[Commercial Break]

Knox continued on offense out of break. Knox missed a charge, but Reyís retaliatory kicks and punches didnít have much effect. Tilt-a-whirl back-breaker by Knox got a near-fall. Hard whip into the buckle by Knox. Bearhug applied by Knox after he seemed to not be sure what to do next. Mysterio came back with a bulldog and an enziguiri. 619 by Mysterio. Knox dodged the springboard, then caught Rey on another attempt and put him in the Tree of Woe. Knox tried to do some damage but referee Chad Patton kept backing him away. Knox missed a shoulder charge and Rey rolled Knox up for three.

Winner: Mysterio, at 9:44. The standard big man vs. little man match, which Rey has perfected; could this finally be the end of the feud?

-Beth Phoenix was walking with her entourage, headed to the ring to try to re-gain the womenís title. Santino shaved the beard and looks....well, a little less masculine.

[Commercial Break]

(4) Melina vs. Beth Phoenix- Womenís Championship Match
Beth wasnít happy with Santinoís lack of focus on the way to the ring. Beth powered Melina into the corner and took her down hard. She went for a few quick pin attempts. Irish whip with authority on Melina. She used the ropes to spring Melina back on a suplex. She tied Melina up in a submission hold. Melina finally got some offense in, but fell victim to a back-breaker. Melina got dumped on the apron, where Beth kicked her to ringside. Rosa Mendes kicked Melina on the outside. Mickie James, Candice Michelle and Kelly Kelly came out and fought off Rosa and Santino. Beth was distracted by that, and Melina took advantage with a roll-up for the win.

Winner: Melina, at 2:52. I didnít mind the fluke win by Melina with Beth getting the offense.

-Cole and Lawler talked about the 2009 Hall-of-Fame class. Cole sent it to a video that revealed the second inductee into this yearís class. With no hype? It was the Funks, Terry and Dory. They will be inducted by Dusty Rhodes.

[Commercial Break]

-Lawler thanked Saliva for the use of their song for No Way Outís theme.

-They showed what happened earlier tonight between Edge and John Cena.

-Stephanie was on her phone again backstage, saying she tried to talk Shane out of the match. She then told the person to hurry and asked where they were. Then she lost the signal. Gotta be Triple H, leading to Orton vs. HHH at WM.

[Commercial Break]

-They plugged JBL vs. Michaels for next week, with the winner challenging Undertaker at WM.

(5) Shane McMahon vs. Randy Orton- Unsanctioned Match
I guess this is ďlooselyĒ a match and for the sake of the lack of wrestling on the show tonight, Iíll call it one. Probably no bells, so Iíll count when they touch as the start of the match. The end? Weíll see. Shane went right after Randy up the ramp and took him over the barricade into the front row. He clotheslined (and thatís being generous) Orton after jumping off the top of said barricade. He took Orton right over in front of the tech crew and slammed him into the table. Bottled water to the head! Heís harcore! Heís hardcore! Kidney punches by Shane, but Orton came back with punches of his own and a European uppercut. Hard right hand by Orton and he flipped Shane back over and to ringside. He bounced Shaneís head off the announce table and then off the steel steps. Orton kicked Shane a couple times in the chest. They finally made it to the ring three minutes into the brawl. Oh, I thought he was going for a chin-lock there, not a good idea in a street fight. He knocked Shane to ringside and backed him hard into the apron. And again. Orton waited....and then Shane attacked, knocking Orton over the announce table where Shane laid in the punches. He grabbed the ring bell and knocked Orton in the skull with it. The fans at ringside were very into it. Shane pulled Orton over and tossed him into the ring, setting Orton in the corner. He hit Orton with the ring bell again.

Shane got a chair and set it up for the Van Terminator. As Shane went to the top, Dibiase and Rhodes came out and pummeled Shane. So Orton couldnít beat Shane on his own. Again. Cody gave Shane the Cross-Rhodes as Orton crawled over to the duo. He backed them away and set up for the Punt. He hit it beautifully. I think Orton won.

Winner: Orton, at 8:42. Ridiculous that Orton couldnít beat Shane alone, but it couldíve been much worse. I pictured HHH coming down to save Shane, taking out Team Priceless AND Orton in the process.

Stephanie McMahon came out and tended to her injured brother while the medics did so as well. She started walking toward Orton when Randy RKOíd her out of nowhere. He looked on with shock at what he just did. Triple H finally came out and ran off The Legacy. He knelt over Steph and shook in anger as the medics put Shane on a backboard. That is ONE angry face Trips was making. He stood and stared at Orton, who was on the rampway, to close the show.
Promote this thread!
odessasteps
Scrapple



Since: 2.1.02
From: MD, USA

Since last post: 1680 days
Last activity: 1647 days

#2 Posted on | Instant Rating: 7.32
Orton's face turn = complete

Hunter's over-acting deserves a Slammy.

Shane deserves a punt for getting juice hardway on Orton two days in a row.

Also, good night for the other big heels. Edge and Jericho both did tremendous promos.

(edited by odessasteps on 16.2.09 2315)

---

Mark Coale
Odessa Steps Magazine
The Affirmation, Baby Blog
Mayhem
Scrapple



Since: 25.4.03
From: Nashville, TN

Since last post: 547 days
Last activity: 432 days

#3 Posted on | Instant Rating: 5.15

That final segment was done perfectly ... all I really know to say about it. Triple H's head almost exploded.
Hokienautic
Lap cheong



Since: 2.1.02
From: Blacksburg VA

Since last post: 20 days
Last activity: 19 hours

#4 Posted on | Instant Rating: 0.66
By the way, for those who haven't gone to wwe.com for Santina's Casa, his Secret Admirer was ...

Goldust.
John Orquiola
Scrapple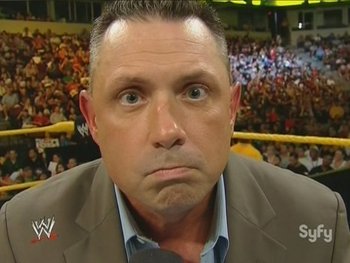 Since: 28.2.02
From: Boston

Since last post: 1669 days
Last activity: 1669 days

#5 Posted on | Instant Rating: 4.00
And there we have it. The main angles of WrestleMania all laid out before us.

Edge and Cena were great together. Cena getting angry and intense at the end worked really well. Not overtly stating when the rematch would happen because there's going to be a bit of a chase (literally to Smackdown) for Cena, but they made it clear without stating it outright.

Piper gave an excellent heartfelt promo, topped only by Jericho attacking him and telling him to crawl. Both guys were going for Oscars themselves.

For all the bitching and moaning about "why" Undertaker and Shawn Michaels would happen, it took one simple promo to lay it all out very plainly. The Streak is worth ending, to do it means immortality. HBK vs. JBL one more time for the honor of laying down for the Undertaker in Houston. So clean and simple, with no unnecessary heel turns. Keeping it simple, making it about wanting the honor of beating the legendary Undertaker at WrestleMania was the best way to go.

Finally, Shane was kicked in the head. And Steph gets an RKO for good measure! Popped for that. Then Triple H sliding out with TEARS IN HIS EYES. He wanted the Oscar Jericho and Piper are competing for. Wouldn't surprise me if they acknowledged the real-life marriage on TV next week. Why not? Everyone knows anyway.

Hell of a good RAW.
Spaceman Spiff
Knackwurst



Since: 2.1.02
From: Philly Suburbs

Since last post: 127 days
Last activity: 8 hours

#6 Posted on | Instant Rating: 4.05
Y'know, if I was JBL, I would have just taken HBK's head off w/ a clothesline as soon as he stepped into the ring, especially since HBK had that goofy grin on his face the entire way down to the ring. Clothesline, then just calmly walk to the back. At least HBK gets to ditch that horrible sad-face he's been making for the last month plus. I wonder what Taker thinks about JBL & HBK booking his Wrestlemania match for him? I imagine Taker must be sitting at home watching, and thinking "...the hell?"

And ABOUT DAMN TIME Shane ate a punt. That HHH angry-ragey face was H-I-L-A-R-I-O-U-S. I imagine a lot of people are going to get a lot of laughs out of that behind his back.

Also pretty funny to see the camera zoom in on Orton after hitting the RKO on Steph when a bunch of people jumped up in glee behind him in the crowd.

(edited by Spaceman Spiff on 16.2.09 2334)
---
RecklessEric
Head cheese



Since: 23.1.02
From: Maine

Since last post: 396 days
Last activity: 396 days

#7 Posted on | Instant Rating: 0.00
No matter how shitty I feel about wrestling in general, I still love this time of year. The build to Wrestlemania is always an exciting time of year. And this year is no exception.





---

Spiraling_Shape
Bierwurst



Since: 2.1.02
From: PA

Since last post: 13 days
Last activity: 1 day

#8 Posted on | Instant Rating: 0.74
That little kid was sure happy that he will grow up to be "WRONG WRONG WRONG!"

At least Santino no longer has a Fake Unibrow to wear all the time.

John O. is right-on about the WM angles being laid out there.

If Jericho doesn't actually fight Rourke, perhaps this parade of Hall of Famers (Flair, Piper, etc.) will lead to a match with one of them...maybe a Texan being inducted this year? Or just that guy who deserves an Oscar in six days.


---

"I don't fight people with the fallopian tubes."
PeterStork
Sujuk



Since: 25.1.02
From: Chicagoland with Hoosiers, or "The Region"

Since last post: 1399 days
Last activity: 1162 days

#9 Posted on | Instant Rating: 4.65
ANGRY FACE~!

I was almost in tears, there was so much laughter. Not in a good way. It's waaaaay early, but so far WM isn't exciting me.



---

exit 670 dot com | digital route 66
It's False
Scrapple



Since: 20.6.02
From: I am the Tag Team Champions!

Since last post: 308 days
Last activity: 102 days

#10 Posted on | Instant Rating: 2.33
I don't think that "biggest pop of the show" was the reaction they wanted Orton RKO'ing Steph to have. And what can you say about Triple H's angry face? It looked like he was about to Hulk Up.

HBK/JBL II isn't exactly a good selling point for next week's Raw. What do you do with the loser at WM? A Triple Threat or Special Ref situation shouldn't apply to a UT WM match anymore. I'm waiting to see where it goes.

I am SO not about to buy WM for Orton/HHH Part 1,653 and Edge/Cena Part 1,492. That better be a hell of a MitB match they've got lined up...


---

"It's worth remembering that sometimes popular things are popular for a reason. Because they're GOOD or because Will Smith is in it."
Rush4Life
Kolbasz



Since: 2.1.02
From: Tacoma, WA

Since last post: 311 days
Last activity: 162 days

#11 Posted on | Instant Rating: 5.55
As much as everyone is clamoring for HBK/UT for WM, I'd certainly love to see HBK in MiTB instead. Why not have the innovator of the ladder match be in a ladder match with the wick turned way up?


---

Chuck Norris drives an ice cream truck covered in human skulls.

Big Bad
Scrapple



Since: 4.1.02
From: Dorchester, Ontario

Since last post: 36 days
Last activity: 36 days

#12 Posted on | Instant Rating: 4.63
Funniest part of the night for me was when Shane had Orton down behind the broadcast table, and he attacked by....TIPPING LAWLER'S RECLINING CHAIR DOWN ONTO ORTON! OH NO!!!!!! AND THEN HE DID IT TWICE MORE!!!!! I thought WWE was moving towards a more family-friendly product! To quote Monty Python, not the comfy chair!


---

Kirk, crackers are a family food. Happy families. Maybe single people eat crackers, we don't know. Frankly, we don't want to know. It's a market we can do without.
The King of Keith
Lap cheong



Since: 4.11.02
From: Winchester, VA

Since last post: 1503 days
Last activity: 1502 days

#13 Posted on | Instant Rating: 3.56
HHH looked like a baby pooping into his diaper.

Since I was expecting a punt attempt on Stef to be broken up by HHH, the RKO was a nice surprise. I liked that a lot.

Well, I guess the people should be given what they want, and apparently they want Cena/Edge and HHH/Orton. They were hot for them.



---

Hail to the Redskins!
DirtyMikeSeaver
Bockwurst



Since: 19.5.02
From: Toronto

Since last post: 189 days
Last activity: 189 days

#14 Posted on | Instant Rating: 3.89
Can't wait for Smackdown, where HHH delivers a message something akin to this, because there's NO WAY they won't wait 7 weeks to get into the ring:

"Orton, you hurt my wife. Therefore, on Monday, you will wrestle me, no holds barred, no interference and I will kick the living hell out of you. If you try and duck out, you will be fired and because you've laid your hands on your employer, you'll have no legal leg to stand on. Even if you do duck out, I will find you and destroy you."

(Then again, Orton DID try and punt her in the head a couple of weeks ago and Hunter didn't care THEN....)



---

Kevin Kelly: "Mr. Austin, would you like to comment on Wade Keller's Take that endorsing the XFL hurts your anti-authority character?"

Steve Austin: "Oh shit, he actually said that? I thought the boys in the back were ribbing me!"

Kelly: "No, he really said that. Did they tell you the part about you sitting in the stands, looking all skeptical?"

Austin: "AHAHAHAHAHAHA. Yeah... oh man that was too much."
JustinShapiro
Scrapple
Moderator




Since: 12.12.01
From: Pittsburgh, PA

Since last post: 269 days
Last activity: 103 days

#15 Posted on | Instant Rating: 8.20
The end of that show was moneyyyyyyyyyy. Hunter needs to take "I'm devastated" lessons from Shawn Michaels, but just the fact that something hurt him for the first time ... ever made that a gigantic success.
CRZ
Big Brother
Administrator



Since: 9.12.01
From: "Éü"Éć"āĘ"ÉĚ"É™"āĻ

Since last post: 7 days
Last activity: 1 hour


ICQ:
#16 Posted on | Instant Rating: 8.86
INCREDIBLE HHHULK FACE SUXXX

I kept wondering why Sim Snuka and Manu didn't come out to even the odds. Ha ha, not really, I don't have to wonder why they didn't show up because I'm Super Smart.

I'm kinda hoping that Undertaker will listen to the winner's challenge and then say "Naw, thanks, I'm cool. I was actually thinking I'd take KIZARNY for WrestleMania.

Kizarny."


---

Hokienautic
Lap cheong



Since: 2.1.02
From: Blacksburg VA

Since last post: 20 days
Last activity: 19 hours

#17 Posted on | Instant Rating: 0.66
Originally posted by DirtyMikeSeaver

---

Can't wait for Smackdown, where HHH delivers a message something akin to this, because there's NO WAY they won't wait 7 weeks to get into the ring:

"Orton, you hurt my wife. Therefore, on Monday, you will wrestle me, no holds barred, no interference and I will kick the living hell out of you. If you try and duck out, you will be fired and because you've laid your hands on your employer, you'll have no legal leg to stand on. Even if you do duck out, I will find you and destroy you."

(Then again, Orton DID try and punt her in the head a couple of weeks ago and Hunter didn't care THEN....)


---


Wouldn't surprise me if, to avoid retribution, Orton goes into "voluntary" therapy for his anger management problems until WrestleMania and has a doctor's note forbidding him from getting into the ring. Let HHH beat the crap out of the rest of Legacy and have it build a while.
Kevintripod
Banger



Since: 11.5.03
From: Mount Pleasant, Pa.

Since last post: 37 days
Last activity: 3 hours

#18 Posted on | Instant Rating: 3.62
Originally posted by Spaceman Spiff

---

That HHH angry-ragey face was H-I-L-A-R-I-O-U-S. I imagine a lot of people are going to get a lot of laughs out of that behind his back.

---


Let the race begin to see who's the first to use a .gif of that as their profile icon pic.

Line of the night:

(Shawn poking JBL) "Don't you just hate when someone does that?"


---

The best part of waking up is not Folgers in your cup, but knowing that Chuck Norris didn't kill you in your sleep.
CruelAngel777
Sujuk



Since: 7.4.02

Since last post: 900 days
Last activity: 883 days

#19 Posted on | Instant Rating: 2.18
Because of HHH's shaking orange angry face, somewhere Paul London is smiling inappropriately.
shawnpatrick
Kishke



Since: 31.7.07
From: Leesville SC

Since last post: 2442 days
Last activity: 2324 days

#20 Posted on | Instant Rating: 0.00
What did Shad do to get no ring time at all tonight?

Everyone knew it was HHH coming out to tonight but the segment still went over well. Of course except they didn't want the crowd to cheer Stephanie being RKO'ed.

With HHH coming to Raw, the only logical move is Cena ends up on Smackdown.

What do they do with JBL after he loses to Shawn Michael's next week? How often they can keep letting JBL lose every pay per view and yet remain a viable force?

As I was also thinking, doesn't Undertaker have a say on who he faces?

Regal still gets a reaction from the crowd. Too bad he blew his chance to be a top-tier talent.

And please, just unite the two titles. US Champ/Intercontinental and the tag team titles.

No Miz/Morrison, they were by far, the hardest working two in the business, showing up 2 or 3 times a week on TV. Hopefully, they will find them a good match at Wrestlemania.

No doubt, Jericho versus Flair at WM 25 with Rourke
interfering with the match to give Flair the win. It will be the only ring appearance for Flair in the WWE this year.

MiTB prediction 5 of the 6 in the match, CM Punk, Kofi Kingston Rey Myesterio, Evan Bourne, Mike Knox, and a Smackdown roster member whom I can't figure out.

Ratings for Raw are up since the McMahon's returned to TV.
Pages: 1 2 3 Next