Well, I think that despite the fact that there's many, many things about SummerSlam I could complain about, it was a pretty good card overall. On the RAW side, the important things are that Kurt Angle regained his gold medal from Eugene, John Cena retained the WWE Championship against Chris Jericho, Hulk Hogan defeated Shawn Michaels, and Edge beat the
shit
out of Matt Hardy.
The reasoning behind the first three matches is pretty easy to figure out. We're already conjecturing that Kurt Angle will be the next contender to Cena's WWE Championship, and I only hope that Angle's pushed as an actual threat to win that belt, unlike Jericho. Hogan needed to go out on top, as sweet as it would've been for me, personally, to see Michaels win.
But I have to admit I have absolutely no idea in hell where they're going with the Edge/Matt Hardy thing. So they bring Hardy back after several months to get his ass punked out by the same guy who ruined his life? Maybe as an MFer, I would have felt better if Hardy had shown up in TNA.
I'll withhold judgment for the time being until we know more, and I'll already plan to be at the Baker Street Café for
Unforgiven,
simply because I'd love to see Kurt Angle beat the shit out of Cena.
Did they turn Michaels face last night? If so, what's up with THAT?
And in other news, WWE.com reports that tonight, Ric Flair (making his first appearance since an
awesome
match with Kurt Angle several weeks ago) will be Carlito's guest on the Cabana. I wonder if this is the prelude to the return of Triple H, or if Flair's going to fly solo, or
what's
going to happen. All I know is that, dude, the Cabana's on tonight! Dascool!
This late at night you don't need to check your e-mail again one more time. Dude, shut up, don't tell me what to do. I'd check my e-mail right now to spite you, but I'm gonna be busy for two hours.
Let Us Take You Back to last night, in which Hogan defeated Michaels, Cena defeated Jericho, Angle defeated Eugene and ended the "joke", and Edge beat the fuck out of Matt Hardy. Same as six paragraphs ago.
Why they always insist on showing the "crimson mask" in black-and-white, I dunno… as if we've never seen anyone bleed on RAW before.
No pyro, we go right to HBK's entrance, and he's getting a mixed reaction from the crowd. Wearing the same suit as he did last week in Montreal. I wonder if they actually *did* turn him face again last night—say it isn't so, Shawn! We're live from the Virginia Coliseum in Hampton. But I'm not.
We get a lot of "HBK" chants before Michaels opens his mouth. "Here I am! And as much as it hurts me to have to admit this, last night, Hulk Hogan was the better man." Cheers mixed with more than a few boos! "But you… you had to be there to appreciate it, it was amazing, it was incredible, he was cat-like, he was agile, he was nimble, he had a catch-as-catch-can style that even yours truly, the HBK SM, quite honestly couldn't quite figure out. His ring prowess was in so many ways and on so many levels superior to mine that I simply couldn't compete, and when it was over even I, the evil SM, found myself falling myself victim like so many before me to the vicious Legdrop, 1-2-3." The crowd isn't sure what to make of this, quite frankly. Insincere flattery, I think. "Now, back to our regularly scheduled programming, and back to reality! And the reality is this: HH is now on a jet back to Florida until you, the WWE fan, can give him what he wants. And I, the HBK SM, am here tonight to give you exactly what you want. The Showstopper! And with that said," There's a drumroll, and oh my God, CHRIS FUCKIN' MASTERS is coming out?! Please please PLEASE tell me that HBK isn't jobbing to this asshole tonight. And the crowd actually seems interested in booing him for once, instead of reacting with complete disgusted indifference.
Masters: "Shawn Michaels! You know something Shawn, I've always admired you. Seriously, I mean I've watched you ever since I was a kid, and I mean little kid. And come to think of it, how old does that make you Shawn? Let's face it you're not exactly the Sexy Boy anymore. When are you finally gonna give it up huh? See that's the problem nowadays, guys like you and guys like HH don't know when it's time to step down and pass the torch." HBK: "Whoawhoa, I was feeling you for a moment until you put me into a class with HH. That was below the belt, brother! You're talking to the Showstopper, kid, no one appreciates what you're trying to do more than I." He accuses Masters of trying to bite off more than he can chew, and Masters replies that he's not trying to steal the spotlight—he's *taking* it. "As we go along, I'm gonna give you some lessons, greenhorn." [...] "The problem with you kids today is you don't even know enough to know that you don't know, you know?" Hee. "You'll get that one tomorrow." HA! "There's a pecking order, a ladder if you will. There's HBK at the top of the ladder, and then there's Chris Masters—not, not at the top of the ladder." HBK appreciates Masters'
cajones,
but "when you're way here up top, it's a little hard to breathe, the air's a little thin." Masters says that the air's thin up on HBK's brain,, and Michaels dramatically oversells that joke—and now here comes the brawl! Masters gets posterized by HBK, and I guess we're jobbing Michaels to this punk RIGHT HERE IN THIS VERY RING TONIGHT! (But the match isn't announced at this point.) God, I should have picked this night to start drinking.
You know, I'd actually feel a little bit better about this program if, you know, Masters had ever had a SINGLE GOOD MATCH IN HIS ENTIRE CAREER.
Jericho, with Bischoff, says that Cena got lucky last night, and Bischoff says that tonight Cena's luck runs out. Bischoff says Jericho deserves a rematch, and deserves to be the WWE Champion. But he's adding a stipulation—this will be the "first-ever" "You're Fired" match. Does that pertain to Jericho as well? Bischoff says he'll be at ringside to crown Jericho the new WWE Champion, and they share a couple of hugs.
And the Writer Monkeys really ought to watch past WWE programming, because this is *not* the first-ever "You're Fired" match—they also used to be called "Loser Leaves Town" matches, and Ric Flair had one with Mr. Perfect. Then there was the Pink Slip on a Pole match between Rock and Foley, and, hell, why do I bother trying to apply logic? Turn off the brain, Eke.
We see a recap of Angle's match with Eugene, and the aforementioned Angle's music plays as he comes out to the ring—and he's going to have a match, huh? I was wondering if he was just coming out for a promo—not that there'd be anything wrong with that, considering the source. His opponent—SHELTON BENJAMIN, hell yeah! I was beginning to wonder if they'd forgotten he existed, but then giving the way he jobbed to Masters twice, maybe that wouldn't have necessarily been a bad thing.
They trade the mat wrestling, and Shelton hits a back suplex as the first big move of the match. "Was Angle complaining his hair was pulled?" asks JR, ha. They tie up, and Shelton grabs the dominant position from behind, waistlock broken into a wristlock, and arm drag by Shelton, followed by a leg takedown, and eventually they get into the ropes. Great amateur-style wrestling by these two. They feel each other out, but Kurt kicks Shelton, and gains the advantage, applying a Fujiwara armbar to Shelton. And my spell checker is OK with the word Fujiwara. Shelton begins getting back to his feet, Angle holds onto the wristlock, but Shelton escapes by bouncing off the ropes in a moonsault-type move, and an armdrag into an armbar. Angle gets to his feet, punches, armbar, Shelton clothesline countered into an attempted overhead belly-to-belly suplex, but Shelton lands on his feet and as Angle charges him, Shelton lowers the ropes and Angle lands on the floor! We're taking a commercial break, and this might actually be a good RAW for a change, if this is any indication. (I'm still gonna wait and see.)
We come back, and Angle's rolling Shelton back into the ring and getting a near-fall. Rear-naked choke applied by Angle, and we see a replay—Angle hit an overhead BTB sending Shelton from the ring to the floor. I used that in the SNES Royal Rumble game a lot. Angle with a headlock, but Shelton gets to his feet, goes for the clothesline but lands in the corner, German Suplex, and Angle goes for two near-falls. Shelton to his feet and clotheslined again, and now Angle is stomping a mudhole! C'mon, Shelton, show that you've got a mean streak, too. Angle drags him to his feet and knocks him back down with a European uppercut, and a kick to the head. Lifts him up, and a suplex for the two-count. Another two-count, and he's forcing Shelton to expend a lot of energy. Kurt applies a body-scissors, targeting Shelton's waist and ribs, and Shelton begins to mount a comeback with elbows to the face. We're getting more than a few "Let's go Angle" chants.
Angle whips him into the corner, charges, but there's nobody home. Spinebuster by Shelton, and both men are down—eventually getting up at 8. Shelton blocks a punch, and begins punching away at Kurt, knocks him down with three clotheslines, whip into the corner, elbow by Kurt caught him in the jaw, Samoan Drop by Benjamin, two-count! Shelton whips him into the ropes, dropkick, but Kurt grabbed the ropes and there's no one there—and now Angle goes for the Ankle Lock, but Shelton blocks it—and connects with his signature Spinning Heel Kick for the near-fall. Shelton now going to the top for a high-risk move, but Angle was playing possum, and he hits a super BTB suplex for the two-count. Angle's the first to his feet, and the straps go down! He waits for Shelton to get up, but the Angle Slam is reversed into a Tornado DDT by Shelton, and another two-count!
Shelton up to his feet, and he's ready to uncoil—T-Bone Suplex reversed into an Ankle Lock! And now he adds the leg grapevine, turning it into the "Fuck You" Ankle Lock, and Shelton has no choice but to tap. But Coach says that it's the best match he's seen from Shelton Benjamin. But now Angle comes in with a chair—is he going to do the medal presentation again? Ah, OK. Thought he was going to hit him with it. And they do one better than last night, bathing the arena in red, white and blue lights.
Hell of a match, and hopefully this'll remind WWE that they've got a gamer in Shelton Benjamin, and they ought damn well TO TREAT HIM AS SUCH.
They show chyron for the Cabana segment, and the Jericho/Cena "You're Fired" match. My prediction—Cena retains, and Jericho, in fact, is the one fired by Bischoff. After his tour with Fozzy, Jericho next appears on SmackDown as a face. Or not. But you heard it here first, folks!
The Ultimate Fighter 2 premiers after RAW, and I honestly couldn't care less.
"Hi, I'm Kerwin White—that's KERWIN [spells] WHITE. You know, I'm part of middle-class America, which means I represent each and every one of you. In fact I'm the spokesman of middle-class America." And he says that the crowd responded to Benjamin's near win over Angle with polite applause, and why? Kerwin says that racism and prejudice run rampant in America, and especially in the Tidewater area. "Shelton Benjamin is not one of us, and he never will be. Why? Because Shelton Benjamin is not white! And America, don't forget, if it's not white, it's not right!" I feel like a racist even transcribing that. Hampton, to my delight, boos the hell out of those comments.
Maria comes out, and Snitsky starts going after her foot. I mute and turn away from the TV. You know, being attracted to a woman's feet does *not* mean you're a sicko. I'm attracted to women's feet, and their legs, and breast, and back, shoulders, face, eyes, ears, practically everything about their body. Got a problem with that? The Big Show takes exception to Snitsky's behavior, and I un-mute long enough to hear the words "toe-sucking pervert", and I mute again.
Matt Hardy debuts a new T-shirt, a new bandaged look, and apparently his WWE career *isn't* over, as he's on next.
We see that the Love Triangle will be addressed in tomorrow's new issue of RAW Magazine, and Matt's music plays, as he comes out for his match. Ah, the back of his shirt says "I WILL NOT DIE!" I like it. He's facing Rob Conway? Uh-oh, look out, he's one of Vinnie Mac's Golden Boy Squad right now. Matt's looking at Rob like he's nuts, ha. And as the bell rings, we hear "You think you know me" and Edge comes out with Lita… Conway immediately grabs the advantage and starts beating down on Matt, while Edge and Lita take a seat on top of the announce table. Hee. Conway pounds Matt in the corner, slams him into the turnbuckle, punches him multiple times, and it's clear he's going right for the head that was busted open 24 hours earlier. Clothesline ducked by Conway into a sleeper, and Matt hits a back suplex to try and get out of it, but Conway's holding on… finally a jawbreaker gets him out. Straight rights by Matt, and Conway's knocked down. Matt clotheslines Rob in the corner, punches away, elbows to the face, and this is again looking like more of a fight than a wrestling match. Hardy charges, but Conway gets his feet up in the corner , and goes to the top, but Matt punches him and knocks him crotch-first onto the ropes. Hardy tries to capitalize, but Conway punches him off the turnbuckles, and connects with the Macho Man elbow drop—and gets the three-count?! Why? And now Edge casually strolls down to the ring, and begins beating the shit out of Matt just like last night. Mounted punches, but Matt reverses and begins beating on Edge, but it doesn't last long. Edge gets Matt's head between the ring stairs and the ring, and stomps the stairs, and Matt's lights go out. OK, so Matt Hardy's playing the role of Spike Dudley, Mikey Whipwreck, or somebody else who gets the shit beaten out of him on a regular basis?
Big Show will in fact battle Snitsky in the "you're a toe-sucking pervert" match, but when we come back Carlito will have Ric Flair on the Cabana! Dascool.
They hype Cena's album, and I've actually seen it at Wal-Mart, but I'm not getting it.
"I spit in the face of people who don't want to be cool!" Carlito comes out, the Intercontinental Championship belt on his shoulder, and it's time for the Cabana! "Back by popular demand, Carlito's Cabana! It's a big one tonight. Ladies and gentlemen, Carlito's excited because he has a very special guest tonight." The crowd begins the "WHOO"s. "He quite possibly is the greatest guest in the history of my Cabana. Apparently you guys know who he is. Ladies and gentlemen, the Nature Boy Ric Flair!" "Theme from 2001" plays, and Ric Flair comes out wearing a suit that is, of course, much better than HBK's. Which is how it should be. Virginia is Flair Country, I'm proud to say.
CCC: "Ladies and gentlemen, Ric Flair! And Nature Boy, welcome to Carlito's Cabana!" RF: "Carlito's Cabana, welcome to Flair Country! WOO! WOO!" CCC: "What's with all that WOO stuff? Carlito can WOO better than you." He tries, and he can't come close. Ha. "You know what, WOOing's not cool anyway." Hee! "Flair" chant going. "OK, OK, relax. We're not here to talk about WOOing, we're here to talk about you. You see, Carlito remembers the legendary matches, the legendary matches with Carlito's father, Carlos." They used to fight all over the Caribbean, and Carlito used to watch. "My father used to say you were great, but I think—actually, now that I'm standing in the ring with you, I can see he was right. OK, OK, you won the World Title 16 times, big deal. That also means you've lost the title 16 times. I mean, anybody can win as many matches as he loses. Now Carlito, on the other hand, he's a one-time Intercontinental Champion." He's getting some nice heat from the crowd. "Which happens to be a title that you never won." So? "And by being a one-time Intercontinental Champion, that means that nobody's beaten me for this title. And that… I'll take it from here—that's cool." Flair's smiling. "Ric Flair on the other hand, you're not cool." RF: "You're right, son. I'm not cool. I am very simply the Nature Boy WOO! Ric Flair! A limousine-riding, jet-flying, kiss-stealing, wheeling-dealing, son of a gun that your father referred to as the king of the Caribbean. But whether it was the Caribbean or Flair Country, every woman had three words to say to Naitch, all night long. WOO!" Carlito spits in Flair's face, and Flair begins opening up, a thumb to the eyes, a punch, multiple chops in the corner, whip into the ropes and a back elbow, knee breaker, and finally CCC leaves the ring. He drops an elbow on his own jacket, and yeah, he's still nuts. But I wouldn't have him any other way. WOO!
And we see another Ultimate Fighter 2 preview with gratuitous use of the word "fuck". Hey, I have no problem with swearing, I have a problem with every fifth word being bleeped out. I'm watching a television show, not a test of the Emergency Broadcast System. So if you know they're bleeping it out, maybe you should find a more creative means of self-expression, that's all I'm fucking saying.
And after a couple more commercials, they try again to hard-sell me on Ultimate Fighter 2. Sorry, ain't gonna happen with me.
We see Ashley winning the Diva Search, during which I had the TV muted, so…
Well it's a big show, and they couldn't have found a stupider way to make this match, could they? (Yeah, they could have, but I'm not giving them any ideas.) I suppose I have to give them points for *attempting* to make an interesting match between two guys who suck. (No pun intended). Snitsky goes right on the offensive, and that doesn't last long, as Big Show begins chopping the hell out of him. I mute the television set as Lawler begins to go on about the foot fetish. And again Big Show continues with the hard chops in the corner… finally he does something different with a punch, and Snitsky rolls out of the ring. Snitsky regains the advantage briefly, but he's really helped when Big Show accidentally smacks his shoulder into the ringpost. Attempted whip by Snitsky reversed, Snitsky ends up in the corner, but he kicks the knee out from under him and parlays it into a minor comeback. I un-mute just long enough to hear another foot joke, and I re-mute. Big Show regains the advantage with clotheslines, clotheslines Snitsky to the floor, and Snitsky decides that enough is enough, and he walks back up the entrance ramp, never to return. I un-mute long enough to hear JR say, "Don't leave, Snitsky, we were enjoying this!" I wasn't. And stupid angles like this only serve to make me more annoyed.
Bischoff comes up to someone, presumably Cena, dressed in black and carrying the WWE Title belt backwards over his shoulder. "Treasure these moments John. Because tonight's not only gonna be your last night as WWE Champion. Lemme tell you what's gonna happen, John. After you lose, I'm gonna fire your ass. So cherish these moments, John." We pan to the front, and hey it *is* Cena, but he hadn't been paying attention—he was listening to his iPod. Um, okay. There's more to this segment than that, but nothing that was particularly interesting, so.
Sneaux Shoes even make rotten milk taste good. Try it, I triple-dog dare you.
Lance Cade and Trevor Murdock are serving notice to all the teams out there that somebody's going to squeal like a pig. Got a good old boys gimmick, huh? I just hope Murdock's "you say that real pretty" comment doesn't mean they're *gay* cowboys. In any event, the tag-team division couldn't possibly get any worse, so…
Torrie Wilson and Candace Michelle come out, and Candace enters the ring through Torrie's legs. Big deal. They've been traded to RAW, apparently because Candace's go-daddy dance was too hot to handle. Um, OK, you're rotating. Big deal. They're introducing another new face, the 2005 Diva Search winner, Ashley. If this segment ends with anything other than Trish Stratus beating the shit out of someone, I'm gonna be pissed off—allegedly, these three are competition for the Women's Title now. Ashley gets to follow in the footsteps of Christy Hemme *and* get in the ring with Torrie and Candace, and that's apparently her dream? OK. Ashley says she'll return the favor to the fans who got here there, and Candace says "what about returning the favor right now?" I think they're hitting on her, but suddenly Torrie kicks Ashley, and now *both* girls begin punching her, for no apparent reason. Bah. Great, a feud involving three women who can't wrestle. You can imagine how excited I am about that. Hey, I already know the links to all the good porn sites. When I watch WWE I want to see wrestling and compelling storylines.
We see another recap of SummerSlam, and I could have *sworn* I heard Billy Kidman's music play as the American flag appears behind Hulk Hogan. But it was just my imagination, once again, running away with me…
After the SummerSlam recap, Let Us Take You Back to Earlier Tonight, when Shawn Michaels had an unlikely altercation with Chris Masters. And, yup, the Masterlock Challenge is next week—with Shawn Michaels. Good God, please tell me HBK is the first guy to break this thing. But I can't say I'm optimistic—in fact I'm already preemptively pissed.
Todd's interview with Chris Jericho is short and sweet, but it confirms what I suspected—the "You're Fired" stipulation cuts both ways. If Jericho loses, *he's* fired. And the marky marky marks in attendance will actually chant "Na Na Na Na Kiss Him Goodbye" to Y2J, because they're morons.
Before the commercial break, Bischoff comes out with some security guards. "The deck is stacked against John Cena!" Bah, you mean like last Monday in the handicap match, or the week before that in the special referee match? This feud reminds me of the Orton/Foley feud—one guy gets every single fucking victory, and it's stupid. But I won't get the satisfaction of seeing Cena punctured by half a quadrillion thumbtacks, though.
When we come back, JR says he's got a bad feeling about this, and so do I—but for the opposite reason. Jericho's music plays, and Jericho comes out, making the "I want the belt" motions. The loser not only gets fired, he gets thrown out by security. So Jericho won't even get to leave with his dignity, I bet. I wonder if this is a serpentine plot by Bischoff to deliberately replace Jericho with somebody else as his hired gun.
I'm not even entirely sure I want to *watch* this match, knowing precisely what's going to happen—but what the hell, I've recapped the first 105 minutes of the show.
The referee checks both men for weapons, and here we go. They get in each other's faces, and Y2J slaps Cena, and the champion begins stomping a mudhole in him. Whip into the ropes and an arm drag, but Bischoff grabs Cena's foot, and a roll-up by Jericho gets 2. Jericho gains the advantage, kicking and stomping on Cena, gets him to his feet, punches him, whip into the ropes and a back elbow takes him down. One-count. Jericho gets him up, suplex, dropkick to the head, slams his head into the turnbuckle and begins chopping. Jericho chokes him out in the corner, drags him to his feet, whip into the corner, Stinger Splash denied! Jericho falls out to the floor, and he seems to have hurt his knee. Bischoff is there to check on his guy, but after Cena rolls Jericho into the ring, Bischoff kicks him and Cena grabs him by the coat. Bischoff responds with a low-blow, and the champ is down as we head to a commercial break.
They show a commercial for
The Exorcism of Emily Rose,
and I'll pass, thanks. In fact, most commercials during RAW seem to have the interesting effect of making me deliberately
not
consume that product. Hmm.
I dunno, if I woke up with girls sprawled all over my fucked-up hotel room, and a horse hits my snooze button, I'm questioning my sanity. I'm also checking to see if any of the girls are hot, but…
We come back with Y2J trying to rip Cena's face off, and we see that Bischoff continued his shenanigans during the break. Cena hits a backbreaker, but Jericho's drop toe hold gives him time to stomp on Cena some more. Kick to the ribs, and Jericho begins punching Cena in the corner. Cena pushes off, but Jericho with a dropkick to the head again, and Eric's smiling. Jericho drags Cena to his feet, and punches—but Cena retaliates, and they begin trading punches. Cena runs into the ropes, but Y2J gets a spinning heel kick for the two-count. Jericho chokes Cena with his calf while simultaneously choking the referee to keep him from seeing, hee. Whip into the corner and clothesline by Jericho, puts him up top, superplex denied, and Jericho lands on his face! Cena off the top rope, but he misses Jericho with a splash, and Jericho elbows Cena, goes for the cover with his foot on the ropes, but the ref is quick to see that. We've got dueling "Let's go Jericho/Let's go Cena" chants just like last night. The two trade punches again, but this time Cena starts getting the better, and hits a shoulder block, clotheslines, and here comes the traditional Cena formula. Whip into the corner for a clothesline, tries again, but Jericho with a kick to the face. Bulldog attempted by Jericho, Cena reverses into an FU attempt, but Jericho punches out and applies the Walls of Jericho! TAP! TAP! TAP! Not gonna happen, I know. Cena tries to reach the ropes, but Bischoff pulls them out of reach, and Jericho pulls him back into the center of the ring. Only chance for Cena is to try and reverse this thing. But he's not gonna—he's going for another set of ropes, and Bischoff isn't there this time. Quit fucking with the ref, Jericho, and pin the bastard! Nope. … FU! But Cena can't capitalize—he's still down! Pull the ref out then, Bisch! Cena finally gets to Jericho, but Jericho's foot is put on the ropes by Bischoff—and while the ref's not watching, Bischoff puts brass knuckles on Jericho! Cena gets up, and the Power of the Punch connects! Jericho pins—one, two, and dammit Cena kicked out. He tries again, another two-count. Now Bischoff's up on the apron with the title belt, and you know what's gonna happen now. Yup. Jericho is catapulted into Bischoff, FU connects, one-two-three. And I'd actually written that ten seconds before it happened, damn it. So, the idea of the feud was to destroy Jericho's WWE career (such as it was thanks to him being buried), and put over Cena? And Bischoff says to Jericho, "YOU SON OF A BITCH, YOU'RE FIRED! You didn't get it done!" Jericho begs for another chance. "You're fired, you hear me? Get out of my ring!" And yup, the goddamn chanting starts, and yup, Jericho's begging, pleading, crying, and is dragged away by security. Even Cenaa can't believe this. Goddammit, I hate this fuckin' sheep crowd, and I hate the image of Chris Jericho being carried off by security, with not a shred of dignity left in him.
And Kurt Angle comes in, German Suplexes Cena, and begins beating the shit out of him. Angle Slam connects, and Angle celebrates. Bischoff approves. "Hey, Cena, say hello to the #1 contender to your WWE Title—Kurt Angle!" And that *almost* makes me feel better about the fact that they just essentially destroyed Chris Jericho. But you know what? It doesn't.
DASCOOL!: Kurt Angle and Shelton Benjamin had a phenomenal match, and I'm looking forward to Cena/Angle at Unforgiven. Ric Flair on the Cabana was awesome. And I'm looking forward to seeing another tag-team on RAW—maybe the tag-team division will actually exist for a change.
YOU SUCK!: Matt Hardy gets squashed again, this time by Rob Conway of all people. Chris Jericho is robbed of his dignity. The Big Show and Gene Snitsky are apparently going to actually feud, based on the no-result of their match. And I'm dreading the possibility that HBK is going to job in the Masterlock Challenge next week.
WHAT?!: Why the fuck should I care if Torrie Wilson and Candace Michelle turn heel? And who the hell actually got traded to SmackDown in exchange for those two? I'd hate to be him.
(edited by ekedolphin on 22.8.05 2314)
---
"Great. He spends skill points on Perform (Kazoo), and now I have to make a Knowledge (Limits of My Own Sanity) skill check."
--Roy Greenhilt, The Order of the Stick
Four-Time Wiener of the Day (5/27/02; 7/3/02; 7/30/04; 8/28/04)
The Only Five-Time (and Last) N.E.W. World Heavyweight Champion
Certified RFMC Member-- Ask To See My Credentials!
Promote this thread!
Mr. Boffo
Scrapple



Since: 24.3.02
From: Oshkosh, WI

Since last post: 1789 days
Last activity: 1749 days

#2 Posted on | Instant Rating: 5.12
Originally posted by ekedolphin

---

Why the fuck should I care if Torrie Wilson and Candace Michelle turn heel? And who the hell actually got traded to SmackDown in exchange for those two? I'd hate to be him.

---

WWE.com reports that it's Stacy Keibler and Christy Hemme. So much for turning Christy heel, I think.


---

In the real world, WWE believes that no matter what our race, religious creed or ethnic background in America, we all share the common bond of being Americans. American-Arabs are a part of the fabric of America, and they should be embraced by all of us.

Check out how The-W.Com's WWE Fantasy League is going at smartass.atspace.com.
Thanks to SOK for the hosting!
Last updated August 8th, 2005
Mayhem
Scrapple



Since: 25.4.03
From: Nashville, TN

Since last post: 332 days
Last activity: 217 days

#3 Posted on | Instant Rating: 3.81

Hmmm ... interesting finish ... of course there were rumblings about Jericho being gone after this match to tour with Fozzy. Hopefully he'll be back soon & on Thursday, er, I mean, Friday nights.

Damn, Angle appears about as good as he ever has been. I love that damn running belly to belly when his opponent is on the top rope.

Shawn Michaels & Chris Masters ... I'll pass, thanks.



(edited by Mayhem on 22.8.05 2217)

---


In honor of Emerson, my little Superman ...
hhhgamewmx7
Bockwurst



Since: 15.6.03
From: Eire

Since last post: 4603 days
Last activity: 4580 days

#4 Posted on | Instant Rating: 0.00
The Smackdown invasion is underway! Bad thing about it, i totally forgot Candice was on Smackdown. I felt the heel turns coming. Smackdown is pretty much the Melina show now.

Damn it to hell, HBK is fully face again, he came out as a face then mentioned Hogan flying back home and then I thought the heel was coming back, then Masters came out and I knew for sure it was face for good.

I'm thinking Angle may win the title at Unforgiven and then the fans will vote Cena as his challenger for Taboo Tuesday which he may regain it or another match may be made for Survivor Series. I was thinking they may strech until the Rumble but thats too far.

Flair with an IC run? Looks like another job.

I guess we could see Jericho go to Smackdown to help out there whenever he comes back.


---
The Goon
Banger
Moderator



Since: 2.1.02
From: Calgary, Alberta, Canada

Since last post: 227 days
Last activity: 200 days

#5 Posted on | Instant Rating: 8.08
It's a little upsetting to see Jericho, a man with such unshakable confidence, grovelling for his job. It made my heart sink.

I'm not too sure what this means, but two weeks ago, I bought the exact same shirt Lance Cade was wearing. It looks a lot better on me, though.
Juggalo101
Italian



Since: 27.4.04
From: Atlanta

Since last post: 1970 days
Last activity: 1969 days

#6 Posted on | Instant Rating: 2.44
Originally posted by ekedolphin

---

I hate the image of Chris Jericho being carried off by security, with not a shred of dignity left in him.

---

Couldn't agree more. Don't care what they've got planned for Jericho in '06, but the begging bit just ruined it for me. Don't know why, but I just hated it.


---

Rise, my lord. Rise.
PsychoticMidget
Polska kielbasa




Since: 2.12.04
From: Detroit, MI

Since last post: 4459 days
Last activity: 4459 days

#7 Posted on | Instant Rating: 2.77
What a MIXED RAW. To wit, a random list.

The Good: HBK on the stick, Angle/Benjamin, Angle's destruction of Cena, Maria and Snitsky.

The Average: Snitsky/Show

The Huh?: Torrie/Candice/Blonde Avril Lavigne, "Lance" Cade and Deliverance Guy

The Bad: Chris Masters "stepping up" and sounding like a bad Bill Shatner.....oh, yeah, and the WEEE making Jericho and Matt Hardy into little p*****s. Thanks guys, that was great. Ugh.


---

We're the middle children of history...no purpose or place. We have no Great War, no Great Depression. Our great war, our defining crucible, is a spiritual war.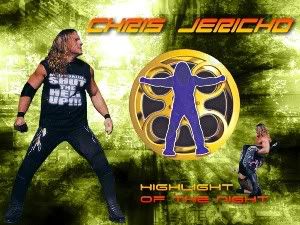 CTX
Chourico



Since: 11.5.02

Since last post: 549 days
Last activity: 22 hours

#8 Posted on | Instant Rating: 1.61
Originally posted by ekedolphin

---

HBK appreciates Masters' cajones, but "when you're way here up top, it's a little hard to breathe, the air's a little thin." Masters says that the air's thin up on HBK's brain,, and Michaels dramatically oversells that joke—and now here comes the brawl!

(edited by ekedolphin on 22.8.05 2314)

---

I'm pretty sure the joke was meant to be how "air" and "hair" sound similar, referring to Michaels' receeding hairline. I actually found that one incredibly amusing.

Good show overall.

I'm totally confused as to whether we still have a heel HBK or not since he cut a heel promo, then set up a match with Masters meaning he's automatically the face. I think the best I can hope for is a tweener HBK during promos and full babyface HBK during matches. Great segment between the two though.

Angle/Benjamin was really good. I wouldn't say it was as good as HBK/Benjamin from earlier this year, but easily the second best TV match of the year. That promo from Chavo was unbelievably un-subtle as well. I'm not saying I hated it, but they at least usually try and cover their asses when they go for the racist heat.

Matt Hardy must have really botched his contract negotiations if he's allowing himself to look this weak. He jobbed clean to Rob Conway FFS! No amount of "Aww, but his head was still hurting" will take away from that. It's also three times in a row Edge has left him laying in as many confrontations.

Main event was fun and got rid of Jericho. The Angle beatdown was definitely the highlight though. If anyone can drag Cena up to seeming like a real main eventer it's him


---

WCW Archive
WCW Magazine Archive: Last Updated 18th August - Ongoing WCW Magazine archive. Includes cover scans, contents, release dates and more.
WCW Promotional Ads Archive: Last Updated 18th August - Now featuring over 100 promotional ads, including everything from PPV's to the WCW Hotline.
WCW VHS Archive: Last Updated 22nd July - Currently serving mainly as an image gallery for almost all WCW VHS releases, but work has begun on adding full listing and details for all the releases.


Click Here (wcw.95mb.com)
redsoxnation
Scrapple



Since: 24.7.02

Since last post: 1816 days
Last activity: 1816 days

#9 Posted on | Instant Rating: 4.31
Since when does Uncle Eric fire people in person? Shouldn't Jericho have had to go home and wait for the letter from FedEx? And, I'm still surprised that if Jericho was going to go out begging, it wasn't Trip in the ring making him look weak as a final indignation.
And, Loser Leaves Town shouldn't need to be replaced because some guy with a rug has a catch phrase on a network partnered with the new home of RAW.
Did Lawler slip during Angle/Benjamin and use the forbidden term WWF?
Angle/Benjamin plus a hot Mid-Atlantic crowd. Very nice.
Why did Al Wilson have to die, and yet his daughter was allowed to live?
What's a pervert? Start with the guy who signs the checks.
From facing Hogan to facing Chris Masters. No matter how you spin it, that is a steep drop. And, what happened to Paul Wight attempting to break the full nelson?
This is the final Flair face run. Flair vs. Colon: They better both bleed. And, not trickle of blood either. Blood bank worthy blade jobs from both. If its in Oklahoma, use Dusty as the ref, and the ref can blade as well.
Has Edge misplaced his briefcase? And, tough to sell Matt Hardy as serious when he does clean jobs to Rob Conway. He got his money. Now, he's going to pay for taking shots at the company while he was on the way out.



(edited by redsoxnation on 22.8.05 2329)
BOSsportsfan34
Pepperoni



Since: 2.1.03
From: MA

Since last post: 817 days
Last activity: 149 days

#10 Posted on | Instant Rating: 4.28
Originally posted by ekedolphin

---

And Bischoff says to Jericho, "YOU SON OF A BITCH, YOU'RE FIRED! You didn't get it done!" Jericho begs for another chance. "You're fired, you hear me? Get out of my ring!" And yup, the goddamn chanting starts, and yup, Jericho's begging, pleading, crying, and is dragged away by security. Even Cenaa can't believe this. Goddammit, I hate this fuckin' sheep crowd, and I hate the image of Chris Jericho being carried off by security, with not a shred of dignity left in him.

---


Funny that that chant, first started by a canadian audience, was used tonight on a canadian wrestler. Oh the irony.



---
BigDaddyLoco
Scrapple



Since: 2.1.02

Since last post: 4 days
Last activity: 1 day

#11 Posted on | Instant Rating: 5.85
Is Cade's buddy Murdoch a real Murdoch or a guy that kinda resembles Dick Murdoch that gets the name?

...and did Lawler really say Snitsky's back looked like the back of a Nestle's Crunch bar?

(edited by BigDaddyLoco on 22.8.05 2348)

---
HMD
Andouille



Since: 8.6.02
From: Canada

Since last post: 434 days
Last activity: 434 days

#12 Posted on | Instant Rating: 4.42
Who made Big Show the fetish police?

God Jesus, they buried Jericho. It's uncomfortable watching anyone, even a fictional character, grovel like that. I realize that he probably won't be gone for all that long and they probably didn't want to have to go through the difficult labour of re-turning him heel, but it would have been much more compelling for him to lay Uncle Eric out and have to be dragged off him by security. That would give him something to do upon his return, unlike this grand exit they provided, which gives him nothing to do but hopefully win a ladder match where a breifcase containing his balls will be suspended above the ring. But that won't happen, because he's Jericho. He'll probably beg to get the job back too.

WWE booking is done by people who passionately hate when you don't suck down what they think you should like, which sometimes means shitting on what you like until you feel like an idiot for liking it.

Although, now that I think about it, Nash did mention in his Torch Talk that Jericho is "undiplomatic" in his response to creative's less-than-golden ideas. Nash said apparently, Jericho will flat-out tell you that your idea fuckin' sucks. So maybe this is the writers getting back at him a little?


---

Hot Virgins-The World's Most Steadily Shrinking Commodity
Underwater
Boerewors



Since: 5.10.02
From: Battle Creek, Michigan

Since last post: 4615 days
Last activity: 4264 days

#13 Posted on | Instant Rating: 4.05
Best Raw in a loooong time.

Angle/Shelton was all kinds of fun. Shelton really needs to do more matwork and less of the athleticism spots. Only real problem I had with the match was that the finish was sort of abrupt.

Oh god Snitsky foot fetish segments keep getting creepier and creepier.

I probably liked the main event way more than I should've. The white hot crowd certainly helped it a whole bunch. For a shitty wrestler, Cena does seem to be able to pull off big matches really well. It also helps that creative has done a good job of protecting him so far. I don't mind Jericho grovelling for his job that much since he is a chickenshit heel, and that is what chickenshit heels are supposed to do.

Cade was getting really good before he disappeared and Murdoch had a pretty good match with Conway on an International Heat a few months back, so I have no problems with them being on my TV, although they will likely be on Heat within a month.
chill
Landjager



Since: 18.5.02

Since last post: 4024 days
Last activity: 4024 days

#14 Posted on | Instant Rating: 2.96
If anything sums up the WWE writing problems these days it's this....

Candice Michelle making fun of Ashley for being in the Diva contest and remarking that that's the only reason she got her job in WWE. Hmmmmmmmmmm... kinda ironic that Candice got hired after being in LAST year's Diva contest. Sorta insults the intelligence of any loyal fans who follow the WWE product.


---
Take the plunge. Step into liquid.
dvd shelf
//
game shelf
//
top 20
//
laird
//
tv guide
//
drjayphd
Scrapple
Moderator



Since: 22.4.02
From: Outside of Boston

Since last post: 67 days
Last activity: 17 days


ICQ:
#15 Posted on | Instant Rating: 5.57
Thought that Show/Snitsky was going to be a comedy match at first, with Snitsky's overselling of the slaps and Show shushing the crowd before he slapped.

RSN:
---

Spoiler Below: Highlight text to read

---

Forgot where, and I'm not going to look it up, but allegedly, they've been running ads in (I think) Canada that have Edge cashing in his contract. I'm already putting a loonie on Matt costing him the match, if he's still on contract.
---
You wanted the best, you got... Out of Context Quote of the Week.
"...but that doesn't mean he can't relate an amusing anecdote about the Haiti Kid and one of the Frenchman's testicles." (Hogan's My Dad)
geemoney
Scrapple



Since: 26.1.03
From: Naples, FL

Since last post: 9 days
Last activity: 1 hour

#16 Posted on | Instant Rating: 5.19
The opening interview segment was a little odd, with Shawn sarcastically saying how quick and nimble Hogna was. I'm guessing they wanted to cement Shawn back as a face, so they brought out a guy they KNEW the crowd would boo in Masters for a short feud for Shawn....Angle v.s Shelton was a GREAT match, helped by the crowd getting into all the near-falls toward the end....Can't Kerwin White be "middle-class America" without the racist overtones? He could still do heelish stuff....

I guess Matt Hardy knows whos in charge now. It's not him and his internet message board, its not the crowds that chanted his name- it's WWE. They always win....Any time I see crazy-old-man Flair is a good time....The Snitsky/Big Show finish was odd....

It seems Murdoch and Cade are a mixture of Justin "Hawk" Bradshaw and the Godwinns. Not exactly a winner, but it's another tag-team, so I guess I can't complain....Cena/Jericho was a fine match, and perhaps WWE was hedging their bets with Jericho groveling and being dragged away in case Jericho goes to TNA during his "time-off."


---

College, Sports and More!: Experience It




PretentiousGoon
Loukanika



Since: 12.8.04

Since last post: 4660 days
Last activity: 4660 days

#17 Posted on
I really enjoyed almost all of Summerslam (save Hogan taking forever to hit the legdrop on Michaels, which was way more insulting than any Peoples Elbow or Worm in history)... yes, even the stupid interference during Eddie/Rey. So many of the matches had drama and I felt tension. I havent marked out for any match for a long time. Being in a theatre to see it with a bunch of marks helped though.

I'm gonna be defensive here, because there are two things in wrestling I'm getting really sick of lately
1) WWE showing lenghtly feud recap promos during PPVs we already paid for.
2) snarky internet fans. Theres been so much to rip on that people have gotten way too cynical and prejudgmental. I remember the "wtf Smackdown title? 3 titles??" crap, the assumption that Eddie was a pedophile, and the constant ragging on Cena and Orton as if they can't do anything. I'm just sick of it.



tonight:
Michaels promo was awesome, and I'm actually interested to see if they would feed him to Masters, or if its going to be a continuation of Michaels' 'shoot' character, or what.. I know Michaels wants to stay face, but if he does it in a jackass shoot character like tonight, I'm all for it.

I've had a soft spot for Snitsky ever since I saw him in a SpongeBob t-shirt. Sorry. Theres just something really innocent about him that makes him my biggest guilty pleasure in all of wrestling. I think a lot of you will miss him when he's gone.

I think people are jumping too soon on the Edge/Matt thing, calling his career 'over'. Oh you drama queens. Sure, it COULD be going to hell for Matt, and some things arent being done well, but for all we know this is leading to Matt being REALLY pushed over the edge (no pun intended), since he came back for revenge and is failing at it. If they made this a shorter version of Raven/Dreamer's "you cant beat me", even shorter than the Eddie/Rey version of same, this could be good. I bet they're building for Edge to do something REALLY over the top to make him more of a heel, because for a while Edge was coming out looking too much a good guy. come on, Edge is way more over as the heel in this feud by dominating it.

Shelton/Angle was really good, but not as good as vs. Michaels. Really makes me wish Haas was around on RAW.
Cena/Jericho split the crowd, and I can picture Angle ending up getting more cheers depending on how this goes.

The Kerwin White character is stupid, but I think its less racist than you think it is. I think its designed to get heat for truth against white people than because its mean to minorities, but people think in such black/white (another no pun intended) that they assume its the opposite.

Where the hell is Trish? Apparently at WalMart near where I live next month. Maybe she's been avoiding getting stripped of her title by taking on store greeters all over the world.

Really liked the main event. All of it. Cena is showing he can really do an in-ring story when paired with the right people. Jericho going out like a baby, was AWESOME, and that anyone hates it because of Jericho's "dignity" is being a mark. I thought for a second that punking Bischoff was the way it was going to go, but thats for cool heels who are too into themselves to actually show ass. Jericho showed ass, created a true memorable moment for his character (as opposed to being the 80th person to hit Bischoff) that reminded me of Foley getting abused by McMahon back in 98. Dignity? Pffft... Jericho showed he has true class as a slimy heel wrestler by going out in a hissy fit if you ask me. I became a way bigger Jericho fan because of it.

edit to clarify:
I mean, think of it this way. If JBL or HHH has lost this type of match and was dragged away kicking and screaming, you'd LOVE it... so why is it below Jericho?
if HHH were fired and he starting kicking the crap out of ANYONE, even a ref, you'd be complaining about how he couldn't make himself ever look weak or blah.

(edited by PretentiousGoon on 22.8.05 2213)
Juggalo101
Italian



Since: 27.4.04
From: Atlanta

Since last post: 1970 days
Last activity: 1969 days

#18 Posted on | Instant Rating: 2.40
Originally posted by PretentiousGoon

---

Jericho showed ass, created a true memorable moment for his character (as opposed to being the 80th person to hit Bischoff) that reminded me of Foley getting abused by McMahon back in 98. Dignity? Pffft... Jericho showed he has true class as a slimy heel wrestler by going out in a hissy fit if you ask me.

---

No, no. You see Foley's character in the first place was a character that lacked dignity so that comparison means nothing.
Foley doing it = good laugh.
Jericho = Sad...very sad.

I too missed Trish during tonight's episode though.


---

Rise, my lord. Rise.
PretentiousGoon
Loukanika



Since: 12.8.04

Since last post: 4660 days
Last activity: 4660 days

#19 Posted on
why is it sad when its Jericho?
he went out in a great match, and he sold it over the top.. its completely within Jericho's character to be a baby. Foley was more cartoonish about it, but it fits Jericho just as well. Jericho is a complex character. He's not one dimensional cocky, he has feelings.

Why wouldn't Jericho think he could talk Bischoff out of it after being in cahoots with him?
JustinShapiro
Scrapple
Moderator




Since: 12.12.01
From: Pittsburgh, PA

Since last post: 53 days
Last activity: 9 days

#20 Posted on | Instant Rating: 8.46
Originally posted by eke

---

And the marky marky marks in attendance will actually chant "Na Na Na Na Kiss Him Goodbye" to Y2J, because they're morons.

---


Dude he's a heel. Everybody likes Jericho but they also like to boo him when he's playing heel. Is chanting "You Suck" at Kurt Angle moronic because he is in fact quite good?


Originally posted by dolphin

---

Goddammit, I hate this fuckin' sheep crowd, and I hate the image of Chris Jericho being carried off by security, with not a shred of dignity left in him.

---


Dude it's a work and Jericho is an awesome performer. Nobody in the crowd 'knows' that Jericho is taking a few months off to tour and we should pay respect to him for everything he's done. They're just watching a guy who's been a dickhead get comeuppance and giving him the business.


Originally posted by Juggalo

---

the begging bit just ruined it for me. Don't know why, but I just hated it.

---


I get what you guys are saying, because I was sad watching it because I love Jericho and he was so good at the groveling, but the fact is he's really good and they're blowing off a heel character.



Originally posted by PG

---

Jericho showed he has true class as a slimy heel wrestler by going out in a hissy fit if you ask me. I became a way bigger Jericho fan because of it.

---


Totally agree.



---

I think people are jumping too soon on the Edge/Matt thing, calling his career 'over'. Oh you drama queens. Sure, it COULD be going to hell for Matt, and some things arent being done well

---


Now here's the legit upsetting malicious burial. Completely indefensible.
Pages: 1 2 3 Next