geemoney
Scrapple



Since: 26.1.03
From: Naples, FL

Since last post: 13 days
Last activity: 6 min.

#1 Posted on | Instant Rating: 7.12
TONIGHT: What does WWE do for an encore of last week's universally praised show? I caught WWE's preview on USA at 8:55, and we're getting a special message from Stephanie McMahon about unrest from last week, and maybe an update on Vince's condition. Also, Shawn Michaels addresses Chris Jericho tonight. WWE.com has nothing for us, so let's dive-in head first.

-WWE Open.

-Clips aired of the first segment last week, from where Edge declared Raw didn't have any titles, up to where CM Punk beat him. Highlights of the final segment of Punk vs. JBL were also included.

-Stephanie McMahon, "Executive Vice-President," once again gave a message of harmony, imploring all WWE employees (oh, and independent contractors) to work as one. She noted that last week, after Shane did so, chaos ensued, but she hoped things would change this week.

-Raw opened with a dark arena, and Vickie Guerrero's shrill voice shouting "Excuse Me!" She was in the ring, in her wheelchair. Lots of heat for her, including "you suck" chants. She said she was at Raw to protest CM Punk as World Heavyweight Champion. She said she wouldn't leave the ring until Punk surrendered the championship to her. She also demanded an apology. She didn't have to wait long, as Punk's music hit and the new World Champ came out, belt around his waist.

Punk celebrated in the ring in front of Vickie and in a cool moment, put the title in her face, but Vickie looked away in disgust. Vickie scolded Punk for celebrating since he took advantage of Edge last week. Eww. Vickie noted Edge is close to having a nervous breakdown and even called off their wedding. Punk said she wouldn't get any sympathy from him or the fans. He reminded her about the Money in the Bank stipulations. Punk said he didn't do anything to Edge that Edge hasn't done to others. I'm glad he brought that up. Ah, but Vickie brought up a big difference: Edge's opponents at the time weren't getting married! Touche. Punk insinuated Edge didn't love Vickie and said there's other fish in the sea. After Punk made a Khali/Vickie joke, Vickie stood up and slapped Punk. Punk said she just bought a one-way ticket back to Smackdown. As he was wheeling her out, JBL and his limo came out.

JBL said Punk has come to the end of his Championship line. He challenged Punk to a re-match tonight. Punk said JBL had his shot, and he lost. JBL said he didn't lose, Punk's interference cost him. Then John Cena's music hit and he came out. Cena made some usual jokes, then sucked up to the crowd again. Cena said JBL needs to listen to Punk, who Cena then congratulated. They once again mentioned Vince wasn't there, so they had to settle things themselves. Cena noted that Great American Bash is two weeks away, and that he and JBL could either have a paper-scissors-rock tourney to find out the number one contender, or they could have a match tonight. Batista wasn't going to sit by and let that happen, so he came to the ring.

Batista congratulated Punk on winning the title, then said he wanted to visit his good friend Vickie Guerrero, who was still at ringside. Batista said sarcastically said he was sad to see what was happening to Vickie's life, then finally said he's glad to be rid of her. Batista was getting at inserting himself into the #1 contender match, but JBL cut him off. Batista threatened him with a punch to the face if he did it again. Cena, the voice of reason, proposed a triple-threat match for tonight. JBL didn't like that and said he was in charge. Cena, stealing a line from "Ocean's Eleven" finally said he's either in or out, and if he's not in for the triple-threat, it'll be Cena vs. Batista. As soon as that was agreed upon, Kane came out. What has he done to earn being part of the match?

Kane simply said he wanted in. Punk said it's a Fatal Four-Way. Oh, I was hoping Jamie Noble or Santino would come out and try to insert themselves into the match. Decent enough segment, with a lot of ways WWE could go with it. Still doesn't explain how these guys exactly are allowed to make matches and who has authority to do what.

-Up next, Rey Mysterio makes his Raw debut against Santino Marella.

[Break]

(1) Rey Mysterio vs. Santino Marella
Marella had an intense (well, for him) look on his face on his way to the ring. Rey got the advantage with a poke to the eye. Santino came back by blocking Rey's high-risk maneuver. He then applied the Camel Clutch. Rey went for the 619 too early, and Santino clotheslined him. Rey got some hard kicks in, then a double stomp to the gut. Cole caleld what Rey does a "Swashbuckling style." I have no idea what that means. 619 hit, then a splash from the top ended it.

Winner: Rey, at 2:55. Some comedy, and a way for Rey to show off his moves to the Raw viewers.

-Still to come, Shawn Michaels returns to address Chris Jericho.

[Break]

-The fatal four-way for the #1 contendership was plugged.

-Backstage, Todd Grisham asked Punk who he'd like to face at the Bash. Punk didn't want to give a cliche answer, but a lighting fixture fell and almost hit him. He started his answer up again, but Snitsky walked into the picture. He accused Punk of getting the title handed to him. Punk challenged Snitsky to a match tonight.

-Damn, Mickie and Cena were talking backstage. I was hoping this is one storyline the writers would forget. Kelly Kelly walked up to Mickie and said they have to get ready for their tag title match. Mickie introduced Kelly as the newest member of the Raw roster. Cena asked Kelly if Teddy let her out of her ECW contract. "We have contracts?" she responded. I'm assuming this is a *wink wink* to the fans about the unexplained movement from brand-to-brand. Not cool.

[Break]

-Jillian was singing in the ring as the show came back from break. Layla, her tag partner for the upcoming match, looked on with indifference.

(2) Jillian Hall & Layla vs. Kelly Kelly & Mickie James
Jillian worked the arm Mickie injured at Night of Champions, then Mickie showed off some athletic ability in getting out of a few holds. She took out Layla, then made a tag to Kelly. Headscissors by Kelly, then a hurricanrana into a roll-up for two. Some light forearm shots by Kelly, who hung on to the top rope when she was dumped over. Layla though, knocked her off the apron and to the floor. Hair pull took down Kelly for a two-count. She began to stretch the back and arms of Kelly. Jillian gave some shots to Kelly's head, which she tried to block. Kelly dodged a handspring elbow, and Kelly got a victory-roll for the win.

Winners: Mickie & Kelly, at 3:30. Fine match, but that's without Layla tagging in.

-JBL's limo pulled up, as the match to determine the challenge for....did Cole just say "the World tire"? I think he meant title. Anyway, it's next.

[Break]

-JBL was out, looking quizzically around his limo, finding the doors locked. John Cena and Cryme Tyme emerged from inside with some weapons of possible destruction.. They followed JBL up the ramp and Cena said the state of Louisiana wont' allow JBL's limo to drive without a passenger side mirror. So JTG took out the mirror. Cena said Louisiana also requires a ventilated windshield. Cena noted a tint problem on the windows, so the gentlemen took care of it with their metal ball bats. Cena generously offered JBL a custom paint-job, so he and Cryme Tyme used spray paint to graffiti the limo. Cena thanked the Cryme Tyme body shop and wished JBL luck in the fatal four-way. Then a replay of what just happened.

-A goatee-less Michael Cole and Jerry Lawler plugged the fatal four-way later tonight. Oh, I thought it was odd it'd be this soon. Then what did JBL come out for?

-The video that opened the show aired again.

-CM Punk came out for his match. He stopped at JBL's limo for a photo-op. The match is next.

[Break]

(3) CM Punk vs. Snitsky
Snitsky looks like he's lost all muscle definition. Based on ring introductions, this is non-title. Punk laid in some martial arts kicks, but Snitsky caught Punk in mid-air and slammed him into the turnbuckle. He landed a few elbows and got a two-count on a cover. Not much crowd heat for this one. Enziguiri caught Snitsky, then Punk hit a springboard clothesline. Some boos from the crowd, not sure what for. Knee in the corner, then a bulldog. He got Snitsky up and hit a weak GTS for three.

Winner: Punk, at 2:41. Not very impressive, but then again, it is Snitsky.

-Shawn Michaels was walking backstage, his address to Jericho is next.

[Break]

-A recap of the Jericho/HBK feud aired.

-Michaels then came out, with his eye area red and bandaged. Michaels began by accepting Jericho's challenge for a match at Great American Bash. That led to Jericho himself coming out, along with his lackey Lance Cade. Jericho asked how stupid Michaels was to take beating after beating without healing up. Chris asked if Shawn was an idiot. Jericho said the Bash is a no-lose situation for HBK because he'll still be known as the injured legend who gave it all in the ring. Jericho asked if HBK wants to be a martyr for the fans. Y2J is really quiet and deliberate on the mic here. Jericho told HBK to watch out because like every other martyr, he'll eventually be swept under the carpet and forgotten. HBK finally spoke again. He said he could leave this business today and be remembered forever. Jericho interrupted and said the fans keep giving Michaels a free pass. HBK said Jericho has done a lot of things in this business, everything he's ever wanted to do. But in spite of that, Jericho isn't content, and he's not at peace. HBK said Jericho would never be him. Then they quickly went to break.

[Break]

(4) Charlie Haas vs. Kofi Kingston
Another non-title contest. High hip-toss by Kofi, but Charlie came back with some hard forearms to the back. Hard kick to the face by Haas, looked like a brutal shot. After a side head-lock, Haas registered another kick to the face. Kofi came back with a cross-body and a few back elbows. He hit his high double-leg drop, then his finisher for the win.

Winner: Kingston, at 3:17. OK match, a better showing this week than Punk.

After the match, Paul Burchill attacked Kofi. He hit a neck-breaker, then a Curb Stomp.

-Backstage, Batista was warming up for his match when a "fan" came in and did Batista's fireworks routine right in front of him, then ran off as security chased him. They're doing a lot of little things tonight to show that the show is out of control with no one in charge.

[Break]

(5) Batista vs. JBL vs. Kane vs. John Cena- #1 Contender Match
The match began with Cena and JBL going after each other. Thirty seconds after it started, they went to break.

[Break]

Batista and JBL were paired off, as were Kane and Cena. Spinebuster by Batista to JBL. Kane broke up the pin and chokeslammed Batista. Cean broke up that pin. Cena kicked JBL square in the face as the former champ had Kane up for the FU. A few minutes later, Cena FU'd Batista. Cole declared that Cena would be going to the Bash, promising that he wouldn't get the pin here. He didn't. Another break.

[Break]

Cena was about to hit the Five-Knuckle Shuffle on JBL when Kane came in and clotheslined Cena. Batista took everyone out, even Kane with a drop-toe hold, then Cena with a spinebuster. Clothelsine From Hell from JBL on Batista. Cena locked the FU in on JBL, but Kane came in and grabbed Cena by the throat. He grabbed JBL by the throat too, but the two double shoulderblocked Kane down, then punched each other. Cena to the outside, was sent into the steps by JBL. JBL rammed the steps into Cena. Kane came out and hammered away on JBL. No count-outs or DQ's here says Lawler. Kane missed a clothesline off the top, and Batista speared him for the win.

Winner: Batista, at 12:30. Will we see a Batista heel turn at the Bash?

In the ring, Kane was pissed. He took out the steps then shouted at Cole at ringside. He shouted, "Is he alive or dead?!?" He hit a stagehand, then threw poor Mark Yeaton down. Kane shouted at Cole again, then grabbed him by the lapels and threw him into the ring. He stepped on Cole's leg so he couldn't squirm out of the ring. If that was JR, I bet King would be in the ring helping him,. Ah, and as Kane got Cole up for the chokeslam, Lawler made the save. Kane grabbed him and wrestled him down as he tried to help Cole. Where are the refs and agents? Kane hammered away as Lawler covered up. He kicked Lawler in the face, then headed up the ramp. Show ended, but I didn't see the usual copyright in the corner.
Promote this thread!
BigDaddyLoco
Scrapple



Since: 2.1.02

Since last post: 7 days
Last activity: 5 days

#2 Posted on | Instant Rating: 3.82
- Am I the only one that loves the job that Vickie Guerreo is doing right now? Is there a bigger heel in the company? She gets my midyear vote for heel of the year.

- Jericho/HBK continues to be great and seems like it should be due more time some week.

- At first I thought Kane going nuts was a way to kill off Lawler for awhile, if I had to take a shot in the dark Kane is talking about his mask.

(edited by BigDaddyLoco on 7.7.08 2313)
Spiraling_Shape
Bierwurst



Since: 2.1.02
From: PA

Since last post: 9 days
Last activity: 3 hours

#3 Posted on | Instant Rating: 0.74
Nothing, and I mean NOTHING, is more thug, more street, more 'real'...than calling someone "poopy." Via graffiti.

Also...no sign of the new tag champs?

Also...ahh, that was the reason for the random kid in the Batista backstage bit...I didn't get it.


---

"I've got your delicious sandwich, Jerry!"
Texas Kelly
Lap cheong



Since: 3.1.02
From: FOREST HILLS CONTROLS THE UNIVERSE

Since last post: 265 days
Last activity: 27 days


ICQ:
#4 Posted on | Instant Rating: 3.90
Ladies and gentlemen, the following public service message is brought to you by your friends from D-Generation X, who would like to remind each and every one of you that if you're not down with that, we've got two words for you...
---

Another interesting show with actual creativity from the writing staff (worked production slip-ups, Kelly Kelly intentionally breaking kayfabe, "Cryme Tyme Customs") even if again the wrestling action was lacking in substance. I hope the rating stays up and encourages WWE to keep things mixed up.

While I would have preferred they find a more credible opponent for Punk than Snitsky, I'm glad that they put him over cleanly and seem to be going out of their way whenever possible to name-drop him and remind the fans that he's the champ. He didn't get good heat tonight, but it'll come with time and better opponents to work with.

That definitely wasn't a garden-variety heel turn by Kane at the end there. Clearly he's complicit in what happened to Vince but didn't want to take it so far as to kill the guy. Maybe he's pissed off about UT being banished? Or maybe UT is actually the one behind it (which would make sense on several levels)? Either way, it's a development that's definitely not as bad as it would seem on the surface.

(edited by Texas Kelly on 7.7.08 2318)

---
read a bunch of incoherent nonsense
now 52% more incoherent!
smark/net attack Advisory System Status is: Elevated
(Holds; June 18, 2006)
While the switch from Cena to RVD should alleviate some complaints, the inevitability of the belt's return to Cena (note where Summerslam is this year) and the poor initial showing by the new ECW are enough to keep the indicator where it is for now. The pieces are in place, though, especially on RAW, for improvements to be made to the IWC's psyche in the near future.
It's False
Scrapple



Since: 20.6.02
From: I am the Tag Team Champions!

Since last post: 96 days
Last activity: 34 days

#5 Posted on | Instant Rating: 2.18
Originally posted by Spiraling_Shape

---

Nothing, and I mean NOTHING, is more thug, more street, more 'real'...than calling someone "poopy." Via graffiti.

---


Man, that segment was a real winner up until the payoff. Is "poopy" the best thing they could come up with? Are they five years old?


---

You will believe a man can fly
mskj
Summer sausage



Since: 10.1.02
From: Tennessee

Since last post: 2309 days
Last activity: 2068 days

#6 Posted on | Instant Rating: 5.04
Honestly, that is the first time in years I have been interested in anything Kane has done. The show seems to be headed in a good direction.


---

Go Bucks.
John Orquiola
Scrapple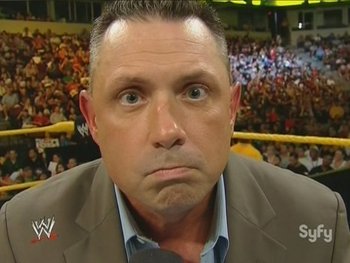 Since: 28.2.02
From: Boston

Since last post: 1457 days
Last activity: 1457 days

#7 Posted on | Instant Rating: 3.93
Originally posted by mskj

---

Honestly, that is the first time in years I have been interested in anything Kane has done.

---


Finally, evil Kane! I love evil Kane. Face Kane does nothing whatsoever for me but evil Kane hopefully means the return of evil shenanigans.

Overheard (from me) during Kane's flip out:

"SHOCK (COLE'S) BALLS! Take the car battery from the limo, strap them to Cole and SHOCK HIS BALLS! DO IT!"

"Set his ass on fire!"

"Marry Lita! Get her pregnant!"

"Tombstone Linda McMahon!"

"Put a black towel on your head!"


---

Back of the Head: www.backofthehead.com
TwisterF5
Italian



Since: 18.2.04
From: The Houston 'burbs

Since last post: 1380 days
Last activity: 904 days

#8 Posted on | Instant Rating: 1.76
Random thoughts:

- Kelly Kelly going to Raw is pretty much a guarantee that she's the next Playboy girl. I'm still holding out hope for Victoria. Yum.

- Kofi got majorly potatoed. Haas is sloppy as hell.

- "WWE wishes Snitsky well in his future endeavours". It's coming. I can see it now. And Haas.

- Kelly Kelly has nice child-bearing hips. And thanks for showing up, Layla. And thanks for "making my eyeballs happy" yet again, Mickie. Phwoar.

- Welcome to Raw, Cole. Here's a beatdown for your trouble.

- Raw Is Poopy. My fingers cramped up just typing that.

- Poor Mark Yeaton (the timekeeper). That guy deserves a Hall of Fame spot just for all the beatings he's taken over the years.

- I totally dig Rey Rey going up to the kids wearing the masks and taking a few seconds to say something to them. Now I know why he's one of the WWE's ambassadors. Very cool, Rey.


- Remember when Lance Cade was "Garrison Cade" for a while, but J.R. still kept slipping up and calling him "Lance"? And isn't it sad that it's probably the most memorable thing to happen to him?

- Is this "lawlessness" on Raw a sign that a new G.M. is on the way? Is it going to be Regal again? (suspension's up on July 20th), Teddy Long? Flair?

- Kane back in his element as a psycho freak is cool... but it'll probably go nowhere again until that mask goes back on. Then it will gain maybe one or two extra weeks of momentum (and a few WWE Shop sales) before it runs out of gas again.





---

Leave the gun. Take the cannoli.
The Guinness.
Potato korv



Since: 24.4.05
From: San Diego, CA

Since last post: 41 days
Last activity: 1 day

#9 Posted on | Instant Rating: 3.92
I enjoyed Raw. The poopy thing was lame. Otherwise a decent show though.

Loved Kane going crazy. I'm going to go out on a limb and suggest that Kane was talking about Paul Bearer.

WWE.com The Dirt Sheet Episode 16
http://youtube.com/watch?v=aobFbkq3ybg

(edited by The Guinness. on 7.7.08 2324)
mikebuk
Pickled pork



Since: 22.11.03
From: Blackpool, England

Since last post: 3148 days
Last activity: 495 days


ICQ:
#10 Posted on | Instant Rating: 0.36
The light falling down during the CM Punk interview made me wonder if this was a continuation of the Vince thing or even JBL trying to take Punk out. Highly coincidental ?

The boy who appeared in the Batista warm-up was strange. I could believe he may have snuck on set, but was would be the reason for storyline purposes ?

Please don't say they will bring back Kane's evil alter ego again !


---

Mike Brailsford - Quiz champion & Web Ring Master
Tenken347
Knackwurst



Since: 27.2.03
From: Parts Unknown

Since last post: 3 days
Last activity: 26 min.

#11 Posted on | Instant Rating: 5.03
I must be crazy. I couldn't help laughing at Cena painting "poopy" on the limo. It was so pointlessly childish, I couldn't help loving it. Overall, I thought the show was pretty great, and I think they're doing an excellent job of pushing the idea that the show is complete chaos without an authority figure.
redsoxnation
Scrapple



Since: 24.7.02

Since last post: 1820 days
Last activity: 1820 days

#12 Posted on | Instant Rating: 4.97
Whose Fruit Loops did Cena piss in to get stuck back into a feud with Bradshaw?
I'm hoping Kane speaks of Paul Bearer, I fear he speaks of Bob Holly, who hasn't been seen since being betrayed and losing tag gold.

Kevintripod
Banger



Since: 11.5.03
From: Mount Pleasant, Pa.

Since last post: 5 days
Last activity: 3 hours

#13 Posted on | Instant Rating: 5.35
Was that Mike Adamle disguised as Michael Cole last night ? Cole really seemed to have an off night with his announcing.

I also believe that Snitzky and Haas better start reading the newspaper want ads.

At the end of the main event, either Batista was doing a great job selling an injury or he seemed to legit injure his arm or shoulder.

The toilet humor from Cena was so unbelievably forced last night that it seemed to be a jab at all the Internet people who are always complaining about Cena's childish humor he uses on Raw.

I'm curious, anyone here see the show live and can tell me how they had Vickie get in and out of the ring with her supposedly being wheelchair bound ?


(edited by Kevintripod on 8.7.08 0723)

---

The best part of waking up, is not Folgers in your cup, but knowing that Chuck Norris didn't kill you in your sleep.
Matt Tracker
Scrapple



Since: 8.5.03
From: North Carolina

Since last post: 4 days
Last activity: 2 days

#14 Posted on | Instant Rating: 7.41
Kane question: Whose hair dye was smeared on him after the announcer beatdown?

The Batista spear was weak. That should not have finished the match.

Jericho/Michaels was awesome, and the commercial break ended it better than the standard, tense departure from the ring.

I liked Rey's flat splash.

Another good show for me.


---

"To be the man, you gotta beat demands." -- The Lovely Mrs. Tracker
kentish
Andouille



Since: 19.8.05
From: My Old Kentucky Home

Since last post: 1311 days
Last activity: 564 days

#15 Posted on | Instant Rating: 4.76
Y2J-HBK continues to carry the show. That was quite a segment.

If this is really leading up to Kane putting on the mask again, can't someone just burn him to justify it? Then again, I thought they were giving him back the mask a few years ago when he took the mask back from the fake Kane. Either way, he is much better as a heel, and much too ugly to be a babyface.

So with Kane as a heel, and a possible Batista turn, Jericho's run as the top heel on Raw lasted, what, a week?


---


"I like your Christ, I do not like your Christians. Your Christians are so unlike your Christ."

-- Mahatma Gandhi

Oliver
Scrapple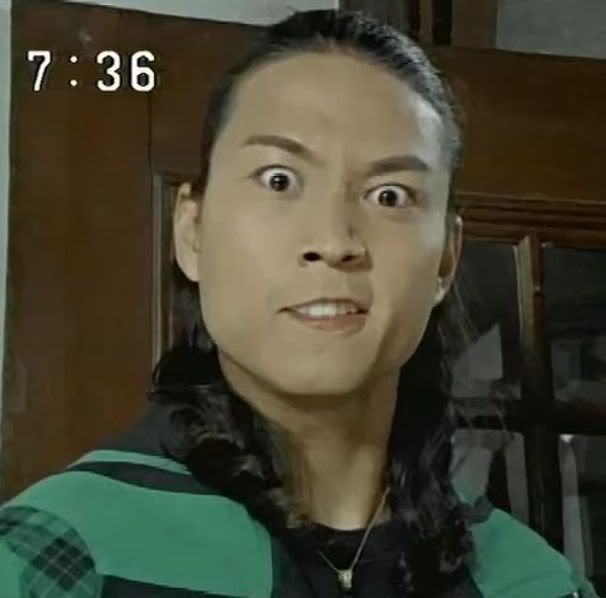 Since: 20.6.02

Since last post: 1211 days
Last activity: 1205 days

#16 Posted on | Instant Rating: 4.45
Vickie was looking really hot last night. I really like her looks, but still....wow. Her voice, however, is such a buzzkill. Oy vey.

The look of amusement on Batista's face when the kid came by during his stretching routine was fun.

Michaels scores again with a powerful promo, but it sounded like he was losing his voice.

Punk vs Batista could be good. I would have preferred to see Punk vs. Cena, though.

Speaking of Cena, I really liked his bit with Cryme Tyme. I was half expecting them to rip the horns off the car and sell them off.

It's typical of WWE to have a title change one week, tout it the next, and ignore it the following.


Originally posted by Kevintripod

---

Was that Mike Adamle disguised as Michael Cole last night ? Cole really seemed to have an off night with his announcing.

---
I would have loved seeing Adamle get is ass handed like that.

Welcome to Raw, Cole; where announcers and commentators are fair game.


---

You wouldn't like Ozu Makito when he's mad!
MonteCarl
Potato korv



Since: 21.1.02
From: Saginaw, MI

Since last post: 1151 days
Last activity: 180 days

#17 Posted on | Instant Rating: 4.03
I have to tout my love for Vickie slowly and painfully pulling her out of her wheel chair to stand up, then slap CM Punk, and then slowly and painfully sitting back down. That was great.

Anybody who say Vickie isn't a great heel and is getting the fabled "X Pac Heat" doesn't know what they're talking about. That crowd was molten for her blood, booing her every word and action. Nobody else anywhere on the roster gets that kind of heat


---

--Monte N
http://www.thebananaconvention.com

CEOIII
Bockwurst



Since: 25.7.02
From: Franklin, PA

Since last post: 497 days
Last activity: 335 days

#18 Posted on | Instant Rating: 3.01
Punk mentioned to Vickie that if she married Khali "they could honeymoon in New Delhi". Was there a joke in that I missed?


---

I'm Charlie Owens, good night, and good luck.
StaggerLee
Scrapple



Since: 3.10.02
From: Right side of the tracks

Since last post: 4 days
Last activity: 1 day

#19 Posted on | Instant Rating: 1.75
I for one am hoping for an Isaac Yankem return vs the King.

Seriously though, I thought Raw was great again, but seriously, I wish they'd just forget the "nobody's in charge" business. Pro wrestling survived for a century without a GM on air, why is one needed now?




Shadowhendrix
Linguica



Since: 27.6.08

Since last post: 1475 days
Last activity: 1393 days

#20 Posted on | Instant Rating: 1.00
I like how nearly every segment built to something else, or at least had some element of story telling to it, or attempted to put over younger guys or re-establish older ones. Plus with all of the chaos without McMahon around, it gives them a great chance to throw everything at the wall they have ever wanted to, and start running with whatever sticks.

-JBL is a great heel.

-Crazy and focused Chris Jericho is amazing, that was a hell of a promo. He really needs to win this feud with HBK, and take the title off Punk in the future.

-My god, Vickie has Nuclear Heat. Eddie would be proud.

-Punk needs more of an edge, or the fans WILL stop caring.
I know it is wishful thinking, but if he had somehow hit the GTS on Vickie after that slap, that crowd would STILL be cheering him.

-Punk really needs to bring back the anaconda vice so he has SOMETHING to finish bigger guys with. That GTS was sloppy, and he broke Snitsky's nose trying to do it. Plus, guys with multiple finishers always get over, right?

-Kelly Kelly is getting better, and the commentators really put that over well.

-Looking forward to Paul vs. Kofi.

-With all of the malfunctions on Raw since the stage collapsed on Vince, did anyone else think for a second that JBL's limo was going to explode when he was trying to open the doors?

-JBL is Poopy made me laugh. I think it was supposed to be that lame. I like the effort they are putting into CT.

-Main Event was excelently booked. Built the JBL/Cena fued (though Cena should have bled to justify how long the stairs put him down for), put over Batista, and the post match angle began a new story line for Kane.


Pages: 1 2 Next