geemoney
Scrapple



Since: 26.1.03
From: Naples, FL

Since last post: 11 days
Last activity: 1 hour

#1 Posted on | Instant Rating: 6.57
TONIGHT: Chris Jericho battles Batista in an inter-brand battle, with the winner facing Shawn Michaels at One Night Stand (less than two weeks away!). Also, "Piper's Pit" returns to Raw....with no guest announced at this time. Plus, we'll have fallout from Judgment Day last night and hype for One Night Stand.

-WWE Open.

-Raw Open.

-Raw is LIVE and in HD from Kansas City, Missouri. And we're starting things out with a match, with one of the hottest properties on Raw.

(1) Jeff Hardy vs. Umaga
This is a re-match from last week and from the 384 previous times they fought. Umaga ran right into Hardy to get things started in his favor. He missed a butt splash and Hardy hit a low dropkick for one. Samoan drop by Umaga, then the dreaded (for me) nerve hold. Headbutt by Umaga with Hardy in the Tree of Woe. Whisper in the Wind missed. The match broke down and things ended up on the outside with Umaga missing a charge and hitting the ring steps, however, he laid Hardy out with a sidewalk slam. That led to a double count-out. After the match, medics tended to Hardy, who was laying on the mats outside the ring.

Winner: Double count-out, at 5:14. Not a bad match. Umaga's lethargic offense was kept to a minimum.

-Batista came up to Chris Jericho backstage. Jericho was in full sarcasm mode until he told Batista he'd just beat the hell out of him tonight. The two wished each other luck, but couldn't take their eyes off each other when leaving, so they just stared face-to-face. Intensity, she wrote!

[Break]

-After JR and Lawler plugged WWE.com, the lights were out. Lillian Garcia introduced William Regal, who was standing in mid-ring when the lights came back on. Regal talked about One Night Stand, a card with matches full of Extreme Rules. He made Umaga vs. Jeff Hardy in a Falls Count Anywhere match for the PPV. He then quickly went to Randy Orton and JBL, who were standing together backstage. They both want re-matches against their JD opponents. They'll be teaming up thought tonight, against Cena and Triple H. If the heels win, they'll get the re-matches, AND they'll get to choose what extreme rules match they are in. If Trips and Cena win, they face each other at the PPV in a match of Regal's choosing. Regal then shifted gears until Kennedy's music hit.

Regal said interrupting him has severe consequences. Kennedy once again proposed a match between the two, this time for tonight. Regal said he doesn't take requests from common wrestlers. Regal said the next man to interrupt him will be fired. A few seconds later, "No Chance" hit and Vince McMahon strode out in full Vince mode (getting quite the crowd pop). Kennedy implored Regal to fire Vince. Vince once again backed Regal as GM, but noted they've received more viewer complaints than ever before since Regal took over. Vince said all he cares about is the money. He said he's talking ratings, as the highest rated show in all of cable. Interesting time to plug that statistic. Vince said when Regal comes on, the ratings plummet. Vince and Regal both want Kennedy gone and Vince told Ken he doesn't like him. McMahon made Regal vs. Kennedy for tonight, and the loser will be "gone." "Gone" as in "FIRREEEDDD!" Interesting, with a lot to digest during that segment.

[Break]

(2) Beth Phoenix vs. Maria
Melina came out to do commentary, including her split on the table. Beth lifted Maria right over her head in a press slam and dropped her to the ground. Back-breaker was next. A charge missed and Maria rammed Beth's head into the buckle, then bulldogged her down for two. Things got a little sloppy, then Beth hit a wheelbarrow-like slam (apparently, the "Glam Slam"), then put Maria in a bow-and-arrow like move for the submission.

Winner: Beth, at 2:08. Impressive win for Beth.

As Beth walked to the back, Melina ran down the aisle and attacked Beth. However, Melina got on Beth's back and Beth grabbed her and threw her down. Does that officially turn Melina face? She still seemed kind of heelish on commentary.

-Jericho faces Batista tonight, with the winner to face HBK at ONS.

-Also, Cena and Trips against Orton and JBL in a match full of possibilities for the PPV.

[Break]

-Tonight, it's the return of Piper's Pit. Lawler sent it to clips of the Jimmy Kimmel show from last week where Piper celebrated Jimmy's cousin Sal's birthday at Hooters, and Santino interrupted, leading to a brawl between Sal and Santino.

-Mickie James and, I think, Katie Lea were talking backstage, with Katie thinking she'd be a champion soon. She also mentioned Mickie sleeping her way to the top and that led to a discussion about John Cena and their date. Katie said if John came out with her and her brother, he'd be having a lot more than fun. Katie ended the conversation by saying she knew what Mickie was up to.

-Shawn Michaels walked into Regal's office and wished the GM good luck. Regal wasn't happy HBK interrupted his train of thought. He put HBK in a stretcher match at ONS against the winner of Jericho vs. Batista tonight.

-JR and King plugged that very match, and it is happening next.

[Break]

-Ric Flair accepted a GI Film Festival Award on behalf of WWE. It was the first-ever "Corporate Patriot Award." The video included comments from LeAnn Tweeden(!) and John Ratzenberger(!!).

(3) Chris Jericho vs. Batista
Back and forth with lots of punching and kicking in the opening minutes. Batista sent Jericho into opposite corners, splashing him both times. Jericho got whipped into the ropes, but his knee buckled and he collapsed. Fans booed and Batista had a rather bemused look on his face. Jericho went to the outside as the show took a break.

[Break]

Back live, Batista in control, much like he was throughout the break according to JR. Batista missed a charge and was sent over the top rope by Jericho, and now HE'S holding his knee. He's back in the ring, albeit limping, and the fans are cheering. Jericho went right after the knee. Lawler noted that it appeared as if Jericho's leg injury has miraculously recovered. After a few minutes of work on Batista's leg, Jericho found himself on the outside courtesy of The Animal. On his way back in, he ran full-speed into a Batista boot. More kicks to the leg by Y2J, but Batista got him up for a spinebuster. Jericho fought out of a Batista Bomb attempt and rolled Batista over into a single-leg Boston Crab. After a minute or more of that, Batista got to the ropes. Lionsault missed and another Batista Bomb was set up. But on the way up, Jericho grabbed the ropes. Batista set him on the apron and Jericho went to the top. He came up short and was clotheslined in a not-altogether-smooth transition. Both men were down, but The Animal got up first. He missed a charge, but Batista literally caught him on a Codebreaker attempt, and positioned him for the Batista Bomb, and picked up the win.

Winner: Batista, at 13:25. Good match, again, helped by the crowd. I REALLY think Y2J should've either won yesterday or tonight though.

HBK walked out from backstage to stare at Batista from a distance.

-Cena & Triple H vs. Orton & JBL is yet to come tonight.

-But next, Piper's Pit.

[Break]

-Regal wanted to know why Vince put him in a match with Kennedy, but before Vince could fully respond, Ted Dibiase walked in. Apparently, Vince has some business to attend to with him. He kicked Regal out of his own office, then sat down to talk to The Million Dollar Man. The conversation started, "Now, if you take MY money...." and that's all we saw.

-Piper's music played for Piper's Pit, but out walked Santino in a Piper shirt (with a gigantic pillow underneath), a kilt and a wig. "Look at me, I'm Rodney The Piper," said Santino. He bragged about beating a fat transvestite at WMIII (Adrian Adonis, I'm assuming). Marella talked as himself, saying he was sick of Piper. Marella then showed the clips from Kimmel again. Marella noted that it was Cousin Sal, the cousin of "Jiminy Kimmel," who assaulted him. Marella called out Sal for "The Pit of the Piper."

Marella asked if it was true Sal idolized Piper growing up. He asked Sal what he admired about Piper. Sal said it was Piper's ability to back up what he says, opposite of Santino. Sal brought up all the things Santino said he'd do (win the tag title, beat up Austin, and sleep with Maria) but never did. Apparently, Maria said Santino was hung like a fourth grader. That brought Ron Simmons onto the video screen for his requisite "Damn." Santino revealed an "I'm Sorry" cake as he wanted Sal to apologize. Marella said Sal better apologize good or the cake will end up in Sal's face. Marella grabbed the cake, but Piper showed up behind him. Piper sampled the frosting, then Sal shoved it in Santino's face. Roddy threw Santino out of the ring. Marella then demanded a match with Sal, which Piper granted. Actually, not a bad segment. Sal played his part well and was good enough on the mic. Crowd was decently hot for it too, all things considered.

-Kennedy was walking backstage...his match with Regal is next.

[Break]

-JR and King briefly talked about Cade & Murdoch's breakup last week.

(4) Mr. Kennedy vs. William Regal- Loser Gets Fired Match
It was a brawl early on and Kennedy got the first cover of the match after a back body-drop. Kennedy kicked Regal to the outside, but Regal grabbed Kennedy's foot and tripped him up, with Ken landing back-first onto the apron. Crowd was chanting for Kennedy. Regal got a bit of offense in until Kennedy got a boot up in the corner, stopping Regal's momentum. Kennedy missed a roundhouse kicked, but kept his momentum going and hit it the second time. They both fought to the outside, where Regal grabbed a mic. He said he's still GM, so he's declaring it a No-DQ match. He grabbed a pair of brass knucks and threw Kennedy into the ring steps. Back in the ring, Regal waited for Kennedy to stand up, but as he went in for the punch, Kennedy kicked him in the gut (or below the belt), and hit the Mic Check for three.

Winner: Kennedy, at 6:05. Getting rid of Regal reeks of an on-the-fly booking decision. Hopefully Vince doesn't return as the figurehead.

The fans had trouble getting in-sync with the Goodbye song as Regal stood in the ring and made faces after the match. They stayed with Regal as he walked up the ramp and for the final time.

[Break]

-Regal was knocking on his locker room door, begging McMahon to open it. The door went ajar and Regal had a sour look on his face. Out stepped Teddy Long, who asked "What's up, playa?", then walked away.

-Todd Grisham was backstage with Triple H. HHH thought he and Cena are the favorites in the match, since they both won last night. Trips said he doesn't care who he fights, and that he's the one constant on WWE amid many changes.

-Randy Orton and JBL made their entrances for the main event, which is next.

[Break]

(5) Randy Orton & JBL vs. John Cena & Triple H
Cena got to Orton first, then made a quick tag to HHH. Cena low-bridged Triple H and Orton got sent to the outside. Less than two minutes in and they took their final break.

[Break]

JBL had Triple H in a version of the Million Dollar Dream out of break. Orton tagged in and began tagging The Game with right hands. Cena was begging for a tag and finally got it. JBL interfered after Cena taunted him, but Cena still got Orton up for the FU. JBL booted him in the face and Orton got a two-count. Cena and Orton collided and it looked like their heads hit each other, so both were in a heap on the mat. Both men made tags and Trips hit a flying clothesline. Neckbreaker got two. Big boot by JBL and he ran the ropes for a clothesline from hell, but Trips hit a spinebuster. Cena had JBL in the FU, but Orton came in and kicked him in the head (lightly), though JR said it appeared he was going for HHH. JBL rolled over and made the cover for three.

Winners: JBL & Orton, at 9:39.

Trips set Orton up for the Pedigree, but JBL clotheslined him. RKO then delivered to The Game by Orton. JBL got the mic and said it'll be him and Cena in a First Blood match. He gave the mic to Orton, who proclaimed a Last Man Standing Match, the same way Orton won the title from Trips in the first place.
Promote this thread!
OMEGA
Lap cheong



Since: 18.6.02
From: North Cacalacky

Since last post: 3280 days
Last activity: 886 days

#2 Posted on
I love Teddy Long and have no problem with him as the new RAW GM. However, I am NOT happy about Regal losing his spot as the heel GM, as he has been nothing but awesome.

The decision to remove him really comes from out of nowhere. I have to wonder if there isn't more to it (ie, wellness failure)?


---
~!~!~!
redsoxnation
Scrapple



Since: 24.7.02

Since last post: 1818 days
Last activity: 1818 days

#3 Posted on | Instant Rating: 5.48
Unless there is some other issue, the booking of Kennedy/Regal makes no sense. What essentially is Loser Leaves Town is the FIRST match of a feud? That is something that is broken out when you reach Umaga/Jeff Hardy dragged out feud status. Then, when you could have Regal cheat to win and bring back Kennedy to torment him as Special K, you have Regal lose. And, worse yet, you have Kennedy win.
So, after a PPV that no one anticipated, you rematch the top of the card? First Blood match is not where I thought Bradshaw was going, thought he would break out the bullrope. And, I was hoping for the Three Stages of Hell to be broken out, rather than another Last Man Standing. Would rather see them really go into the vault and break out the old Shackles match than a First Blood match.
BigDaddyLoco
Scrapple



Since: 2.1.02

Since last post: 5 days
Last activity: 3 days

#4 Posted on | Instant Rating: 3.69
- I know Jericho's return didn't go over as big as they thought it would, but is this really the best way to use him? It seems like once he gets something going they cut his balls off again and make him bland.

- Regal was being built up so well, and then they stuck him with the lights on/ lights off gimmick and then job him out and replace him with Teddy Long ... odd.

- I know the finish to that main event was supposed to look cool, but it just didn't

- I will say that the Santino skit went over better than it had any right to. Maybe, I haven't given the guy enough credit.

I'm really not feeling whatever vibe it is that Raw wants me to feel right now.
OMEGA
Lap cheong



Since: 18.6.02
From: North Cacalacky

Since last post: 3280 days
Last activity: 886 days

#5 Posted on
Forgot about the Santino skit. Too bad nobody knows who the guy from Kimmel was, or else that would have been awesome!

Guy: "You said you were going to win the Tag Team Titles."
Santino: "I'm working on it."

How does a man so great actually exist?


---
~!~!~!
Spiraling_Shape
Bierwurst



Since: 2.1.02
From: PA

Since last post: 7 days
Last activity: 6 hours

#6 Posted on | Instant Rating: 0.88
Maybe Regal moves to SD! as an in-ring competitor? I mean, he was just FIRRREEEDDDD as GM, right? Right?


---

"I've got your delicious sandwich, Jerry!"
It's False
Scrapple



Since: 20.6.02
From: I am the Tag Team Champions!

Since last post: 94 days
Last activity: 32 days

#7 Posted on | Instant Rating: 2.13
Didn't I just mention last week that the countdown was on to the big Vince "YOU'RE FIRRRRRRRRRED!" for Regal? I just didn't think the countdown would last for 7 days. I think something's up that we don't know about. But if the payoff (as implied) is Teddy Long as the new Raw GM, I'll be satisfied, because that's a nice breath of fresh air.

As a watcher of Jimmy Kimmel Live, let me just say that if Santino beats the total piss out of Cousin Sal, it'll make him my NEW FAVORITE WRESTLER!


---

You will believe a man can fly
BigDaddyLoco
Scrapple



Since: 2.1.02

Since last post: 5 days
Last activity: 3 days

#8 Posted on | Instant Rating: 3.69
Originally posted by Spiraling_Shape

---

Maybe Regal moves to SD! as an in-ring competitor? I mean, he was just FIRRREEEDDDD as GM, right? Right?

---


It makes the whole King of the Ring I was so hyped up for and letdown by seem all the more cheapened
odessasteps
Scrapple



Since: 2.1.02
From: MD, USA

Since last post: 1467 days
Last activity: 1433 days

#9 Posted on | Instant Rating: 6.73

Is it possible that Regal was only fired as GM and this just puts him back on the active wrestler roster?


---

Mark Coale
Odessa Steps Magazine
The Affirmation, Baby Blog
Oliver
Scrapple




Since: 20.6.02

Since last post: 1209 days
Last activity: 1203 days

#10 Posted on | Instant Rating: 4.97
I like a little balance; have a heel GM on one brand and a face GM on another. It's nice to switch things around a bit. Teddy on RAW would be a great addition...and maybe put Regal on Smackdown. Heck, Kennedy could follow him. I mean, Kennedy vs. Edge could prove to be a good program.

Gotta love WWE booking. I mean, they showed the Cade's cheapshot from last week...and then, nothing. What's the over under that they'll be teaming again next week, as though nothing happened? If anything, it bothers me that the WWE almost seemed like it was pushing the tag team division. I still think they should unify the two tag titles and allow them to be contested on any show...same with the womans title.

Santino, bless his heart, is brilliant on the mic.


---

Tenkuu Henshin!
John Orquiola
Scrapple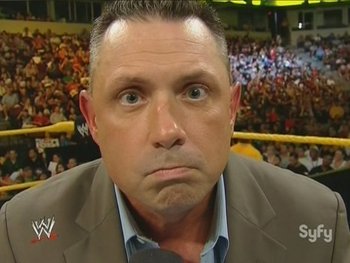 Since: 28.2.02
From: Boston

Since last post: 1455 days
Last activity: 1455 days

#11 Posted on | Instant Rating: 5.21
This was a good RAW tonight. I can't think of a single bad segment. No Crime Time, Snitsky, or any of the losers I hate wasting my time watching. The Divas feud with Beth and Melina is the most interesting Divas angle since Victoria had a checklist. They're trying to create some sympathy for Melina, who might actually come out of this a babyface. Jericho vs. Batista turned into a great match. Both guys having "knee injuries" was very funny. Santino's Pit was great ("You said you'd be tag team champion." "I'm working on it!" "You said you'd beat up Stone Cold Steve Austin." "It was a draw.") The Regal fired angle was major, with Teddy Long in there as a surprise. Katie Lea Burchill calling out Mickie James for trying to sleep her way to the top was interesting. The unprotected swinging uranage on the floor Umanga gave Jeff Hardy was pretty brutal. The heel main eventers totally decimated Cena and Triple H at the end. I can't fault anything I saw. Top to bottom, a good, solid RAW.


(edited by John Orquiola on 19.5.08 2226)
---

Back of the Head: www.backofthehead.com
thecubsfan
Scrapple
Moderator



Since: 10.12.01
From: Aurora, IL

Since last post: 8 days
Last activity: 16 hours

#12 Posted on | Instant Rating: 10.00
I think it might be the reverse of what oddesa suggested - Regal's fired as a wrestler, but remains GM/King. He can annoy Kennedy until Kennedy's begging for him to be reinstated. I can't believe this is the end of William Regal already.

If Teddy's the new GM, they don't waste time saying it. When they imply it heavily like here, that means it's a feint.


---

thecubsfan.com - luchablog
shawnpatrick
Kishke



Since: 31.7.07
From: Leesville SC

Since last post: 2228 days
Last activity: 2110 days

#13 Posted on | Instant Rating: 0.00
The problem as I see it, is the PPV's are coming too close apart and not allowing storylines or fresh lines to surface.

I don't understand Regal getting fired just after being the "king" unless he's going back to full time wrestling (good) or as someone else said, a wellness policy violation.

Umaga loses to Hardy in two weeks at the PPV.

JBL sure looks horrible in both talent and body compared to Cena, HHH, and Orton.

Like to see more inter-brand matches... Batista is out of opponents on Smackdown, so him fighting a Raw superstar or two makes sense.

Still any word why Big Show has suddenly dropped out of sight????

OMEGA
Lap cheong



Since: 18.6.02
From: North Cacalacky

Since last post: 3280 days
Last activity: 886 days

#14 Posted on
Originally posted by shawnpatrick

---

Still any word why Big Show has suddenly dropped out of sight????


---


Problem with Show is there isn't anything there for him, just yet. All the top heels are tied up in feuds right now. And, unless Edge wins the title at ONS, there are no heel champions for him to contend with. I'm guessing they'll continue his feud with Mark Henry for now, but it seems they're just sort of biding time until there's room in the top-spots for him.


---
~!~!~!
RKMtwin
Boudin rouge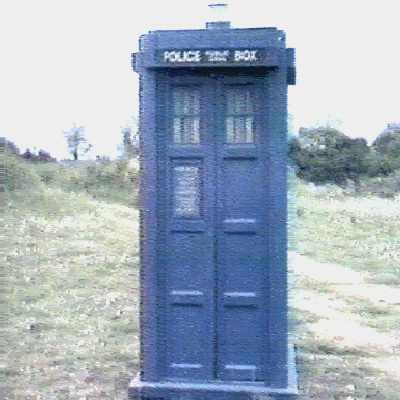 Since: 1.3.02
From: Denver, Colorado

Since last post: 3522 days
Last activity: 2966 days

#15 Posted on
I'm not sure why exactly, but I've warmed up to RAW over the last few months a great deal. And I thought this edition was one of the best in a very long time. In fact, save for a few weak spots here and there, I think RAW has generally been, at very least, damn decent before and after WrestleMania. I'm not without gripes, however.

Regal shouldn't be removed from his role as GM so soon. BUT if it leads to him heading to SmackDown!, awesome. Teddy Long as RAW GM, playa? Even more awesome. But we'll see.

Another gripe-- I agree with Oliver about no follow up in the Cade-Murdoch situation. If WWE's PPVs were indeed more spaced-out over time or were still brand-exclusive, I might let that slide if it was a matter of trying to highlight more of the angles that are going on. Alas, that's not the case. Cade's actions last week had me piqued to the point that I held my middle finger right up to the TV in disgust. Why not follow up on such a great angle immediately?!

Now then, gripes aside, here's what I liked about RAW:

I'll add my props to Santino Marella as well. He's just too much. Rodney the Piper?! Classic! And no matter how many times I've heard it in the last few weeks, I can't help but crack up. And I've gotta say, Cousin Sal seemed to really have the knack on the mic! The guy's a natural. Additionally, Ron Simmons showing up on screen after Cousin Sal clowned Santino in regards to Maria was well-timed to boot. Kudos! I'm actually interested in seeing where this Santino/Piper feud is going, despite Piper's pasty pale gut!

And another thing-- this burgeoning feud between Beth Phoenix and Melina is intriguing. And for a minute there, I was cheering like crazy when Melina tee'd off on Beth with her boot. But that snap mare that sent Melina's spine crushing onto the ramp? OUCH. I hope she's okay!

Also, I thought BIG DAVE hurt his leg legitimately after Batista Bombing Chris Jericho and pinning him. If he didn't though, that has to be one of the greatest sells I've ever seen, more than likely evinced by the fact that after the match, HBK emerged and stared Batista down. Then it just seemed to make sense. Now Batista's got a bum wheel! I'm really liking this bizarre situation where Shawn Michaels is feuding with both Batista and Jericho. And IMO, it just isn't over between HBK and Y2J yet. Not by a long shot. Good match, great storyline development.

Lastly, I don't think I've seen HHH get punked out that hard EVER. And just like that, for the first time in many, many years, I hound myself rooting for Trips. And when RAW shows up here in Denver next week, I'll be amongst the Pepsi Center crowd (no doubt jam-packed to the rafters, may I add), begging to see HHH beat the living crap out of both Orton and JBL. It's about damn time RAW comes back to the Mile High City!

I really think WWE is beginning to get their scruples together. In some ways, this period of time reminds me of late 1996-early 1997, where you begin to see glimpses of something really great coming down the pike. I really hope I'm not wrong.


---

Left or Right, apathetic or not... VOTE.


kentish
Andouille



Since: 19.8.05
From: My Old Kentucky Home

Since last post: 1309 days
Last activity: 563 days

#16 Posted on | Instant Rating: 4.76
Pretty good Raw. I am tired of some of these match ups at ONS, but this seems like a throwaway PPV anyway.

Please tell me they have Finley or Steamboat working with Santino around the clock on his in ring skills. This guy HAS to be a star.

Jericho needs a win in a major way. Maybe someone else will violate the wellness policy soon and be forced to job to him? Has he defeated anyone since Jeff was suspended? Man, what a waste.

This Kennedy guy just might get over. And I have to admit, his music is growing on me.

I am thinking we shouldn't assume Teddy is the new GM, that might be a red herring. Or maybe they had this planned a week ago, because Teddy "quit" at the SD tapings.



---


"I like your Christ, I do not like your Christians. Your Christians are so unlike your Christ."

-- Mahatma Gandhi

Super Shane Spear
Bierwurst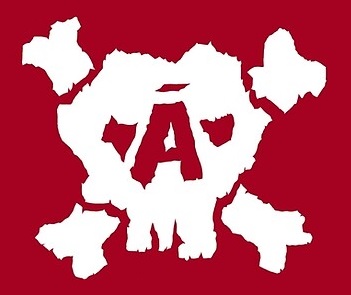 Since: 2.1.02
From: Sector 7 Slums

Since last post: 2930 days
Last activity: 2930 days

#17 Posted on | Instant Rating: 5.77
Top-Shelf RAW. If you extended some of the matches a little and took out commercials, it would've been one of the best PPVs in years. Also, I hope Vince took the individual addresses of the audience, because he should seriously consider taking them on tour with the roster.

- I had my doubts at first with Hardy v Umaga again, but it was awesome to see Umaga go tribal once more. Beautiful splat from Jeff Hardy too.

- Do we really have no less than three Diva feuds (counting SD!) ongoing now? How cool is that? Also, yay for Maria during the whore dial way down this week.

- As much as I wanted to see Jericho and HBK beat the heel (oh ho play on words) out of each other, the right man won tonight. That match was eleven kinds of awesome. MIND GAMES. Jericho was just hitting anything he could on Dave to avoid being bomed. Legs. Head. Back. Both Lawler and JR correctly called the Codebreaker! The BLOCKED Codebreaker at that! Also, the previously mentioned crowd was ablaze with neither of the three syllable names getting a true advantage in the match. GIMME MORE.

- One more point, that staredown was sick. So sick we got all the way to Saliva's solo in Dave's song.

- Lawler has also been incredibly on point recently. That look he gave JR after JR quipped that country music was all there was was Santino-level humour. Also, he almost screamed out MIC CHECK. Yay for knowing moves! I know I'm prasing him for just doing his job, but still...

- Santino was Santino. That's all.

- SMACKDOWN continuity!?! Are you kidding me?

All this and a restaurant-quality main event. I want to give this edition of RAW a big hug.

JimBob Skeeter
Bierwurst



Since: 2.1.02
From: MN

Since last post: 3 days
Last activity: 2 days

#18 Posted on | Instant Rating: 6.16
I finally got to hear Kennedy's new musivc last night? Did they have Cinderella do it? I likey! But then again, I turn 40 this weekend, so I'd probably have gone nuts if they had Fastway do it, too.
StaggerLee
Scrapple



Since: 3.10.02
From: Right side of the tracks

Since last post: 2 days
Last activity: 1 day

#19 Posted on | Instant Rating: 3.03
My fiance' surprised me with a trip to KC and tickets to RAW. Crowd was the most live I've ever been at (been to two other Raw's and a Smackdown). The KC crowd put the St Louis crowds to shame.

Cryme Tyme got a HUGE pop for their HEAT match. And Kendrick/London had a great win over Holly/Roads for heat. Good spots all around.

Raw came on and was electric. I really enjoyed everything. Although my "you killed owen"( clap clap, clap clap clap)chant didnt catch on when Vinnie Mac came out.

Main event was a let down, however after the show went off, Umaga came out and started whooping up on Cena and HHH. After a minute or so, the DX music hit and HBK ran out. A ref was in the ring and BLAMMO! We have an extra match that went for about five to seven minutes and ended with all the faces hitting their finishers at the same time and all three getting the 1 2 3.

Afterwards HHH was on the mic for about ten minutes doing the catch phrases and joking around. He went to do the "for the millions watching at home" part and somebody ringside yelled out, and HHH stopped and said "good point man, It's for Owen too, nobody will ever forget Owen". Which got a nice pop from the crowd. The night ended with Lawler, JR and Teddy long in the ring with DX and Cena, with JR and Teddy dancing to Teddy's music. Probably the best live show I've seen. I was glad the crowd came accross as good on TV as they were in person.

The only thing that made me sad was when Regal came back to his dressing room and Ted Dibiase didnt answer the door as the new GM.
shinstrife
Boudin rouge



Since: 5.10.02

Since last post: 842 days
Last activity: 1 day

#20 Posted on
Being my first WWE event, I was impressed.

Y2J/Batista was easily match of the night, only matched heat wise for the dark main event. After the cameras stopped rolling, Umaga came out to maul on the faces with JBL and Randy. Cue...D-X?

Yes, HBK came out and we had a solid six man tag match that ended with a triple face finishers. Lots of posing, D-X ribbing on John Cena and in his inability to get the crouch pose before the "suck it" line down...which brings out Teddy Long.

Boogie with JR, Lawler, HBK, HHH, Cena, and Teddy Long commences. Show ends with the 6 of them giving the crotch chop with pyro at the top of the ramp.

Oh yeah, Lillian's version of national anthem = awesome.
Pages: 1 2 Next