geemoney
Scrapple



Since: 26.1.03
From: Naples, FL

Since last post: 6 days
Last activity: 5 hours

#1 Posted on | Instant Rating: 5.52
-WWE Open.

-RAW Open.

-Fireworks welcome us LIVE to Milwaukee, Wisconsin, with Jerry ďThe KingĒ Lawler and Jim Ross. Acting GM Jonathon Coachman was already in the ring. Coach had an announcement that would adversely affect Randy Orton....and then we get a video package that is supposed to explain why. Itís just the last few weeks of Cena/Orton. And itís a long one. Coach claimed ignorance on the handcuff situation last week, and has thus suspended Randy Orton indefinitely. Crowd....boos? Coach has brought security out with him, because he wants to be protected from Cena. Then Mr. McMahon was introduced. He said people like he and Coach should be respected for their power and wisdom. He said one person spits in the face of respect, and thatís Triple H. I thought this was going to be a Cena/Orton segment. Tonight, Vince said, Triple H would be embarrassed. Heís gonna hurt Triple H in the won-loss column. In the steel cage, Carlito will be joined by a partner. Vince apparently was not getting the reaction that he wanted, going for some cheap heat in calling out the fans. Carlitoís partner....Mr. McMahon. He guaran-damn-teed a win. You know what that means. Vince goes on, saying he owes someone an apology. Itís his son, Hornswaggle. Vince apologized, then got down on one knee to be face-to-face with his son. JR called it a Hallmark Moment. He just wanted Hornswaggle to pass a test last week, so he can see that heís after something other than the McMahon family fortune. Hornswaggle said he loved Mr. McMahon, then they embraced. He told Hornswaggle that the McMahon name comes with great power. Heís also been a hit with the ladies. Vince introduced one of them....Melina. Is this going to end like it did for Foley? Melina said sheíd like to get to know ďHornyĒ better. Hornswaggle looked to the crowd, then jumped on Melina and rolled around on the mat with her. Vince apologized for Hornswaggle, then told them to go have a beer and enjoy the night. Coach complimented Vince on what just happened, then said with Regal coming back next week, he thinks HE should be made permanent GM. Then Cenaís music hit. Cena went wild at ringside and threw a chair in the ring, where security had moved to. Cena took down Coach and Vince anyway, until he was restrained. Coach and Vince left up the ramp, and Vince threatened to strip him of the title. He said it was up to Coach whether Cena would keep the title. Then Vince said theyíd have a championship surrender ceremony tonight, where Cena would give up the belt. Vince said when Cenaís in the ring begging and pleading to keep his belt, it would be up to Coach to decide. That segment went 19 minutes, but they addressed three different storylines/angles with it.

[Break]

-A highlight of Vince announcing Cenaís championship surrender ceremony aired.

(1) Cody Rhodes vs. Hardcore Holly
Oh, the poor rookie. Little reaction for Bob, thankfully. He even got mic time, just to make sure the fans knew he was a heel. Side headlock by Holly, followed by a knock-down. Rhodes grabbed an arm-bar, but was backed into a corner. JR called Holly ďtougher than a Wafflehouse steak.Ē Rhodes got a roll-up for a near-fall. Holly with another knockdown, then some chops in the corner, nailing Rhodes like he was some Tough Enough student. Chinlock by Holly. Rhodes fought out, then flipped out of a suplex and hit a side-Russian leg sweep. Crossbody by Rhodes for another two-count. Clothesline, then a standing dropkick. Rhodes tried to springboard back in the ring (and he waited for an awkward second), but missed. Holly hit the Alabama Slam for the three. Zuh?

Winner: Holly at 3:10

-Tonight, a handicap steel cage match, with Carlito and Mr. McMahon against Triple H.

[Break]

-They showed a video of Steve Austin signing copies of The Condemned at FYE in New York City.

-Coach will decided tonight whether Cena gets to keep the title.

-Pre-recorded comments by Randy Orton were aired. Orton called Cena a phony and said he knew exactly what he was doing last week. Orton shamed Mr. Cena for trying to take his livelihood away from him. Orton said there is nothing stopping him from beating him senseless in their Last Man Standing Match. He then told Cena to bring his dad to RAW next week so he can see what will happen to John at No Mercy. What if Ortonís suspension isnít up next week?

Santino came to the ring with Maria, for his match with Ron Simmons. That match is next.

[Break]

(2) Santino Marella vs. Ron Simmons
Marella backed off of Simmons right at the bell. A lock-up saw Marella get backed into the corner, then he hid in the ropes. Simmons took some shots at the kidney of Marella. Santino went off the ropes, but slid under the ring to escape. Simmons slowly chased Marella around the ring, then Marella gained an advantage by coming in the ring first. He gave some shots to the kidney of the former FSU football star, then put Ron in a version of the Camel Clutch. JR: ďI might be wrong, but Maria might be wanting to distance herself from Santino.Ē You mean like a few weeks ago when she said they should start seeing other people? I mean, that was right in the pre-match video package. Simmons came back with some clotheslines, then went for a Snake Eyes, but Santino slipped out and out of the ring. He headed up the ramp and called for Maria. When she didnít come with him, he went after her and brought her up the ramp with her for the count-out.

Winner: Simmons by count-out at 3:16

-Simmons got on the mic and the crowd started to pop before he even said anything. Then he did his thing.

-Coming up, Triple H vs. Mr. McMahon and Carlito in a steel cage match. What will Vinceís physique look like?

-Plus, will John Cena be publicly stripped of the WWE Title tonight?

[Break]

-A diva-search video aired. This week: A limbo contest. Quick, you only have five more minutes to vote!

-Melina was backstage, solo. Jillian came up to her and asked where Hornswaggle was. Jillian couldnít believe she was going on a date with a leprechaun. Jillian called the idea ďgross.Ē Then Melina said if she took Hornswaggle on a date, Coach would give her a womenís title shot. And she admitted the scam....right in front of the camera. Despite asking if Jillian could keep a secret. Melina went off to shower because of Hornswaggle jumping on her earlier.

-Cade and Murdoch were backstage when the Highlanders walked up to them. Rory said theyíve been biding their time (getting squashed by Snitsky), waiting for a shot at the titles. Cade said maybe another night, as they already have a match. Rory suggested any stipulation the champs wanted for the match. Robbie wanted a kilt-on-a-pole match. Murdoch wondered what theyíd be wearing if their kilts were on a pole. The Highlanders took off their kilts, giving C&M a glimpse of what was underneath- thankfully, we saw nothing.

-The steel cage began to lower.

(3) Triple H vs. Carlito & Mr. McMahon- Handicap Steel Cage Match10:03:07
McMahon has a cutoff tee on, so we donít get the full effect of his guns. Triple H fought away from Carlito, then grabbed Vince off the cage as he was scaling it. A 2-on-1 ensued, but Triple H fought out. He started pounding on Carlito as Vince tried to slip out the door. Triple H caught him, but was hit from behind by Carlito. Clothesline on Carlito and Vince again tried to climb over. Triple H pulled his leg off the top rope, crotching the boss. Speaking of crotching, Carlito hit a low-blow on The Game. All three men are down, so cue the ad break.

[Break]
10:11:24
Vince was still hanging out on the apron when we got back, with Trips and Carlito trading fisticuffs. High knee by Triple H, followed by a knee-lift. Carlito got thrown into Mr. McMahon. Luckily, the fencing cushioned him. Triple H gave the crotch chop to Vince, then set him up for the pedigree, but Carlito came from behind with the back-stabber. Mr. McMahon crawled toward the door as Carlito got back-dropped into the cage. Vince was pulled back into the ring by Triple H, but Carlito hit him from behind again. Carlito hit the ten-count punch on Triple H as Vince tried to get out on the other side. Carlito got slammed down and Triple H met Vince at the top of the cage. Both situated themselves with a leg over on each side, sitting on the top and punching away at each other. Carlito tried to pull Triple H down, but to no avail. Vince got to the other side of the cage, then dropped down for the win.

Winners: Mr. McMahon & Carlito at 8:17

-Vince got his hand raised as he headed up the ramp. For some reason, Carlito didnít get out of the ring, so an angry Triple H took his rage out on the son of the Carribean Legend. He threw Carlito face-first into the steel several times, producing blood. Triple H got a steel chair from outside the ring and was about to hit Carlito, then he dropped it to the ground and pedigreed Carlito on it. Boy, good thing Triple H got his heat back. And thank God they finally put Mr. McMahon over...heís got a promising future.

-John Cenaís title reign could come to an end tonight. Stay tuned to see if it happens.

[Break]

(4) Lance Cade & Trevor Murdoch vs. Brian Kendrick & Paul London
Weíre JIP out of the break, and if the faces win, they take on the champs for the titles next week. And oh by the way, The Highlanders are at ringside. Iím sure they wonít factor into the finish though. Murdoch has neutralized London, at least for a short time, until Kendrick tagged in and hit a springboard dropkick. Kendrick got a two-count after a side kick, and his pin was broken up by Cade. Kendrick hit Sliced Bread #2 on Murdoch but the Highlanders interfered for the DQ. They beat down London & Kendrick. Didnít the faces still win? Does that mean they get a title shot?

Winners: London & Kendrick by DQ, 2:03 shown

-Melina was taking a shower backstage (with her back to the camera), and Hornswaggle was sneaking a peek. He put a towel on his head and Melina blindly groped for it. She began to dry off until she saw Hornswaggle staring at her. He then chased her down the hallway before catching her and pulling the towel off her.

[Break]

-Mr. McMahon was backstage and Coach thought he was leaving. McMahon boasted about his win, but Coach said Trips was looking for him. McMahon said he didnít care- he has Triple Hís number. As soon as Coach left, Vince began packing his stuff faster.

-A ďCondmnedĒ promo aired, with negative opinions expressed by Santino in the package.

-A look at the cage match from earlier tonight.

-Vince was about to leave his locker room when he opened the door to Triple H standing behind it. Triple H offered Vince a one-on-one match next week- and Vince accepted.

-Still to come, Cenaís Championship Surrender Ceremony.

[Break]

(5) Jeff Hardy & Candice Michelle vs. Shelton Benjamin & Beth Phoenix
Hardy handed out glowsticks to the crowd. Mixed tag team rules here. The men start things off, with Shelton taking down Jeff. Off the ropes went Jeff, but was able to stop himself and put the boots to Shelton. Flying clothesline followed that up. Wrist-lock by Jeff, then a reverse mule-kick that sent Shelton to the outside. Beth tried to interfere with Jeff on the top, but Candice knocked her down. Candice flew onto Beth from the top, and Jeff followed onto Shelton. Match continued after the break.

[Break]

Back live, the women were in the ring, with Beth stretching the arms and shoulders of Candice. Tags were made and Jeff was going to work, getting just enough of Shelton on the Whisper in the Wind to knock him down. Into the buckle went Jeff, but he got the feet up. Jeff came down off the top with....something. On reply, Shelton caught Jeff and slammed him down in a powerbomb-like maneuver. Chin-lock by Shelton was broken by Jeff, until Jeff got slammed over Sheltonís knee for a two. Shelton missed a clothesline off the ropes, and both men went for a crossbody and went down. The women were tagged in and Candice hit a dropkick and hurricanrana. Hair pull by Candice brought Beth down. Cover got two. She ran into a kick to the gut by Beth, but a jaw-breaker (or something) sent Beth back into the corner. Shelton got knocked out of the ring by Jeff and Jeff set up for the catapult and Candice jumped off his back and onto Beth. Shelton took Jeff out, which distracted Candice long enough for Beth to hit the cradle suplex for three.

Winners: Shelton and Beth at 9:38

-Backstage, Coach was talking to the press(?), as he said the end of Cenaís championship reign would soon come to and end. And he clarified Ortonís ďindefiniteĒ suspension- 24 hours. Why suspend him at all then? Coach said it would be a momentous night.

[Break]

-Next week, Mr. McMahon will face Triple H, in a one-on-one match.

-Security is in the ring, as is the red carpet, for Cenaís surrendering. Coach said Cenaís reign may be coming to an end tonight. He said itís really up to Cena. Then he brought out the champ. Coach said it would be a shame for it all to end this way. Due to Cenaís arrogance, his dadís beating may have been for nothing. Coach said heíd give Cena one chance to keep the title, by showing Coach the respect he deserves. That would entail Cena begging to keep the title. If Coach buys it, he MIGHT let Cena keep the championship. Cena was hesitant, so Coach took his jacket off, and Cena took his shirt off. Coach wanted Cena to just hand over the title (the easy way), or security could confiscate the title and haul Cena out of the building (the hard way). As Coach was about to announce the stripping of Cenaís title, the bell rang. Lillian read a very important announcement from Mr. McMahon- by his orders, Cena would NOT be stripped of his title. Furthermore, a main event will start right now, with Cena vs. Coach in a tables match.

(6) Jonathon Coachman vs. John Cena, Tables Match
Cena grabbed Coach, said he knew nothing about respect, then knocked Coach down. Cena was about to FU Coach through the table, but decided to beat him down a bit more, including an STFU. There was already a table in the ring for the ceremony, so Cena FUíd Coach through it for the victory.

Winner: Cena at 1:10

-Hornswaggle came out on the top of the ramp. Cena got the mic: ďThank you.....Mr. McMahon.Ē Clever, but whatís from stopping Coach from stripping him NEXT week?



---

College, Sports and More!: Experience It




Promote this thread!
JustinShapiro
Scrapple
Moderator




Since: 12.12.01
From: Pittsburgh, PA

Since last post: 50 days
Last activity: 5 days

#2 Posted on | Instant Rating: 8.67
SAVE_US.222

JERICHO

I needed that tantalizing treat badly, because this week I was wishing for the Hornswoggle quad tear.

(edited by JustinShapiro on 24.9.07 2317)
Torchslasher
Knackwurst




Since: 17.1.02
From: New F'n Jersey

Since last post: 98 days
Last activity: 98 days

#3 Posted on | Instant Rating: 5.76
I think there were a ton of extremes on Raw tonight.

Extreme Good:
Santino's commentary on the Condemned and feud/match with Ron Simmons

Sue me, I still like Candace and her work. She is still sloppy, but she tries so hard that it wins me over.

Highlanders turning on Londrick. Good, let them do SOMETHING!

Cena main event angle. Didn't see that one coming, so it worked for me.


Extreme Bad:

Triple H's cage match and angle.

Hardcore Holly's return on Raw. I must admit that I truly dislike Holly, and I don't want him on the one WWE show I watch regularly.

Orton's suspension.

Thumbs in the middle for Raw.


---

Click Here (czwfans.com)

For all your CZW and Nickels Trivia information.

"Put on your helmets, we'll be reaching speeds of 3!"
"It was nice of you to give that dead woman another chance."
"All right, look alive everybody...oh sorry Susan."- MST3K: Space Mutiny
Click Here (myspace.com)
Super Shane Spear
Bierwurst



Since: 2.1.02
From: Sector 7 Slums

Since last post: 2925 days
Last activity: 2925 days

#4 Posted on | Instant Rating: 4.62
UNDERRATED ALERT: If they give Holly and Cody the time this angle needs, it will be the Matt/MVP of RAW. That match, as a first of what will probably be a trilogy before they form a mutual respect team, was awesome.
thecubsfan
Scrapple
Moderator



Since: 10.12.01
From: Aurora, IL

Since last post: 3 days
Last activity: 6 hours

#5 Posted on | Instant Rating: 10.00
---

Triple H's only concern is to protect people on his level, and I think it's a pretty safe assumption that the only two people on RAW that he feels are there happen to be feuding right now.

---


Yea, I'm a moron.

It's nice that Vince has gone from being unable to wrestle Trump due to a pelvis injury in the spring to having cage matches in the fall. I (vastly cynically) think it's more like a "look at what Mr. McMahon is willing to do for this company - who are you not do everything you can?" statement but at least they killed only one guy this week.


---

thecubsfan.com - CMLLBlog
BigDaddyLoco
Scrapple



Since: 2.1.02

Since last post: 17 hours
Last activity: 16 hours

#6 Posted on | Instant Rating: 3.31
I enjoy the odd reaction fans have when Helmsley is killing a guy in the ring. Other than that I guess Hardcore Holly vs Cody Rhodes was alright and will make for a deceant lower card feud.

Coach going through a table is barely second hour material, I'm really surprised they put this in the Main Event slot.



(edited by BigDaddyLoco on 24.9.07 2333)
Freeway
Scrapple



Since: 3.1.02
From: Calgary

Since last post: 1639 days
Last activity: 1326 days

#7 Posted on | Instant Rating: 6.07
Originally posted by JustinShapiro

---

SAVE_US.222

JERICHO

I needed that tantalizing treat badly, because this week I was wishing for the Hornswoggle quad tear.

(edited by JustinShapiro on 24.9.07 2317)

---


Justin, where on the broadcast was the teaser? I wanna see it on the late Score replay.
JustinShapiro
Scrapple
Moderator




Since: 12.12.01
From: Pittsburgh, PA

Since last post: 50 days
Last activity: 5 days

#8 Posted on | Instant Rating: 8.67
Before the last commercial break, after Coach's "press conference"!!!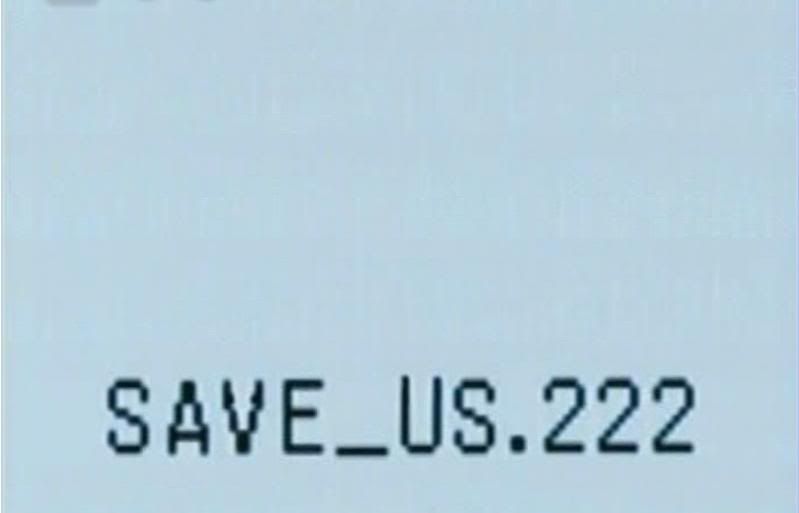 Courtesy some man!

(edited by CRZ on 24.9.07 2240)
Freeway
Scrapple



Since: 3.1.02
From: Calgary

Since last post: 1639 days
Last activity: 1326 days

#9 Posted on | Instant Rating: 6.07
Originally posted by JustinShapiro

---

Before the last commercial break, after Coach's "press conference"!!!



Courtesy some man!

(edited by CRZ on 24.9.07 2240)

---


Much-obliged.

Slightly off-topic: I caught your last "appearance" on Figure Four Weekly. When are you gonna be on next?
CRZ
Big Brother
Administrator



Since: 9.12.01
From: "Éü"Éć"āĘ"ÉĚ"É™"āĻ

Since last post: 6 days
Last activity: 12 hours


ICQ:
#10 Posted on | Instant Rating: 9.00
Originally posted by JustinShapiro

---

SAVE_US.222

JERICHO

I needed that tantalizing treat badly, because this week I was wishing for the Hornswoggle quad tear.

(edited by JustinShapiro on 24.9.07 2317)

---
It's sad that that ten seconds was the most exciting thing on the show. I dutifully freeze-framed it and was amazed to see the directory listing of all their old bumpers (LiveWire? Jakked? WM99? What ARE these shows? Not to mention bumpers for Skittles and Lugz amongst other things) and didn't make the connection - a bunch of them are from...1999 apparently?


---
9/24
(The W at Amazon)
JustinShapiro
Scrapple
Moderator




Since: 12.12.01
From: Pittsburgh, PA

Since last post: 50 days
Last activity: 5 days

#11 Posted on | Instant Rating: 8.67
Yeah, it looks like they used an actual directory they had lying around. Maybe there's secret GTV .wmvs in there.
Dahak
Frankfurter



Since: 12.5.02
From: Junction City OR.

Since last post: 3360 days
Last activity: 3013 days

#12 Posted on | Instant Rating: 3.83
Some times this show pisses me off because the mistakes they make are just so stupid. Why tell Cena that Orton is suspended then wait 15 minutes before CENA SMASH comes out? Why have Orton tell us that he will be in the next PPV before Coachman tells us that Orton will be back next week?
Wrestling wise it wasn't so bad. I like that the Highlanders have become evil and another tag team on tv is a good thing. Not a fan of all at Hardcore Holly. Sorry but while Sparky Plug can wrestle he is boring and a dick (on tv and in real life).
Also wow who will save Vince next week from Trips? Maybe some blond from Green Bay the sublety of this show is just amazing sometimes.


---

Marge I am just trying to get into heaven not run for Jesus.
Deputy Marshall
Liverwurst




Since: 28.6.04
From: Troy, NY

Since last post: 1341 days
Last activity: 862 days

#13 Posted on | Instant Rating: 6.92
I want the tease to be Jericho's re turn, but there's a sinking feeling in my stomach that it's going to culminate in Vladimir Kozlov repackaged as a Russian computer hacker.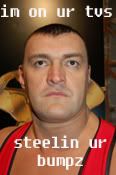 But seriously, RAW is going to be so much better once Jericho gets pedigreed to Hell by HHH in his second week back.


Yay for heel Highlanders!

(edited by Deputy Marshall on 25.9.07 0130)

---

KevinMarshallOnline.com
* 9/20 - The "Living Under Marshall Law" Podcast is available for your listening pleasure! Now playing: Review of TUF Season 6 premiere. Wonderful.
flairforthegold13
Kishke



Since: 1.5.03
From: Gainesville, FL.

Since last post: 3849 days
Last activity: 3836 days

#14 Posted on | Instant Rating: 9.00
One positive about the Hornswoggle thing is that they're using it as a plot device to move other things along. This does allow Regal to slide back as GM nicely and fuck with Cena next week.

Is this 2 out of 3 weeks that Orton hasn't been featured much? It almost seems like he's being phased out when he should be poised to win the belt.

Thought the mixed tag was fun. Everything else less so.

And the Save Us deal. Well, I mean... it HAS to be Jericho, right? Right? It's a nice call-back to the countdown, the save us tag fits in with his schtick, they used info from 1999, the year he debuted...

Incidentally, Oct. 22 falls on a Monday...and Jericho's book comes out on the 25th. He's on a book signing tour after that, but there would be worse ways to promote that sucker.

Final Edit: Just checked his website tour dates. He doesn't have a book signing on a Monday at all... so... that does KIND of work out, right?
http://chrisjericho.com/



(edited by flairforthegold13 on 24.9.07 2326)
It's False
Scrapple



Since: 20.6.02
From: I am the Tag Team Champions!

Since last post: 89 days
Last activity: 27 days

#15 Posted on | Instant Rating: 4.65
If ever there was a time for Chris Jericho to come back, it's now. In terms of main eventers, this company's got nothing outside of Cena, Triple H, Batista, and Undertaker. In other words, the usual cast of characters.

Hell, Jericho can pick up right where he left off. His last match and feud was, after all, against John Cena. Continuity, baby!

Man, have I ever missed Regal. His return couldn't have come soon enough, because I've been dying for another Regal/Santino segment.


---

It's HAMMER TIME!
Packman V2
Bratwurst



Since: 16.3.04
From: Albuquerque, NM

Since last post: 2 days
Last activity: 2 days

#16 Posted on | Instant Rating: 5.09
Was it just me, or did Trips look like he fell asleep in the tanning bed? Dude was much darker than usual.





---

Co-Winner of the 2006 Time Magazine Person of the Year Award
Mayhem
Scrapple



Since: 25.4.03
From: Nashville, TN

Since last post: 328 days
Last activity: 213 days

#17 Posted on | Instant Rating: 5.04
Speaking of Orton, I read somewhere that the reason for his "suspension" for the week was due to the fact that he was married over the weekend.
kentish
Andouille



Since: 19.8.05
From: My Old Kentucky Home

Since last post: 1304 days
Last activity: 557 days

#18 Posted on | Instant Rating: 2.33
So the only way Carlito can go over HHH is if Vince is his tag partner? And Vince is actually the one to "win" the match, while Carlito gets buried (again) afterward. Does anyone in the company think about the future? At all? Jericho couldn't save this crap anyway, he would just be next in the Pedigree line. Unless he went to Smackdown, but who are we kidding? Weak, weak, weak.

When is HBK coming back? At least he delivers great matches when he squashes people. ; )

As my one positive comment of the week, count me in the "Candice is really trying" category. She has a ways to go, but you can tell she is willing to try, unlike Tori who is as good (bad) now as she was in 2001.


---


"I like your Christ, I do not like your Christians. Your Christians are so unlike your Christ."

-- Mahatma Gandhi

The King of Keith
Lap cheong



Since: 4.11.02
From: Winchester, VA

Since last post: 1284 days
Last activity: 1283 days

#19 Posted on | Instant Rating: 4.03
Why are people so upset about HHH squashing Carlito? At least it's not someone that matters. HHH should be able to beat him with two of his fingers. Carlito is a JTTS.


---

Hail to the Redskins!
spf
Scrapple



Since: 2.1.02
From: The Las Vegas of Canada

Since last post: 959 days
Last activity: 379 days

#20 Posted on | Instant Rating: 5.16
I kind of dug the Jeff Hardy/Candice Michelle partnership last night. She often looks like one of the few people on the show who really wants to be there.
Pages: 1 2 3 4 Next