geemoney
Scrapple



Since: 26.1.03
From: Naples, FL

Since last post: 5 days
Last activity: 3 hours


AIM:
#1 Posted on | Instant Rating: 5.52
-WWE Open.

-Cold open, and ďNo chance...Ē cued up. Vince power-walked to the ring, followed behind by Coach as JR and King welcome us to RAW, LIVE from Green Bay. Looks like theyíre getting it out of the way early. Or itís a tease. McMahon screwed up and said he ďfound out my son was a WWO....let me try that again...Ē but he drew some heat and got to do his ďSHUTUPPP!Ē to the fans. I hope that screw up doesnít mean heís nervous about revealing this wrestler. Vince didnít understand what ďthings are looking upĒ means. Good pop for the mention of Mr. Kennedy, and Vince made Coach rip up the latest WWE Magazine with Kennedy on the cover. Yikes. Vince ranted about wanting to know who his bastard son was....and out came Great Khali. This better be a tease. Khali got on the mic, which drew ďWhatĒ chants from the crowd. Runjin Singh translated, though it doesnít sound like heís confident that Khali is in fact, the son. Khali would be honored to be called, ďThe Great McMahon.Ē Then JBLís music hit, and he walked out. JBL said ďthings are looking upĒ shouldnít be taken literal. Does that mean motivational speaker DDP is going to come out next? JBL ran down the similarities between himself and the chairman. JBL said it would be a privilege to change his name from JBL to JBM. I donít get it....Vince is going to eventually find out none of these guys are his son....and THEY know it too...so why do they keep going on with this? Speaking of which, Jeff Hardy came out next. Hardy said he doesnít know why heís out there, because he knows his dad, but when he hits his swanton, everyone in the building is looking up. Jeff said he hoped he wasnít Vinceís son. Hardy traded insults with JBL, then JBL shot at Khaliís hair. The womanís lawyer, Mr. Johnson, was on the Titan-Tron. Vince demanded to know the son. He said the identity will not be revealed right now, instead, when his client is ďgood and ready.Ē The only hint the lawyer would give was that the son was not Jeff Hardy, so Jeff celebrated. For that, McMahon put Jeff in action tonight against Khali.

[Break]

(1) Paul London vs. Lance Cade
I see theyíre going the Smackdown route to build the tag team feud....by putting each man in one-on-one matches against each other. JR plugged the Diva Search and apparently, itís exclusive home is WWE.com. Thank the Lord. Cade slowed London down with a head-lock take-over. JR mentioned that Cena is barred from the arena tonight. Hurricanrana by London, but Cade came right back on offense and registered a pair of two-counts. Back-suplex by Cade for a near-fall. London got the boots up on a corner charge, then hit a springboard dropkick for two. High back-body drop by Cade. Big shoulder-tackle and London did the Marty Jannetty/Curt Hennig 360 degree sell. John Cone is your ref here, the newbie. London got set on the top, but Cade was knocked off. Murdoch distracted the ref, and Kendrick came in to hit the Sliced Bread #2, and London got the pin.

Winner: London at 3:08.

-Backstage, Triple H silently plugged his new t-shirt on WWE.com. Heís in action next!

[Break]

-JR and King talked about coming upon the 10th edition of Unforgiven. JR was going to send it to clips of the Carlito/Triple H feud, but back-tracked, and instead sent it to a Cena/Orton package. Not a smooth night for the Okie so far. We got a look at security standing outside the building, in case Cena shows up.

-Backstage, Coach sucked up to Vince, the new GM. Vince didnít seem happy Coach barred Cena from the building. They discussed the poll on WWE.com about who people thought Vinceís son was. Coach brought in the number two vote getter....Stevie Richards. McMahon laughed him out of the office and he didnít even get a line. The #1 vote getter? Triple H.

-Last week, Triple H destroyed Umaga. Why yes, we did get clips of it.

-Backstage (again), Carlito was interviewed by Todd Grisham. He said heís not worried because tonight, heís full of surprises. Carlito got to pick Triple Hís opponent tonight. It is someone who has beaten Triple H before, more than once in fact. Well, that narrows the list.

[Break]

-Tonight, Jeff Hardy will take on Great Khali after Hardyís faux pas in the first segment.

(2) Triple H vs. Shelton Benjamin
Well thatís disappointing. Points for WWE for remembering they actually pushed Shelton once. Benjamin was accompanied by Carlito. Trips knocked Shelton down to start. Shelton fought back, but was grounded with a back elbow. Benjamin got out of a suplex, but Triple H threw him shoulder-first into the ring post. Trips began to work on the left arm of Shelton with a couple arm wringers. Another shot into the post, and this time, he fell to the outside. Triple H went to the outside to jaw with Carlito. Shelton tried to surprise him with a baseball slide, but Trips saw it coming and threw Shelton over the announce table and onto Carlito. Boy, canít get anything by that cerebral assassin. JR once again mixes up Carlito and Shelton as we headed to break.

[Break]

-Shelton had Triple H in a rest-hold out of break. DDT from Shelton for two. Shelton hit a springboard forearm (I think), but couldnít hook the legs on the pin attempt and couldnít seal the deal. Another chin-lock from Shelton. Shelton went off the ropes but Triple H hit Benjamin with a slobberknocker of a clothesline (JRís words). Off the ropes again, high knee from Triple H. Corner clothesline followed that up. Main Event Spinebuster by Trips and now Carlitoís upset. He jawed with Triple H, but because he has eyes in the back of his head, he dodged a Benjamin corner splash attempt and hit the pedigree for the win.

Winner: Triple H at 8:42.

-Carlito tried to attack post-match, but Triple H saw it coming and grabbed the chair away as Carltio scampered up the ramp. This brought out Coach, who said his match with Carlito at Unforgiven has been changed to a no-DQ match...for Carlito only. Thatís cool.

-Tonight, Mr. McMahonís bastard son will be revealed.

-Security was outside patrolling the area. They check a car, and when they discover it is Cena-less, they allow it in.

-Randy Orton is walking backstage, weíre going to hear from him next.

[Break]

-Randy Orton came out for his interview segment. He spoke to Cena, who he said is probably sitting at home watching RAW with his dad. Orton said Cena has been a title-holder because of his clear head, but now, things have gotten personal. As Orton continued with his promo, Cena began to run through the crowd. He fended off security and got at Orton in the ring. Orton escaped soon after and went up the aisle as security held Cena back.

-Backstage, Coach got a talking-to from Vince for not being able to prevent Cena from getting in the building. Vince came upon security dragging Cena out and Cena cut a promo on Vince, saying he was just a man who gave a damn about his father.

[Break]

-Still to come, Hardy vs. Khali.

(3) Mickie James vs. Jillian Hall
Candice Michelle joined the announce team before the match. Mickie landed on her feet after a snap-mare, but got clotheslined anywya. Handspring elbow by Jillian, who then took Mickie down with a hair pull. The girls traded forearms, but Mickie caught Jillian with a neck-breaker. Mickie caught Jillian with an elbow on a corner charge. She tried a hurricanrana, but Jillian countered with an electric chair. After a kick to the gut, Mickie hit a reverse spin kick for the victory.

Winner: Mickie at 2:01.

-Beth Phoenix came out and attacked both women after the match. Candice got in the ring to go after Beth and got a flurry of fists, before Beth hit her finisher.

[Break]

Santino Marella vs. The Sandman
Santino spoke on the death of Pavarotti- he said at least he passed on before having to watch Stone Cold in ďThe Condemned.Ē Sandman hit some elbows out of the corner, then hit a back elbow to send Santino down. Slow run into the corner by Sandman, and he came up lame. Maria and Simmons were watching backstage. Bodylsam by Santino, but he missed a splash as Marella got his knees up. Sandman then catapulted himself onto Santino on the outside, and landed on his head. Santino grabbed the singapore cane and tried to hit Sandman, which prompted a DQ.

Winner: Sandman by DQ at 1:47.

[Break]

-Maria and Ron Simmons were backstage and Maria mentioned she wanted to tell Santino she wanted them to split. Santino came upon the scene, so he went after Simmons, then gave Ronís trademark curse word.

-A Diva Search video aired.

-Great Khali came out for his match, which is next.

[Break]

(5) Great Khali vs. Jeff Hardy
Jeff went low, then high on Khali and neither worked. Hardy got caught coming off the ropes with a clothesline by Khali. Khali put the boots to him in the corner. Khali actually hit a nice kick to Hardy. Vice grip was applied, and Jeff went down. After applying the hold for about a minute, he let go and set his foot on Hardyís chest for the pin.

Winner: Khali at 3:08.

-As Khali celebrated, Batistaís music hit. He even got pyro. The Animal hit the ring and speared Khali. Khali rolled right to the outside before much more damage could be done.

-Mr. McMahon and Coach were walking backstage, heading to the ring.

[Break]

-Mr. McMahon and Coach came out a second time tonight, as JR really hyped what was about to happen. They were followed by every superstar on ECW, Smackdown and RAW. Vince did a little talking, then Johnson appeared on the Titan-Tron. Apparently, the bastard son is not extreme. Damn, I was hoping for Punk. Also, his son has a fondness for gold. Any current or former champions stuck around at ringside. The next clue: His son has fair skin. All the caucasians got to stay. Vince wanted everyone in the ring before the next hint. His sonís hair....is also fair. Loud ďKennedyĒ chants....he would still fit the bill. Individual was the one-word clue that was next. Cade and Murdoch were sent packing, leaving Triple H, JBL and The Sandman. One final clue: The son loves to play the game. Well, that should spell it out. Triple H doesnít look too happy about it. Vince was going to say something about Trips and Steph and Triple H said he didnít like it anymore than Vince. Actually....Johnson said he loves to play games....hide and seek, or, like on Smackdown this past week, marbles. Thatís right, itís Hornswaggle. Triple H was so relieved he burst out laughing at Vince at the prospect of Vinceís little son. Hornswaggle hugged Vinceís leg and Vince just stared out into space. Hornswaggle hugged Vince again as Trips put Hornswaggleís hat on Vinceís head as we faded out.


---

College, Sports and More!: Experience It




Promote this thread!
hansen9j
Andouille




Since: 7.11.02
From: Riderville, SK

Since last post: 1 day
Last activity: 3 hours

#2 Posted on | Instant Rating: 5.33
I will pay many dollars for the big HHH/Hornswaggle matches this sets up.


---

Proud member of the Dwight Army of Champions. And also a Communist.



Kane Is Ugly
Kishke



Since: 14.7.03
From: Uglyville

Since last post: 2609 days
Last activity: 2595 days

#3 Posted on | Instant Rating: 1.07
Well, I would have preferred Kennedy, but at least hornswoggle is good for comedy relief. It scared me when they were teasing Triple H, because that would be really stupid.


CRZ
Big Brother
Administrator



Since: 9.12.01
From: "Éü"Éć"āĘ"ÉĚ"É™"āĻ

Since last post: 10 hours
Last activity: 2 hours

#4 Posted on | Instant Rating: 9.00
The kid's still got it. (Sorry if I ACTUALLY spoiled it for anybody. ;-) )


---
9/24
(The W at Amazon)
redsoxnation
Scrapple



Since: 24.7.02

Since last post: 664 days
Last activity: 664 days

#5 Posted on | Instant Rating: 3.57
When it gets down to incest or midgets, midgets is the better way to go. I was hoping for either Steve Lombardi or Barry Horowitz based on the clue, as no one has looked up more than those two through the years.
Now, why was Hacksaw eliminated on the championship clause? He's a former UWF Champion, US Champion and World TV Champion. That's a better championship pedigree than Sandman. Next week on RAW: The ghost of Sky Low Low appears to announce he is Vince's father.

(edited by redsoxnation on 10.9.07 2318)
TheOldMan
Landjager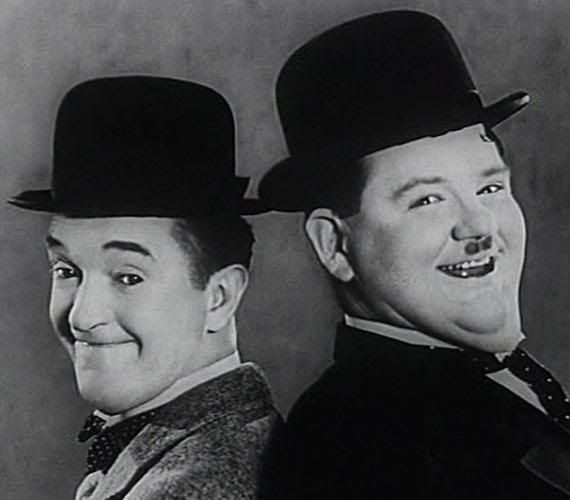 Since: 13.2.03
From: Chicago

Since last post: 26 days
Last activity: 24 days

#6 Posted on | Instant Rating: 5.17
I'm calling swerve here - Trips ending up in the ring to laugh at Vince.. it's a HHH joke that will eventually lead back to Kennedy.

Still should make for some amusing shenanigans for a month or so.


---


It's the Big "W", I tell ya! The Big "W"!
It's False
Scrapple



Since: 20.6.02
From: I am the Tag Team Champions!

Since last post: 2 days
Last activity: 2 hours

#7 Posted on | Instant Rating: 4.64
And HOW does this show make me want to buy Sunday's PPV? The show is still THIS Sunday, right? I would have never known that, considering the show focused around Vince's midget son and the Great Khali's guest appearance. Man, this show was good for a laugh, but it sucked as a PPV hard sell.

And should we take it that Santino's "suspension" will consist of him working for free?

(edited by It's False on 10.9.07 2229)

---

Buy Kanye West's "Graduation" (The W at Amazon) and YOU can help send 50 Cent into retirement (and put some money into The W while you're at it)!
Deputy Marshall
Liverwurst




Since: 28.6.04
From: Troy, NY

Since last post: 192 days
Last activity: 131 days

#8 Posted on | Instant Rating: 6.92
Originally posted by redsoxnation

---

Now, why was Hacksaw eliminated on the championship clause? He's a former UWF Champion, US Champion and World TV Champion. That's a better championship pedigree than Sandman.

---

Good question. As far as the UWF goes...well, that promotion's been so far out of people's minds that I can't really say it would make sense to even note it. The only reasoning I can come up with for not recognizing the US and TV Title reigns? Well, the TV title doesn't exist anymore (technically the ECW Title still exists - hence Sandman sticking around). And honestly, I'm sure even Hacksaw forgot he was US Champion (I know I sure as Hell did until you brought it up).


Originally posted by It's False

---

And HOW does this show make me want to buy Sunday's PPV? The show is still THIS Sunday, right? I would have never known that, considering the show focused around Vince's midget son and the Great Khali's guest appearance. Man, this show was good for a laugh, but it sucked as a PPV hard sell.

---

To quote Bryan Alvarez (usually in reference to TNA), "This sold...NO BUYS."

It really is amazing that as cheesy as it was at times, they spent a ton of airtime and effort building up to this one moment that set up a single punchline and...that's it.

I know some people would have the reaction of "awww, what the Hell, it was funny because his son's a midget and he was totally expecting a larger man and it shows that WWE is biased towards entertainers rather than big men! ...KENNEDYYYY", but let's be serious for a moment. Despite the video packages here and there, this entire show - nay, the entire last few weeks of show - was built around the illegitimate McMahon angle. Meanwhile, there's a pay-per-view coming up and with all the talk of PPV buys being down as a whole (with the exception of the Big 4) it's almost understating it to say it's being treated as a peripheral event.

So instead of having this lead to something for the pay-per-view and doing something that could increase interest for the show, instead we get something that while amusing not only to ourselves but to the casual viewer, does not entice a single person to buy the aforementioned event on Sunday. So what, exactly, was the point of all this? If it is a setup for a future angle as TheOldMan speculated, what in the world is the motivation for the viewer to take any future swerve seriously? To expand on that, why would the viewer even maintain interest in it?

Look, I'm not one of those that thinks there shouldn't be comedy in wrestling. Quite the contrary, as I enjoy Santino Marella's character more than perhaps anything else on RAW. But Santino, as much as I like him, wouldn't entice me to buy a show just based on his comedic hijinx, even if I do enjoy them to a ridiculous degree. DAMN-ah!

(Quick aside - Marella was awful in the ring and is still pretty bad to an extent, but it's amazing what giving somebody a character that they're good at portraying and plays to their strengths can do for a guy's understanding of ring psychology. Eg., making a sloppy match between Marella and The Sandman watchable. Good thing for the E to keep in mind for other guys they deem as hopeless.)

So yeah. We had an evening of "John Cena's father...brutally attacked by Randy Orton, Cena's on a rampage AND VINCE IS SOMEONE'S BABY DADDY" and "who can stop this monster known as The Great Khali...AND IS HE VINCE'S LOVE CHILD?", and meanwhile despite the video packages nobody's being made more aware or enticed more to buy a show that hasn't really been built all that much over the last few weeks. It may be entertaining, but it's shitty booking and shitty business.

Other thoughts:
* Jeff Hardy is better on the mic than he was a few years ago. But he's still a total goof. "I wouldn't brag to anyone about that SWEET haircut" wasn't quite delivered with the biting sarcasm he was shooting for.
* Good to see London & Kendrick are getting the WWdEfensive "see, we feature smaller guys!" push. No, really, I don't care WHY as long as they're on RAW.
* Internet votes should not determine who gets pushed. However, if a guy lands the #2 spot in an online poll for who Vince's son is, maybe he should at least be doing something other than putting over the shitty Vampire on the show they gave up on eight months ago.
* HHH/Benjamin was an alright match, even if it made me depressed remembering how awesome their first match (Shelton's RAW debut) was and how much potential he showed back then. I still don't get the blonde dye-job Benjamin's sporting. If it's a tribute to Butch Reed, well that's nice, but the look didn't work for him either. Carlito actually has a little bit of a star look to him now, and it's a shame he's portrayed as such an inept heel that he can't even so much as hit a babyface with a chair without fucking it up.
* The Cena/Orton segment was put in an odd slot considering their position on the card, but it was done fairly well. Though I still for the life of me can't take Orton seriously during his promos.
* I love the old-school booking they're doing for the Candice/Beth match this Sunday, right down to Candice's commentary. Her delivery needs work, but she was talking about the size difference and the difficulty in overcoming it as if - gasp - SHE THOUGHT IT WAS A REAL ATHLETIC COMPETITION! Very nice. The match in the backdrop was far less offensive than a WWE women's match could be.
* The impression I got from the Khali/Hardy match and the way it ended is that Khali thinks Jeff has a pretty soft face - like a woman - and Jeff feared where it was going and decided it'd be best to just play dead rather than invite any further physicality. Re-watch it and tell me otherwise.


As the RAW go-home show for the pay-per-view and culmination of a month-long storyline, this was pretty miserable. As a RAW taken only in its own context, this was a vast improvement over last week's crap-fest.





(edited by Deputy Marshall on 11.9.07 0212)

---
A wonderful tribute to a wonderful man.
CRZ
Big Brother
Administrator



Since: 9.12.01
From: "Éü"Éć"āĘ"ÉĚ"É™"āĻ

Since last post: 10 hours
Last activity: 2 hours

#9 Posted on | Instant Rating: 9.00
People, people.

The WWE is not interested in using shows like this to sell the pay-per-view!

The WWE thinks this buildup is necessary to create the sort of programming that will keep you from remembering that Monday Night Football is airing on ESPN at the same time!

Fucked up priorities? Absolutely! But has this ever stopped them from doing the same stupid thing in the past? Not really!


---
9/24
(The W at Amazon)
BigDaddyLoco
Scrapple



Since: 2.1.02

Since last post: 4 days
Last activity: 2 days

#10 Posted on | Instant Rating: 3.31
I'm surprised they didn't let Jeff Hardy bounce off of Khali a little more.

Cade and Murdoch not winning the McMahon sweepstakes may have been the funniest part of the whole thing.


Mayhem
Scrapple



Since: 25.4.03
From: Nashville, TN

Since last post: 18 days
Last activity: 4 days

#11 Posted on | Instant Rating: 4.98
Originally posted by TheOldMan

---

I'm calling swerve here - Trips ending up in the ring to laugh at Vince.. it's a HHH joke that will eventually lead back to Kennedy.

---


Oh how I hope you're right.

Now where does Finlay fit into all of this?
kentish
Andouille



Since: 19.8.05
From: My Old Kentucky Home

Since last post: 155 days
Last activity: 8 days

#12 Posted on | Instant Rating: 2.34
It's either a swerve or a way to just bury the whole angle within a few weeks. Hopefully, the latter.

Santino was great once again, and I wonder if his knock of Stone Cold was scripted. If I was in hot water with the company, I'm not sure I would go the route of pissing off the biggest draw of the last 15 years. And yes, his wrestling leaves much to be desired, but what can we expect from a match with Sandman? Or God help us, a potential match with Ron Simmons?


---


"I like your Christ, I do not like your Christians. Your Christians are so unlike your Christ."

-- Mahatma Gandhi

Dahak
Frankfurter



Since: 12.5.02
From: Junction City OR.

Since last post: 2211 days
Last activity: 1864 days

#13 Posted on | Instant Rating: 3.83
I liked Raw last night except for Kali versus Hardy. God Kali is still terrible. I don't get SD so I haven't seem him in a while.
Orton needs to stop trying to be intense. He sounds to stupid to be scary and his flubbing then repeating his lines is funny. Let Randy pretape everything or better yet take him out of any talking roles.
Cena was intense and believeable. I don't usually like attempts to make someone like SCSA but this wasn't really one. No kicking ass of security guards or vehicular mayhem.
Thank the Lord that HHH is not Vince's love child. Now we won't have to hear Steph called a Brother Fucker by 500 drunken fans next time she shows up. Hornswaggle is different at least and could be funny.



---

Marge I am just trying to get into heaven not run for Jesus.
spf
Scrapple



Since: 2.1.02
From: The Las Vegas of Canada

Since last post: 18 hours
Last activity: 15 hours


AIM:
#14 Posted on | Instant Rating: 5.16
Really, they could have gone all the way and had Hornswoggle pop out of an egg and do a dosey-do with Vince once he was announced.

A few small things on Raw that make me happy:

-The nice, straightforward booking of the Women's Title. I would say this is possibly the best booked angle on Raw simply due to how they've cut out all the crap. Big scary girl wants belt, smaller champ girl knows this is going to be very hard to defend against.

-Santino Marella doing basically anything serves to entertain me. He should have been Vince's kid. I don't care what happens after that, it would be golden.

-The look Jeff Hardy gets on his face when he realizes he's done something dumb and now he's going to get his ass kicked as a result of it. It's one of the few real and human reactions people have on the show. He doesn't say anything or throw a tantrum, he just hangs his head and looks like he's thinking "aw man, I GOTTA stop doing this."

-When Cena was yelling at Vince, Vince didn't step all over Cena's promo. Sure it isn't like Vince is going to suddenly turn good or respect Cena but by listening in silence as Cena talked about how even Vince can understand what Cena is feeling it added a layer of importance to Cena's emotions. He's so mad and it is so justified that even someone like Vince can apparently kind of empathize with it.

Sec19Row53
Lap cheong



Since: 2.1.02
From: Oconomowoc, WI

Since last post: 9 hours
Last activity: 6 hours


Y!:
#15 Posted on | Instant Rating: 7.20
RE: Duggan - Vince called out to the fans that Duggan was old enough to he HIS father.

RE: Loud Kennedy chants during the son unveiling - I liked Vince's retort to the crowd - "He's been suspended for 30 days ..pause.. for impersonating a McMahon."
Wpob
Lap cheong



Since: 21.11.02
From: Williston Park, NY

Since last post: 2 days
Last activity: 49 min.

#16 Posted on | Instant Rating: 3.26
I half heartedly watched this show just to see who the Bastard Child of Vince McMahon was. I thought Horswaggle was a good choice for comedy, but I do beleive ti will come back to Kennedy. However, the attorney, whoever he was, completely blew the entrie skit. He was so bad and his delivery and timing were so off that it made the skit almost unwatchable. Vince saved him a few times and you could even sense hsi frustration at doing this. How could that not find an out of work actor to handle this role is beyond me. That guy was awful.


---

Fry crack corn and I don't care
Leela crack corn I still don't care
Bender crack corn and he is great
Take that you stupid corn!

"just because you ARE a character does not mean you HAVE character.."
Psycho Penguin
Liverwurst



Since: 24.6.07
From: Greenacres FL

Since last post: 1659 days
Last activity: 1655 days


AIM:
Y!:
#17 Posted on | Instant Rating: 3.24
Originally posted by TheOldMan

---

I'm calling swerve here - Trips ending up in the ring to laugh at Vince.. it's a HHH joke that will eventually lead back to Kennedy.

Still should make for some amusing shenanigans for a month or so.

---


I agree 100% and this was actually what I was going to post. I still think kennedy will end up being the son after he is off the suspension.


---
http://www.gamefaqs.com/features/recognition/9471.html
John Orquiola
Scrapple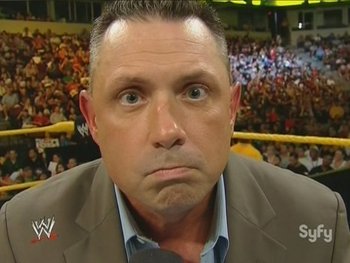 Since: 28.2.02
From: Boston

Since last post: 301 days
Last activity: 301 days

#18 Posted on | Instant Rating: 5.21
Hornswaggle McMahon was good for the comedy pop and Triple H worked extra hard to get it over by laughing hysterically and putting the little leprechaun hat on Vince's head. I do think it's a decoy where Vince will demand a paternity test of his own and it will all lead back to Kennedy or something that will actually set up a wrestling match with Triple H down the line. Hornswaggle was still a remarkably clever (if telegraphed for those putting the clues together) reveal: Irish, from Green Bay, and was called the Little Bastard for a year. Pretty good how that all lined up for them.

Count me in for loving the build up for the Women's Title match at Unforgiven. I love Beth Phoenix's physical dominance, and naming herself the Uber-Diva, the Glamazon. Candice is playing her part as the babyface well. She's a new champion, she's gained some confidence, but she has never been tested by someone that much bigger and stronger than she is. She sold the muscle buster like her back was broken. And she wisely kept her mouth shut on commentary and didn't distract with her terrible voice. I'm looking forward to Candice vs. Beth on Sunday.


(edited by John Orquiola on 11.9.07 0923)

---

Back of the Head: www.backofthehead.com
Excalibur05
Knackwurst



Since: 19.1.02
From: Minnesota

Since last post: 31 days
Last activity: 2 days


AIM:
#19 Posted on | Instant Rating: 6.91
Originally posted by Wpob

---

He was so bad and his delivery and timing were so off that it made the skit almost unwatchable.

---


His delivery was certainly bad, but I don't think you can blame the timing on him. That video package was pretaped, and it was up to Vince and whoever was in the ring at the time (Coach, Hunter, etc.) to fill time between the statements. On a few occasions they ran out of things to do, and thus boffed the cues.

As for Santino, I don't believe he's one of the ones who got suspended, because if memory serves, he didn't get anything from the pharmacy after the Wellness Policy went into effect.


---

For NFL Power Rankings, My Blog and More, check out Hock Show Dot Com (hockshow.com)
drjayphd
Scrapple
Moderator



Since: 22.4.02
From: Long Island

Since last post: 26 days
Last activity: 1 day

#20 Posted on | Instant Rating: 6.94
You wanted the best, you got... Out of Context Quote of the Week.
"The Mexican rebels aren't running it back for touchdowns, so it's close." (thecubsfan)


---
Originally posted by geemoney

---

Coach brought in the number two vote getter....Stevie Richards. McMahon laughed him out of the office and he didnít even get a line.

---


He'll show us. We'll see.
---
Pages: 1 2 Next