geemoney
Scrapple



Since: 26.1.03
From: Naples, FL

Since last post: 14 days
Last activity: 9 hours

#1 Posted on | Instant Rating: 5.67
TONIGHT: One day after Backlash, WWE.com is advertising RVD vs. Umaga as RVD's punishment for his comments on the .com about Vince McMahon winning the ECW Title. Also, Edge faces Randy Orton in a battle of Rated RKO.

-WWE Open.

-John Cena is walking backstage when he runs into Vince McMahon, new ECW Champ. He tries to talk "street" again and he's got his do-rag on. Cena calls Vince "a stooge in a do-rag." McMahon name drops Cryme Tyme while H.B.K. walks up. He does a double-take when looking at Vince. H.B.K. wants ANOTHER shot at Cena, and Cena accepts. But Vince interrupts that Shawn has to earn a title match, and he'll have to earn it tonight. Vinnie Mac leaves with a "peace out, my brothers."

-RAW Open.

-J.R. welcomes us to Nashville, Tennessee at the Gaylord Entertainment Center and hypes Cena/Michaels three tonight.

1- EDGE VS. RANDY ORTON
Getting the show started off hot, I see. Edge starts with a slap to Orton, but Orton comes back with right hands and Edge takes five on the outside. Orton with a thumb to the eye as he chases the Rated R Superstar back in the ring. Looks like Edge has gotten a bit pudgier around the gut. Garvin stomp by Orton follows up. The King says we were supposed to see this last week, but due to the one hour H.B.K/Cena match, it was pushed to this week. It's been all Orton thus far, as he starts choking Edge on the middle rope. J.R. says if the two walked around in a mirror factory, they'd never leave. Crowd hasn't really showed which side they're on yet, though we have a small "Randy, Randy" chant. Orton nails Edge off the apron and into the guardrail as we take a break.

[Break]

Edge is begging off as we return, but he gets the advantage and pushes Orton into the ring post, shoulder-first. Edge spears Orton off the apron, and Orton takes a nice visual bump onto and over the announce table. Edge drags the limp Orton into the ring and gets a near-fall. "Randy, Randy" chants are getting louder. Edge drops a knee across the chest of Orton for another near victory. Orton elbows out of a rest-hold, but Edge gets a spinning heel kick to put Orton back on the mat. Edge to the top, but Orton stops him, laying the right hands on as Edge is perched on the top. Orton is going to suplex Edge off, but Edge headbutts Orton, who falls to the match. Edge goes off the top, but Orton catches him with a drop-kick in mid-air. Both are slugging it out on their knees. Edge gets an eye poke to buy some time. Orton gets the modified back-breaker, but he only gets a two count. Crowd is hot for the near-falls here. Powerslam by Orton as Edge is coming off the ropes, but only a two-count for that. Edge with a modified neck-breaker for only two. Orton ducks a clothesline off the ropes, and the two collide in mid-air, both going for a crossbody block. Edge is up first and takes the top turnbuckle pad off. As ref Mike Chioda admonishes him, Orton goes for a roll-up for two, reversed by Edge for two, then Orton gets a clothesline. Orton goes for the 10-punch in the corner, but Edge drops him across the buckle on four. Edge rolls up Orton for two and he had his feet on the rope too. Orton goes for the same thing, this time Orton gets caught. RKO is countered by the Impaler DDT by Edge. THAT only gets two too! Orton is wearing a crimson mask, not sure when that happened. Orton jumps over a spear and Edge hits the buckle. Orton sets up for the RKO, but is pushed off by Edge, who hits a spear for the win.

WINNER: Edge at 16:01.
Awesome match. Really good near-falls and the crowd was into it, despite two heels fighting.

-Highlights of the end of last week's marathon main event were shown. This week, it's Cena/Michaels III.

-Two weeks ago, Santino Marella upset Umaga for the I.C. Title, with help from Lashley. Tonight, Marella's first live interview on RAW.

[Break]

-Todd Grisham, on a couch, in what appears to be a pre-taped interview, talks to Santino Marella. Marella sounds overly scripted here. Grish gives some background on Marella and, whaddya know, Vince picked probably the only person in the crowd who was training to be a wrestler. He did it, he says, with the help of "Roberto Lashley." He talks about his first title defense, which will happen next week, and wants that belt around his waist for a long time.

-Courtesy of WWE.com, we hear Rob Van Dam's comments about Mr. McMahon winning the ECW Title. Paul Heyman is probably spinning in his grave. Coming up tonight, he faces Umaga.

-Backstage, Shane compliments Vince on winning the ECW Title. Vince says he's upset at R.V.D. and the ECW Originals for not liking him as champ. Vince thanks his son for last night and Shane puts his arm around Vince and says he loves him. The look on Vince's face was quite funny. Vince asks Shane to polish the belt for him.

-Maria is backstage with Edge. She sounds like she has a cold. Edge grabs the mic and calls Maria a "bimbo." Edge is angry because Michaels has been given another title match. Edge says he didn't lose in the fatal four-way and he beat Orton tonight, so he's going to force himself back into the title picture.

[Break]

-Lance Cade and Trevor Murdoch have joined the broadcast booth for the next match.

2- JEFF HARDY VS. JOHNNY NITRO
Nitro is sans Melina here. Murdoch & Cade are very complimentary of the Hardyz, saying they were the better team last night. Hardy gets a Russian leg sweep to start, then a drop-kick. Nitro turns the tide and tries a series of covers, but Hardy kicks out. Nitro lays the right hands into Hardy. Less than a minute in and we've got a rest-hold from Nitro. Nitro catches Hardy with an uppercut then goes to work again with the right hands in the corner. No one there in the corner for Nitro, Whisper in the Wind by Jeff hits, but he's slow to get up. Two clotheslines and a face-first suplex. Pin gets two from Jeff. Nitro rolls up Jeff for two. Nitro goes to the top, but Jeff stops him. Jeff tries a suplex from the second rope, but Nitro gets backdropped off instead. Swanton hits from Jeff and he gets the win.

WINNER: Jeff Hardy at 3:11.
Cade & Murdoch applaud Jeff after the match and encourage the fans to do so as well. They want to shake Jeff's hand and I think we know where this is going. Jeff opts out of a handshake and leaves the ring.

-Stills from the Fatal Four-Way match from last night are shown. Tonight is Cena/Michaels III. I wonder if they'll start this one early because it was so long last night. J.R. says it's the main event (and I believe mentioned it was non-title), so I guess not. Next, Umaga faces Rob Van Dam.

[Break]

-Stills of the ECW Title match from last night are shown. Pre and post-match happenings are live-action though.

-Shane McMahon comes out before the Umaga/R.V.D. match is supposed to take place. He introduces the man-beast, who is without Armando Alejandro Estrada. The King mentions that Lashley is in Birmingham, meeting with orthopedic surgeon Dr. Andrews. Van Dam then comes out, and the match is next.

[Break]

3- UMAGA VS. ROB VAN DAM
The match is joined in progress. Van Dam kicks Umaga into the corner. However, he gets shoved off the top rope and onto the security wall on the outside. Shane is staying at ringside, in Umaga's corner. Umaga drops the leg back in the ring. He starts chopping on the throat and side of the neck of R.V.D. Van Dam fights back but runs into a Samoan drop. Van Dam tries to slam Umaga, but the big man falls on the ECW Original for a two-count. Umaga throws Van Dam into the corner, but Van Dam jumps on Umaga's back with a sleeper. Shane shows concern at ringside. Umaga is down to two knees. He's back on his feet though, and backs Van Dam in the corner, which doesn't do much damage or get R.V.D. off. Umaga finally tosses Van Dam over the top and out of the ring. Umaga goes outside but Van Dam jumps on him and applies the hold again. Umaga gets creative, and dives into the ringside steps back first, which means R.V.D. hit back first, dislodging him from Umaga. Referee Jack Doan's count is at nine before Van Dam gets back in. Umaga is right on him with a diving headbutt. He gets nailed with right hands in the corner. Umaga goes for the butt splash, but Van Dam dodges. Van Dam tries a sunset flip but doesn't have a good grip; he dodges a butt-drop however. His educated feet go to work on Umaga, but a clothesline doesn't take him down. Off the top, the right foot connects with Umaga's head. Rolling thunder hits but Umaga kicks out. Headbutt from Umaga but Van Dam dodges Umaga's splash in the corner. Kick puts Umaga down and R.V.D. hits the Five-Star Frog Splash. As he goes for the pin, Umaga gets his hand around Van Dam's throat, brings him up and gives him the Samoan Spike for the win. On replay, he caught him with the hand on the throat when Van Dam came down for the Splash.

WINNER: Umaga, 9:05 shown.
Vince greets the winner and Shane on the stage after the match. The match itself wasn't too bad, and had some creative spots.

-Cena/Michaels II is up next.

[Break]

-Cowboy Troy is in the crowd in Nashville tonight.

-Ric Flair is backstage drinking something, while Carlito and Torrie come up to him. Carlito apologizes to Slick Ric, and Carlito says he set up a match for them against The World's Greatest Tag Team. Carlito wants to prove to Flair that he's a winner. Flair said this is his last chance to prove it. Torrie questions him but he promises he knows what he's doing.

4- SHAWN MICHAELS VS. JOHN CENA
If Michaels wins, he gets a shot at the title next week. He doesn't come out: We go to the back and see him knocked out, bleeding.

[Break]

The WWE doctor and trainer, Mike Rotundo, Val Venis and some officials are on the scene, tending to Shawn Michaels. Coach come supon the scene and accuses John Cena of doing it because Cena didn't want to fight him. Cena takes exception, while Vince comes upon the scene. He tells Coach to find out who did it and tells Shawn he's fighting tonight anyway.

4- CARLITO & RIC FLAIR VS. THE WORLD'S GREATEST TAG TEAM
This has GOTTA be where the turn happens. Flair takes Haas over with a side-headlock. Flair takes him down with a shoulder-block, then follows up with a hip toss and a chop. Carlito tags in and gets a chop. Shelton comes in and turns the tide in the heel team's favor. Back elbow by Carlito and the southpaw hits some lefts and gets a hurricanrana. Only got a one-count there. Benjamin tosses Carlito up and tried to dropkick him on the way down, but it didn't hit. Haas tags in and a quick double team in the heel corner draws Flair in. Haas goes to work on the lower lumbar region of Carlito. Haas hits a back-breaker for two. Haas with some stiff right hands and puts Carlito in a modified Camel-Clutch. Tag into Shelton, but Carlito fights out of the corner, but Benjamin gets a back-breaker to stop the son of Carlos Calon. Carlito gets his feet in the ropes and we've got a "We Want Flair" chant. Benjamin puts Carlito back-first over the knee of Haas, who made the tag in. They keep Carlito out of the face corner. Another tag in to Benjamin. Carlito blocks some punches and hits some of his own. Carlito with a face-buster on Shelton and both men are down. C.C.C. makes the tag to Flair and he lays in the fists and gets an elbow on Benjamin. Carlito takes out Haas as Flair chops away at Benjamin, then hits him with a back body drop. Flair starts strutting and Carlito attacks. He is all over Flair and Torrie looks on, aghast. Flair rakes the eyes to get Carlito off and Carlito heads up the ramp. Flair chases him down and starts going to work on the younger Carlito. The two pound away at each other on the ramp. Carlito turns his back again, and Flair attacks. Carlito finally gets away.

WINNERS: No Winners Announced (TWGTT by count-out?), around 6:00 (no second bell).

-In the back, Edge is knocked out. Fear not- Coach is on the scene!

[Break]

-We get a look at what happened to Michaels and Edge earlier.

-The making of "The Condemned" is shown.

-Memphis' own Egypt Central (it's a band apparently) is in the crowd.

-Mr. Kennedy comes to the ring, for some reason. He gets his mic down from the ceiling. He makes O.J. Simpson jokes, saying he didn't take out Michaels or Edge. He asks who would like Kennedy to cash in his Money In The Bank Contract tonight. Then he says it won't happen. He says what Edge did to cash in his contract was wrong, and it was an act of cowardice. Kennedy says he's cashing in his shot at WrestleMania 24. What if he has the belt already by then?

-Backstage, Randy Orton is out cold in the showers. Kenny Dykstra and a ref is back there when Coach comes on the scene.

[Break]

-Vince is bragging to someone in his locker room when Coach barges in, out of breath, to update Vince on the superstars that have been taken out. Vince says he's already figured it out. He says this person did it because of John Cena. He wants Cena to go to the ring, then everyone will come face-to-face with the person who did this.

5- MELINA & VICTORIA VS. MICKIE JAMES & CANDICE MICHELLE
Victoria and Candice lock up to start. Candice gets a back-slide for a two-count. Candice jumps on Victoria's back, but Victoria backs her into the corner, then tags Melina. She misses a dropkick though, and Candice tries a quick cover. Candice back Melina into the face corner and tags Mickie in. Spinning back kick by Melina and Mickie jumps on her. The girls roll around on the mat with Mickie coming out on top. Melina brings Mickie over to the corner, but Mickie kicks Victoria off the apron after she tagged in. Melina gets dragged back in, but Victoria pulls Mickie out of the ring. She pushes Mickie's back into the apron outside before tossing her inside. Knee to the head by Victoria, which gets a near-fall. Mickie gets hung upside down in the corner and Mickie takes advantage by jumping on her with Victoria holding Mickie's hair. Melina makes a tag at the same time Mickie does and Candice gets some clotheslines. Head-scissors take down by Candice and the pin is interrupted by Melina. Double-team suplex attempted but Mickie breaks it up. As that happens, Candice small-packages Victoria for the win.

WINNERS: Candice & Mickie James at 4:06

-John Cena is backstage, he's coming to the ring to go face-to-face with the man that's been taking out his opponents, and its next.

[Break]

-WWE.com clips of Tommy Dreamer, The Sandman, Rob Van Dam and Sabu giving their thoughts on Vince winning the ECW Title.

-Earlier tonight, Michaels, Edge and Orton were all taken out by someone.

-John Cena makes his way to the ring. He says someone is trying to get his attention. Cena tells whoever did it to "come get some." Great Khali's music hits and he walks down to the ring. I was afraid of this. Cena comes to meet Khali before he can enter the ring. Khali though throws him around then into the ring. Cena tries to fight back but Khali puts him down with a huge clothesline. Big boot follows from Khali. He continues to put the boot to Cena in the corner. Khali's big chop is blocked and he gets Khali on his back, but the big man elbows his way out. He has Cena by the throat now and Cena goes for the ride as Khali's chokeslam ends Cena's offense for the night. Khali grabs the belt and raises it with one foot on Cena's chest. Khali head to the back as the show ends.

Well, you know the WWE wouldn't let Khali go without him putting over Cena. I just wish they hadn't use this tactic to do it. This would've been a nice way to get a mid-carder over for a brief three or four week feud on RAW with Cena- this guy is tired of being overlooked so he takes out everyone in front of him and confronts Cena in the main event segment. That would've gotten him over. Instead, they give the spot to Khali. I did like that Cena didn't F.U. him- that should be saved for the match.


---

College, sports and more!: Experience It




Promote this thread!
Kevintripod
Banger



Since: 11.5.03
From: Mount Pleasant, Pa.

Since last post: 14 hours
Last activity: 13 hours

#2 Posted on | Instant Rating: 4.95
What a HUGE let down that was when Khali walked out at as the secret attacker. Just awful.


---

"F*cking Chuck Norris."
BigDaddyLoco
Scrapple



Since: 2.1.02

Since last post: 7 days
Last activity: 6 days

#3 Posted on | Instant Rating: 3.94
I missed the show, but Sabu actually had 'thoughts' on Vince winning the ECW Title?
geemoney
Scrapple



Since: 26.1.03
From: Naples, FL

Since last post: 14 days
Last activity: 9 hours

#4 Posted on | Instant Rating: 5.67
Originally posted by BigDaddyLoco

---

I missed the show, but Sabu actually had 'thoughts' on Vince winning the ECW Title?

---

Well, he mostly just looked pissed and threw stuff around. I don't think he really SAID anything, per se.


---

College, sports and more!: Experience It




redsoxnation
Scrapple



Since: 24.7.02

Since last post: 1759 days
Last activity: 1759 days

#5 Posted on | Instant Rating: 3.79
How little do they think of Carlito that he turns on Flair and yet Flair gets in more offense. Usually when you turn on a guy, you leave him laying, not standing over you and causing you to run.
Once Edge was taken out you knew it had to be Khali. At least it wasn't Vince claiming he took everyone out.
Next week, Vince revives the American Wrestling Association and anoints himself World Champion. To quote Arn Anderson to those fans who wanted ECW resurrected: Be Careful What You Wish For, You Just Might Get It.



---

'Ric Flair wishes he was Paul Roma.' Congratulations Paul on winning the Idiotic Comment of the Decade Award.
Dahak
Frankfurter



Since: 12.5.02
From: Junction City OR.

Since last post: 3306 days
Last activity: 2959 days

#6 Posted on | Instant Rating: 3.92
Not really sure what to say. Decent matches. Orton was trying again (he should work for free more often). Kennedy will make a great main event heel. Candace Michelle is still pointless. Carlito is finally a heel again.
But Kali sucks. Kali is somewhere between Giant Gonzalez and Loch Ness suckiness. I don't want to see Kali in a PPV main event.


---

Marge I am just trying to get into heaven not run for Jesus.
Juggalo101
Italian



Since: 27.4.04
From: Atlanta

Since last post: 1913 days
Last activity: 1912 days

#7 Posted on | Instant Rating: 1.82
What a horrible, horrible letdown. All that build-up for Khali? I would've rather had it be Viscera.


---

Rise, my lord. Rise.
DirtyMikeSeaver
Bockwurst



Since: 19.5.02
From: Toronto

Since last post: 13 days
Last activity: 13 days

#8 Posted on | Instant Rating: 4.29
Originally posted by Kevintripod

---

What a HUGE let down that was when Khali walked out at as the secret attacker. Just awful.

---


I don't see what the big deal is with Khali being the guy. From a pure storyline perspective, it makes sense. Khali's dominated everyone he's come across and felt like he was overlooked, so decided to take out everyone. Wrestling is storyline based (at it's core) and the classic "David v. Goliath" story always works well. Khali might not be CLOSE to the wrestler that most are (understatement of the year), but as long as they keep his offense simple and the match relatively short, people (kids, women, 'marks') would pay to see if Cena (or anyone) would beat Khali. People seem to react well to the segment, and to be honest, as good as the matches have been, it's nice to see ANYONE else in the mix.


---

Kevin Kelly: "Mr. Austin, would you like to comment on Wade Keller's Take that endorsing the XFL hurts your anti-authority character?"

Steve Austin: "Oh shit, he actually said that? I thought the boys in the back were ribbing me!"

Kelly: "No, he really said that. Did they tell you the part about you sitting in the stands, looking all skeptical?"

Austin: "AHAHAHAHAHAHA. Yeah... oh man that was too much."
Deputy Marshall
Liverwurst




Since: 28.6.04
From: Troy, NY

Since last post: 1287 days
Last activity: 808 days

#9 Posted on | Instant Rating: 5.26
What a great, tremendous, fantastic RAW right up until we saw the dreaded tiger on the Titantron. I must be getting manic, because I knew it was coming, laughed for a full minute, then depression sunk in hardcore.

* Edge/Orton was awesome. That being said, what's with guys like Orton and Batista having their backs against the wall and putting in these great performances after months of shit matches when they're actually in good standing? Some might call it "motivation" or "lighting a fire under them." However, it annoys me to no end, and anyone who commends either for putting on the performances they've put on in the last two days needs to re-evaluate their understanding of the term "work ethic."

* I like that they're actually building to Santino's first IC title defense, and playing off that he's nervous. Him as a sympathetic underdog could work, but I have a feeling that the live crowds are going to turn on him pretty quick. Call me cynical, but WWE fans have been trained to boo almost anyone with a foreign accent by default. Even if he expresses his love for Double Double E.

* RVD should've ended his YouTube WWE.com promo with "and that's a SHOOT, brother!"

* It's predictable, but I love the approach they're taking with Cade and Murdoch, and I'm officially a fan. Maybe I'm just excited that there's an actual tag team title program to begin with.

* Umaga/RVD actually had as good of a match as you're going to get when you put Umaga and RVD in the same ring. Better, actually. It's weird, but RVD's offense looks somehow less ridiculous when he's busting it out against a total monster heel.


Originally posted by redsoxnation

---

How little do they think of Carlito that he turns on Flair and yet Flair gets in more offense. Usually when you turn on a guy, you leave him laying, not standing over you and causing you to run.

---

I was totally frustrated by that. They might have their reasons (Carlito hasn't gotten over and maybe his attitude hasn't improved despite getting exactly what he wanted in being turned heel), but it doesn't do anything for the program between the two.


---

Suggested Purchase of the Week
Deadwood: The Complete Second Season (The W at Amazon)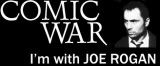 The Collected Works of K. Michael Marshall
Packman V2
Bratwurst



Since: 16.3.04
From: Albuquerque, NM

Since last post: 21 days
Last activity: 11 hours

#10 Posted on | Instant Rating: 5.10
The best part of the show for me was Kennedy's promo. He's got to be the best promo guy in the company, or right up there with Edge. But him on a live mic....awesome.

Nice to see they remember who Santino Marella was. Cheesy interview tho.

I kinda figured it was Khali since Umaga had wrestled earlier that night, and no one from Smackdown really made sense.

Decent show, but I'm not looking forward to Khali and Cena. Ugh.


---

Co-Winner of the 2006 Time Magazine Person of the Year Award
Shem the Penman
Toulouse



Since: 16.1.02
From: The Off-Center of the Universe (aka Philadelphia)

Since last post: 1543 days
Last activity: 1342 days

#11 Posted on | Instant Rating: 5.43
I'm hopeful that Santino Marella will do okay, because the last time the E did this kind of Cheerful Little Guy Beats the Odds angle was Eugene, and he got over like crazy. (What killed Eugene was the limitations of his gimmick, not the angle.) So I think there's still room for an unhip, nonironic nice-guy babyface in this dark, twisted world of ours.

Oh, and I think it looked like Orton busted himself open hardway when Edge bounced his head off the turnbuckle to break the 10 Punch Count Along. You could see the first trickle of blood starting as he fell back from the impact, so unless Orton is deft enough to blade in midfall, I'm saying hardway.

I'm puzzled by what they're doing with Cade and Murdoch. Unless they're doing a slow burn to the "You trusted us! Psyche! *beatdown*" scene that's inevitably coming.

Cena/Khali? Yeah, I think Cena's string of MOTYCs this year just came to a screeching halt.


---

"The object of persecution is persecution. The object of torture is torture. The object of power is power. Now do you begin to understand me?"
flairforthegold13
Kishke



Since: 1.5.03
From: Gainesville, FL.

Since last post: 3795 days
Last activity: 3782 days

#12 Posted on | Instant Rating: 9.00
I guess the idea with Khali might be since Michaels/Cena can headline on top and draw, you don't need to run the Taker/Batista III (in the Cell, which should draw huge) and Michaels/Cena III on the same show.

I think the Cena character works well against monsters (for example, Umaga) so if he bumps around and does his schtick, the match should be okay if kept short. Plus, the visual of him FU'ing Khali should be memorable. Also, it's slightly unlikely that 80% of the crowd will root for Khali to win.
oldschoolhero
Knackwurst



Since: 2.1.02
From: nWo Country

Since last post: 3267 days
Last activity: 3201 days

#13 Posted on | Instant Rating: 9.00
Originally posted by flairforthegold13

---

I guess the idea with Khali might be since Michaels/Cena can headline on top and draw, you don't need to run the Taker/Batista III (in the Cell, which should draw huge) and Michaels/Cena III on the same show.

---


Yup. It's pretty sound business sense to put Cena in a throwaway feud to stall the inevitable Michaels rematch, and putting him against Khali will a)be a simple enough feud to book, and b)hopefully suck whatever's left out of the big lug so they can discard him.

Good Raw, for the most part.


---
To those who say people wouldn't look; they wouldn't be interested; they're too complacent, indifferent and insulated, I can only reply: There is, in one reporter's opinion, considerable evidence against that contention. But even if they are right, what have they got to lose? Because if they are right, and this instrument is good for nothing but to entertain, amuse and insulate, then the tube is flickering now and we will soon see that the whole struggle is lost. This instrument can teach, it can illuminate; yes, and it can even inspire. But it can do so only to the extent that humans are determined to use it to those ends. Otherwise it is merely wires, and lights, in a box.-Edward R. Murrow
Big Bad
Scrapple



Since: 4.1.02
From: Dorchester, Ontario

Since last post: 5 days
Last activity: 15 hours

#14 Posted on | Instant Rating: 4.10
I like the idea of the egomaniac Kennedy wanting to hold off on his shot until he has the biggest possible stage on which to cash it in. Conceivably, he could one world title and then challenge for the other at Wrestlemania in a unification bout.

"Sportsmanlike" Cade and Murdoch were pretty hilarious.

I'll give Orton credit, he can go when he's inspired. I think is the first time Edge has cleanly won a match against a non-jobber opponent (or Matt Hardy) in, like, two years.


---
Torchslasher
Knackwurst




Since: 17.1.02
From: New F'n Jersey

Since last post: 44 days
Last activity: 44 days

#15 Posted on | Instant Rating: 5.75
I want Mr. Kennedy on every Raw show from now on. He was great, and it's nice to not see him jobbing to Taker and/or Batista every single week on Smackdown.

Well, the new Raw main event for Judgment Day must be a final bout of "let's finally let Taker/Batista be the final match on the show" thinking. No way will Cena/Khali be on after a freaking HiaC match. I do like that Cena got Khali up in FU position, telling you that it might be possible for Cena to go over in this match. I must give Cena props on the sell of the chokeslam because it was a thing of beauty.

Yes, the Santino Marella backstory is truly inane and unbelievable, but I did like his promo, and I only hope that Santino can face Johnny Nitro next week because everybody beats Johnny Nitro these days.

Another great Raw, and even Cade and Murdoch have become interesting characters finally.



---

Click Here (czwfans.com)

For all your CZW and Nickels Trivia information.


"Look guys, it's 'Lake Man!' Hope you can fit into our NARROW office, Mr. Big Lake" --MST3K The Collection V. 7

Click Here (myspace.com)
John Orquiola
Scrapple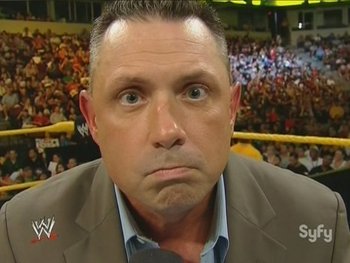 Since: 28.2.02
From: Boston

Since last post: 1396 days
Last activity: 1396 days

#16 Posted on | Instant Rating: 6.04
I was surprised at how much I enjoyed the show last night.

Edge vs. Orton was outstanding. That's the kind of wrestling I like to see, where the two guys look like they're killing each other and are so spent when it's over neither can barely stand. The psychology in the match was excellent. Their selling was tremendous. Orton was better than he has been in months and Edge is clearly the top heel in the business when just being in the ring with him garners Orton face heat and "RANDY!" chants.

I was scratching my head during the Santino Marella interview but the more I thought about it, how the hell WOULD you book him to act? His "aw, shucks, Italia" persona is fitting. He was clearly lucky to beat Umaga for the IC belt. He doesn't deserve it and he knows it. His line where he says he "won the lottery" is apt. I'm not sure how I feel about him yet, but I'm leaning towards resentment. It's a fine line they have to walk to keep him a babyface. It's possible he's the new Mikey Whipwreck and will keep winning by pure luck. I guess we'll see next week. I hope his dream never ends!

The RVD vs. Umaga match was real good but with a McMahon involved, the outcome wasn't in doubt. The McMahons are just killing my enjoyment of the show every second they're on TV. Whatever the point is or will be with Vince McMahon as ECW Champion, all I know is I hate it.

Cade and Murdoch were awesome! I don't recall if I've seen the "heels being sportsmanlike and respecting the guys who beat them" angle before. There are no bigger fans of the Hardys now than Cade and Murdoch. Even Lawler was confused; he was trying to set them up to give heelish comments and even called Jeff Hardy a "long haired pretty boy" but Cade and Murdoch will hear no ill words about a fine athlete like Jeff Hardy. The best part was Cade and Murdoch urging the fans to give Jeff Hardy another round of applause. Awesome. Hardy not shaking their hands in the end was a great touch. It shows he's smart by not falling for their ruse, but yet he looks like a dick for not being sportsmanlike. I hope this continues further and isn't blown off right away.

Barring injury or unforseen events, what a cool move for Kennedy to announce cashing in Money in the Bank at WrestleMania 24. I plan on being at the Citrus Bowl and I'm already looking forward to it. The jab at Edge for being cowardly last year in cashing in his Money in the Bank was good foreshadowing of a possible face turn that is clearly being considered for Kennedy. This also means that Kennedy won't have to compete in the Royal Rumble.

Carlito's heel turn was retarded, just as his whole angle with Flair has been. That was some turn, with Flair immediately getting the upper hand and running him off. Carlito had weeks to plot how to turn on a 60 year old man and hardly got any licks in on him. Stupid.

Candice Michelle is useless? Hardly. She's noticably improving in there. It takes years to be a good wrestler but Candice is showing some unexpected aptitude and athletic ability. The extent to which Candice can bump is still questionable but the speed and precision with which she's executing moves is very impressive. You can see she's serious about being a wrestler and she surprisingly has talent. Mickie vs. Melina at Backlash was the match that should have been held at WrestleMania but it looks like if even Candice had been put in that spot it wouldn't have been the embarrassment that Melina vs. Ashley was.

The mystery of who was attacking John Cena's archrivals was a cool throwback to similar previous angles. Going by the process of elimination of "Who haven't we seen tonight that's on the roster", The Great Khali was the most likely choice. I have to say Cena's facial expressions when he's surprised/worried/intimidated are very good. I also like when Cena's "I don't back down from a fight" bravado bites him in the ass. I hate Khali as much as the next guy but I'd be lying if I said I didn't enjoy watching John Cena get beat down. It looks like Khali will temporarily distract Cena for a week or two while HBK, Edge, and Orton settle amongst themselves who the real number one contender is. Meanwhile, John Cena will get to look like Superman again when he somehow overcomes Khali and gives him an FU. And that's how you sell T-shirts to 12 year old boys and 15 year old girls.

(edited by John Orquiola on 1.5.07 0748)
---

Back of the Head: www.backofthehead.com
Matt Tracker
Scrapple




Since: 8.5.03
From: North Carolina

Since last post: 14 hours
Last activity: 14 hours

#17 Posted on | Instant Rating: 6.05
While I'm no fan of Khali, at least we finally have somebody new in the title picture. If Cena's supposed to be so good, he should be able to carry this guy to decent matches.

I don't mind the Flair aggression on Carlito because it goes hand-in-hand with what Flair has said: he doesn't have the killer instinct. Unfortunately, to buy this, you have to forget his SmackDown heel run with the U.S. belt. Frankly, I'm tired of seeing someone take out Flair easy -- Umaga, Kenny, etc. Screw that. It's Flair. He's fought Russians, Vader, and Hogan. Carlito SHOULD be small potatoes to him.

What bothers me most is the total slide for Nitro. He was squashed by Jeff Hardy after a blistering IC feud between them a few months back. He should be in the upper card and winning. But if there's a glimmer of a chance we see Carlito, Kenny, and Nitro forming some kinda of stable, I'll forgive this current downturn.


---

"To be the man, you gotta beat demands." -- The Lovely Mrs. Tracker

My blog will amuse. (heygregory.blogspot.com)
kentish
Andouille



Since: 19.8.05
From: My Old Kentucky Home

Since last post: 1250 days
Last activity: 503 days

#18 Posted on | Instant Rating: 2.53
Another bait and switch main event, huh? Hype Cena-Michaels III all night and pull a Monday Nitro at the last minute. Vince even said Shawn was still going to wrestle!

The mystery angle wasn't bad, just not the payoff. I hoped it might be a chance to elevate midcarder too, like Nitro, or dare I say, Carlito. Instead, we get Khali. Great.

I haven't watched ECW in 4-5 months, but can only hope Vince vacates the belt like he did when he won the WWF title. I doubt it, though. Then again, the nail has already been driven into the ECW coffin, as if it had any life left anyway.

At least there was a few good matches.


---


Dean! Have you been shooting dope into your scrotum? You can tell me! I'm hip!

Alex
Lap cheong



Since: 24.2.02

Since last post: 302 days
Last activity: 11 days

#19 Posted on | Instant Rating: 4.98
Originally posted by kentish

---

Another bait and switch main event, huh? Hype Cena-Michaels III all night and pull a Monday Nitro at the last minute.

---


If it were Nitro, they would have done that for last week's match.
kentish
Andouille



Since: 19.8.05
From: My Old Kentucky Home

Since last post: 1250 days
Last activity: 503 days

#20 Posted on | Instant Rating: 2.53
Originally posted by Alex

---

Originally posted by kentish

---

Another bait and switch main event, huh? Hype Cena-Michaels III all night and pull a Monday Nitro at the last minute.

---



If it were Nitro, they would have done that for last week's match.

---


Or go off the air as the main event starts and show us highlights during the commercial breaks of the show that came on after it. Remember that?


---


Dean! Have you been shooting dope into your scrotum? You can tell me! I'm hip!

Pages: 1 2 Next