geemoney
Scrapple



Since: 26.1.03
From: Naples, FL

Since last post: 9 days
Last activity: 7 min.

#1 Posted on | Instant Rating: 5.63
WWE.com sez: Well, it's going to be the "Biggest RAW Ever," and when has WWE.com ever used hyperbole? I doubt this even tops the star power of a few weeks ago with The Rock, Austin and Trump. We get the NWO re-match of Batista and Taker vs. Cena and Michaels. AND THAT'S NOT ALL: Lashley takes on the man himself, Mr. McMahon. PLUS: For the FIRST TIME EVER, three Playboy cover girls will team up, as Ashley, Candice and Torrie take on Melina, Victoria and Jillian (huh?). AND: Who will be the final H.O.F entry? Will we hear the ol' Sooner fight song? Let's find out.....together.

-WWE Open.

-RAW Open.

-Fireworks mean we're on LIVE from Chicago, Illinois, at the Allstate Arena. With just six days to go before WM, we have a double main-event, Michaels and Cena vs. Taker and Batista, plus Vince McMahon vs. Lashley. But now, Coach is in the ring!

Coach leads off by saying that Lashley/Vince is a no-DQ match, but any unauthorized interference will result in a fine or suspension. Cue the glass breaking, as Stone Cold Steve Austin enters the arena, knowing a thing or two about fines and suspensions (in storyline terms, of course). Austin wants to tell a story about what happened this weekend. God, these fans just won't let that "what" crap go, but Austin DOES play right into it. Apparently, Austin was getting gifts from The Donald. Coach interrupts Austin, but Stone Cold pretty much ignores him. Turns out, though, that the gifts came from Vince's office. Looks like he was tryin' to trick ol' Stone Cold. Coach gets such great heel heat. Austin wants to shave Vince's head tonight! Coach takes the blame for sending the gifts. Austin sounds like he'll give more leeway to Lashley in the match. Coach stops Austin from leaving, and you know he's gonna regret that. Coach says he and Austin prove that bald is beautiful as Austin fake laughs along with Coachman. Man, you can sense the crowd knows a stunner is coming up. And there it is! Austin drinks some brews (and pours some on Coach).

After some shots of Coach in the ring, we head backstage to Austin walking. He gets into his truck and attempts to leave, but a limo cuts him off and honks its horn. It's Vince, as the limo pulls up next to Austin's truck. McMahon realizes its Stone Cold and tries to blame the driver. Austin just gives Vince the finger and leaves. McMahon gets out of the limo and physically takes out his frustration on the chauffeur, then fires him.

-Up next, Candice, Torrie and Ashley in a six-diva tag match!

[Break]

(1) Melina, Victoria and Jillian Hall vs. Torrie Wilson, Candice Michelle and Ashley
JR announces that the women's title match at WM23 will be a lumberjill match, with every diva in WWE, it appears. Melina and Ashley square off, and Melina immediately takes a hike. Thrown back in, Ashley gets a two-count on a roll-up. Victoria is in and she gets hit with a clothesline in the corner. Spinning heel kick(!) by Candice after she enters. Cheap shot by Melina and Victoria takes over control. She ties Candice in the tree-of-woe, and Melina takes advantage. Jillian tags in and uses the hair. Bodyslam, but she misses a somersault legdrop. Candice tries to make the tag, but Jillian has her foot. She finally escapes and tags Ashley. Head-scissors take over by Ashley, then she hits a hurricanrana on Victoria. Chaos abounds now, and we're back to Jillian and Ashley. Jillian again misses a hand-spring move, and Ashley turns it into a victory roll for the win.

Winners: Ashley, Torrie and Candice by pinfall at 3:24

-We get highlights of Trump announcing his representative, Bobby Lashley and the brawl that ensued.

-Later tonight, it's No-DQ between Lashely and Mr. McMahon. Plus, No Way Out re-match sees Batista and Undertaker face Cena and Michaels.

[Break]

(2) CM Punk vs. Kenny Dykstra
No entrance for Dykstra. The hometown boy gets a back-breaker for a near-fall. Dykstra knocks Punk off the top rope, and Punk takes a nasty spill. Crowd solidly behind Punk. Back elbow by Punk puts him down, and Dykstra lays some right hands into Punk. Short-arm clothesline and another by Dykstra for two. Neck-breaker by Dykstra, still can't get the pin. Rear chin-lock applied by Kenny. Up for a suplex, but Punk knees out of it. See, that's something simple and new that Punk brings to the table. Punk sets up for the knee in the corner but Dykstra saw it coming. Punk comes back with a clothesline from the top and hits the knee followed by a bulldog. Only gets a two-count from referee Chad Patton. Punk has Dykstra in a fireman's carry, then drops him down on his knee and that does it.

Winner: Punk by pinfall at 3:57

-Post-match, Edge taunts CM Punk from backstage. Edge announces an eight-man MITB edition of the Cutting Edge....and it's next!

[Break]

-We get highlights of Lashley crashing through the cage on ECW onto Umaga. Then a plug for Lashley vs. McMahon tonight.

-It's The Cutting Edge with all eight participants in the MITB match. You know Edge is hosting his talk show tonight because he's wearing a jacket. By the way, the ladder is in the ring and the briefcase is hanging, just like they will be at WM. Edge has the mic first and brags about his ladder match prowess. Edge is shocked Matt is even on WM. Matt says he's had success in ladder matches then takes a crack at Edge's "ex" girlfriend Lita. So apparently they broke up after she left? They could've made a nice storyline out of that before she left. King Booker gets to do his schtick before Finlay takes the mic and calls this segment "verbal diarrhea." He then calls Edge "chisel chin." Orton takes the mic and calls Finlay "Fit." Orton says Edge has been dodging matches for a month. Edge tries to defend himself but Kennedy takes the mic and says he'll win the MITB. Edge wrestles the mic away from him before he can finish off his "Kennedy!!" Edge imitates Jeff Hardy's foolish entrance dance. Jeff says he's gonna steal the show, even if it means going through his own brother. This is like those token interviews during the Royal Rumble, when every Joe Schmo says he's gonna win and go to WM. The crowd chants for Punk, as he's the last one to speak. Edge makes fun of his straight edge. Edge says he's addicted to sex and violence. Punk says Edge is addicted to running his mouth, and that touches off a pier-seven brawl. Edge is halfway up the ramp while the last three left in the ring are the faces, the Hardyz and Punk. They head up the ramp after Edge, who runs into the locker room.

[Break- for those wondering, it'll be Dusty Rhodes, Jerry Lawler and Mr. Perfect's inductions that will be shown on USA Saturday at midnight. All the rest will be online at wwe.com.]

-Maria is backstage with John Cena, who gets a fair amount of boos. Cena mentions all the people that will be there (Samoan Bulldozers, a big red machine, a wolverine, etc.).....and Michael Cole. Cena says when you think you've seen everything, the two most intense individuals of all time will face off for the title. He says the match will be talked about years from now. Cena raises the intensity as he proclaims that he'll be victorious at WM. Good promo from Cena, once he concentrated on getting the match over.

-Now we get clips of March 2nd Smackdown, where Vince tried to negotiate with Lashley. Next is Lashley vs. McMahon, no DQ!

[Break]

-We return with highlights from March 6th ECW, where Lashley put the squeeze on McMahon.

(3) Mr. McMahon vs. Bobby Lashley, No DQ
What, no Vince training videos? His walk doesn't look so sinister in black jeans and a black sweatshirt. The ref strangely doesn't ring the bell while trying to keep the two apart, and we find out its because Vince needs the mic. I think it went on longer than it was supposed to. Vince retreats as soon as the bell rings and out come Cade and Murdoch. Lashley no-sells some offense and belly-to-bell on Cade. Why would McMahon bring out the Wile E. Coyotes of the WWE to do his bidding? Chris Masters comes out next after Lashley disposes of the tag team. Masters can't even get his Masterlock on Lashley before he's tossed. Johnny Nitro lasts a little longer, but gets hit with a running powerslam. Umaga is Vince's next, and possibly last resort. They get it on in the ring, trading right hands. Vince comes in with a low-blow as Lashley was getting the advantage. Samoan drop by Umaga and Vince gets the pin as Lashley tries to wiggle out.

Winner: Mr. McMahon by pinfall at 2:28

Umaga then splashes Lashley from the top, and hits the butt-splash in the corner. Finally, Umaga nails the Samoan Spike on Lashley, who is out in mid-ring. The ref comes back in and Vince wants him to count and ring the bell again. So was the first pin a mistake or did Vince just want to pin him twice for no reason? McMahon wants one more, so Umaga gets Lashley up and hits another spike.

[Break]

-Still to come, Batista and Undertaker face Michaels and Cena. Moments ago.....Lashley vs. Vince. Strangely, they only show the second pin. During the commercial, Todd Grisham caught up with Vince, who doesn't even brag about pinning him twice. Hmm. Vince brings in a Trump lookalike (well, Eugene in a Trump wig and suit). He says anyone that thinks Vince will lose at WM is clinically retarded. Then Eugene opens the door for Vince and the limo takes off. Where do you find a chauffeur on such short notice?

(4) Mr. Kennedy and Randy Orton vs. Jeff and Matt Hardy
JR is the only one saying "Smackdown's Mr. Kennedy" or "Smackdown's Jillian Hall." I figured they'd at least mention that on the ring announcement. It's Orton and Matt to start. Matt hits an elbow from the middle rope and gets a one-count. Jeff dropkicks Orton on his way in after a tag. Orton tags Kennedy who pounces on Jeff. Into the corner, Jeff catches Kennedy with a headscissors. Kennedy throws Jeff out of the ring under the bottom rope and it looks like it hurt. Orton throws Jeff back in and then tags in. Orton gets the Ron Garvin stomp (though I don't think he hit all the spots), and we find out why: he had to hit the chin-lock. Kennedy back in and he sets Jeff up crotch-first on the top rope. Kennedy goes up but gets elbowed off. Whisper in the Wind hits and both men are down. Orton is tagged in and Jeff tags as well. Matt with some forearms and he takes out both heel competitors. Side Effect for both men and a cover on Orton gets a two. Twist of Fate on Orton is no good as Kennedy blocks that. Now a Hardy double-team as Matt plays the jumping-off point for Jeff, who springboards into the heels in the corner. Matt is pushed into Orton, who hits the RKO for the win.

WINNERS: Kennedy and Orton by pinfall at 4:28

-Next, it's the last man to go into the 2007 H.O.F!

[Break]

-With no introduction, Jim Ross is named as the final Hall of Fame member. He gets a video package though. Even Vince is on there! Gotta be Stone Cold inducting him, right? JR gets a nice ovation from the fans, and it's a long one too.

(5) Great Khali vs. Ric Flair
Talk about your clash in styles. Flair tries chopping Khali, to no avail. Flair almost kills himself on a back-body drop. Bodyslam by Khali and Flair rolls to the outside. Khali chokes Flair as he goes for the steps, until Carlito comes in for the DQ. Carlito gets the two-handed chokeslam from Khali in the ring. Right after that, Kane comes to the ring with his hook but Khali goes on offense. Kane though, gets some right hands on Khali in the corner. He throws the hook, but Khali has already escaped the ring, and he goes thru the crowd to get to the back for some reason.

Winner: Great Khali by DQ at :59

[Break- Jim Ross was added to the list of guys that will be inducted on USA, and the commercial confirms that Austin will induct him.]

-Another preview of "The Condemned," with comments from Stone Cold, the director and some co-stars.

-JR and The King run down the WrestleMania card.

-Shawn Michaels is backstage, but with no interviewer. He says Cena represents everyone he's been in the ring with (with Foley, Hogan and Bret kind of referenced). Good promo from Michaels, as he says he's got Cena's back tonight. That match is next!

[Break]

-More celebrity comments about the Battle of the Billionaires: This week, we hear from Bow Wow, Ed Asner, Sonny from P.O.D, Richard Karn, Kurt Busch, Tichina Arnold ("Everybody Hates Chris"), Laura Prepon, Three 6 Mafia and William Shatner. This time, only Bow Wow mentions Vince.

(6) John Cena and Shawn Michaels vs. Batista and Undertaker
Taker starts out with Cena, beating him from pillar to post and back. Cena with a back elbow and the boos rain down. Cena is ushered away from his corner onslaught by referee Mike Chioda. Taker picks Cena up after an Irish whip and hits the Snake eyes. Cena gets Taker up for an FU, countered into a chokeslam. He doesn't make it up though as HBK interferes. Action is too fast to type! Batista joins in and now the Smackdown guys are in the ring alone. Taker and Batista square off, but Cena gets in and goes after Taker and clotheslines him over the top rope. HBK throws Taker into the steps. Another shot into the steps. Cena finally gets out and goes after him. After a head-shot to the steps, Cena covers for a two-count. Tag is in to HBK. Crowd is hot. HBK chops away at the dead man. Off the ropes, swinging neckbreaker by Michaels. Tag back in to Cena. The two trade right hands until Taker hits Cena with a flying clothesline. Blind tag by Batista and he comes in. Clothesline to Cena that looked like it was meant for Taker. Batista buries the shoulder into Cena in the corner. Cena counters and makes a tag. Off the ropes goes Michaels, flying forearm finds the mark. Then he nails Taker, but it was a bad idea, because Taker enters and cleans house on HBK. Spinebuster by Batista on Cena. Michaels is picked up over the head of Taker, and is thrown into Batista. The dead man then leaves the ring and the match, heading up the ramp. Cena catches Batista with a shoulder-block off the ropes. HBK hits an elbow from the top. Cena and HBK have a little conference and they hit a stereo five-knuckle shuffle. Cena turns his back and HBK superkicks him FINALLY. Batista crawls over for the cover and pins Cena!

Winners: Batista and Undertaker by pinfall at 6:41

-Post-match, Michaels crotch-chops the fallen Cena. JR says we've got more RAW to go after this break, and right now, it's 11:06. Oh well.

[Break]

-We see highlights of moments ago when HBK superkicked Cena to the delight of the Chicago crowd. And......that's it. Glad I stuck around for that!


(edited by geemoney on 26.3.07 2312)

(edited by geemoney on 26.3.07 2321)
---

College, Sports and more!: Experience It




Promote this thread!
Kane Is Ugly
Kishke



Since: 14.7.03
From: Uglyville

Since last post: 3761 days
Last activity: 3747 days

#2 Posted on | Instant Rating: 1.40
Best RAW in ages. The "turn" on Cena by Michaels was PERFECTLY done. I dont know what the last segment after the commerical was for, but hey, awesome RAW.

CM Punk's pop was massive. And JR crying with the sappy music playing and the crowd cheering was nice. He seemed really moved by it all.
redsoxnation
Scrapple



Since: 24.7.02

Since last post: 1816 days
Last activity: 1816 days

#3 Posted on | Instant Rating: 3.79
How could they let the opportunity pass to forget the Great Shampoo Contract war between Edge and Booker T?
I'm surprised the aren't bringing in Steve Williams from 21 Jump Street Fame to induct JR, as then the potential would be there for him to have 3 Steve Williams in the same place at the same time. I doubt his heart could handle that though. And, despite the comments of Vince's Son-in-Law, JR is not in the same league as Gordon Solie.
Considering everyone other than the Sheik and Dusty being inducted, a connection could have been made to induct Rick Martel into the Hall of Fame. Stack up his career against Hennig and it is pretty close.
Why couldn't they have made the Lashley match a title match so Vince could now be ECW Champ, and thus completely killing off the brand?
Now, the reason for Donald Trump being at Mania is that it, in theory, will cause additional people who like viewing Trump on television for free to pay money to see Trump not lose his hair. However, since his program goes head-to-head against Mania, except on the West Coast, why would people pay to see him at the same time they could not pay and see him?
Please don't let Jeff Hardy speak again.
Always a good thing when Jim Ross is burying a match a week before it even occurs in regards to Khali/Kane.

(edited by redsoxnation on 26.3.07 2349)
JustinShapiro
Scrapple
Moderator




Since: 12.12.01
From: Pittsburgh, PA

Since last post: 53 days
Last activity: 8 days

#4 Posted on | Instant Rating: 8.50
Originally posted by redsoxnation

---

And, despite the comments of Vince's Son-in-Law, JR is not in the same league as Gordon Solie.

---


He's better and you're wrong! You always say this, because you're a jerk! I mean, I have no problem with someone preferring one or the other, but saying one isn't in the other's league is like saying Steve Austin isn't in Hulk Hogan's league as a draw.


This was a great show. Extraordinary promo by Cena (maybe the best he's ever done), really good one by Michaels, really ... tan Michaels, terrific final angle, J.R. actually not getting shit on for once in a pretty touching moment, and amazing heat for everything from Chicago, the best wrestling crowd in the land.

(edited by JustinShapiro on 27.3.07 0034)
jwrestle
Lap cheong



Since: 4.4.03
From: Nitro WV

Since last post: 77 days
Last activity: 41 days


ICQ:
#5 Posted on | Instant Rating: 1.50
Originally posted by Kane Is Ugly

---

Best RAW in ages. The "turn" on Cena by Michaels was PERFECTLY done.

---


Yeah, since the Hogan vs HBK match, we've had some of the good stories revolve around a "turn" that not really a true "turn".

They could've turned Batista after NWO as someone pointed out here on the W but didn't for what ever reason and when with respect for Taker.

HBK and Cena...they've teased, teased, and teased the HBK Superkick. Even the montage of superkicks presented by Edge and Randy Orton formerly Team RKO.

Wrestlemania this year feels a bit short this year but I think it is all going to work out.


---

"We're like Soapbox Heroes and we've got so much to say."
StaggerLee
Scrapple



Since: 3.10.02
From: Right side of the tracks

Since last post: 18 hours
Last activity: 15 hours

#6 Posted on | Instant Rating: 2.44
Good lord, no mention of Cena getting shit on like he was back at the ECW PPV? Any offense at all was booed out of the building. Nice show, best in a while.
TheOldMan
Landjager



Since: 13.2.03
From: Chicago

Since last post: 1179 days
Last activity: 165 days

#7 Posted on | Instant Rating: 5.95
No question Lashley was not supposed to get pinned by a low blow followed by a Samoan drop, hence the 'second' pin. He squirmed, but I guess Bobby couldn't figure how to kick out before the ref had to count 3? God help us Sunday.

I like that they featured Punk reasonably well, sort of reassures me that he's not getting lost in the EC.. should we just call it "WWE Extreme" now? fiasco. Also love the Chicago crowd picking right up from WM 22 with the Schizo-Cena reactions, that's always fun.

Guess if you paid for No Way Out, you felt a bit like a sucker to see the money match for free tonight - and I didn't so much like the HBK superkick. Taker and Batista have been going at each other all along, but Cena and HBK were keeping us guessing, and I think this may (more clearly) telegraph a Cena victory.

Finally, having heard both, I think Gordon Solie to Jim Ross is like Vin Skully to Harry Caray - all of them in the upper echelon of their craft, maybe the divergent styles make it harder to compare each to the other. (You really had to hear Harry broadcast the Cardinals or White Sox to appreciate how good he was, and not so much the Cubs years/broadcasting grandpa that Will Ferrell parodied.)


---

It's the Big "W", I tell ya! The Big "W"!
BigDaddyLoco
Scrapple



Since: 2.1.02

Since last post: 3 days
Last activity: 1 day

#8 Posted on | Instant Rating: 3.72
The McMahon bit did more to take away from this match than add to it. To much of this match was exposed. I would have rather seen another variation of the pull apart.

I also thought that the Cena promo wasn't very good. However, I'm always down for a HBK Superkick out of no where.

Will Undertaker/Batista even go 10 minutes?


Matt Tracker
Scrapple



Since: 8.5.03
From: North Carolina

Since last post: 1 day
Last activity: 6 min.

#9 Posted on | Instant Rating: 6.07
As many times as the WWE has used the "adversarial tag champs" angle before a PPV title match, I don't think they've ever presented the match while the team still held the belts. Cena/HBK are the champs unless some decision from the board of directors removes the belts for a WM tag buffet bout. It's silliness.

Nice show, I thought. Punk was given all the push he could ask for going into WM, while Kenny may as well have been the Brooklyn Brawler.

Man oh man, does Eugene look like Ivan Koloff after the scalping.

The JR HOF package was fantastic, to the point of almost making me forget that he doesn't know the names of moves and he gets people confused while calling the action. Read the ongoing recappery thread in CRZ's World; JR has stumbled consistently for more than seven years. And he had some trouble last night throughout the show. I'm not against him going into the hall, but the WWE should admit he's more to them than just their on-air host.


---

"To be the man, you gotta beat demands." -- The Lovely Mrs. Tracker

My blog will amuse. (heygregory.blogspot.com)
John Orquiola
Scrapple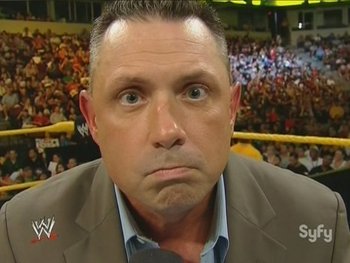 Since: 28.2.02
From: Boston

Since last post: 1453 days
Last activity: 1453 days

#10 Posted on | Instant Rating: 6.02
I liked HBK turning Triple H orange. There's no better way to pay homage to your injured best friend than to adopt his unnatural skin color. I liked his literally turning on Cena even more. We waited weeks for that superkick and it was worth the wait.

I love how in the last three weeks, Batista and Undertaker's method of showing how much the other displeases them is to throw someone at each other. Finlay was the designated sack of shit on Smackdown but HBK made an even better projectile on Batista. Undertaker MUST kill Batista on Sunday.

Great to have all 8 men in Money in the Bank have a little mic time. And I thought Jeff Hardy gave a better promo than Matt did. Something about Matt's promos always annoys me. I thought Jeff came off pretty well in a rare interview opportunity.

I liked how Orton and Kennedy have matching tribal tattoos along their upper backs and shoulders. I also liked how Kennedy was really pleased with their win while Orton didn't want to have anything to do with any more cameraderie between a fellow heel.

Maria looked incredible. It was great to see Jillian on RAW, even if she had to job to Ashley. Every time Ashley did ANYTHING, it was cringe inducing. She's so hesitant and awkward, she's like a time bomb waiting to go off and break a bone in there. She also has the skinniest chicken legs this side of Marcy, the Bundys' next door neighbor on Married with Children. Why doesn't she wear kneepads? Not wearing knee pads in the ring is a pet peeve with me. Actually, I don't mind Ashley but I'm critical of her wrestling because she shouldn't be put over Melina. Ashley's nowhere near good enough to be Women's Champion.

Jim Ross deserves to be in the Hall of Fame. I'll be eating some of his Slobberknocker Heat beef jerky while I watch him get inducted.

Really good show. Hard selling all three brands on RAW for WrestleMania made everything feel big time. Wait, that was last year. Made everything feel All Grown Up. No, that doesn't make any sense.


(edited by John Orquiola on 27.3.07 0713)
---

Back of the Head: www.backofthehead.com
redsoxnation
Scrapple



Since: 24.7.02

Since last post: 1816 days
Last activity: 1816 days

#11 Posted on | Instant Rating: 3.79
Originally posted by Matt Tracker

---

Man oh man, does Eugene look like Ivan Koloff after the scalping.

---







I thought it was a toss-up between Uncle Ivan and Mad Dog Vachon. He actually looks much better than before the scalping.
Torchslasher
Knackwurst




Since: 17.1.02
From: New F'n Jersey

Since last post: 101 days
Last activity: 101 days

#12 Posted on | Instant Rating: 5.75
It was nice of the WWE to give Chicago the Raw before WM, and they rewarded the WWE for it by going crazy for everything. I don't know if I have seen a more molten main event crowd for Raw since Dallas and the ten man main event many years ago. It's true that this might carry over into more people than usual booing Cena in Detroit, but at least it's a face vs. face crowd so JR and King can better explain why the crowd is so pro-HBK.

I loved the Go2Chicago by Punk. I also hope this crowd turned some heads in the WWE, and maybe Punk will get that MIIB win this Sunday. Hey, it's not like finishes haven't been changed because of crowd reactions before. A fella can dream, right?

For a split second, having Khali come out right after the announcement of the final HOF spot had me fearing that JR was headed for a tree slam (after what happened to Lawler last week). Thank goodness they didn't go that way.

Great, great Raw.





---

Click Here (czwfans.com)

For all your CZW and Nickels Trivia information.


"Look guys, it's 'Lake Man!' Hope you can fit into our NARROW office, Mr. Big Lake" --MST3K The Collection V. 7

Click Here (myspace.com)
Packman V2
Bratwurst



Since: 16.3.04
From: Albuquerque, NM

Since last post: 20 hours
Last activity: 2 hours

#13 Posted on | Instant Rating: 5.11
I'm sure no one would have ever thought they'd see the day when Matt got to make a dig at Edge about his ex-girlfriend. Nicely done.

I think Eugene looks like a 3rd member of the Highlanders....what happened to those guys?

The ending, WTF? We gotta take our last commercial break, and we'll be right back to show a recap, then go off air. That was a big waste of time. They couldn't just pop up the copyright stuff and call it a night after the kick?

Nice pop for Punk, and didn't click where they were until Lilian mentioned it. His new finisher is pretty spiffy looking as well.

Good Raw, and I'm ready for WrestleMania.


---

Co-Winner of the 2006 Time Magazine Person of the Year Award
oldschoolhero
Knackwurst



Since: 2.1.02
From: nWo Country

Since last post: 3324 days
Last activity: 3258 days

#14 Posted on | Instant Rating: 9.00
Lashley showing some ass this week was absolutely the right call. For weeks it's been The Unstoppable Bobby Tour, with Umaga relegated to squashing jobbers whilst his opponents dispatches upper-midcarders and former world champions. It was nice to see Umaga portrayed as a genuine threat at least once ahead of this Sunday.

Overall I agree with everyone else - this was a great go-home show. Although I agree with John - The Undertaker and Batista's continuing war of human projectiles is more amusing than badass. One of these guys needs to step up the physicality on this Friday's SmackDown.


---
To those who say people wouldn't look; they wouldn't be interested; they're too complacent, indifferent and insulated, I can only reply: There is, in one reporter's opinion, considerable evidence against that contention. But even if they are right, what have they got to lose? Because if they are right, and this instrument is good for nothing but to entertain, amuse and insulate, then the tube is flickering now and we will soon see that the whole struggle is lost. This instrument can teach, it can illuminate; yes, and it can even inspire. But it can do so only to the extent that humans are determined to use it to those ends. Otherwise it is merely wires, and lights, in a box.-Edward R. Murrow
OMEGA
Lap cheong



Since: 18.6.02
From: North Cacalacky

Since last post: 3278 days
Last activity: 884 days

#15 Posted on | Instant Rating: 7.98
Okay, this was the best go-home show I think I have EVER seen. I missed the opening segment (heard it was great, though), but everything I saw was GOLDEN, and everything seemed to hype me more and more for WrestleMania.

I seriously hope someone sends this tape to TNA and they take some notes on how to properly do a go-home show to a PPV.

Great, great show, which did a ***** job of building towards 'Mania this Sunday.


---
~!~!~!
kentish
Andouille



Since: 19.8.05
From: My Old Kentucky Home

Since last post: 1307 days
Last activity: 561 days

#16 Posted on | Instant Rating: 2.54
The pop for Shawn "turning" on Cena nearly blew the roof off! I love you, Chicago. That was quite a moment, and was built up perfectly.

I think the boos were even louder for Cena than WM in Chicago last year. And that is saying something. I have thought all along that Cena would retain over HBK, and Taker would beat Batista. Now I am not so sure, and think both belts might change hands. I hope so, actually, as I am quite tired of both of these champs.


---


Dean! Have you been shooting dope into your scrotum? You can tell me! I'm hip!

Whattaburger
Boerewors



Since: 18.5.04
From: Badstreet USA

Since last post: 1293 days
Last activity: 1293 days

#17 Posted on | Instant Rating: 2.73
Originally posted by kentish

---

The pop for Shawn "turning" on Cena nearly blew the roof off! I love you, Chicago. That was quite a moment, and was built up perfectly.

I think the boos were even louder for Cena than WM in Chicago last year. And that is saying something. I have thought all along that Cena would retain over HBK, and Taker would beat Batista. Now I am not so sure, and think both belts might change hands. I hope so, actually, as I am quite tired of both of these champs.

---


I actually hope HBK wins the title on Sunday -- just so Cena can turn heel by beating the living snot out Michaels.

Hey, it's what Hogan said he would have done with Andre.

And I know I'll be the only one on this, but I honestly don't see how the whole "when's the superkick going to come?!?" thing can't be seen as anything more than cowardly.

That whole montage they played a few weeks ago only served to show that HBK is a cheap-shot artist who hits and runs. I seriously can't see how him backstabbing Janetty, Hogan, Nash, Booker T, X-Pac, The Rock makes him seem like a tough guy, or a face for that matter.

For weeks, Michaels is teasing Cena with what's basically, "I'm going to attack you when you least expect it." It's more or less a Pearl Harbor job (thanks, Gorilla). How is that in any way face tactics or even honorable fighting? It's stupid how they made Cena look like a dope. Why would Cena just be waiting week after week to be attacked when he knows it's coming?!

I guess you could make the argument that Austin did somewhat the same to people, but it was his character that "the Rattlesnake" would strike at anyone.

Just my two pennies. Like I said, I'll be the only one on this, but IMO from a psychology stand-point, it would only make sense if Cena was full guns blazing on HBK come WrestleMania.


---

It's just a message board, people. Chill out.
kentish
Andouille



Since: 19.8.05
From: My Old Kentucky Home

Since last post: 1307 days
Last activity: 561 days

#18 Posted on | Instant Rating: 2.54
You're right, Shawn has been portrayed as a chickinshit cheap shot artist in this feud. But at this point, he is pretty much bullet proof with the fans. Except n Canada, and even there the boos aren't what they were a few years ago.

Quite frankly, I am dying for a Cena turn, now that his DVD has come out, can we just get on with it?

The more I think about it, the more I have to reconsider Shawn winning on Sunday. If you go by the finish of the main event, Batista pins Cena, which makes me think Batista loses and Cena wins at Mania.


---


Dean! Have you been shooting dope into your scrotum? You can tell me! I'm hip!

JustinShapiro
Scrapple
Moderator




Since: 12.12.01
From: Pittsburgh, PA

Since last post: 53 days
Last activity: 8 days

#19 Posted on | Instant Rating: 8.50
If they didn't turn him coming out of the fall '05 onslaught or the Wrestlemania reaction, they aren't going to turn him anytime soon. It'd be crazy too, really, considering the house show turnaround and all the merchandise he sells. When he turns, it's gonna be huge, but I think it's still a long ways away. There's something scarily plausible about a heel Cena against a babyface DX Triple H though.

Shawn's superkick was a dick move and I think it was supposed to be a heel move, which is why they waited until the very last angle to do it -- he'll be the heel for Wrestlemania (but still get a big face reaction) but go back to being ol' HBK after that.


---

If you go by the finish of the main event, Batista pins Cena, which makes me think Batista loses and Cena wins at Mania.

---


Sounds right to me. Plus Taker did the job at No Way Out.


(edited by JustinShapiro on 27.3.07 2114)
HMD
Andouille



Since: 8.6.02
From: Canada

Since last post: 434 days
Last activity: 434 days

#20 Posted on | Instant Rating: 4.30
Originally posted by Packman V2

---

I'm sure no one would have ever thought they'd see the day when Matt got to make a dig at Edge about his ex-girlfriend. Nicely done.

---


Heh, yes, nothing zings quite like saying "Your ex-girlfriend, who you stole from me causing to winge like a puss, was a slut".

I really really liked this show. Except for the women match, which I skipped, I watched it all and liked it quite a lot.

I think Cade and Murdoch are basically the Bebop and Rocksteady of WWE right now. I don't think they've ever successfully dispatched anyone they've been sent after, and yet they are continually employed in that capacity.

If Shawn Michaels looked like a heel, and I agree he did, John Cena looked like a jackass. Constantly buddying up to someone who has a bad reputation, and then getting bitchified in front of rabid crowd of people who despise you is not Champion-like behaviour. It does way more damage to Cena than it does to Michaels. I thought the "turn" was excellently done, however. I honestly didn't see it coming, and would have thought it would have gone down numerous times before then. Really nice bit of turnage, though I really thought Taker abandoning Batista was a bit out-of-character. In fact, he seemed like a bitch. Throwing someone at Batista and then storming off like someone showed up at his sweet sixteen wearing like, totally the exact same earrings. MAN UP, UNDERTAKER!

I haven't commented on the "Battle of the Billionaires". I remember actually discussing with some people how this exact stipulation would be interesting before they actually announced it, but now that they've put it into effect I don't think it really works. The biggest problem is that Vince McMahon, try though he might, is not really that famous. Nor is he a billionaire but that's neither here nor there. Certainly he's not nearly as famous as Trump, and therein lies the problem: the only real payoff for this angle is Trump losing his hair. That's not going to happen, obviously, which renders the whole ordeal pointless. I also haven't been a big fan of how peripheral Lashley and Umaga have seemed to this whole thing, which, given the stakes, really won't mean a thing ten seconds after it happens. Shoehorning Austin in, while appropriate if only because it's Wrestlemania, just seems to be another example of Vince's ever-worsening obsession with being the absolute focal point of everything he's involved in. Years ago, it wasn't to the detriment of the product, but since the days of Vince V.S. Stephanie on PPV, it's been all downhill. I really hope Vince goes away, and stays away, for a very long time after this. I'd be cool with "forever".

Though, seeing Trump try to act as if he's not afraid of Austin, when he clearly is, was funny.

As far as MITB goes, I really am wary of them making it an eight-man match instead of a six-man. If anyone can remember back to that 2002 TLC match, which I believe came out of one of those "Raw Routlette" Vegas gimmick shows, you'll probably remember that it was just too much human traffic and it came off as quite dangerous and sloppy. It was an era where they just desperately wanted to stem the sinking of their ship, and a classic match might have camoflaged that desperation, but it was just a bad match. I like every guy in this thing, but I really do question what value Matt Hardy and Finley really bring to it. Neither has done anything to warrant a spot on a Wrestlemania-level show. Finley is a tough, stiff worker who can be relied on for a decent mid-card bout on any card you desire, but so is Steve Regal, and he's nowhere to be found on this Mania card. Matt Hardy is another competent mid-card hand, but what has he done of note lately? It would be a better match without those two in it.

Great cutting Edge segment, regardless. Everyone represented themselves well. Punk is another break-out star within twelve months if they don't "RVD during the invasion" him. And they will.

That Khali/Flair thing was retarded. Is Carlito/Flair still happening, because a couple weeks ago that was one of the best built-feuds heading into Mania, and they made it look less important than Kane/Khali. And what's with the hook? If a guy is gonna come out with a weapon, it has to be something he could conceivably use. We all know Kane isn't going to hook Khali through neck and tear his throat out, although if that stopped his push it would be wholly justified. Ah, well.

Really good show. Was it good enough to justify the fifty dollar price-tag of Wrestlemania? No, not really. It lacks that "I have to f'n see that match" buzz. Last year, for example, that was Edge/Foley. But I don't think the company is really capable of anything at that level at this point in time, so I guess this'll have to do for now.

EDIT: And Jim Ross, of course, deserves to be in the Hall of Fame. When he retires, that'll be the last you ever hear of a wrestling commentator who was actually a fan of the sport.

(edited by Hogan's My Dad on 27.3.07 1854)

---

Was It Something I Said?
Pages: 1 2 Next