PsychoticMidget
Polska kielbasa




Since: 2.12.04
From: Detroit, MI

Since last post: 4427 days
Last activity: 4427 days

#1 Posted on | Instant Rating: 2.31
Kurt Angle is my new hero. Refering back to the goodness that was the REAL love triangle, with a shot like that, was GOLD. Even the mighty Triple H was fighting to hold back the breaking-kayfabe grin. And to have the 4 just all-out brawling in the ring, with Flair flopping around like the crazy old man he is, was priceless.

Stone Cold's segment was a gem, how many beers did the guy end up downing? Sandman is instantly jealous, heh.

JERICHO'S MOTIVATED! ECW-MARKED BOXES!! CAPTAIN CHARISMA!

I wonder with all these huge moves to RAW, what is in the works for SmackDown? Obviously they're changing things around so as to screw with UPN a bit before leaving the station but SmackDown needs main eventers to stay afloat period.

(edited by PsychoticMidget on 13.6.05 2221)

(edited by PsychoticMidget on 13.6.05 2247)
---

We're the middle children of history...no purpose or place. We have no Great War, no Great Depression. Our great war, our defining crucible, is a spiritual war.


Promote this thread!
geemoney
Scrapple



Since: 26.1.03
From: Naples, FL

Since last post: 3 days
Last activity: 6 min.

#2 Posted on | Instant Rating: 5.18
Did Hassan make that video package himself? If not, it sure was nice of WWE production to make it for him....Good Hassan/Benjamin match, helped by Shelton's athleticisim....Shouldn't Bischoff be feeling the effects of last night a little more than a rubbing of the shoulder?.... Masters/Slaughter was alright for what it was, though Sarge sounded a little drunk. Will a Smackdown debuter break the masterlock sometime?....

I'll take a long video recap over a Triple H interview....I thought the tag match was embarrassing, particularly when Cena and/or Tomko were in there....What is that Viscera-humping move supposed to be? Wrenching back on the neck? Or is it not supposed to do anything?....

That poor crowd, suffering from Viscera and Kane matches back-to-back. I really hate the tag teams getting treated like jobbers. Snitsky saying, "No, it wasn't my fault" was worth sitting through the match....Interesting- Angle to RAW. Smackdown better get some more of RAWS top guys.


---

College, Sports and More!: Experience It




OMEGA
Lap cheong



Since: 18.6.02
From: North Cacalacky

Since last post: 3246 days
Last activity: 852 days

#3 Posted on | Instant Rating: 6.59
I liked the last segment with Hunter/Michaels/Angle/Batista.

However, I thought the rest of the show was quite boring. Maybe it's just me, but I think that last night's ECW show REALLY accentuates how boring and stale WWE has gotten.


---
The answer to WWE's financial problems...

Never 'Wiener of the Day', and is actually quite bitter about it.
Mr Shh
Lap cheong



Since: 9.1.02
From: Monmouth County, NJ

Since last post: 82 days
Last activity: 82 days

#4 Posted on | Instant Rating: 3.35
June Sweeps?

Well that was some show.

Austin, Cena, Angle & HBK - kinda funny that WWE hasn't stacked a post-PPV RAW like this in a loooong time. Somewhere Heyman is laughing.

The angle is now complete & Snitsky is awesome. "My pleasure!" No, Gene, it was all on this side
of the table.

That Vengeance card looks pretty stacked too, no? HBK-Angle II? Wow.

On the flipside, how much total time did the HiaC & Diva search vid packages eat away?

No, the placement of those ECW cases wasn't blatant.
Deputy Marshall
Liverwurst




Since: 28.6.04
From: Troy, NY

Since last post: 1312 days
Last activity: 833 days

#5 Posted on | Instant Rating: 3.13
Wow, way for them to capitalize on last night's pay-per-view.

Incredibly dull edition of RAW. The ending segment was okay, although why was everyone dressed business casual? Was there a cocktail party backstage or something?


Originally posted by OMEGA

---

However, I thought the rest of the show was quite boring. Maybe it's just me, but I think that last night's ECW show REALLY accentuates how boring and stale WWE has gotten.

---


My sentiments exactly.


---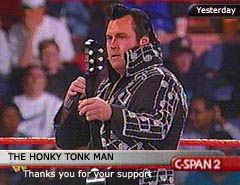 Juggalo101
Italian



Since: 27.4.04
From: Atlanta

Since last post: 1938 days
Last activity: 1937 days

#6 Posted on | Instant Rating: 1.80
-Ahh, no choice more obvious than to bring Angle to Raw. A better ending would have been Angle and Michaels staring each other in the eye while Batista and HHH did the same. Instead, we get a bunch of guys rolling around on the mat for no reason. With all the "bigger" superstars moving around, it's going to be hard to get a decent reaction from the fans if they want to move a mid-carder.

-Watching wrestling is different when you have a fantasy team.

-Vengeance was lacking when they ran down the card and only had three matches, but HBK/Angle adds a lot to the show.

-Negative side of having Cena on Raw is hearing old-timers like JR and King try and use Cena "hip-hop" lingo. It worked better with a younger pair like Cole and Tazz. Hearing JR yell, "By golly, you can't see me, King!" just didn't work too well with me.

-Average night, but a lot of filler. I'm glad the word still hasn't gotten around to the WWE not spend entire segments on a Diva search video package. Or to even spend time on the diva search...


---

Has there ever been one smarter?
redsoxnation
Scrapple



Since: 24.7.02

Since last post: 1784 days
Last activity: 1784 days

#7 Posted on | Instant Rating: 4.27
Nice Hassan/Benjamin match. Austin almost allowed Hassan to avoid the stunner. Very generous of him as he celebrates the third anniversary of his temper tantrum/hissy fit walkout.
Nice commercial for the 80's DVD, but did the Road Warrior one get any mention other than the slight scroll on the bottom of the screen?
Has Edge misplaced his briefcase? And, if so, will he someday find it next to women's clothing and decide to open a Flower Shop?
Were the actions of Jericho what WCW intended during the Summer of Suck by having a tag partner beat his partner for the WCW Title? Six years later and that stipulation still makes no sense.
Disappointed the Tajiri/Regal situation wasn't allowed to develop this week. Would have been better than some of the filler.
Five guys in the ring to end the show, none in wrestling gear. They are loading up the PPV and the card leading to the PPV, and actually providing some doubt on how they will work the titles. Triple Threat plus HITC non-title plus Angle/Michaels for the World Title would be more impressive than having HITC be for the belt and Angle/Michaels being a random match. Although this could be used to build momentum for the move to USA, still is surprising they didn't hold off until right before the move to jumpstart them into the Fall and then into the build-up to Mania. The danger does exist for Vince to have loaded up RAW to soon and for the buzz to die without benefitting his new TV partner. Of course, Orndorff/Hogan, the nWo and Austin/Taker '98 were summer feuds that helped ignite companies, so maybe summer lighting hits for this decade.
j_swan24.7
Medisterpoelse



Since: 13.6.05

Since last post: 4723 days
Last activity: 4723 days

#8 Posted on | Instant Rating: 0.00
well, i missed raw, shat matches were announced for vengeance? i am going so i wanna know. looks pretty good so far, at least i think.
evophile
Cotechino



Since: 12.8.02
From: New York

Since last post: 4282 days
Last activity: 3963 days

#9 Posted on | Instant Rating: 3.34
[quote Juggalo101With all the "bigger" superstars moving around, it's going to be hard to get a decent reaction from the fans if they want to move a mid-carder
---


that was basically my one reservation about having the month long draft. i would hate to have bought a ticket or tune in to a show to see someone like Rosey drafted (no offense to him).

when its all on one show you can cover up midcarders with big stars. i think what will happen is most midcareders will probably be traded offscreen and stuff like last year.

boring Raw compared to last nites PPV but nice to see Angle there.


---
BigSteve
Pepperoni



Since: 23.7.04
From: Baltimore, MD

Since last post: 4146 days
Last activity: 3874 days

#10 Posted on | Instant Rating: 1.77
---

Wow, way for them to capitalize on last night's pay-per-view.

---


I believe that they've teased that ECW will be on Smackdown in some capacity in their online preview of the show. The deal was that they need to spend most of their time in the next two weeks of Raw building to Vengeance. One can argue how well they accomplished that, but that was certainly their goal.

Austin was good in his role, but ir really accentuates how many of the guys that they push aren't fun to watch. I know people complain about Austin doing the same act as seven years ago, but whatever, I still love it. Hassan and Benjamin even had a good little match, I thought. Shelton is nice enough to always break out at least one or two "WTF Spots" per match.

So was Cena the worst guy in that Tag Match? I know the people love him, but he's actively awful at this point, and seemingly getting worse. His best bet is to sell for twenty minutes and then make his comeback at the end. As long as people in the crowd love his act, I won't complain to hard. It was nice to see that they held Jericho's heel turn off for something worthwhile. That's been a very nice angle over the past few weeks.

Were those video packages long or what?

Kind of funny that the Main Event was Kane vs. Sylvain Grenier. So what's the deal with Snitsky? Is it one of those jokes that is funny, then goes on too long and ceases to amuse, and then continues on so long that it once again becomes funny? Because I think that's the deal right now.

So wouldn't it just be easier on all of us if Triple H opened up Raw each week by taking a piss outside of the ring so as to mark his territory? It was kind of funny that even Kurt Angle comes to Raw and talks about how Triple H is the number one guy. Now, I know why Triple H is in the position that he's in, and I try not to complain. I try not to have a knee-jerk reaction to everything Triple does to put himself over. But fellas, can we at least PRETEND that Batista is the top guy on Raw now? I mean really, I know that Triple H is the Number One Star, trust me, I won't forget it.

So are they stacking Vengeance so that it doesn't get embarassed by the ECW PPV buyrate? Because a Hell in a Cell is certainly a strong enough main event by itself. So is a triple threat for the WWE Title. And they really, really need to not blow Michaels-Angle II on a two week buildup.
Leroy
Boudin blanc



Since: 7.2.02

Since last post: 933 days
Last activity: 933 days

#11 Posted on | Instant Rating: 4.23
I might be in the minority here, but I actually enjoyed RAW. I think the only segement that had me a bit bored was the opening Hassan-Austin. But other than that, I thought it was a pretty decent show, and the Angle-Michaels surprises at the end were a lot of fun (especially the "Whooo-off").

It's still a bit Triple H heavy, but what can you do - and I have to say that I thought Triple H gave it away when he said, "Mr. Monday Night", so Angle wasn't exactly in my mind at that moment.

I tend to think the the ECW PPV last night renewed my interest in the wrestling a bit, so I might be a bit more forgiving tonight (and I haven't watched RAW in weeks).


---

"The Chia Pet: When not bothering to give you a gift at all isn't enough to reveal how much I hate you."

-- General Manager Chris
Spaceman Spiff
Knackwurst



Since: 2.1.02
From: Philly Suburbs

Since last post: 60 days
Last activity: 21 hours

#12 Posted on | Instant Rating: 4.05
Pretty bad show. Not a good sign for the rest of the night when Banjamin/Hassan winds up as nothing more than the Steve Austin beer-fest. Way to use Austin to give either/both those guys a rub.

Best part of the show was the Jericho/Cena stuff. Good intensity from both guys, especially in the backstage altercation.

And speaking of Cena, what must be going through the poor guy's head? He went from the top guy on SD, to #5 on the Raw depth chart after the addition of Angle (barring any big names going to SD). Instead of bringing Christian over to SD and building him up to feud w/ Cena, they bring Cena to Raw and book him down to the level of Christian. Way to treat the guy selling a ton of merchandise and garnering the biggest face pops in the company. Oh, well, maybe he can commiserate w/ Batista, who's almost down to an empty husk after heat-vampire HHH has sucked virtually all the life out of him.

And after a hot PPV, Raw answers with the same ol' same ol'. Masters snooze-fest, Diva Search, another HHH "I am the Cheese, I am the best character on the show!" promo, pointless Viscera stuff, and hyping a wrestling wedding next week.

(edited by Spaceman Spiff on 14.6.05 0009)

---
Twoflower
Bauerwurst



Since: 4.1.02

Since last post: 3370 days
Last activity: 3309 days

#13 Posted on | Instant Rating: 6.84
Tonight's RAW was definitely adventures in Tivo functionality for me. Normally I watch with an hour of run-up time, just so I can skip commercial breaks and 2-3 dull segments. I found myself skipping nearly the entire show. I paused a bit to watch Jericho, Christian, and Shelton work their magic but that's about all that was worthwhile; I ended up catching up to realtime around 10:30, so I paused and watched some Aqua Teen Hunger Force... then clicked through more boring segments, more Lita soap opera and Divasearch stuff... then Hunter appeared and I decided I'd just read the recaps in an hour and shut off the TV.

This is bad. Have they learned nothing from last night's PPV? This was the dullest and least engaging Raw I've seen in weeks. It did nothing to interest me in dropping money on Vengance when I JUST dropped money on ECW for a show that, even without a single five star match, satisfied me more than the proposed card for Raw's show did. I don't wanna sound like an ECW mark here, kind of hard to avoid... but positioning one show after the other, I can't help but compare, and Raw was just boring.

It'd have been boring even without ECW the previous night... perhaps less boring, but still, boring. Pick up the pace, folks!
BigSteve
Pepperoni



Since: 23.7.04
From: Baltimore, MD

Since last post: 4146 days
Last activity: 3874 days

#14 Posted on | Instant Rating: 1.77
---

Not a good sign for the rest of the night when Banjamin/Hassan winds up as nothing more than the Steve Austin beer-fest. Way to use Austin to give either/both those guys a rub.

---


According to Meltzer, the plan as of a few months ago was that Hassan would do a program with Austin leading to some sort of a match which Hassan wins. So, if that is still the plan, it wouldn't make sense to give Hassan any kind of rub here; you want to make him even more bitter until he gets a breakthrough win. Of course, these plans could have changes because Hassan seems to have been slightly de-emphasized in recent weeks (as far as his credibility not necessarily air time). But the fact that they did this angle leads me to believe that they are still gonna do the match.
JOE DIRT
Chaurice



Since: 7.8.04
From: canada, eh

Since last post: 4720 days
Last activity: 4720 days

#15 Posted on | Instant Rating: 0.00
i think the lita/edge segment was just utter crap.


BigDaddyLoco
Scrapple



Since: 2.1.02

Since last post: 22 days
Last activity: 21 days

#16 Posted on | Instant Rating: 5.77
There was sure a lot of ego in the ring to end the night. Angle to Raw really does make a lot of sense, I just don't know who they send to Smackdown to fill the void. I really feel that HBK and Jericho would have to go to fill the gap created as Eugene really won't do it.

Is the WWE Title taking a backseat to the Big Gold Belt these days or what? I know it's the other promotions title, but when your IC guys are the only ones interested in it what does it say about your other show?


---
Shem the Penman
Toulouse



Since: 16.1.02
From: The Off-Center of the Universe (aka Philadelphia)

Since last post: 1569 days
Last activity: 1367 days

#17 Posted on | Instant Rating: 5.01
So, next week: Meet the Diva Search finalists and a wedding. Well, there's a good half hour or so shot right there. On the other hand, Trips and Angle vs. Batista and HBK is a bit more tempting.


---
Ling-Ling into battle go
Fulfill destiny of the soul
Sever skull of adversary
Shove it in the poo-poo hole

All the children sing:
Kill kill kill kill die die die
Kill kill kill kill die die die....
Big Bad
Scrapple



Since: 4.1.02
From: Dorchester, Ontario

Since last post: 3 days
Last activity: 1 day

#18 Posted on | Instant Rating: 3.80
Hey, remember a few months back when Hassan debuted and WWE said they would treat his character in a unique way that dealt with the situation of Arab-Americans after 9/11? Fast forward six months to Steve Austin calling them 'sand people' and mocking the 'towel' on Hassan's head. Good lord.

Shelton or Orton have to be headed to Smackdown on Thursday, as they're the only two real big names on RAW without a match for Vengeance. Then again, it would be a fun bait-and-switch to have HBK get drafted so his rematch with Angle is put off until Wrestlemania 22.


---

"You can look the other way once, and it's no big deal, except it makes it easier for you to compromise the next time, and pretty soon that's all your doing; compromising, because that's the way you think things are done. You know those guys I busted? You think they were the bad guys? Because they weren't, they weren't bad guys, they were just like you and me. Except they compromised... Once." -- Jack Bauer
HMD
Andouille



Since: 8.6.02
From: Canada

Since last post: 402 days
Last activity: 402 days

#19 Posted on | Instant Rating: 4.43
Originally posted by Big Bad

---

Hey, remember a few months back when Hassan debuted and WWE said they would treat his character in a unique way that dealt with the situation of Arab-Americans after 9/11? Fast forward six months to Steve Austin calling them 'sand people' and mocking the 'towel' on Hassan's head. Good lord.

---


I was willing to give Austin a chance, but whatever little respect I had for him after that Debra stuff (which wasn't much) is now completely gone. We can add him to the short list of "face racism" with HHH and Ken Shamrock.

They just gutted Smackdown. Do they even know what a lottery is? What are the odds it would take the most valuable stars on the opposing show in descending order? Angle is great, but on a show with Triple H there's going to be serious ego-clashing, a legit fight for the top spot, but the same result as always. Is it any wonder everyone had so much Angle-sucks fodder to throw in his face? Yes, he did get beat up by Sharmell. He failed at One Night Stand. It's like they tried to lower his value before they brought him over. Now right before his confrontation with the new champ, he'll be giving his job back to Shawn. He doesn't stand a chance on this show. I can't think of a single person Smackdown could draw that would offset the damage of the best all-around performer in the business going to a RAW show that already has the two hottest babyfaces of the last few years. I hope some of this stuff isn't permanent.


(edited by Hogan's My Dad on 14.6.05 0213)

---

Hot Virgins-The World's Most Steadily Shrinking Commodity
Kevintripod
Banger



Since: 11.5.03
From: Mount Pleasant, Pa.

Since last post: 7 days
Last activity: 18 hours

#20 Posted on | Instant Rating: 1.70
Originally posted by BigSteve

---

So are they stacking Vengeance so that it doesn't get embarassed by the ECW PPV buyrate?

---


Yeah, I was thinking the exact same thing.

Love the fact that Angle is now on Raw......hate the fact that now I have to say bye-bye to what could have been another great Benoit/Angle feud on Smackdown.

So far the draft is almost embarrassingly one-sided in Raw's favor. I hope Vince isn't going to gut Smackdown.

Looks like for this new Diva Search, either the judges are looking for and selecting Christy Hemme-like clones.......or the contestants wised up and realize that the WWE judges are now looking for more than just looks. Seemed like all the finalists were very wild and had very energized attitudes like Chrissy does.

I hate what their doing with Lillian and Viscera. Just when I had finially forgotten about her "strudel comment" to the Rock, they go and totally destroy my sweet virginish image of her by having her hook up with Viscera seemingly overnite.

Yes, the six minute promo for the HIAC match was very long.....but if there's one thing the WWE does better than anybody, it's making a montage promo. I really enjoyed it with absolutely no complaints at all.

Were those ECW cases there on purpose and meant to be seen on tv ? I very much doubt it......but what if ? It would be fun if next week Eric is seen in his office watching video of last nights Raw and screaming at Coach: "I want you to tell me what the hell is that, and what the hell is it doing there ???!!!"

I am really liking Lita as a heel....and Edge now has that smirk and slinking heel walk down perfect.









(edited by Kevintripod on 14.6.05 0350)

---

"This just got a hell of a lot better." - Stifler, American Pie
Pages: 1 2 3 Next