Wpob
Bierwurst



Since: 21.11.02
From: Williston Park, NY

Since last post: 2 days
Last activity: 2 hours

#41 Posted on | Instant Rating: 2.61
Originally posted by asteroidboy

---

Goddamn Randy Orton. I have to watch his shitty offense for a whole match, then he gets to hit his finisher on Foley. I care so little about him and yet hate him so much, because I know Foley's gonna put him over.

And fuck Bautista. I was twenty times more scared of Sid Vicious than I am of this walking billboard for some downtown ink shop.

AND HBK. Did you hear those boos? The ones before he hit the superkick. No one wants him around in the main event, I'd call that a pretty resounding vote. And I REALLY don't want him, because he and his buddy are gonna find a way to shaft the guys that I like.

I hate the fact that these two got the finish. I hated seeing Randy Orton hold the belt over someone who makes me want to watch RAW. Ooooh.. but it's heat, he's making an internet mark hate him. Yeah, and the heat's so good that I'm tired of giving these people my money to tell me who I'm supposed to want to see. Is it good heat when you make a fan want to play the only card that he has?

I think I'm done after Mania. Fuck it, I don't care if that sounds like a goodbye post or not.



(edited by asteroidboy on 9.2.04 2253)

---


This was going to be my post (morte or less) today but you said it much better. I hate Bautista, HBK and Orton. They are ruining Wrestlemania for me so much that I will most likely not order it. I get sick thinking about Mick Foley coming out of "retirement" to put over Orton as a favor to HHH/Vince. Orton is a talentless pile of suck who doesn't deserve to be in the same ring with Foley. If Foley was putting over someone with talent (Christian, Hardy, etc.) to get them to be a bigger heel, then I would be OK with it. But Orton is a waste of time. And Bautista? Christ, he is awful. I thought for sure he was going to drop Foley on his head during that table spot. Give me O'Haire as a scary big man but for the love of God, Bautista is just awful.

And HBK. he can go fuck himself to hell for all I care. He is everything that is wrong with these older superstars that have to be in the spotlight. HBK should let benoit have his day in the sun and take a backseat. But no, he has to involve himself in the main event and fuck up what could have been an really exciting match and a defining point in Benoit's career.

These three (HBK, Orton and Bautista) ruined RAW for me again. I could even deal with HHH's long winded speech at the contract signing because at least it had some intensity and was consistent with HHH trying to intimidate an opponent (see Jericho, RVD, Steiner etc). But the other three make me sick. And the worst part is, they will be pushed for a long time. Now, I have even more of a reason to watch Smackdown.


---

Inigo Montoya: Who are you?

Westley: No one of consequence.

Inigo Montoya: I must know...

Westley: Get used to disappointment.

Inigo Montoya: 'kay.
wordlife
Head cheese



Since: 4.4.03

Since last post: 4671 days
Last activity: 3955 days

#42 Posted on | Instant Rating: 10.00
I would love to see O'Haire moved over to RAW to become an antagonist for Batista...you could use O'Haire as a catalyst for the Orton breakup (have him talking to Orton backstage on how much better he is than the rest of the group, appeal to his egomaniac side)...essentially you could use him to drive a wedge through Evolution, hell I would buy it

I dont think O'Haire will ever be put over b/c he is not a WWE product...Look at Jindrak, he has 1000 times the talent of Morgan, Heidenreich, Orton, and has just as good of a look as Orton and he is wrestling in a tag team that the WWE seems to blow off

I took the reaction of HBK that people just don't want him to ruin Benoit's chance....Benoit is viewed right now as the working man's hero-type and is playing that role rather well in my opinion...I think some of it was smark hatred like ugh not the Clique again and some of it was WTF? Why can't they just let Benoit get his chance?


---

"This is RAW, man...not an episode of The OC" Christian
CANADIAN BULLDOG
Andouille



Since: 5.3.03
From: TORONTO

Since last post: 1855 days
Last activity: 1854 days


ICQ:
#43 Posted on | Instant Rating: 6.50
Last night's promo that HHH cut on Benoit was one of the best heel speeches I've ever heard him give, especially when he smashed the mic on the table and said something to the effect of `Now wake up! This is reality!'.
He's always been a strong talker, but the interview he gave last night almost made me forget why I hate him so much. It made his match with Benoit feel more important than a usual title defense... which of course it is.
Now, that feeling changed for me when Michaels entered the ring (which, granted, was pretty much expected) and essentially changed the match to a three-way for Mania. I know why they're doing it, but I'm still not sure there should be a one-on-one match instead.
But... at least they have more than a month to let the three-way match take shape, so its not all bad.


---

A BRAND NEW Old ITR is available right here!!! What are waiting for? Click on it. Right now! CLICK IT!!!!!!!!!!!
Check out the brand new Inside The Ropes Website, featuring the obscenely expensive Canadian BullBLOG!!!
Doc_whiskey
Frankfurter



Since: 6.8.02
From: St. Louis

Since last post: 23 days
Last activity: 9 hours

#44 Posted on | Instant Rating: 5.03
What a great raw....the matches were all pretty good tonight, and I actually believed for a second that RVD would take the IC title...looks like they are setting up a tag title match for mania which should be pretty good...I am LOVING what they are doing with Christian, and I cant wait to see how Jericho will find out about Christian, I have a feeling this will be one helluva fued...though I am kind of upset that HBK is in the main event at Mania, I have no doubts that this will be a great match, and I see Benoit coming out on top (incidentally what is the difference between Benoit pinning HBK or HHH, if he beats HHH he beats the champ, if he beats HBK he pins a legend, he wins in either case)...while the stuff with the Undertaker is cool and all, when is he going to actually make an appearance?...HHH was on tonight with that promo...overall a VERY good job tonight


---

Mr. Burns: You are of course familiar with our state usury laws?
Homer:U-sur-y?
Mr. Burns: Oh silly me, I must have just used a word that doesn't exist.
Net Hack Slasher
Banger



Since: 6.1.02
From: Outer reaches of your mind

Since last post: 4899 days
Last activity: 3319 days

#45 Posted on | Instant Rating: 6.53
-Goldberg/Austin/Heyman interview- An interesting start, I liked how Heyman got in a real quick plug for his PPV which didn't seem to out of place. Also how he pimped up his show. Can't say this was too bad. Ends with Goldberg aiming for Vince with a Spear but hits Austin... In the Back, Goldberg ain't saying I'm sorry but wanted to say "He didn't mean it". Isn't that kinda saying your sorry.

-Stratus/Jericho vs. Molly/Hardy- Jericho starts off fast, running the ropes and hitting some quick strikes. Tag to the girls, Trish hits a very nice twisting headscissors from the corner. Trish takes the bump of the night when she gets pulled down full speed throat first to the bottom rope OUCH. Northernlights by Molly. Guys tag in, Jericho double attempts the enzuigiri. Fights Matt to the outside and hurts his knee in the process. Trish hits Stratusfear on Molly but gets knocked down by Matt. As Christian runs in (Uh oh Trish is in trouble) BUT NO! Christian attacks Matt. Molly goes for the backflips/elbow but Trish counters with a beautiful Victory roll that actually gained her VICTORY... Christian helps? Didn't see that one coming at all, another interesting twist. Backstage creepy Christian says Trish is looking good.

-Benoit vs. Flair- A chops clinic early on which actually made Flair's chest bleed, Ewww. You gotta give props to the old man for going out there and working a pretty physical contest... Some spots were strange like a single punch from Flair from his knees knocking Benoit on his back and the bridge out that never bridged. Then of course there were some vintage Flair spots like Benoit on his back and Flair struts and stomping on his ankle and Flair taking the German hat-trick.

-Benoit/HHH/HBK interview- I was shocked by the crowd response, is Portland a honorary Canadian wrestling city of reacting the way WWE won't expect. When HBk came out I thought his popularity is going to overshadow Benoit for certain. It didn't. When HBK said he had unfinished business with H & has to be settled at WM he got booed. When Benoit said "HBK can have HHH just not at WM that's his time", the crowd cheered. When HBK superkicked Benoit & signed the papers they booed. Really didn't expect that reaction... I agree totally with CDN Bullgod. HHH amazing promo, best one I've seen him do in years. Going into detail about how it will be for Benoit to win the title. Then screaming Benoit to WAKE UP & stop dreaming. Great stuff. I was cold on Benoit/H but H promo made me into it, which gets washed away with HBK involvement. Nothing against HBK, but when you split the focus. It's not good.

-Kane vs. Hurricane- Kane squishes Hurricane... The power of ringpost fire has disappeared as Kane can't make fire go up. Welcome to my world! Third times a charm as Kane smiles until we see The underRINGer video. 34 Days Kane, 34 Days!. If I was Kane I'd just call in sick. Undertaker is not going to show up until then, that's kind of lame.

-Foley/Orton interview- When a third inring interview segment hits, it usually equals annoyance for yours truly but it's Foley and he gets a pass. And he deserved it this time without exception. He goes off on hypocrites from Jimmy Swaggart with his skin collection (BTW Torrie/Sable PB on sale soon!) and Rush Limbaugh with his pill collection. Which brings us to young Randy Orton who went AWOL while at the army and Foley called Orton the real coward who turned his back on his duties. Somewhere Tony Schiavone is screaming "That's a shoot! That's a shoot!!"... Orton challenged Foley in catering. Foley asks everyone around where catering is at (come on Foley you don't know where it's at LoL). Gets there but gets ambushed by Evolution as Batista powerbombs him threw a table. Orton gets in Foley's face and B*tch slaps him.

-Orton vs. RVD vs. Booker- I actually thought Orton was going to lose this match. Because I don't see a reason for having the IC title on a guy who's facing Foley. It was a solid effort as 3-ways go. Orton stayed on the outside on the early part coming to break up the pin. RVD and Booker looked really impressive in there, better then they have had in recent weeks. Pretty good finish as Booker and then RVD hitting his finisher on Booker just so Randy could come in and get the pin... After match Batista and Flair came in and beat up RVD and Booker which kind of looks like a set up for a tag match. As Orton gets on more cheap shot RKO on Foley.

-Other Stuff- Footage is shown of WWE stars in Japan. Jericho is singing with someone "Help" from the Beatles which of course makes Randy Orton ask "Catchy tune. What's it called and who sings it"... Vince blames Bischoff if Goldberg shows up at the SD PPV, what can Eric do?... Team Vanilla is checking out the Vanilla PB spread as Gayda & Stacy walk in wanting to prove themselves nakedness worthy... Coach wasn't 3rd man in booth because he was backstage interviewing Foley and Goldberg... Bischoff catches up to Benoit and makes a match with Benoit/HBK next week... Terri and Orton chat about the main event.

-Line of the Night: Foley "I've noticed people who gets joy of calling other peoples faults usually have something to hide"
-Sign of the Night: "French flag" - Not really a sign but carrying a French flag is pretty brave.
-3Stars of the Night: 1)HHH. 2)Trish. 3)RVD - There were a lot of good choices this week

I thought this show was really good. Even with 3 inring interview segments which is high on my personal Over/under they all seemed it had a purpose. With both HHH and Foley doing good ones. All matches except Kane/ Hurricane delivered well. Another interesting twist on the Trish/Jericho/Christian saga... Like I said before I don't like the inclusion of Michaels in the WM main event, an event and match of this caliber it should focus on two men and not split the interest among other parties.



---

smark/net attack wienerville advisory is lowered to YELLOW alert - Elevated (Due to Lesner still being champ, Benoit winning the Rumble, but HHH as champ is still a threat) 1/27

Get your WWE CD copy autographed by Stone Cold Steve Austin, Chris Jericho, Trish Stratus and Lilian Garcia after Raw... Oh MY! Christmas has come late. Can't get better then that.
Spaceman Spiff
Knackwurst



Since: 2.1.02
From: Philly Suburbs

Since last post: 65 days
Last activity: 19 hours

#46 Posted on | Instant Rating: 4.05
Originally posted by King Slender

---

I get so tired of these empty threats from people "fed up w/ the fed" who continually piss and moan about new guys not getting pushed, put into the title picture etc., and finally when they start to show sighns of growing some new stars (Orton, Bautista) the same people cry cause "there guys arent pushed.

---

So, we're supposed to jump for joy that green guys w/ no heat get shoved into the ME scene, while guys like Eddy (up until recently), Benoit (up until recently), Booker, RVD, Hardy, etc. get buried in the midcard?

As for WMXX, for whatever it's worth (not much), I never order PPV's (if it's good, I'll get the DVD), but I was thinking about ordering WM for Brock/Benoit. Now that Benoit switched to Raw, I'm leaning back to not ordering the show.

Anyway, Raw was pretty entertaining. A lot moreso than the last few weeks. Random thoughts:

--Opening segment could have been a bit shorter, but Heyman and the prominant "Brock Lesnar Wannabe" sign w/ Goldy's picture made it worthwhile.

--mixed tag was OK.

--Flair/Benoit was was very good. Flair taking the rolling Germans, Flair taking the superplex, both guys chopping the shit out of each other, just good stuff all around. Good to see the crowd pop big when Benoit won.

--contract signing - I was really digging this until HBK showed up. I hate HHH as much as the next guy, but I really liked the promo he cut on Benoit. Built up Benoit's dream, then turned on it to get himself over as a dick. He even got the crowd to chant "Benoit". Then HBK came out, and really brought the segment down for me, and it looked like he did the same for the crowd.

--Benoit/Bishoff backstage - c'mon, they can't expect us to buy this "can't change the contract" stuff. Why can't he? It didn't have HBK's name in there. It wasn't an "open contract". I'm willing to suspend disbelief, but stuff like that is pretty insulting. We do get Benoit/HBK out of it, though, which is a good thing, provided they don't do something lame like a double-pin.

--Kane/Helms - blah. Don't care about Taker/Kane, so the post-match stuff didn't do anything for me.

--Foley promo - eh, a feud I don't care about, plus the promo just wasn't very good.

--Orton/Booker/RVD - OK match, nothing special.

Overall, one of the most enjoyable Raw's in quite a while for me.


---
Matt Tracker
Scrapple



Since: 8.5.03
From: North Carolina

Since last post: 2 days
Last activity: 18 hours

#47 Posted on | Instant Rating: 5.58
I understand the allure of painting Benoit as a guy who's waited 18 years for a world title. But I'd rather see the WWE (through Benoit himself or Ross) point out that he held the WCW title by beating a much bigger guy, Sid Vicious. I'm a little bored with this "underdog title shot vs. Hunter" seeing as how we had it exactly a year ago with Booker.

I'm not yet interested in Shawn's involvement in WMXX, but if Benoit beats him with a Sharpshooter ... OK, I'll scream like a widdle goil.


---


"To be the man, you gotta beat demands." -- The Lovely Mrs. Tracker
whatever
Bierwurst



Since: 12.2.02
From: Cleveland, Ohio

Since last post: 44 days
Last activity: 1 day

#48 Posted on | Instant Rating: 5.66
I am impressed - I feel like the dark times are peeling back a bit, if only for the WM buildup. I am very interested in the RAW storylines leading up to the event, and looking forward to how things will shake out for Smackdown as well. It is rare and impressive to see buildup spanning a couple of months instead of the generic "just add water" (or spill coffee, natch) insta-feuds. Definitely a refreshing change of pace. I am liking all the matchups so far, and could even be persuaded to get into the 3-way for the title, though I'd much rather see HHH-Benoit one on one. Also count me in the camp who'd rather see Foley-Orton one on one, but given the ambush this week I can see Mick "getting assistance" to help deal with Evolution.

Overall, I feel like everyone is doing a very good job at entertaining me for the build to WM. My compliments to the writers and performers so far. I'll try to keep my smark-hat off for awhile and enjoy the ride.

PS - Funniest moment of the evening was my wife when Kane tried to ignite his pyro. Initially she was going to make a sarcastic comment about how old that was getting. Then when it wouldn't go off and he was getting frustrated, she actually felt bad for him! "Awwwww, poor Kane!"
---

The last WOTD of 2003! FINALLY!
JoshMann
Andouille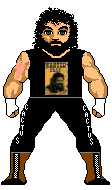 Since: 17.11.03
From: Tallahassee, FL

Since last post: 3602 days
Last activity: 3599 days

#49 Posted on | Instant Rating: 4.01
Random thoughts from RAW

-You KNOW the part where Trip slammed the mic down is going to be the part where the music changes when they replay that promo. But otherwise, Trip cut one of his better promos of the last few years. You could see where that whole segment was going the whole way, albeit Shawn's promo was little on the lackluster side...he needed to convey a little more desparation and didn't. Although that was a hell of a kick Benoit ate. All THAT part needed was a window for Benoit to be thrown through.

-Speaking of which, Benoit's a little more over than he was the week before, but the difference between him and most other guys at that level of the card is they react more for the ring stuff than they do for the entrance, but JEEBUS did he chop the shit out of Flair....next week tells the story as far as what kind of progress they've really made as far as building him up.


Originally posted by fuelinjected

---

Coming from a person who first saw Chris Benoit wrestle in 1989 in Dawson Creek, BC against Johnny Smith (ohhh namedropping),

---


And Benoit was all, "Man, you wouldn't last a day on the Creek!" [shnoogins]

-Cute little moment during the catering ambush where Foley sees Flair and Batista and makes a face like "OK, I'm probably going to get my ass kicked but if I am, I'm going to get at least one shot in first" and dives for Orton. Booker/Rock/Foley vs. Evolution, perhaps?

-They're inching that much closer to doing the Dunkin Donuts segment, I can feel it. As long as they don't do that EXACT same premise they did last night on Heat a week before Mania (i.e. 7 days before Mania) the concept won't be as obvious as it is already. But hey, at least they moved up to 2002 on their conceptual stuff with Taker. That's progress.

-Do you get the feeling that this feud ends with Christian taking an air horn to the ear at close range? To quote Molly Ringwald, fucking teenagers.

-They really needed to come up with a better "and if you DOOOOO" for Goldberg before he had a spear red tag sale. I'm pretty sure that "don't do it or Brock's gonna whoop that ass" wasn't a good enough deterrent. So really they booked that in reverse. He should have made the threat of suspension prior to that, then flash to the match, Brock provokes him, Goldberg's all "I gotta be free, I gotta be me" [spear spear spear] and THEN he gets suspended for a couple of weeks until Lesnar gets him reinstated to fight at Mania.

There was nothing wrong with Austin in the middle of the segement to basically do Goldie's talking FOR him, but that's as far as it should go.

But this is where it helps RAW to not have any more PPV hype between now and Mania except for Mania. So they've had a head start on building stuff up, and it's helping greatly. The last two weeks have been really good.




---
Welcome To The Bryant Street Theater...have a Fruit Roll-Up
Wpob
Bierwurst



Since: 21.11.02
From: Williston Park, NY

Since last post: 2 days
Last activity: 2 hours

#50 Posted on | Instant Rating: 2.61
I thought the best part of the whole night was Heyman (again he is always gold) when he was trashing Goldberg and right as Goldberg was in the process of spearinghim, he let out a shriek on the microphone and then got clobbered. It's the little things like that that make me happy. It was like the bad guy in Die Hard 9the first one) as he was falling out the window, he fired off a few shots at McClain. Simple but effective. Much like Chirstian telling Trish she looks good. Nothing more nothing less, just enough to move an angle along.


---

Inigo Montoya: Who are you?

Westley: No one of consequence.

Inigo Montoya: I must know...

Westley: Get used to disappointment.

Inigo Montoya: 'kay.
Reverend J Shaft
Toulouse



Since: 25.6.03
From: Home of The Big House

Since last post: 45 days
Last activity: 7 days

#51 Posted on | Instant Rating: 2.45
I actually thought Benoit and HHH came out of last night's Raw looking great. HHH did well in looking like the cocky, been there-done that, champ and Benoit played off him beautifully. They know Benoit isn't the best on the mike, so they had him do a few facial expressions that I thought were great. Almost as if Benoit was going to buy into HHH's speech about being afraid of blowing his big chance and then becoming angry. I thought this was the most personality Benoit's displayed in awhile. Of course, I'm still expecting HHH to come out of WMXX as champ, so it's all moot.

I feel the hate for Evolution on this board, but I thought the storyline with Foley was great. In fact, the beatdown reminded me of the beatdown Ole Anderson got when he was kicked out of the Horsemen and wanted to confront Flair. Orton's going to be a legitimate star after this, thanks to Foley.

And the blood coming from Flair chest after Benoit chopped him? Damn.


Originally posted by Wpob

---

It's the little things like that that make me happy. It was like the bad guy in Die Hard 9the first one) as he was falling out the window, he fired off a few shots at McClain. Simple but effective.

---


Off topic, but, I actually thought Hans (the bad guy) DIDN'T get any shots off at McLain when he fell. In fact, I remember thinking "Shoot him, dammit!", but he just fell with his gun pointing at McLain. That comment just caught my eye.... Sorry.
Nate The Snake
Liverwurst



Since: 9.1.02
From: Wichita, Ks

Since last post: 5058 days
Last activity: 4528 days

#52 Posted on | Instant Rating: 4.83
Originally posted by StaggerLee

---

It was a great show, IMO. Other than Booker getting jobbed yet again (props to him for being a team playa though) and no payoff on the Jackie/Stacey bit.

All the Smarks are talking about how evil HHH and HBK are for having inserted HBK into the main, but what if Benoit goes over them both? THEN what are you all going to say?



---


They'll say "It wasn't a decisive finish, the three-way was there to protect HHH/HBK, and besides he'll just lose it back the next day/week/month because EVIL CLIQUE EVIL EVIL CONSPIRACY." They have to or they'll be ostracized at at the next smark potluck.

They did a nice job of building Benoit last night. They made a point of replaying the finish of the Mark Henry match from last week and put the Crossface over as MEGA dangerous, he outwrestled Ric Flair ("but he's old and washed up and OMG CLIQUE MAKING FLAIR LOOK BAD TOO") and made him tap (and put that victory over huge), HHH did a TREMENDOUS job of getting over how important the belt is...

Too bad HBK's portion of it fell so flat. Great timing on his entrance, cutting Benoit off before he can suck the air out of the room with a promo (I like the guy, but he needs good writing to make his promos come off well and Raw's writers can't seem to deliver) but then it just sort of sat there like "well... um... yeah. I really hate that HHH, I do..."

They got the crowd reaction they wanted, though, and I'm interested in where they take the "are they in cahoots?" bit.

Oh, and did anyone else notice what sounded like Paul Heyman's voice shouting "WRONG TABLE" after Foley's beatdown...?




---

Kansas-born and deeply ashamed
The last living La Parka Marka

"They that can give up essential liberty to gain a little temporary safety deserve neither liberty nor safety." - Benjamin Franklin
Matches
Haggis



Since: 23.9.03
From: Cleveland

Since last post: 2159 days
Last activity: 2061 days

#53 Posted on | Instant Rating: 6.00
Thoughts/opinions:

Interesting to see Heyman out there running his mouth.. Not a Goldberg fan or an Austin fan so I was happy to see the former botch his attempted move and hit the latter. Heyman had lots more time to avoid the spear (3 steps) than Vince did. I never like the face/face "I'm not sorry but it was an accident"/"That's okay, I'm still a badass" interaction after those kind of things. And this was no exception.

I was loving Matt and Jericho prior to Jericho hitting and selling the knee. Fast pace, interesting spots. How many mixed tag matches do there need to be before the "opposite gender doesn't have to tag in if a tag is made by the other team" rule is finally used? Half the time, the heel guy tags the heel girl, who gets in and looks scared of the face guy, who then in a badass manner tags the face girl in as if he was doing them both a favor.. And JR has to explain every time that the tag wasn't necessary. And I wasn't sure that Trish was the legal 'man' to get the pinfall in the match but, she got it anyway.. Christian! run-in on Mattitude did suprise for an instant but Christian seems to be making a living doing and saying unexpected things whilst being completely disingenuous about it. Interesting to note when Christian said "Since you guys are just going to be friends I don't see why we can't get along," Trish seemed disappointed to be reminded about the "just friends" thing, even though it was her call in the first place. (Just like a woman. Jericho needs to go to Seduce and Destroy)


-I was also very interested and suprised (somewhat happily) to see the reaction. I'm pretty neutral toward both HBK and Benoit but found myself glad that Benoit got the support. I can't help but think that maybe he had a little crowd momentum going having just beat Flair in a good match, and that helped him get the crowd in his favor. I must say, very good promo by HHH.. I concur with the thoughts aforesaid; it was the best I've seen him do in a long time. But unlike the others, I didn't mind so much the HBK interruption.. I kind of dig him as a guy trying to get around the rules and get another shot. That said, while I dig it as an angle, I don't dig it if it's going to lead to a Triple Threat (or even scamming Benoit out of it altogether).


I've been enjoying the foreboding of the Undertaker's return but I did NOT like the new video. To announce the days until the return seems like blowing the next freaking month. First, strange that they started hyping the return with these videos so early, and so often. How many times do we have to see Kane squash a guy in a match only for the lights to turn out, etc..? It's cool once, twice, maybe three times, but where do they go from here? By announcing the amount of days to WM they close out the option of the Taker making an appearance in the interim which I would have liked to see. I'll be open minded but something different had better happen between now and WM or I think it will lose all it's momentum.

Orton-Foley-Evolution segment was decent, if predictable. Foley again cut a great promo and I really liked the "maybe you were talking about yourself" comment about Orton re: being a coward. I'm also pretty sure Foley said "accomodations" when he meant "commendations" which made me laugh.


Count me in amongst those who thought Orton could lose this one. Dealing with Mick, the IC belt doesn't really do much for Orton.. And if they go one-on-one at WM, will it be for the belt? IMO Title Matches should be about the Title first, personal differences being the backdrop to add color and intrigue. This is especially the case with the IC belt where the people involed don't get as much time to establish their rivalries as much as HHH and whoever he's angry with do. How many times have we heard HHH blather on about "this is personal!" That's fine and good but if you're going to have a belt on the line you have to believe that the challenger really cares about winning it and no one is going to buy that about Mick Foley.

That said, I enjoyed the triple threat match.. They allowed it to go one-on-one for most of the way which was nice. I liked Rob getting up after the near count-out, trying to pin Orton, then trying to pin Booker. RVD and Booker were really jawing in the ring before the match, but I don't remember why that would be?

Weird timing with the playboy stuff. Just last week the Raw girls were pimping themselves as the ones who should be picked.. And this week the decisions have been made, the photos shot, touched up, and the mag printed? I didn't see SD so I don't know if an announcement was made there or not.

Jericho and Christian in tag action against Mattitude and who? Or will V1 face Christian in singles? Ideally you'd have Christian lose and then get mad at Jericho for not helping but they might be looked to extend Matt's losing streak angle a little more.


asteroidboy
Andouille



Since: 22.1.02
From: Texas

Since last post: 2739 days
Last activity: 1647 days

#54 Posted on | Instant Rating: 4.95
Originally posted by Matches

---

Weird timing with the playboy stuff. Just last week the Raw girls were pimping themselves as the ones who should be picked..

---


And why does Jackie look like Stifler's mom? Or more accurately, the poofy-haired lesbian in "Best in Show," also played by Stifler's mom?

(edited by asteroidboy on 10.2.04 1131)

---

-- Asteroid Boy


Wiener of the day: 23.7.02

"My brother saw the Undertaker walking through an airport." - Rex
"Was he no-selling?" - Me


RYDER FAKIN
Six Degrees of Me



Since: 21.2.02
From: ORLANDO

Since last post: 562 days
Last activity: 27 days

#55 Posted on | Instant Rating: 7.71
MR#89:I'll say this, this is the most interested I've EVER been in Chris Benoit. You have Triple H, the heel champion, looking to squirm his way out of any sort of match that has him at the disadvantage, you have Chris Benoit, the straight face that just once wants to taste WWE World Title gold, and you have Shawn Michaels, the tweener whose actions you can respect because he wants the title and he wants to fight Triple H, but you hate him because he's trying to do it at the expense of Chris Benoit who "got there first" as it were. The Triple Threat is to Hunter's advantage in this case because two strong opponents (HBK and Benoit) cancel each other out because they're fighting over who should be the rightful #1 Contender (Benoit who is in via being the winner of the Royal Rumble or Michaels who was the #1 Contender before Benoit arrived due to two consecutive draws v. Triple H, and who has resorted to trickery to put his bid above Benoit's).

All in all, I'd say this was an extremely well booked few weeks to run at at a three way match. One I'm looking forward to far more than I ever would have if it were just Benoit/Hunter because both guys are so bland. At least having Shawn in the mix makes the dynamic a bit more fluid (and makes potential post Mania feuds much more open and interesting).

What the hell is wrong with you? Rational Thinking / actually LIKING something like this is not allowed or wanted. Get lost and donít let the door hit you...the IWC doesnít need your kind...

And while Iím all smart, what gives with Benoit selling so much for Flair? I know itís * Flair * but why go down with one punch or one chop? Flair looked in shock, as no one has done anything like that for him in 10 years. As the old saying goes, you canít sell the same for a 55 year old man as you do for the World Champ, Flair or not. Hopefully Benoit tones it down a little...

FLEA



---

Demonstrations are a drag. Besides, we're much too high...

FLEA - 1ryderfakin.com - IWC 100! And The Wrestling Dead Pool!!
Mr Heel II
Lap cheong



Since: 25.2.02

Since last post: 81 days
Last activity: 17 days

#56 Posted on | Instant Rating: 5.86
Welcome to RAW, Portland! We're finally here! Give us about twenty minutes and we'll actually have a match!

Speaking of matches, I enjoyed them. The three-way was good, the mixed tag was pretty good (mostly because of the twist thrown in by Christian). Flair and Benoit was cool just because it was Flair and Benoit, but the play-by-play in Matt's satire was pretty much what I was thinking through the match itself.

Are they seriously not going to return Taker UNTIL Wrestlemania? So do we get four more weeks of teasers and Blue Man Kane, or what? How about having him make an appearance in two weeks in Omaha (since I'll be there and all)?

Triple H's promo was as good as he gets, but I thought Benoit's expressions while just standing there listening to the promo said a thousand times more .

Did anybody really believe Foley could walk back to meet Orton and NOT get ambushed?

First ever RAW in Portland and the best sign anybody could come up with was "GOT EGYPT?" (Although I'll give props to the guys with the Wrangell, Alaska sign.)



(edited by Mr Heel II on 10.2.04 1227)
SchippeWreck
Banger



Since: 26.3.03
From: Glendale, CA

Since last post: 366 days
Last activity: 51 days

#57 Posted on | Instant Rating: 6.57
Originally posted by Mr Heel II

---

First ever RAW in Portland and the best sign anybody could come up with was "GOT EGYPT?" (Although I'll give props to the guys with the Wrangell, Alaska sign.)

---

I agree with you on the overall quality of the signs, but I did notice a good number of pro-heel signs...
"Brock Lesnar Wannabe" (with Goldberg's face)
"Evolution=Ratings"
"Foley is Good, Orton is Better"

I think the most surprising sign was "CLB". See, it IS getting over! *dodges a tomato*

(edited by SchippeWreck on 10.2.04 1038)
---
Lexus
Andouille



Since: 2.1.02
From: Stafford, VA

Since last post: 11 days
Last activity: 11 days

#58 Posted on | Instant Rating: 5.62
Originally posted by Kane Is Ugly

---

I am so sick of these "contract" signings on RAW and Smackdown. They are lame ways to do plot twists and just insult my intellegence.

---


No, insulting your intelligence would be ignoring the plot twists and tell you they hate each other just because they said you should.

Story progress is still story progress. If you wanna do a contract signing where another unseen face signs the contract rather than the man who's earned it, that seems pretty new to me.

Woah, where did you come from dude, under Scott Keith's bed from 4 years ago?


---
WHOOOAOAOAAA!
Matches
Haggis



Since: 23.9.03
From: Cleveland

Since last post: 2159 days
Last activity: 2061 days

#59 Posted on | Instant Rating: 6.00
I also noticed "Batista is my dad."

Also, Was that Rasheed Wallace getting the heel treatment from the Portland last night? If so, did they call him up at his courtside seat and say "Hey 'Sheed, pack your bags, you've just been traded to Atlanta"?

I guess being the first ever hometown athlete to actually get booed when making their little cameo ringside appearance sealed the deal for him.. When does RAW hit Atlanta again?
StampedeFan23
Morcilla




Since: 12.1.02
From: BC, Canada

Since last post: 3362 days
Last activity: 2898 days

#60 Posted on | Instant Rating: 4.06
Your Molly report: Still smokin' hot.


---

Are you ready for Mahkan-mania to run wild all over you?

I mark for Molly Holly and Lance Storm.
Pages: Prev 1 2 3 4 Next