ScreamingHeadGuy
Frankfurter



Since: 1.2.02
From: Appleton, WI

Since last post: 2055 days
Last activity: 2055 days

#1 Posted on | Instant Rating: 6.55
FOOTAGE! of Shawn/Benoit from last week's main event, and HHH's post-match pedigree. And of Austin's announcing a 3-way match at WrestleMania.

Fighting evil by moonlight, winning love by daylight, never running from a real fight, because it is time to WAKE UP! It's Raw, live from Omaha, NE...and a Fashion Report, too!

Lita, in black winged-heart tanktop, green shorts, and a blue left armwrap, vs. Victoria, in pink top, black bra, and pink hotpants, vs. Jazz, in black outfit with silver belt, with Teddy, in black pinstriped suit and white shirt, vs. Molly, in white/pink/black top and black pants. Chad Patton officiates, in the black/white stripes of an official. Lita DDTs Jazz for the pin. Victora with a bridge on Molly for a pin (man, a bridge in hotpants, and the perfect camera angle - drool). Jack Doan has to come down to remove a visably distraught Molly. In the meantime, Adbreak interferes.

Cont. Victoria and Lita are left to have it out. The crowd is solidly behind Lita. Ugh - a sloppy "headscissors". Widows Peak -> pin. A new champ! A nice match. Post-match, Stevie comes down to celebrate.

In the back, a limo pulls up. Vince exits and heads to his room.

I get it - I'm supposed to "escape the rules" and "smack (my) TV".

In Bisch's room, Coach, in black shirt and backwards cap, alerts Bisch, in black leather jacket and red shirt, of Vince's arrival. Then Christian!, in denim jacket with wool interior, comes in to alert Bisch and ask for a tag match at WrestleMania. But, instead, Bisch books Christian vs. Trish - how heelish.

Randy, in cyan "Orton" undies with gold scrawling, wearing the IC Title, with FOOTAGE! of last week's interminable beatdown, vs. Val Venis (he's still around?), in a towell, and purple "V" undies thereunder. Jack Doan is the referee for the match. RKO -> pin. An average match.

FOOTAGE! of Bisch calling-out Vince, from years ago on Nitro (I remember seeing it). Presently, in Bisch's office, he and Coach ponder who the heck would have authorized that video to play. Austin appears - he claims to have had the video aired. Austin eggs-on Bisch to talk smack (they bring-up "the kiss"); unfortunately, Vince is in the room to hear it all. Oops.

In Evolution's lockerroom, Flair and Randy pump-up Batista for his match with Benoit. HHH arrives to lead them to the ring.

Evolution: HHH in black sportscoat, black polo shirt, and black slacks, carrying the Heavyweight Title; Flair in grey sportscoat, green slacks, and tan shirt; Orton in the same as before; Batista in bronze undies with arching flame. They even Close Caption HHH's entrance music (why not use the Evolution theme?). HHH cuts a typical uber-heel promo. When that's finished, Benoit, in blue tights with black slashes, struts down the ramp with a mic; he quickly delievers the "shut up and fight" spiel. HHH challenges Benoit to face Evolution; he enters the ring, with a steel chair. But Evolution takes care of him, 'til Shawn, in black "The Source of Strength" tshirt and black denim, makes the save. Crossface is locked-in on Shawn. THEN Austin, in sleeveless black "F0CK FEAR" tshirt, jean shorts, and kneebraces, drives down on his 4-wheeler. He proclaims that the Batista vs. Benoit match should start now - and that anyone who interferes won't be allowed at WrestleMania. Wow - that was a packed segment.

Batista vs. Benoit is JIP'ed. Earl Hebner is the match's official. Crossface -> submission. A nice match.

In Bischoff's office, Austin tries to psyche-up a fatalistic Bisch.

Rob, in black and green "RVD" singlet, carrying the Tag Title, and BookerT, in black hot-crotch flamin' "BookerT" undies, wearing the Tag Title, vs. La Resistance - Conway and Rene, both in blue "La Resistance" undies, with the French flag. MIke Chioda is the referee, in stripes. Frogsplash -> pin. Oh, so NOW you care about who the legal man is, Lawler?

In Christian's lockerroom, Trish comes to visit. Christian does all but confess his undying love for her - he says he'll just "lay down" for her, if she'll "lay down" for him. Oh, it was "just a test" to see if she'd screw-around on Jericho. (Yeah, right - you just got rejected, Christian. Take it out on her in the match.)

FOOTAGE! of the hilights of the never-ending beatdown from last week. Presently (recorded earlier), JR, in his black hat, interviews a bruised Mick, in the flannel. Mick is upset; he'll be at Raw next week.

Trish, in black outfit and sparkly black trenchcoat, vs. Christian, in black tights with pink "C"s on white crests. Jack Doan is the official. Per their agreement, Christian lays down - but he kicks out and proceeds to clothesline the frick out of her. Holy Crap - that was brutal. Then Christian locks in the Walls of Jericho for the submission, and he keeps the hold for a while after. Bad match, but good storytelling.

Moments Ago...the other shoe dropped. In the back, Trish is carried away. Meanwhile, Coach speaks to Bisch, in the bathroom. Bisch comes out and he sounds determined.

Vince, in a cutoff black tshirt, and black jeans, struts down to the ring. Stacie, in black half-toga top and black ruffled skirt with grey waist, and Jackie in black front and pink bellbottoms, come out to waste time. Lawler damn near kills himself by not repressing his excitement. Vince books...a Playboy Tag Team Evening Gown Match - Stacie and Jackie vs. Sable and Torrie, at WrestleMania. Then Kane, in black pants with red barbedwire stripes, demands Taker at WrestleMania - Vince accedes to Kane's wishes. Vince mentions Lesnar and Goldberg; this brings out Austin (won't this segment ever end?) on his 4-wheeler. Austin wants to be the Special Guest Referee for Lesnar vs. Goldberg; Vince grants it just because he wants to get to kickin' Bisch's ass, and Vince makes Austin the ref for Vince vs. Bisch. At long last, Bisch is out, in black karate gear. The two old men go at it. Lesnar F-5's Austin. The show ends!

Overall: The last segment (which was awful and boring) just would NOT end; I was really annoyed with it. But the rest of the show was pretty good.


---
Fashion Reporter Extraordinaire
Fear not the future. For that is where your dreams will come true.
Promote this thread!
asteroidboy
Andouille



Since: 22.1.02
From: Texas

Since last post: 2736 days
Last activity: 1644 days

#2 Posted on | Instant Rating: 4.95

So, are they working towards an Austin/Lesnar match?

The show was okay, just seemed like standard building towards the PPV. Foley's heart didn't really seem into it, during his promo.

GREAT heelishness from Christian, though. I hate the woman-beating, but his little celebration was funny.

After that Evolution backstage segment, was anyone else expecting a little RAW factoid to follow??

FACT - Bautista, a former children's television host, has arm veins, that if stretched end-to-end, would circle the Earth 12 times!

(edited by asteroidboy on 23.2.04 2217)

---

-- Asteroid Boy


Wiener of the day: 23.7.02

"My brother saw the Undertaker walking through an airport." - Rex
"Was he no-selling?" - Me


redsoxnation
Scrapple



Since: 24.7.02

Since last post: 1785 days
Last activity: 1785 days

#3 Posted on | Instant Rating: 5.44
Jackie Gayda with a match at Wrestlemania? Well, for those keeping track at home that is the 7th sign of the apocolypse, so load up on bottled water and batteries.
From an historical perspective, wouldn't Uncle Eric/Vince and Austin/Lesnar have made more sense next week in Atlanta, the former home of WCW and the place where Austin walked out instead of jobbing to Lesnar. And, nice to see the exclusive contract Lesnar signed with SD no longer applies. Does this mean we can officially call the Triple H Title the Disputed World Title?
And, when they are looking for new money making opportunities, why not have Trip record a spoken word album and sell it to insomniacs. It would make a fortune.


---

Why does Google have only 1 entry of the Secret Adventures of Al Wilson? It must be a conspiracy by the googlebots against the pure manhood that is Al Wilson.
dskillz
Landjager



Since: 2.1.02
From: Houston Texas

Since last post: 4506 days
Last activity: 4211 days

#4 Posted on | Instant Rating: 5.51
Originally posted by asteroidboy

---

So, are they working towards an Austin/Lesnar match?

The show was okay, just seemed like standard building towards the PPV.

(edited by asteroidboy on 23.2.04 2217)

---


No, Austin wanted to ref the match so he could get back at Goldberg for spearing him. Now when he refs the match he has something to get back at Goldberg and Brock. So he probably will stun both of them and drink 25 beers.


---

January 4th 1999 - The day WCW injected itself with 10 gallons of Liquid Anthrax...AKA...The day Hogan "Defeated" Nash to win the WCW title in front of 40,000.
The Great Thomas
Sujuk



Since: 17.6.02
From: Miami, Florida

Since last post: 4682 days
Last activity: 4682 days

#5 Posted on | Instant Rating: 5.51
The Bischoff/McMahon match taught me one thing:

Karate is a farce.

Bischoff, a 3RD DEGREE BLACKBELT, couldn't beat Austin, he couldn't beat Shane, and now, he couldn't beat an angry old man like Vince.

Let this be a lesson to you kids. Karate sucks. If you want self-defense, buy a knife instead.


---
Please Support The Neo-Geo Pocket Color!
Keeper
Blutwurst
Moderator



Since: 1.3.02
From: Worcester, MA

Since last post: 1134 days
Last activity: 112 days

#6 Posted on | Instant Rating: 8.67
A question about the something on the show tonight. When Val Venis used a spinning "Rock Bottom", which I am pretty sure is a Uranage, it went uncalled for a few seconds, and then J.R. called it a (Your-aan-Gee). I haven't heard it pronounced ever, but I was under the impression that it was pronounced (urrrrr-an-iige).

Did J.R. just not know how to pronounce a place card in front of him, or have I been wrong all the time?

BTW, it was a pretty good show tonight IMO.

Edit: We need a grammar checker. :)

(edited by Keeper on 23.2.04 2337)
---

Murphy's Law "The odds of the bread landing buttered side down are directly proportional to the price of the carpet."
Spaceman Spiff
Knackwurst



Since: 2.1.02
From: Philly Suburbs

Since last post: 62 days
Last activity: 1 min.

#7 Posted on | Instant Rating: 4.05
An OK Raw, nothing special. A couple decent matches (Benoit/Bautista and RVD/Book vs. Le Res), some storyline advancement, and an awesome finish.

--women's 4-way - awful, awful, awful match. Lita is officially the worst wrestler in the company. Yes, worse than Heidenreich. Why was she in there at the end, anway? Why did Molly go out 2nd? The match should have come down to Molly/Vicky, w/ Molly picking up a cheap win. Vicky chases the title, and wins at WMXX. Very sloppy match, but Vicky got a nice pop for winning the title. Did I mention this match was awful?

--Orton/Venis - their Heat match a couple months ago was better. This match was pretty boring. Randy Orton - still not over.

--HHH masturbatory session - so, Benoit needs HBK to help him clear the ring? Meh. Benoit was good on the mic, so there was no need for HBK to pop in. Putting HBK in the Crossface was good.

--Benoit/Bautista - OK match. Clean tap-out win for Benoit is good. Benoit was pretty damn over tonight.

--Book/RVD vs. Le Res - another decent match. An entertaining match. I could go for a feud between these 2 teams.

--Christian/Trish - wicked-ass clothesline on Trish. Wow, big heel heat for Christian. Christian's been on fire lately.

--Foley segment - eh.

--ME - bad segment. Crowd practically shit all over the women's tag match announcement (big ups to Nebraska!). Vince/Bisch was bad, but Lesnar F5'ing Austin made me "mark teh fuck out".

Overall, better than last week's Raw.

(edited by Spaceman Spiff on 23.2.04 2329)

---
ParagonOfVirtue
Salami



Since: 20.8.03
From: New Jersey, USA

Since last post: 4630 days
Last activity: 4311 days

#8 Posted on | Instant Rating: 4.22
Am I just paranoid, or does the triple threat main event have the least heat out of any match on the Raw side? Take a look:

Listen to the pops and you'll hear that the fans are dying for both Kane vs Taker and Lesnar vs Goldberg. Then you have Booker T and Van Dam being over HUGE as a tag team judging by that response tonight. Follow that up with the marks loving the evening gown match idea with Stacy and Jackie. And then you have Christian and Jericho's feud being built up for months.

Which leaves the main event, HBK vs Benoit vs HHH. It doesn't seem like the fans are into it, but that may just be my anti-triple threat and anti-HBK vs HHH feud and pro-Benoit bias coming through. The feud simply seems thrown together and lacks focus, considering the fans don't know whether or not to get behind the legend Michaels or the newcomer Benoit. One week Benoit shows up, and then each week since, each of the three men have traded finishing moves and..so what? Why should we care? What is so appealing about this feud? And unlike other feuds that have little buildup, a match like this doesn't register in the minds of marks and smarks alike as a dream matchup, both in imagination and in execution.

Tonight was a step in the right direction, and seeing Evolution confronting Benoit in that ring tonight made me really wish they had gone with HHH vs Benoit straight up. It would have worked if booked like that, but once again, their lack of confidence in getting behind Benoit translates into my lack of confidence in their booking abilities. I hate to say it, but the writing has to try very hard in the next two weeks to portray Benoit as superior to HBK, and HHH as a superhuman, or else this main event will have no heat once excellent feuds like Taker/Kane, Lesnar/Goldberg, Foley/Orton and Eddie/Angle are over on March 14th.
Alpha Dog
Pickled pork



Since: 10.2.03

Since last post: 785 days
Last activity: 12 days

#9 Posted on
I really enjoyed the women's match, and the camerawork/direction was top-notch (besides the bridge in hotpants, which also top-notch, but for different reasons). The tight shot for Molly's realization, complete with wide-eyed "No!" was absolutely fantastic.

They really put the litmus test to Victoria's new face status by pairing her with Lita as the final two in that match, but the pop for the Widow's Peak and the three count validates the face turn is complete.

Was anyone else sensing a Lita heel turn during that match, especially with the pounding in frustration when Victoria kicked out of the Twist O' Fate? I was half-expecting a trip outside for a chair or something there. But I think seeds are now planted. And thank goodness, because Lita has been completely adrift since the Christian-Jericho-Trish-Lita love, er, square?

Other than that, fairly paint-by-numbers Raw, until the final segment. Was there enough black in the ring during the McMahon-Bischoff "match"? Glad Austin's jean shorts were there to provide at least a little contrast. But the Brock thing was completely unexpected, and therefore cool.
samoflange
Lap cheong



Since: 22.2.04
From: Cambridge, MA

Since last post: 1678 days
Last activity: 1670 days

#10 Posted on
Austin will be bewteen both men at the match, equal reasons to favor either one. After Lesnar beats Goldberg, Austin will stun both of them, kick Lesnar out of the rign, help Goldberg up and offer him a few beers. The two will celebrate Goldberg's year in the WWE, and then Goldberg wil be outtta heeere. Nice way to send Goldberg off, while still getting that classic moment of Austin stunning Goldberg. Hey, he owes him one anyway
geemoney
Scrapple



Since: 26.1.03
From: Naples, FL

Since last post: 4 days
Last activity: 13 min.

#11 Posted on | Instant Rating: 3.20
RAW Thoughts:

Good opening contest, with Victoria looking good tonight (she looked different...hair down perhaps?). Surprised to see Molly eliminated so early. I think they're going overboard with these commercials during matches (in the opening match here AND during a match on Velocity?!?!)...I was hoping for a quick squash of Venis, actually....Odd to see Austin talking up Bischoff....God, Triple H's promo was so BOORING. I didn't hear much of it, cuz everybody in the room was talking over it cuz they didn't want to hear it. And seeing Flair do the "bow down and worship" sign thing almost made me puke. Thankfully, Benoit interrupts...to mention how great Trips is. Why does every challenger have to give Helmsley a verbal fellatio? He WISHES he was Flair....

Benoit/Batista was short enough, and to the point....Decent tag match, although some of RVD's kicks missed by alot.....Foley's promo was okay, nothing great though....I'm a bit upset that this is how the Christian/Trish part of the angle went. Scary clothesline by Christian, though.....The last segment wasn't bad, and it made sense that guys would take advantage of Vince being there to give them matches at WM. The Brock appearance threw me, though.....Nice of Vince to sell those kicks of Bischoff....Allright RAW, not bad, not great.


---

I.Q Tests, TV and More!: http://parksg.blogspot.com
Stilton
Frankfurter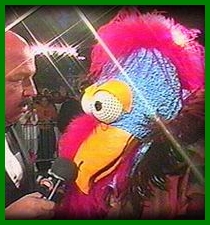 Since: 7.2.04
From: Canada

Since last post: 4490 days
Last activity: 4490 days

#12 Posted on | Instant Rating: 2.13
I know good Ol' JR gets things wrong now and then, but I think he pronounced Urange correctly.

HHH's promo was complete shit. Same riff over and over again. It's become meaningless. It's not narrative at all. It adds nothing to the story. "At first, I was upset about the triple threat, but then I realised...[insert HHH robot number five]...." Honestly, he might as well have not even been there.

Vince's BIG ANNOUNCEMENT was boring. We knew it would be Brock vs. Bill at WMXX. I was hoping he might actually throw out a surprise for the fans, a reason for the undecideds to buy the damn show. He missed the mark, but pleased the marks.


---

So sayeth Randy Stilton.
cena
Cotto



Since: 30.1.04
From: U.S.A./PL

Since last post: 5178 days
Last activity: 4729 days

#13 Posted on | Instant Rating: 3.40
Victoria winning title was good. Vince announcement predictable. Brock F-5 on Stone Cold was planned out outstanding.


---





Word Life
ParagonOfVirtue
Salami



Since: 20.8.03
From: New Jersey, USA

Since last post: 4630 days
Last activity: 4311 days

#14 Posted on | Instant Rating: 4.22
Originally posted by Stilton

---

Vince's BIG ANNOUNCEMENT was boring. We knew it would be Brock vs. Bill at WMXX. I was hoping he might actually throw out a surprise for the fans, a reason for the undecideds to buy the damn show. He missed the mark, but pleased the marks.

---


Wait, wuh?

You are upset that he didn't throw a surprise for the fans, yet you say he missed the mark by only pleasing the marks? Pleasing the marks IS the mark. As internet fans, we know most of what happens before it actually happens. That's our own fault. Marks, as in the majority of WWE fans, can infer but really don't know what will happen until it does. The official announcement of Brock vs Goldberg was big. And if Brock vs Goldberg was not big enough and too predictable, I'd think, from a mark perspective, that inserting Steve Austin as the guest referee was a huge surprise enough. Hell, I've only heard of that tidbit a few times myself and it could have easily passed me by.

BTW, off-topic, I was thinking. How kickass would it be to have a Benoit/Michaels/Rock/Foley vs Evolution tag match a week before Mania? Wouldn't work considering the Michaels/Benoit issues, wanting to separate Foley and HHH, and you know, Rock not being scheduled yet, but this match would be huuuge for last-minute Mania purchasers.
jwrestle
Lap cheong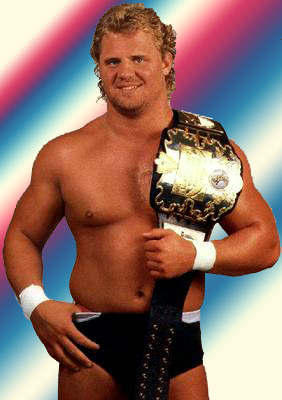 Since: 4.4.03
From: Nitro WV

Since last post: 46 days
Last activity: 11 days


ICQ:
#15 Posted on | Instant Rating: 0.63
Originally posted by ScreamingHeadGuy

---

Overall: The last segment (which was awful and boring) just would NOT end; I was really annoyed with it. But the rest of the show was pretty good.

---


Funny, I'm probably the only one here intraverted enought to disagree with the only thing in the report to disagree with. The final segment did run long but I acutally enjoyed waiting for the interuptions. Call me crazy but I was totally into it. Yep, rest of the show was good, agreed on that point.


---
Originally posted by Ringmistress

---

Oh come on, the real MVP of Raw last night - ROSCOE P. COALTRAIN!

---


If the Dukes of Hazard was a...is a WWE gimmick.
Quezzy
Scrapple



Since: 6.1.02
From: Pittsburgh, PA

Since last post: 4 days
Last activity: 1 day

#16 Posted on | Instant Rating: 5.75
I'm sorry but that Raw sucked. And that's saying a lot becuase my favorite Raw wrestler (Victoria) won the title and it still sucked. There was just a bunch of Bischoff Crap, Austin crap, Vince crap, Evolution crap, Mic crap. none of it was good. Christian hitting Trish was the best move of the night because all the other matches sucked. Not even Benoit made the night better. No Jericho. No Matt Hardy. Jackie Gayda gets a WM match but Lance Storm can't? Bullshit.


---

Lance's Response:

THAT IS AWESOME!
BoromirMark
Potato korv



Since: 8.5.02
From: Milan-Ann Arbor, MI

Since last post: 1134 days
Last activity: 1134 days

#17 Posted on | Instant Rating: 1.51
I'm sorry, but that last Smackdown sucked. And that's saying a lot because Angle's my favorite wrestler. There was just a bunch of Heyman crap, Brock crap, Eddie crap, mic crap, none of it was good. Not even Cena made the night better. Sable gets a match at Wrestlemania but Nunzio can't? Bullshit.


---

"People use freedom of speech to make up for freedom of thought, which they lack." - Kierkegaard


JoshMann
Andouille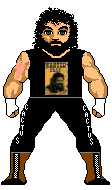 Since: 17.11.03
From: Tallahassee, FL

Since last post: 3598 days
Last activity: 3596 days

#18 Posted on | Instant Rating: 4.43
Random Sheet IV: The Man(n) Comes Around


-Well, you put Lita out there for 10 minutes, she's going to blow a move or three, that's just a given. The only thing that would make sense out of this is that they feel Vicky would get a bigger bost if she went in the champ and went out the champ. However, with all due respect to our Joshi fans (and fans of Japanese women's wrestling as well...I keed, I keeed) two women's matches one the same card seems a bit much by normal standards, even if one's a T&A fest. But then again, the Joshi fans (and fans of..oh never mind) know this isn't in the same ballpark, league or sport as Joshi. ohandvictoria'sgotaniceass


-If they ever did a spin off show entitled Flair And Stone Cold Give Pep Talks, I'd watch.

-It's too bad Kevin Nash was fired, cause they didn't need
Vince out there granting requests, they needed OZ. Although it wasn't lost on me that 2 minutes after making a big deal of the evening gown match being inter-brand, they booked Brock-Goldie. Although, they used their "Austin Finally Has To Take A Move" Card well.

-Mick Foley, you psychotic magnficent bastard you. Lost in that really dull beating was how badly Orton stiffed the fuck out of him. This is why they should have just skipped over last week's beating and just let the crack production crew show it after the fact. I know Mick works snug and all but HOLY SHIT. But it looked great on camera and that was the intent. Also, if in fact finally the Rock will come back to Atlanta, at least they didn't tip their hand TOO too much.

-Someone made the point this week about the speaking habits of Randy "I'ma Get The Papers Get The Papers" Orton...but in reality, he's holding the Intercontinental Redundancy Champion (as in secondary) compared to his boss the World Redundancy Champion. I get the notion about how Shawn and Benoit shouldn't get along. Hell, I even encouraged it. However, a simple thank you THEN slapping on the Xface would have been better manners. I thought Canadians were more polite than that. And Mark Henry's shoulder wasn't hurt BEFORE that match, nosiree Bob.

-Kane was either doing a phenominal portrayal of either a man who hasn't slept in a week or a man who hasn't taken a crap in a week. If I thought for a second the name Kanestipated would get over, I'd use it.

Kanestipated.

Kanestipated.

It's just not gonna take, is it?

-If that's Xian's idea of a love test, it's a good thing he married German. Also, there's something unsettling about the fact that Trish's selling sounds exactly like my ex-girlfriend's while....

[ladies and gentlemen...please note the passing sign on the highway that reads TMI-VILLE, NEXT 2 EXITS]

Anyway *ahem*...next step is of course the Highlight Reel confrontation, since this build just hasn't dragged enough ass yet.

-You wonder if RVD has figured out he's the one constant in any so-called Unlikely Duo nowadays. But in spite of that, the Dude abides. The Dude abides.

-Next Week: Mick Foley teases the crowd with a Rock sighting that never happens, and The HHH Bitch-a-Powers EXPLODE!!


---
"America's top dog is a big, slobbering, barking dog named Josh" [AP]
InVerse
Boudin blanc



Since: 26.8.02

Since last post: 4 days
Last activity: 51 min.

#19 Posted on | Instant Rating: 5.03
Originally posted by Quezzy

---

Jackie Gayda gets a WM match but Lance Storm can't? Bullshit.

---


Well, Storm should have gotten the implants when he had the opportunity.
Brian P. Dermody
Liverwurst
Moderator



Since: 20.9.02
From: New York, NY

Since last post: 2244 days
Last activity: 1666 days

#20 Posted on | Instant Rating: 9.01
Flair going "we're not worthy" on Triple H is akin to Sandy Koufax averting his eyes in the presence of Anthony Young.


---

Beady's Corollary to Occam's Razor: "The likeliest explanation of any phenomenon is almost always the most boring."


Pages: 1 2 3 4 Next