Captaincuba
Italian



Since: 25.10.05

Since last post: 1540 days
Last activity: 1415 days

#21 Posted on | Instant Rating: 4.61
I actually woudn't mind a HHH Vs. HBK face/face match at Wrestlemania...I just wouldn't want it to be for the strap. It would have the same vibe as the ending of Rocky 2: Apollo Vs Rocky.

"Ding, Ding"

CC
John Orquiola
Scrapple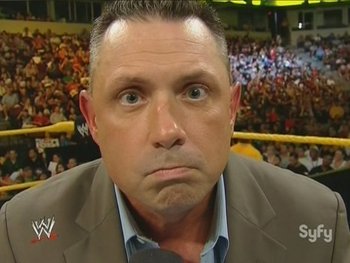 Since: 28.2.02
From: Boston

Since last post: 1424 days
Last activity: 1424 days

#22 Posted on | Instant Rating: 5.32
Originally posted by Captaincuba

---

I actually woudn't mind a HHH Vs. HBK face/face match at Wrestlemania...I just wouldn't want it to be for the strap. It would have the same vibe as the ending of Rocky 2: Apollo Vs Rocky.

"Ding, Ding"

CC

---


You mean Rocky III.

"Age before beauty."
"You know, you move pretty good for an older guy."
"Look out now, Stallion! Look out!"

Cue "Eye of the Tiger."

Hell, if they do face vs. face Triple H vs. HBK like Rocky III, they should give us the training montage video package as well. Triple H and HBK running down the beach in short shorts, tank tops, and knee high socks. Then jumping into the surf and giving each other a hug.

(edited by John Orquiola on 9.10.07 1219)

---

Back of the Head: www.backofthehead.com
kentish
Andouille



Since: 19.8.05
From: My Old Kentucky Home

Since last post: 1278 days
Last activity: 531 days

#23 Posted on | Instant Rating: 2.33
And Introducing Umaga as Clubber Lang.

I am a bit of an HBK apologist, as the guy still puts on the best matches on the card, and the fans still go nuts for him. HHH on the other hand cannot be counted on to deliver night in and night out, and it does seem more like he gets what he gets due to who he is, not what he does.


---


"I like your Christ, I do not like your Christians. Your Christians are so unlike your Christ."

-- Mahatma Gandhi

dMp
Knackwurst



Since: 4.1.02
From: The Hague, Netherlands (Europe)

Since last post: 2 hours
Last activity: 2 hours

#24 Posted on | Instant Rating: 5.55
Originally posted by Wpob

---

While I agree with what you are saying, the problem is most of the mid card guys only get a couple of minutes to show their wares, how could we know they CAN't go 15 minutes? I am aure the Hardys,

---


Matt Hardy had a streak that lasted for several weeks where he would have a 15+ minute match on Smackdown.
Against capable people too. Finlay and the likes.
Right now he has more promo time together with MVP than the champion! And it got him more over than those matches.

Punk has had several of 10+ minute matches (which apparently make him look like a weak champion)

Yet despite all this, I think the problem is not the length of the matches, but the storylines and feuds that they give people.
Sorry to say, but Shelton Benjamin will NOT become the Raw MVP (in the eyes of most fans) if he has a string of great matches with Kennedy. However, give him a big momma and he is the star of the show.
Matt Hardy did not start ruling more in the eyes of the fans because he exchanged hard fought wins with Finlay.
It was because he challenged MVP, and upstages him at every chance he gets.

But the issue is still the same though. 3-4 guys should not be hoarding all the screentime, so yeah..I guess I do agree with what you say ;)


---

*sigh* Why bother?
DirtyMikeSeaver
Bockwurst



Since: 19.5.02
From: Toronto

Since last post: 8 days
Last activity: 8 days

#25 Posted on | Instant Rating: 4.23
Well, unless the number is wrong, according to the WO.com, Raw was a.....

2.8

So either the Monday Night games (which football turned out to be VERY good and baseball somewhat compelling) took away a lot more viewers, the fact that the last couple of shows weren't as good as this one and it hurt the product or John Cena is a lot more valuable to the TV audience than we think.

Or maybe HHH doesn't exactly equal Must-See-TV.....



(edited by DirtyMikeSeaver on 9.10.07 2109)

---

Kevin Kelly: "Mr. Austin, would you like to comment on Wade Keller's Take that endorsing the XFL hurts your anti-authority character?"

Steve Austin: "Oh shit, he actually said that? I thought the boys in the back were ribbing me!"

Kelly: "No, he really said that. Did they tell you the part about you sitting in the stands, looking all skeptical?"

Austin: "AHAHAHAHAHAHA. Yeah... oh man that was too much."
yamcha
Mettwurst



Since: 21.6.07
From: ....here?

Since last post: 2903 days
Last activity: 2860 days

#26 Posted on | Instant Rating: 2.33
when was the last time Raw beat football on monday night?

I think the the fact that we saw Hunter 3 times sunday and
the thought of watching him do it all over turned people off.
Quezzy
Scrapple



Since: 6.1.02
From: Pittsburgh, PA

Since last post: 5 days
Last activity: 10 hours

#27 Posted on | Instant Rating: 3.23
Wow quite the contradictions. Everyone is tired of the same old main eventers, Triple H, HBK, Orton. But when Jericho comes back it's "he has to fight Triple H, HBK, or Orton!" Why can't Jericho be the one that puts over somebody new? He's more entertaining in and out of the ring than the rest of them anyway.

Then people are tired of Triple H destroying everyone at every turn then he finally gets beat down for once and that's not right either. Just stick to one opinion and when WWE does it actually give them credit for once. If you're going to complain no matter which direction they go then there is really no point in having an opinion because they're never going to satisfy you.


---

Lance's Response:

THAT IS AWESOME!
yamcha
Mettwurst



Since: 21.6.07
From: ....here?

Since last post: 2903 days
Last activity: 2860 days

#28 Posted on | Instant Rating: 2.33
I do like how Triple H is being booked these days, and the fact that he isn't a choice for cyber sunday is a good thing but I liked it better when these 3 ( HHH Orton, and HBK) didnt fight over the belt. I would like to see some fresh matchs thoe. I realy enjoyed Kennedy and Hardy I hope that If HBK wins the vote we can see them fight once more.
TheOldMan
Landjager




Since: 13.2.03
From: Chicago

Since last post: 1149 days
Last activity: 136 days

#29 Posted on | Instant Rating: 5.46
I say again, if Jericho isn't behind "Save_Us.222", whoever comes out to the gimmick is so so screwed.

They need to announce a Santino match for Cyber Sunday where fans vote for the special guest referee.. Foley, JBL - or Stone Cold. Just for the segments where Santino tries to convince people not to vote for Austin.

Hornswoggle without Finlay just doesn't seem right. If I was the son of the chairman, wouldn't I try to use my new position to try and help my best buddy? Or if I were Finlay, wouldn't I at least try to get something out of the situation?? Is Horny actually doing anything on house shows that would preclude him from showing up at SmackDown! tapings?

Vince really seems to be glomming the spotlight, we have two other evil GM characters getting held back here. And for those who were afraid that Orton winning the belt would change things, we are reassured that it's still the HHH Show. Like Cena, it's not that the matches are necessarily bad - it's the way that the Big Poochies are booked.

HBK seemed to be prancing around a bit gingerly there, didn't he?

I liked the Jeff-Kennedy match quite a bit, the dueling chants are always fun.

Monster Heel Snitsky is in no way currently, and never will be over. Unlike "Foot Fetish" Snitsky and "It's Not My Fault" Snitsky.

I can't wait to see how Todd 'One Night Stand' Grisham is worked into the Raw Satire this week..


---


It's the Big "W", I tell ya! The Big "W"!
Pages: Prev 1 2