MonteCarl
Potato korv



Since: 21.1.02
From: Saginaw, MI

Since last post: 1424 days
Last activity: 453 days

#1 Posted on | Instant Rating: 6.75
Who do you think will be the last four entrants in the Rumble? Here are my picks:

Goldberg
Randy Orton
Big Show
Chris Benoit

Chris Benoit HAS to be in the final four, if not win the whole thing. They've built up his #1 entry way too much for him not to have a breakthrough performance here. I think John Cena may be in the final 5 or 6, but won't make it to the final four.

I say Randy Orton, because of the whole Foley storyline. Throughout the show, they can be waiting and waiting on Foley to show up because of Austin calling him out last night, but as the night goes on and he doesn't show up we all lose faith in him. But then he returns at the very end of the Rumble, surprises everybody, and helps eliminate Orton, by distract him long enough for someone to throw him out. They then brawl to the back.

Goldberg, of course, will be there. However, I don't know why they always build up #30 as the best number. Never once in the history of the Rumble has #30 actually won the thing. Anybody know what the latest entry into the Rumble was who actually won the thing? I'm thinking it was one of the two years Hogan won it, because he was always a pretty late entry.

And I threw Big Show in there just because I needed another Smackdown wrestler and another heel. The final 4 is always 2 faces and 2 heels. And with the split, it's more than likely going to be 2 Raw and 2 Smackdown wrestlers at the end, as well. I can't think of any other Smackdown heel that would be there at the end other than Big Show. Of course, Batista was part of the final 4 last year, so maybe there'll be a dark horse in there like Rhyno or something.

I'm gonna say the final two will be Goldberg and Benoit, but then it's a toss up to who will actually win it. I'm gonna guess Benoit, because I think that's what we all want to see, but they may give it to Goldberg.

--Monte N
Promote this thread!
GRL
Frankfurter



Since: 13.7.02
From: Austin

Since last post: 56 days
Last activity: 24 days

#2 Posted on | Instant Rating: 4.90
My guesses have to go with:

Chris Benoit (though will they really give him the nod here? Especially coming in at #1? That's a pretty high honor...)

Kane (so when the Deadman comes out and pulls him out, it puts some heat on their Mania match)

Goldberg (but how do you toss him? Lesnar? Too similar to my proposed Kane elimination. Hmmmm... I can't figure this one out)

John Cena (and I almost expect him to get the surprise nod here)
Shem the Penman
Toulouse



Since: 16.1.02
From: The Off-Center of the Universe (aka Philadelphia)

Since last post: 1877 days
Last activity: 1676 days

#3 Posted on | Instant Rating: 4.05
Goldberg, who is pretty much a mortal lock to make the final four; Angle, who I still think is the favorite to win because of the do-it-for-the-troops thing; Benoit, because of the reasons noted by the previous posters; and Kane, to set up the return of the Dead Man.


---

s'io credesse che mia risposta fosse
a persona che mai tornasse al mondo,
questa fiamma staria senza piu scosse.
ma percoche giammai di questo fondo
non torno vivo alcun, s'i'odo il vero,
senza tema d'infamia ti rispondo.
Big Bad
Scrapple



Since: 4.1.02
From: Dorchester, Ontario

Since last post: 97 days
Last activity: 97 days

#4 Posted on | Instant Rating: 5.54
---

However, I don't know why they always build up #30 as the best number. Never once in the history of the Rumble has #30 actually won the thing. Anybody know what the latest entry into the Rumble was who actually won the thing? I'm thinking it was one of the two years Hogan won it, because he was always a pretty late entry.

---


It was actually just last year, when Lesnar won the Rumble with number #29. Aside from that, a bunch of guys (Yokozuna, Austin, Hart) have won the Rumble with number 27.

Maybe the plan for the end of the match is to NOT have a real 'final four' for the first time in Rumble history. Imagine this; there is a raft of eliminations right at the end, with #29 being Spike Dudley or someone else that can be eliminated quickly. It comes down to Benoit and, say, Cena, and Benoit tosses him and collapses onto the mat, having lasted almost the entire way. And then the buzzer goes, Benoit looks to the ramp, and sees Goldberg striding his way down the aisle. Have Goldberg and Benoit battle it out for 5-10 minutes and it'll be a classic moment of suspense in wrestling history. Of course in this scenario, Benoit wins, since I doubt WWE would want to build up a guy who's likely leaving in a few months.



---

Rob asks Dave and Ric if they want to go backstage to play Hungry Hungry Hippos and Flair and Batista immediately bail. Flair wants to be Green. Man, EVERYBODY wants to be green. Except the girl in the commercials. She wanted to be pink. That either means that the ad agency was sexist or that she was communist. Of course Hungry Hungry Hippos is a rather capitalist game isnít it? No self respecting communist would play Hungry Hungry Hippos. Except Stalin. He LOVED Hungry Hungry Hippos. God, Iíve got no clue what the hell Iím rambling about anymore.-- Matt "Excalibur05" Hocking, Raw Satire writer extraordinaire

You know, I just can't call it the "WWE." I just can't. My body's rejecting it like a bad liver transplant.-- Bill Simmons, espn.com/page2

Wpob
Bierwurst



Since: 21.11.02
From: Williston Park, NY

Since last post: 67 days
Last activity: 5 days

#5 Posted on | Instant Rating: 2.61
(deleted by Wpob on 20.1.04 1325)
MonteCarl
Potato korv



Since: 21.1.02
From: Saginaw, MI

Since last post: 1424 days
Last activity: 453 days

#6 Posted on | Instant Rating: 6.75
I always thought a good gimmick idea could be that right as number 30 is coming out, the last two guys in the ring eliminate themselves. So whoever is number 30 wins the thing without actually even entering the match.

I don't know how well that would work now that the winner gets a shot at WrestleMania, but I think something like that would work well with a cocky heel like Randy Orton. He can go on and on about how he outlasted 29 other superstars and EARNED the win and title shot and all that when he never even had to lift a finger to get the "win". I figure that could get a few weeks of mileage out of it. Maybe until No Way Out when he has a match for the title shot or something like that and loses it.

--Monte N
mercer
Head cheese



Since: 17.11.03
From: Aransas Pass TX

Since last post: 4430 days
Last activity: 4290 days

#7 Posted on | Instant Rating: 0.89
I dont know if i can narrow it down to four honestly. The last ones in the match are going to be Goldberg, Kane, Benoit, Angle, Cena, Guerrerro, and probably Deadman. But thats just my two cents


---

Later
God Bless
Mercer
GreekPhysiqueJohnnyO
Haggis



Since: 19.11.03
From: Brooklyn, NY

Since last post: 5519 days
Last activity: 5518 days

#8 Posted on | Instant Rating: 6.46
Goldberg, Benoit, Angle, Orton


---

Gimmicks fade and heroes die, but immortals live forever.--- The Greek Physique
ParagonOfVirtue
Salami



Since: 20.8.03
From: New Jersey, USA

Since last post: 4938 days
Last activity: 4618 days

#9 Posted on | Instant Rating: 4.39
Final nine will be Cena, Benoit, Big Show, Kurt Angle, Goldberg, Kane, Randy Orton, Mick Foley, Kurt Angle, Mark Henry.

Prediction:

--Lights go out, Taker music plays, Kane disappears.
--Show eliminates Cena.
--Much later, Orton eliminates legend Angle.
--Cactus Jack music plays, and Foley does the Cactus Jack clothesline to Orton. Orton and Foley are eliminated.
--Final four: This leaves Benoit and Goldberg taking on Henry and Show. Climax of the match has Benoit having Henry in the crossface and Goldberg jackhammering Big Show. Fans pop, and shortly thereafter, Henry and Show are eliminated.
--Benoit and Goldberg square off. Lesnar comes down to the ring as both are trying to eliminate each other on the ring apron. Lesnar goes to clothesline Benoit out of the ring but misses, and knocks Goldberg out instead. Benoit wins, Lesnar throws a fit. Voila. You have your Lesnar vs Goldberg and Benoit vs RAW champ.

(edited by ParagonOfVirtue on 20.1.04 1111)
Lexus
Andouille



Since: 2.1.02
From: Stafford, VA

Since last post: 209 days
Last activity: 29 days

#10 Posted on | Instant Rating: 5.55
Goldberg
Orton
Cena
Show


---
Kane gets flustered that he didn't get to do something silly this week. Ho hum.
geemoney
Scrapple



Since: 26.1.03
From: Naples, FL

Since last post: 19 days
Last activity: 6 hours

#11 Posted on | Instant Rating: 3.71
I'll take Goldberg, Orton, Benoit and Angle.


---

Check out my review of today's games, and more!: http://parksg.blogspot.com
Freeway
Scrapple



Since: 3.1.02
From: Calgary

Since last post: 1919 days
Last activity: 1606 days

#12 Posted on | Instant Rating: 5.96
Cena, Angle, Benoit & Orton. Goldberg's the fifth man, but gets knocked out by Orton. Orton cheats and knocks out Angle to huge heat. Cena FUs Benoit, Orton shoves Cena out from behind and the two yell at each other, allowing Benoit to recover and dropkick Orton out for the win.


---

FLAMES: 22-15-4-3 for 51 points
John Orquiola
Scrapple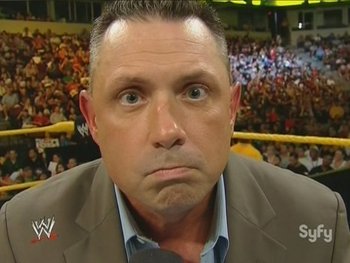 Since: 28.2.02
From: Boston

Since last post: 1730 days
Last activity: 1730 days

#13 Posted on | Instant Rating: 5.90
Benoit, Orton, Goldberg and Kane.


---

"Strong words. Strong words from a strange man." - Kent Brockman
Wpob
Bierwurst



Since: 21.11.02
From: Williston Park, NY

Since last post: 67 days
Last activity: 5 days

#14 Posted on | Instant Rating: 2.61
Benoit and Goldberg are givens. I think Orton will be eiliminated by a surpirse entry of Mick Foley. Cena is getting a big push so I think he makes three. Usually there is one or two guys that make it ot the end who are a surprise. I am going to go with Christian, after he eliminated Jericho to further their feud. Christiand and Jericho work together and eliminate a bunch of wreslters. Then Jericho motions to Kane/Goldberg. Christian grabs Jericho and shoves him into Kane/Goldberg, who throws Jericho over the top. Christian is then seen laughing at Jericho and pointing to his head, the universal sign for "I'm smarter than you". Eventually it works down to Christian, Goldberg, Benoit and Cena. I would love to see Christian and Benoit go for 10 minutes after that, but it will be Goldberg and Benoit.

As long as Benoit wins....




---

Inigo Montoya: Who are you?

Westley: No one of consequence.

Inigo Montoya: I must know...

Westley: Get used to disappointment.

Inigo Montoya: 'kay.
Quezzy
Scrapple



Since: 6.1.02
From: Pittsburgh, PA

Since last post: 78 days
Last activity: 77 days

#15 Posted on | Instant Rating: 5.43
Originally posted by mercer

---

I dont know if i can narrow it down to four honestly. The last ones in the match are going to be Goldberg, Kane, Benoit, Angle, Cena, Guerrerro, and probably Deadman. But thats just my two cents

---


Unfortunately they said on Smackdown that neither Guerrero would be in the Rumble because of their match earlier in the show. I know in the past they've had people wrestle in a match and the Rumble, but it doesn't look like it this year since Eddie, Chavo, Mysterio, Noble, Triple H, HBK, Brock, Hardcore, Dudleys, Batista, and Flair all look like they won't be in it.

As for my Final Four. I'd love it to come down to Benoit and Goldberg and Benoit win but I just don't see it happening. I think Goldberg somehow gets screwed before the final four. I'd say fourth guy left is probably a dark horse, i'm going to go with Hurricane after his speech on Monday. third left i'm going to say Kane is still around and either A) gets attacked by Undertaker or B) the last two double team him. I say the last two left are Benoit and Cena once again with Benoit winning.


---

Lance's Response:

THAT IS AWESOME!
Mayhem
Scrapple



Since: 25.4.03
From: Nashville, TN

Since last post: 608 days
Last activity: 493 days

#16 Posted on | Instant Rating: 4.60

Goldberg
Benoit
Big Show
Kane

I think Cena will get screwed somehow.

And I wonder if they'll bring 'Taker back so soon ... If I had to guess, they won't bring him back until mid-February ... but what do I (or they) know?


---

"Yeah cake rocks the body that rocks the party." - Christian

y4j1981
Kolbasz



Since: 1.4.03
From: Dale City, Virginia

Since last post: 3600 days
Last activity: 3540 days

#17 Posted on | Instant Rating: 5.15
My picks will be:

Goldberg
Randy Orton
Mark Henry
Chris Benoit

I think Benoit might be the last Smackdown guy in there. To kinda give him more of an edge that "he has to win not only for himself but for his brand."

I think Kane will get a good push in the RR before Taker shows up to take hm out some how, but he won't make it to the final 4.

I am still shocked this year their are no females in the RR. No Trish, Molly, Victoria, Jazz....all good choices for this years RR. They don't have to win but they can be entered.

WINNER OF the WWE 2004 Royal Rumble: Randy Orton

(edited by y4j1981 on 20.1.04 2315)
---

Stewie Griffin: No sprinkles! For every sprinkle I find, I shall kill you!
fuelinjected
Banger



Since: 12.10.02
From: Canada

Since last post: 4876 days
Last activity: 4876 days

#18 Posted on | Instant Rating: 5.15
Chris Benoit, Goldberg, Kurt Angle, Kane.
madiq
Boerewors



Since: 27.7.03
From: Brooklyn, NY

Since last post: 3909 days
Last activity: 3902 days

#19 Posted on | Instant Rating: 7.05
I really do like the idea of Benoit eliminating everyone BEFORE Goldberg comes out, with the final turning into a mini-match.

As it stands, the only heel that has established real reason for wanting to win is Kane, and so, I'd imagine seeing Kane as one of the members of the "not-quite-final four." Kurt Angle, with his inspirational win-for-the-troops thing, will either be VERY QUICKLY eliminated by a face, or last deep into the match. I say kinda-final four. As for the "Official Hoss," I'm going with "The Blueprint" Matt Morgan, so that he can be positioned as the Designated Fall Guy for Lesnar's Wrestlemania challenger at No Way Out.

Other notables: John Cena will make a strong showing, and I look for a tease between him and Randy Orton, before he settles in on the Big Show. In fact, I expect him to get a solo elimination on Tha Fat Guy. I don't expect both Foley AND Undertaker to interrupt the Royal Rumble match itself, so I'm going to assume Kane is distracted, while Randall K is eliminated through more conventional means. I'm starting to feel like Foley will return on RAW to cost Orton the IC title (maybe to Hurricane Helms?), so Orton needs to set up conflict with the champion-in-waiting, if not Hurricane, then Booker T. Jericho and Christian will neutralize each other. And Mark Henry...well if he brings his Stank, he'll at least get one elimination.
Irvine_frost
Cotto



Since: 11.12.03
From: Chile, Coyhaique city

Since last post: 4471 days
Last activity: 4455 days

#20 Posted on | Instant Rating: 3.79
Cena

orton

benoit

goldberg

nuff said


---

Heres comes the men from the Chilean Patagonia!!
Pages: 1 2 Next