Parts Unknown
Lap cheong



Since: 2.1.02
From: Darkenwood

Since last post: 242 days
Last activity: 242 days

#1 Posted on | Instant Rating: 4.63
I guess it's time to fess up - I forgot to set my VCR. Yeah, I still use one.
So I was unable to do a good Idol recap this week, but I'll be back with a vengeance next week.
In case you missed it, those eliminated were Kinnik Sky, Ayla "Blaster" Brown, Gedeon McKinney and Will "Bobby Brady" Makar. That means Boomhauer and Melissa live to sing another day.

Your final 12:
Ace
Chris
Taylor
Kevin (sigh)
Bucky
Elliott
Katharine
Kellie
Paris
Mandisa
Melissa
Lisa


---


Have you ever considered any real freedoms? Freedoms from the opinion of others... even the opinions of yourself?
Promote this thread!
Packman V2
Bratwurst



Since: 16.3.04
From: Albuquerque, NM

Since last post: 4 days
Last activity: 11 hours

#2 Posted on | Instant Rating: 5.22
The women I nailed, the guys more of a surprise, more or less, because I figured though Gedeon wasn't a sure finalist, he'd have made it in, just because I didn't figure on Bucky and Kevin both getting past him.

The lady of the house was pissed that Kevin & Melissa made it, but figures they'll probably be 2 of the first to go.

Up next is Stevie Wonder...nothing like feeding them to the wolves so soon, although some of them have already taken on Stevie during the last couple weeks.


---
cranlsn
Toulouse



Since: 18.3.02
From: Hartland, WI

Since last post: 72 days
Last activity: 1 day

#3 Posted on | Instant Rating: 6.73

Glad to hear it was a brain-fart and not anything more serious...stuff happens all the time, and when you don't "see" someone online you start to wonder.

So...now that I'm done being a "big 'ol girl", back on topic.

I was disappointed, but not surprised that Will was gone. I think he has an awesome voice, but made some just crap song choices for his style.

I expected Gedeon to be gone...he's a decent enough singer, but if Taylor is "weird in a good way", Gedeon is equally weird in a bad way. I don't think he managed to connect with many people.

And the girls were the ones I expected to go...no surprise there.

...I know he's not going to go soon, but I really, REALLY, want Ace gone. Even before Kevin. He just bothers me...
Torchslasher
Knackwurst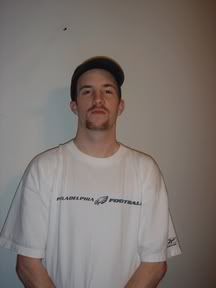 Since: 17.1.02
From: New F'n Jersey

Since last post: 76 days
Last activity: 75 days

#4 Posted on | Instant Rating: 5.75
Well, I would be more upset at PU but I'm too happy that Ayla is gone after her bad performance on Tuesday night.

Whoever that little nerdy kid is, America, can he be next to go? Please?


---

Click Here (czwfans.com)

For all your CZW and Nickels Trivia information.


"Look guys, it's 'Lake Man!' Hope you can fit into our NARROW office, Mr. Big Lake" --MST3K The Collection V. 7

Click Here (myspace.com)
Mayhem
Scrapple



Since: 25.4.03
From: Nashville, TN

Since last post: 306 days
Last activity: 191 days

#5 Posted on | Instant Rating: 5.69

Was it me, or did Bo Bice suck really bad in his performance?

I never like that Ayla chick, so I'm especially glad she's gone after being a pouty-pants.

Ticamo
Boerewors



Since: 19.7.02
From: Trenton, NJ, USA

Since last post: 4107 days
Last activity: 3405 days

#6 Posted on | Instant Rating: 4.85
Originally posted by Mayhem

---


Was it me, or did Bo Bice suck really bad in his performance?

---



Bo did suck last night. It is not you.

The Top 12, I almost had it right, except I thought that Bucky would be the one to go home last night. Hadn't figured it would have been Gedeon, but his personality wasn't as big as his smile.

Kevin really does need to go. He has a nice voice, but he simply has no business sharing the stage with the likes of many of the others. I think it's the girls who fell for Garet Johnson (the crying cowboy) who are putting him through. There's no other way to explain it...

I'm looking forward to "Stevie Wonder Week" because this will prove to be a test. I'm dying to see John and Bucky perform next week.

(edited by Ticamo on 10.3.06 1118)

saturn93
Italian



Since: 21.4.03
From: Naperville, IL

Since last post: 22 days
Last activity: 5 days

#7 Posted on | Instant Rating: 2.00
I know what that is like, Parts Unknown. Now we have Tivo.

Anyway, I had both of the guys that were voted out, but I was afraid, that with my luck, Bucky would have been knocked out instead of Gideon.

My picks of the guys.

8. Taylor (It was painful for me to say that, but he picked the right song. He actually sounds like Michael McDonald. With his actions and the head tipping, he has become a real big annoyance. My mother can not stand him!!! She is about ready to put her hands through the TV and strangle him until his head is straight.)

7. Elliott

6. Chris

5. Bucky (He's getting better every week.)

4. Ace (I just can't eliminate someone in the pimp position.)

3. Kevin (It was the tweeners votes.)

2. Gedeon (Just did not have the backing the others had.)

1. Will (James Taylor just does not work in this part of the competition.)

The girls I was right on Kinnik (easy). I was a little surprised that Melissa is in the final 12 because of the slip-ups near the end of her song. I really feel bad for Ayla. At the beginning of the sing-out, you could hear that her voice was devistated, but got better as the song went on. If I had to make any changes to the semifinal shows, I would want to add a "double-box" for the video montages (as in whoever is eliminated for that week in the final 12). I just want to see the reaction of the eliminated when they see it.

We all groaned when Ryan said that next week is "Stevie Wonder Week." We had to hear about one to two songs a week before, now all twelve has to sing one of his songs next week. I can't wait to hear some of the "one-dimensional" singers (Bucky, Chris, Kellie, etc.) tackle one of his songs.

Bo, it was OK, but at the end of his song, was probably a few feet away from ending up in the front row. We had to rewind a little to see him stumble and almost fall.

Of all things, why did they bring Brittendumb and Brittendumber into the studio?

It's going to be interesting next week. I'm wondering who is going to end up tearing up when eliminated. Also, who is going to join E-Jay, Jim, Vanessa, Leah, and Lindsay in the one and out club (finished in final group, but eliminated the next week)?

(edited by saturn93 on 10.3.06 1430)
Quezzy
Scrapple



Since: 6.1.02
From: Pittsburgh, PA

Since last post: 9 days
Last activity: 1 day

#8 Posted on | Instant Rating: 3.26
Please get rid of Kevin already, sheesh, he's AWFUL. Wasn't he in the bottom 3 last week? Was he REALLy so great this week that he jumped over Will, Bucky and Gedeon?? I was hoping Kevin and Ace would be eliminated but I figured Ace wasn't going anywhere. But if either one of them lasts longer than Chris, Taylor or Elliot then.....well, I'll probably watch anyway, but I won't like it!

I got the girls all right, I like Melissa but I figured she would be in the bottom three. It's going to suck if Melissa and Bucky are both gone before the week they sing country.


---

Lance's Response:

THAT IS AWESOME!
Mayhem
Scrapple



Since: 25.4.03
From: Nashville, TN

Since last post: 306 days
Last activity: 191 days

#9 Posted on | Instant Rating: 5.69

As far as the Stevie Wonder week goes, I'd wager good money that either Chris or Bucky tackle "Superstitious" (a la Stevie Ray Vaughan).
Packman V2
Bratwurst



Since: 16.3.04
From: Albuquerque, NM

Since last post: 4 days
Last activity: 11 hours

#10 Posted on | Instant Rating: 5.22
I don't wanna sound like a Bo Bice apologist, but from what I understand, he's just recovering from health issues that were nearly fatal. Plus, he's a newly made father. But yeah, his performance was terrible, he couldn't hit the high notes that he hits on the studio recording of that song last night.


---
Tribal Prophet
Andouille



Since: 9.1.02
From: Winnipeg, MB, Canada

Since last post: 803 days
Last activity: 63 days

#11 Posted on | Instant Rating: 7.15
I was shocked that Kevin didn't go. Will I think we all saw leaving. As far as the girls go, I knew that it would be either Melissa or Ayla but I didn't really want either to go. If I had my way, Rudy Huxtable would have left weeks ago (or two months ago really). I'm just getting really sick of her 11 year old 'Diva-like' attitude. I knew I wouldn't get my way, but it still kinda sucked to watch.

It should be a good final group. I figure the obvious picks for the last few are Mandisa, Chris, Taylor, Ace (not because of his singing, of course), Lisa and Katherine, but there's always the chance that someone like Elliot could really stand up and surprise us as we go. In any case, this is already the strongest group I think they've ever had. Every other year that I've watched it was obvious from day one who the final two would be, and the rest of the show was just seeing how far the other people could make it.

Of course, I found out this week that a woman I know used to live next door to Ace when she was in Colorado, so I hope he goes as soon as possible. I really didn't enjoy talking to this person at the best of times, I certainly don't now that it's just her going on and on about how she knew him years ago.


Tribal Prophet
J. Kyle
Banger



Since: 21.2.02
From: The Land of Aloha

Since last post: 2 days
Last activity: 1 hour

#12 Posted on | Instant Rating: 4.00
X-E's co-Worst Poster of all time!
JKyle.com says:
I heartily apologize for ever endorsing the Super Dorks.
I did absolutely enjoy the "I have to do this for another week?" that Fred Savage gave after finding out he hadn't been cut last week. This week, is was almost a given that he and Chicken were joining Faux Sinatra. But nope, Fred goes alone.

Whatever amusement Chicken Little provides is NOTHING compared to Gedeon's "THE RECORD IS THE WORLD" video. Whoever made the DAG comparison was dead on there.

How could the voters do that? Would a female poster please chime in here and tell me this guy's appeal? He's ugly, his songs are BORING, and his voice is marginal. He's next to go right?

WTF is with cutting Ayla? She hadn't done a bad performance yet. And Melissa killed Simon's perfect prediction record for this season.

Oh, and Ace's Michael Jackson impersonation was awful. AWFUL.


---
My comic updates on Tuesday, Thursday, and Sunday.
--

Other new strips:
Brave New World/Epiphany-Esque
Welcome to Narnia/Eras/Community College

Originally posted by cranlsn

---

You haven't lived until you've had to wake up for an exam after listening to an all night marathon of squirrel passion.

---