Oliver
Scrapple



Since: 20.6.02

Since last post: 1323 days
Last activity: 1317 days

#1 Posted on | Instant Rating: 2.39
http://www.kickstarter.com/​projects/​ouya/​ouya-​a-​new-​kind-​of-​video-​game-​console

Coming soon - for $100.

Looks interesting, but I'd need to know more about it before deciding if it's worth picking up.

It's running an Nvidia Tegra 3 processor, Android 4, but it only has one USB port. The controller looks good, but there aren't any full pictures of it. Seems to include a trackpad, though.

I am interested...but lets see what comes of it.

(edited by Oliver on 14.7.12 0946)

---

...on a roll!
Promote this thread!
EddieBurkett
Boudin blanc



Since: 3.1.02
From: GA in person, NJ in heart

Since last post: 114 days
Last activity: 1 hour

#2 Posted on
Ben Kuchera over at the PA Report has some pretty good reasons to question this. (penny-arcade.com)

The fact that he didn't really get a solid answer despite asking some pretty good questions is interesting. Yves Behar did a good thing with his OLPC project, so I assume he's not in this as a scam, but... couldn't I hook up my pc to the tv and bring back that 'gaming' experience they talk about?

Also, here's a podcast (mashthosebuttons.com) I may have been involved in where they talk about the Ouya, among other things. Disclaimer: My name's not Eddie.


---

Mash Those Buttons -- video game news and opinion (mashthosebuttons.com)
Leroy
Boudin blanc



Since: 7.2.02

Since last post: 1081 days
Last activity: 1081 days

#3 Posted on | Instant Rating: 6.34


EDIT: Damn you, Eddie!



I've passively followed this console - not that I want one, per se, but I agree the concept is, if nothing else, interesting

Ben Kuchera of Penny Arcade (formerly with Ars Technica, and really the only video game journalist to whom I personally pay attention) has a less-than-enthusiastic article on the Ouya.

The reality of the OUYA console doesn't match the hype: why you should be skeptical (penny-arcade.com)

In summary, it seems the Ouya folks are making a lot of contradictory statements (e.g. "Minecraft will run on the Ouya, but we can't confirm that Minecraft will run on the Ouya").


---

The entire system hangs on the ability that you want to play ported Android games on a cheap system, with an unseen controller, on a television screen. While many developers are willing to provide quotes about how great the OUYA could be, so far no one is willing to put their money where their mouth is and announce projects for the hardware. No one involved in the project has experience launching products even close to the complexity of the OUYA, in terms of either gaming hardware, software, and services.

---


(edited by Leroy on 14.7.12 1224)

(edited by Leroy on 14.7.12 1225)
thecubsfan
Scrapple
Moderator



Since: 10.12.01
From: Aurora, IL

Since last post: 21 days
Last activity: 10 hours

#4 Posted on | Instant Rating: 9.28
I'm distrustful of most everything on Kickstarter for similar reasons. So many of them are still in the concept phase when they're pitching their project, and there's too many disappointing stories about those projects never really coming to fruition (and people not always getting their money back - it's locked in when the campaign ends, not when the product is delivered.)

In this one in particular, you're giving the OUYA people your money for an indeterminate for maybe 5% off and a special icon? That doesn't seem like such a great deal.


---

thecubsfan.com - luchablog
Oliver
Scrapple



Since: 20.6.02

Since last post: 1323 days
Last activity: 1317 days

#5 Posted on | Instant Rating: 2.39
I'm wondering if Windows RT would work on this machine. If so, it could make for a seriously cheap, powerful computer, providing there's support for it.


---

...on a roll!
Guru Zim
SQL Dejection
Administrator



Since: 9.12.01
From: Bay City, OR

Since last post: 34 days
Last activity: 18 days


ICQ:
#6 Posted on | Instant Rating: 9.57
As someone who holds shares in Phantom Entertainment (no, really, I do) I feel I can comment on this.

Don't hold your breath.


---

Sign up for Folding@Home and join our team. PM me for details.

Ignorance is bliss for you, hell for me.
Lise
Mrs. Guru



Since: 11.12.01

Since last post: 1099 days
Last activity: 872 days

#7 Posted on | Instant Rating: 9.98
Why the sweet hell would I buy something from an untried hardware developer when I already own a multitude of Android devices, roku, existing consoles, etc. We already have a gaming computer hooked directly into our TV, it's just a matter of buying a cord to have those "memories in the living room" for practically anyone who would buy this.

They are not offering me anything I don't already have access to.


Lexus
Andouille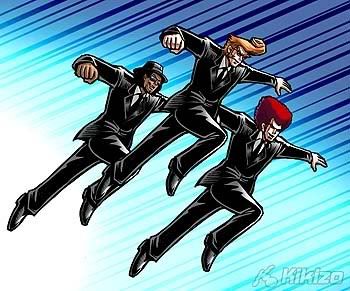 Since: 2.1.02
From: Stafford, VA

Since last post: 48 days
Last activity: 10 days

#8 Posted on | Instant Rating: 5.57
All this sounds way too good to be true.

People buy consoles to play console games; Madden, Call of Duty, basically stuff made by EA and Activision. These people make it sound like they're going to give small time developers a shot when they'd really just be putting them in direct competition with big studios, who can outmarket and outdevelop just by the sheer amount of games they can put out.

"Hey, wanna come over and play my cheap system? I Peggle, Angry Birds, and Puzzle Quest, a sweet NES emulator, and a synth board app!" Why would I wanna go play with someone else's phone?


---

"Laugh and the world laughs with you. Frown and the world laughs at you."
-Me.
Leroy
Boudin blanc



Since: 7.2.02

Since last post: 1081 days
Last activity: 1081 days

#9 Posted on | Instant Rating: 6.76

So apparently OnLive will be available on the Ouya

2 For Friday: OnLive comes to OUYA, Controller Makes Full Frontal Debut (kickstarter.com)

Not exactly a killer application, but an interesting development.

The controller kind of looks like the result of a one night stand between an XBox and PS3 controller. But I will say this, I think the console itself looks kind of cool - aesthetically speaking. I still doubt I'll buy one.