Alessandro
Lap cheong




Since: 2.1.02
From: Worcester MA

Since last post: 143 days
Last activity: 18 days

#1 Posted on | Instant Rating: 3.04
Steve Austin made an appearance on "Live! With Regis and Kelly" yesterday morning ... The last time he was on the show (actually, this might have happened after he appeared during a cooking segment to promote the then-WWF's "Can You Take the Heat?" cookbook), he was showing Regis some mat-wrestling holds and accidentally backhanded him in the face, breaking his nose. So I was interested in seeing how much they would play up the old "rivalry" (like whether or not Reege would be wearing a Nowitzki-style face mask or something).

Anyway, there was nothing spectacular revealed during the interview; Steve plugged his biography and the "WWE Originals" CD ("Everyone knows what a talented singer I am, but the producer we had for this thing was a complete idiot and messed up all my songs), plus he made mention of the "Stone Cold" beer brand in the works that was alluded to during a recent "Confidential" piece ("I was tasting beer all day yesterday; not drinking beer but tasting, there's a difference ... It's gonna be a light beer for everyday drinking").

At the end of the segment (of course), they brought out the mat for another wrestling demonstration; however, Austin promised he wasn't going to hurt Regis this time, so instead they were going to stay vertical and show the audience how to perform a legal chokehold ... Now, I was expecting a sleeper hold or full nelson (something simple like that), but when Austin started putting his arms in position for the ol' "Ringmaster special" - i.e. the Million Dollar Dream - I nearly fell out of my chair in shock!

So, the segment ends with Kelly jumping on Austin's back to "break" the hold ("Let go of him, you big bully!") and covering him for the pin - even though Austin was lying on his stomach - and Regis getting in a few "cheap shots" while he was down as they go to commercial ... Like I said, nothing spectacular, but seeing Steve bust out the MDD one more time made it more than worth watching.



(edited by Alessandro on 15.1.04 0845)

---

Alessandro "Hercules" Boondy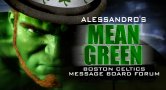 Promote this thread!
GreekPhysiqueJohnnyO
Haggis



Since: 19.11.03
From: Brooklyn, NY

Since last post: 3964 days
Last activity: 3963 days


AIM:
#2 Posted on
I'd like to put the Styles Clash on Rippa... Kelly that is.


---

Gimmicks fade and heroes die, but immortals live forever.--- The Greek Physique
Nag
Landjager



Since: 10.1.03
From: Enter your city here

Since last post: 2236 days
Last activity: 291 days


Y!:
#3 Posted on | Instant Rating: 3.53
I saw it, funny, Austin jobbed for Rippa but not for Trippa. HAR HAR HAR

But she had herself all over Austin when she had him "pinned", don't know if Steve has found somebody since Debra McGolddigger left, as they both seemed to enjoy the moment a little too much.


geemoney
Scrapple



Since: 26.1.03
From: Naples, FL

Since last post: 3 days
Last activity: 11 min.


AIM:
#4 Posted on | Instant Rating: 3.55
I don't know what you're getting at (okay, maybe I do), but Rippa IS married.
Alessandro
Lap cheong




Since: 2.1.02
From: Worcester MA

Since last post: 143 days
Last activity: 18 days

#5 Posted on | Instant Rating: 3.04
Just for kicks (and because it was still on tape), here's a transcript of Austin's appearance :

(Regis and Kelly during the show's introduction)

R: We have a lot going on today, and on the show - he's written a book, he's one of the top wrestlers of all time, Stone Cold Steve Austin! Coming here to talk about WrestleMania, which comes up in March at Madison Square Garden.

K: Didn't you wrestle him the last time he was here? And ...

R: And he broke my nose! Yeah.

K: He broke your nose.

R: That's why he's gonna get it today ...

K: Good.

G: You should wrestle him again, today.

R: I don't think so, Gelman ...

K: Excellent, you should have a rematch! Yes, you should!

(Audience applauds)

G: He's all riled up, he's all angry this morning.

R: Is he angry this morning?

K: He's angry?

G: He's very angry this morning.

R: You never know what angers these guys, they get nuts! Y'know, you can't control them!

K: That's right. And you, and you have to save face now.

R: Hey, I tell you what ... Why don't we get pretty boy Sam Champion down here and let ...

K: Hey yeah!

R: And let Stone Cold work on his face a little bit!

G: Hey! He's angry at you.

R: (laughter)

K: I tell you what ...

R: Who else?

K: I tell you what, you and Stone Cold could wrestle, can get into wrestling moves, and Sam and I could get into the same wrestling moves!

G: Hey!

R: You'll find a way won't you?

K: (laughter)


More blah blah blah, then commercial


R: You know, we've made him angry now. Yeah.

K: Well ...

R: Stone Cold is angry, you know he just beat up Joan Rivers.

K: (laughter)

R: So I don't know what's gonna happen here, but he's the new deputy in town. Y'know, now they call him "Sheriff Austin" over in the WWE, but he'll always be "Stone Cold" to us. Here he is, ladies and gentlemen, Stone Cold Steve Austin!

(out comes Steve Austin, "pushing" the cameraman down along the way)

R: Yes, how are you big guy? Say hello to Kelly.

SCSA: How ya doin'?

K: Hi Sheriff! How you doing?

SCSA: Don't call me "Sheriff", just call me Steve ...

K: Just call you Steve, okay!

R: Yeah, yeah ... just Steve.

SCSA: You're not still mad are you?

R: Well, a little bit, y'know? A lotta people ...

SCSA: But remember, you started that.

R: I just wanted a little demonstration, I didn't ask for my nose to get broken. Do we have that tape out here?

SCSA: You tried to take advantage of me, though ...

K: Oh, okay ...

R: Let's take a look at it one more time, and you'll see who took advantage of who here ...

(three times, they replay the footage of Regis and Austin down on the mat, and - as Regis grabs Stone Cold from behind - you can clearly see that when Austin spins around to try and "counter" the move his hand comes up and accidentally hits Regis in the face)

R: And there we are ...

K: Oooh!

R: You see that? See that, he clipped me, oh! Three times ...

G: You ran your face into his ...

R: Three times I tried to get up and three times he hit me there!

K: No, I think that ...

SCSA: I was ...

K: I think that when you fell, you slammed your face into his hand.

R: (laughter) Yeah right.

SCSA: That's what happened.

R: Hey! (Regis makes like he's going to punch Austin in the face, but Stone Cold doesn't even blink) Ooooooh ...

SCSA: Did you see the flinch? Wasn't worried a bit!

K: No, he didn't even flinch!

R: The water (Austin is holding a glass of water), steady as a rock! That water's frozen, never mind the stuff outside!

K: He didn't even flinch!

SCSA: I didn't flinch? Well, I haven't slept in about three days, so ...

K: Wow.

SCSA: Yesterday, I was tasting beer all day yesterday.

R: Were you?

K: You were?

SCSA: Not drinking beer, tasting beer, because there's a difference!

K: A beer tasting ...

SCSA: Yeah, so y'know, we went to RAW, did RAW ... then we had that big autograph signing for the release of this WWE Originals CD.

R: Yeah, I've got it right here, sure.

K: Very exciting.

SCSA: Didn't sleep that night, then flew to Rochester. I'm working on my own beer, gonna be a Stone Cold Beer.

R: Oh, good for you.

K: You're gonna make your own beer?

SCSA: Well, I'm not gonna make it, but they're gonna make it and put my name on it.

K: (laughter)

R: Stone Cold Beer!

SCSA: So, we're tasting beer all day yesterday ...

R: It sounds good ...

SCSA: I'm trying to wake up for the show right now!

R: Did you pick the right, uh ...

SCSA: I think we got the right formula.

K: Is it gonna be a dark beer or a light beer?

SCSA: It's gonna be a light beer, it's gonna be a regular everyday-drinkin' beer.

K: Are you gonna be on the cov, oh y'know what you should use? Ooh! As the picture on the beer?

SCSA: I might use you as the spokesmodel.

K: No, you should use you punching Regis in the nose!

G: (laughter)

SCSA: But this isn't about violence, it's about just drinking beer.

R: Yeah, drinking beer, having a few ... But what's this all about?

SCSA: Oh, got a bunch of the WWE Superstars singing songs. I went in there and had a helluva time ...

R: Wait a minute, wrestlers are singing songs?

SCSA: These are multitalented Superstars ...

K: That's right.

SCSA: They're not just wrestling Superstars ...

R: Oh, please ...

SCSA: Multitalented ...

R: Do you sing on this CD?

SCSA: Well, I had some technical problems ...

K: (laughter)

R: What do you sing?

SCSA: I went in there, and I think I got about four different things on there, and believe it or not, I went in there as a complete professional ...

K: Uh huh ...

SCSA: And everybody knows how musically inclined I am, if they watch the show ...

K: (laughter)

SCSA: And the guy that was the engineer, the producer was a complete idiot ...

K: (laughter)

SCSA: And, uh, none of my stuff really came out like it was supposed to ...

R: Oh, no kidding?

SCSA: But nonetheless, I got about four little deals on there ...

R: And look at the songs, first song he sings is "Steve Austin Sings, Where's the Beer?"

K: (laughter)

R: What else you got here?

SCSA: I don't even remember.

R: "Did You Feel It"? Uh ...

SCSA: That's not mine (laughter)

R: That should be a big hit. Oh my gosh, so these are all original songs?

SCSA: I guess.

R: Hey, but here's what I read last night, boy yeah. The old book, "The Stone Cold Truth".

K: That's right.

SCSA: It did pretty well. Pretty well.

R: Absolutely, number eight on the New York Times Best-seller List.

SCSA: Not too bad.

K: Wow, that's quite an accomplishment.

(applause)

R: But now, he's got a new role. Now you're the deputy!

SCSA: No, the sheriff! I'm not a deputy!

R: The sheriff, I'm sorry. You're the sheriff ...

K: (laughter)

SCSA: All it is, is a new label to raise more hell, and create chaos ...

K: That's right.

SCSA: And kinda direct the show in the right direction it needs ...

K: What was your role in WrestleMania XX? What did you do ...

SCSA: Comin' up in WrestleMania XX?

R: Coming up ...

K: Yeah, what will your role be?

SCSA: Well, I don't know what I'm gonna be doing yet. We're still kinda working on that, but whatever ...

R: He may be participating in it, right Steve?

SCSA: Well, yeah. I'll definitely be there. WrestleMania's not gonna be WrestleMania, especially with this WrestleMania being WrestleMania XX back at the Garden, it's gonna be a real magic event, and uh, y'know, twenty
years in the making. Back in New York ...

R: Oh sure.

SCSA: Yeah, I'm gonna be a big part of it and I don't know what I'm doing yet.

R: Oh absolutely.

SCSA: But it's gonna be a real big show.

R: It's one of the greatest shows on Earth.

SCSA: It's completely sold out right now, just ... Basically, you can only get it on pay per view right now.

R: That's right.

K: You know what you should do?

SCSA: Tell me, you've obviously got a lotta good advice for me.

R: (in mocking voice) Break Regis' nose again.

K: You should have a rematch with Regis!

R: Oh please! We'll be back in a minute ...

commercial

R: Anyway, WrestleMania coming up ... You know that Gelman and I went to, uh, who was it? Hulk Hogan and Rowdy Roddy Piper.

K: Mmm hmmm.

R: Now, was that the second or was that the first WrestleMania?

SCSA: You probably have a better memory than me.

R: You couldn't remember, you were, you were 12 years old ...

SCSA: I was just a kid!

K: (laughter)

R: Yeah, we were there, right Gelman? We, oh, we covered that ...

G: Front row!

R: We loved it.

K: Front row?

R: Oh yeah.

K: Oh, how awesome!

R: It's really a phenomenal show ... So we don't know yet who's gonna wrestle who for the title?

SCSA: We've got a few matches lined up, but basically looking for that ...

R: I see, so you're going right to it ...

SCSA: Still a work in progress.

R: And how are you feeling? You were injured, right?

SCSA: Oh, I'm feeling good. Feelin' real good.

R: Feeling good?

SCSA: Yeah.

R: Good, alright, fine. You're gonna wrestle?

SCSA: We'll see.

R: Well, can you give us a little preview?

SCSA: Okay, but remember ...

R: Got any new holds?

SCSA: Remember what happened last time, let's just stay vertical. It'll be like a chokehold-type thing. And I'm not angry this morning ...

K: You better put your nose brace on.

(Regis puts a large bandage over his nose)

G: Just in case.

SCSA: Hey, but before we start, can I say a quick thank-you ...

R: Yeah sure.

SCSA: Yeah, I was over in Iraq with a bunch of the guys from WWE ...

R: Were you? Yeah, good for you.

SCSA: And I just wanted to say, again, thanks to the men and women over there in the United States Armed Forces. We had a wonderful time up there.

(applause)

R: Oh, good. I bet they loved seeing you, huh?

K: Yeah.

SCSA: They had a good time, and we had a good time, and they took real good care of us.

R: Oh, good for you. Good for you, Stone Cold ...

SCSA: So, whadda ya wanna do here?

R: Well ...

K: Go get him tiger!

R: Do you have a new move that you can teach me ... Something different?

SCSA: It's not anything new, it's just an old hold that's been around for a long time but it's quite effective.

(Regis takes off his jacket as they get up to walk towards the mat, then spins around to again try to get Austin to flinch)

R: Hey!

SCSA: I'm still not awake yet, you can't make me jump.

(Regis prepares with some arm flexes)

R: Now, I didn't know you were gonna Hulk Up on me. You're starting to make me nervous ...

(Regis gives the old "cupping the ear to the crowd" move, to the requisite applause)

K: Hey ...

R: The old Hulkster ...

K: Hey, wait. Y'know what? Maybe I'll be the female manager, y'know? I'll be the female manager, y'know, I'll just come up behind you (gets behind Regis) and be like "You can't wrestle him! You can't get him! He's too strong for you! (pushes Regis towards Austin) Go get him ...

SCSA: (laughter)

R: That was great. Alright, let's start. Whaddaya want? What should I do?

SCSA: You're gonna get choked.

R: Okay ...

K: You're gonna get choked!

SCSA: Okay, turn around (starts putting his arms around Regis' neck)

R: Chokehold, is this legal?

SCSA: Yeah, it's legal. Okay, now I'm gonna grab this hand right here ...

R: Take it easy now, take it easy!

SCSA: Easy, relax. I took my ...

R: Easy does it ...

SCSA: I haven't had too much coffee, I took my blood pressure medication.

R: Alright, good.

SCSA: Let's just, I'm just gonna grab you here ...

R: But wait, you think I'm gonna let you get in that position?

SCSA: You just did!

R: I just did ... (laughter)

(Regis is now in full "Million Dollar Dream" mode)

R: So what is this now, is this gonna choke the life outta me?

SCSA: If I wanted it to ...

(Regis sticks his tongue out and pretends to "pass out")

SCSA: Okay, right here I'm just gonna apply a little bit of pressure ...

R: Easy now, take it easy.

SCSA: Okay, just a little pressure ...

R: Yeah, that's ... that's good.

SCSA: You don't have to pass out yet ...

R: Uh, mamma!

K: You big bully! (she jumps on Austin's back)

R: Mamma! Mamma!

SCSA: How does that feel?

R: Mamma! (laughter)

(Austin lets go of Regis, then he and Kelly fall onto the mat)

R: Right there ...

K: You're down!

(As Stone Cold laughs, Kelly gets the "pin" ... even though Austin is lying on his stomach and Kelly counts to four)

R: Mamma! Mamma! We got him down!

K: That's right!

R: Alright, there you go Stone Cold! WrestleMania XX, Madison Square Garden, March 14th, pay per view! And don't forget the Originals CD in the stores, and Stone Cold's book in the store too! Take care there, ol' Stone Cold!

(Regis puts his nose guard on the top of Austin's head, commercial)




---

Alessandro "Hercules" Boondy