Tenken347
Knackwurst



Since: 27.2.03
From: Parts Unknown

Since last post: 1 day
Last activity: 13 hours

#1 Posted on | Instant Rating: 5.39
It was, uh, a pretty good show, I guess. For real, a tremendous show, top to bottom. I've seen people saying it was the best Takeover of all time (which, I mean, people say that every time, right?), and I don't know that I'd agree with that, but it's definitely a good use of three hours. Quick results:

Adam Cole is your first ever NXT NA champion, as he outlasted the other five men to climb the ladder. I'd actually call Velveteen Dream the MVP of the match, delivering four Purple Rainmakers, one of which came from the top of the tallest ladder, as well as hitting a carthwheel DVD onto a suspended ladder. Ricochet also came out of this thing looking like a star. Really, everyobody looked good, and I've got no complaints with Cole taking the belt.

Shayna Baszler is your new Women's champion, after choking out Ember Moon with one arm. Match was fair, although it had a great bit where Moon turned the tables and wrecked Baszler's arm, only for Baszler to use the ringpost to pop it back into place. Honestly, I think it's probably too early for Baszler to be champ, but Moon pretty clearly seems to be headed upstairs, so here we are.

The Undisputed Era retained their tag titles. The finish came when Strong turned on Pete Dunne, just as Dunne hit the Bitter End for certain victory. Strong clobbered him, and took Adam Cole's armband to declare himself a member of The Era. I DID NOT see this turn coming, and it's probably just a late change to cover for Fish's injury, but it was still pretty cool. At least now Cole can talk for Strong, something that Strong desperately needed. I suspect that the AoP are also heading up after this as well.

Aleister Black is your new NXT champion, getting the win with a Black Mass to Almas that also wiped out Vega. Vega interfered a lot in this match, but Black kept coming back. Black's another guy I don't love, although I'll never tell you that he's not any good. In fact, the match was real solid, and Almas looked about as good as he could losing this thing. I'm just concerned that Black doesn't have enough personality to be the champion, although I guess we'll find out. Is Almas going up, or possibly sideways to 205 (where he would provide some much-needed star power)? I wouldn't have predicted him, but it's certainly a possibility.

Finally, wow, Gargano/Ciampa. I don't have the words for this one. Was it better than Gargano/Almas? I...I'm not sure? Like, mat-wise, probably not. Almost certainly not, actually, because Gargano/Almas was really a technical classic. But this one had such tremendous storytelling, such incredible involvement from the crowd. The match was about 45 minutes long, but if, for some reason, you haven't seen it yet, block out the time. It's utterly amazing. There's almost too many great moments to talk about, but the final spot, where Gargano threw down his weapon and offered forgiveness to his friend? Professional wrestling at it's very best. And then, when Ciampa still took a swing at him and Gargano countered? If you didn't get out of your seat for that, you might be dead inside. Gargano and Candice celebrating inside the ring to close the show is the stuff that WrestleMania is made of.

It's a hard (although for the most part, not impossible) show for WrestleMania to follow, but if you're not excited for more wrestling at this point, I don't know what to tell you. The table is also set for a new era in NXT, establishing a bunch of possible new directions while also providing outs for several of the folks who should be expecting call-ups. A great night for wrestling.
Promote this thread!
lotjx
Scrapple



Since: 5.9.08

Since last post: 108 days
Last activity: 21 days

#2 Posted on | Instant Rating: 2.14
I caught the tail end of Johnny/Champs and it was every Indy match that refuses to end. There were spots where it should have ended, but kept going. I'm glad Johnny won. NXT needs a bit more star power if they are going to be touring. I am going to see the ladder match as I heard it was pretty great.


---

http://comicbookspotlight.wordpress.com/





Now previewing the Fall TV lineup.@realjoecarfley
JustinShapiro
Scrapple
Moderator




Since: 12.12.01

Since last post: 191 days
Last activity: 88 days

#3 Posted on | Instant Rating: 9.05
This was going to be the first year where Wrestlemania would be better than Takeover but ...... nah. Gadzooks. This wee little boy had two of the all-time best matches in company history in the last three months.
andy1278
Boudin rouge



Since: 11.1.02
From: Brunswick, GA

Since last post: 15 days
Last activity: 7 days

#4 Posted on | Instant Rating: 7.54
Hell of a show. Bookended by two five star matches.

The ladder match was, upon one viewing at least, one of the best if not the best ladder match I've seen. I had never seen Ricochet in a match because I don't venture out of WWE often, but I can't wait to see more. Velveteen Dream again looked like a star. He's going to be HUGE. All six men came off looking way better than before and I'm invested in all six.

The womens match was good. It's time for Ember to ascend upwards and Shayna has a sea of babyface women ready for her.

The tag match had a nice twist ending. Rod with the Era works.

The NXT Title match was great. Almas & Vega are beyond ready to go to the main roster (they could go to SD tomorrow and be a perfect foil for AJ).

And the DIY explodes match... man. Ciampa coming out to only the boos of the fans was perfect. They played their parts perfectly, I felt banged up after watching them battle... it was perfect.

WrestleMania won't beat this.
InVerse
Boudin blanc



Since: 26.8.02

Since last post: 473 days
Last activity: 436 days

#5 Posted on | Instant Rating: 4.38
Originally posted by andy1278

---

The ladder match was, upon one viewing at least, one of the best if not the best ladder match I've seen. I had never seen Ricochet in a match because I don't venture out of WWE often, but I can't wait to see more.

---


I highly recommend checking out the ladder match between Ricochet (as Prince Puma), Johnny Mundo (fka John Morrison) and Big Ryck (fka Ezekial Jackson) from the first season of Lucha Underground, episode 7. That was absolutely the best ladder match I've ever seen.

Adam Cole would have been my fourth choice for winning the ladder match, but he really does make the most sense. Nobody else has anything to lose by losing the match, but Cole really needed to pull off a big victory. I thought a heel winning the North American championship meant Almas would retain the world title, since Cole seems like a natural foil for Black, but obviously I was wrong there.

The women's match was far better than I was expecting. I loved Bazler grabbing her own hair to lock in the finisher since her left arm was injured. I assume Kairi Sane is her next feud, but I'd actually love to see Bazler work face against the Iconic Duo, if it weren't too soon to turn Bazler (despite her putting on a total babyface performance last night) and the Aussies hopefully debuting on Raw or Smackdown, if not at the battle royal tonight.

The tag team match had a much better ending than anything I was expecting, as well. I honestly wasn't sure who was going to win. AOP was my guess, but I assume they're going up and don't need another Dusty Cup victory. It seemed a bit strange for Strong & Dunne to win considering they'd never teamed before, but I also didn't like the idea of Undisputed Era winning when they weren't even in the tournament. Thinking on it now, though, Undisputed Era shit talking about winning a tournament they weren't even will probably be good. Definitely didn't expect Strong's turn though, which was great.

I'm fine with Black as the champion. I'd have preferred a bit more of a story to get him there, but if Almas is going up, Black is a fine choice for a replacement, seeing as how Gargano was busy and McIntyre is presumably going up. My only concern is that I don't think it's close to time for Black to move up yet, but so far the only people who have lost the title and didn't regain it shortly thereafter have all moved up, and I'm not sure I see Black with a long reign. Who challenges him next, anyway? Cole should focus on the North American title, Velveteen Dream needs to come out on the winning side of a feud before going for the title. Roderick Strong might be a decent choice at this juncture. EC3 would make sense, especially if they're not planning on keeping him around long. Or are we going to see Lars Sullivan as the next NXT champion? I wouldn't mind a Kassius Ohno title match, though he really should win a feud at some point as well.

My only complaint if Almas & Vega go up is that we haven't had a Vega/Candace match yet.

As for Gargano vs Ciampa, Ciampa absolutely certified his deserving of a spot in some form of wrestling pantheon last night. Character-wise, he might be the only person who is a bigger asshole than Cody Rhodes at the moment. I don't necessarily disagree that the match went a bit too long, but I also can't help but wonder if it wouldn't have felt otherwise if Jim Ross had been calling it. (I had no problem with the commentators last night, thankfully Nigel & Percy dropped their incessant bickering.) The announcers didn't hurt the story at all, but they could have done more to help it. The match itself was good, brutal enough to fit the story but nothing so completely insane that it made me question their sanity. I quit watching New Japan after too many moves made me uncomfortable with what they were doing, so I'm glad I don't have to do the same with NXT.

I'm curious as to where we go next with these two. Gargano would probably be a natural to go after Adam Cole, assuming it's too soon for Ricochet to either lose a feud or win a title. I wouldn't mind a Gargano/Velveteen Dream feud, actually. Gargano is bulletproof when it comes to losses and Dream could use a credible victory. I suppose Ciampa is a big enough dick to believably go after Black even after losing to Gargano. I don't really see anyone else on the roster that seems like a natural feud for Ciampa, though Regal could easily kickstart something by being an asshole to Ciampa and assigning him opponents.

I probably don't need to worry about the direction of the product, NXT has never really stumbled in that regard and have some great new talent to work with. Time after time, it feels like they've peaked, only to keep going strong. I'm sure this show will continue the trend.


Spiraling_Shape
Bierwurst



Since: 2.1.02
From: PA

Since last post: 12 days
Last activity: 14 hours

#6 Posted on | Instant Rating: 7.37
That was almost definitely Velveteen Dream's first-ever ladder match, right? Dear Lord...


Originally posted by andy1278

---

The womens match was good. It's time for Ember to ascend upwards and Shayna has a sea of babyface women ready for her.

---


A "sea," eh?




(edited by Spiraling_Shape on 9.4.18 0446)
El Nastio
Banger



Since: 14.1.02
From: Ottawa Ontario, by way of Walkerton

Since last post: 12 days
Last activity: 3 days


ICQ:
#7 Posted on | Instant Rating: 3.68
In terms of overall quality across all matches, I think this show in on the short-list for GOAT status. The show had everything you'd want in a wrestling show, except for maybe "celebrity getting involved in a way that makes sense".

- The ladder match was everything one would want in one. What shocked me the most was the guy who I thought would be the weak link held his own; Lars Sullivan impressed the hell out of me, he showed he belonged. Also, sooooo happy the homie Ricochet is now being seen by a larger audience.

- Shocked at how fast Shanya Bazler has picked up on the pro wrrestling thing, a tremendous job selling.

- The triple threat tag match was great, especially O'Reilly's mannerisms and selling (the both German suplex sells were hilarious), and him being all-in with the air guitar. Roddy's heel turn makes sense.

Oh, in case you were thinking NXT was going to ease up a bit, you may be interested in something that may or may not be notable; Pete Dunne lighting up the bat-signal.




- I posted in the live thread on Squared Circle that I thought, based on her attire, Vega would get physically involved. A minute later, she did! Match told a good story, and really, the whole thing with Almas shows how damn important a manager can be. Tranquillo the process.

- Gargano vs Ciampa was incredible from both a wrestling ad storyline perspective. Incredibly booked, both guys did an amazing job.

Great, great show.


---
"You can't put a price on integrity"
J. Kyle
Banger



Since: 21.2.02
From: The Land of Aloha

Since last post: 510 days
Last activity: 493 days

#8 Posted on | Instant Rating: 3.37
Nous ne nous pouvons pas sortir.
Trent responded with the okay emoji.

Shit's fid'n to get real.


---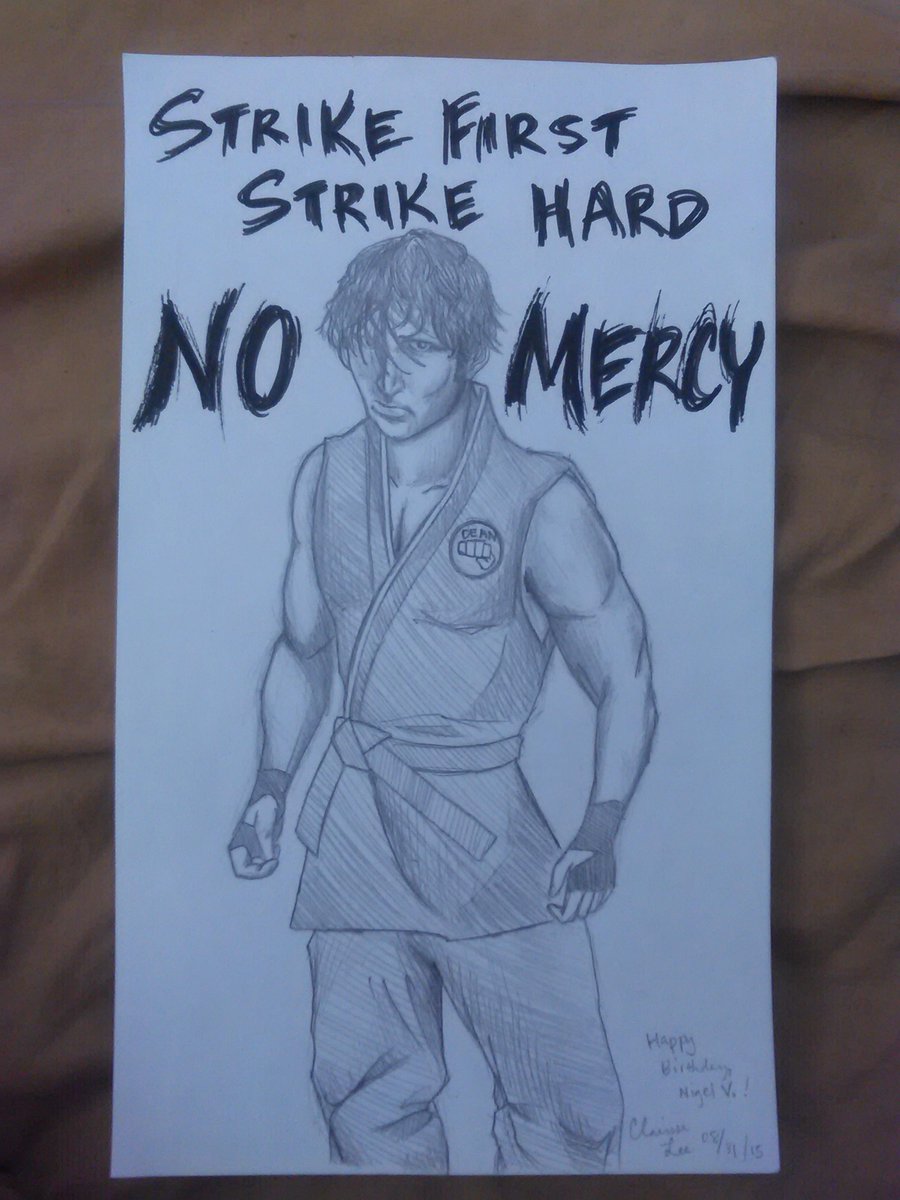 This is a picture of Dean Ambrose in a Cobra Kai Gi.