Tenken347
Knackwurst



Since: 27.2.03
From: Parts Unknown

Since last post: 3 days
Last activity: 1 day

#1 Posted on | Instant Rating: 5.39
This weekend really got away from me guys. No excuses - well, at least no good excuses. I'm going to have to make this one a little quicker than usual.

We start outside, where filming is nearly impossible due to the heavy Florida wind destroying their every attempt to speak into a microphone. Ciampa shows up, gets booed by the crowd, and seeks out GM Regal to complain about Johnny Wrestling. Regal's solution: an unsanctioned match at Takeover. If Gargano wins, he gets his contract back. If Ciampa wins, Gargano is double secret fired forever. Hmm. I feel like Gargano may be getting the better stakes here.

Anyhoo, Regal takes off, because he's got to head down to the ring for a major announcement. It doesn't exactly change NXT forever, but it *is* a new secondary title, the North American championship. NXT really did need a secondary championship. However, Regal gets interrupted mid-announcement by the arrival of EC3, a dude who most definitely should have gotten a new name when he arrived in the company. On one hand, he really made his name in TNA at at time when I watched approximately 0% of their programming (plus or minus whatever percent Matt Hardy was). On the other hand, he comes out singing his own theme song, so I immediately take a liking to him. He thanks Regal for signing him and giving him a "banger" of a theme song (no argument here), and thinks that he's getting awarded the title as well. Regal cuts him off; in NXT, people earn their titles. So Regal tells EC3 that he'll be fighting five other dudes in a ladder match at Takeover.

Sounds good to me, provided Damo is in this thing.

We join TM61 backstage. They think they might need a new attitude, considering their failure in the Dusty Classic. But this is all a pretense for the camera to catch Baszler and Moon brawling in the background. They knock over a camera man, and the whole thing is gloriously cinema verite. The closing shot is probably the nicest thing I've seen the film students at Full Sail capture.

The Authors of Pain advance in the Dusty Classic over the Street Profits. The main story is that Ford immediately IDs the AoP as two guys he does not want to throw down with, so he tags in Dawkins, who mostly gets creamed. Then Ford screws around with Ellering outside while Dawkins gets run over by the Last Chapter.
Match Rating: I Don't Know; Is That Going Somewhere?

Dawkins is an albatross around Ford's neck, though, so I'd be okay with it.

We join up with Regal backstage so that he can add Adam Cole and Velveteen Dream to the NA title ladder match.

Lars mauls Some Jobber.
Match Rating: Of Note: Lars Does A Flying Headbutt.

Now Regal adds Lars. Lars wants Damo. So Regal adds Damo! Hey, Damo's in this thing! Lars also wants a singles match, so we'll get that next week.

That leaves one more guy for the ladder match, and if you're thinking about it, you've probably already figured out who it's going to be.

Next is Dakota Kai vs. PSYCH! Naw, there's no match. Instead, we join up with Andrade Almas backstage as he beats the ever-loving shit out of Aleister Black. He tries to drown him in a cooler, then drags him down to the ring and demands respect for himself and Zelina Vega. I'm moving pretty fast here, but take my word for it; this segment is pretty great.

Finally, the main event is SAnitY vs. Dunne and Strong. It's pretty clear who's going to win this one, but they wind up having a pretty solid match. I'm all-in on Alexander Wolfe at this point, whose character and ring-work have both come along really nicely. Both teams do some good double-team stuff in this, including SAnitY's abdominal stretch/big boot combo and Dunne-Strong's backbreaker/turnbuckle stomp. SAnitY comes pretty close to getting the win with a sequence that includes a Death Valley Driver and a European uppercut from Wolfe, followed by the wheelbarrow neckbreaker from Young. The big finish is Strong hoisting up Young and tossing him over to Dunne, who catches him into the Bitter End. It's a rad as hell spot.
Match Rating: Satisfying, All Things Considered.

Finally, we go backstage one more time. Regal tells us that the last man is in the room right behind him, and sure enough, out walks Ricochet. I knew you could guess it! Ricochet tells us that he'll see us at Takeover, and that's the show.

Next week is the big go-home show, and Takeover is looking just about as good as it ever has. Should be a great show next week.
Promote this thread!
dMp
Knackwurst



Since: 4.1.02
From: The Hague, Netherlands (Europe)

Since last post: 11 days
Last activity: 1 day

#2 Posted on | Instant Rating: 6.75
Loved EC3. Acknowledging the crowd chants, singing his song. just having fun with it.
Didn't care much for the AoP vs Street Prophets match.
And while I sorta understand if they push Ford and dump Dawkins, I am not sure FOrd alone will really work yet.

The other tag match was very solid. So...are we gonna get a Dunne/Strong tag title run? If we get a match between these two and the Undisputed Era that could be a great one.they'

The ladder match could be fun as well.
And though I enjoy how Regal got to announce people throughout the night (unlike Raw/SD where they'd probably all walk out and then get a 6=man tag match) I feel sorry Cathy having to chase him down over and over.

The Moon/Baszler thing was (just like the Regal thing) a typical NXT way of doing two promos at once. I always like that.
The Ciampa thing was cool too.
And ALmas' attack on Black. Well deserved
Some of those kicks and punches looked stiff. Great work.

Man, TakeOver is going to be so much better than WrestleMania?!

J. Kyle
Banger



Since: 21.2.02
From: The Land of Aloha

Since last post: 280 days
Last activity: 262 days

#3 Posted on | Instant Rating: 3.37
Nous ne nous pouvons pas sortir.
Apparently Ford is injured hence why we got what we got. Looks like only TM61's early loss may lead to a story.

That ladder match will destroy everything that isn't Daniel Bryan.

No one remembered Ciampa/Gargano from the CWC when it came to choosing match of the year for some reason, but I think they'll out do themselves. And I'm hoping Tenken is right and Gargano beats the friendship back into him.

Takeover is always better than the PPV but this is ridiculous.


---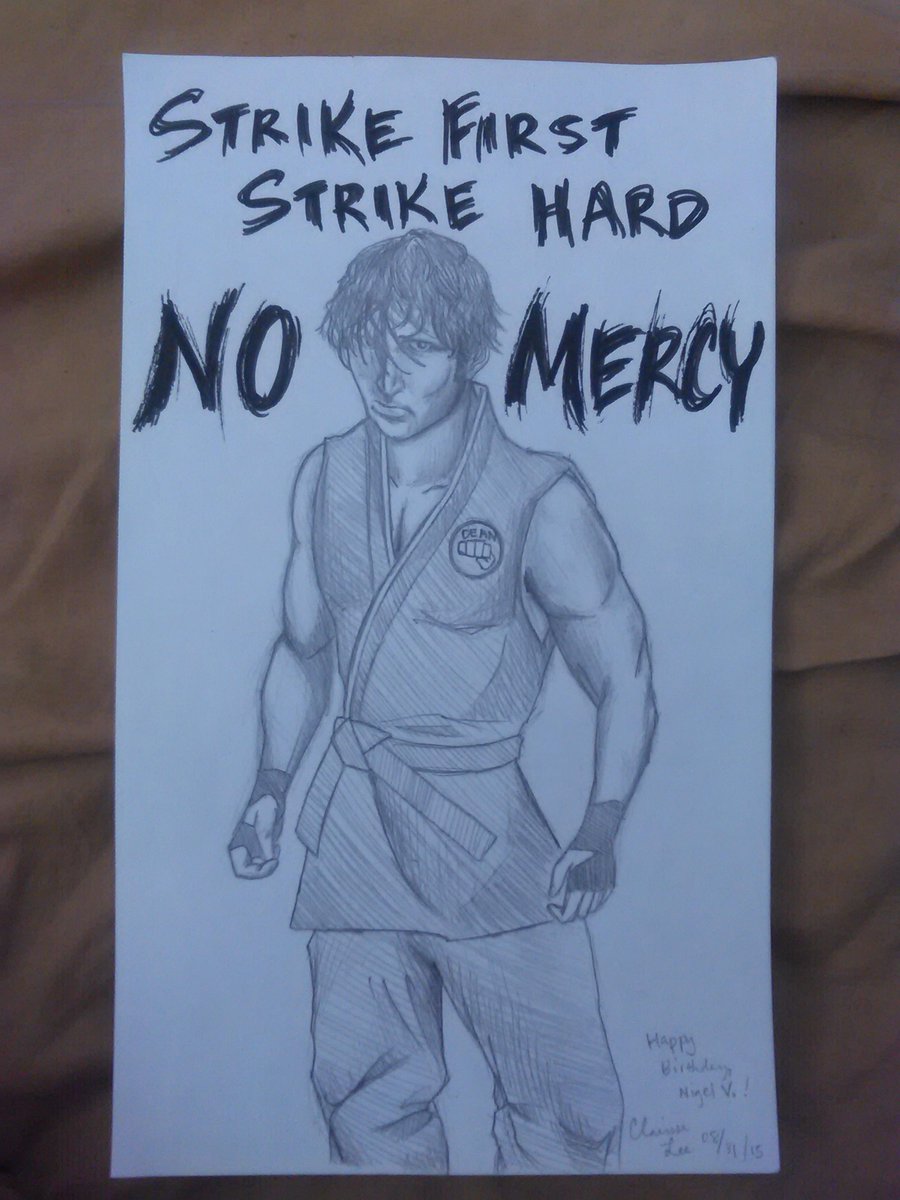 This is a picture of Dean Ambrose in a Cobra Kai Gi.