Tenken347
Knackwurst



Since: 27.2.03
From: Parts Unknown

Since last post: 5 hours
Last activity: 5 hours

#1 Posted on | Instant Rating: 5.38
Back again. Who, me? Nah, Johnny Gargano's back! He returns to in-ring action tonight, versus Raul Mendoza, who you may remember as the plucky babyface from Brian Kendrick's first round match in last year's CWC. Gargano comes out to the old DIY music, but then it stops and his new music fires up, and look. It's actually a good theme. But it's a real bad fit for Johnny Wrestling. Give that theme to somebody, but Johnny needs something else. Anyhoo, the match opens up with some fun back and forth. They do some graps reversals, then a neat rope-run spot, which goes into a sequence of pin reversals. Gargano gets the best of that with his roll-through kick, but Mendoza fires back with a forearm shot, followed by a step-up kick. Mendoza goes to some chops, but Gargano reverses an Irish whip. Mendoza does a cool escape through the ropes, but Gargano gets him back inside and hits his battering ram. He sets up and hits a big clothesline, but Mendoza comes back off a rope run spot with a really great enzuigiri. Mendoza goes up top, and comes off with a 450 something. I say "something," because whatever it was supposed to be, Gargano gets out of the way, and Mendoza eats the canvas. He's easy pickings for Gargano's crossface submission.
Match Rating: You Know, Gargano Really Ought To Be Getting That Title Match In Brooklyn.

We recap the goings-on between the AoP and SAnitY, and discover that, for some reason, SAnitY is getting a title shot in Brooklyn. They, uh, haven't actually done anything, you know. They attacked the AoP twice and got their faces pushed in each time. That doesn't say "top contenders" to me, really. Anyhoo, Paul Ellering's got words for SAnitY. Let's see here..."be prepared, because monsters are real." Good talk, Paul!

Asuka's out to the ring. She's got Ember Moon in Brookly, but she ain't sweatin' her. She beat her once, and she'll beat her again. Sound logic to me. Ember's out, though, and let me take a second. I've mentioned before how Ember's gimmick doesn't really translate to any part of her. Like, she's a magic werewolf (or something), but all she really does is kind of a half-assed Wonder Woman routine in the ring. For the record, they should absolutely double-down on her Wonder Woman thing and go full tilt with that. BUT. Right now, her gimmick goes nowhere, and nowhere more clearly than right now, as she has sauntered to the ring in a t-shirt and jeans, and I can't stop laughing at that. Asuka's wearing a pretty bad-ass pant-suit, and Ember Moon's dressed like I am. It reminds me of "Fallen Angel Christopher Daniels," who'd show up in Bus/Cas fashion.

Oh, man. Anyhoo. Ember's just out to call Asuka on her arrogance and state, without any kind of evidence, that Asuka is the one who isn't ready for her. Asuka says alright, and offers the hand of friendship, or at least respect, but then she totally "too slow"s her! Then slaps her across the face! Oh, man, Asuka's the best. They commence to brawlin', and Ember gets turfed out of the ring. Asuka turns her back to celebrate, and that's an error, as Moon comes off the top with an Eclipse that lays the champ out. Ember Moon eyes the belt hungrily, and walks off.

My problems with Ember Moon and gimmick notwithstanding, that was a great, great segment that set up the match really effectively.

Meanwhile, Bobby Roode, who I am 100% done with, has an extremely poorly shot backstage interview segment where he runs down Roderick Strong. Seriously, you have to strain to hear the interviewer's questions. Then he says he'll talk to Drew McIntyre in the ring next week, before Strong bursts onto the set like he's going to kill Roode. Roode hightails it, and Strong is left to be reprimanded by GM Regal.

Okay, I just laid into Ember Moon about her presentation, and I'm sorry, but I gotta do it again. Strong is all like, "this guy disrespected my family, and I'm gonna kill him," and I don't believe a word that comes out of his mouth. The physical presence is there, but I don't believe his performance when he speaks. This is made worse by the fact that he's doing the segment with Regal, who could recite random words in a random order, and I'd be hanging on every syllable. Put Strong in a tag team, give him a manager, something, anything, because he is dying on his own. He just can't get his character over.

Moving on. We get another Street Profit$ segment, and then Sonya Deville wrecks up Some Jobber. Deville's showing a lot more personality in the ring here, taunting the jobber, before ultimately putting her away with a quick Cross Arm Breaker.
Match Rating: Nothing Much To Write Home About, But Cool To Check On Deville's Progress.

Hideo Itami is backstage, and he demands that people show him the respect he deserves. It's great, because halfway through this bit he gets this look like, "wait, why am *I* doing this in *your* language," and promptly switches over to Japanese. He grabs the mic out of the micstand's hands, and heads to the ring to continue his tirade. But Aleister Black's got a match next, and doesn't appreciate his time being taken up. So when Itami tries to rush him, Itami gets a Black Mass for his trouble. This is a match I can really get behind.

Next week, we get Andrade Almas against No Way Jose, and I'm really looking forward to Almas killing him.

Back to the ring, it turns out Black's opponent is Kyle O'Reilly, and you may remember me saying a few weeks ago that I fucking hate that guy. It's true. Why? Simple. He's got weak-ass offense that misses a lot, and really hesitant strikes even when he does connect. Here, I'll show you. The match opens with some sparring, as both men try to throw some kicks and find an opening, and when that doesn't work they go to some graps, eventually winding up with Black cinching in a triangle choke and transitioning it to a hammerlock. O'Reilly comes back with a forearm, but Black hits a leg sweep followed by a front kick. He sends O'Reilly to the turnbuckle, and O'Reilly forearms his way out, but eats a boot from Black. O'Reilly counters back with his own big boot, then here we go, completely whiffs on a knee strike and then AGAIN on a middle kick. He does an acceptable arm wringer into a leg lock. Black fights his way out, and O'Reilly counters with a judo throw, then goes into a cover that gets one, because why on earth would you think that's enough for a pin? That doen't make any sense, it's like going for a cover on a hip toss. Anyhoo, Black's still on his back and trying to keep O'Reilly at bay, so O'Reilly cartwheels past him into...something??? Maybe? It looks like shit. Then he locks in his Cross Arm Breaker, which he calls the ARMageddon, and I'm not too big to admit that's great. He can't quite hook it in, so he tosses some elbows, and then applies a leg scissors hold. Black escapes, and now they're trading kicks with each other. O'Reilly hits some knees, and then some extremely weird-looking elbow strikes, and even for the purposes of explaining why I hate this guy, I've had enough. I'm checking out of this match. Black has a real nice moonsault a bit later on, and eventually counters some more of O'Reilly's terrible strikes with a Black Mass to pick up the win.
Match Rating: Well, It DID Make Me A Bigger Fan Of Black.

Seriously, you can watch him do ALL of the heavy lifting in this match. It's the most I've really seen him do, and it gives me high expectations for his match with Itami. Highs and lows this week, but hopefully I won't have to look at Kyle O'Reilly again any time soon.




Promote this thread!
andy1278
Boudin rouge



Since: 11.1.02
From: Brunswick, GA

Since last post: 7 days
Last activity: 1 day

#2 Posted on | Instant Rating: 7.53
Glad Gargano is back and really he and Ciampa should be the big title picture match down the line in NXT. Johnny Wrestling finally hits the top of the mountain and wins the belt and then boom, here's Ciampa back to cause chaos.

I agree about Ember Moon. I like her a lot and I love her look, but the character doesn't really match the look. Since her first apperance, when she had this badass entrance and then turned into Smiley Ember, it was kinda off. Keep the Wonder Woman thing but tone down the smiley part.

Every time Sonya Deville has a match, I write in the post that her gimmick just works and it does. She looks like a total badass and should come off as that, and I think squashes for a while will do that. Once Asuka finally moves on (maybe the next Shakeup that's rumored after SummerSlam?), Ember is going to need a challenger. Sonya has a money gimmick and look if they keep developing her.

I'm done with Bobby Roode as well, at least as defending NXT champ. I'm just bored with it, but I seem to get bored with the NXT title picture most of the time.
J. Kyle
Banger



Since: 21.2.02
From: The Land of Aloha

Since last post: 221 days
Last activity: 204 days

#3 Posted on | Instant Rating: 3.36
Nous ne nous pouvons pas sortir.
1. Sonya worked better as the Carlos Condit "intense killer" mma fighter. She's not Nick Diaz, and the taunting isn't working/doesn't fit.

2. I thought for sure Itami would get his revenge. Nope.

3. Great promo by Drew.

4. I was excited for all the wrong reasons for Street Prophets (this company isn't great at portraying black wrestlers) and deflated the moments I realized Dawkins is part of the team.

Poor Dawkins. Every time I see him all I can think is "Stop trying to make fetch happen."


---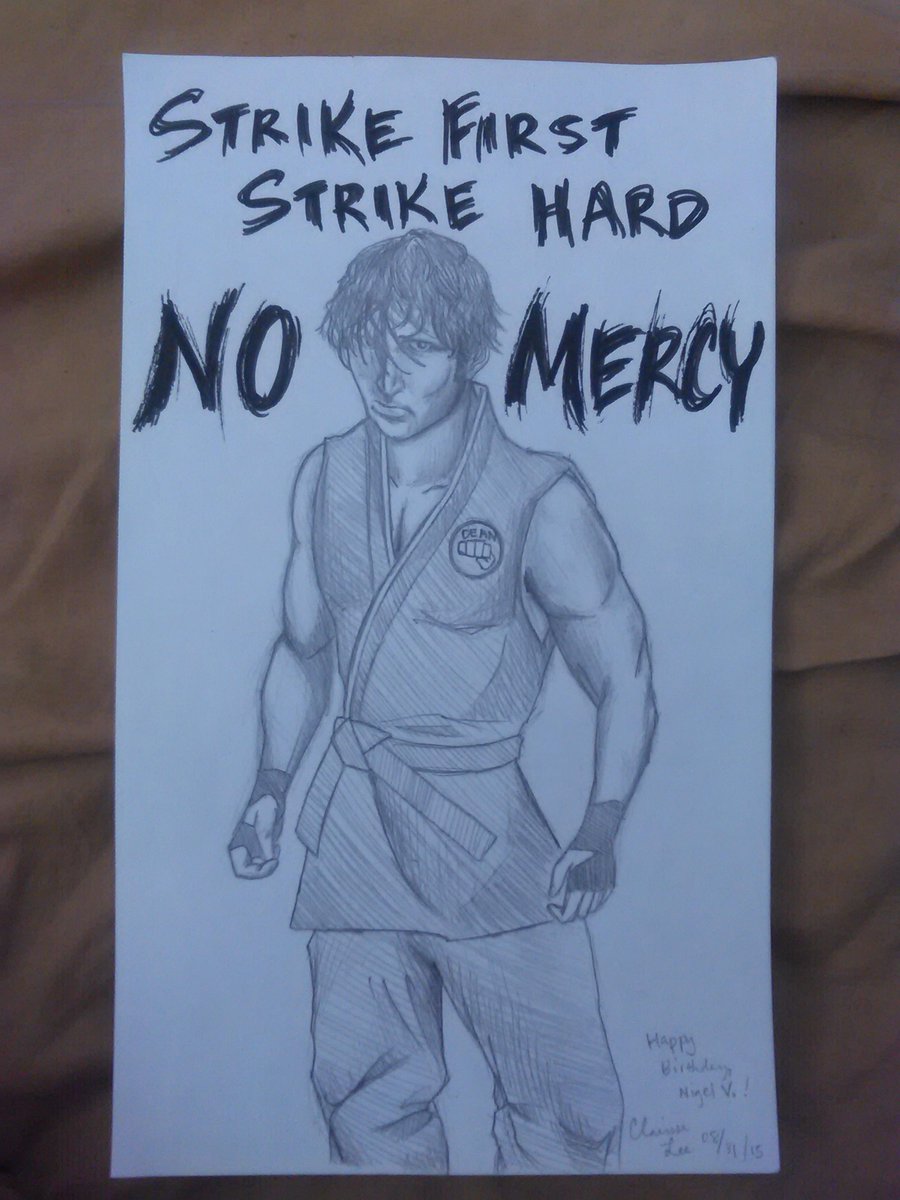 This is a picture of Dean Ambrose in a Cobra Kai Gi.
Spiraling_Shape
Bierwurst



Since: 2.1.02
From: PA

Since last post: 1 day
Last activity: 6 hours

#4 Posted on | Instant Rating: 7.37
Originally posted by andy1278

---

I agree about Ember Moon. I like her a lot and I love her look, but the character doesn't really match the look. Since her first apperance, when she had this badass entrance and then turned into Smiley Ember, it was kinda off. Keep the Wonder Woman thing but tone down the smiley part.

---


I've seen enough of her posts on social media to tell that she's just a very naturally smiley person. I think she just needs to ditch the red contacts and she'd be fine. But yeah, she was great, the segment was great and their rematch should be great too.


Originally posted by Tenken347

---

hopefully I won't have to look at Kyle O'Reilly again any time soon.

---


I'm afraid I've got some bad news...



Tenken347
Knackwurst



Since: 27.2.03
From: Parts Unknown

Since last post: 5 hours
Last activity: 5 hours

#5 Posted on | Instant Rating: 5.38
Originally posted by Spiraling_Shape

---




Originally posted by Tenken347

---

hopefully I won't have to look at Kyle O'Reilly again any time soon.

---



I'm afraid I've got some bad news...




---


Nah, I knew they signed him. But I'm hoping that match was just the "hey, we signed THIS guy!" bit, and he'll be off TV for a while. Honestly, the PC has done more with a lot less, so maybe the next time I see him, I won't hate him. OR - I'll be speechless with rage! We'll find out together!
Toast Jr
Summer sausage



Since: 30.1.03
From: Stafford Springs, CT

Since last post: 27 days
Last activity: 16 hours

#6 Posted on | Instant Rating: 8.82
Originally posted by J. Kyle

---


Poor Dawkins. Every time I see him all I can think is "Stop trying to make fetch happen."

---


All I can think is "Where are my damn imaginary brownies?"

I am super hyped for the women's match at Brooklyn III. I'm not sure who I want to win though. On one hand, it would be a monster win for Ember; but on the other hand, it would be pretty cool to have Asuka called up undefeated. Can I vote they both have a good time?


---

It's the most important meal of the day.
http://toomuchbreakfast.tumblr.com/
MoeGates
Boudin blanc



Since: 6.1.02
From: Brooklyn, NY

Since last post: 5 days
Last activity: 5 days

#7 Posted on | Instant Rating: 5.09
I get what everyone's saying about Moon, but I really disagree (especially with getting rid of the red contacts, which lets her do the best PPV costume levelup ever by switching to the blue contacts). She hit on a real cool look & entrance, and there's no reason to give that up, even if she doesn't base her character on it. I mean, Becky Lynch's character isn't 'Victorian Steampunk.' The problem is Moon doesn't really have much of any character. The look & ring work are there, but she really needs some mic & character development before she moves up.

Roode - oh god. A man lost in time. He could probably sell out the Jacksonville Coliseum & work the hell out of a 60-minute Broadway against Jack Briscoe. What he is doing in 2017 I have no idea, and it's not working. Hit the main rooster & form a midcard tag team already. Actually, take Roddy with you for that team.

I don't know what you do with Gargano now. There is no way he's doing much on the main roster. I imagine he ends up on 205 Live in short order.






---
www.allcitynewyork.com
thecubsfan
Scrapple
Moderator



Since: 10.12.01
From: Aurora, IL

Since last post: 15 hours
Last activity: 15 hours

#8 Posted on | Instant Rating: 9.44
Bobby Roode as the main rooster is an enjoyable typo


---

thecubsfan.com - luchablog
dMp
Knackwurst



Since: 4.1.02
From: The Hague, Netherlands (Europe)

Since last post: 2 days
Last activity: 11 hours

#9 Posted on | Instant Rating: 6.75
It's funny. I don't agree with your thoughts on O'Reilly at all.
I thought his strikes & kicks looked fine in general and downright nasty a few times as well.
His pose as he sorta walks around the ring however...now that made me cringe. I thought this was Black's best match in NXT so far and that's partially thanks to O'Reilly.

I like Black..I like Itami. Damnit I hope Itami wins at TakeOver so he can start tearing it up. The guy deserves a break & proper push..