Tenken347
Knackwurst



Since: 27.2.03
From: Parts Unknown

Since last post: 8 days
Last activity: 3 days

#1 Posted on | Instant Rating: 5.38
Hey, look at that! A timely recap! Don't get used to it, though; next week, I'm out of town again, so I ain't doin' nuthin'. If anybody else is feeling it, go ahead and fill in for me.

This week, though, man. It's wall-to-wall action. We go right to the ring for Ember Moon and Ruby Riot, and if you've been paying attention, by now you've come to realize that my notes can almost never keep up with the ladies. This match fails to become an exception. I did get some stuff, though. The match starts a little slow, with a wristlock by Riot into a headlock by Moon, but then they launch into a blisteringly fast pin/reversal sequence. After that bit, Moon goes for some high-power offense in the form of a hurricanrana, and Riot answers back with a cool rope-assisted monkey flip, followed by a headscissors takeover. There's a bunch more back and forth here - this is the general story of the match, actually, with both women standing on equal ground, and the advantage only shifting slightly back and forth repeatedly. Ember Moon goes old-school with a bow and arrow, and Riot comes back ultra-modern with her knee/turnbuckle move that should have a name, then a big top-rope senton for two, and then finally a gigantic top-rope 'rana that Riot cannot believe only gets two. They go back to trading strikes, and Moon throws what Nigel describes as a rolling elbow. He is way, way wrong. That might have been what she was going for, but instead she winds up accidentally hitting a discus punch that has her full weight and momentum behind it. It's probably the third or fourth hardest strike I've ever seen in pro wrestling. Ruby looks legit stunned by it, but they go into the finish, as Moon lands her handspring corner splash, followed by the Eclipse for the win.
Match Rating: "Wish They Gave It 5 More Minutes" Good.

Real fun stuff. We throw to the announce team, who let us know that Ohno and Itami are now scheduled for a match next week. This came at the request of KO, who hosts...a press conference?...to talk about it. But he gets interrupted by Itami, who just can't believe the balls on this guy. Itami mouths off in Japanese and then kill a trash can.

We get another Street Profits vignette, and up next is Oney Lorcan vs. Danny Burch. Mauro describes Lorcan as "truculent," and I think that is just about a perfect way to describe him. For the record, Danny Burch is fundamentally the British version of Lorcan. He looks like him, dresses like him, and comes out to what I would describe as the British version of Lorcan's theme song. I'm hyped for the brutality which is about to ensue. They...disappoint me, by starting out with a lockup, followed by some mat stuff. Oh, wait, never mind, Burch just punched Lorcan in his face. There we go. He lays in some kicks, and goes for an Irish whip, but Lorcan reverses that. Burch gets his boots up, though, and nails a mid-level dropkick followed by a step-up kick to the back of the head. He sets up Lorcan on the top rope, and lays him out with a hangman's cutter! Well, that was fast. No, two count only! I'm as shocked as Burch is here. Maybe Burch should have kept paying attention, though, as Lorcan reverses a rope spot and hits the blockbuster, followed by a trademark running European uppercut. Another uppercut follows, and now the two of them are just tossing uppercuts at each other. Yes, yes a thousand times, this is exactly what I wanted. Lorcan grabs Burch by the face and slaps the fucking shit out of him, but Burch shrugs it off, nails a big running clothesline, and then folds Lorcan up with a powerbomb for two. Burch comes up, and he's bleeding everywhere. It looks like Lorcan broke his nose, too. He, uh, knows pro wrestling is fake, right? Like, does Lorcan think he's in a real fight? Is he just constantly wondering why all these dudes are trying to kill him, and he's just trying to defend himself? It's starting to seem like the most likely explanation here. Anyhoo, Burch puts Lorcan up on the top rope. It looks like he wants a superplex of some kind, but Lorcan elbows him off and goes for the super blockbuster. Burch dodges, but Lorcan pulls out a cool move where he kind of rolls into Burch, grabs a leg, and rolls through into a single-leg Boston crab. Burch can only hold on for a minute, then he taps.
Match Rating: Exactly What I Wanted.
After the match, they do an Indy Respect handshake, but Burch hangs on. He wants to go one more time, and Lorcan's like, "sure, there are probably other parts of you I can permanently damage," so we'll get a rematch.

Fight each other three times, then become a tag team. Do it. I already buy that these two can beat the Authors of Pain. You took DIY from me, I need this. Do it. Book a rematch where Burch wins, then a third match that's a draw, then they're a tag team. Do it.

Ahem. Got a little worked up there. Anyhoo. No Way Jose has a match with Cezar Bononi, who they helpfully remind us was the jobber who pinned Almas a while back. These guys are both still pretty unseasoned, so this match, uh, not to be indelicate, sucks pretty bad. It's mostly NWJ's unremarkable offense being poorly sold by Bononi, eventually culminating in the pop-up punch for three.
Match Rating: Sucks Pretty Bad.
Afterwards, though, El Idolo is out of the crowd with his new ladyfriend, who wants him to make an example out of this nobody who grabbed a pin off him. Almas obliges, and then makes like he wants a piece of NWJ. His lady tells him to cool down, though, so when NWJ runs back to the ring, Almas takes a powder. I can get into this.

Our main event for the night is Drew vs. Damo for the #1 contender position, and I'm going to level with you: It's Mostly Punching. It eventually picks up pretty good toward the middle/end, when Drew works his way out of a rest hold with a jawbreaker. Damo counters back with a big clothesline, and sets up in the corner for something, but Drew escapes and hits a powerbomb. After laying in some fists, Drew hits an air raid crash, and Damo basically shrugs it off, hits the Belfast Blitz combo, and then a Vaderbomb for two. He sets up for the Ulster Plantation, but Drew escapes and locks in a butterfly hold for the Future Shock, which we have not seen from him so far in his run, but Damo counters out with a bridging suplex reversal that gets a two count! Holy shit, I did not know Damo could do that! Damo hits a powerbomb, then sets Drew up on the top rope and nails a top rope fisherman's buster! Amazingly, that one gets two as well, and Drew is able to recover and lock in the butterfly again, this time actually hitting the Future Shock. It gets a one count. Damo looks like a beast here. Drew can't believe it, but he still has the wherewithal to hit the Claymore (called as such for the first time here), but he doesn't even make it to a cover before Damo pops up. Drew's not backing down, though, and nails a second Claymore on a kneeling, defiant Damo to finally pick up the three count.
Match Rating: Mostly Punching, Until It Got Real Good.

Truth? Damo came out of that looking better than Drew did. I'm not down, exactly, on Drew McIntyre in this run, but there's something lacking in his presentation. It's going to make him look second-rate compared to Roode in their match in Brooklyn, no matter how much better Drew actually is in the ring. Hopefully they can put together something cool for him there.

Promote this thread!
J. Kyle
Banger



Since: 21.2.02
From: The Land of Aloha

Since last post: 2 days
Last activity: 4 hours

#2 Posted on | Instant Rating: 3.36
Nous ne nous pouvons pas sortir.
1. I was going to say all I want is a Danny/Oney tag team. It was my first, strongest takeaway from this episode.

2. You know what would help Drew's Presentation. I dunno, maybe having one of the best theme songs ever. A theme good enough to rival "Glorious."

"Your NXT? You're out of time. What was yours, now is mine."


---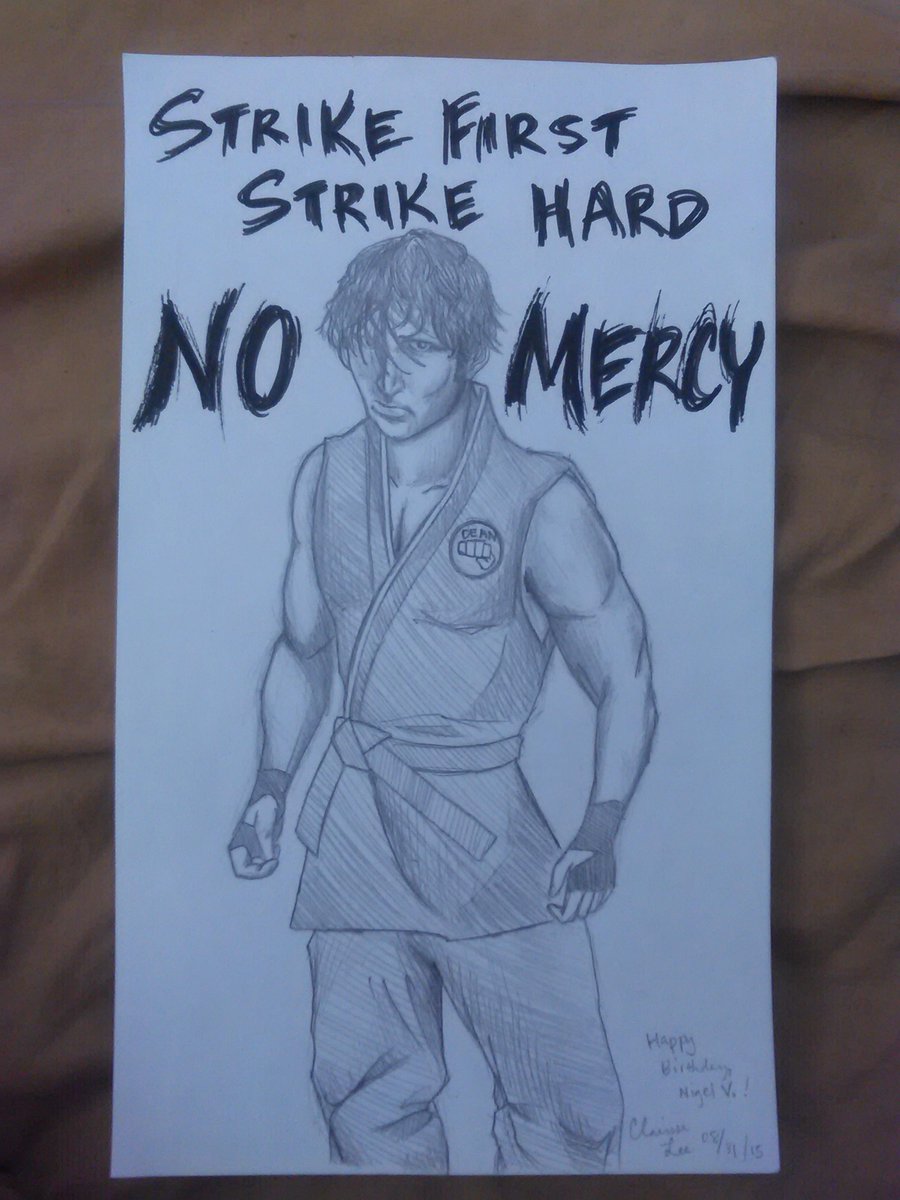 This is a picture of Dean Ambrose in a Cobra Kai Gi.