used2bcool
Merguez



Since: 5.11.08
From: Ashland, MA

Since last post: 642 days
Last activity: 316 days

#1 Posted on | Instant Rating: 9.11
From Winter Park, FL. (I'm synching up the episode number with the network, hopefully there isn't too much of a discrepancy.)

As always, the "abridged" format is taken from the fantastic cmigbear on CageSide Seats.

ThenNowForever

Aleister Black v Corey Hollis
COREY: Alright, settle into a lockup?
BLACK: Nah, Black Mass.
COREY: Oh.
COREY: ded
BLACK: Just gonna go back to meditating right here in the middle of this noisy crowd.

VIDEO: Remember when Tye debuted on SmackDown two weeks ago?
TYE: Yeah I'm on SmackDown now but I have unfinished business with Sanity so next week Regal gave me Eric Young in a cage match.
UNIVERSE: YAS

DIY vs Two Jobbers
DIY: Hey look two unnamed jobbers!
JOBBER #1 DYLAN: MY NAME IS DYLAN AND YOU WILL REMEMBER IT TINY HUMAN
DIY: Alright, let's try the other guy.
JOBBER #2: Hey I have a name too!
DIY: Be quiet.
DIY kills JOBBER #2.
DYLAN: You are unworthy of having a name.
DYLAN further kills JOBBER #2.

VIDEO: Remember when Asuka kinda sorta cheated to beat Ember?
EMBER: I thought it was my destiny to beat Asuka but I was wrong, now I have newfound focus, and I'm going to take Asuka down.

RUBY: I debuted against Sanity and Nikki and that was fun, but the goal is to win the NXT Women's Championship and that path starts now, it's time to *RUN RIOT*! Yep.

Ruby Riot v Kimberly Frankele
KIMBERLY: Have some forearms.
RUBY: Nah, have a frankensteiner.
OuttaNowhere, NIKKI!
NIKKI: O Hai Ruby.
RUBY gets distracted.
KIMBERLY: Backbreaker and pin?
RUBY: Nah.
KIMBERLY: Fine, have some chops.
RUBY: YOU have some chops!
KIMBERLY: Ouch.
RUBY: Wind-up Pele!
RUBY wins, NIKKI is mildly impressed.

VIDEO: Hey the Authors of Pain are super dominant and no one can beat them.

Backstage, in the trainer's room
BILLIE and PEYTON: The designing of these rooms leaves a lot to be desired.
UNIVERSE: NORMAN SMILEY SIGHTING!!
BILLIE and PEYTON: Oh look it's Aliyaah and Liv, what a bunch of losery losers.
LIV: Get out of my face.
LIV shoves BILLIE into an ice bath.
PEYTON: SHE'S DROWNING SOMEONE SAVE HER
TRAINER: Seems like a *slight* overreaction.
BILLIE, PEYTON, LIV, ALIYAAH: Obviously this means war.


Drew McIntyre v Oney Lorcan
UNIVERSE: Why is this music not "Broken Dreams"?!
DREW and ONEY: Let's take turns kicking each other's ass.
They kick each other's ass.
ONEY: Uppercut and dive?
DREW: Have you met the apron yet?
DREW sets up a date between ONEY and the Apron.
DREW: Belly to belly and some chops?
ONEY: Nah, have a running blockbuster, pin?
DREW: Nah.
ONEY: Alright, heading to the top.
DREW: Not a good idea.
ONEY: Let's just stiff the shit out of each other.
DREW: Works for me.
They stiff the shit out of each other, ONEY bleeds.
ONEY: Aw shit.
DREW: It was fun knowing you.
DREW kills ONEY with the Claymore.

DREW: I built a reputation and could've signed anywhere in the world, but I want to be here in NXT.

NAK: I was a champion in Japan, but I came to NXT to challenge myself and now NXT is home, NXT Universe is crazy, and even though it's time to say goodbye, never forget that We Are NXT.
NXT ROSTER: Thank you Shinsuke.
NXT UNIVERSE: Thank you Shinsuke.
FINN: O hai I am also here.
ME: *Onion chopping intensifies*

1. I'm still not convinced of Aleister Black's wrestling credentials, but this is a good way to introduce him to Full Sail, plus this way you can accentuate the sudden-death nature of his (still not impressive-looking) finisher.

2. Dylan Miley was clearly the star of the tag match, and there was an interesting "exclusive" WWE posted where he apologizes to his partner for killing him (twitter.com). They could go the monster route with him, or they could go the monster-who-does-comedy route.

3. The empty arena walk for Ember's segment was really good imagery. I think she overacts a little, but that can be fixed with time. It's important to give Ember some kind of character apart from contact lenses, a cool theme, and a deadly finish, and this started in that direction. It gives Ember and Asuka a more defined story to play off the next time they face each other.

4. Man, Oney and Drew just laid into each other. That was nonstop, balls to the wall action.

See you next week!


(edited by used2bcool on 13.4.17 0804)
---

In a coat of gold or a coat of red, a lion still has claws
And mine are long and sharp, my lord, as long and sharp as yours!
Promote this thread!
Tenken347
Knackwurst



Since: 27.2.03
From: Parts Unknown

Since last post: 18 hours
Last activity: 1 sec.

#2 Posted on | Instant Rating: 5.37
Originally posted by used2bcool

---

From Winter Park, FL. (I'm synching up the episode number with the network, hopefully there isn't too much of a discrepancy.)

---


Every time they do a Takeover, man. Every. Time.

Okay, so last week was WrestleMania week, which was as much Wrestling as it was Mania. After that, I needed a little bit of a wrestle-break, and it looks like some other folks did too. But now we're back, and so is NXT. And of course, the big news is NXT's new theme song. NXT's terrible, Terrible, TERRIBLE new theme song. Like, I liked the old one alright, but I didn't have any special attachment to it, and I kind of thought they've needed a change-up since TO: The End, but this one was a mistake. It's dated and loud and just awful.

Anyhoo, to the ring! Aleister Black's out to mash up Some Jobber and...whoops, he hits Black Mass while I'm still doing introductions.
Match Rating: Oh, It's Over.

Tye Dillinger is thrilled to be going to Smackdown Live, but he feels like he need to finish up with Eric Young first. That means next week, we get a steel cage match. They don't do many of those in NXT, so I'm pretty excited.

DIY's out to mash Some Jobbers, too, but one of them is like the size of a bus, so I think it's going to take them a bit longer than it took Black. I caught the big guy's name, but it's dumb, so I'm going to call him "Ogre," because he literally looks like a storybook ogre. It's all ogre to start, including a really impressive crossbody catch into a (extremely) delayed vertical suplex, but eventually Ogre gets tired and tags in his partner, who is, shall we say, slightly smaller. This dude gets rekt. I mean, DIY hit all their signature offense, Meet in the Middle, one, two, three.
Match Rating: When WAS The Last Time We Saw DIY Get A Win?
After the match, the Ogre seems a bit put out by his partner's performance, so he EATS HIS BONES. Or at least beats him up pretty bad.

Ember Moon gets a vignette in the empty Takeover Arena. I always enjoy empty arena bits. I think empty arenas are kind of ominous, like, they're not supposed to be empty. Anyhoo, Ember's so, so sad about her loss that she gets Incredible Hulk sad walking away music, but she's also mad, and still determined to take that championship. Got it.

I genuinely think that Ember Moon needs a substantial gimmick revamp, and maybe even a new working name. I like her a lot, but none of her packaging has been working for me.

Ruby Riot makes her Full Sail debut next, against...Kimber Lee! She's working under her given name of Kimberly Frankle, which is kind of odd, but not half as odd as WWE looking at Ruby and Kimber and deciding that Ruby was the one that should come in immediately with a solid gimmick, decent push, and ready-made feud, and Kimber was the one they were going to wait on a little bit. Like, I'm sure they have plans for her, I just kinda expected the roles there to be reversed. Anyhoo, this match starts with a quick pre-tape promo from Ruby explaining that she fighting Cross, but that she also wants the championship. Then, we get right into the action. Kimberly starts off hot with some armdrags and strikes, but Ruby goes up top and hits a hurricanrana to take control. That brings Nikki Cross out of the crowd. I expect a run-in, but she's just here to watch the match. Meanwhile, Kimberly nails a jawbreaker as Ruby gets distracted, and follows that up with a tilt-a-whirl backbreaker and a shoot kick to the back. She sends Ruby into the corner, but Ruby fights back with some chops and a pair of clotheslines, followed with a big dropkick. They move into the corner, and Ruby headscissors Kimberly's face into the middle turnbuckle (which is such a cool move, and I don't think that the guys are actually even able to do it, which I think makes it even cooler). That's the beginning of the end, as Ruby drags her out of the corner, and short-arms her into a Wind-up Pele Kick for the win.
Match Rating: Just Long Enough To Whet My Appetite For More.

Video Package spotlighting our tag champs, the Authors of Pain. Honestly, I don't love 'em, but they're alright.

The Aussie Mean Girls Squad heads to the trainer's room to hassle Liv and Aliyah, but Billie gets dunked in a hot tub. Okay then.

Finally, our main event is Oney Lorcan against the returning Drew McIntyre. No points for guessing the winner ahead of time. This winds up being an incredibly brutal affair, as both guys just go to town on each other. Drew opens with a belly to belly suplex, but Lorcan fires back with a huge European uppercut that sends Drew out to the Danger Zone. Oney's been here long enough to know what that means, and he obliges us with a big dive. It goes so well that he goes up to the top turnbuckle to try again with a crossbody, but Drew catches him! Jeez! That sets up a tilt-a-whirl slam on the apron. Back in the ring, Drew hits another suplex and whips Lorcan into the corner, but Lorcan gets a boot up and hits a blockbuster. They go to the top rope and fight a bit, but Drew gets the best of it when he pulls Lorcan to the mat. Lorcan doesn't like that much, so he STARTS BEATING THE SHIT OUT OF DREW. Open-hand slaps to the side of the head that look like they'd knock out a bull. No joke. Drew just shrugs it off, though, picks Lorcan up in a reverse Alabama Slam position, and puts Lorcan's face directly into the canvas. That actually opens him up pretty bad, but Drew's not quite done. He hits a shotgun kick varient, and that's worth three.
Match Rating: Brutality!

Afterwards, Drew gets on the mic to let us know he built his rep up, built it to the point where he could have gone anywhere, even to the main roster, but he DECIDED to go to NXT instead. Totally his call. He loves it here. Shut up.

I fully believe you Drew. Absolutely.

Okay, so we're done here, yes? No! Shinsuke Nakamura is out to say his final farewell. Honestly, there's nothing surprising in his speach, but it's super classy. He thanks everybody, especially the fans, and closes on "We are NXT!" which I feel is a nice way to go. That brings out the locker room to see him off as well, and we get to see a bunch of new faces in the women's division, as well as Hideo Itami and, of course, William Regal. But the big surprise comes when Nakamura gets up the ramp to join the other wrestlers, and Finn Balor pops out of the crowd! Wholly unexpected!

Farewell, Shinsuke. It seems like just yesterday, but I figure that dude'll probably be just fine on SDL. Meanwhile, we've got an influx of solid new talent down here, and terrible, Terrible, TERRIBLE new theme song aside, things are looking up for the Yellow Brand.
BigDaddyLoco
Scrapple



Since: 2.1.02

Since last post: 49 days
Last activity: 23 days

#3 Posted on | Instant Rating: 6.15
This was the best episode of NXT in a long while. The women's division is so exciting right now, I love the additions of Black and McIntyre, I already loved Lorcan and Dylan Miley is going to be a big deal.

Why was that girl crying at the Nakamura speech? That send off was too cute for me. Whatever, the wrestling was good this week.
J. Kyle
Banger



Since: 21.2.02
From: The Land of Aloha

Since last post: 104 days
Last activity: 9 days

#4 Posted on | Instant Rating: 3.35
Nous ne nous pouvons pas sortir.
Between the new open and McIntyre's entrance this was a bad bad BAD week for wrestling music.

Good week for setting up future wrestling.... accompanied by bad music.


---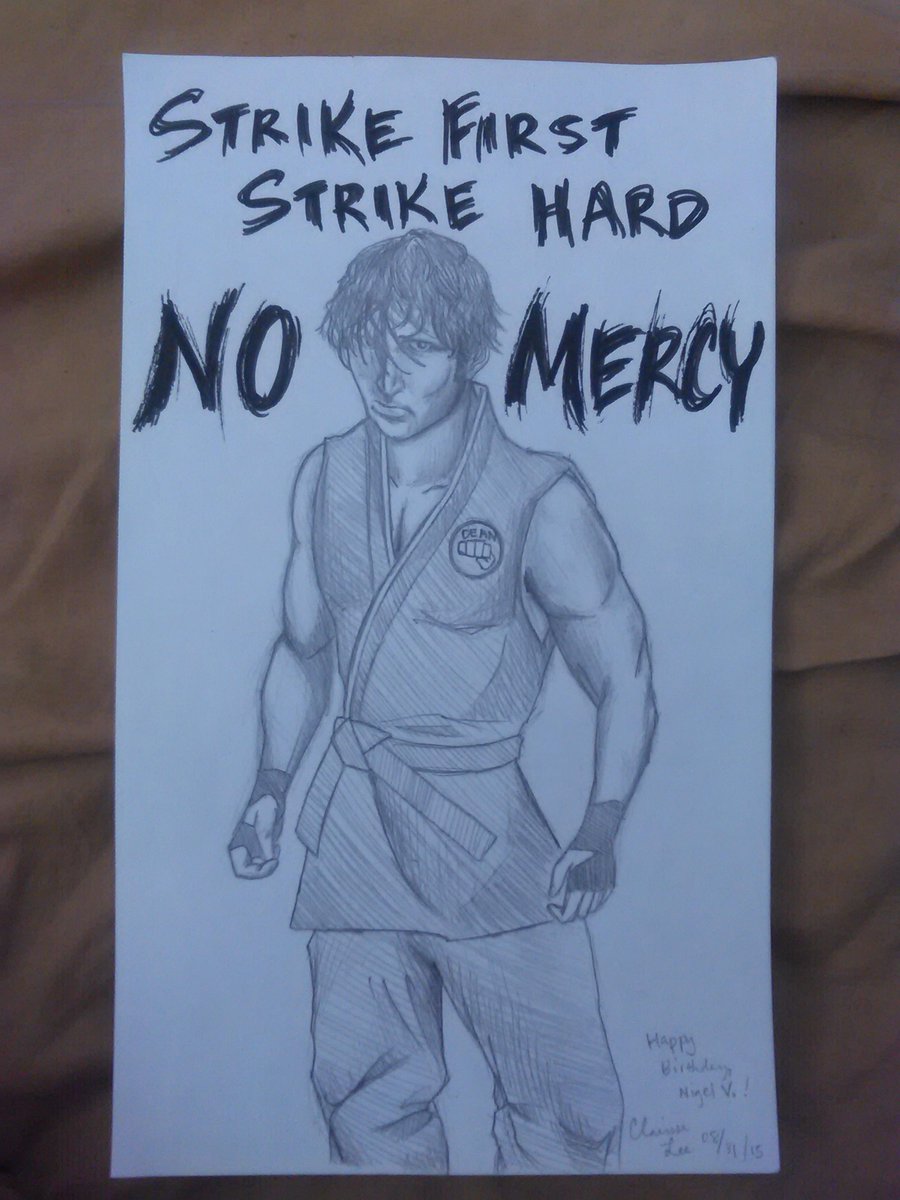 This is a picture of Dean Ambrose in a Cobra Kai Gi.
andy1278
Bockwurst



Since: 11.1.02
From: Brunswick, GA

Since last post: 13 days
Last activity: 12 days

#5 Posted on | Instant Rating: 7.52
The quality of music on the show walked away with the brand's top musician, The Drifter.

The Nakamura speech was great. Great sendoff, kinda glad we only saw a few seconds of the Finn surprise at the end. Seemed less stunt and more real.