CRZ
Big Brother
Administrator



Since: 9.12.01
From: ミネアポリス

Since last post: 1 day
Last activity: 6 hours


ICQ:
#1 Posted on | Instant Rating: 9.00
Well, it came down to New England not making mistakes and Jacksonville making some pretty egregious mistakes. You can usually say that in New England games, just replacing the team name for the opponent. This is probably some really obvious that everyone knows, but I need to say SOMETHING to start this thing...

I should probably just predict them in the Super Bowl now, but I think I'll go ahead and wait for tomorrow's game and see if anybody impresses me.


---
Promote this thread!
Texas Kelly
Lap cheong



Since: 3.1.02
From: FOREST HILLS CONTROLS THE UNIVERSE

Since last post: 563 days
Last activity: 10 days


ICQ:
#2 Posted on | Instant Rating: 4.11
Ladies and gentlemen, the following public service message is brought to you by your friends from D-Generation X, who would like to remind each and every one of you that if you're not down with that, we've got two words for you...
---

It's going to take a lot tomorrow to convince me that the two winners today are not the Super Bowl teams.


---
read a bunch of incoherent nonsense
now 52% more incoherent!
smark/net attack Advisory System Status is: Elevated
(Holds; June 18, 2006)
While the switch from Cena to RVD should alleviate some complaints, the inevitability of the belt's return to Cena (note where Summerslam is this year) and the poor initial showing by the new ECW are enough to keep the indicator where it is for now. The pieces are in place, though, especially on RAW, for improvements to be made to the IWC's psyche in the near future.
geemoney
Scrapple



Since: 26.1.03
From: Naples, FL

Since last post: 16 days
Last activity: 8 hours

#3 Posted on | Instant Rating: 5.00
The Tom Brady-bot strikes again.

Hey, I'm happy with the Jags season, and I'm glad they could at least stay neck-and-neck with the Pats tonight. Their offense played well and it looks like they have their QB of the future. They need some speed at receiver, though.

As for defensively...sheesh. Tackling was not good and they didn't get a whole lot of pressure on Brady, but who does? Their O-Line is great and they have so many targets in the passing game.
wmatistic
Andouille



Since: 2.2.04
From: Austin, TX

Since last post: 756 days
Last activity: 640 days

#4 Posted on | Instant Rating: 3.08
I'm still pretty convinced Indy can take out the Pats, so long as they don't look past this weekend. But who knows, it's probably just hope on my part. Fuckin Brady.
ironcladlou
Potato korv



Since: 2.1.02
From: Quincy, MA

Since last post: 3903 days
Last activity: 3755 days

#5 Posted on | Instant Rating: 2.22
Sorry guys, but nobody's gonna take out the Pats. You know, I don't think I even heard Randy Moss' name during the broadcast. Not at all. That's how goddamn good this team is. You have a guy break the all-time touchdown receptions record in the regular season, and in the first playoff game, not a peep out of him, and they still win.

On a somewhat unrelated note, you know that Verizon commercial where the guy's unplugging his Christmas decorations, and he looks really sad? That guy must be a very good actor, because when he looks sad, it makes me sad. Every damn time.

(edited by ironcladlou on 13.1.08 0034)


---



"I could drown the pain, and drink upon commuter trains, and here you stand in eastern standard time"
- Mike Doughty

It's False
Scrapple



Since: 20.6.02
From: I am the Tag Team Champions!

Since last post: 394 days
Last activity: 188 days

#6 Posted on | Instant Rating: 3.82
I think it was Phil Simms that noted that the Jags defense was running on fumes during the 4th quarter. They just ran out of gas in the second half.

I was expecting the Jaguars to get eaten alive by the Pats, but they hung tough for most of the game. Garrard played great and the RB's ran tough, especially Jones-Drew, who was bulldozing defenders to get extra yards. This isn't like the past few years where the Jags had a good season and fizzled in the playoffs. I think this is a major moral victory for them and I could definitely see this crew in the Super Bowl sometime in the next three years. Is it too early for me to say that next year is finally the year Jacksonville takes their division?

I can say this much, though. When this season's over, Jack Del Rio deserves an extension for ultimately cutting ties with Byron Leftwich and naming Garrard the permanent starter. That's a decision that's going to end up turning the Jags from a perennial playoff disappointment to a legit Super Bowl contender.


---

"Wocka Wocka...who wants to hear a funny-ass joke?"
Big Bad
Scrapple



Since: 4.1.02
From: Dorchester, Ontario

Since last post: 122 days
Last activity: 19 days

#7 Posted on | Instant Rating: 5.79
Brady threw only two incomplete passes in the game, and they were both dropped balls. Good lord.


---

How you uh, how you comin' on that novel you're working on? Huh? Gotta a big, uh, big stack of papers there? Gotta, gotta nice litte story you're working on there? Your big novel you've been working on for 3 years? Huh? Gotta, gotta compelling protaganist? Yeah? Gotta obstacle for him to overcome? Huh? Gotta story brewing there? Working on, working on that for quite some time? Huh? Yea, talking about that 3 years ago. Been working on that the whole time? Nice little narrative? Beginning, middle, and end? Some friends become enemies, some enemies become friends? At the end your main character is richer from the experience? Yeah? Yeah?
Jackson
Sujuk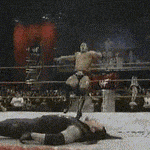 Since: 4.1.02

Since last post: 3629 days
Last activity: 3154 days

#8 Posted on | Instant Rating: 2.85
(deleted by Jackson on 13.1.08 0415)
supersalvadoran
Sujuk



Since: 10.1.08
From: westbury, new york

Since last post: 945 days
Last activity: 495 days

#9 Posted on | Instant Rating: 2.00
Originally posted by Big Bad

---

Brady threw only two incomplete passes in the game, and they were both dropped balls. Good lord.

---


Yeah, that was a sick, efficent game he was playing last night. The only thing was that was messed up about it was that he threw to everyone BUT Moss (1 catch, and that was in the first half).That killed my fantasy team since I had him as my lead reciever and was just 15 points from taking the lead.

Anyway, I just can't see the Pats losing at this point against anyone... at least not without suffering a Simpsons Springfield power plant softball team-like meltdown. And even though I'm not a Pats fan, I want to see them finish it out and stuff it to those jackass 72' Dolphins. Hopefully, Mercury Morris and his chia pet hairdo will shut up once and for all once they win the super bowl.