MonteCarl
Potato korv



Since: 21.1.02
From: Saginaw, MI

Since last post: 1117 days
Last activity: 146 days

#1 Posted on
Ok, I've never done one of these before so bear with me. I didn't take any type of notepad with me to take notes as I was only there to enjoy myself and watch the show. How silly of me. Anyway, here's a few notes from the Smackdown Taping in Grand Rapids last night.

The ENTIRE camera side of the building was taped off with the exception of the floor seats. Very surprised to see that as the Van Andel isn't a very large building to begin with. So the arena was MAYBE half full. They showed the Kid Rock Desire video and shortly after that and the basic announcements we hear the opening of some sort of James Brown song. The Cat is in the house and the place goes crazy!! He got into with a few fans while on the mic to cement his heel status. The Big Valbowski came out to a HUGE pop after this. Sort of boring match, but watching a row of drunken frat boys (yes, they were already drunk one match into the card) get legitimately pissed off at The Cat entertained me. Val won with the Money Shot. The Cat flicked everyone off on his way back up the ramp.

Next was Bull Buchanan and Sheldon Benjamin. Boring match and the crowd let them know. Sheldon won, but I don't remember how.

We then got the Velocity pyro and the crowd went wild for it. I'm pretty sure I got on camera during the opening.

D'Von came out next and I think the camera man gave my "What Would D-Von Do?" sign a nice amount of time on screen. Chuck Palumbo was his opponent and defeated D'Von in another not-to-spectacular match.

We then had two bonefide Velocity squash matches. Albert squashed some kid, Matt something or other. Albert actually got some mic time before the match taking about how sexy he is and how he knows that all the ladies want him. Oh yeah, and all his hair is natural. "Shave Your Back" chants ensued. Baldo Bomb wins it and Albert goes back into his "I'm Sexy" routine harassing a girl in the front row right in front of me. He even busted out "The Big Wiggle" for her. He actually got some nice heat for this act. Maybe a character modification for him? I think it would actually work as he was actually entertaining me and a lot of the crowd with it. Of course, that all went away as soon as he started wrestling.

Next match was some kid named "Textbook" against Chavo. Textbook became my new favorite wrestler for a short time during this match. He was a dorky white kid who did a dorky white kid dance all throughout the match. He even busted out The Robot!! A few very small "Textbook" chants even broke out. Chavo won with a brainbuster, I think.

Main event time as Jamie Noble/Crash faced off against Funaki/Kidman. Nidia got the most heat in this match, mostly from the two girls sitting right next to me. Lots of "whore" and "slut" being shouted her way. One guy even offered her his $2. Kidman wins with the Shooting Star Press.

Chimel gets in the ring with a guy and a T-Shirt gun to make a few announcements. No T-Shirts shot towards me, this time. This was to keep the crowd busy as the refs changed the ring banners to Smackdown.

Tazz and Cole come out to a big pop and the WWE and local security started rounding up the very few people who came dressed in costume for the opening shot of Smackdown. Pyro went off and the crowd went crazy. We get a short backstage vignette at the "Smackdown Halloween Party". If anyone is interested, here's what I can remember about the Superstars' costumes. Faarooq was a pimp, Kidman was Phantom of the Opera, Shannon Moore was a vampire, John Cena was Vanilla Ice, Tajiri was "Disco Stu", somebody was dressed in a full teddy bear outfit and we never found out who it was. Stephanie looked HOT in her witches outfit. Cleavage abounds!! She was also wearing a small gothic type cross necklace that was lost in her cleavage ala the time Kurt Angle gave Trish those small medals. She announced Rey vs. Brock as the main event and Rey is happy about this.

Then the crowd went even crazier as Edge's music started and he came out. The girl sitting next to me screamed louder than I've ever heard anybody scream in my life. Obviously an Edge fan. Benoit comes out next and I'm happy. Good match that Edge wins because of Angle interference.

In the back we see Paul Heyman talking to Brock saying that The Big Show is like nothing he's ever faced and ends it saying "You can't beat The Big Show". Brock is mad at these comments.

Back to the Halloween party as Benoit crashes in looking for Angle. He questions eveybody, including somebody dressed up as the killer guy from the Scream movies. He can't find Angle there, so he leaves. Scream guy removes his mask and it's Angle with the classic Angle smirk on his face.

Big Show comes out in street clothes for some reason. I thought he was going to give an interview, but then Rikishi's music starts. Maybe it's a street fight, I thought? Nope, Rikishi is in his regular wrestling gear. Anyway, the match starts and it's a glorified squash. Show beats Rikishi after a few minutes as he picks him up over his shoulder and walks around a bit before powerslamming him down. Show then "takes over" Smackdown saying he's not leaving until Brock comes out. He says the usual, he's 7 feet tall and 500 pounds. He says that he did in one night what Brock couldn't do in months, and that's take out the Undertaker. He says Brock can't beat The Big Show, he can't beat Paul Wight, and he can't beat...a Giant. Brock comes out at this and they go face to face. Brock takes the mic and says he agrees with Show about being a Giant.....a giant piece of shit. This starts a "Piece of Shit" chant. Show slowly backs out of the ring and says he's been "advised" not to hurt him right now, but promises that before the night is over, he'll do something to Brock that's never been done before. After Show left, Brock stood in the ring and got a huge ovation.

I forgot where, but somewhere during the show at the Halloween party, Dawn Marie shows up as a cop with Al Wison as Fonzie. This obviously doesn't please Torrie (dressed as Xena). This set up their "Trick or Treat" match. No idea what the rules for that were supposed to be, but I don't think it matters. They basically started at a table smearing cake and the like over each other and then went to the big pool of what looked like chocolate milk. Torrie got the top of her...uh...top broken, so she was fighting the entire match to keep from falling out. She eventually gets Dawn's costume off and then wins when she chops her out of the pool and gets a pin. Then she throws Chimel into the drink.

Tajiri is at the Halloween party in a disco outfit and a big afro looking to score. He thinks he see's a hot woman dressed as Marilyn Monroe who turns out to be Mae Young, who procedes to grope and attempt to make out with Tajiri. Shortly thereafter, Matt Hardy comes out dressed as....Matt Hardy version 1. He had a big radio with him playing some music, but I couldn't hear what it was. This was just to basically play up their match.....WHICH IS NEXT!!!

I'm almost positive my Mattitude sign got a nice closeup on camera during Matt's entrance, as did my fiancee's "I 'heart' Matt Hardy" sign. Anyway, their match was fun and ended with Matt winning with the Twist of Fate.

We then go to the back again as Eddie (as Zorro) and Chavo (as a Mexican) were hitting on Steph telling her out hot she was. They then said they know she's their boss, so they want to talk business and they want a shot at Benoit and Angle for the titles. She'll think about it. John Cena dressed as Vanilla Ice comes up and raps to Stephanie about something. She doesn't understand what he's trying to say, so he just tells her that "her dad" is waiting for her in her office. Pretty funny segment, as Cena looks exactly like Vanilla Ice.

We come back as we see "Vince", who is actually somebody in a Vince mask, waiting for Steph. She shows up and "Vince" tells her that Scott Steiner will be signing with RAW. He removes the mask and it's Eric Bischoff. She tries to slap him, but he grabs her arm mid-swing then plants a kiss on her. She tries to push him away at first, but then appears to start to enjoy it. They stop kissing and stare at each other not knowing how to react. Bischoff just leaves as Steph puts on her "trying to figure out her true feelings for Bischoff" face.

Angle vs. Eddie is next. Great match until Chavo runs in only to have his interference thwarted by Angle. Eddie was on the top rope when Angle attempted his "run up the ropes suples" move, but Benoit was there and hit Angle in the head with his tag belt. Angle fell to the mat, Eddie gets the frog splash and the win. Benoit gets in the ring and Eddie looks to him and smiles. Benoit smiles then smacks Eddie with his tag belt. He goes to leave, but Chavo is still outside the ring, so he smacks Chavo with his belt as well.

I don't know if this was just for the live crowd or if it will air, but Taz then came to the ring to "judge" a costume contest. He didn't seem into it at all and just seemed to be doing it to pass time. There were a few wrestler costumes, but my favorite, and I think Tazz's favorite, was "Fat Elvis". Anyway, that took a good 8-10 minutes of time.

We go to the back and now Angle crashes the Halloween party looking for Benoit. He sees the same Scream guy he was dressed up as before when hiding from Benoit and confronts him. He rips off the guys mask and it's Brother Love! He gets out an "AHHHH LOOOOVE EWWWWWWW!!" before Benoit attacks Angle from behind and gets him in the cross face. Angle reverses it to the Ankle Lock, which Benoit breaks. They fight some more and Angle goes to Angle Slam Benoit through a table, but in mid-Slam, Benoit crashes a bottle over Angle's head. He still goes through the table and the segment ends with both of them laid out on the ground.

Main event was Rey/Brock. Rey gets some token offense in, and Brock throws Rey around like a rag doll. Rey eventually gets Brock in position for the 619, but The Big Show shows up and catches Rey in mid-swing, picks up up over his head, then throws him into the 4th row of the crowd. Very cool to see as I was RIGHT THERE. "Holy Shit" chants start up and everybody in my section was rushing over to see and touch Rey, so I couldn't really see what Show and Brock were doing. The section cleared away just in time for me to see Show attempt to chokeslam Brock through the announce table. He messed up the slam as his hand slipped off of Brock's throat in mid air, but he still gets Brock up and slams him through the table. More "Holy Shit" chants as Show makes his way back up the aisle.

After cameras stopped rolling, Brock slowly made his way back into the ring and got a good reaction. The Big Show made his way back out and stomped Brock down a bit until Brock made the comeback and ended up clotheslining Show out of the ring. Show left and Brock posed in the ring. As Brock was leaving up the ramp, an apparently drunk guy pushed his way right past me and attempted to jump the rail to get to Brock. About 5-8 security guys attacked the guy as Brock looked on obviously amused. They dragged the guy out (knocking me over in the process) and that was that. Brock left, the lights came on, and the night was over.

That's it.

--Monte N
Promote this thread!
Torchslasher
Knackwurst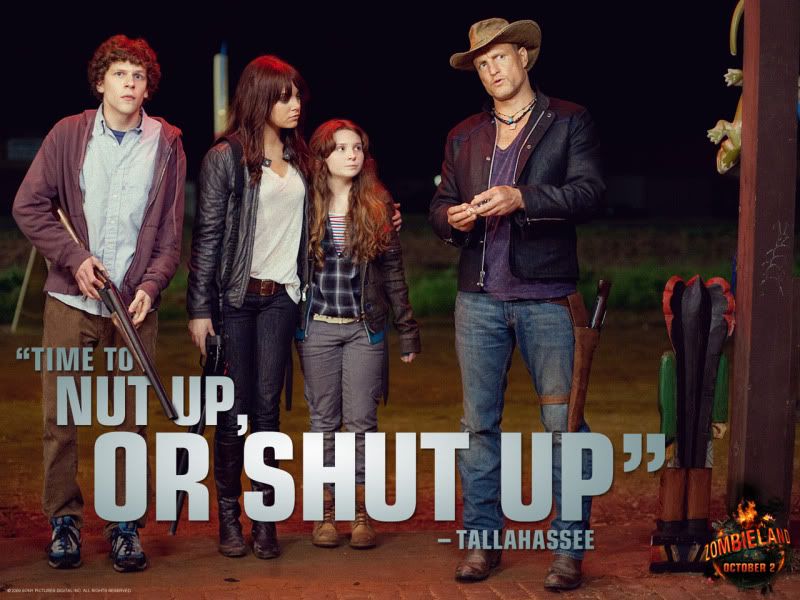 Since: 17.1.02
From: New F'n Jersey

Since last post: 71 days
Last activity: 71 days

#2 Posted on | Instant Rating: 6.44
Wow, you get mad props from me for giving the most detailed SD spoilers I have read. Are you sure you didn't write anything down?

Your report has got me psyched for Smackdown, so good job.


---

"Oh, a handful of change. I guess I can use this to go...um...buy some candy. So thank you for adding a step to my Halloween process"- homestarrunner

*I* will always remember the RFM Club!
MonteCarl
Potato korv



Since: 21.1.02
From: Saginaw, MI

Since last post: 1117 days
Last activity: 146 days

#3 Posted on
I didn't write anything down, but remembered most of it from memory. I did cheat and use some of the other spoiler reports to get the order of the matches and such right, but other than that I remembered it. I may have some of the backstage segments out of place, though. Those weren't as easy to remember as the matches.

--Monte N
Parts Unknown
Lap cheong



Since: 2.1.02
From: Darkenwood

Since last post: 237 days
Last activity: 237 days

#4 Posted on
MonteCarl, that was a really, really good report. Two thoughts:

• This "Textbook" dude sounds awesome. A dorky white kid who wrestles and dances The Robot in mid-match? This could save the WWE.

• Bischoff making out with Steffo? That's odd...perhaps it will lead to some crazy alliance between the two and the return of Shane. I hope not...alliances suck. We need more war!


---

"That's how you become great, man: you hang your balls out there." - The dorky Kinko's clerk on Jerry Maguire
Underwater
Boerewors



Since: 5.10.02
From: Battle Creek, Michigan

Since last post: 4585 days
Last activity: 4234 days

#5 Posted on
Text Book's name is Tyson Dux. Thanks for pointing out that Kidman was the Phantom. I originally thought it was Matt Hardy, until he showed up later. Chris Benoit ran right by me! WHOO!


---

It's like a koala bear crapped a rainbow in my brain!

Fuzzy Logic
Summer sausage



Since: 31.3.02
From: Happy Valley - Goose Bay, Newfoundland and Labrador, Canada

Since last post: 4524 days
Last activity: 4248 days


ICQ:
#6 Posted on
Hot damn. I want to watch Smackdown just to see Cena as Vanilla Ice! That made me laugh so much, I almost coughed up a lung.

Your Smackdown Report is truly detailed. I like it.


---

Jack Valenti fears NASH, EATER OF non-CHILDREN~!