Cerebus
Scrapple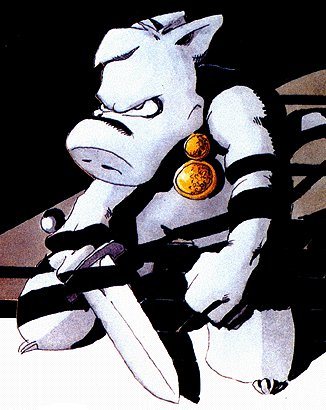 Since: 17.11.02

Since last post: 292 days
Last activity: 14 days

#1 Posted on | Instant Rating: 0.97
Don't forget the new season of MASTERS OF HORROR starts tonight with THE DAMNED THING. At least watch it for your Ted Raimi fix!

Recently, my hollywood nemesis Uwe Boll decided to do something about the internet critics who liked to trash his films by trashing him personally. He arranged it so that some of them could go up to Canada and give him the thrashing he deserves... in a boxing ring. Yep! Uwe Boll agreed to fight his critics one on one, man to man... and he wiped the floor with them. (youtube.com)

FRAGGLE ROCK will be into a big screen movie with Ahmet Zappa producing it.

More movies that don't really need to be remade. FACES OF DEATH is being a glossy remake to help desensitize the general public to death even more. Waste of time, go rent TRACES OF DEATH for the real shiz-nit, yo.

Because hollywood learned ABSOLUTELY NOTHING by remaking Hitchcock's PSYCHO, some asshole has decided to remake THE BIRDS. Naomi Watts stars. Fuck you Michael Bay!

Clive Barker is writing the script for a remake of HELLRAISER. He will not be directing it though. Again, pointless, but it could be good with a larger budget then the first one had. (Less then $1 million)

Go watch the DAY OF THE DEAD (movieweb.com) trailer. This doesn't really look all that bad except for the horribe last line they threw in there.

SAW IV is already set for next year. Jesus christ, the shit just hit theatres today. Speaking of SAW III, 1000 movie posters were made using real blood from star Tobin Bell who is set up to be in all the SAW films. They are supposed to be auctioned off and the proceeds donated to the Red Cross, which is cool, but creepy as hell.

Ian Mckellen will be playing the part of a much younger Magneto in the X-MEN spin-off. Yeah, this sounds fucking stupid, but it seems they'll be using CGI to 'de-age' the actor. As I said... fucking stupid.

Because DEAD MANS CHEST did so much bank, a forth PIRATES OF THE CARIBBEAN film has been greenlit with the plan of killing off Will Turner, cause no one goes to these films to watch Orlando Bloom, I suppose.

WAR GAMES 2 is being made. It's about another hacker who plays a game against a government supercomputer and gets labeled a terrorist. Interesting plot, but why the fuck is this getting made NOW?

----------

Later
Promote this thread!
Mr. Boffo
Scrapple



Since: 24.3.02
From: Oshkosh, WI

Since last post: 1728 days
Last activity: 1688 days

#2 Posted on | Instant Rating: 5.12
Originally posted by Cerebus

---

Recently, my hollywood nemesis Uwe Boll decided to do something about the internet critics who liked to trash his films by trashing him personally. He arranged it so that some of them could go up to Canada and give him the thrashing he deserves... in a boxing ring. Yep! Uwe Boll agreed to fight his critics one on one, man to man... and he wiped the floor with them.

---


Here's what Lowtax of Something Awful had to say about those boxing matches:


---

Okay I am done drinking, and I'd like to post some more info before I forget it:

1) There was an actual real critic who sparred with Uwe Boll a few nights ago, who was a real amateur boxer. Uwe refused to fight the guy in the ring; obviously he only wanted people with no boxing experience. Anyway, when Uwe was sparring with the dude, the critic / amateur had to quit sparring because Uwe "was taking it too seriously" and really trying to beat the shit out of the guy. So he just said fuck it and left.

2) Apparently when we were in another room, Uwe declared he was going to beat the crap out of all of us and try to "win by knockout." You know, like kinda the OPPOSITE of "this is all a PR stunt we will have fun my movies don't suck" that he was saying before.

3) Like I mentioned before, Uwe said we would get training, boxing equipment, and lessons beforehand. None of us received any of this, which didn't quite worry us at the time since he kept saying it was just a PR stunt and he wasn't really going to box for real for serious blah blah blah. NEVER trust a German. Three of the guys didn't even have cups to protect their balls; the only reason I had a cup was because my wife bought me one.

4) The dude after me [Sneider] was throwing up and had an EMT by his side for about an hour. He eventually had to have an oxygen mask on. The dude after him was all bloodied up and looked like crap. They too made the mistake of believing Uwe Boll when he said it was just a PR thing, since neither really trained.

---

Makes me respect Uwe Boll even less.

In other news, YEAH, Fraggle Rock!

I'm expecting WarGames II to suck for some reason. WOULDN'T YOU PREFER A NICE GAME OF CHESS?
SchippeWreck
Banger



Since: 26.3.03
From: Glendale, CA

Since last post: 332 days
Last activity: 18 days

#3 Posted on | Instant Rating: 7.09
Originally posted by Cerebus

---

FRAGGLE ROCK will be into a big screen movie

---

YAY!

Originally posted by Cerebus

---

with Ahmet Zappa producing it.

---

BOO!


---

My mom says sigs are bad for you.
oldschoolhero
Knackwurst



Since: 2.1.02
From: nWo Country

Since last post: 3263 days
Last activity: 3197 days

#4 Posted on | Instant Rating: 9.00
After seeing SAW III, which was awful by the way, they're gonna have to do some serious explainin' to bring back Tobin Bell.

I think PIRATES IV has always been in the pipeline on a provisional basis, and it hasn't been confirmed yet. There was indeed a news tidbit about Bloom not being back for it if it goes ahead tho.


---
To those who say people wouldn't look; they wouldn't be interested; they're too complacent, indifferent and insulated, I can only reply: There is, in one reporter's opinion, considerable evidence against that contention. But even if they are right, what have they got to lose? Because if they are right, and this instrument is good for nothing but to entertain, amuse and insulate, then the tube is flickering now and we will soon see that the whole struggle is lost. This instrument can teach, it can illuminate; yes, and it can even inspire. But it can do so only to the extent that humans are determined to use it to those ends. Otherwise it is merely wires, and lights, in a box.-Edward R. Murrow
ICEMAN
Landjager



Since: 23.5.02
From: Nashville,TN

Since last post: 3151 days
Last activity: 2840 days

#5 Posted on | Instant Rating: 6.21
WarGames 2!? Please tell me that that they brought back Ally Sheedy to be the mom or something?

I agree with SchippeWreck. Yay Fraggle Rock movie. Boourns Ahmet Zappa.


---
The Vile1
Lap cheong



Since: 4.9.02
From: California

Since last post: 3289 days
Last activity: 3020 days

#6 Posted on | Instant Rating: 1.76
The only thing you absolutely need for Pirates sequels or more Pirates movies? Johnny Depp.

And guess what? Depp wants to keep doing them. Disney lucked out big time.

So I figure as long as they keep making money, Disney will keep making them. Under all that make-up, Depp could probably continue playing Sparrow for another decade.