Lexus
Andouille



Since: 2.1.02
From: Stafford, VA

Since last post: 8 days
Last activity: 8 days

#21 Posted on
To me, Molly Holly always went on the basis of being "the cute one". Never quite the hot raver like Lita, nor the sultry vixen like Stacy, but always a strong aesthetic presence due to her blue eyes and curly blonde hair.

In part, they helped her heel turn by making her look a lot less cute, by straightening and changing the color of her hair. She looks nowhere near as innocent as she used to, in my opinion.


---

While working security at a local indy show, I saw Ricky Morton's bare ass, and the next time I hear anybody out there say "playing Ricky Morton", the person they mention had best have a really nice ass.
Net Hack Slasher
Banger



Since: 6.1.02
From: Outer reaches of your mind

Since last post: 4896 days
Last activity: 3316 days

#22 Posted on
I like what they are doing with Molly, I really like Regals "character", and it could be really fun seeing Molly and Regal playing off each other,the backstage talk is their strength. I thought Molly was cute before and maybe even better looking now.

I'm just exsited for a Trish v. Molly feud, my two favourite divas on TV every week, that's great. I actually think if they give a decent storyline build to a PPV match they could have the best women match in the WWF/E we've ever seen.

Trish was a pretty good heel as well, heck she made Stephanie into a face for a month (which I think is harder to do then parting the red sea), but I'm liking Trish a lot as the top face, actually Trish has been the a top female face I could really get behind in a long long time.

(edited by Net Hack Slasher on 29.5.02 0238)

---

I don't get it, everyone loves rats, but they don't want to drink the rats milk?
deadbeater
Morcilla



Since: 12.2.02
From: Parts unknown

Since last post: 5677 days
Last activity: 5677 days

#23 Posted on
What they really should have done to establish her as a heel is keep Molly in that 'siren' bathing suit as her wrestling attire. And don't cheat by putting volleyball shorts or a thong leotard underneath. Have her instead don on Payne Stewart-style knickers underneath. Now that will make fams really angry.
bigwavedave
Blutwurst



Since: 3.1.02
From: morro bay ca

Since last post: 5630 days
Last activity: 5630 days

#24 Posted on
I love Molly and think she is the best female wrestler on tv right now. the thing they SHOULD be doing is styling the short hair and make her one of those real hot and evil girls like Libby was on Sabrina. She deserves the Title next and I'd love to see her kick all kinds of Stacy ass (not that I don't love Stacy.) an Ivory/Molly feud would rule all kinds too.


---

"My parents said I could be anything, so I became an ASSHOLE!"
Ringmistress
Lap cheong



Since: 15.1.02
From: Philly

Since last post: 3981 days
Last activity: 3980 days

#25 Posted on
I HAVE to add my two cents to this subject. I loved Molly since the first time I saw her, hitting a huracanrana on Test, I think that was November 2000 or something. She was just so different. She proved to me, you didn't have to have a Chyna-like body to be taken seriously as a female wrestler. These days, I admit, I enjoy her more, not just because she looks great with darker hair (not too hot about the length), but because it's almost a no brainer that she DESERVES a title reign. Oh, as a WWF fan, I have tha God given right to cheer who I want, I don't care if somebody threw beer at me. Virgins aren't supposed to be booed, especially in this F'ed up society. I don't boo them because I am one, PEOPLE!


---

Edge said that HHH married the boss' daughter and slept his way to the WWF title. What he forgot to add was that by the time he woke up, his leg wasn't the same.
mattstew
Cotto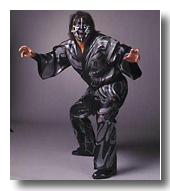 Since: 28.5.02
From: New York, NY

Since last post: 3928 days
Last activity: 3881 days

#26 Posted on
Originally posted by Stephanie

---

Since the heel turn, she has gone from WWF-quality eye candy to downright unattractive.

Steph

---

But she's hot, though. Great body (not all chicks have to look like Pam Anderson, ya know). She's at least better-looking than Jackie, Jazz, Lita and Terri. That puts her in the top half of the women's roster.


Plus, she throws a mean right-hook. Blessed with good looks is nothing compared to being blessed with the power of the punch.


That getup she wore for the swimsuit competition had to be the funniest outfit a "WWF Diva" has worn to the ring since Rena's potato sack.


---

I only lied about being a thief.
DMC
Liverwurst



Since: 8.1.02
From: Modesto, CA

Since last post: 4782 days
Last activity: 4776 days

#27 Posted on
Molly will have her title reign when its all said and through. I would just rather see Trish get involved with a good, solid, dramatic feud with some kind of new womens talent first. She is still such a babyface that I just think the WWE is mis-using her by not having her get in some kind of nasty feud soon, kind of like they did when Jazz first came after her belt. Except this time Trish will keep the belt and eventually job it to Molly, with interference from whomever Trish is feuding with.

DMC


---

"Man lives in the sunlit world of what he believes to be reality...BUT...there is, unseen by most, an underworld, a place that is just as real, but not as brightly lit...A darkside!" -Tales from the Darkside TV show
Jackson
Sujuk



Since: 4.1.02

Since last post: 3296 days
Last activity: 2822 days

#28 Posted on | Instant Rating: 2.10
Originally posted by Net Hack Slasher

---

I like what they are doing with Molly, I really like Regals "character", and it could be really fun seeing Molly and Regal playing off each other,the backstage talk is their strength.

---


I seem to remember something about Molly being his valet on the independent circuit or something but I'm not sure. Anyone else remember anything like that?


---

Bubbles? Oh come on Sharon! Iím Ozzy Osbourne the Prince of Fucking Darkness. Evil, evil, more fucking evil not a boatload of fucking bubbles man.
Pages: Prev 1 2