fuelinjected
Banger



Since: 12.10.02
From: Canada

Since last post: 4597 days
Last activity: 4597 days

#1 Posted on | Instant Rating: 5.15
From http://abc.go.com/primetime/jimmykimmel/index.html:

"This week's co-host: WWF Wrestler Mike Foley aka Mankind"

---

Eeesh...
Promote this thread!
CANADIAN BULLDOG
Andouille



Since: 5.3.03
From: TORONTO

Since last post: 1881 days
Last activity: 1879 days


ICQ:
#2 Posted on
It's like the first meeting with Vince McMahon all over again.....


---

An EXCLUSIVE JAM-PACKED interview with The EPA? An open letter to Brock Lesnor that he has no doubt read by now? The very latest Ring of Horror news? All this, plus commemorating this week in history in the latest Inside The Ropes!!!

------------------------------------------------------------
The official Inside The Ropes archive!!!
NickBockwinkelFan
Frankfurter



Since: 10.4.02
From: New York City, NY

Since last post: 2257 days
Last activity: 1023 days

#3 Posted on
What are the odds of 5 consecutive nights of brown sweats?


---

"Well, you can't involve friendship with business. It has to be one or the other. It's either business or friendship, or hit the bricks!"
--Life Lessons from "The Tao of Bobby the Brain Heenan" Uncensored 2000 preview


"As long as the check don't bounce, I guess he's okay with it!"
--Former All Pro Giants LB Harry Carson on Bill Parcells joining the hated rival Dallas Cowboys


Gugs
Bierwurst



Since: 9.7.02
From: Sleep (That's where I'm a viking)

Since last post: 1853 days
Last activity: 981 days

#4 Posted on
Please tell me I'm not the only one who thought "Oh, come on. Barron would be much better."


---

Sometimes I ask myself why I watch WWE after all the crap it's given me. HLA, necro, HHH, and so on. And then it hits me. That one simple phrase that can be modified and used for anything that gets you down, yet makes you keep coming back.

Every episode has the potential to be the best one ever, and I'll be damned if I'm going to miss it after sitting through this shit.
Whitebacon
Banger



Since: 12.1.02
From: Fresno, CA

Since last post: 43 days
Last activity: 16 hours


ICQ:
#5 Posted on | Instant Rating: 6.61
Originally posted by NickBockwinkelFan

---

What are the odds of 5 consecutive nights of brown sweats?

---


I'm thinking red flannels.


---

Taken from the Pittsburgh Tribune-Review:

Accusations have surfaced about Julian Tavarez doctoring the baseball with a foreign substance that he hides on the bill of his cap.

''It's ridiculous,'' Tavarez said. ''They checked my hat last year, too, and never found anything. They're just trying to get inside my head. But I won't let them.'' Just to demonstrate that no one was getting inside his head, Tavarez decided to ramble on for another hour or two and provide a quote of the year possibility. ''Some people like skinny women. I like fat women. Some people like young women. I like older women. Some people like poor women. I like rich women,'' Tavarez said. ''Some people like clean hats. I like my dirty hat.''
My Blog (thecobicity.blogspot.com)
Mr Tuesday
Kolbasz



Since: 6.1.02
From: Chicago, IL

Since last post: 2202 days
Last activity: 1908 days

#6 Posted on | Instant Rating: 2.00
Nah, Red Flannels are out...

BLUE Flannels on the other hand...
BigVitoMark
Lap cheong



Since: 10.8.02
From: Queen's University, Canada

Since last post: 4713 days
Last activity: 4622 days


ICQ:
#7 Posted on | Instant Rating: 4.64
Did anyone stay up for the show on Monday? How was it? Worth catching on Tuesday?
MedallaGuy
Head cheese



Since: 12.1.02
From: San Juan, Puerto Rico

Since last post: 1871 days
Last activity: 140 days

#8 Posted on
I actually managed to see his entrance and mini interview...Whitebacon wins the bet...it was Red Flannel. They show the Hell in the Cell bumps (Throw and the Chokeslam) and Mick states that he didn't know he had a tooth sticking in his nose, but that he actually wanted to show to the camara and viewers his toungue sticking out of a hole that the chairshot left between his lower lip and chin. Then he talks about the time he lost his ear in Germany while fighting Vader. They went to commercials and I wanted to stay to see the Tony Danza interview just becuase Danza had to be pissed of all the times Kimmel dissed him... But sleep got in the way. Tonight should be intresting...Rose McGowen, Mike Epps and Huey Lewis & The Freakin' News...better get me a liter of Coke to stay up tonight!

edit>typos

(edited by MedallaGuy on 16.9.03 1544)

---

SavioVega4Life
OlFuzzyBastard
Knackwurst



Since: 28.4.02
From: Pittsburgh, PA

Since last post: 400 days
Last activity: 376 days

#9 Posted on | Instant Rating: 6.77
Boy, Rose McGowen seemed legitimately pissed off at Mick for saying he thought she was "scary", didn't she?


---
"The most important thing is for us to find Osama Bin Laden. It is our number one priority and we will not rest until he find him."
-George W. Bush, September 13, 2001
"I don't know where he is. I have no idea and I really don't care. It's not that important. It's not our priority."
George W. Bush, March 13, 2002
Notorious F.A.B.
Pepperoni



Since: 4.2.02
From: Dudleyville's Gay Ghetto

Since last post: 5361 days
Last activity: 5347 days

#10 Posted on | Instant Rating: 6.89
Rose IS scarey. Yow.

I caught all of Monday's show but not last night's. Mick was really interesting when he hijacked the Steve Miller interview. I thought it was funny that Tony Danza kept looking down at Mick during his (Tony's) interview, then just shut the hell up when Mick started asking good questions with Miller.


---

I hope HHH gets you fired.
BOSsportsfan34
Pepperoni



Since: 2.1.03
From: MA

Since last post: 816 days
Last activity: 147 days

#11 Posted on | Instant Rating: 3.74
I'll have to watch tonight, Sharon Osbourne is one of the guests. Her and Mick together on the same show; now that's "MUST SEE TV" ŠNBC Entertainment


(edited by BOSsportsfan34 on 17.9.03 2301)

---
11/23/03
Alessandro
Lap cheong




Since: 2.1.02
From: Worcester MA

Since last post: 74 days
Last activity: 5 days

#12 Posted on | Instant Rating: 3.04
Now, what's the story with Steve Miller and Foley discussing Maxx Payne? My VCR cut off just as he was beginning to discuss his memories of Bobby Heenan (damn football game making the show start an hour late), so I missed that part ... Anyone care to fill me in/point out a transcript?




---

Alessandro "Hercules" Boondy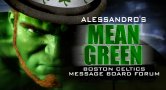 Notorious F.A.B.
Pepperoni



Since: 4.2.02
From: Dudleyville's Gay Ghetto

Since last post: 5361 days
Last activity: 5347 days

#13 Posted on | Instant Rating: 6.93
Apparantly Max and another wrestler approached Steve Miller with an idea to do some music. They talked to him and sent him a tape that he didn't listen to for a long time. One day after dinner Miller sat down, saw the tape and put it in. (I think he skipped over a part about taking a giant bong hit before doing so.) He listened to it, thought it was surprisingly good and called them up. He said he would be down for the project but they couldn't physically pick him up or call him brother.

I don't know what the project was. That's all I can remember from the show.


---

I hope HHH gets you fired.
emma
Cherries > Peaches



Since: 1.8.02
From: Phoenix-ish

Since last post: 2 hours
Last activity: 2 hours

#14 Posted on | Instant Rating: 8.23
The Wednesday show was pretty good. Definite wrestling fans in the crowd, got a "Fo-ley" chant going for his introduction.

"Your book may be the biggest-selling, least read book since the Bible." as they were talking about people at the book signings who were there for Mick, but who hadn't read the book.

Intro to a piece on "What would you have done if you hadn't been a wrestler"? "Unfortunately, the world of wrestling doesn't necessarily prepare you for doing much besides being a governor." We have video clips of previous jobs that "didn't quite work out"...

-- Foley & Assoc., Chiropractor: Mick as a chiropractor, making smalltalk, then performing an adjustment with a steel chair

-- Chubby's Burgers, Cashier: "Enjoy your burger. Have a nice day." "Can I have some ketchup on this?" "Coming right up. [selling, spraying the ketchup into his face, & doing his own ply-by-play] He's been lacerated! He's busted wide open! He's wearing a crimson mask!" As Mick drops to the floor behind the counter, & the customer is ... confused. But takes the ketchup bottle anyway.

-- TJ's Menswear, Sales Clerk: Young client approaches Mick at the counter: "Hey, I'll take this belt." "That's a nice belt. You want this belt? [...] Then you come back here, & you earn that belt! I don't think you've got what it takes -- something we call Testicular Fortitude." Camera pans to the kid, who is ... confused. Back to Mick who has donned the Mankind mask. (Woo-hoo!!!) "You want this belt? Come back here & earn this belt!! Wheeee! Mommy!"

-- Santa Monica Fire Dept., Lifeguard: Mick, in white tank top & red sweat pants (Thankfully!) running in slow motion across the beach, with a lifeguard floatie-thingie. Baywatch-ish music behind. To a man lying on the beach, obviously drowned, in need of CPR. Flying elbow drop causes the guy to spit up the water & rally.

-- J.K.L. Auto Sales, Used Car Salesman: "So, what's it going to take to get you inside this car?" (I just knew Mick was going to slam the guy through the windshield. But alas...) Agrees on a price, shakes the guy's hand, rips the guy's hand off. Screaming, squirting blood & revelling ensue.

---

Sharon Osbourne* & Minnie are the first guests. Mick actually does the kiss-on-the-cheek with her. (Sharon, not Minnie.) Sharon gets settled, & Mick has a chance to contribute: "Can I just point out something? I've been on some talk shows, & this is the first time I've kissed a female guest. Reason being, I'm always uptight -- like how do you react. And Sharon is so warm & wonderful backstage that as shs'e coming out here, I'm thinking "I'm gonna go for the hug or a kiss". So, I feell good about it." Crowd pop. Sharon, being touchy-feely person, then proceeds to pet Mick's furry forearm throughout the rest of the segment. While Sharon & Jimmy are chatting, Mick proceeds to bond with Minnie -- which was pretty cute.

Apparently Sharon was on Jay Leno. Mick volunteered (scripted, but still), "I think he should have been a little nicer to you last week. I thought, hey, I'm coming out to LA -- if you want me to do a little number on Jay, I'd be available for that." Sharon & the crowd liked that. Sharon: "He was busting my balls last week."

---

Next guest is Sara Rue, who also kisses Mick. "Mick got 2 kisses tonight. That's a big deal." "Yesss!" Jimmy & Sara chat; meanwhile, over on the sofa, Sharon is listening politely, & Mick is petting Minnie, who's loving it. They're totally bonded. (Interestingly, for the dog-lovers among us, they started the segment with Minnie on the sofa closest to Sara. Sara sort of petted Minnie a little at first, then pulled away. Next we saw, Minnie had moved between Sharon & Mick. I think Minnie liked Mick a lot more than she liked Sara. Dogs know. :-) )

---

Next guest is some weird german-ish guy, inexplicably with a baby. Useless segment. Going to commercial, Mick has so bonded with Minnie that they're playing "bite at my hand" (in the most possible fun way) for the camera.

---

Last guest was a comic (Craig Robinson), who was actually pretty funny. His deal was playing the keyboard, & having the audience echo back the his lyrics. (Kinda reminded me of the "Give me a 'doo wah diddy diddy dum diddy doo.'") He gets the men to sing loving things to the ladies, the the ladies to do some "I'm a diva" lines back. Then back to the guys, whose next line was "Take your panties off." Repeated, with crescendo. Now I'm not sure exactly what was going on over on the sofa -- Jimmy's camera guys aren't nearly as good as Vince's -- but they flipped over to a shot of the sofa, just as Sharon is leaning away from Mick & Sara is leaning toward him, both looking very suprised. I suspect that he was getting a little more enthusiastic about participating in the "Take your panties off." sing-along than the typical talk-show guest would.

---

As we come back from last commercial for the wrap-up, Minnie has moved to Mick's lap altogether. And Sharon chuckles Mick under the chin.

I can't wait for Mick to be invited onto Sharon's show!

---
---

* By the way, on a fashion note: Sharon is wearing a fabulous black business suit & gorgeous heels. If you put a slightly more business-like blouse with that & remove one or both of the brooches, you have a killer, professional, non-dowdy, woman's business look. That's what we're looking for (wienerboard.com) from Linda Mac.
jwrestle
Lap cheong



Since: 4.4.03
From: Nitro WV

Since last post: 75 days
Last activity: 40 days


ICQ:
#15 Posted on | Instant Rating: 1.23
Stone Cold Steve Austin appears on the Friday editon. Mick and Stone Cold on the same show.


---
Yummy?
Banned Once! The independant thought alarm went off, knew to much about b*tching.
BOSsportsfan34
Pepperoni



Since: 2.1.03
From: MA

Since last post: 816 days
Last activity: 147 days

#16 Posted on | Instant Rating: 3.74
Originally posted by jwrestle

---

Stone Cold Steve Austin appears on the Friday editon. Mick and Stone Cold on the same show.

---


Maybe they'll have a 2-on-1 beatdown of Cousin Sal in pillowfighting?


---
11/23/03
Alessandro
Lap cheong




Since: 2.1.02
From: Worcester MA

Since last post: 74 days
Last activity: 5 days

#17 Posted on | Instant Rating: 3.04
HA! They talked about the "gay beach" incident with William Regal (it's in Foley's book in case you don't remember) ... Kimmel and David Alan Grier really seemed to enjoy that one
---

Alessandro "Hercules" Boondy