RYDER FAKIN
Six Degrees of Me



Since: 21.2.02
From: ORLANDO

Since last post: 533 days
Last activity: 1 day

#21 Posted on | Instant Rating: 7.63
The thing about Hillary - she's going to look downright Centrist after two years of the "San Francisco Values" crowd that are now running the show.

That gives her two years to keep her mouth shut and get a feel for the mood of the country. Glad-hand, don't be controversial and remake/ reinforce the image. Bill will be right there with her, smiling as His generation - especially the Clinton era 90's boomers, who fell for this whole Love God and Hate Gays rap, are now realizing it all a bunch of horseshit and are getting out while they still can. That means let the good times roll

They will be the deciding vote - "Red States" is rhetoric. This time around the Democrats won with "voting against the other guy and not *For* us". That's lucky and they'll need an 08 platform and ideas - or at least shit that sounds good. Basically, the Bill Clinton Platform, which is a proven winner

Also, there's no chance in hell to beat the Clinton's in "dirty politics" - which is why Obama will keep quiet and hope for a high-level position, or just keep winning elections and stay out of trouble. If he tries anything stupid with Hillary, he'll get buried. The less we know about him, the better

We know pretty much everything there is to know about Bill and Hillary - and anything we don't know won't shock us. The best the GOP could come up with was a blowjob and some shady dealings - to the tune of $50 million dollars. People have their opinion on them, most love them, or at least will vote for them. And it's not like the Holier than Thou crowd has a leg to morally stand on these days - and that can only get worse. And will!

Without a good smear campaign, it will be on the issues - and unless there is another 9/11, no one is going to be all that patriotic about fighting. 06 elections showed that. Social issues are 50/50. No one knows what to do about immigration. That leaves Foreign Policy (depending on what happens in the next two years, it may fall under the "no one gives a shit" rule) and the Economy, stupid.

Foreign Policy - Despite his, or maybe because of his rotten "bury your head in the sand" attitude for 8 years, Bill Clinton knows everyone in the world and they love him. A perfect First Lady. Bush has managed to turn the world against us, which I personally don't care about - but this "image" will need to be addressed. Point for Clinton's

The Economy, stupid. That's the only thing the GOP has going for them, but it's becoming a tougher sell. People are easily persuaded to go broke - and no one knows how good they have it until they vote for "Taxing the Rich" and "Balanced Budgets", which will the the Dems 08 verbiage. That'll be a killer and after the lever is pulled, it's too late.

Where Bush screwed the pooch was when he didn't push through hardcore Social Security reform, along with a dozen other things. Now that that's baggage for the next sucker - and it won't compute with the the Dems Economic Policy. Like putting a square peg in a round hole. The same as when Clinton's failed Foreign policy led to the military mess we are in. Which leads me to jump to the conclusion people like it better when they are "on paper" rich and peaceful, than when the money is real and war is on TV every night.

But yes, I think Hillary can, and will win. If she runs, of course. The only viable GOP candidate I see is Rudy and I imagine they will offer him a Cabinet position - maybe even the VP slot. He's America's Mayor, not the GOP's stooge. Or won't be in 08 if the terms are right

McCain is going to make his run - he's too old and crazy. Everyone else I can think of at the moment is identified with 1) Bush or 2) the hardcore God crowd, who won't vote for Hillary anyway. If 50 million people voted for that asshole John Kerry - holy shit is right

Oh - now would be a good time to say something about voting 3rd Party!!!

* * * *

Click Here (sbe.virginiainteractive.org)

J H Webb Jr / Democratic 1,173,756 / 49.55%

G F Allen / Republican / 1,166,410 / 49.24%

G G Parker / Independent Green / 26,227 / 1.11%

Write Ins / 2,36 / 40.10%

* * * *

Ain't that something?

FLEA



---

Demonstrations are a drag. Besides, we're much too high

1ryderfakin.com
redsoxnation
Scrapple



Since: 24.7.02

Since last post: 1759 days
Last activity: 1759 days

#22 Posted on | Instant Rating: 3.55
Rudy would never get through a Republican Primary and he probably couldn't carry his home state in a general election, which damages his value. Remember, for all the glory of Rudy he has only beaten Dave Dinkins and Ruth Messinger. He ducked Hilary in the '00 Senate race when he bailed out of that race, so I doubt he would want to face her in '08. Instead of keeping his spot as 'Feel Good' Rudy, he would remind people the type of person he really is. As for the Rudy as Hilary's VP idea: Unless Rudy were to establish legal residence in another state, those 2 running on the same ticket would nullify New York's electoral votes. Plus, it would energize the I Hate New York vote.
Flea: Does Charlie Rangel in charge of Ways and Means give you the same sick October '87 feeling that I have? I can't wait until he ties military budgets to his pet idea for reinstating the draft though.
On Red/Blue: Republicans are in trouble if they can't find a way to regain Ohio. With New York, California, Illinois, Pennsylvania and Michigan as solid Democratic electoral states, there is no strategy that works for Republicans that gets 270 without Ohio.

(edited by redsoxnation on 8.11.06 2138)
Mr. Boffo
Scrapple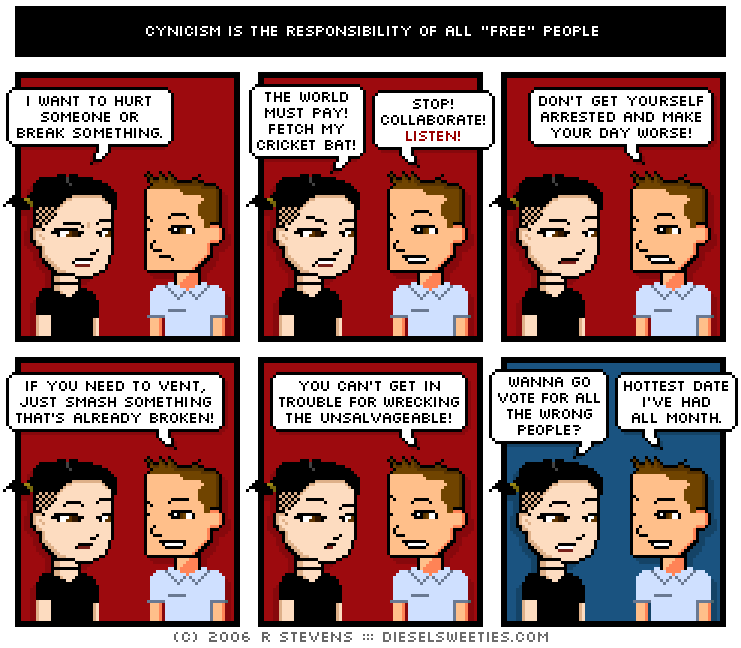 Since: 24.3.02
From: Oshkosh, WI

Since last post: 1732 days
Last activity: 1692 days

#23 Posted on | Instant Rating: 5.12
I agree with spf. I know too many people who don't care about politics that have said that they will vote for whomever is running against Hillary Clinton to believe that she has a chance. Maybe there are an equal number who will flock to the polls to vote for her. All I know is that she is a very divisive candidate. (To adapt the words of Mitch Hedberg, "People either love her, or they hate her. Or they think she's alright.")

Maybe in two years they'll hate someone else even more, but I doubt it.

Flea, I take it you're saying that 3rd party voters for the Green candidate could cost the Democrat the election, because if they had voted for the Democrat, then we wouldn't be in recount mode?
Texas Kelly
Lap cheong



Since: 3.1.02
From: FOREST HILLS CONTROLS THE UNIVERSE

Since last post: 204 days
Last activity: 22 days


ICQ:
#24 Posted on | Instant Rating: 4.04
Ladies and gentlemen, the following public service message is brought to you by your friends from D-Generation X, who would like to remind each and every one of you that if you're not down with that, we've got two words for you...
---

I agree that John McCain is probably the only Republican who can stop Hillary Clinton from claiming the White House in 2008. The problem is that McCain will never be nominated - the Republicans may have lost Congress, but it won't be enough to push the radical right-wing "yee-haw!" evangelicals that control the GOP out of power. And those evangelicals don't like McCain (or Giuliani for that matter either) because he won't toe the line with their extremist social policies. They'd rather throw their money around to force someone like Jeb through, counting on the Bush name to get the vote out - and thus leaving the way clear for the eventual Clinton/Obama superticket (don't laugh, you know it'll happen) to retake the Oval Office for the Blue Bloods until 2024.

This is assuming, of course, that Mike Bloomberg is telling the truth and doesn't mount an independent campaign. Because if he does... chaos time.

(edited by Texas Kelly on 8.11.06 2303)
---
read a bunch of incoherent nonsense
now 52% more incoherent!
smark/net attack Advisory System Status is: Elevated
(Holds; June 18, 2006)
While the switch from Cena to RVD should alleviate some complaints, the inevitability of the belt's return to Cena (note where Summerslam is this year) and the poor initial showing by the new ECW are enough to keep the indicator where it is for now. The pieces are in place, though, especially on RAW, for improvements to be made to the IWC's psyche in the near future.
RYDER FAKIN
Six Degrees of Me



Since: 21.2.02
From: ORLANDO

Since last post: 533 days
Last activity: 1 day

#25 Posted on | Instant Rating: 7.63
Flea: Does Charlie Rangel in charge of Ways and Means give you the same sick October '87 feeling that I have? I can't wait until he ties military budgets to his pet idea for reinstating the draft though.

Nah – it's all gridlock from here. In two years we have another election; I doubt anyone playing position for 08 will go or record for or against anything that can be used against them

What's a riot is the common theme from the Dems in power appears to be attacking Big Oil for "price gouging" (i.e – daring to make a profit), and the lobbyists, which is bullshit, but it's good rhetoric and makes for do-gooder sound bites...the same way the God crowd attacked the media after the Janet Jackson nip-slip. HOW DARE YOU (insert alleged dirty deed here)

Of course, opening the can of worms for "lobbying and being in the pocket of Big Business" is going to backfire, because ALL POLITICIANS TAKE MONEY. This 06 election didn't cost (raise) 250 million dollars because people weren't trying to buy influence. Why anyone is Washington would dare to plead innocent is beyond me. But that's not policy, it's populism.

Looking out for the little guy gets votes – enforcing policy takes guts...and no one is going to want to be on the outside looking in 08. So we're caught in a trap, Elvis. That's the way I see it, anyway

Flea, I take it you're saying that 3rd party voters for the Green candidate could cost the Democrat the election, because if they had voted for the Democrat, then we wouldn't be in recount mode?

No – all I'm saying is anyone who thinks a 3rd party vote is "wasted" needs to recheck the poll results in close races. It does make a difference, obviously

FLEA



---

Demonstrations are a drag. Besides, we're much too high

1ryderfakin.com
bash91
Merguez



Since: 2.1.02
From: Bossier City, LA

Since last post: 2079 days
Last activity: 179 days

#26 Posted on | Instant Rating: 5.63
Personally, I think the GOP candidate in '08 is going to be somebody who's not on the radar right now. I agree with redsoxnation's sentiments about Rudy. There's just no way that he can make it through primary season. McCain is toast, although not for the reasons mentioned by Texas Kelly. McCain's just got way too much baggage to survive the primaries if any halfway competent candidate is running against him. McCain-Feingold alone will sink him in the primary. I think it's really hard to overstate how much McCain is hated by primary voters for BCRA and his willingness to violate it with his own PAC.

My current dark horse picks for the GOP in '08, Dick Lugar or Mike Pence.

Tim


---

Vocatus atque non vocatus, Deus aderit. -- Erasmus

All others things being equal, the simplest solution is usually stupidity. -- Darwin Minor
Cerebus
Scrapple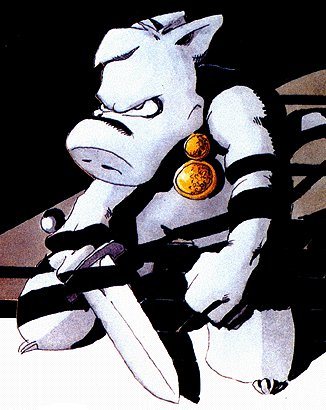 Since: 17.11.02

Since last post: 297 days
Last activity: 18 days

#27 Posted on | Instant Rating: 0.97
What gets me are asses like Rush Limbaugh who come out after the smoke clears saying he wasn't really with the losers after all and was just towing the party line.

That's the biggest crock of shit he's ever said, and he's said a mighty big amount of shit over the past few years.

He's even calling himself 'conservative' now, which boggles my mind.
Pages: Prev 1 2