Wpob
Bierwurst



Since: 21.11.02
From: Williston Park, NY

Since last post: 1 day
Last activity: 1 day

#1 Posted on | Instant Rating: 4.93
Seriously, where is this guy going to sign? By turning down a one year deal from LA, has he opened other doors to other teams or has he pretty much scared every other team off? His fit is better in the AL due to the DH, but at this point, all bets are off.

Assuming he is looking for security (long term deal) over money (one year), who is going to step up and offer a 2 to 3 year deal.

As a Mets fan, I would love to have him on my team. But I realistically think he is going to wind up on San Fran. I think the Giants have a need and they need to sign a big player to compete in a mediocre division. Manny on SF might be enough to win the division (I am not sold on any of the other teams)

Thoughts? Do you even care now that this has been sucvh a drawn out story?


---

"Marriage is like that show 'Everybody Loves Raymond', but it's not funny. All the problems are the same, but you know instead of all the funny, pithy dialogue, everybody is really pissed off and tense. Marriage is like a tense, unfunny version of 'Everybody Loves Raymond', only it doesn't last 22 minutes. It lasts forever."


Promote this thread!
thecubsfan
Scrapple
Moderator



Since: 10.12.01
From: Aurora, IL

Since last post: 17 hours
Last activity: 5 hours

#2 Posted on | Instant Rating: 10.00
It'll be the Dodgers. If the Dodgers didn't really want to bring him back, they would've moved on with a Plan B (like the Angels and other teams did, with varying success) and spent the money on the Hudson/Dunn/etc package everyone keeps talking about. If Manny got a better deal from somewhere else, he'd have taken it.

Boras is right about one thing, this is a game of chicken. Both sides are just waiting for the other side to blink (and Boras is working his hardest to plant stories about other teams interest.) I think the Dodgers do because that's what the ownership group does, but it might be something down to the day before camp opens. Something 3 years, something around 60 million (or options/buyouts that add up that enough to claim a victory.)

Manny going to the Giants would totally be interesting for that division, but when this first came up, the Giants seemed to indicate they had no money. Or at least not as much money as it'd take, and this isn't the year for people to take the risk and pay out more than they budgeted.


---

thecubsfan.com - luchablog
It's False
Scrapple



Since: 20.6.02
From: I am the Tag Team Champions!

Since last post: 169 days
Last activity: 1 day

#3 Posted on | Instant Rating: 2.33
I don't even think this is worth it for the Dodgers anymore. Manny (or Boras; take your pick) already turned down 2-years, $45M and just a few days ago turned down 1-year, $25M. I'm still trying to wrap my head around that. He turned down $25 MILLION! If contract length is an issue, why can't he just play out of his mind like last year and try to earn an extension?

The reason it isn't worth it anymore is because clearly the Dodgers aren't going to budge and go any higher. So if Manny does sign, he's going to be unhappy. And nobody here wants to see Manny half-ass it all year and sulk like a big crybaby just because he didn't get the money he wanted. The Dodgers want to sign Manny the Beast from last year, not the Manny that was holding up "Trade Me" signs during June and July. If he doesn't want to be here, screw it. There's no need to commit big money for him, but not big enough money that he thinks he needs to give a crap.

One other thing I don't think anyone has noticed here in L.A. amidst the Manny drama is that we are sorely lacking pitching here. We're weeks away from sending out Chad Billingsly as our #1 starter (having lost both Derek Lowe and Brad Penny to free agency) with no feasible #2 behind him and no one is thinking about that because they've got their Manny goggles on. Ben Sheets is still out there, you know. He might be injury-prone, but I bet you he'll take a one-year deal for a lot less than $25M.

Screw it. The Dodgers should just trot out the team they have and hope the A's fizzle out so they can try and trade for Matt Holliday in July.

(edited by It's False on 5.2.09 1350)

---

"It's worth remembering that sometimes popular things are popular for a reason. Because they're GOOD or because Will Smith is in it."
Whitebacon
Banger



Since: 12.1.02
From: Fresno, CA

Since last post: 41 days
Last activity: 34 min.


AIM:
ICQ:
#4 Posted on | Instant Rating: 6.55
Sheets may also need surgery to repair a torn flexor ligament in his pitching elbow. (mlb.mlb.com)
Downtown Bookie
Morcilla



Since: 7.4.02
From: The Inner City, Now Living In The Country

Since last post: 249 days
Last activity: 2 days

#5 Posted on | Instant Rating: 6.25
Originally posted by It's False

---

The reason it isn't worth it anymore is because clearly the Dodgers aren't going to budge and go any higher.

---
Don't bet the ranch on that position. Scott Boras has become a very wealthy man by getting teams to increase offers that had previously been termed "final", even when no other team was bidding against them.

Besides, what's the rush? Does Manny strike you as the type of player that needs a month of Spring Training? For that matter, maybe "Manny being Manny" decides to take an extended vacation and not sign until after Memorial Day. Stranger things have happened.


---

http://www.americasupportsyou.mil


"Share your food with the hungry, and give shelter to the homeless. Give clothes to those who need them, and do not hide from relatives who need your help." - Isaiah 58:7 (New Living Translation)
Guru Zim
SQL Dejection
Administrator



Since: 9.12.01
From: Bay City, OR

Since last post: 23 days
Last activity: 15 hours

#6 Posted on | Instant Rating: 8.53
This brings up an interesting point:

Would you rather pay $25 million and hope to have Manny keep you in the hunt until the second half, then carry you to the playoffs - or

Would you rather pay $25 million to pick up a fully rested Manny after the all-star game, since you know you are in the hunt?


---

Sign up for Folding@Home and join our team. PM me for details.

Ignorance is bliss for you, hell for me.
Lexus
Bierwurst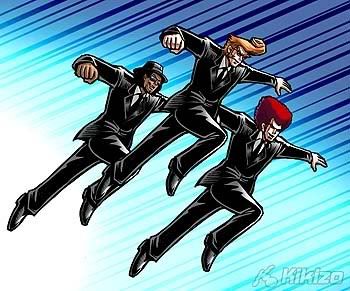 Since: 2.1.02
From: Stafford, VA

Since last post: 3 hours
Last activity: 1 hour


AIM:
#7 Posted on | Instant Rating: 2.85
Originally posted by Guru Zim

---

Would you rather pay $25 million to pick up a fully rested Manny after the all-star game, since you know you are in the hunt?

---


This was the same question asked last season about Bonds. Very different scenario, but same question.


---

"Laugh and the world laughs with you. Frown and the world laughs at you."
-Me.
ekedolphin
Scrapple



Since: 12.1.02
From: Indianapolis, IN; now residing in Suffolk, VA

Since last post: 14 hours
Last activity: 12 hours

#8 Posted on | Instant Rating: 1.94
Maybe Ramirez and Bonds could team up in WWE as The Unappreciated Crybabies Club. Or something.
---
"I don't want to see this foolishness!"
"What kind of foolishness do you want to see?"
--Sam the Eagle and Gonzo, Muppet Vision 3-D
Fan of the Indianapolis Colts (Super Bowl XLI Champions), Indiana Pacers and Washington Nationals
Certified RFMC Member-- Ask To See My Credentials!
Co-Winner of Time's Person of the Year Award, 2006
redsoxnation
Scrapple



Since: 24.7.02

Since last post: 1123 days
Last activity: 1123 days

#9 Posted on | Instant Rating: 4.86
Originally posted by Guru Zim

---

This brings up an interesting point:

Would you rather pay $25 million and hope to have Manny keep you in the hunt until the second half, then carry you to the playoffs - or

Would you rather pay $25 million to pick up a fully rested Manny after the all-star game, since you know you are in the hunt?

---




The last few seasons you've had around 20 teams that could in some manner consider themselves 'in the hunt' when July started, which is one of the reasons why the trade market has been stagnant near the deadline recently. You make the mistake of signing Ramirez, give him a few weeks to get up to speed, and in that time slip from 4 to 12 games out, and watch Ramirez pull Operation Shutdown for $25 million.
If you paid him the pro-rated version, it would open up more opportunities, as he would be a perfect fit for a team like the Twins as a DH. But, if you had to pay him the full amount for half the season, you pretty much limit the teams to the Yankees and Dodgers, as the Angels probably wouldn't touch him, the Red Sox wouldn't touch him at this point if he came to play for free, and who knows how much the Wilpon's really lost to Bernie. Even then, the Yankees wouldn't be a sure bet because I can't see Ramirez conforming to the Yankees rules.

(edited by redsoxnation on 6.2.09 2156)
Big Bad
Scrapple



Since: 4.1.02
From: Dorchester, Ontario

Since last post: 2 days
Last activity: 7 hours

#10 Posted on | Instant Rating: 4.63
Obviously Manny would keep training if he did in fact sit out part of the season, but people are underestimating how hard it is to stay game-ready if you miss spring training or being around a major league camp.

The controversy about Manny 'dogging it' in Boston is the most over-blown story of the year. I read somewhere that during the month when he and Red Sox management were having their issues, he still put up something like a .950 OPS. He clearly went to the Shoeless Joe Jackson school of dogging it.

Manny's continued free agency is something that really frustrates me as a Jays fan. This would be the perfect time to swoop in with a two-year, $25 million deal --- Rogers Communications can clearly afford it, as they're posting record profits in spite of the economic downturn. Instead, the team seems to have already thrown in the towel on 2009 and are cutting payroll instead. Manny would pay for himself in ticket sales, jersey sales and overall interest in the team, since right now in Toronto, there is zero buzz about the Jays or, even worse, negative buzz given their total lack of action this offseason. It's too bad that this opportunity comes at a time when ownership and the team presidency is in flux.


---

Skinner: Well, I was wrong. The lizards are a godsend.
Lisa: But isn't that a bit short-sighted? What happens when we're overrun by lizards?
Skinner: No problem. We simply release wave after wave of Chinese needle snakes. They'll wipe out the lizards.
Lisa: But aren't the snakes even worse?
Skinner: Yes, but we're prepared for that. We've lined up a fabulous type of gorilla that thrives on snake meat.
Lisa: But then we're stuck with gorillas!
Skinner: No, that's the beautiful part. When wintertime rolls around, the gorillas simply freeze to death!
odessasteps
Scrapple



Since: 2.1.02
From: MD, USA

Since last post: 771 days
Last activity: 738 days

#11 Posted on | Instant Rating: 7.34

Presumably, Manny will use the WBC to show his wares and probably be signed by the start of the season.


---

Mark Coale
Odessa Steps Magazine
The Affirmation, Baby Blog
MUTigermask
Boudin rouge



Since: 8.10.03
From: Columbia MO

Since last post: 1119 days
Last activity: 270 days

#12 Posted on | Instant Rating: 5.91
http://joeposnanski.com/JoeBlog/2009/02/03/baseballs-greatest-winner/#more-1560

This great blog post by Joe Posnanski(I've yet to see a bad Posnanski blog post) pretty much sums up my thoughts on MannyBManny.