Karlos the Jackal
Lap cheong



Since: 2.1.02
From: The City of Subdued Excitement

Since last post: 880 days
Last activity: 2 days

#1 Posted on | Instant Rating: 8.00
TNA WORLD HEAVYWEIGHT CHAMPIONSHIP
Olympic Gold Medalist Kurt Angle vs. The Samoan Submission Machine Samoa Joe
Samoa Joe. No doubt in my mind. In fact, I think they are marketing this PPV specifically as the "buy this and watch Joe win the title" show.

LETHAL LOCKDOWN WEAPONS MATCH
Team Cage (Christian Cage, Sting, Kevin Nash, Rhino & Matt Morgan) vs. Team Tomko (Tomko, AJ Styles, Team 3D, "Cowboy" James Storm)
I'm tempted to predict the heels to offset Joe's win, but I dunno. I think Morgan pins Storm.

XSCAPE MATCH FOR THE X CHAMPIONSHIP
"Black Machismo" Jay Lethal vs. Curry Man vs. Sonjay Dutt vs. Johnny Devine vs. Shark Boy vs. Consequences Creed
Pins/submissions until two participants remain, then one man must escape the cage. Winner claims the X Division Championship.
Sonjay Dutt steals the title...and Val!

QUEEN OF THE CAGE KNOCKOUTS MATCH
Angelina Love vs. Velvet Sky vs. Salinas vs. Rhaka Khan vs. Traci vs. Christy Hemme vs. Jacqueline vs. Roxxi Laveaux
(Eight TNA Knockouts will start the bout battling on the outside of the cage, trying to get inside the steel structure. The first two Knockouts that are successful will then have a one-on-one match.)
This at least makes marginally more sense that the reverse battle royale. I'll predict Roxxi and Jackie, with Roxxi winning.

MIXED TAG TEAM MATCH
Booker T & Sharmell vs. Robert Roode & Payton Banks
Mr. and Mrs. T. This doesn't interest me much.

FORMER PARTNERS COLLIDE
BG James vs. Kip James
This one interests me less. Oh MAN do I not care! I'll say Kip.

CUFFED IN THE CAGE
The Motor City Machineguns vs. The Latin American Xchange vs. "Big Poppa Pump" Scott Steiner and Petey Williams vs. The Rock N' Rave Infection vs. Eric Young & Kaz vs. Black Reign & Rellik
Steiner, 'cause he's getting a title shot in a month.

WOMEN'S TAG TEAM MATCH
TNA Women's Champion Awesome Kong & Raisha Saeed vs. Gail Kim & ODB
Kim pins Saeed and earns another title shot.

--K


---
Last 5 movies seen: Walk Hard: The Dewey Cox Story *** - Alvin and the Chipmunks **1/2 - Persuasion (2007) **1/2 - The Mist ***1/2 - Wristcutters: A Love Story ***
Promote this thread!
Big Bad
Scrapple



Since: 4.1.02
From: Dorchester, Ontario

Since last post: 10 days
Last activity: 4 days

#2 Posted on | Instant Rating: 4.49
*Joe wins the belt
*Team Tomko wins after Morgan turns on his partners and costs them the match....the stereotypical Russo-booking swerve
*Gail and ODB beat Kong and Rasha
*Dutt wins the X belt
*Roxxi wins the knockouts match to earn a shot at Kong
*Booker and Sharmell win
*Steiner and Petey win the tag match
*BG and Kip finish in a draw and hug afterwards, just so this feud can become a total waste of time


---

"How is it that I am a good actor? What I do is I... pretend to be the person I'm portraying. You're confused. Case in point: in Lord of the Rings, Peter Jackson comes to me and says 'I would like you to be Gandalf the Wizard,' and I said 'You are aware that I am not really a wizard?' and Peter Jackson said 'I would like you to use your acting skills to portray a wizard for the duration of the show.' So I said 'Okay' and then I said to myself 'Mmm.. How do I do that?' And this is what I did: I imagined that I was a wizard, and then I pretended, and acted, in that way on the stage. How did I know what to say? The words were written down for me in a script. How did I know where to stand? People told me where to stand." -- Sir Ian McKellen, Extras
It's False
Scrapple



Since: 20.6.02
From: I am the Tag Team Champions!

Since last post: 68 days
Last activity: 6 days

#3 Posted on | Instant Rating: 2.32
KURT ANGLE v. SAMOA JOE: TNA HEAVYWEIGHT CHAMPIONSHIP MATCH
This company can't resist the swerve. Ever. Everyone and their mother sees this as Joe's big win. I see it as a chance for yet another Montreal Screwjob rehash, which would (unfortunately) fit in with the whole "Joe vs. TNA Management" storyline. Earl Hebner rings the bell, rings the damn bell to cost Joe the match and Joe "quits" the company in disgust until he eventually comes back. The real losers here will be the fans.
WINNER: Kurt Angle

TEAM CAGE v. TEAM TOMKO
Too many guys involved here for there not to be a swerve involved here. If the swerve doesn't come in the title match, then I expect it to come here in the form of Morgan turning on Team Cage. Team Tomko prevails.
WINNERS: Team Tomko

XSCAPE MATCH FOR THE X CHAMPIONSHIP
They've (sorta) built this up as coming down to Lethal v. Dutt. Dutt wins thanks to wacky Val-erference to set up a one-on-one with Lethal for the next PPV.
WINNER: Sonjay Dutt

QUEENS OF THE CAGE KNOCKOUT MATCH
They're running out of bodies to throw at Kong. Roxxi looks to be next in line.
WINNER: Roxxi Laveaux

BOOKER T & SHARMELL v. ROBERT ROODE & PEYTON BANKS
Roode and Banks win to continue Roode's push. They'll tease dissension between Booker and Sharmell.
WINNERS: Roode & Banks

BG JAMES v. KIP JAMES
The buildup for this was great, which makes me shake my head, because they wasted a kickass buildup method on these two washed-up idiots.
WINNER: BG JAMES

CUFFED IN THE CAGE TAG MATCH
Someone needs to come out of this looking relatively decent to challenge Stomko for the belts and I doubt it'll be the MCMG since they're in the doghouse. I'll go with...
WINNERS: LAX

AWESOME KONG & WHATEVER HER NAME IS v. GAIL KIM & ODB
Saeed gets the snot beaten out of her for most of the match before Kong comes in and wipes the floor with Kim and ODB to keep her Goldberg push going.
WINNERS: Kong and manager


---

You will believe a man can fly
Oliver
Scrapple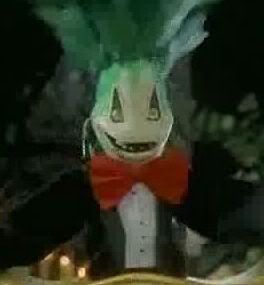 Since: 20.6.02

Since last post: 1183 days
Last activity: 1177 days

#4 Posted on | Instant Rating: 5.25
Tough call on many matches. In that, I mean, tough call for me to express much interest in them. Why is it that their IMPACT shows are awesome, but their PPVs are lackluster?

I'm surprized there's no Steiner and Petey Williams on the card.

Anyhow, my predictions:

Kurt Angle d. Samoa Joe: Look for some shenanigans that make TNA look even more minor league, like a screwjob that rips off WWE.

Team Tomko d. Team Cage: I pick Tomko, because Tomko's awesome. Cage hasn't interested me in some time.

Curry Man wins the XSCAPE match: It'll be one spot after another, but I think that in the end, Dutt and Lethal will somehow kick each others asses, and Curry Man will gain the victory.

KNOCKOUTS MATCH: Roxie wins; she's Kong's next victim. Yawn.

Booker/Sharmell T d. Roode/Banks: Please, can we end this already? Finish sees Sharmell pin Roode, similar to how "Sara Undertaker" pinned DDP at the end of their terrible feud. Everyone walks away happy, that is, happy the feud is over.

Kip James d. BG James: Just a random choice. Kip sees the error of his ways and the James Gang is reunited. The fans win because we don't want to see Kip James as a contender for the TNA title, do we?

CAGED HANDCUFF MATCH: I'll say the LAX, as they're pretty cool to watch. When did they become face? I expect this match to be the opener.

KONG AND MANAGER vs. ODB and Gail Kim: A debuting wrestler never loses their debut match, right? Even if Cheerleader Melissa, er...Rashida Said (or whatever her TNA name is) is a part time wrestler, she'll still come off with the victory. If anything, ODB and Gail Kim cannot co-exist as a team.


---

Tenkuu Henshin!
Above Average 1
Salami



Since: 27.4.03
From: Nova Scotia Canada

Since last post: 1511 days
Last activity: 1089 days

#5 Posted on
I'll take a shot at this

Samoa Joe over Kurt Angle: Joe makes him tap

Team Cage beats Team Tomko: Nash gets the pin and makes next months title match Nash vs Steiner vs Joe

Xscape match: Lethal retains after he accidentally runs into Val and Sonjay takes her to the back.

Queen of the Cage: Comes down to Roxi and Angelina Love or Velvet Sky. Either way Roxi takes the win.

Booker/Sharmell beat Roode/Banks: Booker gets the pin on Roode and as he gets up Sharmell kicks him below the belt to get her revenge.

Kip James and B.G. James go to some kind of draw just to draw this out a while longer.

Cuffed in the Cage: I'm not sure if this is a number 1 contender match or not. So if it is for a tag title shot LAX wins, if it's just a match Steiner gets the win to help build him up for his world title match.

Awesome Kong & Raisha Saeed lose to Gail Kim & ODB: Raisha Saeed takes the pin, and after the match King, Kim, and ODB brawl.

Tenken347
Knackwurst



Since: 27.2.03
From: Parts Unknown

Since last post: 8 days
Last activity: 3 days

#6 Posted on | Instant Rating: 5.03
I think there's probably about a 100% chance that Morgan turns on Cage. I'm not sure if this is going to result in either Tomko or Styles getting the pin and thus the title match, or if it's going to work out some way that by turning on Cage Morgan somehow gets the title match. That second scenario really seems more like TnA booking to me.
The Vile1
Lap cheong



Since: 4.9.02
From: California

Since last post: 3325 days
Last activity: 3057 days

#7 Posted on | Instant Rating: 0.00
Angle over Joe - I want to believe that TNA has wisened up, but I just can't anymore. Plus the news of Karen Angle being in attendance with a mystery guest, plus Joe signing Angle's own contract without ever reading it. Hard to not smell some big swerves. Maybe Joe will come back as the masked wrestler, Somolian Joe.

Lethal wins Xscape - Dunno, don't see the title changing hands. Dutt I guess could win, but he's not been built up as a potential champ at all.

Kong and Saieed over Kim and ODB - I think Kong's team wins and then Kim and ODB should start their own feud. Following that, Kong should feud with the Queen of the Cage winner.

Roxxi becomes Queen of the Cage - Here you have it folks, a REVERSE CAGE MATCH! I have a feeling Roxxi is next in line for a title push. If not and they keep it as ODB and Kim, that would be pretty boring. Similar to how TNA let the X division suffer with only Joe, AJ, and Daniels on top.

Steiner and Petey win Cuffed In a Cage - Ugh God, lame ass final years of WCW retreads from good ole Vinny Ru. It makes no sense that this is a tag match where you have to cuff your own partner. Cuffing 11 guys in a cage is going to look absolutely ridiculous.

Team Tomko wins Lethal Lockdown - Dunno, be it Morgan or someone else, I think the heels take this one.

Booker/Sharmell beat Payton Banks/Roode - Feud has gone much too long. But Booker and Sharmell need to win to end it here.

Kip James over BG James - I doubt this will be the end of the feud. I think Kip wins to keep it going longer.

I'd buy the PPV if I had any faith in Joe actually winning clean. But the PPV just looks too silly and not really exciting outside of the main event.

(edited by The Vile1 on 13.4.08 1341)

---
Don't make the Professor angry. You wouldn't like him, when he's angry.