tnaisanalternative
Weisswurst



Since: 5.1.06

Since last post: 4465 days
Last activity: 4465 days

#1 Posted on | Instant Rating: 0.12
So far, I am very disappointed in the job the WWE has done actually. I feel they have made Joey tone it down too much, and that isnt his style. Where are the oh my gods and the crazy announcer antics? Anyone else have any thoughts?
Promote this thread!
ges7184
Lap cheong



Since: 7.1.02
From: Birmingham, AL

Since last post: 11 days
Last activity: 1 hour

#2 Posted on | Instant Rating: 5.67
I think it's the action that Joey is calling that is toned down, and Joey is calling it appropriately. Joey is not trying to sell that the action as more "extreme" than it really is. After all, it would seem ridiculous to scream "OH MY GOD!!!!" after a ordinary, everyday body slam or something.


---

The Bored are already here. Idle hands are the devil's workshop. And no... we won't kill dolphins. But koalas are fair game.
Y2J 420
Italian
Banned



Since: 2.12.03
From: Illinois

Since last post: 4414 days
Last activity: 4346 days

#3 Posted on | Instant Rating: 0.00
I've never been impressed with Joey Styles for the most part...

Now he has to work with a style that contains psychology, rather than spot after spot, and he needs to bring the storyline into the match...

People say WWE's styles is toned, but in essence, it's not...WWE's style allows for their wrestlers to generate a bigger reaction from the crowd when a big spot happens, rather than watering it down...

When you wrestle 300+ days a year, the fans will get bored with seeing spot after spot (ala TNA), Joey Styles can now save his overly exaggerated "Oh My God!" for when it matters most...


---

OverpusHHHed...Patterson was right...

"Win if you can, lose if you must, but in the end, always cheat..." - Jesse "the Body" Ventura
DJ FrostyFreeze
Scrapple



Since: 2.1.02
From: Hawthorne, CA

Since last post: 97 days
Last activity: 18 hours

#4 Posted on | Instant Rating: 6.13
Color me disappointed. I almost get the impression that they want Joey to call every match straight down the middle like a commentator of a "traditional" or real sport like baseball would, which leaves all of the emotional outbursts to King & Coach.

When I found out WWE hired him, I thought he & King would would well together & I was excited to see it. But it seems like they've taken it in a completely different direction instead and I dont like it.

On the other hand, sometimes it looks like Joey is still trying to find his way out there, so maybe they're keeping the 3-man team format to help carry some of the load until he's ready to handle more of it on his own (without Coach, that is)?


---
083177
Packman V2
Bratwurst



Since: 16.3.04
From: Albuquerque, NM

Since last post: 18 days
Last activity: 1 day

#5 Posted on | Instant Rating: 5.33
I think he's gotta have time to adjust to the WWE way of doing things. He's gotta totally rebuild the way he does things, and it doesn't help to have Coach continuously stepping on you. I think he'd be helped a lot with Coach being knocked off the broadcast.

He said in an interview on WWE.com that the higher ups didn't want him to be the same guy that did ECW, and cut down on the "OH MY GOD!"s, so when a real holy shit moment happened, it could be better accented.

I like Jim Ross, but I think Joey has been a very refreshing change, and we don't have to listen to the same ole tired cliches.


---
TheOldMan
Landjager



Since: 13.2.03
From: Chicago

Since last post: 1118 days
Last activity: 104 days

#6 Posted on | Instant Rating: 6.81
I think the three man booth might be here to stay for awhile, and I think Coach has been doing a decent job of what he's been asked to do. My take is that they want Joey to be the neutral play by play guy, King as the face color man, and Coach as the heel color guy. Which imo works a hell of a lot better than Michael Cole shilling as the combined p-b-p/face 'conscience' to Tazz's (awesome) humorous heel shtick.

It's their own fault for de-facto turning the King 'face' by dragging J.R. into so many plot lines, I guess when they couldn't find a cruiserweight that hadn't been squashed in over two weeks, they would have HHH give Good ol' JR a sledge shot, or Bischoff crack a concrete block off his head ... King (in character) kinda had to come to his broadcast partner's defense, which took away from his heel cred.

Back in the day, you'd never see the lines blurred with Gorilla and Heenan - you sorta knew they were friendly enough to get along, but they never would get to where they were on the same page, because they were never put in the position of having to defend each other. So I think Coach is here to stay, and if anyone goes, it'll be King.

As for Joey's p-b-p style, I think he's finding his voice, and learning to save his emotion for when it counts, i.e., to put over the big-money matches, and 'turning point' type of angles. Not sure where that report that he was getting heat from Vince came from - maybe that reference to "what would you do King, if you couldn't use the (mostly banned in WWE) piledriver". Although I suspect it would be more likely because he's being a little too "inside" for Al-Titaneera's message. Also keep in mind that Styles likely came in as an unknown to 2/3rds or more of the WWE audience, so most aren't comparing WWE Joey to ECW Joey, they're comparing Joey to J.R.
Matt Tracker
Scrapple



Since: 8.5.03
From: North Carolina

Since last post: 3 days
Last activity: 1 day

#7 Posted on | Instant Rating: 6.13
He's really gotta start saying CarlitO, not CarlitA.

I think Styles' biggest impact has been to freshen up Lawler. His schtick has gotten funnier lately when not bouncing off the easily indignant and staid J.R.

Joey brings a voice that's more obviously amped up. Maybe it's simply because he's younger than Ross. But he also is selling the match choreography well. Scott Keith linked to a rumor that Styles and Vince were at odds because Vince doesn't think Styles should do play-by-play and should instead speak of the broader show. I think, if true, Styles is winning out, sneaking in a match narration while working against Lawler and Coach. We don't need a move-by-move checklist, anyway. Who watches wrestling without actually seeing it, anyway (besides the visually imparied)? We just a voice selling the match psychology at necessary times.




---

"To be the man, you gotta beat demands." -- The Lovely Mrs. Tracker
ImNotaWrestler
Longanisa



Since: 21.1.06
From: USA

Since last post: 3421 days
Last activity: 3396 days

#8 Posted on | Instant Rating: 0.85
It's been a while since I ditched my cable so I haven't seen styles do Raw. Has he changed much from the ECW days?

(edited by ImNotaWrestler on 22.1.06 1632)

(edited by ImNotaWrestler on 22.1.06 1633)
---

-I have nothing to say...any questions?
BigSteve
Pepperoni



Since: 23.7.04
From: Baltimore, MD

Since last post: 4118 days
Last activity: 3846 days

#9 Posted on | Instant Rating: 5.42
I never got ECW in my area (other than the TNN show) so I don't have any nostalgia for Styles. He's been good so far, but the Flair-Edge match on Monday really would have been better with JR in the booth. It has freshened things up a bit, but I don't think it's significantly better or significantly worse than with JR.


---

He's got that hand-waving deal. He can become INVISIBLE! This means MONEY, Dawg! - AWARulz on Cena.
jwrestle
Lap cheong



Since: 4.4.03
From: Nitro WV

Since last post: 16 days
Last activity: 10 days


ICQ:
#10 Posted on | Instant Rating: 0.59
Joey brings that giant base of wrestling knowledge to the table. Also the hopes of actually continuity with the way he reminds of past fued, title changes, and other wrestling tidbits.


---
If you can't beat'em whack'em with a chair!

Go ahead...take a Chance!

geemoney
Scrapple



Since: 26.1.03
From: Naples, FL

Since last post: 11 days
Last activity: 13 min.

#11 Posted on | Instant Rating: 5.44
I like him. I wasn't his biggest fan in ECW, but I think he's working well thus far. He's most definitely the best they could get when they let go of JR. He brings enthusiasm, which JR was known for, and he has some fresh wrestling knowledge. Plus, he has credibility with the fans (at least, the ones that remember ECW).


---

College, Sports and More!: Experience It




Jackson
Sujuk



Since: 4.1.02

Since last post: 3266 days
Last activity: 2792 days

#12 Posted on | Instant Rating: 2.10
The three man booth is part of the problem. He is just playing straight man to Coach and Lawler.

And let Joey say "OH My God" whenever the hell he wants to say it. They don't tell Lawler to cut down on "Puppies!" or any of J.R.'s vast library of overused phrases.


---
StaggerLee
Scrapple



Since: 3.10.02
From: Right side of the tracks

Since last post: 3 hours
Last activity: 3 hours

#13 Posted on | Instant Rating: 2.46
I always liked Joey's style.


That being said, even a toned down Styles is still miles ahead of Mike Tenay.
The Vile1
Lap cheong



Since: 4.9.02
From: California

Since last post: 3289 days
Last activity: 3021 days

#14 Posted on | Instant Rating: 2.48
I like Joey, but I don't think the 3 man announce team style gels very well with him. Coach drags things down a whole lot. I don't find King as entertaining as he used to be with JR.
ImNotaWrestler
Longanisa



Since: 21.1.06
From: USA

Since last post: 3421 days
Last activity: 3396 days

#15 Posted on | Instant Rating: 0.85
Who isn't miles ahead of Mike Tenay?
---

-I have nothing to say...any questions?
CANADIAN BULLDOG
Andouille



Since: 5.3.03
From: TORONTO

Since last post: 1822 days
Last activity: 1821 days


ICQ:
#16 Posted on | Instant Rating: 6.55
I know this has been said to death, but really, the two-man booth would work so much better for someone of Joey's talents (and for the overall show, for that matter). It's not that he's been bad so far -- not at all -- it's just that he's being overshadowed by Coach, who is still trying to be the play-by-play guy. And its very hard to have two of those at the same table.

That said.... listen to him calling Taboo Tuesday versus, say, New Year's Revolution, and he does sound a little less edgy now.


---

The book... is... HERE!!!

Inside The Ropes lives on!!!
The official Canadian Bulldog Blog, Website, and Merchandise Center.

ekedolphin
Scrapple



Since: 12.1.02
From: Indianapolis, IN; now residing in Suffolk, VA

Since last post: 16 days
Last activity: 1 day

#17 Posted on | Instant Rating: 2.29
I'm still not happy with the way they arbitrarily removed JR from television, but Joey Styles has done a brilliant job on commentary, if you ask me. I don't even particularly miss hearing JR's voice, as legendary a voice as that is. The tired old cliches were getting, well, tired and old, and it didn't seem like he was doing the same kind of fantastic work as he had in the past.
Joey, on the other hand, has been a breath of fresh air, and is good at calling the action without feeling the need to call too much attention to himself.
---
"Yes, the new plan will still involve rocket skates."
--Nale, The Order of the Stick
Five-Time W of the Day (5/27/02; 7/3/02; 7/30/04; 8/28/04; 12/16/05)
The Only Five-Time (and Last) N.E.W. World Heavyweight Champion
Certified RFMC Member-- Ask To See My Credentials!
Cerebus
Scrapple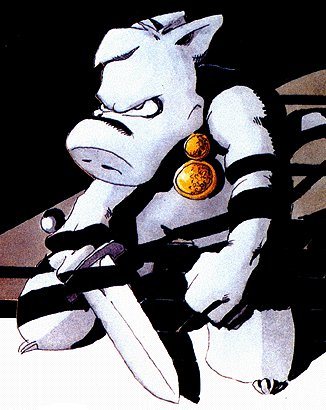 Since: 17.11.02

Since last post: 293 days
Last activity: 14 days

#18 Posted on | Instant Rating: 3.29
Don West?

Well, perhaps a half mile.