Llakor
Landjager



Since: 2.1.02
From: Montreal, Quebec, CANADA

Since last post: 1706 days
Last activity: 1698 days


AIM:
#1 Posted on | Instant Rating: 7.24
Jobber

Chapter One

Shoplifting

We're doing the shoot in the basement of the pool bar. Marc claims that the sound travels better and that it will be more private. I refrain from objecting that no one is likely to walk in for the next four hours. Truth is, I think it's just that every other shoot has been shot in the basement and they are just more comfortable doing it down there even when the bar up top is deserted.

The place is like a mad inventor's junk yard. There are chairs and broken chairs and bits and pieces of tables and flotsam and jetsam from our old ring. There are the remnants of another fed who briefly did shows in the bar on Fridays, trying to take advantage of the crowds that we pulled in on Saturdays, an experiment that went tits up when the promoter paid a thousand dollars to bring in one of the biggest names in Ontario to a show and promptly drew 35 people only ten of whom paid, because naturally no one from Quebec gave a rat's ass about some guy from Ontario. Make it big in New York and the Quebecois will sit up and pay attention, become a star in L.A. or Japan and they are interested, but Toronto? Forget it.

In the corner is the bright red tin of a peanut vending machine from the Sixties, brighter than anything dispensing candy upstairs. Put a quarter in and you will still get peanuts, or at least the fossilized skeletal remains of peanuts.

Scattered through the basement are the remnants of weapons that some of the more crazed wrestlers have built down here. Strips of thumb tacks, shards of light tubes, slivers of glass, a roll of barbed wire, dangerously discarded bottles of lighter fluid, blood-soaked shattered kendo sticks and other jagged bits of detritus, a history of blood and pain told through trash.

"So normally, I start these shoot interviews by getting the basic biographical information out of the way, but while we were setting up Mario, you teased us by telling us that you got involved in wrestling because of shoplifting. Why don't you explain that and then we'll backtrack," starts Little Petey.

"It was November 1st, 1967…"

"You would have been how old?" interjects Petey.

"Eight. I was eight. I know that it was November 1st, because it was the day after Halloween, which was the problem of course. My mother was Italian and my Dad was Greek. I grew up in Parc X. Parc Extension it's called Parc Extension because it's the bit that extends off Jarry Parc – that's where the Expos first played when Montreal got the franchise a couple of years later. Parc X was an immigrant neighbourhood, still is, mainly Greeks then, some Italians, a few Portuguese and there was a sprinkling of Koreans and it seems to me at the time like around that time that I started seeing some Algerians and others.

Anyway, it was a neighbourhood. Working families, not so much poor as working your ass off not to be poor. I mean, nobody had any money, but everybody was always working. Like by trying to stay busy, you could forget what you couldn't have, what you couldn't afford.

In Parc X that's not always easy, because the next hood over is Westmount. It was then and is now the richest town in all of Canada. People there had money to burn. You rip one family's house out of Westmount and slap it down in Parc X and ten families would move in and be happy at the extra space. To keep the rabble of the X in their proper place the town elders of Westmount had built this fence to remind us to keep in our place and not in theirs, to mark that dividing line between the haves and have-nots right there on Acadie.

Just to rub it in our faces, every Halloween the gates of the fence would be closed and locked, to keep the immigrants' children from getting their hands on upper-class Westmount candy.

They were certainly right about one thing: the candy in Parc X SUCKED. Especially because we knew that on the other side of that fence, the best candy in the world was being handed out. Individually wrapped MacKintosh toffees, Mars bars, Smarties, Kit Kat, Coffee Crisp, Caramilk, Bazooka Joe, the mysteriously alluring soap flavoured Thrills gum, Harvey's chocolate bars… with almonds even, Toblerone, the triangle shaped chocolate. I didn't know why it was shaped like a triangle and how that would affect the taste, but I desperately needed to know. Pez, I mean, I had never even seen a Pez dispenser, all I knew was that it was a candy and it was dispensed and I had to have some.

On our side of the fence, we would get pennies for the Unicef box, we would get carob bars, not chocolate, but fake chocolate, we would get lollipops where all the money had gone into the stick because it was almost as thick as the sliver of candy clinging to it. You would get these weird marshmallow stick candies where you had stale marshmallows covered in fake chocolate on a stick. We would get a lot of candy on a stick that you would never eat in a million years if there wasn't a stick on it, like the stick somehow fooled us into forgetting that the candy sucked. We would get individual meeps, the foulest most disgusting candy ever invented by, I was convinced, some James Bond villain as yet uncaught and unpunished by Double OH Seven.

And of course, apples, tons and tons of apples. Which I never even got to eat! When I got home from trick or treating, dressed like half of Parc X like a ghost since none of our parents was going to waste money on a store bought costume. God forbid. Any way, when I would get home from trick or treating, my Mom would be waiting to do triage on my candy. Any apples were confiscated because they might have razor blades in them. They would be carefully cut and inspected and baked into sauce and into pies and crisps. If, miracle of miracles, someone actually handed out chocolate in any shape or form that was confiscated for cooking. So usually I would stagger home with what seemed like a massive haul, only to find after it passed through the Mom filter that I had ten meeps, a bag of stale sour cream and onion chips and some nougats, oh and those sesame seed candies that you could fracture your teeth on if you weren't careful.

So, by November the 1st, while the Westmount kids were staggering around in a sugar hangover, my blood sugar was actually below normal because I had trekked from one end of Parc X to the other in search of sugar and chocolate, but finding none.

Which is why I ended up trying to steal two Hershey's chocolate bars from the corner store by the Parc train station. This is before it was a Metro stop you understand. Unfortunately for me the old wizened goat bastard of a shop keeper hated kids and with good reason and we hated him straight back. Which is also how I justified to myself stealing from him. The bastard well and truly deserved to be stolen from. He was a misshapen little troll with one eye larger than the other magnified by the fact that he was always chewing tobacco - one cheek swollen with chaw like a chipmunk with a mouth full of nuts - and with one leg slightly longer than the other. What he lacked in looks, he made up for in brains, and he knew from years of experience that the day after Halloween was when the kids of Parc X would swarm his store looking to steal what they weren't given. It was a yearly ritual, a vicious contest where no mercy was asked or given. If I had been nine, I would have known of this annual battle and I would have been more cautious – less brazen. If I had been nine, I might not have been caught. But I was eight and ignorant of the ways of the world.

I did increase my stature in the eyes of the neighbourhood kids at least. There was a swarm of them circling the store trying to figure out the best strategy to get the most candy out of the store while drawing the least attention. I walked by them all, oblivious to their huddle, bought a two cent pack of bazooka gum with two pennies carefully held back from the Unicef box and on my way out of the store confident that my purchase had made me trustworthy and invisible, I grabbed two chocolate bars - Hershey's - and stuffed them into my jacket on my way out the door. It was a brazen assault and doomed to failure. I was barely out the door when the troll's arm reached out and dragged me back in."

"He had you arrested?" asks Petey.

"No, much worse than that."

"He called your mother?" asks Petey. Strike Two.

"No. much worse than that. He called my priest.

I told you that my Mother was Italian. So, every Sunday she would take me to church. Now, in the rest of Quebec, Jean Lesage's Quiet Revolution meant that the Church had lost some of its influence. But in Parc X, the church still had an iron grip. If he had called the Police, Father Murphy would have gotten involved anyway either brought in by the cops or if they had brought me home to my Mother, dragged to him by the ear by her. I guess, in this case, the shopkeeper just decide to cut out the middleman. And God Knows… heh… when Father Murphy came storming across the train stations court yard, he scattered the kids outside before him like pigeons fleeing to the skies as they took flight to avoid his wrath.

He dragged me back to the church and cunning bastard that I was; I thought to save myself from my Mother finding out by cloaking myself in the seal of the confessional. Father Murphy took my confession, broke a ruler on my behind and then sentenced me to say fifty Hail Marys and fifty Our Fathers out in front by the baptismal pool, knowing full well that he wasn't allowed to tell my Mother after taking my confession, but by making me say those prayers in public, my Mother would know from half a dozen Italian widows that I had been up to no good, an hour before I ever got home.

I was trapped and I knew it.

I threw myself on his mercy, begging to be allowed to do my prayers in private, promising to do anything, anything to keep my Mother out of it."

"I thought you said that your priest being called was worse than your Mother being called in?" asks Petey.

"Sure. Well, the only thing worse than facing him, would be facing him and then facing my Mother afterwards, especially if my Mother felt mortified because I was doing penance in front of the whole neighbourhood. I mean, we're talking about a dozen gossipy Italian widows, but you might as well be hauled up on CTV and broadcast to the country, less people would find out. The communication system in the X was swift and it was effective.

Father Murphy had me right where he wanted me.

For a minute, I thought that he was going to make me an alter boy, a chore that I had somehow managed to wriggle out of up until now to the immense disappointment of my mother, but that was not what Father Murphy had in mind.

It turned out that one of his parishioners had just returned from a few years of wandering the world as a professional wrestler and he had convinced Father Murphy to let him set up a wrestling gym in the basement to give the local kids something to do to keep them out of trouble. And I was going to be the guinea pig to prove their theory. Truth was, I was too small and too young for the classes, but they needed a gopher, a flunky for the school and I was elected.

That's how I ended up meeting Mario Brava."

End Chapter One

Chapter Two: "Mario Brava"
http://the-w.com/thread.php/id=34201

(edited by Llakor on 7.11.07 1911)
---

"Don't Blame CANADA, Blame Yourselves!"
Promote this thread!
hansen9j
Andouille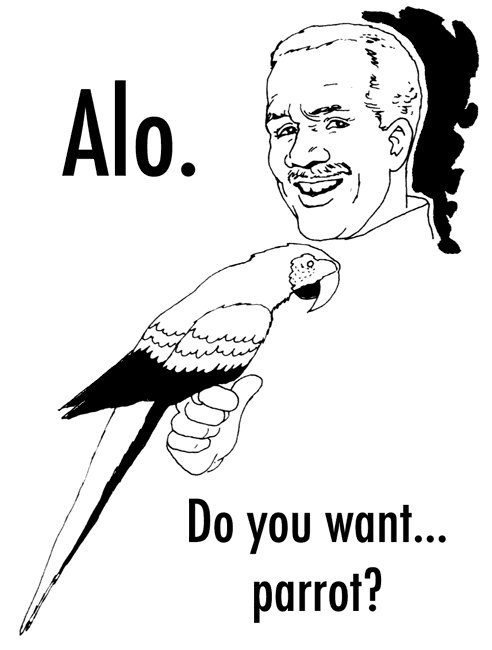 Since: 7.11.02
From: Riderville, SK

Since last post: 21 days
Last activity: 13 hours

#2 Posted on | Instant Rating: 5.39
/kicks Llakor in the ass to get him writing


---

A Knight of Prosperity. And also a Communist.



Llakor
Landjager



Since: 2.1.02
From: Montreal, Quebec, CANADA

Since last post: 1706 days
Last activity: 1698 days


AIM:
#3 Posted on | Instant Rating: 7.45
...And I'm back.

Nice to see someone missed me.


---

"Don't Blame CANADA, Blame Yourselves!"